OnMilwaukee is proud to announce Hill Bill, a cyclocross (CX) race on Sunday, Oct. 3, that loops out and around the grounds of The Rock Sports Complex and snow-less Rock Snow Park in Franklin. The event is made possible through a partnership with Wheel & Sprocket and benefits the Wisconsin Veteran's Chamber Association.
Hill Bill is one race in the Wisconsin CX Series (which is also part of a top-tier Midwest season this year). Hill Bill will feature fun for riders and spectators alike, with plenty of racing throughout the day for all ages and skill levels. Participants can compete for prizes, challenge their friends or just race for the fun of it. There are 18 different categories, each divided by age, skill and gender, so participants can choose which race they are most comfortable in.
There will also be a Fat Bike fun race at the end of the day for those who prefer their tires greater than three-inches wide, plus a chance for kids under 9 to try their burgeoning skills on a cyclo-tots course.
Participants can pre-register to save $10.
Spectating is free. Onlookers can walk the course and watch the races from any angle, enjoy the view overlooking the root river, or peruse the silent auction that benefits the Wisconsin Veteran's Chamber Association.
Food and drink will be available for purchase on site at The Umbrella Bar.
What is CX?
Cyclocross is an autumnal, off-road form of bicycle racing that sends participants around a short track of variable terrain and other obstacles, that may include grass, sand, hills, barriers, mud, and off-camber twists and turns. It's a bit like a mud run, but on bikes. Event organizers strive to build a course that requires the right combination of bike handling skills, strength and speed. Participants, on the other hand, aim to find the right balance between party and competition.
Unlike road racing and mountain biking, cyclocross races are renown for being accessible to novices as speeds are generally slower, the ground is softer, and participants are more spread out. Races usually last between 30 minutes for beginners and 60 minutes for the more accomplished, or between three-to-five laps. This duration may sound short to newcomers, but cyclocross is a high-intensity sport and you are sure to be happy when you cross the start/finish line for the last time. If not, your second race is only $10 (and your third is free).
The course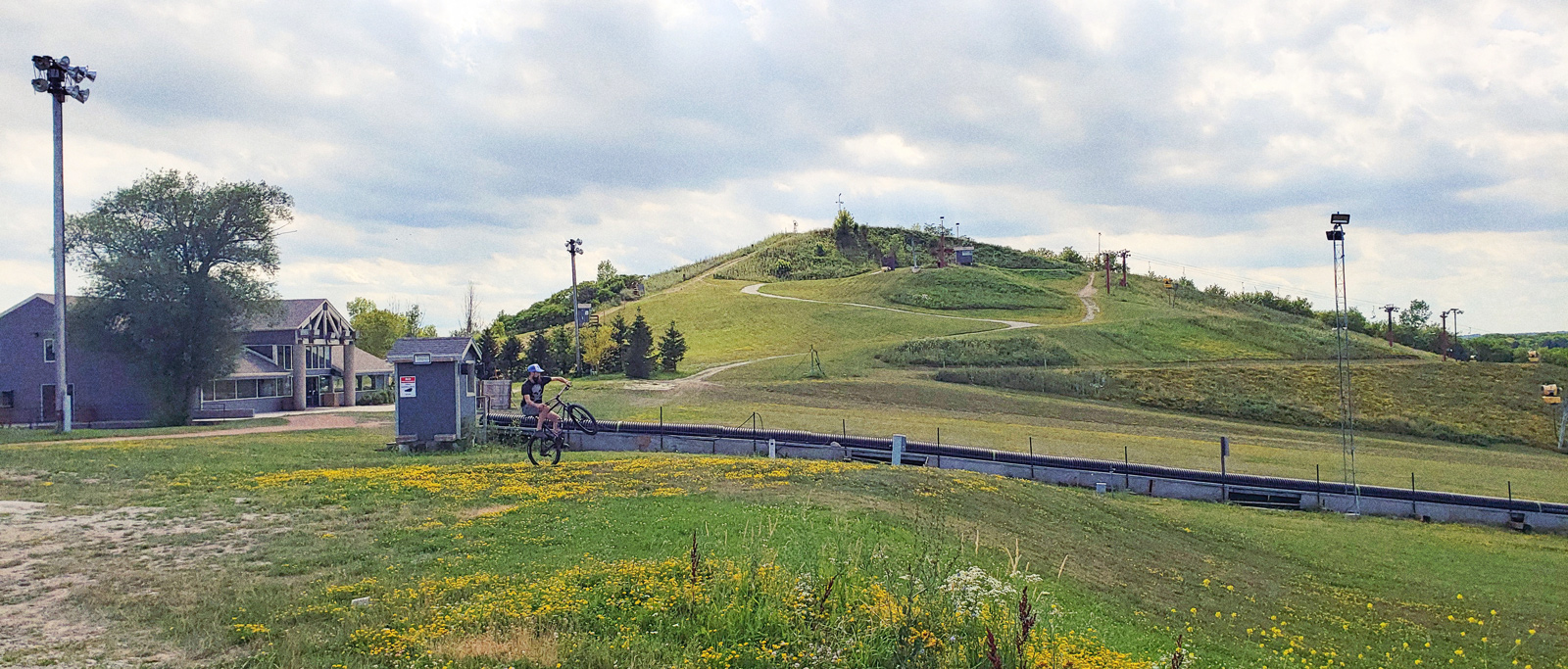 Hill Bill's two-kilometer course will feature a mass start that will send everyone across a long ridge and down a short hill. Riders will be immediately met with the first run-up, which will quickly string out the competition.
Once at the top of the first run-up, the course will continue to roll down the Rock Complex parking lot and wind its way around the back of the ski hill before climbing even further up the hill. Riders will then have to manage a tricky switchback descent on the north side of the ski hill. Once at the bottom, participants will once again have to crawl their way up the backside to the start/finish line and into the next lap.
One lap should take approximately seven-and-a-half to eight-and-a-half minutes to complete.
You can ride along in the course overview above.
Participants who pre-register to race can save $10 on the day. More information can be found at onmilwaukee.com/hill-bill.
More about the Wisconsin CX Series
You can find out more about the Wisconsin CX Series at wicxseries.com.
Jason McDowell grew up in central Iowa and moved to Milwaukee in 2000 to attend the Milwaukee Institute of Art and Design.
In 2006 he began working with OnMilwaukee as an advertising designer, but has since taken on a variety of rolls as the Creative Director, tackling all kinds of design problems, from digital to print, advertising to branding, icons to programming.
In 2016 he picked up the 414 Digital Star of the Year award.
Most other times he can be found racing bicycles, playing board games, or petting dogs.