It's "snow" joke that the holidays are just around the corner, with Milwaukee lit up like a Christmas tree, jolly spirits running high and everyone already consuming too much eggnog (as if that's even possible).
You know what they say: It's the most wonderful time for a beer – uh, I mean of the year.
As the weather becomes more and more like Scrooge, cuddle up inside one of these yuletide-inspired pop-up holidays bars for spiked hot chocolate and many more tasty drinks. And if you go to enough of them, maybe you'll find yourself in the caroling spirit on your way home.
And with no further ado, here are 12+ Milwaukee pop-up bars taking place during the holiday season!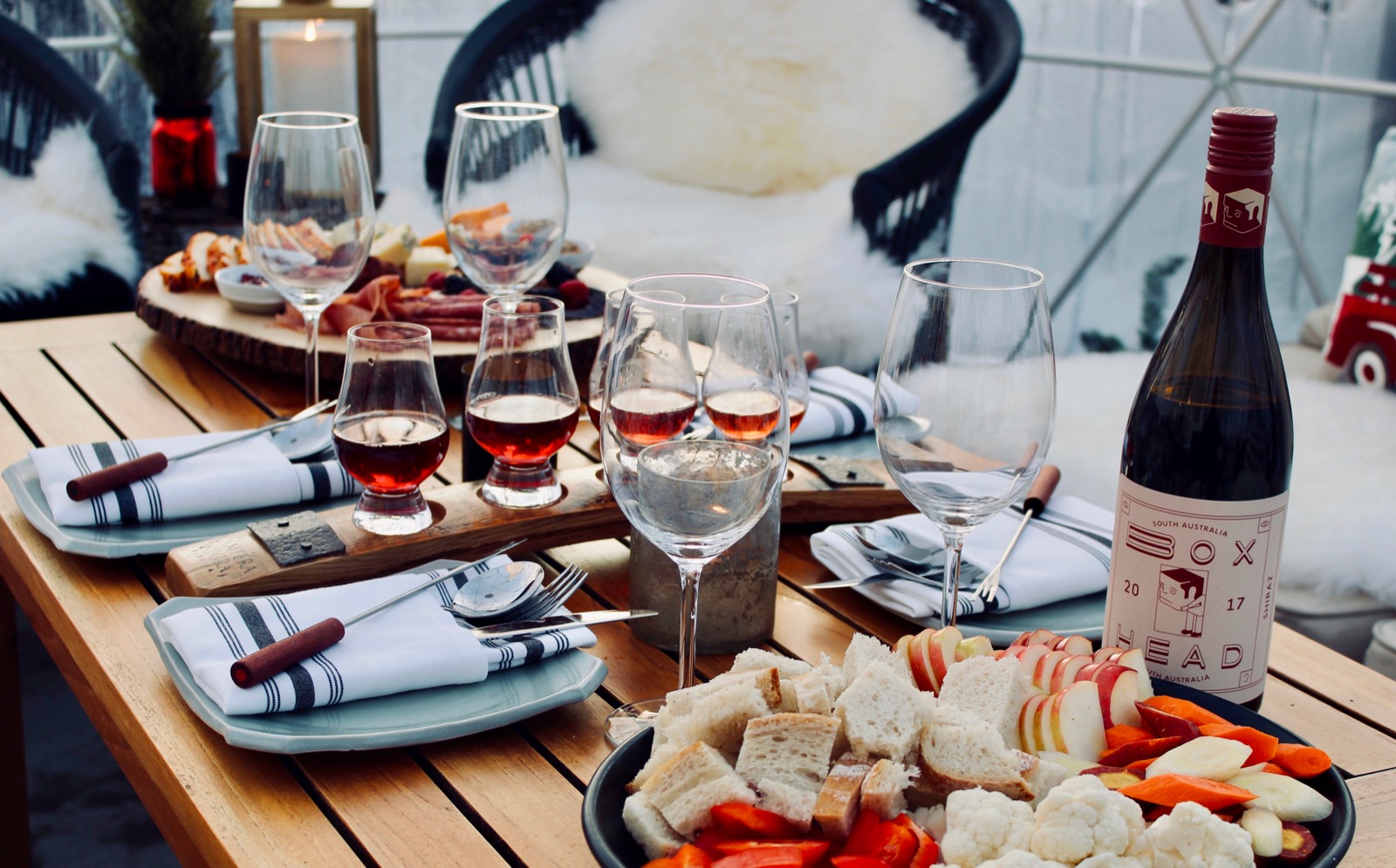 (PHOTO: Belfre Kitchen)
Found at Belfre Kitchen in Delafield, these patio-side domes are equipped with blankets, space heaters and cool furniture that will keep you cozy and make you feel like you are in a trendy ski town. Come enjoy tasty curated foods and beverages packages along with your complimentary pour of sparkling wine. [Get more info]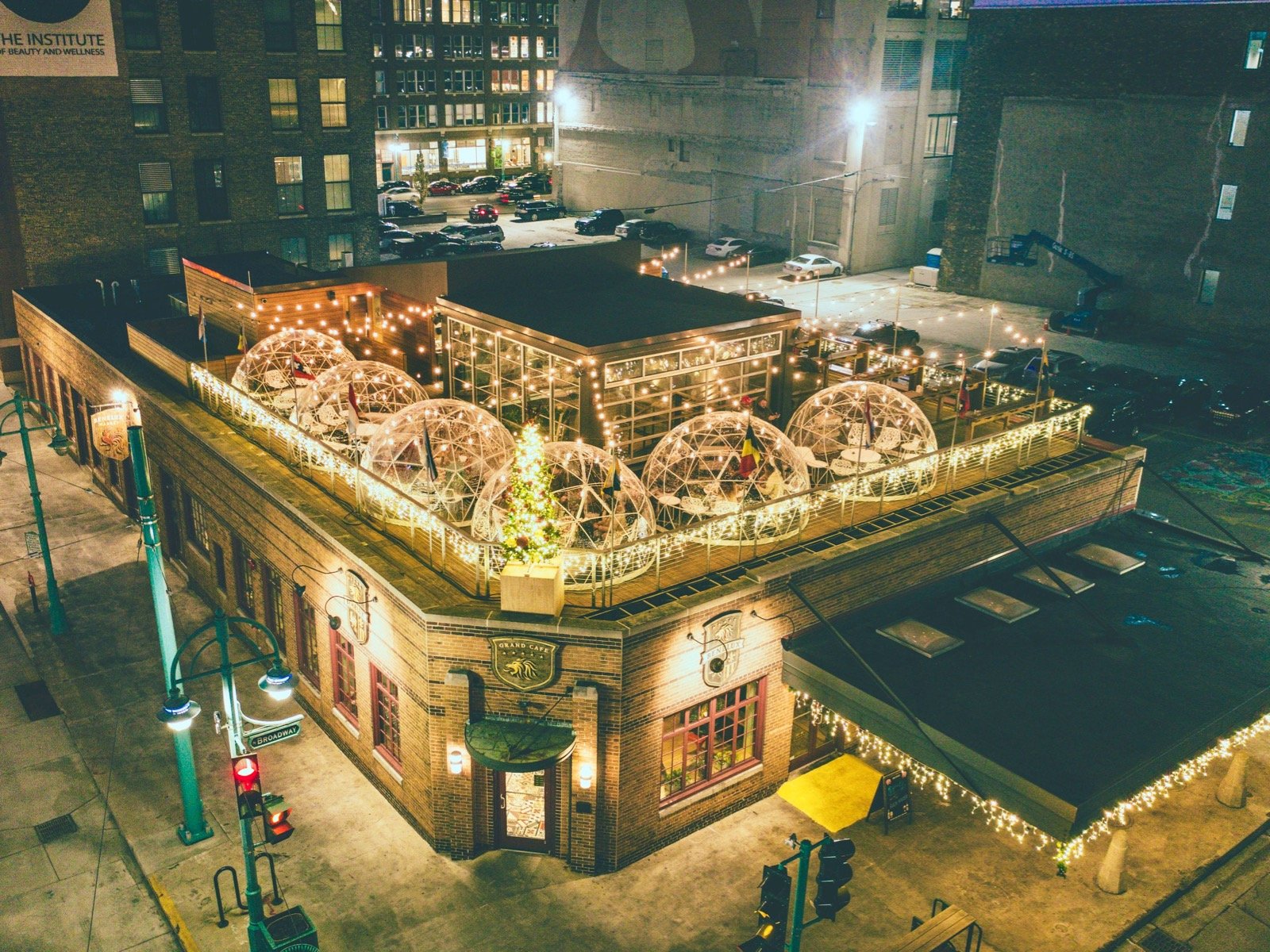 (PHOTO: Lowlands Group)
The domes above this Third Ward hotspot are back with more cozy igloos on the roof with snack and drink packages, a keepsake mug and a cheerful experience to share with loved ones. [Get more info]
Looking for a place to warm up to the season? Look no further than Bittercube Bar & Bazaar where, starting Thursday, Dec. 5, you'll find a cozy holiday-themed bar complete with a seasonal cocktail menu that will warm the cockles of your heart. Highlights include the Bombardino (pictured), a popular hot Italian winter drink topped with amaretto whipped cream. You'll also find classics like traditional hot toddies, hot buttered rum and hot cocoa spiked with Heirloom Genepy.
Don't forget to make a stop at the Bittercube Bazaar, where you can pick up spirited holiday gifts and rare finds for your home bar. Bonus: you can enjoy $5 toddies or hot buttered rum while you shop.
Sorry Scrooge! The only bitterness to be found here is the deliciously aromatic hand-crafted bitters in your holiday old fashioned.
If you're feeling nostalgic, come to The Jazz Estate on the East Side on Dec. 20-21 for live music featuring "A Charlie Brown Christmas" with special holiday drinks and more holiday fun! [Get more info]
The elves over at Splash Studio on the East Side were busy as, running now through Dec. 29, they've transformed the interactive art bar into a holiday haven, complete with a blizzard of handmade paper snowflakes and a workshop of fun projects and photo ops to put the North Pole to shame. Plus there's festive drinks like "Milwaukee's Best Coffee." They did it! Congratulations! Milwaukee's best cup of coffee! Great job, everybody! It's great to be here. [Get more info]
Patio season just got a holiday twist with an outside bar and fire pit with Christmas lights and decorations galore. Starting after Thanksgiving, be sure to try the smoked old fashioned and the Christmas themed beers: chocolate lager and gingerbread brown ale.
The Holidays can be a nightmare, we Lost Whale is making the best of the situation with the awesome "12 Days of Nightmare Before Christmas" pop-up featuring wild and wonderful decor, plus a special new cocktail every single day. Even better, the proceeds from those cocktails will go to support the work of Hope House. Don't miss this wild ridde, which runs Dec. 13-25. [Get more info]
The Miracle on 2nd Street will return this season with even more glittering lights, garlands and over-the-top festive frills that would give Buddy the Elf a run for his money. With festive drinks to choose from like Christmapolitan and Run Run Rudolf, there promises to be plenty of holiday spirit(s) to go around. [Get more info]
Located at Campsite 131, starting on Friday, Nov 22 and running through the end of the year, this winter wonderland will include ugly sweater contests, visits from Kris Kringle himself, a caroling crawl and a city-wide contest. And Santa Camp is definitely on the nice list with a Toys for Tots toy drive to help spread Christmas cheer. [Get more info]
Cuddle up with a Tom & Jerry – Wisconsin's fave winter cocktail – at Bryant's this holiday season. And take home a limited time souvenir mug! [Get more info]
(PHOTO: Zisters)
Eight private igloo shaped domes at Zisters will offer a cozy Christmas escape -- complete with food and beverage packages, fire pits, string lights and Christmas trees. [Get more info]
Stash away the bright lights, water, and midnight snacks. The Gremlins are taking over Hotel Madrid. This flashback movie themed pop-up features Gremlins themed decor, cocktails and food, plus a screening of the original 1984 film. [Get more info]
… And a partridge in a pear tree.