There are so many reasons why the rise of craft beer is a wonderful thing, but surely near the top of the list is the seemingly endless avalanche of inventive and interesting limited and special release brews.
As we approach the most wonderful time of the year, there are plenty of celebratory brews on tap from Milwaukee-area craft brewers, and not only the Black Friday releases, which have now come and gone.
Here's some of what you can taste this holiday season. But don't hesitate as supplies of these special brews will, as always, be limited.
Bay View's 1840 releases "Plumpy - Black" on Black Friday.
"It is the next iteration of our Plumpy series," owner Kyle Vetter explains. "Plumpy is a superfruited oat cream ale with lactose and each time we release it we change up the fruits. This one will have all the black fruits. Blackberry, black currant and black cherry."
But two new dark beers have hit the taps, too: a new variant of the Drinking Chocolate series and a draft-only Imperial Porter.
"Mexican Drinking Chocolate is an imperial stout made with cacao, cinnamon, Mexican coffee, Mexican vanilla and three types of Mexican chili peppers," says Vetter. "We are planning to release one drinking chocolate a month during the winter. The porter is called Raspberry Truffle. It is an almost 12 percent ABV Imperial Porter with cacao, vanilla and raspberry."
1840 also recently launched a saison called Rouge.
"Saisons are our favorite beers to pair with meals so we thought it appropriate to release one prior to Thanksgiving," says Vetter. "It is a straw-colored beer brewed with spelt and wheat and dry hopped with French Barbe Rouge hops."
Black Husky launched a sweet potato beer at its Ahead of the Pack beer release on the day before Thanksgiving.
"The recipe is meant to highlight the difference between pumpkin pie and sweet potato pie," says owner Toni Eichinger. "The sweet potato beer – The Great Yamkin – is an Imperial beer brewed with baked yams, caramel malted barley, lactose and we are using a Hefe Weiss yeast to accentuate the traditional holiday pie spices. Deep amber in color with an ABV in the 10 percent range."
Eichinger also promises holiday season releases of St. Nikkilaus spiced Brown ale and limited Twelve Dog Imperial Stout variants. Stay tuned for details.
Owner Jimmy Gohsman says that City Lights will have two special holiday beers this year.
"One is a Doppelbock coming in at 7 percent ABV. It's rich, malty, chocolatey and bready; a full-bodied beer that is very smooth with a little bit of residual sweetness."
This one will be sold in six-packs around town and will be on tap at City Lights and select bars.
"The other beer we are doing is an Imperial Coconut Porter," says Gohsman. "This is the same version as our standard Coconut Porter, but literally doubled the malt, hops, coconut and vanilla. We'll also be aging this beer on some sugar maple wood which is going to lend notes of maple, pecan, bourbon and vanilla.
"This one is a big beer; it will come in around 11 percent ABV."
It'll be available at City Lights and select bars around town as well as in four-packs of 16-ounce cans.
Co-owner DJ Kowalske says that in November, Component will offer a variant of the Coffee No Coffee imperial stout with a secret ingredient.
"For the next few months we will also have a rotational double dry hopped IPA series," he says. "It's always the same base grain beer with at least two different hop combinations."
All of these brews are available on tap and in cans at the Component taproom in the Lincoln Warehouse.
Eagle Park debuted four new beers on Black Friday: They are the Evil Ways New England IPA, Wrong Way Peanut Butter Imperial Stout, a dragon fruit, orange and mango slush sour ale and Melt: O'Paya, the final installment in a trio of collaboration brews with Melt Chocolates.
You can try two bourbon-barrel-aged brews – the Huey Lewis and the Booziest oatmeal stout and Booze for Breakfast – on draft.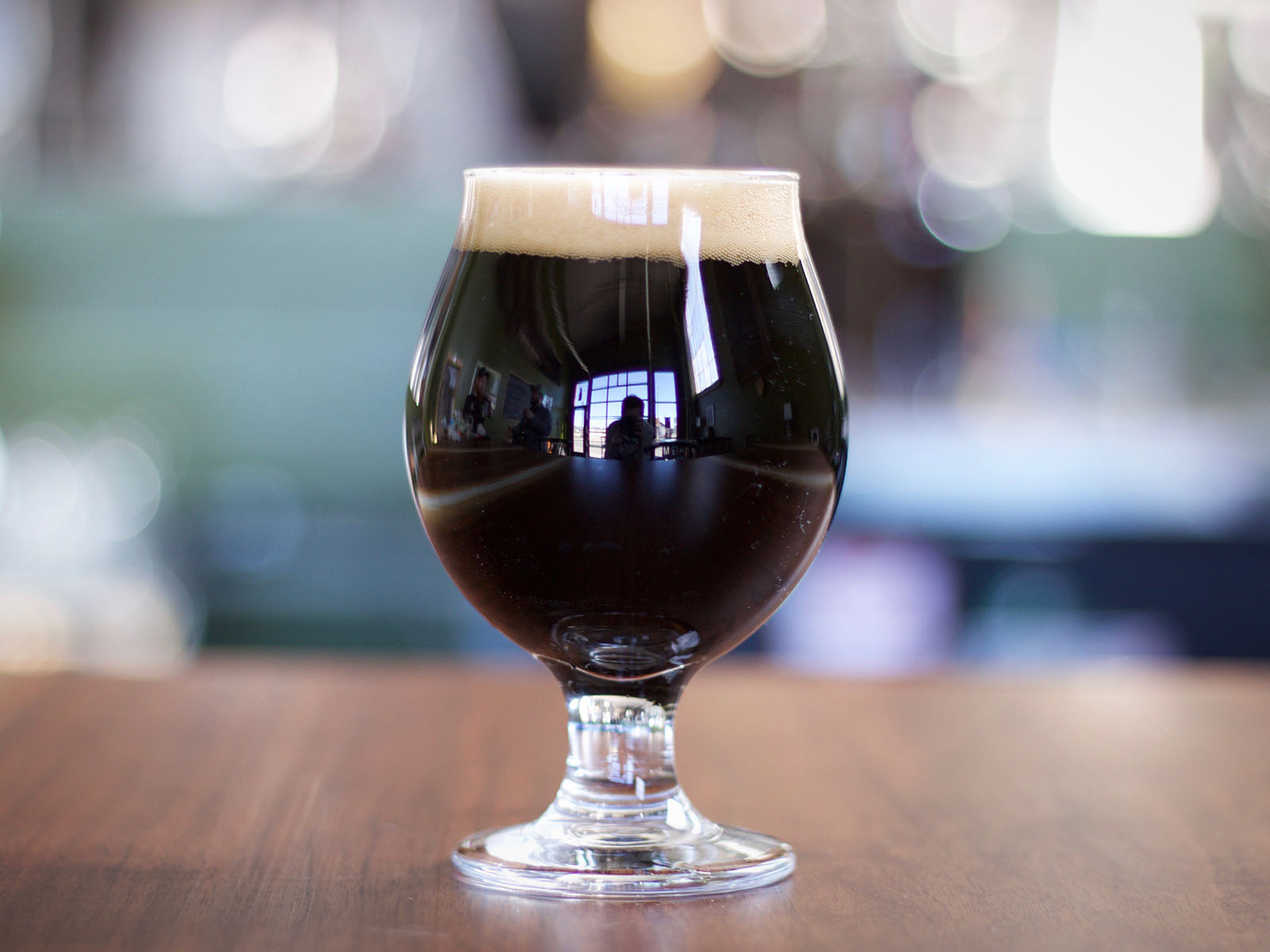 "This season we're rolling out our Sustained Thought Coffee Stout on draft and in cans in the taproom and at retail outlets around Southeastern Wisconsin," says co-owner Tommy Vandervort.
Vandervort says the stout, made with Valentine Coffee's cold brew, clocks in at 6 percent ABV.
"The name comes from a Volatire quote that goes, 'No problem can withstand the assault of Sustained Thinking.' It's creamy, robust and toasty without being overbearing or too strong. It pours jet black with a creamy tan head and is blended with the cold brew coffee to be balanced with the roasted malt flavors. It's my personal favorite beer that we make."
The Fermentorium
The Fermentorium got a jump on Black Friday by releasing Sweater Weather, an imperial milk stout, and three variants – Cookies & Cookies, Coffee – in cans on the day before Thanksgiving at both its locations: in Cedarburg and East Tosa.
The new brews are available in regular four-packs of 16-ounce cans and mixed four-packs, too, so you can try them all.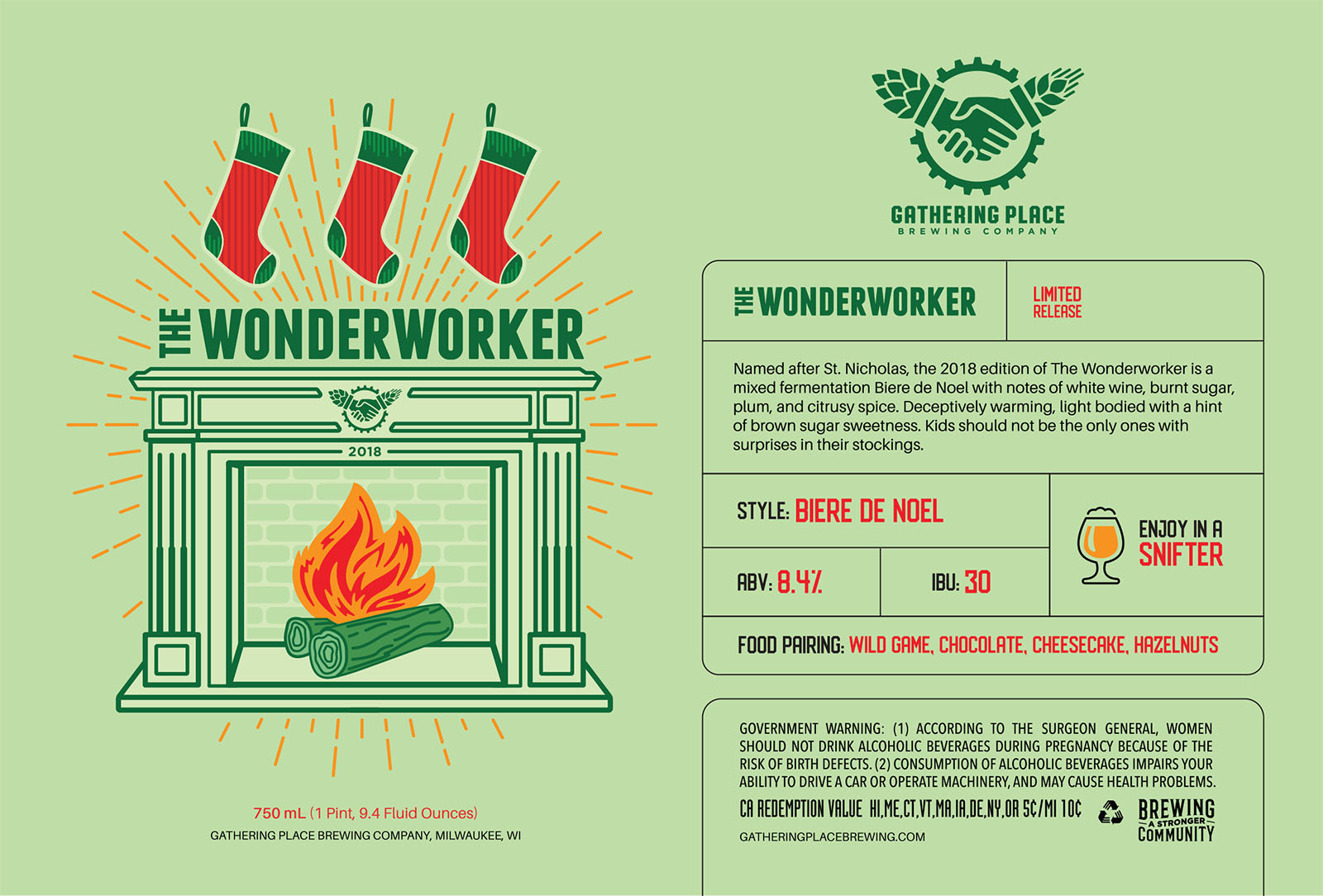 "Our holiday release, The Wonderworker, will be released on St. Nick's Day, Friday Dec. 6," says Joe Yeado. "In addition to the 2019 version, we will have the 2018 edition aged 13 months in chardonnay barrels and a 2018 non-barrel-aged version."
The new beer will be available on tap and in a limited number of 500ml bottles.
Yeado says, "we'll have a special Wonderworker flight to try them all, along with a food truck," on launch day.
On the third annual Density Day, Saturday, Dec. 14 at 11 a.m., at the East Side taproom, Good City releases State of Nature, a sweet new wild ale in the brewery's new Deer District wild ale series. It's available in a limited run of bottles ($20) at both taprooms.
And of course you can finally enjoy the 2019 Density (Heaven Hill) bourbon barrel-aged Imperial Stout, available in limited bottles ($20) and on draft, the more extreme, higher ABV (port and Four Roses bourbon) barrel-aged High Density ($35 a bottle), and the last Scarcity of 2019, called Scarcity: Coffee Density, available in four-packs of 16-ounce cans ($20) and on tap.
"Throughout the day, we will be offering food specials and several timed tappings that include 2017 BA Density (12:30 p.m.), 2018 BA Density (12:30 p.m.) and a couple variants from last year's release party," says Good City's Karlie Winchester.
2018 Density also hits taps at 12:30, with 2018 Coffee Density and 2018 Chocolate Density following at 2 p.m.
Members of the Good Citizens loyalty program get priority entry at 10 a.m. with early access, an indoor VIP lounge and first shot at purchases.
Hacienda will have a pair of stouts ready for release in time for Christmas, including a Mexican hot chocolate inspired stout called "A Means To An End" and Tropi-Choco, a chocolate/orange milk stout, along with a foeder-aged mixed fermentation saison called Forbidden Phrases.
On Dec. 7, MKE Brewing unleashed Louie's Cherry Bounce, a 10.2 percent ABV amber ale "stuffed with Door County cherries" and then aged in brandy barrels.
On Saturday, Dec. 14 MobCraft will release its newest annual, the Padishah Imperial Stout and its variants, and 2018 Padishah, 2019 Padishah and 2019 Heaven Hill Bourbon Barrel Aged Padishah will be on tap all day.
Five other variants will roll out during the afternoon, including versions aged in barrels that previously held Jefferson's Reserve, Weller Reserve, Central Standard, Great Lakes and Old Sugar whiskeys, as well a version blended with Philocoffia barrel-aged coffee. At 3 p.m. there will be a limited bottle release of the Great Lakes, Old Sugar, Central Standard and Jefferson variants, as well as one aged in Heaven Hill barrels.
Of course, there's tons of fun on tap during Stout Fest, so head to the MobCraft website to learn about the ugly sweater contest and more.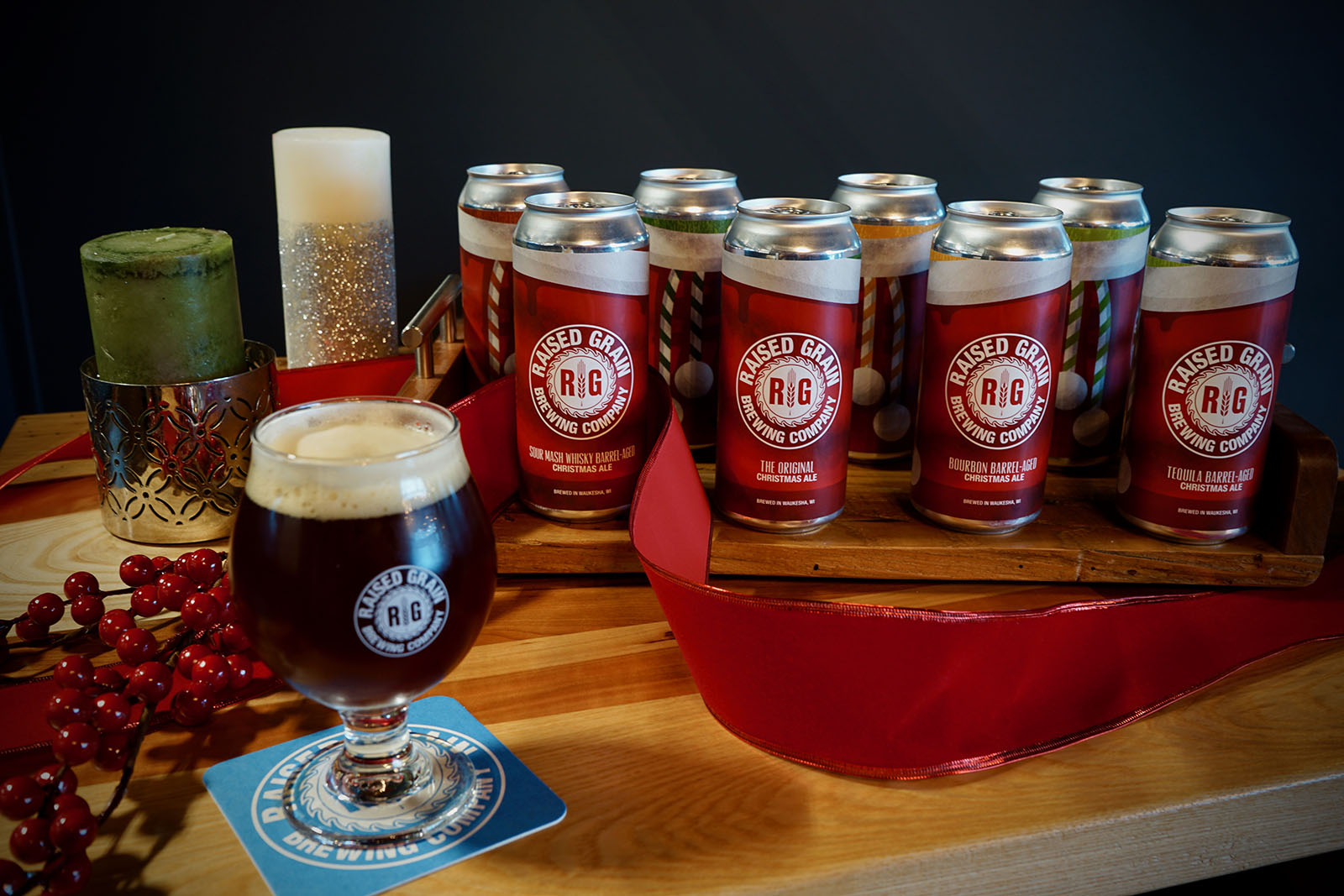 Out in the 'Sha, Raised Grain will bring back its Santa's Sack Christmas Ale again this year, says co-owner Nick Reistad.
"It will be a four-pack, containing one can of the 'original' Spiced Ale version, one aged in tequila barrels, one aged in bourbon barrels, and one aged in sour mash whiskey barrels," says Reistad. "Our Christmas ale is a red ale is brewed with nutmeg, cinnamon, star anise and fresh ginger."
Grafton's Sahale Ale Works hosts a double can release on Sunday, Dec. 15 at noon, including El Fuego Mexican hot chocolate imperial stour and Cocoa Currency, a hazelnut and cocoa imperial brown ale.
"We're starting to do monthly can releases and (this is) our first one," says owner Matthew Hofmann. "We hope to do these on the second Sunday of every month, although we may stop during the busy summer months."
Over at Third Space in the Valley, co-owner Andy Gehl says that there are some winter beers and, "a brand new one that is great for the holidays."
The Ice Bear Baltic Porter is back a little earlier this year, arriving in early December. It's a smokey number, clocking in at 9.5 percent ABV and it'll be available in six-packs, too.
Acres Edge Toasted Oatmeal Stout and the Happy Happy Double IPA are already on draught in the Third Space taproom. The former is a cocoa-y, coffee-ish stout brewed with crystal oat malt and available until March, while the latter is a hopped up take on Happy Place. It's double dry hopped and full of fruit and flowers and is 8.5 percent ABV.
As for the new one?
Cranberry Gose Winter Sour is a kettle sour that uses Wisconsin fruit for a tart and salty little number that launched on Nov. 8 and will be available in the taproom and at retail "into the new year."
Our Sheboygan friends have three "holiday-ish" brews, though some are already familiar to beerspotters, including the year-round Rebel Kent Amber Ale, with sweet Belgian yeast and a dash of mild rye malt spice that's perfect for the Thanksgiving Day feast.
The limited release Veneration quad – a salute to Belgian Trappist brewers – makes its return, bringing with it figs and molasses and hints of rye whiskey picked up from the barrels in which its aged. It also packs 13 percent alcohol, so go slow, folks.
Meanwhile, Bon Bon Chocolate Milk Stout – also a limited release – arrived last month with a quaffable 5.5 percent ABV and it's dark and chocolately and rich. Leave it out with some cookies for Santa and you might get something extra nice.
Owner Steve Pribek says, "We have done our Imperial Chocolate Whiskey Stout for Black Friday since year one. This year we are also releasing a brand new beer in Two Step, a Belgian Dark Strong.
"In addition we will be releasing our Alice who the Helles Alice (on) Dec. 26 as a Christmas gift to our customers."
That's a pretty nice gift, if you ask me.
Milwaukee's oldest brewpub launched a limited Kladruber Baltic-style porter on Black Friday with strong coffee notes, along with toffee, chocolate and dark fruit. Did I mention that it's aged in Wild Turkey barrels, for the win?
The brew – called Barrel Buster Porter – is part of WSB's ongoing We Brew It - You Name It series, and Kylie Kubash came up with the winning moniker.
Born in Brooklyn, N.Y., where he lived until he was 17, Bobby received his BA-Mass Communications from UWM in 1989 and has lived in Walker's Point, Bay View, Enderis Park, South Milwaukee and on the East Side.
He has published three non-fiction books in Italy – including one about an event in Milwaukee history, which was published in the U.S. in autumn 2010. Four more books, all about Milwaukee, have been published by The History Press.
With his most recent band, The Yell Leaders, Bobby released four LPs and had a songs featured in episodes of TV's "Party of Five" and "Dawson's Creek," and films in Japan, South America and the U.S. The Yell Leaders were named the best unsigned band in their region by VH-1 as part of its Rock Across America 1998 Tour. Most recently, the band contributed tracks to a UK vinyl/CD tribute to the Redskins and collaborated on a track with Italian novelist Enrico Remmert.
He's produced three installments of the "OMCD" series of local music compilations for OnMilwaukee.com and in 2007 produced a CD of Italian music and poetry.
In 2005, he was awarded the City of Asti's (Italy) Journalism Prize for his work focusing on that area. He has also won awards from the Milwaukee Press Club.
He can be heard weekly on 88Nine Radio Milwaukee talking about his "Urban Spelunking" series of stories.