Get ready to soak up more bar articles, imbibable stories and cocktailing content, brought to by Miller Lite. For more of our Bar stories click here!
For the month of December, OnMilwaukee will shake up the popular Hidden Gem series by showcasing bars and restaurants that literally put the sparkle in the holidays with extravagant decorations. This series is brought to you in partnership with Miller Brewing Company. Merry Miller Time to all!
The enigma that is Victor's on Van Buren Street never fails to fascinate. The eclectic restaurant, bar and nightclub is as much of a family-friendly fine dining establishment (with a stellar fish fry that's one of the last all-you-can-eat deals in the city) as it is a late-night hook-up haven for hopeful middle-agers. So the fact Victor's transforms into Christmas paradise during the month of December should come as no surprise.
"Every year my dad says 'get more, get more' (holiday decorations) and so I do," says Mary Ann Jones.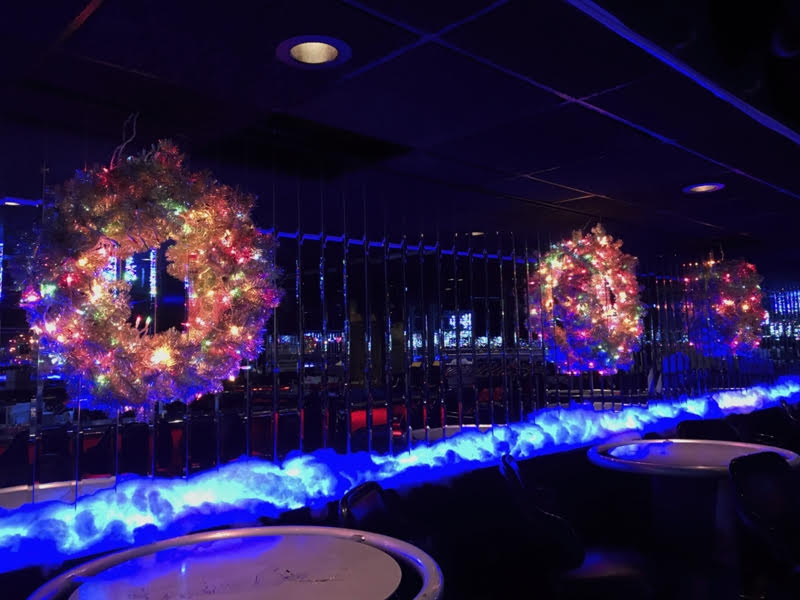 Jones is the daughter of the owner, Victor Jones, who opened the spot in 1967. Prior to that he ran a bar, also called Victor's, that was on State Street and where on the second floor he raised a family of six children. Today, Victor is almost 90 and still comes to the family business every day.
"And he loves the holidays," says Mary Ann, who serves as one of the managers and does most of the holiday bedazzling herself. Mary Ann started working in the kitchen of the family business with her grandma, Kitty, when she was 10.
Victor's menu is as diverse as the clientele, featuring steaks (they have a prime rib night on Saturdays), sandwiches and seafood including the afore-mentioned fish fry, shrimp cocktail, crab legs and more. All of the desserts are made from scratch by Mary Ann's sister, Susie.
"We all love people and cooking for people – especially this time of year," says Mary Ann.
Most of the decorations are vintage or vintage-inspired, including hundreds of strands of large-bulbed lights, hanging, flashing fiber-optic icicles, dozens of illuminated wreaths, a dancing electronic Santa and more.
"You think our Christmas decorations are something, you should see this place at Halloween," says Mary Ann.
The night before our visit, Victor's hosted its annual holiday party that attracted 700 guests throughout the evening. Despite the large crowd, they still had leftovers which Mary Ann put out again the second night, much to our luck. Before leaving, we sucked down a couple of holiday Old Fashioneds made for us by the friendly barkeep Tony and ate plates of turkey, ham, stuffing, mashed potatoes and quite possibly the best sweet potatoes of all time.
Two elderly men sitting at the bar, one of whom just got out of the hospital, got up to leave and a server rushed out to give them a to-go container of food. When we mentioned to Mary Ann what a kind gesture that was, she said, "We all get it from my dad. He's a very generous man."

Molly Snyder started writing and publishing her work at the age 10, when her community newspaper printed her poem, "The Unicorn." Since then, she's expanded beyond the subject of mythical creatures and written in many different mediums but, nearest and dearest to her heart, thousands of articles for OnMilwaukee.

Molly is a regular contributor to FOX6 News and numerous radio stations as well as the co-host of "Dandelions: A Podcast For Women." She's received five Milwaukee Press Club Awards, served as the Pfister Narrator and is the Wisconsin State Fair's Celebrity Cream Puff Eating Champion of 2019.