'Tis the season to be merry in Milwaukee! Countdown the days to Christmas by visiting the most spectacular and mind-blowing area light displays, holiday events and gleaming trees that will make it impossi-bell not to feel s-mitten! (What? It is the most pun-derful time of the year after all!)
It's snow secret that Christmas in Milwaukee is a winter wonderland – so, that's why we've created a nice list of the best spots inside and out of the city for you to branch out to!
Find the glowing Christmas spirit by driving through these gleaming light tunnels, viewing colossal Christmas trees or treating your loved ones to a holiday event. And make sure to watch OnMilwaukee's Instagram for Christmas light reels and more this holiday season!
Happy holidays, Milwaukee!

Holiday lights
Tree lightings
Holiday events
A Celebration of Giving: Toy Drive
885 Badger Circle, Grafton
kids2kidstoydrive.com
Gather your friends and family to experience this new personal, interactive and – best of all – free light display! Walk through this self-guided tour while this light display comes to life and spreads the joy of Christmas cheer! All guests are welcome to bring a new toy to A Celebration of Giving Toy Drive on Saturday, Dec. 9 from 3-7 p.m. The light experience can be found at the Kacmarcik Center for Human Performance through Dec. 23, so make sure you visit and enjoy!

A Holiday Snow Globe
524 S. Layton Blvd.
mitchellparkdomes.com
All is calm and bright when you're surrounded by thousands of picture-perfect poinsettias and holiday decorations! Make your way to the Mitchell Park Domes for their holiday show, A Holiday Snow Globe, open Saturday, Nov. 18 through Sunday, Jan. 7. Experience a winter wonderland at the Domes with immaculate floral displays, a colossal Christmas tree, an elegantly set table, playful winter-loving animals and Santa's sleigh.
Candy Cane Lane
W. Oklahoma Ave.
candycanelanewi.com
Since 1984, Candy Cane Lane has been a beacon of neighborhood holiday lights in West Allis. Open on Friday, Nov. 24 through Christmas Day, you may expect to see "right turn only" signs as you arrive at Oklahoma Avenue from either 93rd, 94th, 95th, or 96th Street. Once you have arrived, enjoy your walk or drive through the festive display! All donations collected go toward the MACC Fund in support of research, treatment and eventual discovery of a cure for childhood cancers and related blood diseases.
Christmas Carnival of Lights
8425 HWY 38, Caledonia
wichristmascarnival.com
Take a drive through a Christmas Carnival of Lights this holiday season! Open on Saturday, Nov. 18 through Monday, Jan. 1, experience two million lights bring Christmas cheer on a 1.6-mile path. Light up your night by getting $10 off opening night during the Lights & Flights grand opening event. Get a free photo with a reindeer, witness a drone flight show at 6 and 8 p.m. and sip on whiskey, wine or hot cocoa flights! View the Christmas magic from your own car – or book Santa's sleigh or a golf cart holiday train to enhance your experience!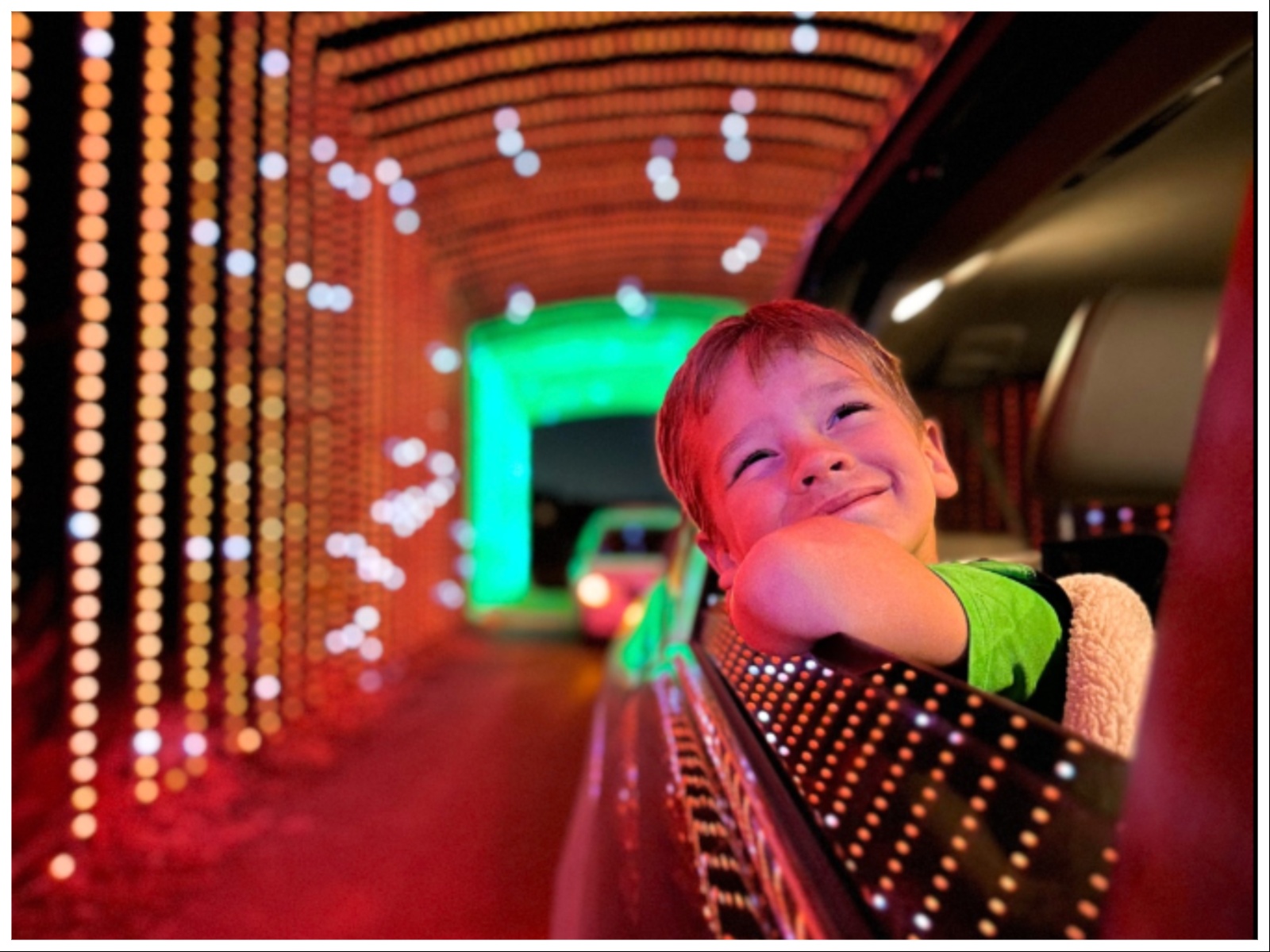 "Community Spirit Park" at Cathedral Square Park
520 E. Wells St.
milwaukeedowntown.com
Take a walk through "Community Spirit Park" and see over 100 trees decorated by local schools and organizations. Each tree has unique decorations, light display and sign on display throughout the park. Also, make your way to the Singing Tree that not only shines bright but twinkles with music.
Enchant Christmas
7035 S. Ballpark Dr.
enchantchristmas.com
Get lost in the World's Largest Christmas Maze this holiday season! Enchant Christmas will open on Friday, Nov. 24 through Dec. 31 at the Franklin Field Ballpark Commons. Make new holiday memories this year by walking through the massive maze of dazzling lights, visiting the Christmas village, skating on the ice rink, visiting Santa, theme nights and so much more! Purchase your tickets today.

Enchantment in the Park
Regner Park, 800 N. Main St., West Bend
enchantmentpark.org
Get ready for a jaw-dropping holiday light experience that'll have you pulling a Buddy the Elf, saying, "I'm in love, I'm in love and I don't care who knows it!" The Enchantment in the Park light show is just that incredible! Open nightly from Nov. 24 through Dec. 24 from 5-9 p.m., drive up to Washington County's Regner Park, then through the entrance located at W. Washington St. and enjoy your trip through the enchanting park, in awe of a million LED and RGB lights throughout the decorations and displays. To finish, you'll park your car in the lot and walk through the park to enjoy the other lights and displays. Enjoy live entertainment, music, special events, hot cocoa and treats every night, take a horse and carriage ride, savor marshmallows by the open fire and arrive early for a visit with Santa who will drop by Nov. 24- Dec. 23.

"Felices Fiestas" at Pere Marquette Park
925 N. Old World 3rd St.
milwaukeedowntown.com
Create a memory or two and take a walk through Felices Fiestas, as a part of the Milwaukee Holiday Lights Festival. From flashing lights to animated elves and reindeer, this light display may be your new yearly Christmas tradition. This holiday aesthetic features Christmas light favorites and memories that can be cherished for a lifetime!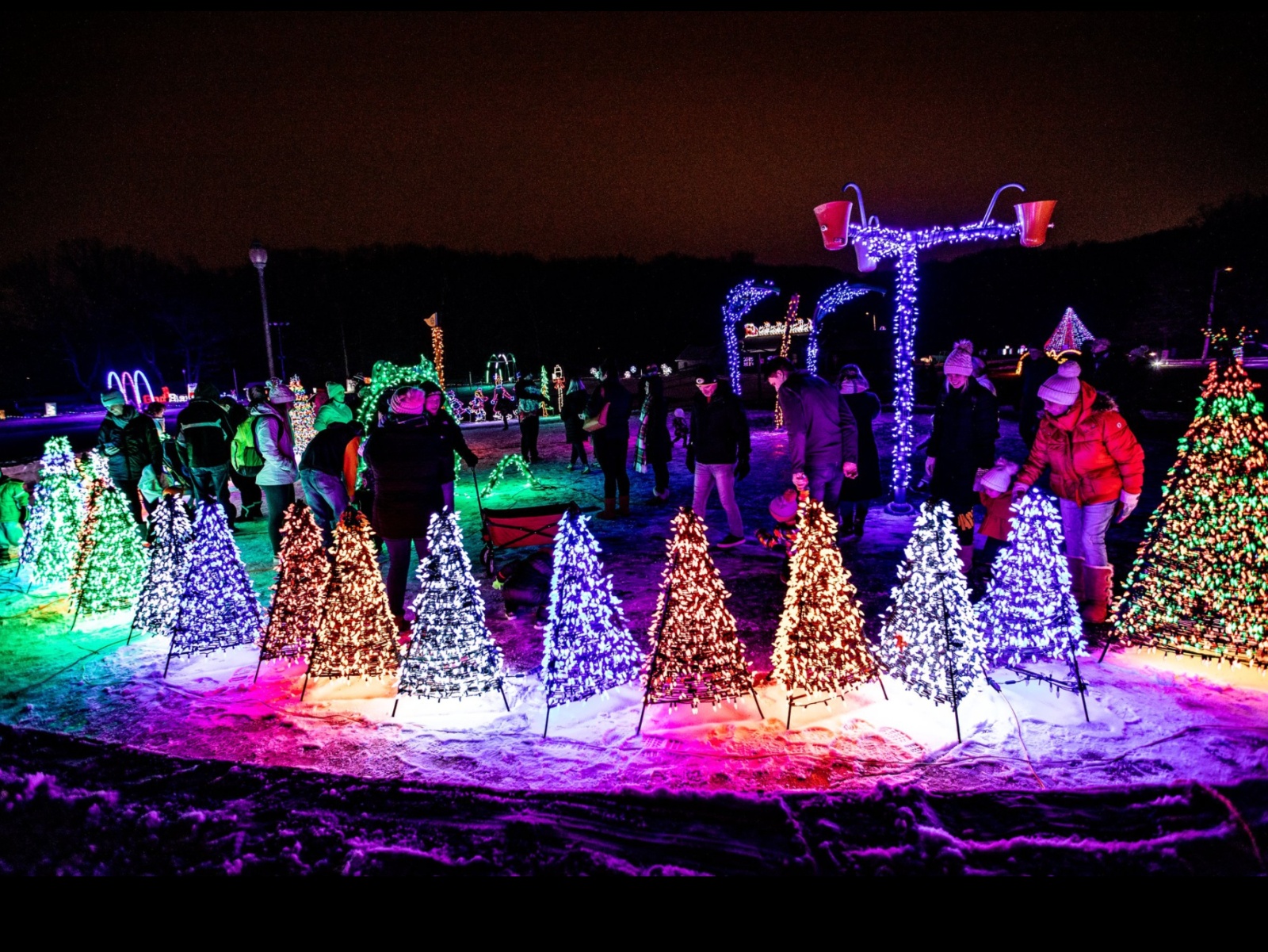 Holiday Lights on the Hoan
600 S. Water St.
lightthehoan.com
Enjoy holiday lights hosted on one of the most iconic spots in Milwaukee. The Hoan brings you Holiday Lights on the Hoan all season long! Enjoy Friday Night Lights through the end of the year with seasonal colored light shows to celebrate Hanukkah from Dec. 7-15, Christmas from Dec. 24-25 and New Year's Eve on Dec. 31.
Illuminate Ozaukee
Herman A Zeunert Park, Cedarburg
ozaukeenonprofitcenter.org
Drive through this cheerful light show at Herman A. Zeunert Park in Cedarburg to witness the magic of the holidays. See an abundance of glowing holiday lights, displays and more! Patrons must stay in their vehicles at all times to enjoy this show and a suggested donation of $10 per vehicle is appreciated. All donations will go toward the Ozaukee Nonprofit Center. The shimmering spirit of the holidays begins at Illuminate Ozaukee every Friday and Saturday from Dec. 1-23.
Light The Square at Drexel Town Square
361 W. Town Square Way
oakcreekwi.gov
Kick off the season of holiday cheer at Light The Square holiday celebration at Drexel Town Square Friday, Dec. 1 at 5:30 p.m. Stick around for delightful holiday cookies, hot cocoa, children's games, activities at the Civic Center, meet and greet with Santa, story time and a light show at 6 p.m. Then visit the holiday light display anytime after the kick-off all holiday season long to enjoy the lights and sounds of the display.
Making Spirits Bright
3030 Calumet Dr., Sheboygan
makingspiritsbright.com
Visit Making Spirits Bright by Sheboygan County Rotary Clubs the Friday after Thanksgiving through New Year's Eve from 5-9 p.m. for a drive-thru light show charmingly choreographed to holiday music in Evergreen Park. Admission is free and all pantry donations go directly to Sheboygan County Food Bank. Bring your family, friends and even pets with you on this joyous ride!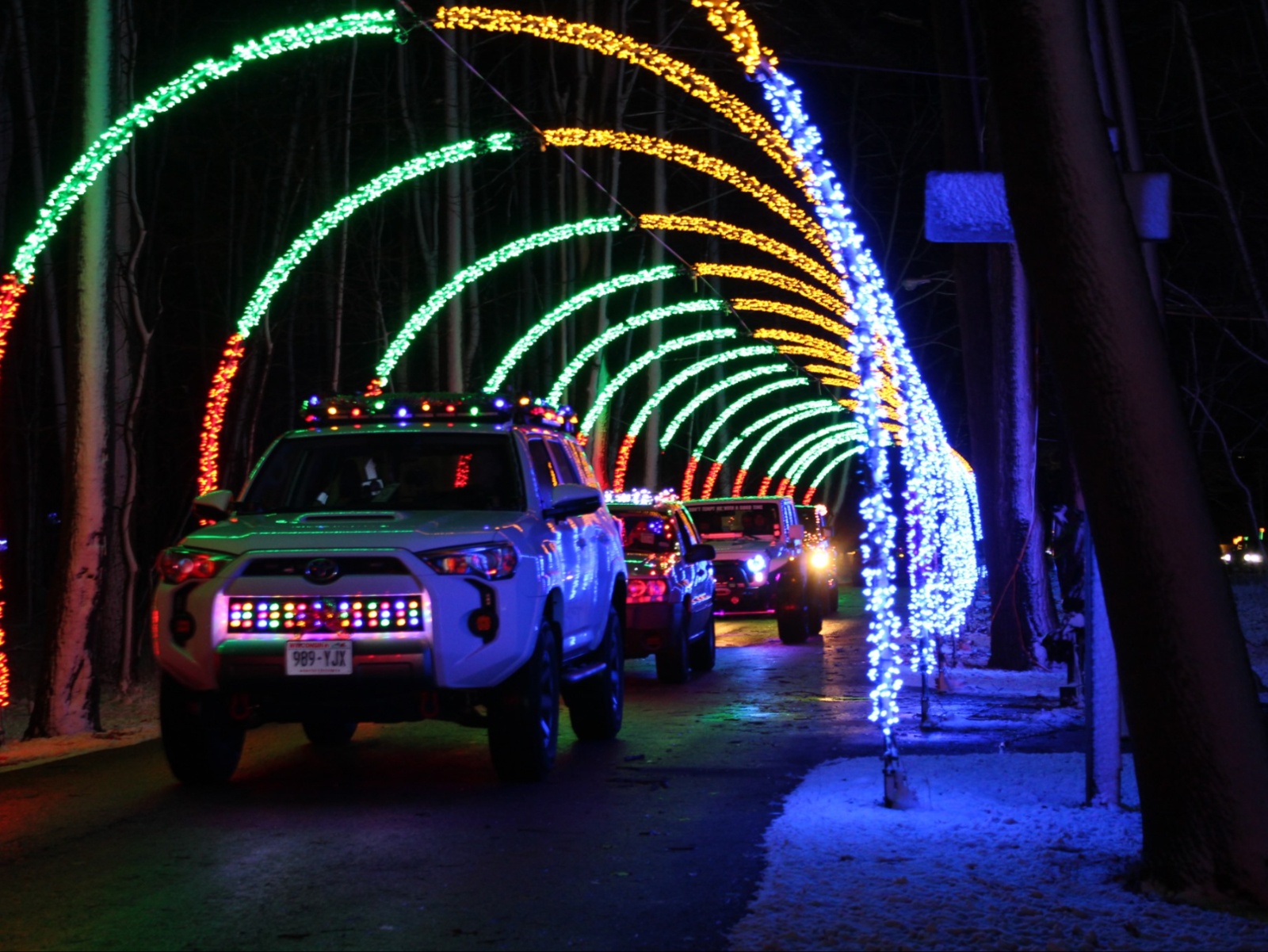 Miller Valley Holiday Lites
3897 W. State St.
[Read more]
millerbrewerytour.com
Miller Valley Holiday Lites show has returned this year until Dec. 27, from 6 to 10 p.m. Tune your radio to 91.1 FM and park between the A-frame signs to enjoy the Miller Valley Holiday Lites show! Each five-minute show gives everyone the holiday joy and spirit right in front of the Plank Road Brewery House next to the Miller Inn. Relax in your car as you celebrate this season with holiday music and lights right outside your window.

Santa's Celebration Square
Zeidler Union Square, 301 W. Michigan St.
milwaukeedowntown.com
Take a walk and experience the magic of Christmas! Pick from numerous displays all over Zeidler Union Square – take a seat in a glowing oversized ornament or chair, for instance – and don't miss an opportunity for a group photo or selfie for your Christmas card this year!
The Candy Cane Adventure
2888 Main St., East Troy
easttroylights.com
This unique light show is unlike any other you've ever seen. With the help of local businesses and schools, this light show made from custom control boxes has covered downtown East Troy. Get into the holiday spirit with this controllable and interactive light show! Pick up a wand, grab a comic and find the canes to unlock their powers to control the lights from Saturday, Dec. 2 through Sunday, Dec. 31. Plus, Santa will arrive on a 114-year-old East Troy Electric Railroad Santa Parade train to visit this interactive light display on opening night. And make sure to mark your calendars for the East Troy Wine Walk and New Year's Eve Ball drop surrounded by the light display!
Wild Lights
10001 W. Bluemound Rd.
milwaukeecountyzoo.org
Enjoy the twinkling lights of Wild Lights at the Milwaukee County Zoo from Dec. 1-31 (except closed on Dec. 4-5, 11-12 and 24-25). This year, the Zoo will feature thousands of illuminated lights throughout the zoo with even more to look forward to than last year. Adventure through sparkling forests, pathways and magnificent animal-themed light displays that'll have you in awe.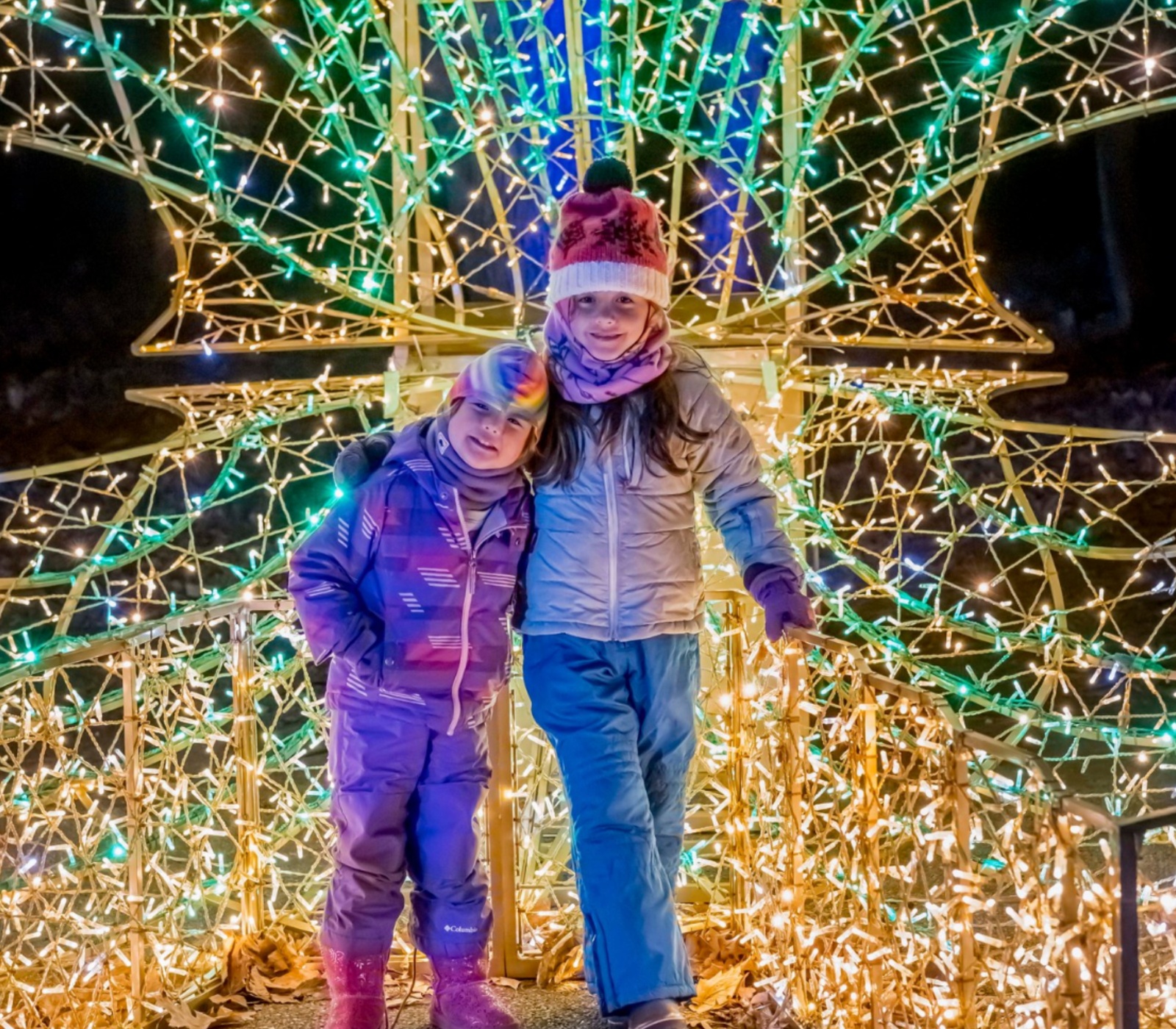 Winter Realms
1091 Hidden Cottage Cir, Lake Geneva
winterrealms.com
[Read more]
Explore the beauty and magic of a real-life fairy tale at Winter Realms in Lake Geneva, open from January through the end of February. This icicle wonderland replaces last year's Ice Castles after it abruptly closed due to warm weather in the past. This year, patrons can look forward to magnificent LED lights that bring sculptures, frozen thrones, ice-carved tunnels, chilly chutes and fountains to life. Plus, horse-drawn sleigh rides, winter characters and more can also be found. Make sure to purchase your tickets at winterrealms.com.
Winter Wonders
9400 Boerner Dr.
winterwonders.org
Drive through a 1.4-mile drive-through holiday light show at Boerner Botanical Gardens starting Friday, Nov. 24 through Sunday, Dec. 31! Enter through the Whitnall Park Golf Course entrance at 6751 S. 92nd St. to enjoy this holiday season with the view of over a million LED lights, the new snow flurry tunnel, holiday gift bag giveaways and nightly holiday short videos. Tickets can be purchased at Boerner Botanical Gardens and Festival Foods locations Greenfield, West Allis, Hales Corners, Sommers, Kenosha and Mount Pleasant. For more information, visit the Winter Wonders website.
Christmas in the Ward at Catalano Square
147 N. Broadway
historicthirdward.org
Get ready for one of the largest Christmas celebrations in Milwaukee! Gather together for Christmas in the Ward on Friday, Dec. 1 from 5:30-8:30 p.m. Arrive early to listen to the Milwaukee Police Band begin the night with holiday tunes, leading up to the Town Bank tree lighting ceremony at 6 p.m., the Bach Chamber Choir at 6:20 p.m. and so much more! Plus, get excited for Santa's visit to Jolly's Gingerbread House, a yummy cookie sale, hot cocoa cocktails, local shops and live reindeer. Check out the full schedule of events.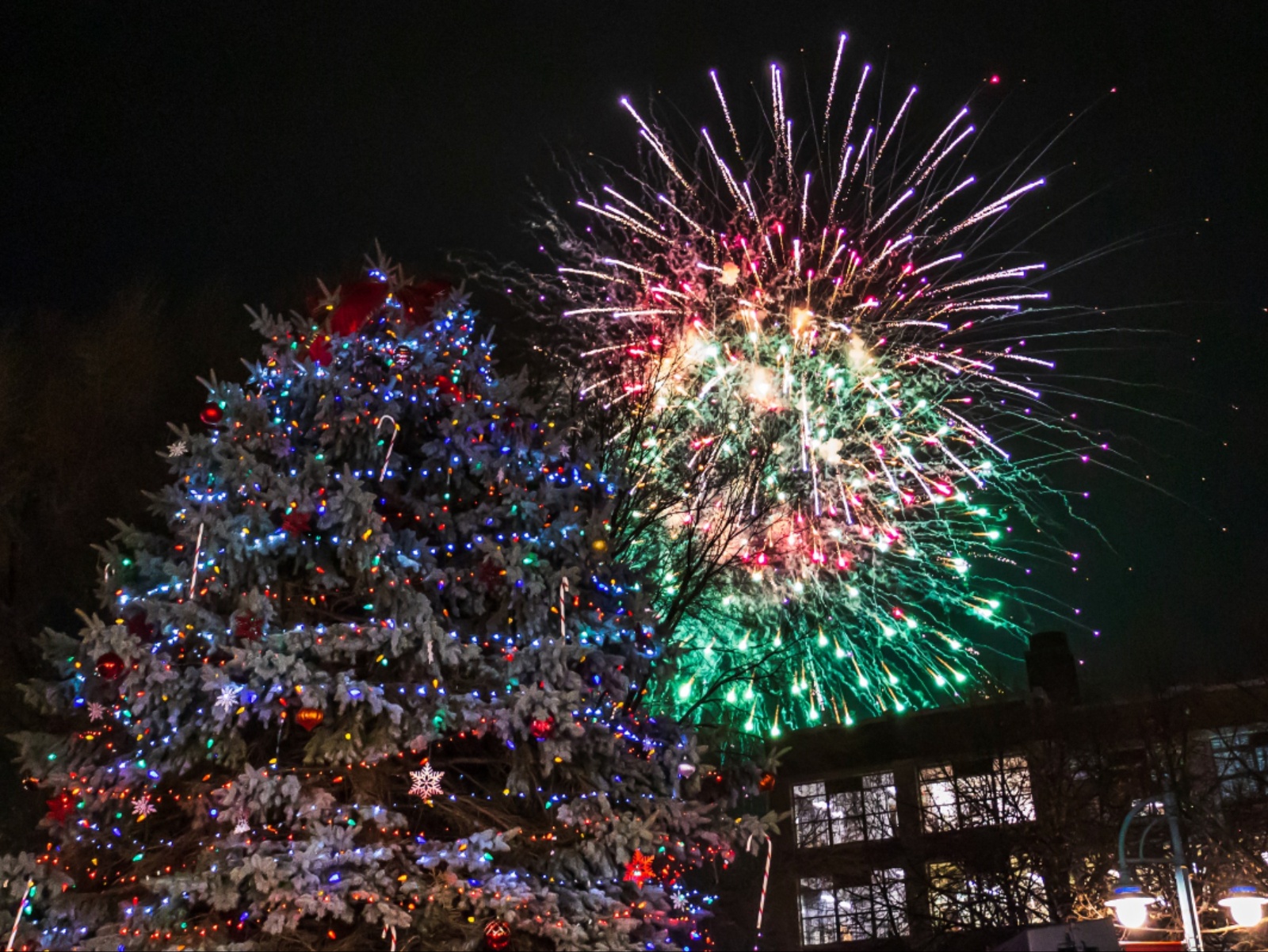 Greenfield Holiday Tree Lighting
5151 W. Layton Ave.
ci.greenfield.wi.us
Attend a tree lighting so pretty, it should be on a holiday card. Head over to Konkel Park in Greenfield for the annual Holiday Tree Lighting on Saturday, Dec. 2 from 2-6 p.m. Celebrate with the community by gathering together for this beautiful sight, enjoy entertainment, music, kids winter games, horse-drawn sleigh ride, free hot cocoa and more!
Hales Corners Annual Tree Lighting Ceremony
5885 S. 1116th St.
halescornerslibrary.org
Enjoy a magical evening during the Hales Corners annual tree lighting ceremony Saturday, Dec. 2 from 6-7 p.m. Get immersed in holiday music, lights, festivities, a visit from Santa Claus, holiday-themed activities, community and so much more! Join the fun and check out the full schedule of events at Hales Corners' website.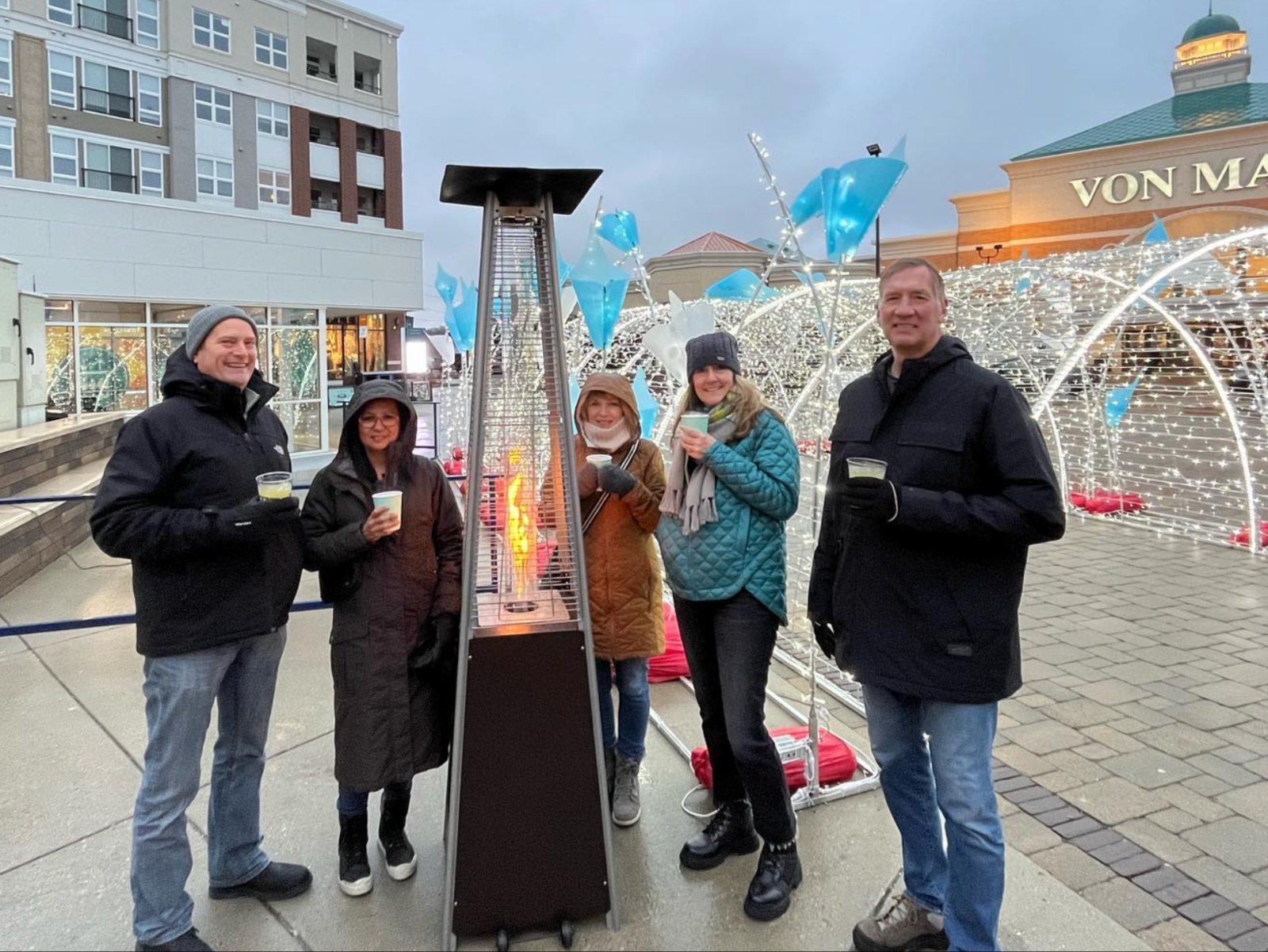 Holiday Town Tree Lighting at The Corners of Brookfield
2011 W. Bluemound Rd.
thecornersofbrookfield.com
Have yourself a very merry tree-lighting! Join the Holiday Town Tree Lighting at The Corners of Brookfield on Saturday, Dec. 3 from 3-5:30 p.m. Bring your family and friends to this gleaming display of the annual holiday tree, plus activities, live music, treats, hot cocoa and more at this city center!
Night of Lights
235 N. Broadway, Waukesha
waukesha-wi.gov
Start December off right by attending Waukesha's Night of Lights on Friday, Dec. 1 at 5:30 p.m. for their annual tree lighting display outside of the Rotunda followed by a lantern stroll and caroling outside of local businesses. Then end the night with the Walk of Light Illumination at 6:15 p.m. at the Riverfront Plaza to spread holiday cheer!
West Allis Christmas Tree Lighting
7525 W. Greenfield Ave.
westalliswi.gov
It's beginning to look a lot like holiday decorations have taken over West Allis! Gather together with friends, family and the community during the West Allis Christmas tree lighting ceremony on Saturday, Dec. 2 at 4 p.m. Enjoy choral performances, holiday snacks, entertainment and more all while you watch the West Allis tree illuminate with thousands of dazzling lights. Stick around, as the West Allis Christmas Parade will march down the street starting at 81st Street at the Wisconsin State Fairgrounds entrance, before heading east on Greenfield Avenue, then to 70th Street and south to end on Orchard Avenue.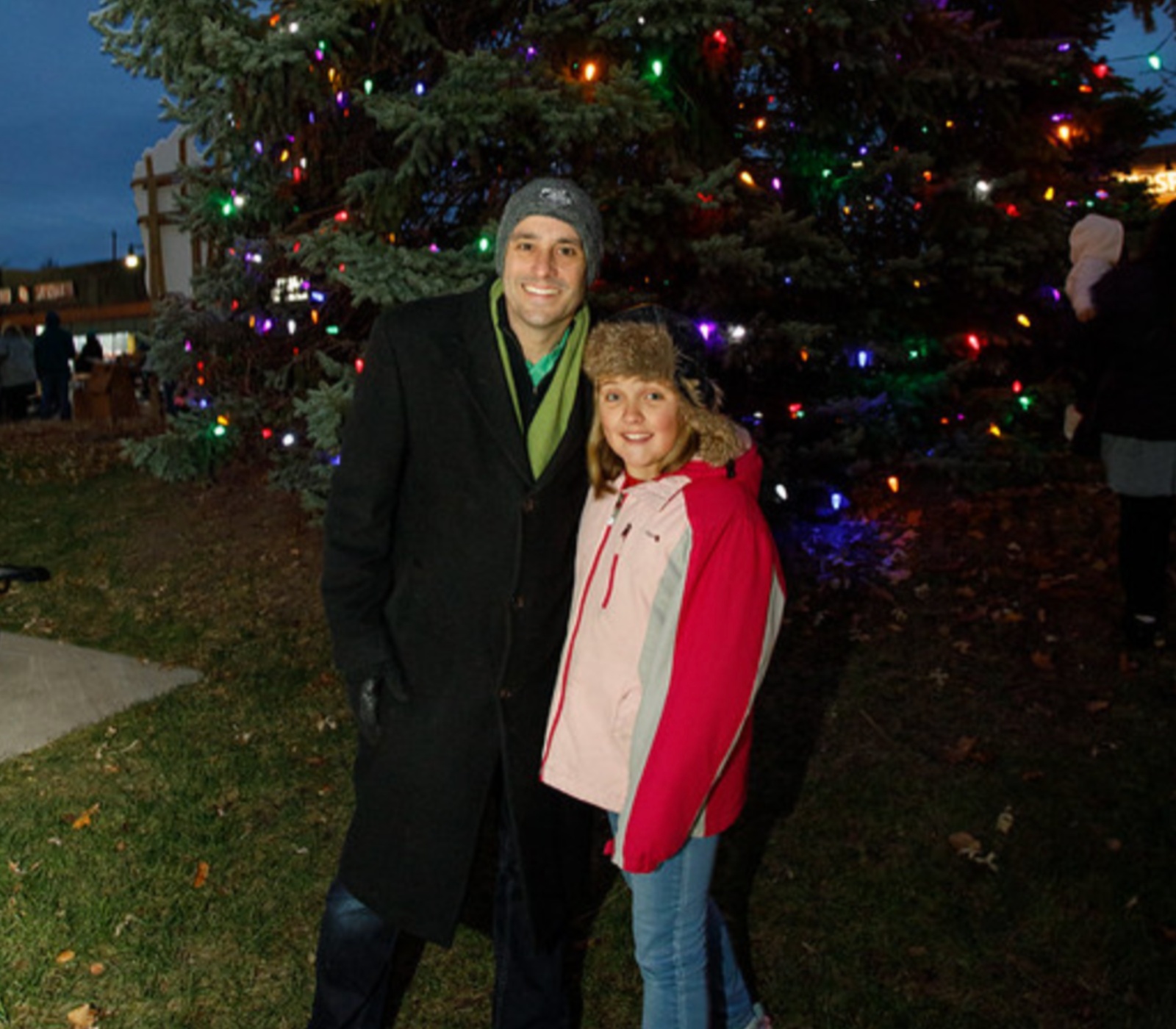 A Dickens of a Village at The Historic Village of Greendale
5602 Broad St.
greendale.org
Watch A Dickens of a Village come to life in downtown Greendale on Friday, Dec. 1 from 5-9 p.m. Listen to the holiday classic "A Christmas Carol" in 12 minutes flat, enjoy sleigh hay rides, horse-drawn carriages, store specials, write letters to Santa, feast on food, drinks and festive treats, and so much more! Gather your friends and family for this family-friendly must-see event!
Christmas at The Pabst Mansion
2000 W. Wisconsin Ave.
pabstmansion.com
Begin a new holiday tradition this year at the Pabst Mansion! Immerse yourself in its rich history this holiday season during self-guided tours starting Thursday, Nov. 16 through Sunday, Jan. 7 from 10 a.m. to 4 p.m. Monday through Saturday and 11 a.m. to 2 p.m. on Sunday. Tickets are only $20 for adults, $18 for college students and seniors 62 years and older, $13 for children ages 6-15, children ages 5 and under and members are free.
Christmas at the Commons
1028 Madison Ave.
southmilwaukee.gov
Happy holidays from South Milwaukee! Spend Saturday, Dec. 2 enjoying an old-fashioned Christmas from 11 a.m. to 2 p.m. at City Hall located at 2424 15th St. There will be free activities, a visit with Santa, a magic show, free hayrides and more! Make your way over to Christmas at the Commons from 3-6 p.m. at the Bucyrus Commons to listen to local Christmas musicians, meet Santa and Mrs. Claus, holiday activities, festive food and drinks and more! Then stick around for the Lighted Standstill Parade on 11th Avenue from 4-5 p.m. followed by the Commons tree lighting at 6 p.m.
Concerts for a Cause with Canadian Pacific and Kansas City Southern Holiday Train
Multiple locations
travelwisconsin.com
All aboard! The Canadian Pacific and Kansas City Southern Holiday Train is back and chugging through Wisconsin with 13 scheduled stops over three days! Join the fun – all the events are free and guests may bring food or cash donations to benefit local communities in need. It's the spirit of the season! Singers Tenille Townes and Breland will give you a holiday fun-filled night to remember with their performances – 'cause that's the way things happen on the CPCK Holiday Train! Check out the full schedule today!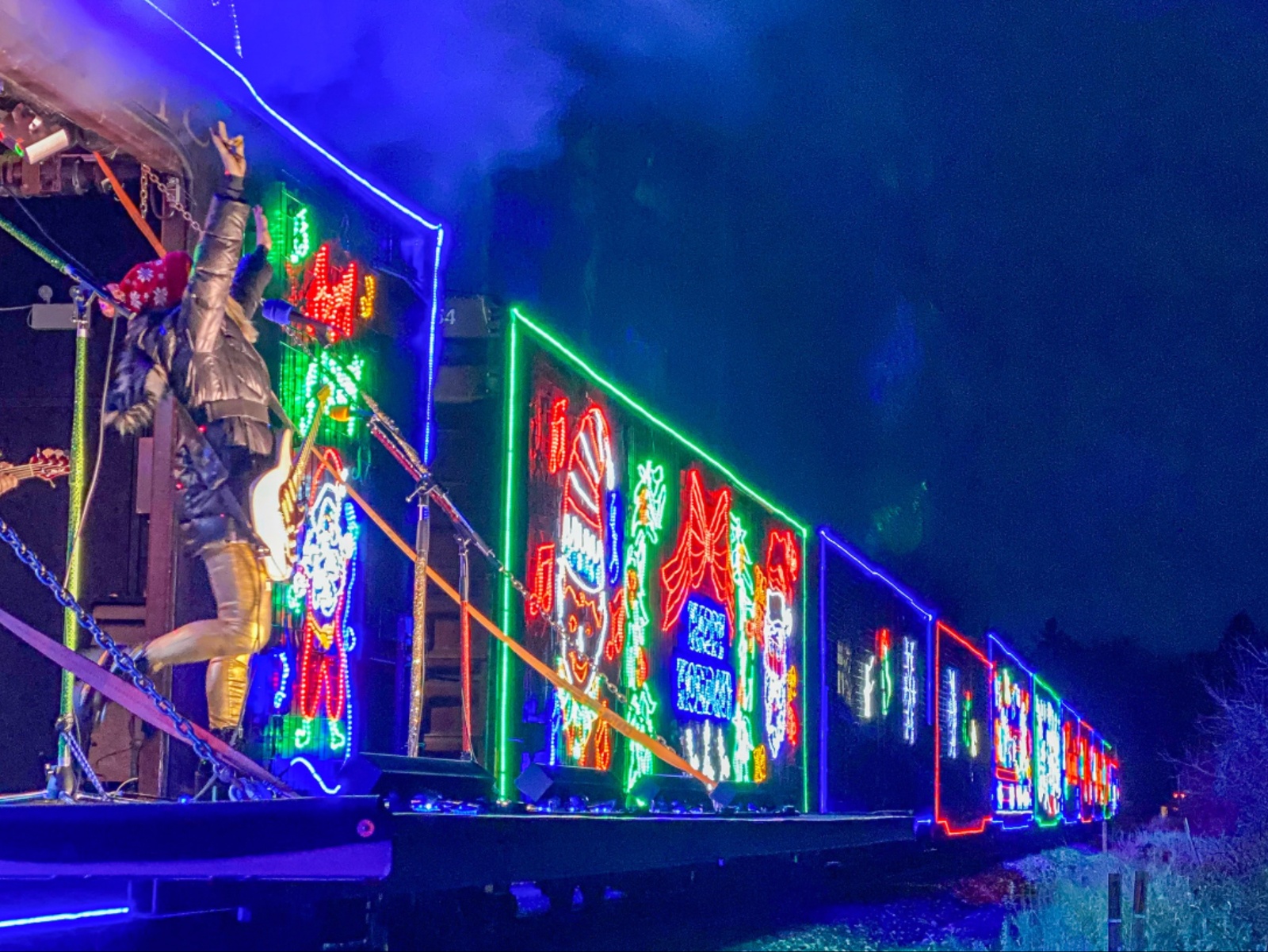 Cruisin' Santa Claus
Greenfield neighborhoods
ci.greenfield.wi.us
Ho ho ho, there Santa goes! Santa will visit the Greenfield neighborhoods on Monday, Dec. 11 through Thursday, Dec. 14 starting at 6 p.m. each night. Joining Santa will be Mrs. Claus, the reindeer and his friends from the North Pole. Follow along with the Santa Tracker to find out where he is and find a spot to watch Santa fly by!
Deck the Streets and Village at Milwaukee Public Museum
800 W. Wells St.
mpm.edu
Forget decking the halls with boughs of holly: The Milwaukee Public Museum decked the Streets of Old Milwaukee full of holiday magic! Gather your family, friends and favorite people to journey through Milwaukee Public Museum's Streets of Old Milwaukee and European Village. Experience the magic of the holiday season in this iconic setting now through Jan. 22, through the windows, streetscapes, markets and more. Purchase your tickets today!
European Village Alive! at Milwaukee Public Museum
800 W. Wells St.
mpm.edu
Do you ever wonder where many of our American holiday traditions and customs came from? Head to the Milwaukee Public Museum on Friday, Dec. 8 and Saturday, Dec. 9 from 11 a.m. to 3 p.m. to learn more about the American holiday season. Discover how thousands of Europeans brought celebrated and forgotten traditions with them when they immigrated here in the 19th century, artifacts and more! Plus, take advantage of cocoa and candy canes with Santa on Dec. 9, with sweets, photo opportunities and holiday-themed arts and crafts.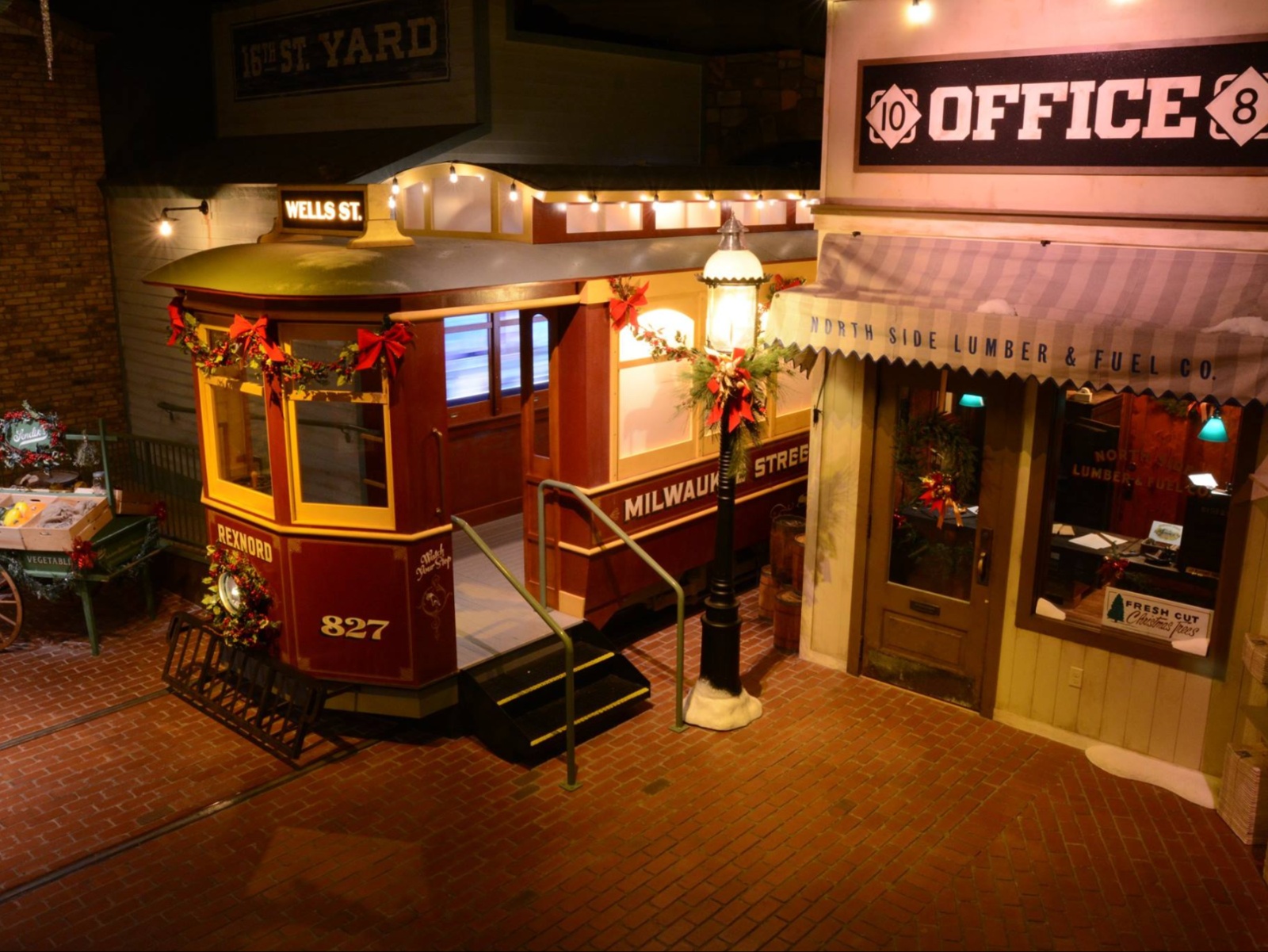 Father Christmas Visits the Mansion at Pabst Mansion
2000 W. Wisconsin Ave.
pabstmansion.com
Here comes Santa Claus, right down W. Wisconsin Ave. to visit the Pabst Mansion! Bring your family to visit Santa to enjoy special holiday treats and give Santa your letters! Take a walk around and be dazzled by the holiday displays throughout the Pabst Mansion. Santa will visit the Pabst Mansion every Sunday from Nov. 26 through Dec. 17 from 2:30-5:30 p.m. Plus, he'll make a special visit on Christmas Eve from 11 a.m. to 1 p.m. Don't miss out on this special visit – buy your tickets today.
Festive Friday Eves at Cedar Creek Settlement
N70 W6340 Bridge Rd, Cedarburg
cedarcreeksettlement.com
Seasonal celebrations begin on Cedar Creek Settlement during Festive Friday Eves on Friday, Nov. 17 through Friday, Dec. 22 from 5-8 p.m. Spend the evening shopping through local shops to find the perfect holiday gift, enjoy holiday decor, tasteful treats, warm drinks, seasonal comfort food and strolls through the historic building too!
Holiday Movies, Cocktails and Chocolate at Indulgence Chocolatiers
320 Hight St., Brookfield
thecornersofbrookfield.com
Treat yourself this holiday season to a holiday classic: something sweet to eat and drink plus a Christmas movie favorite. Purchase your tickets to an Indulgence Chocolatiers Holiday Movies, Cocktails and Chocolate, hosted on Friday, Dec. 15 or Wednesday, Dec. 20 from 5:30 to 8 p.m. at The Corners of Brookfield. Make sure to call the Indulgence Chocolatiers Walker's Point location at (414) 223-0123 to make your reservation.
Holiday Pictures Under the Hoan at Hoan Bridge
Erie Street Plaza
lightthehoan.com
Spending the holiday at the Hoan is definitely a sight to see! Join the community during the Holiday Pictures Under the Hoan on Friday, Dec. 1 from 6:30-9:30 p.m. at the Erie Street plaza for your holiday pictures. Enjoy the holiday colors glowing through the Milwaukee night sky, then snag a photo with them as the perfect holiday pic. Get complimentary holiday photos taken under the Hoan for all bulb dedications purchased starting at a minimum of $25.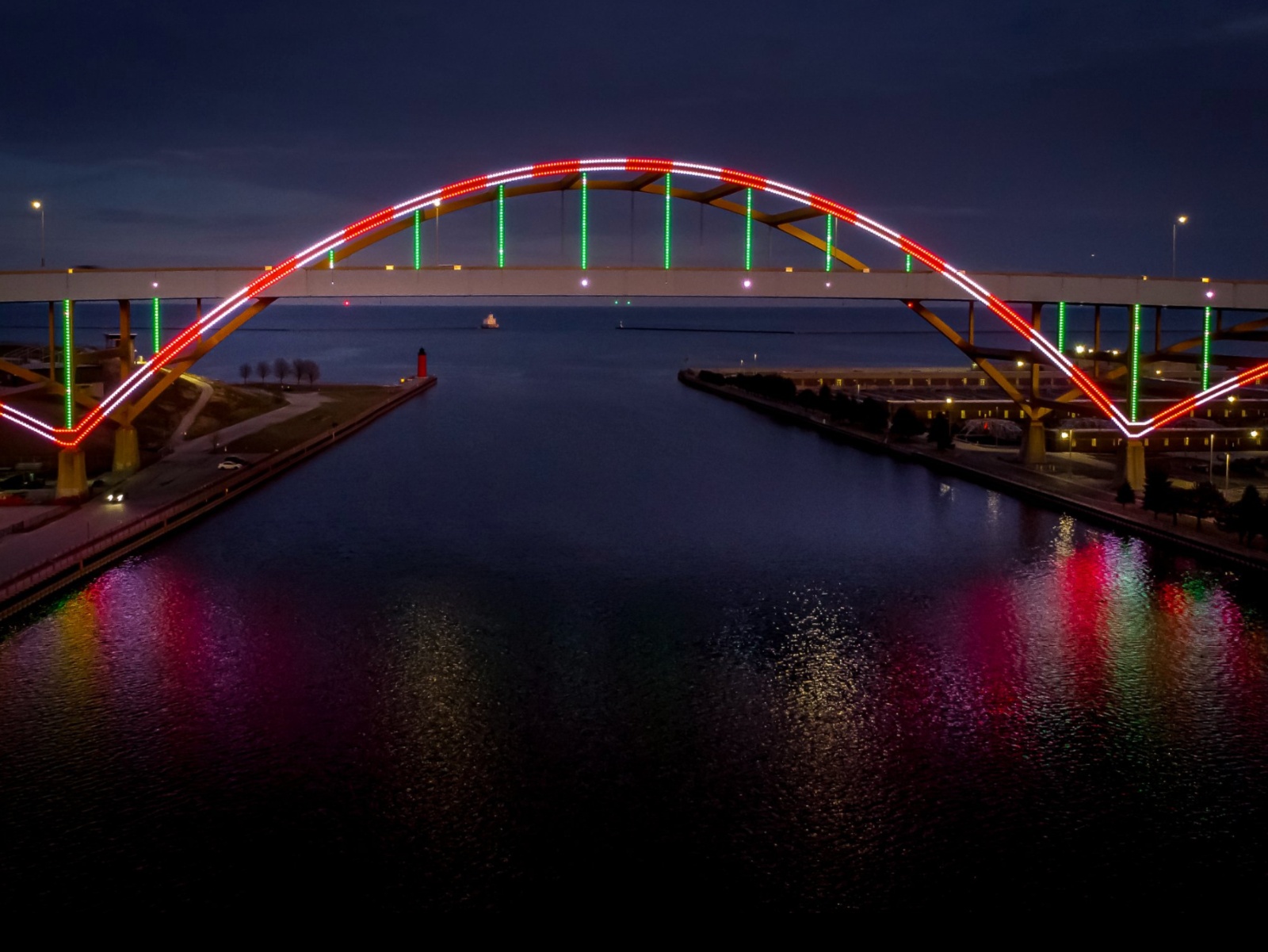 Holiday Sip & Stroll at Village of Wauwatosa
7603A W. State St.
wauwatosavillage.org
Find yourself frolicking through the streets of the village of Wauwatosa this holiday season! Holidays in the Village presents Holiday Sip & Stroll from 5 to 8 p.m. Visit local shops, taste holiday treats, sweets and drinks, and so much more!
Home for the Holidays at Old World Wisconsin
W372 S9727 WI-76, Eagle
oldworldwisconsin.wisconsinhistory.com
Take a home-away-from-home trip this holiday season to Old World Wisconsin! Enjoy Home for the Holidays Saturdays and Sundays throughout December from 10 a.m. to 3 p.m. Enjoy this large living history museum full of holiday decorations and cheer for the whole family to enjoy. Participate in activities, explore the 19th-century Crossroads Village, gather by the fireside for stories, enjoy seasonal treats, crafts, shopping and more! Purchase your tickets today.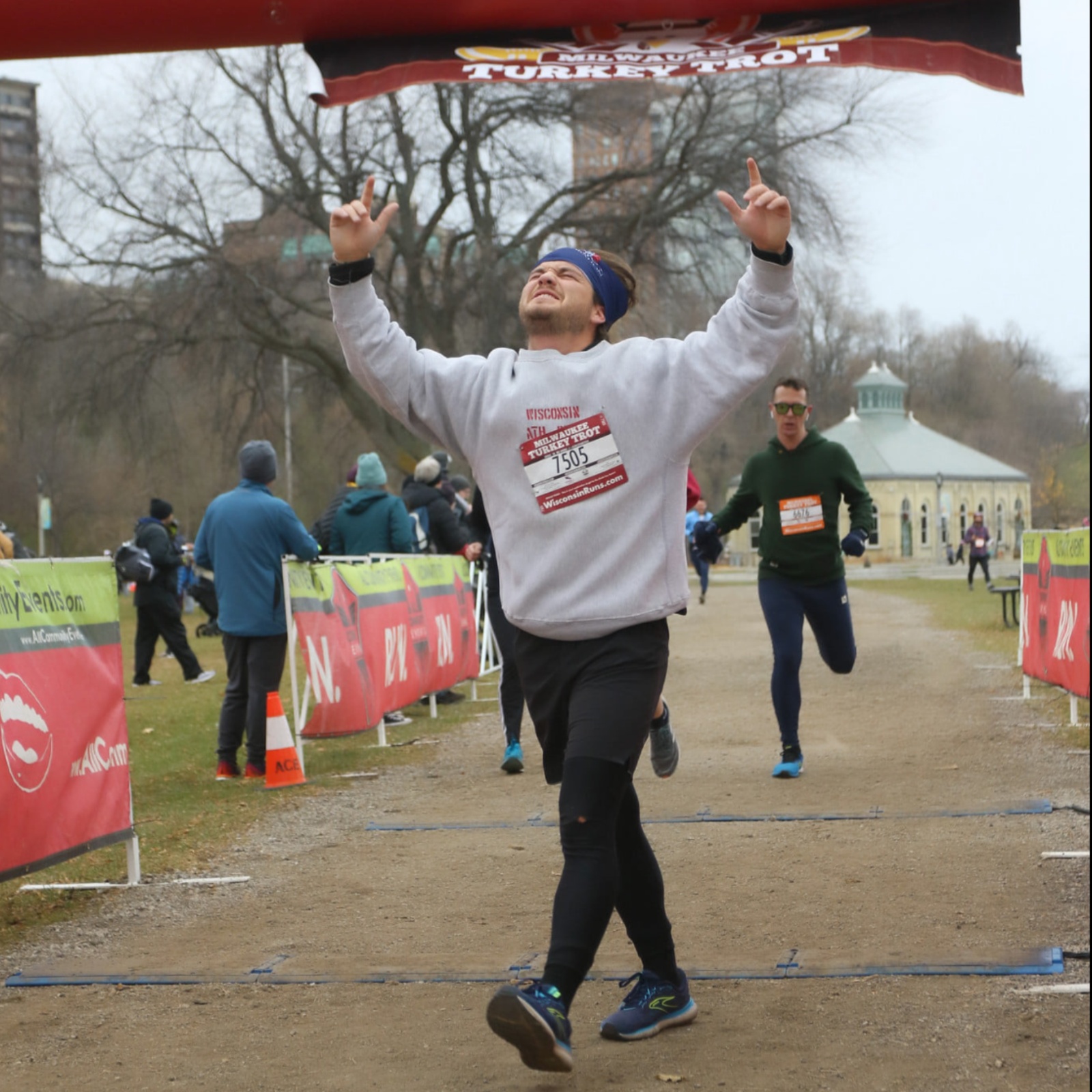 Reindeer Run at Regner Park
800 N. Main St., West Bend
enchantmentpark.org
Run, run, Rudolph (or walk) through Enchantment in the Park at Regner Park during the first-ever Reindeer Run 5K! Participate in this exclusive event that'll take you through the park's entire holiday light display on Saturday, Dec. 9 at 4:30 p.m. All proceeds from the event will benefit the West Bend Parks and food donations collected will go toward the Full Shelf Food Pantry. Register today!
Reindeer at The Corners of Brookfield
2011 W. Bluemound Rd.
thecornersofbrookfield.com
Seeing is believing! Witness Santa's reindeer make an appearance on Sunday, Dec. 17 from 3 to 6 p.m. at The Corners of Brookfield. Reindeer at The Corners allows you to visit with Santa's reindeer, take advantage of photo opportunities, sip on hot cocoa and more! Purchase your tickets, which go on sale on Monday, Nov. 27 at 10 a.m.
Santa's Christmas Cavalcade
Downtown Milwaukee
milwaukeedowntown.com
Santa and Mrs. Claus' sleigh bells will be ringing through the streets of Downtown Milwaukee on Saturday, Dec. 2 and Friday, Dec. 8 at 5 p.m. View as the Clauses make the trip through the city on the holiday route on top of a vintage fire truck with singer Sarah Fierek singing holiday tunes and so much more!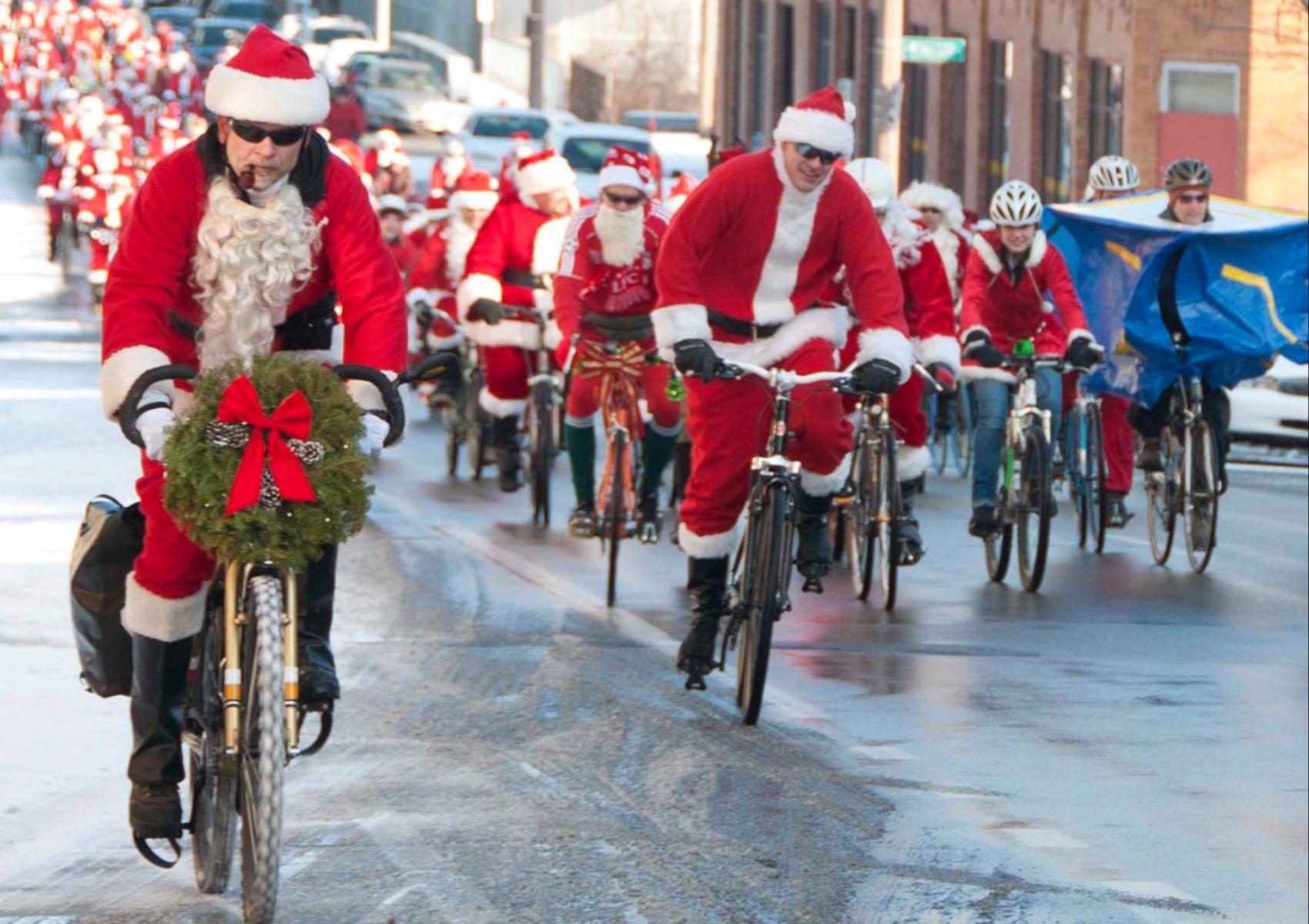 Santa Cycle Rampage
187 E. Becher St.
e.givesmart.com
It's that time of the season when the Santas from all over Milwaukee gather together ... to ride their bikes through the streets of Milwaukee during Santa Cycle Rampage! Join everyone at the Bike Fed Office in Bay View to begin the largest themed costume group bicycle for a 12-mile ride on Saturday, Dec. 2 from 9 to 11:30 a.m. Gather your Santa suit together and sign up for this ride to raise funds for charity.
Santa's Mailbox at Cathedral Square Park
520 E. Wells St.
milwaukeedowntown.com
It's that time of the season when your children are circling toys in the catalog and writing letters and wish lists to Santa this holiday season. Bring your kiddos to Santa's Mailbox at Cathedral Square Park, open now until Dec. 17 to drop off that special letter and wish list. Each letter will be specially delivered to the North Pole – and in return, a personalized letter from Santa will be sent back. No postage is required; make sure to include your return address.
Season's Screenings at Marcus Theaters
Multiple locations
marcustheatres.com
Not only is it the season of giving – it's also the season of screenings! Enjoy Marcus Theaters' Season's Screenings retro series, coming to theaters Sunday, Nov. 26 through Thursday, Dec. 21. Watch all your favorite holiday films like "Dr. Seuss' How The Grinch Stole Christmas," "Spirited," "A Christmas Story" and more back on the big screen. Tickets are only $6 – or purchase your Season's Screenings passport today for $20 to see any four holiday titles and get 10 percent off food and beverage purchases. View the full holiday movie lineup at their website.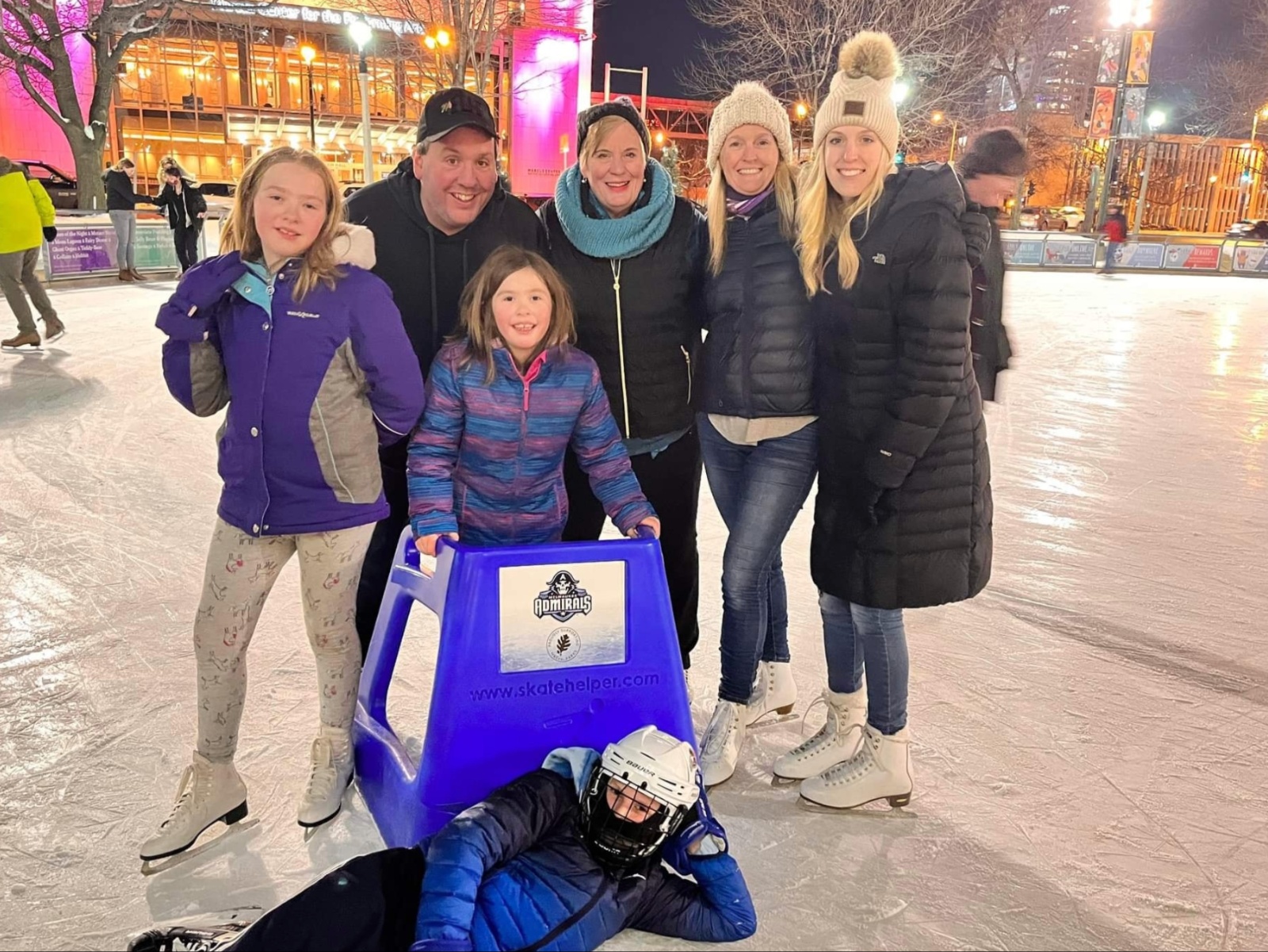 Slice of Ice at Red Arrow Park
920 N. Water. St.
county.milwaukee.gov
Dress your winter best and lace up those skates: It's time for a night of skating under the lights around the rink during Slice of Ice at Red Arrow Park. Spend an enchanting evening skating the night away with family or friends in the center of Downtown Milwaukee. The rink is open Mondays through Thursdays from 11 a.m. to 8 p.m., Fridays and Saturdays from 11 a.m. until 10 p.m., and Sundays from 11 a.m. until 6 p.m. Skate rentals are open at 2 p.m. on weekdays and 11 a.m. on Saturdays and Sundays.
Trans-Siberian Orchestra at Fiserv Forum
520 E. Wells St.
fiservforum.com
Get excited, the Trans-Siberian Orchestra will bring their full-powered holiday hits to Fiserv Forum on Wednesday, Dec. 27! TSO is on their annual holiday tour, "The Ghost of Christmas Eve," including two shows on Dec. 27 at 3 p.m. and 7:30 p.m. This year's tour brings you even more holiday magic with a new presentation that'll knock your holiday socks off. Don't miss this must-see event; purchase your tickets today!
Waukesha Christmas Parade
Downtown Waukesha
waukesha-wi.gov
Celebrate the holidays by attending the Waukesha Christmas parade with your family and friends! Watch downtown Waukesha transform into a cheerful holiday town full of cheer with spirited decorations, festive music, Santa Claus handing out treats, Dancing Grannies, local businesses parading through the streets, a light show, a marching band and so much more!
Courtney Bondar is an adventurous Multimedia Journalist at OnMilwaukee, covering all things Milwaukee. Born and raised in Greendale, WI, Courtney has a deep-rooted connection to her hometown and a strong desire to explore and showcase the vibrant city of Milwaukee.
You can often find Courtney all over Milwaukee, attending exciting events - documenting her experiences on her Instagram stories. Her genuine enthusiasm for her work shines through in her posts - as she strives to capture the beauty of the city and shares it with her followers.
Courtney's passion for writing is evident in her engaging and heartfelt articles. While she covers a wide range of topics, she particularly enjoys delving into the intricacies of dating culture and the art of mixology. Her insightful and thought-provoking pieces offer a unique perspective on these subjects, captivating readers with her authenticity and wit.
After dedicating herself as an intern at OnMilwaukee, Courtney's hard work and dedication paid off when she earned her well-deserved diploma. Now, as OnMilwaukee's first full-time multimedia journalist, she is fully committed to continuing her journey - bringing her distinctive voice and storytelling skills to the forefront.