STEVENS POINT – One of the tallest buildings in downtown Stevens Point in 1923 is also one of the tallest buildings in the former lumbering town today ... and it has a Milwaukee connection.
The five-story Whiting Place Apartments, 1408 Strongs Ave., is a Mediterranean Revival gem designed by architect Alfred C. Clas, whose work in his Milwaukee hometown includes the Central Library, the Pabst Mansion, St. James Court apartments and many others.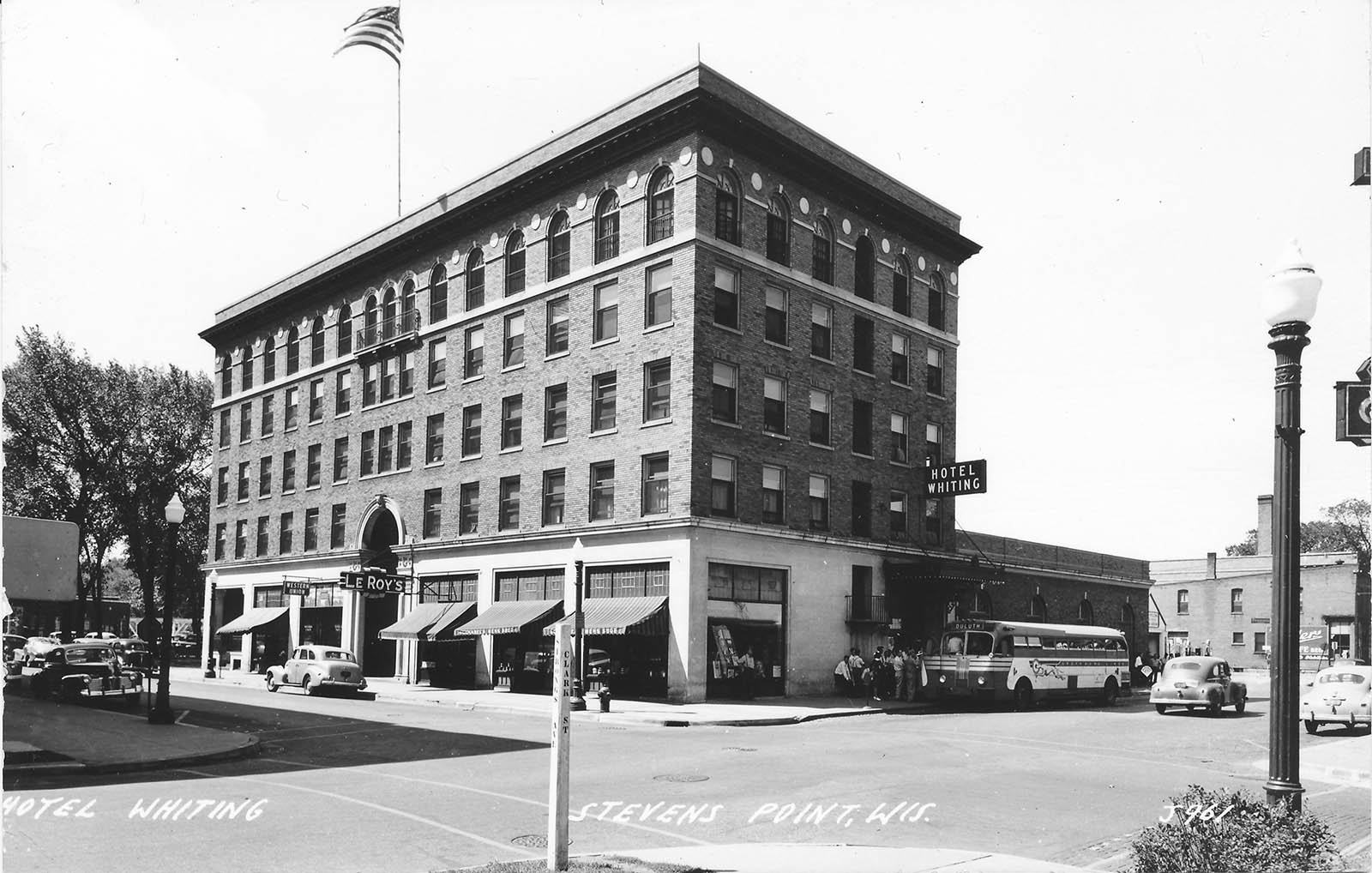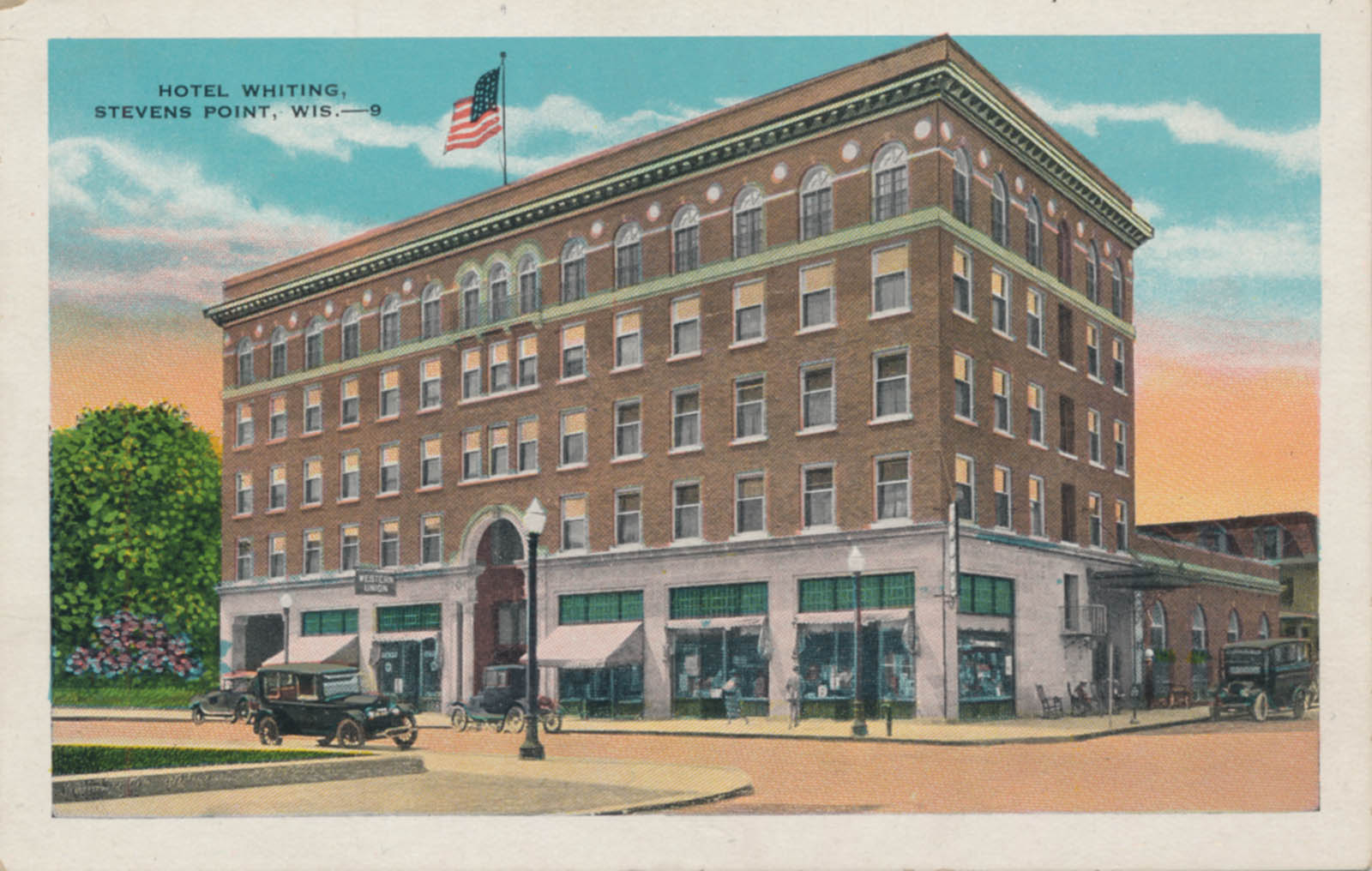 It sits directly across from the Neoclassical former headquarters of Sentry Insurance, designed by Chicago's Childs & Smith, and built in 1922. That building has one fewer story but is of a similar height.
These days, the building is private apartments, but on a recent visit to Stevens Point, I got a chance to look inside and it was interesting to see what remains from the hotel era of the Whiting, which is an example of a community effort to build a hotel.
As the city's growth sped up in the early 20th century, the Stevens Point Chamber of Commerce was created to help bolster business and its influence was manifold.
In addition to helping to get one of the state's most prestigious architects to design a modern hotel, the chamber also helped support the development of the public water works and Stevens Point's city manager governmental system.
"The Hotel Whiting in Stevens Point is reflective of this early 20th century period of hotel construction as community enterprise," notes the 1986 nomination report to get the building added to the National Register of Historic Places, which occurred in 1990.
"In 1920 the Stevens Point Chamber of Commerce was organized. The (chamber) board adopted and executed a five-point program promoting hotel construction, road improvements, public waterworks, street lighting and telephone service.
"Its first priority was the construction of a first class hotel. To facilitate this project the chamber incorporated a management and real estate company and commenced an aggressive stock subscription campaign."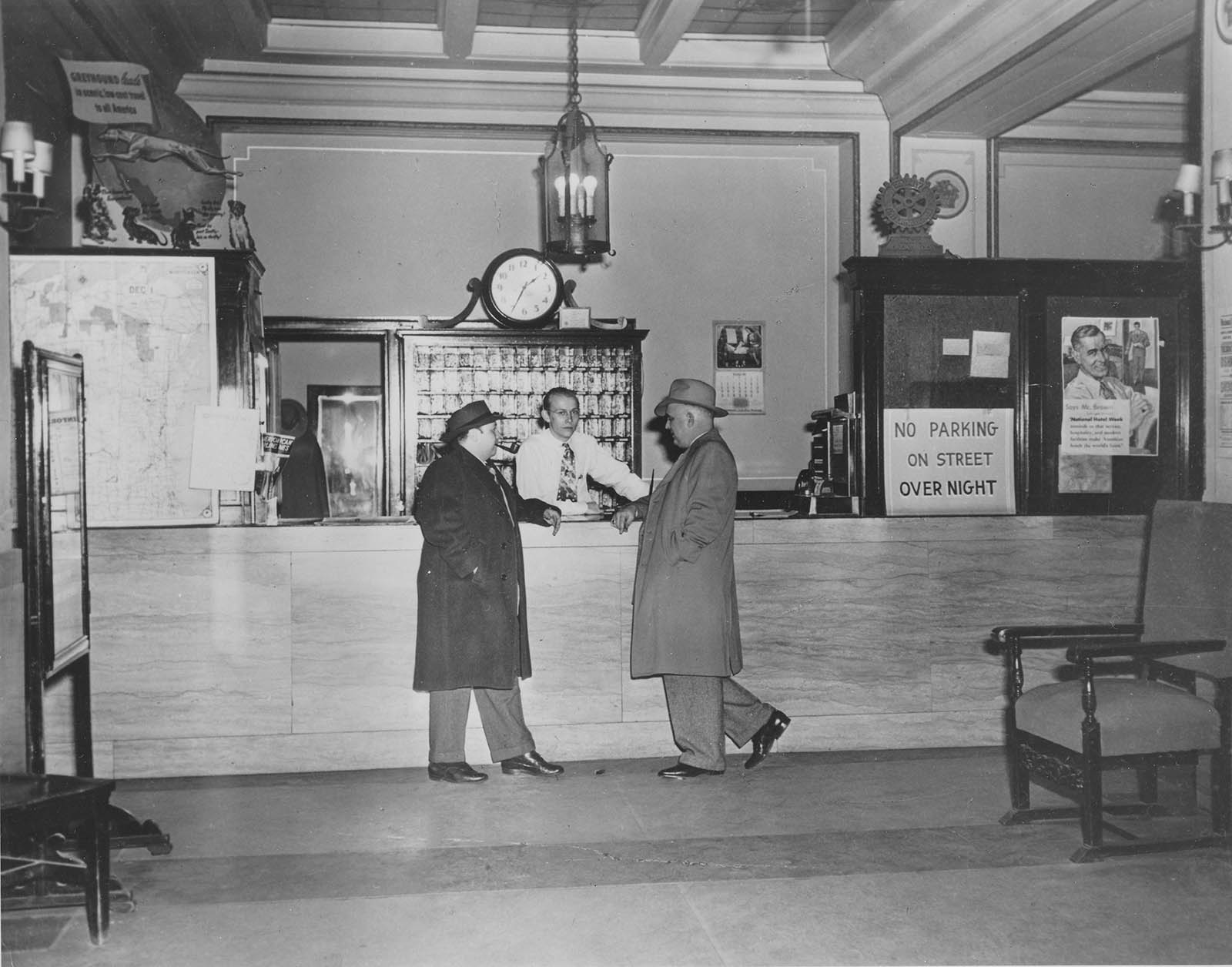 In 1921, land was purchased and the hotel was built. It was named for Whiting Plover Paper Company owner George Whiting, who had purchased $25,000 of stock during the subscription campaign.
As was common at the time for top-notch hotels, the Whiting was fitted out with all the modern conveniences. In addition to roughly 120 guest rooms with private bathrooms, there were meeting and conference rooms and retail spaces.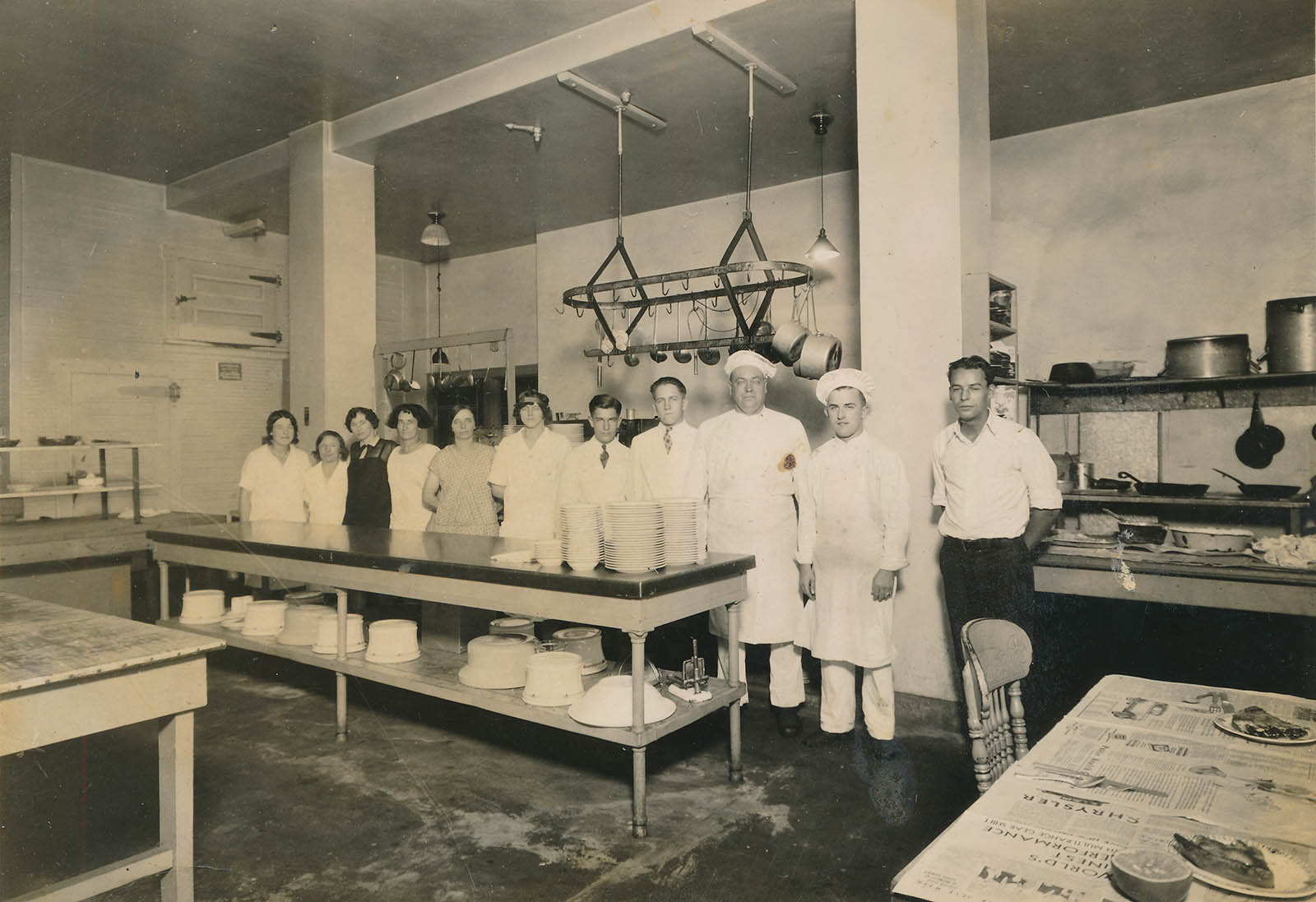 In 1923, Western Union occupied one of those spots. Over the years a variety of businesses would be there, including a drug store, a camera shop, a men's clothier, a resale store, a pawn shop, a waterbed store and others.
Hotel Whiting was initially operated by Kingston Hotels, which in the '20s also ran Milwaukee's Miller Hotel, Duluth's Lincoln Hotel and Rhinelander's Oneida Hotel.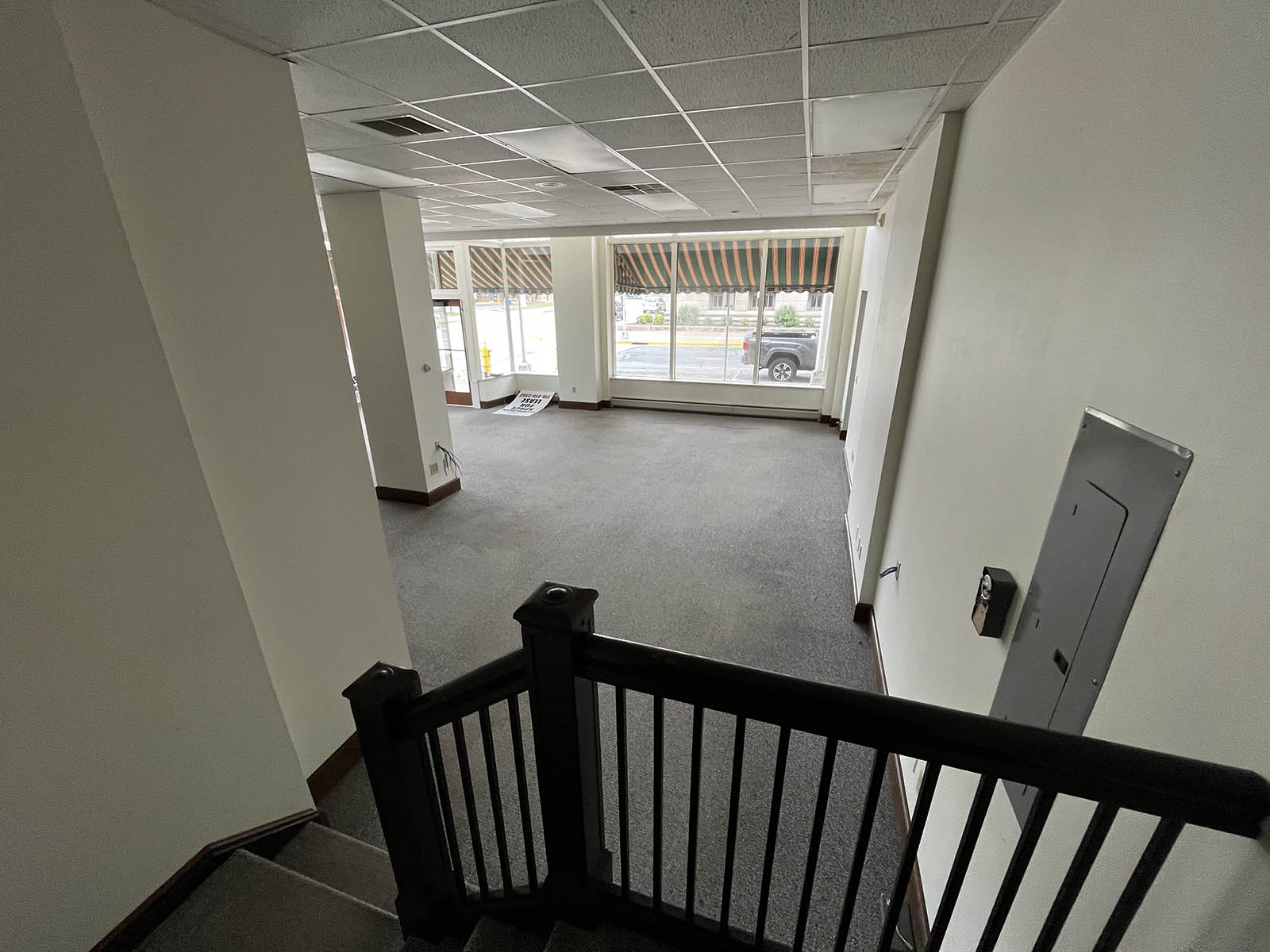 From 1924 until 1932, a radio station – WLBL, the second Wisconsin Public Radio station – even had its studios in the building.
"The Whiting was also the most modern and luxurious hotel in Stevens Point," the report explains. "Situated across the street from the impressive headquarters of Hardware Insurance Companies, the Whiting played host to all insurance executives and sales trainees brought to Stevens Point for conferences and meetings, many of which were held at the Whiting.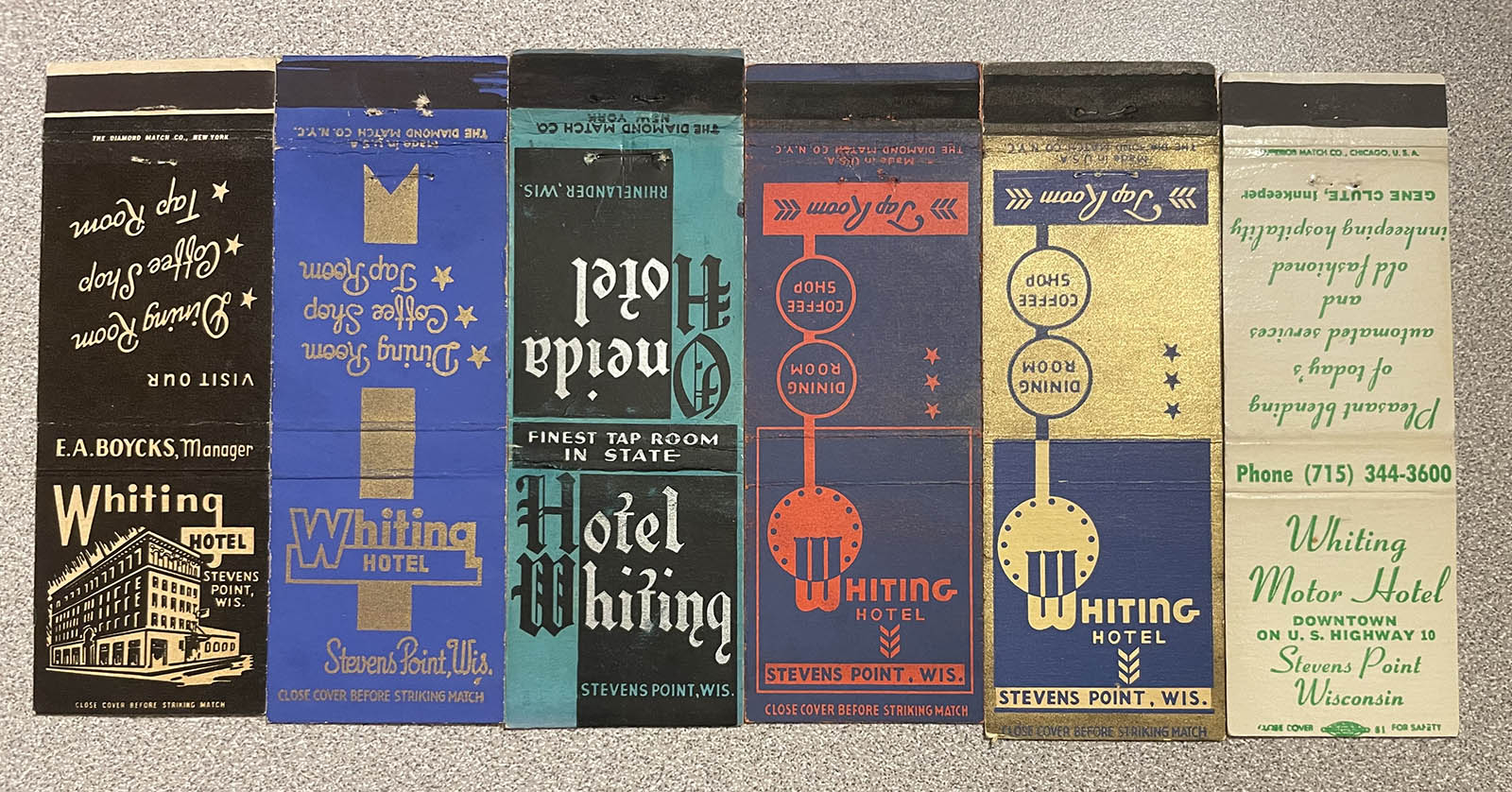 "The public rooms at the Hotel Whiting provided Stevens Point with more sophisticated facilities for social events that had previously been held in fraternal halls or private residences.
"The main dining room, private dining room and club room were the first of their kind in Stevens Point, and very quickly utilized for stylish weddings, card parties, and service club luncheons. Formal dinner dances organized by the Whiting Dancing Club were for many years a significant social event in Stevens Point."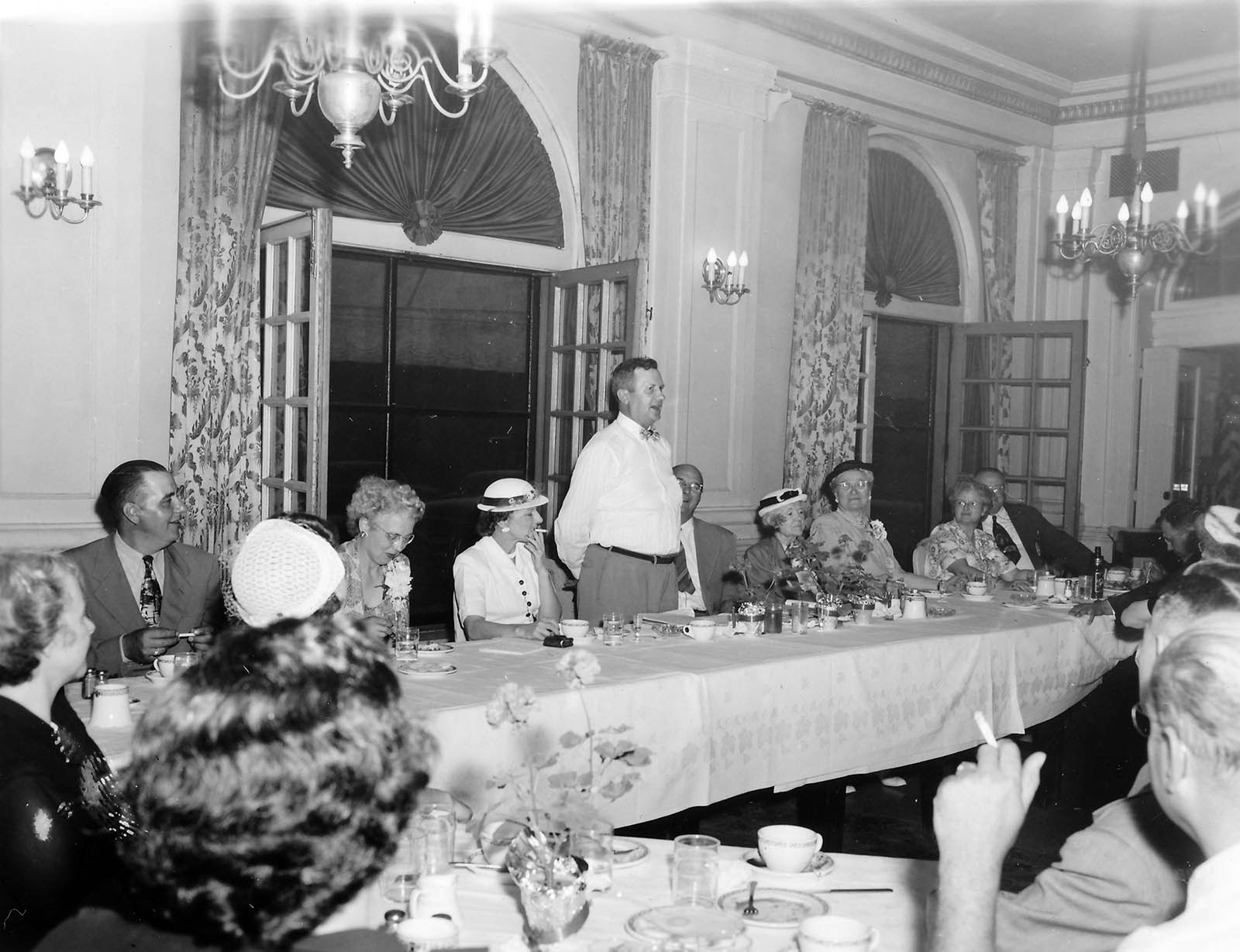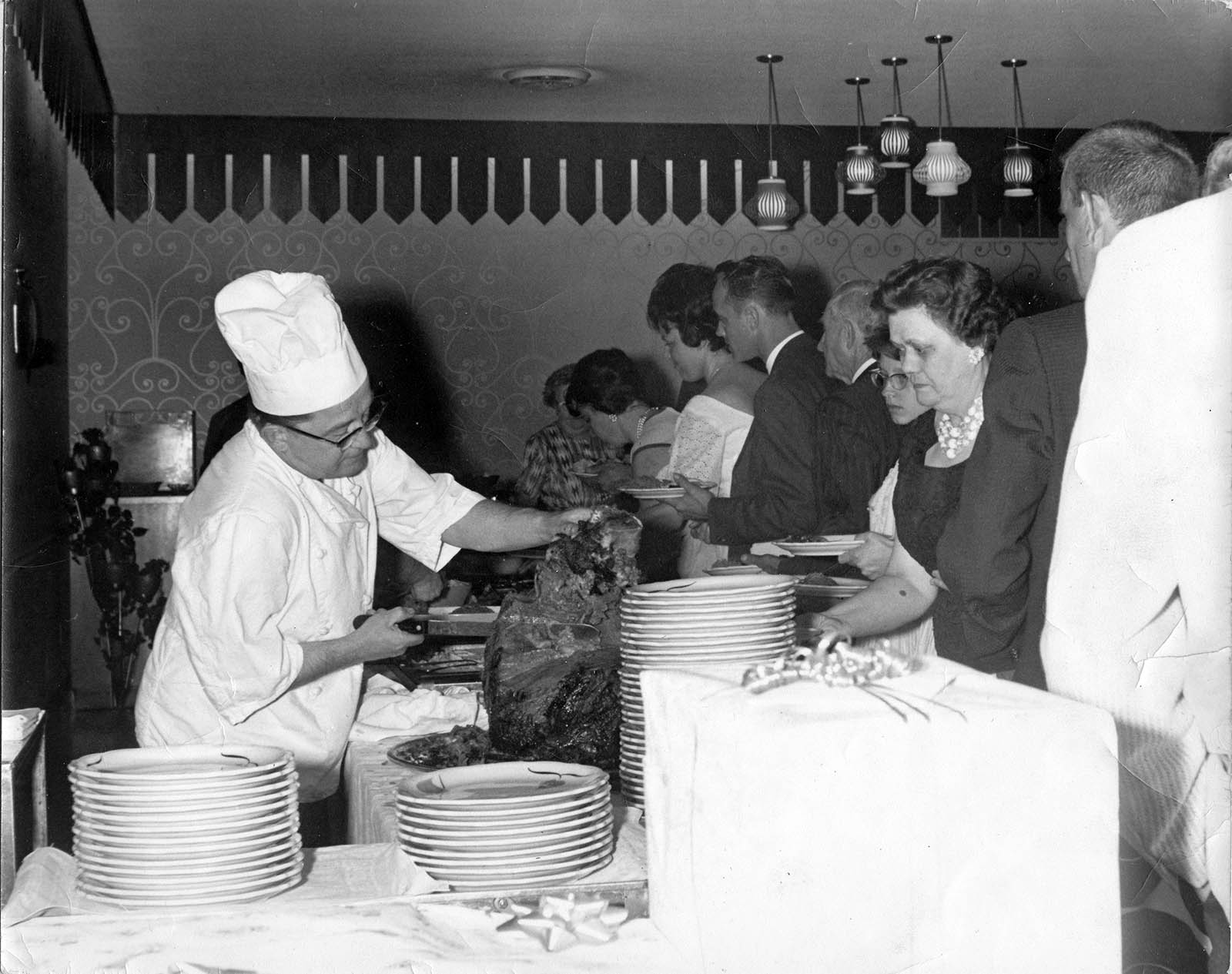 More than 300 people turned out for the opening of the hotel in 1923. It was so popular that its opening led to the closing of six other hotels in the city and the Whiting pretty much immediately owned a 50 percent share of the hotel business in Stevens Point.
Among the famous guests over the years were Abbott and Costello; John F., Jackie and Robert Kennedy; Vice President Walter Mondale and presidential hopeful Gary Hart.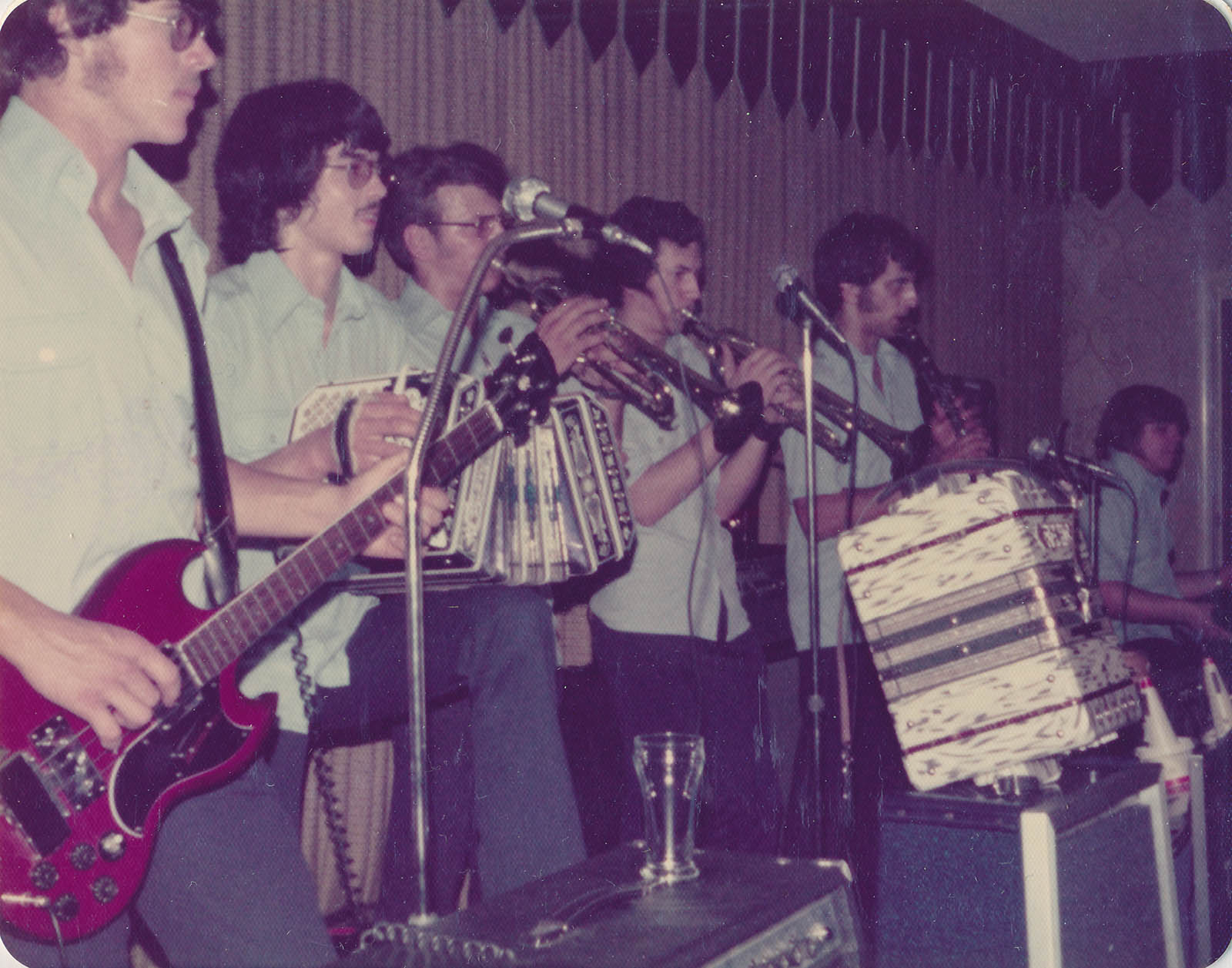 But the buzz of what the local media claimed was "the finest hotel north of Chicago" did not endure. The Depression certainly didn't help and by World War II it was used as housing for UW-Stevens Point Air Force cadets and draftees headed to Milwaukee for physical exams.
Later, it was used as university housing for women and as temporary digs for crews on the Soo Line Railroad. The opening of a nearby Holiday Inn Holidone in 1968 took away business and when the insurance company across the street – by then renamed Sentry – moved to another part of town, business got even worse.
In 1986, the hotel was closed. In 1989 it was remodeled and reopened as apartments with a restaurant and bar on the ground floor. For a time, the cocktail lounge was called The Carriage House.
Later, retail spaces were used for a variety of businesses, but by now, all of that is gone and the main floor – with its former lobby, ballroom and other spaces – sits dark and unused.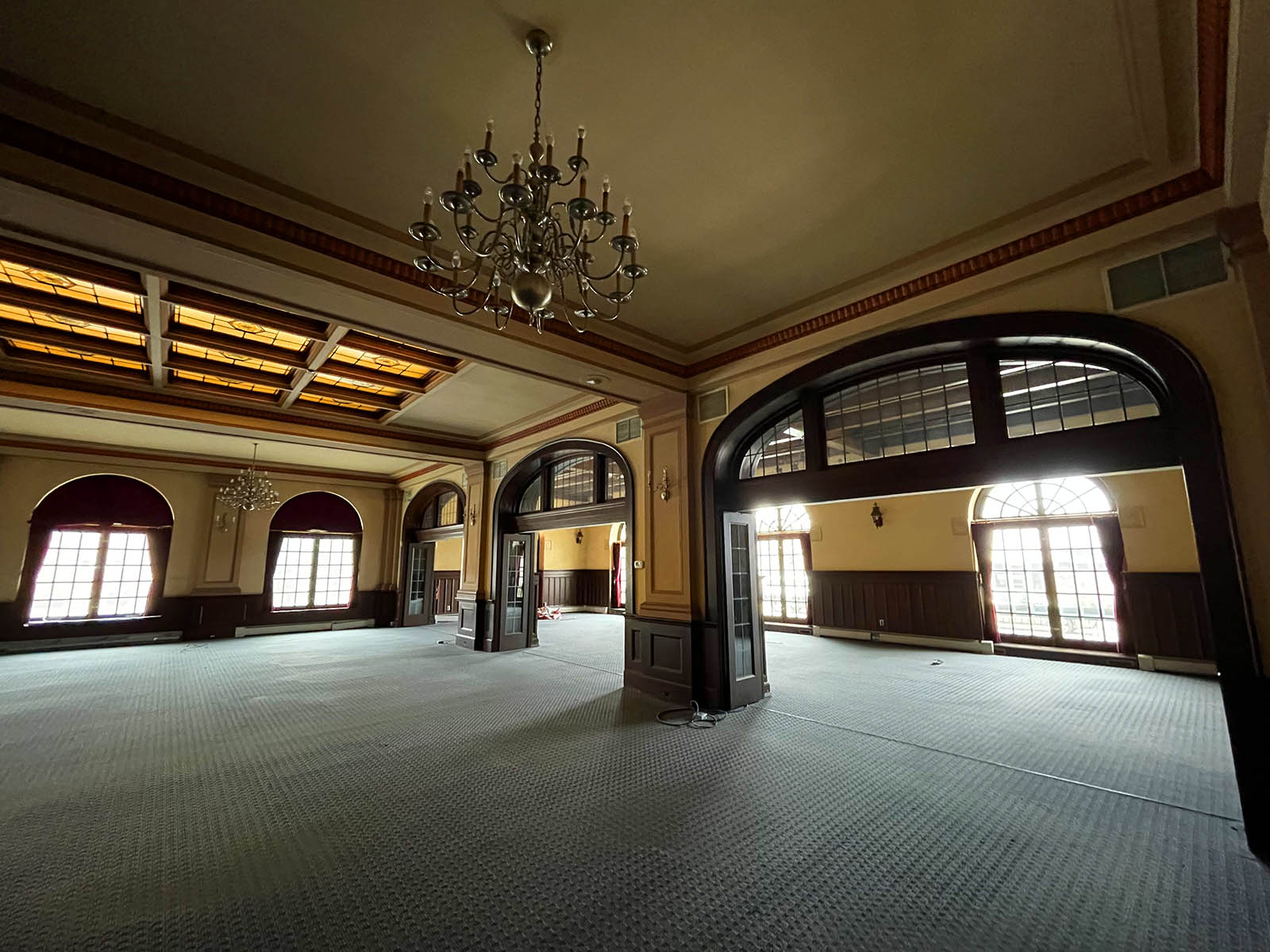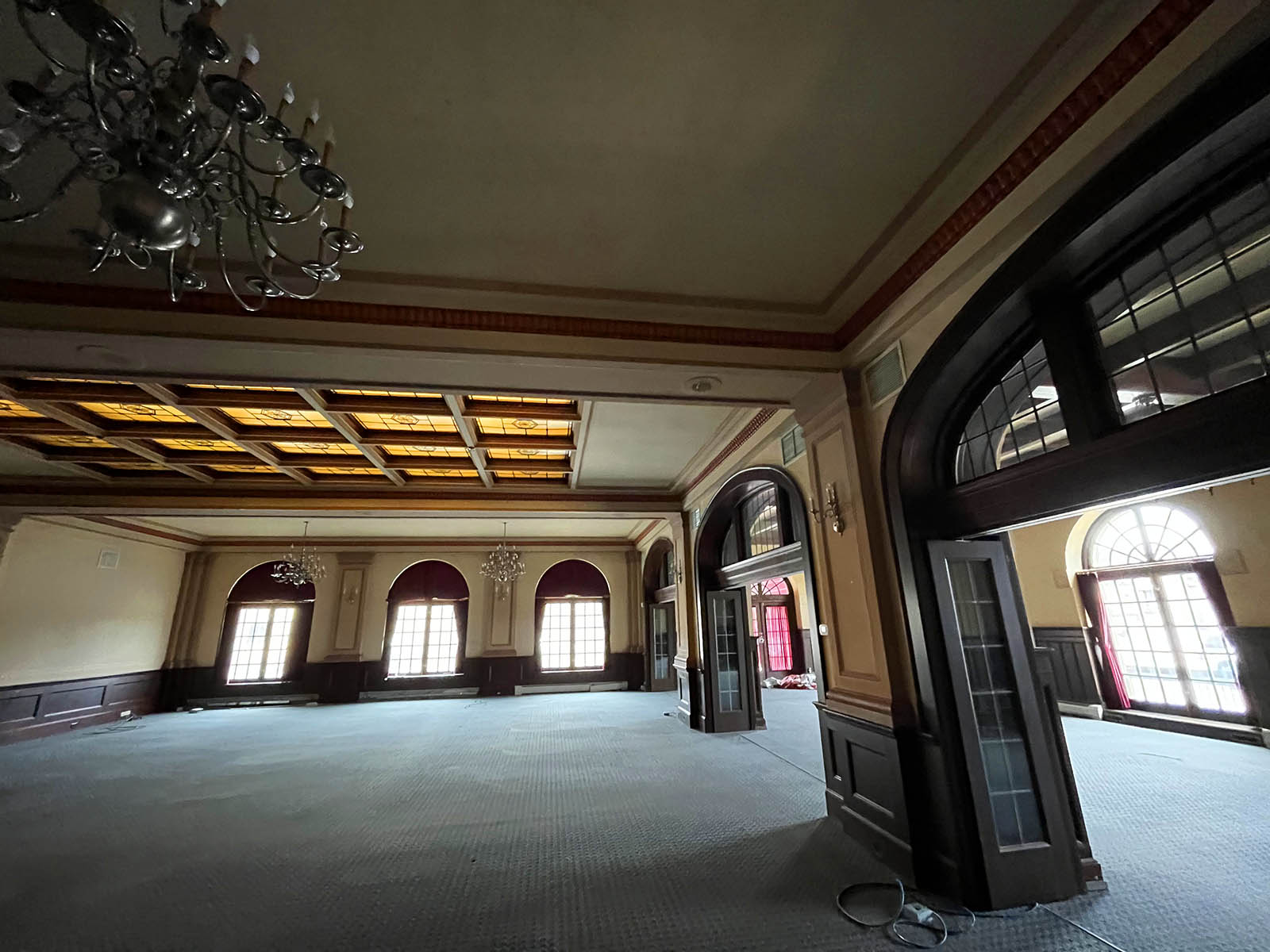 During a recent visit to Stevens Point, I went over with John Harry of the Portage County Historical Society and a manager unlocked the door that leads into the former public spaces of the hotel.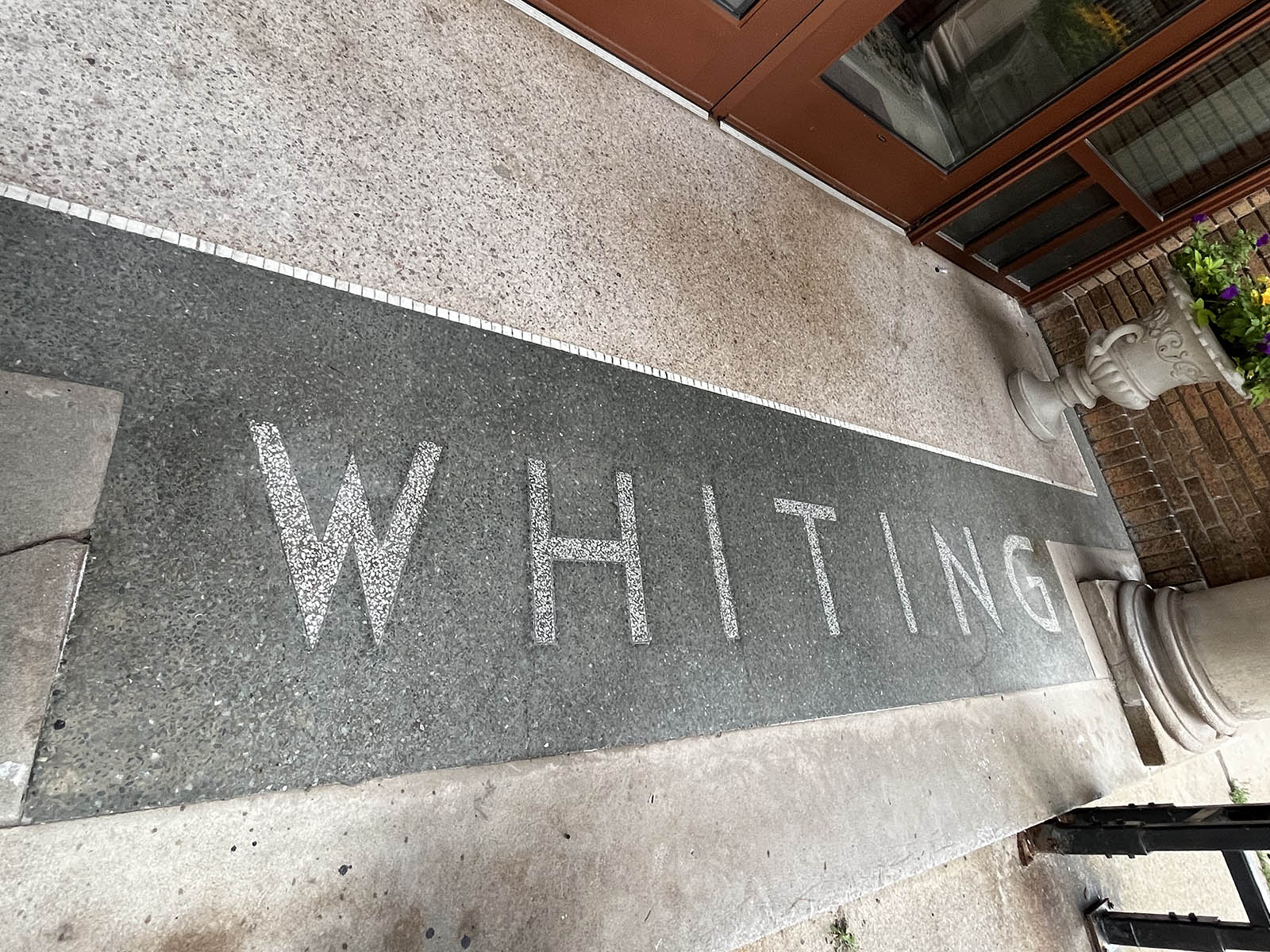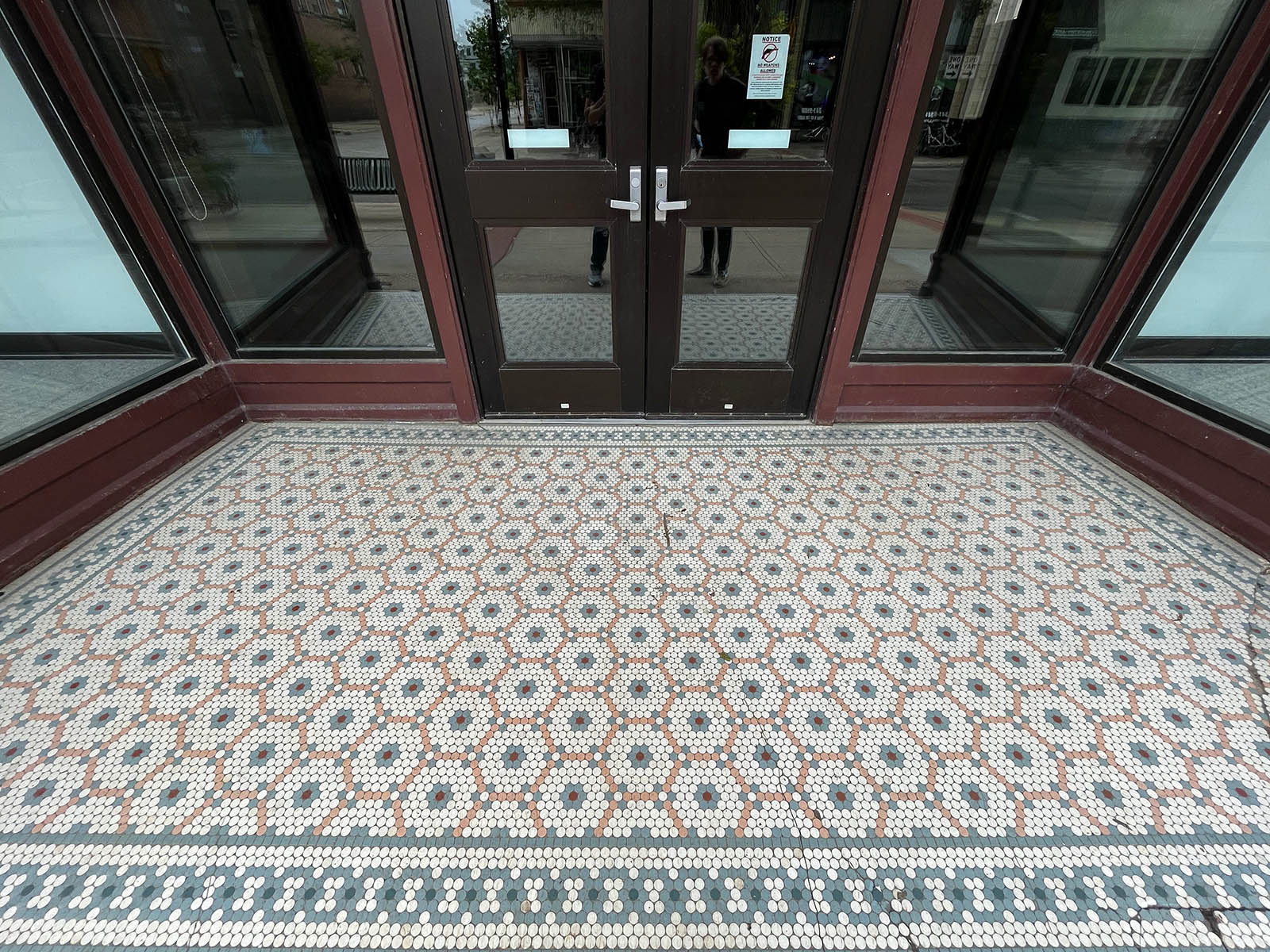 After checking out entry foyers with great tile and a terrazzo floor with "Whiting" emblazoned in it, we see the former lobby, which no longer has its reception desk, but does still have its wainscoting and skylight.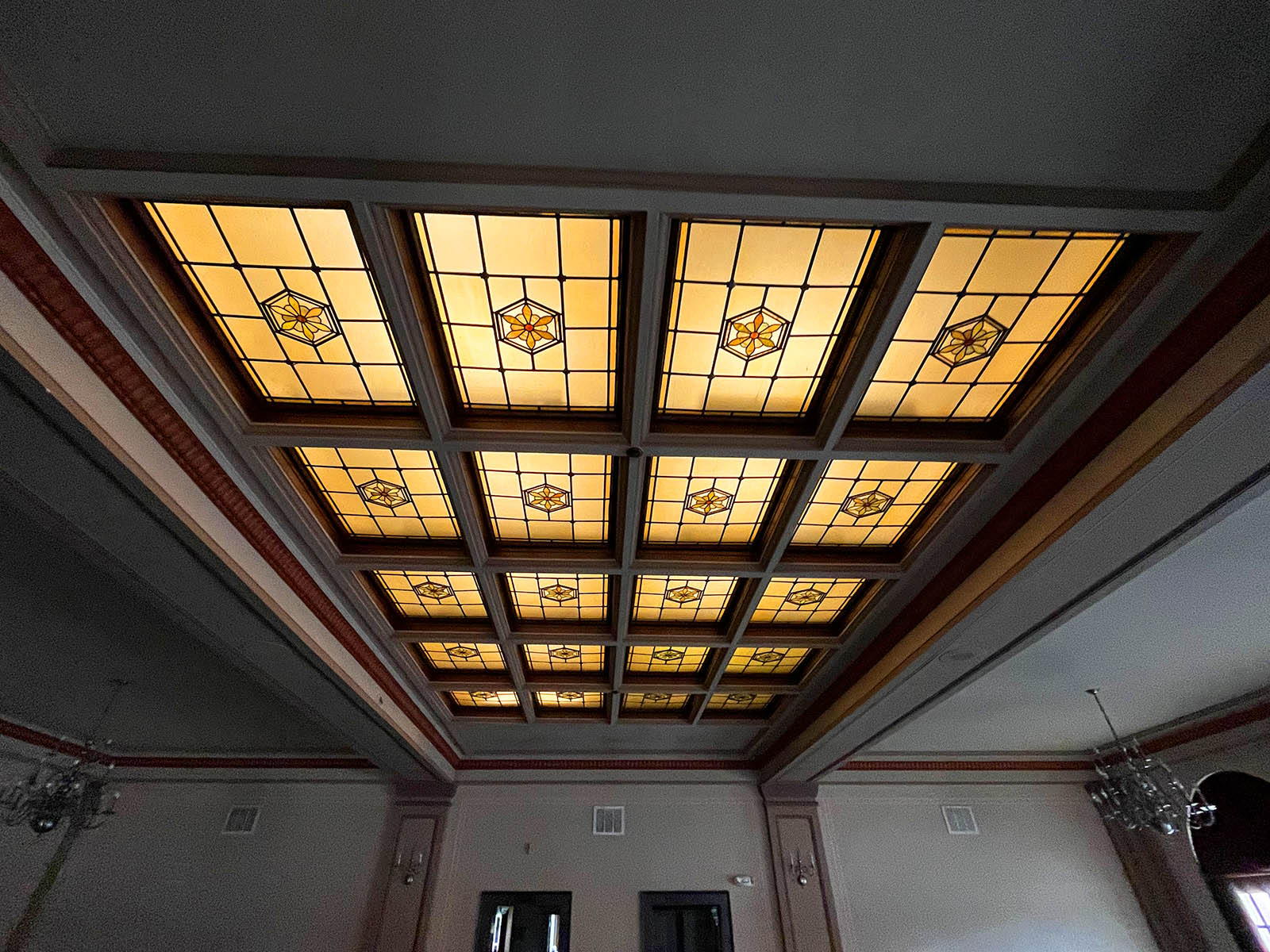 There are arched door openings with French doors and leaded glass above. Some spaces have exposed beam ceilings.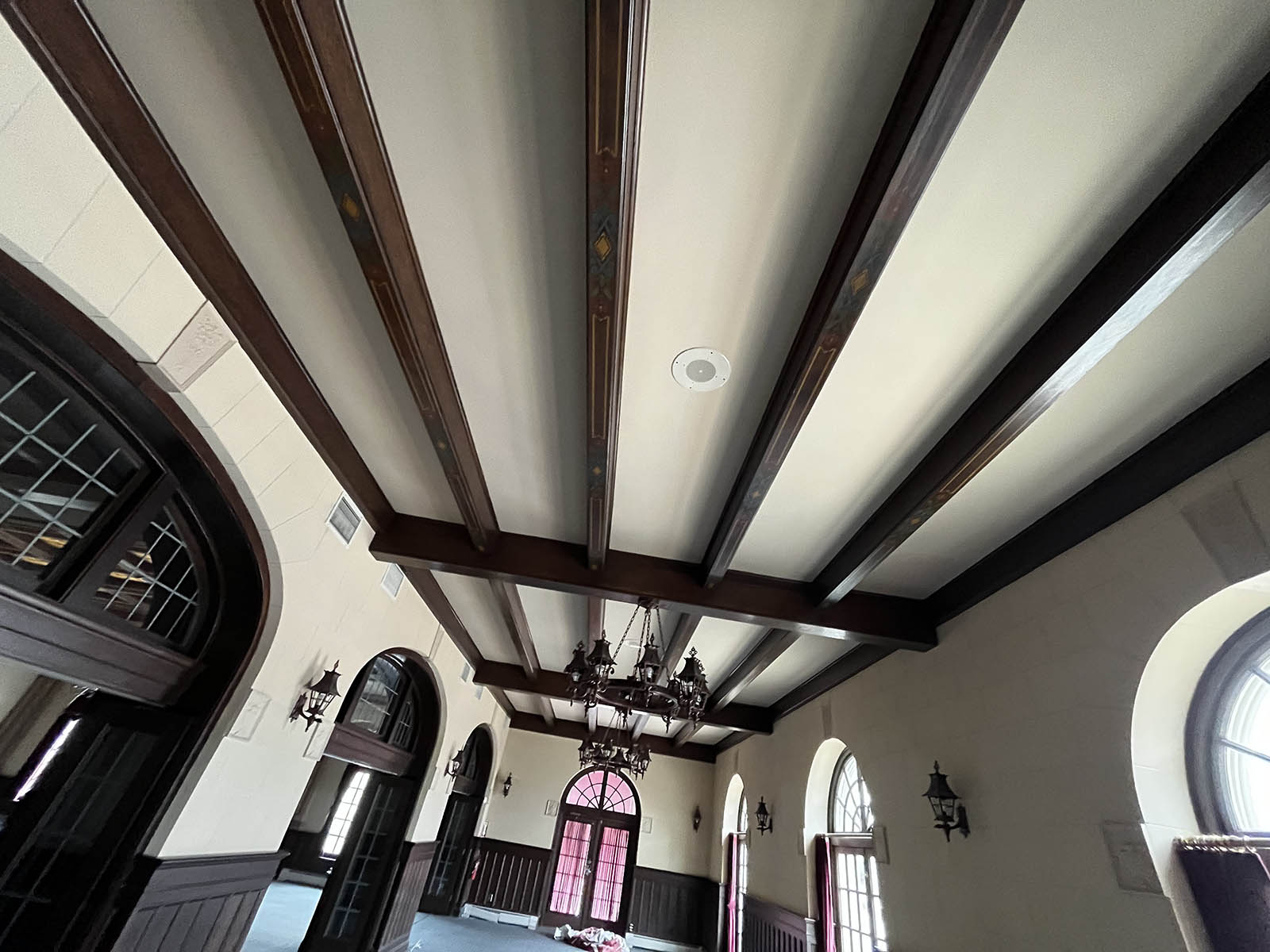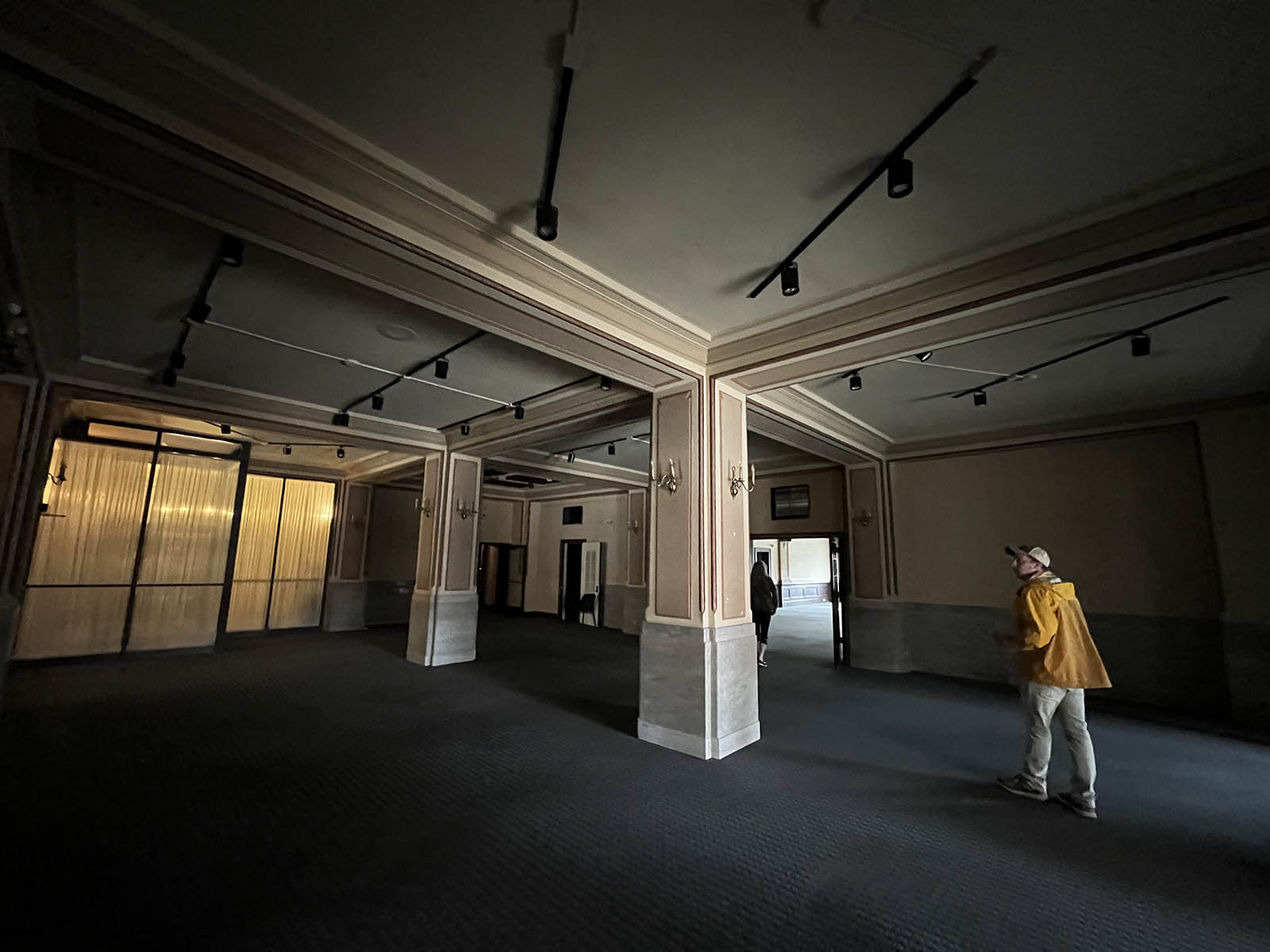 The lobby had been renovated in 1952 and the hotel got another makeover a decade later and so it's not entirely clear how to date specific details.
We see a variety of spaces, large and small, some clearly former bar and dining areas, some that have been renovated and clearly used as office space in more recent times. But there is stained glass everywhere and in relatively untouched areas, dark woodwork.
At least one space – the ladies writing room – has an ornate plasterwork ceiling and gothic arched door openings.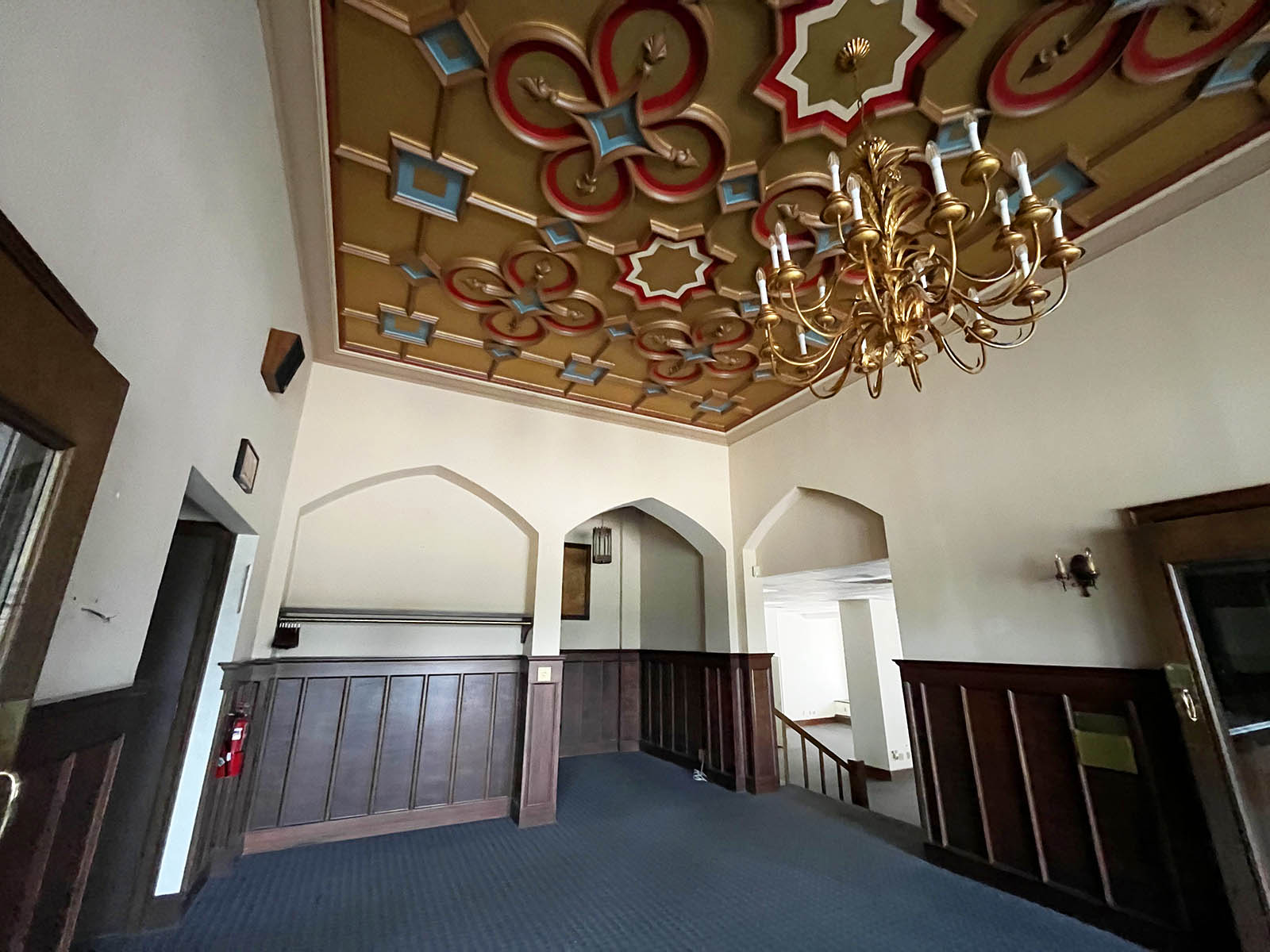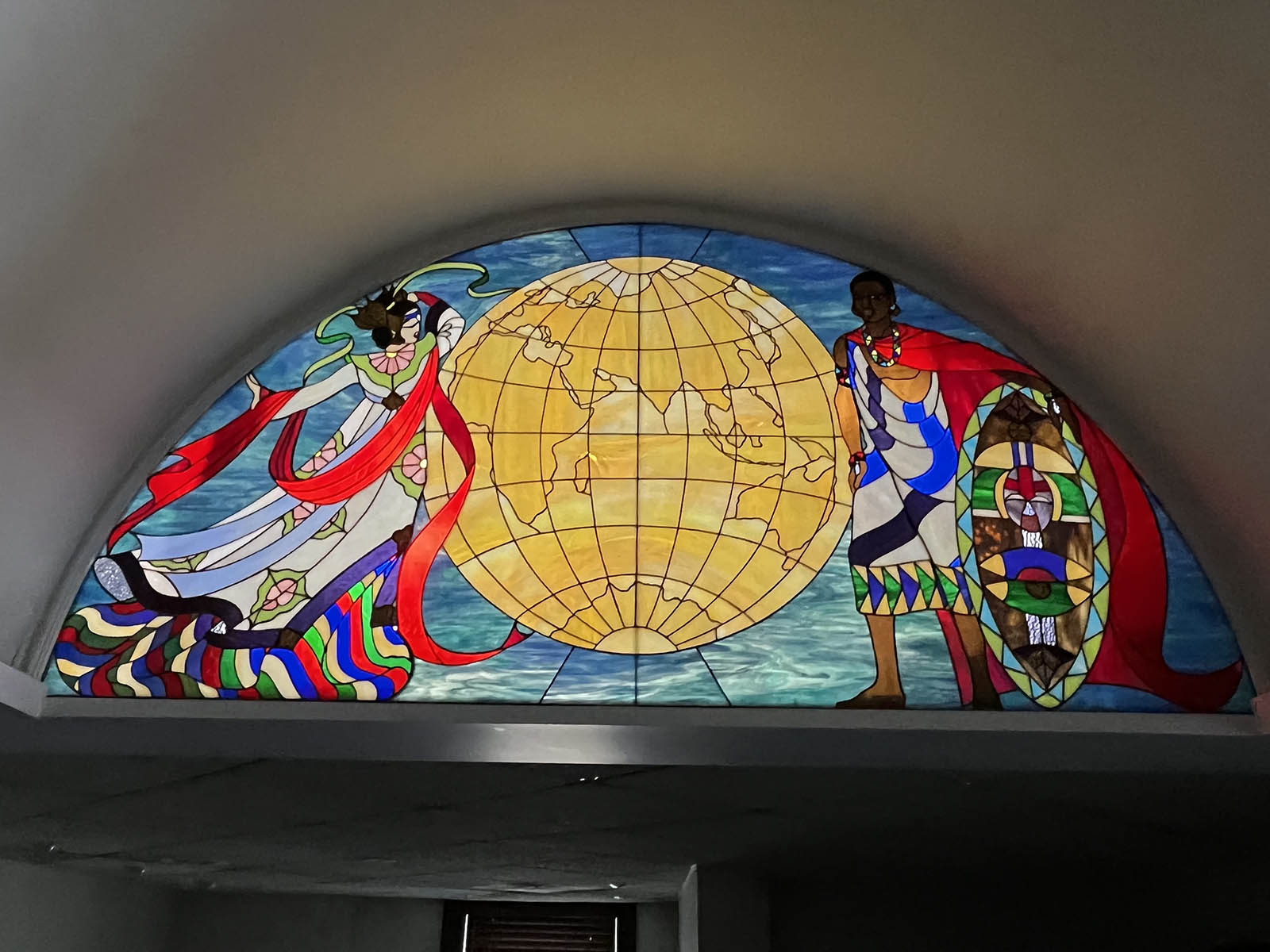 In one area a number of rooms have doors with stained art glass depicting the continents. Pfiffner says this dates to when Travel Guard occupied and remodeled the offices.
Bits of vintage furniture, presumably from the hotel days, are scattered around the main floor and the floor above, where there is a former restaurant space.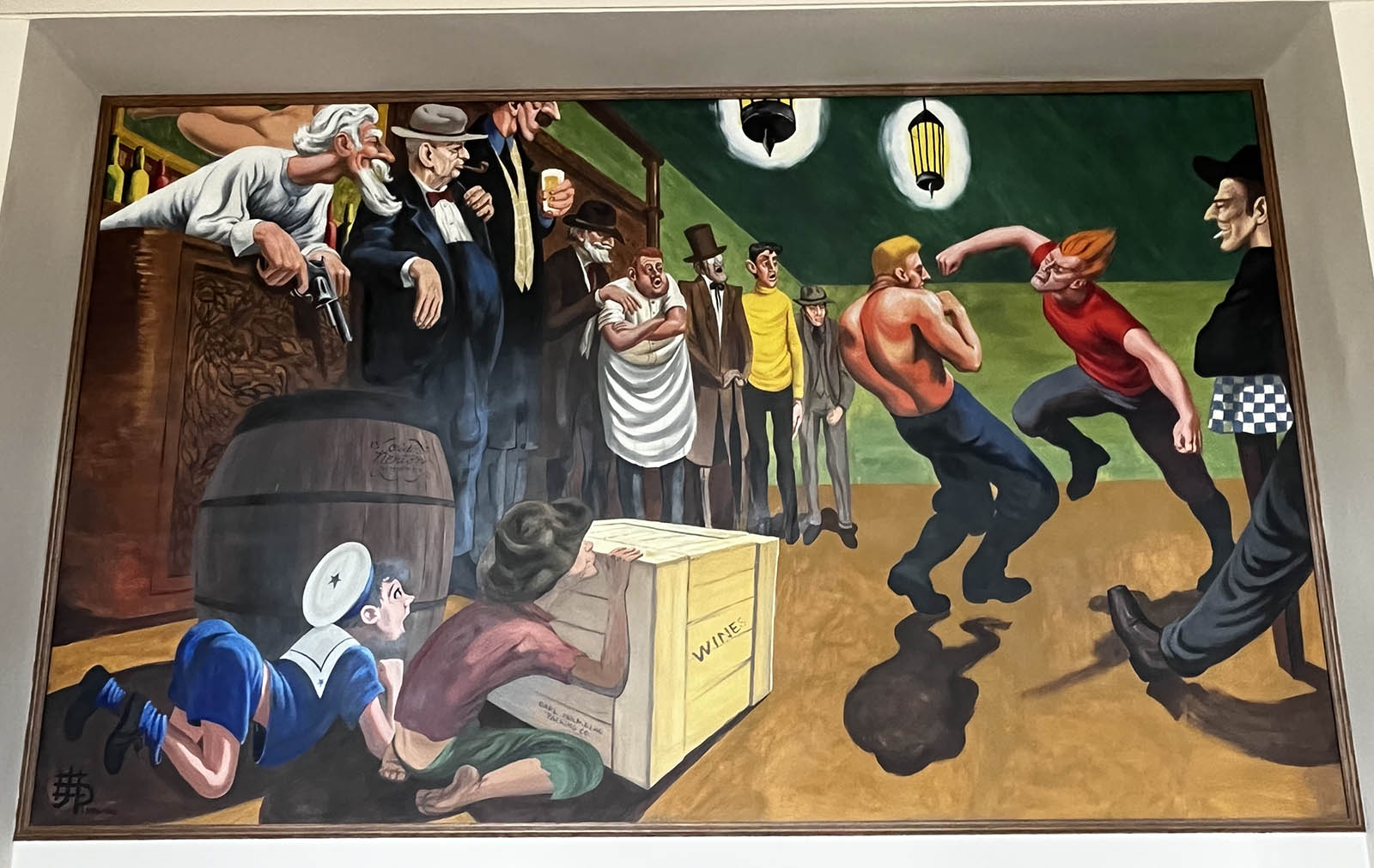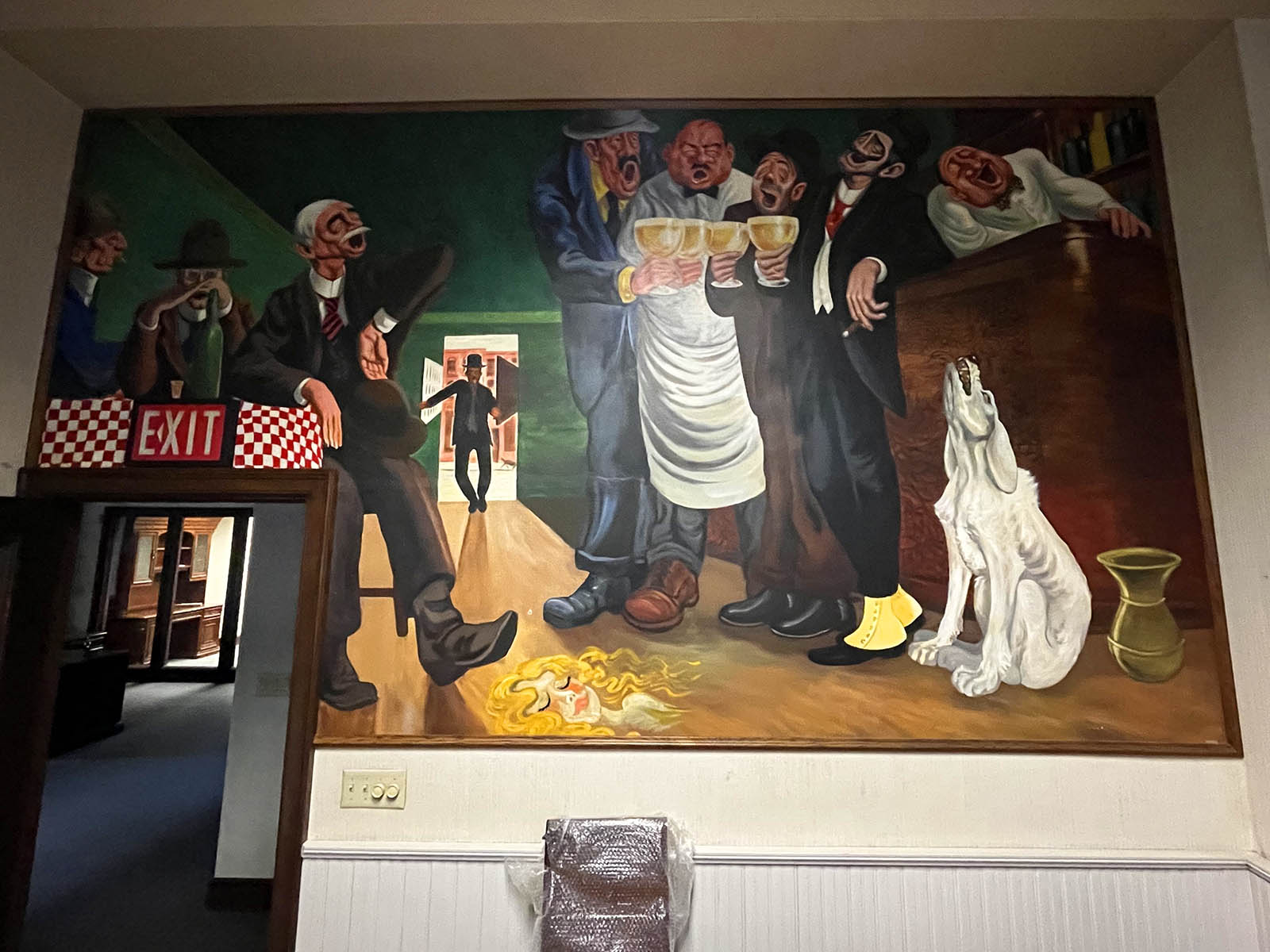 The most interesting feature of the ground floor, however, are the quirky and stylized murals depicting scenes from Stevens Point's logging and social history.
There are scenes of dancing, drinking, logging, leisurely carriage rides and barroom brawls decorating the former "Mural Bar," but also the elevator lobby and a room bearing a later sign calling it the "War Room."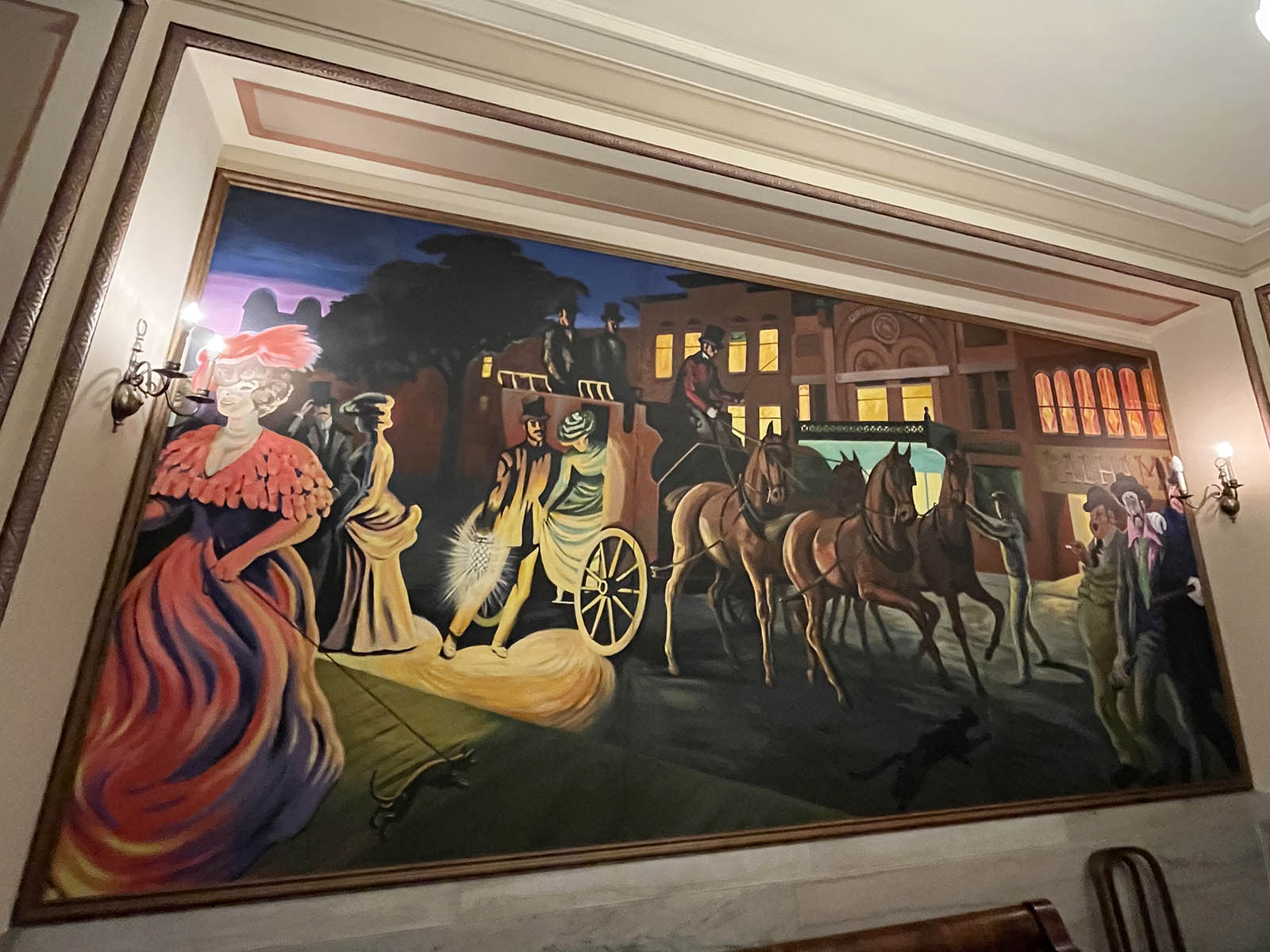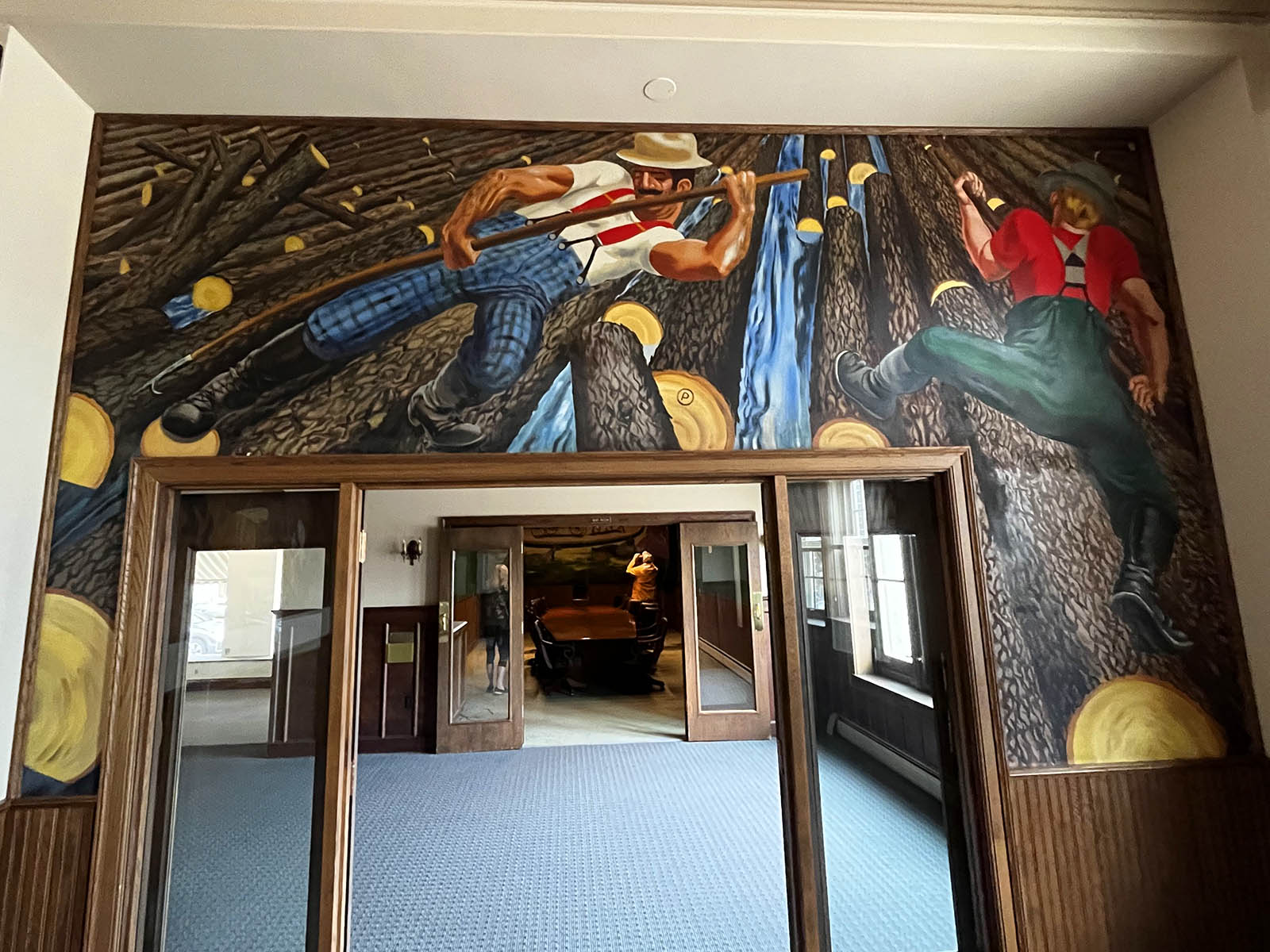 These murals were painted by John Pfiffner in 1946, though some were added as late as 1967.
"My great-uncle John was an amazing artist," says Chelsey Pfiffner, who has written extensively about Stevens Point history on her blog, historicstevenspoint.com, and whose family was long connected with the Hotel Whiting. (Pfiffner also kindly shared her timeline of Whiting history for this story.)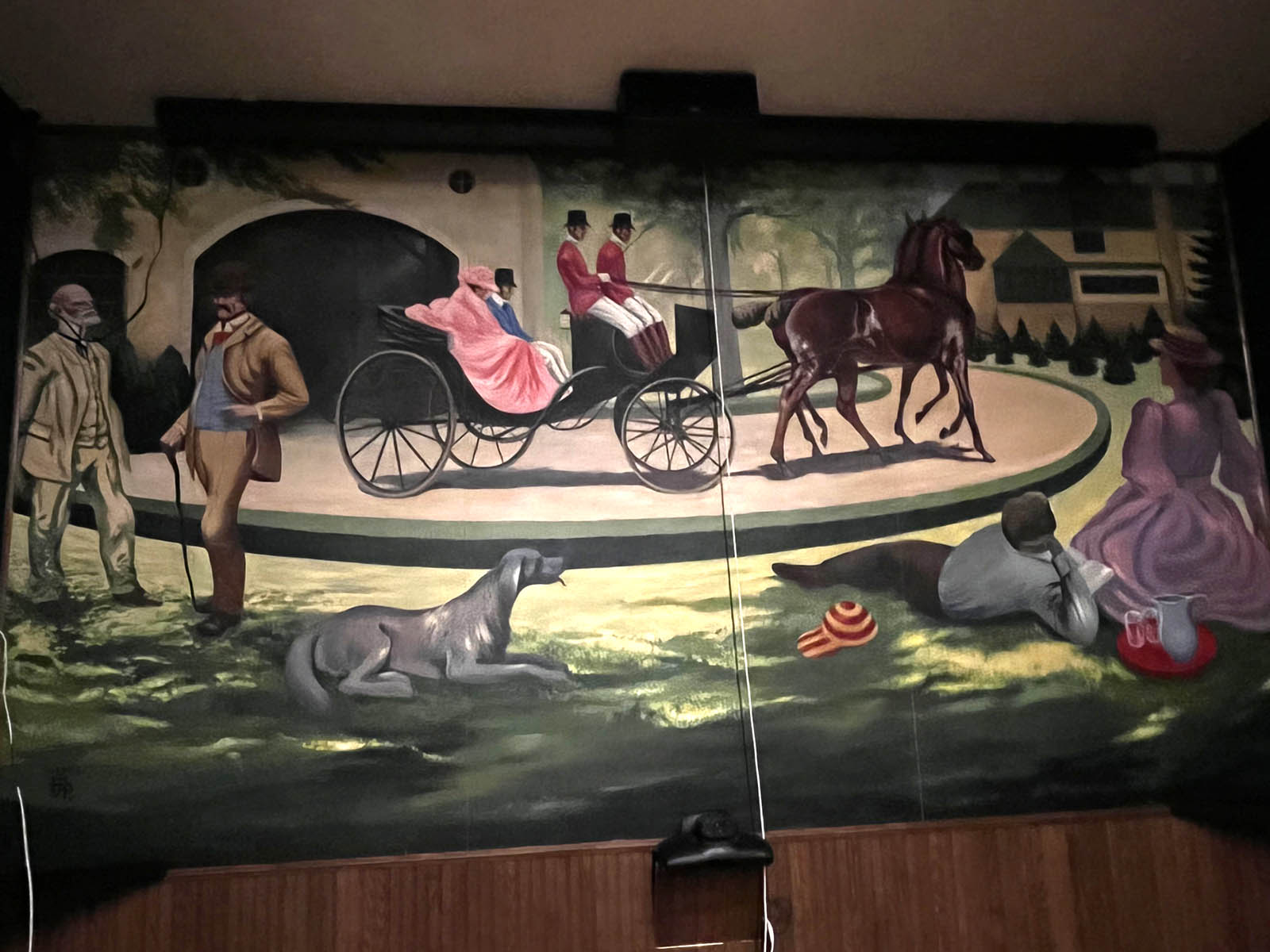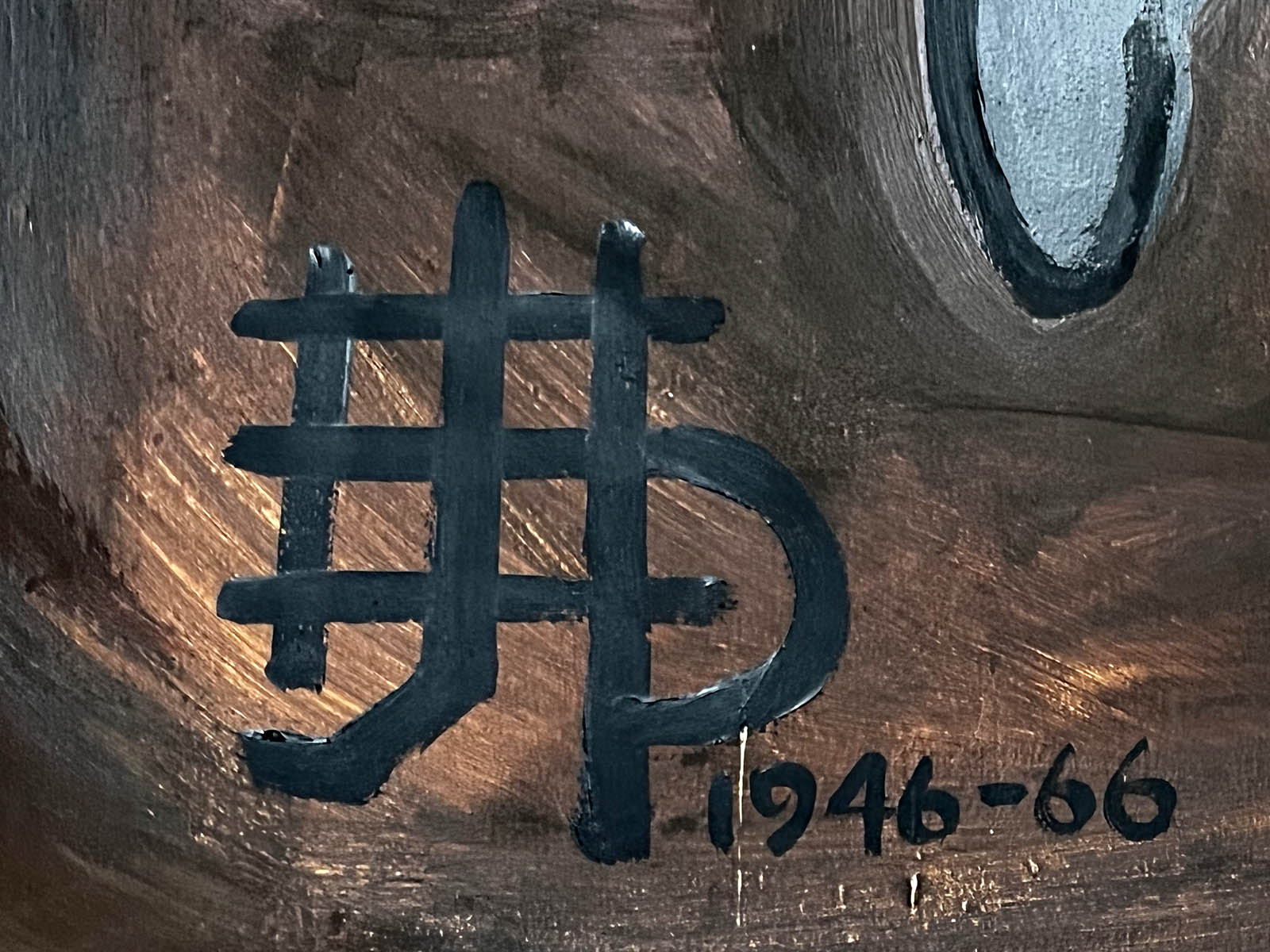 "He worked for the Field Museum (in Chicago). There are also various postcards of the murals."
Pfiffner is in the midst of researching the details of her family's connection, but suffice it to say that the Pfiffners, in addition to painting the murals, were also part owners of the building for a time, she says.
"My great-grandparents ran it on some level and lived on the fourth floor from 1948," Pfiffner adds, noting that they partially owned the building at that time.
"Before that they lived in the big Pfiffner Queen Anne house next to the courthouse. My grandmother lived (at the hotel) until they sold it (in 1986). She returned after the renovation (in 1991) and died there (in 1996). I have two distinct time periods of Whiting memories because of that."
At that time, Pfiffner notes, the hotel was owned by Kingston subsidiary, Mid West Hotel Company.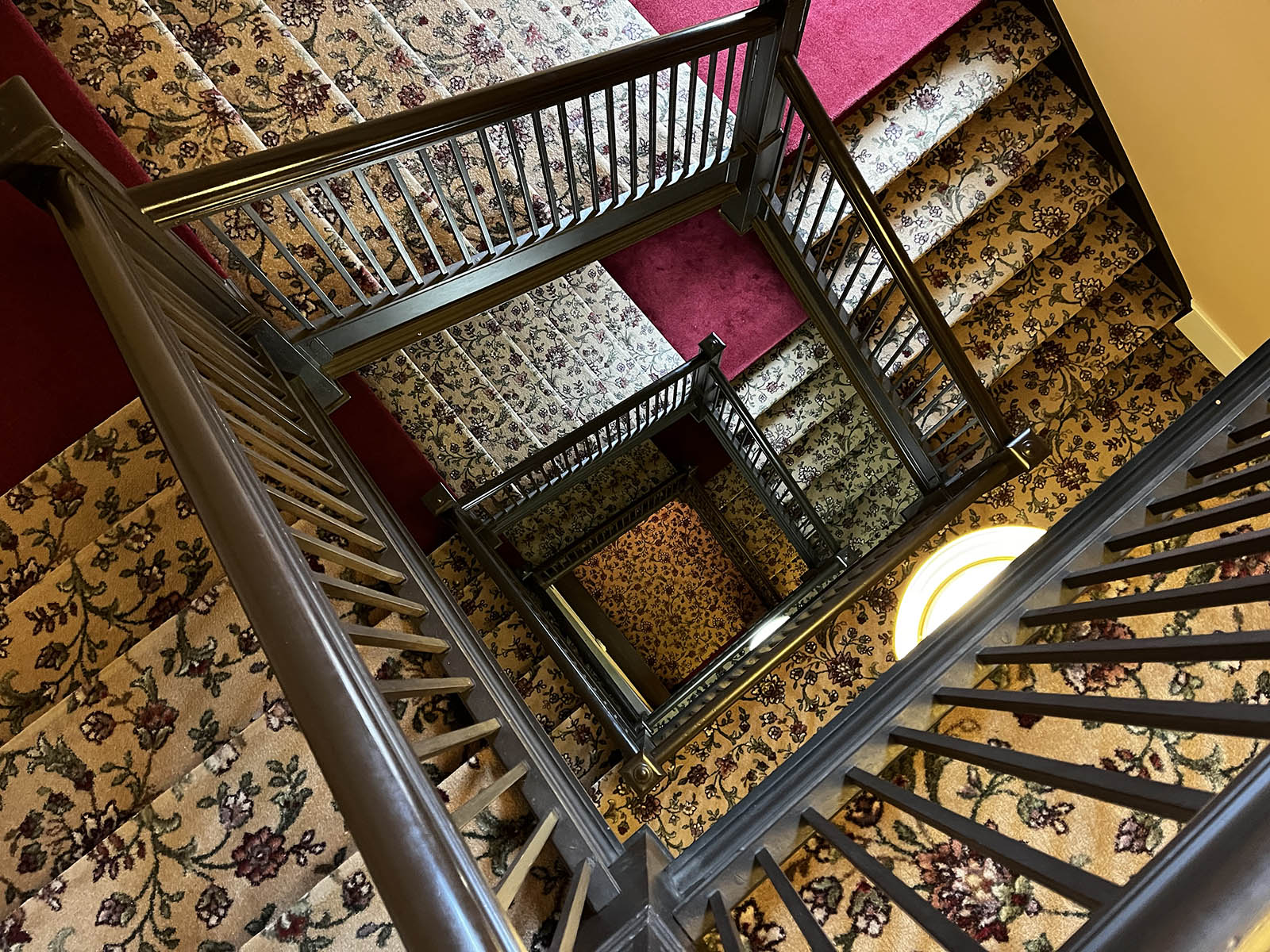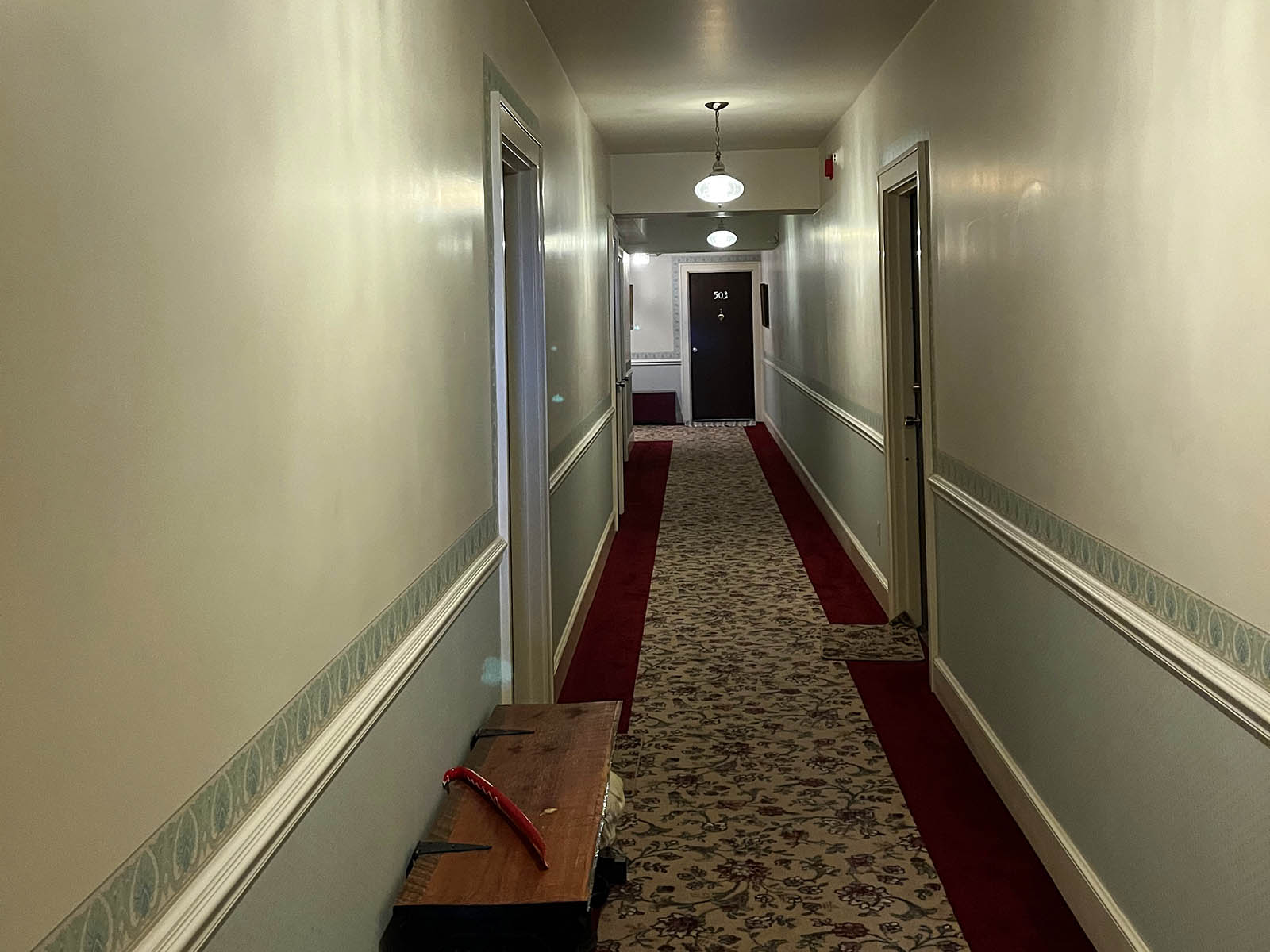 Pfiffner's parents also met at the hotel.
"When the hotel ran we took our meals in the mural room at her family table. When family visited from afar they always stayed at the hotel. I have a bedside table and a mirror that we think are original Whiting furniture.
"By the '80s when I was a kid it was just a glimmer of the elegant place it had been born to be and was barely hanging on. Selling it to be revamped saved it. It's sad to see it empty now."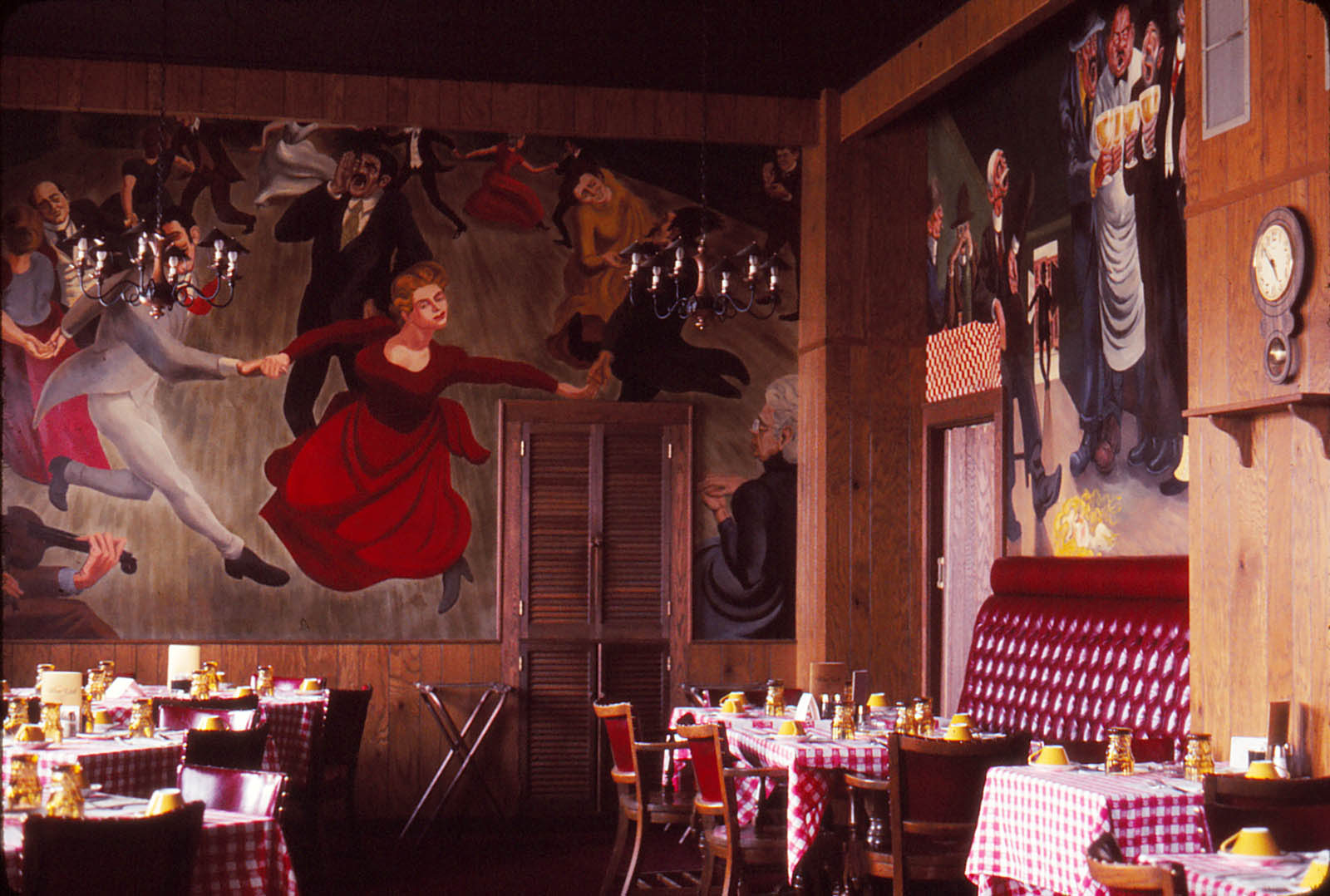 The upper floors are definitely not empty and during our visit – when we got a peek inside a rather large apartment made from connecting a number of hotel rooms, and go up to the roof for a panoramic view of Stevens Point – we encountered a number of residents.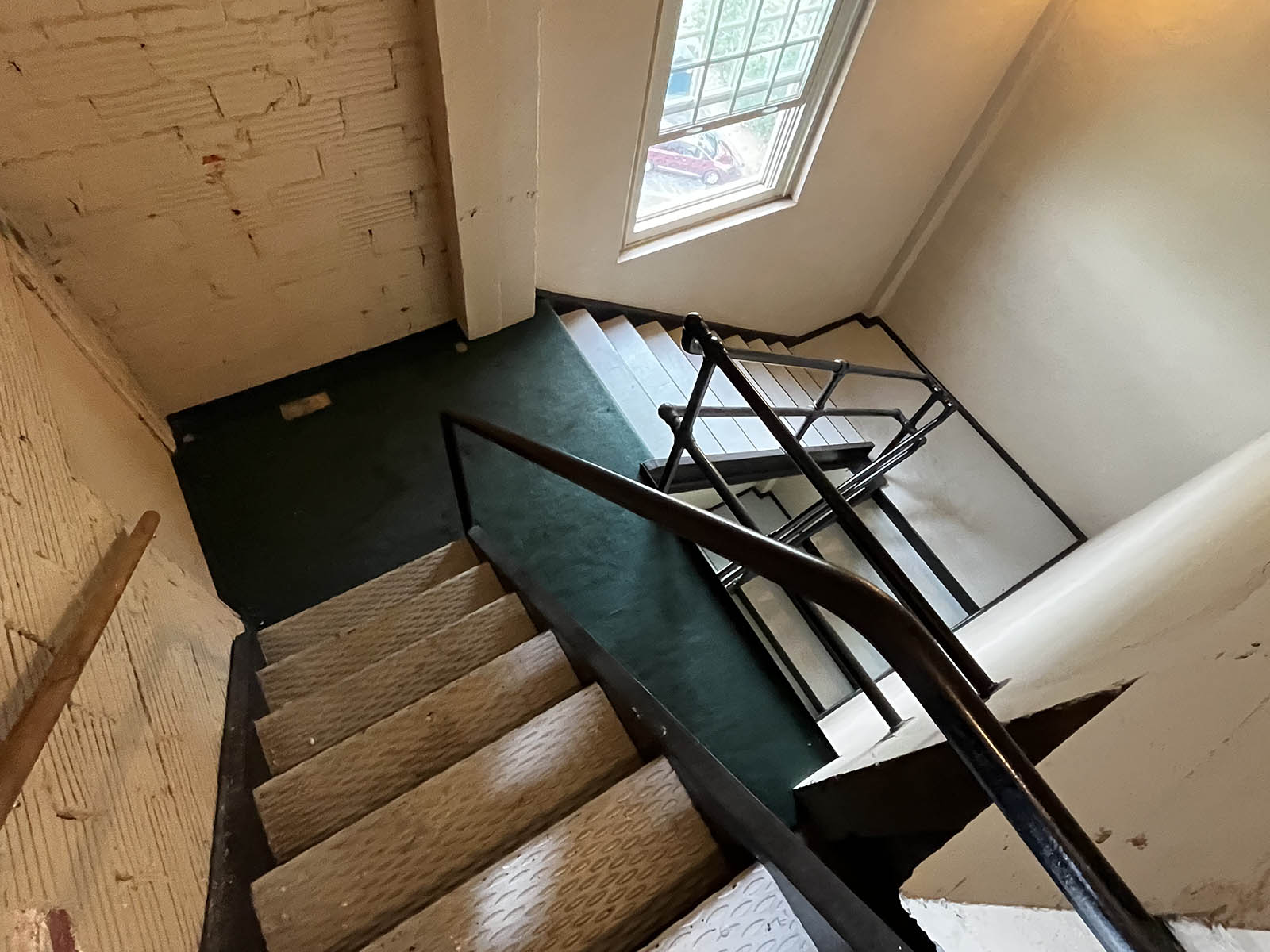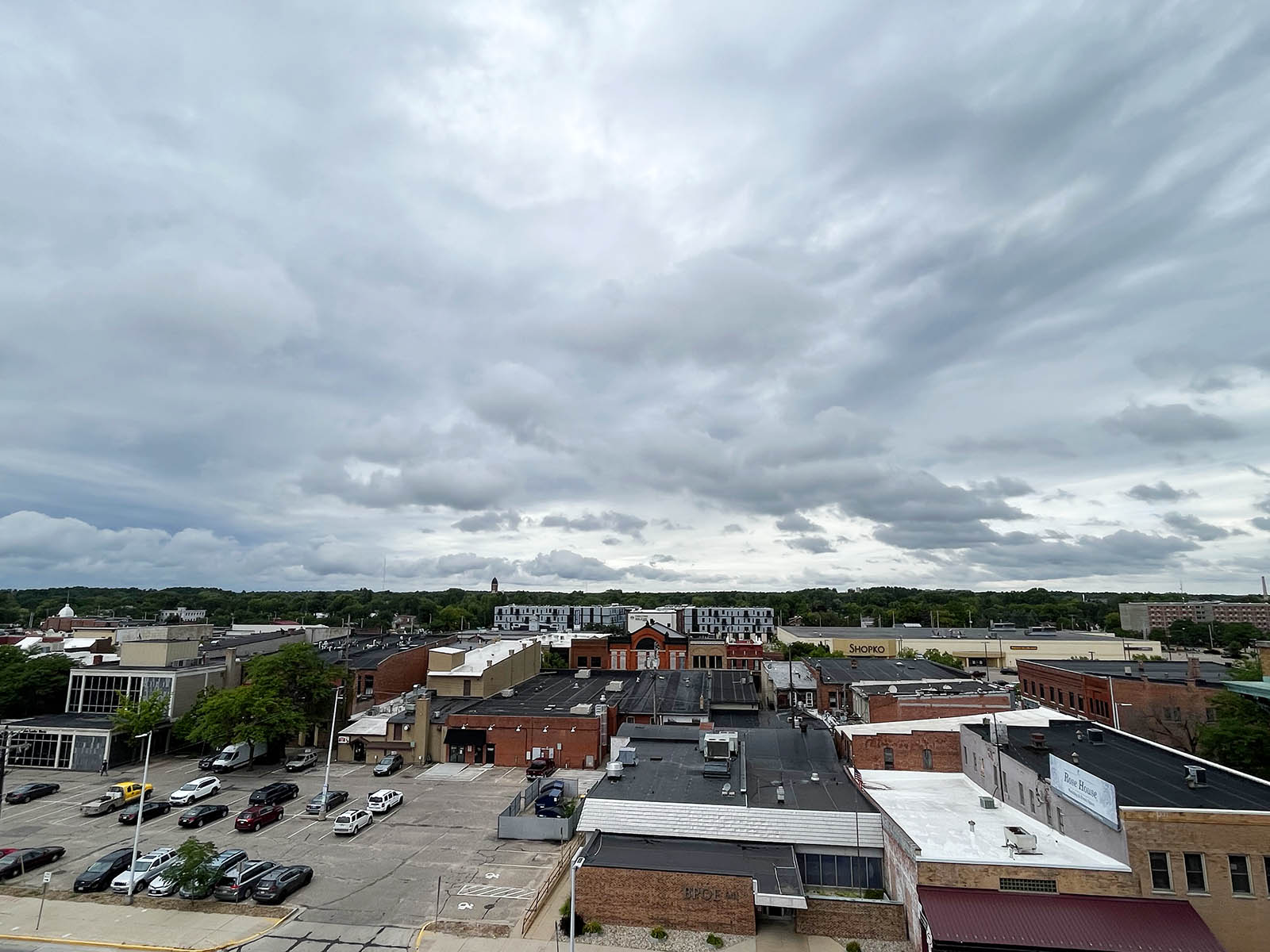 But Pfiffner is right about the main floor. It's where most of the original or at least early detail is and one can't help but see the potential for re-use.
Here's hoping that at some point this part of the Alfred Clas legacy, and important site in Stevens Point history, gets a new lease on life.
(NOTE: All vintage images – which were undated – are courtesy of the Portage County Historical Society.)
Born in Brooklyn, N.Y., where he lived until he was 17, Bobby received his BA-Mass Communications from UWM in 1989 and has lived in Walker's Point, Bay View, Enderis Park, South Milwaukee and on the East Side.
He has published three non-fiction books in Italy – including one about an event in Milwaukee history, which was published in the U.S. in autumn 2010. Four more books, all about Milwaukee, have been published by The History Press.
With his most recent band, The Yell Leaders, Bobby released four LPs and had a songs featured in episodes of TV's "Party of Five" and "Dawson's Creek," and films in Japan, South America and the U.S. The Yell Leaders were named the best unsigned band in their region by VH-1 as part of its Rock Across America 1998 Tour. Most recently, the band contributed tracks to a UK vinyl/CD tribute to the Redskins and collaborated on a track with Italian novelist Enrico Remmert.
He's produced three installments of the "OMCD" series of local music compilations for OnMilwaukee.com and in 2007 produced a CD of Italian music and poetry.
In 2005, he was awarded the City of Asti's (Italy) Journalism Prize for his work focusing on that area. He has also won awards from the Milwaukee Press Club.
He can be heard weekly on 88Nine Radio Milwaukee talking about his "Urban Spelunking" series of stories.