All you have to do is look around to see that when Milwaukee's major breweries – Schlitz, Pabst, Miller – were looking for sites to build their brand-loyal tied house taverns around town, a corner lot was always preferred.
Henry Hummel held title to what would've been an extremely desirable spot on the southwest corner of bustling 3rd Street (now King Drive) at Center. And Schlitz perhaps was a little lustful, because it appears that the Uihleins – owners of the Beer That Made Milwaukee Famous – may have lent Hummel some money, and perhaps the skills of their preferred architect, for the creation of the commercial building that still stands there now at 2673-2679 N. King Dr.
Though it was not designed to house a tavern, the three-story, so-called Hummel-Uihlein building shares architectural features with numerous Schlitz tied houses erected around the same time – you can read more about those and the connections here – and they were all designed by Charles Kirchhoff.
One key feature connecting them all are the candle-like decorative flames. Considering the fragile nature of the building at the moment, I'm hoping life doesn't always imitate art.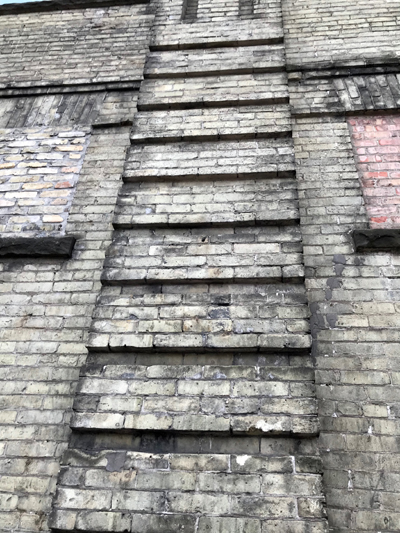 Born in 1857 to German immigrant parents living in Pennsylvania, Hummel had arrived in Milwaukee at some point before 1882, which was when he married Cream City gal Lizzie Markert. In those days, Hummel ran a drug store five blocks south on 3rd Street, and for whatever reason – though likely it involved boosting his income – Hummel decided to move up the block, where development was taking hold.
Hummel purchased his corner lot for $3,700 on Dec. 20, 1886 from John and Fredericke Reisner, who'd paid Wilhelm and Elisa Fischer less than half that amount in 1873. But that profit was nothing compared to what August and Marie Kavel netted netted when they sold it to the Fischers just five years previous for a mere $400.
According to a city historic designation report – from which much of this information is drawn – "Hummel chose his location well. A catalytic project began across the street at 2703-07 N. King Dr. in 1888 built by P.H. Gaubatz and designed by A. Velguth. It was a prominent two-story masonry building with two stores and upper flats. Hummel would soon improve his corner with an even more substantial building and inspire other commercial development in the area.

An undated view. (PHOTO: Courtesy of City of Milwaukee)
"The distinctive solid masonry building was the most flamboyant for blocks and was really the catalytic project that spurred commercial development at this intersection. The corner tower, the prominent two-story oriel and distinctive tourelles with their flame-like tops, often used in Romanesque Revival buildings, made for an eye-popping facade."
Beneath the oriel, looking upward.
When the building was complete, Hummel moved his family into a flat upstairs – where there was also an office space – and opened his pharmacy in the storefront, pictured below.
The top floor was fully occupied by a photography studio, which surely made good use of the north-facing skylight.
These upper floors are accessed by an arched entrance surrounded by imposing rusticated stone blocks.
But the success of this dipped toe turned Hummel's attention to real estate and he leased the drug store in 1898 to William Rheineck, who lived upstairs and ran the place for many years, later with his son.
Interestingly, Schlitz returns to the picture in 1906, when Hummel sold the building to William Uihelin.
"Given the similarity of the King Drive building to other projects commissioned by Schlitz and designed by architect Kirchhoff, it is interesting that Hummel sold the property to a member of the Uihlein family," the city report notes. "Perhaps there was some financial arrangement between Hummel and the Uihleins that enabled Hummel to construct the building in the first place. The exact details may never be known.
"William J. Uihlein was assistant superintendent of the Schlitz Brewery and retired from the company in 1910. The building he purchased from Hummel was one of hundreds of properties owned either directly by Schlitz or by members of the Uihlein family as investment property."
In 1906, Kirchhoff, and his partner Leslie Rose, designed an addition for the Uihleins to the south, facing King Drive, that still stands, and 21 years later Schier & Zartner drew another addition at the back, facing Center Street. That section has been razed.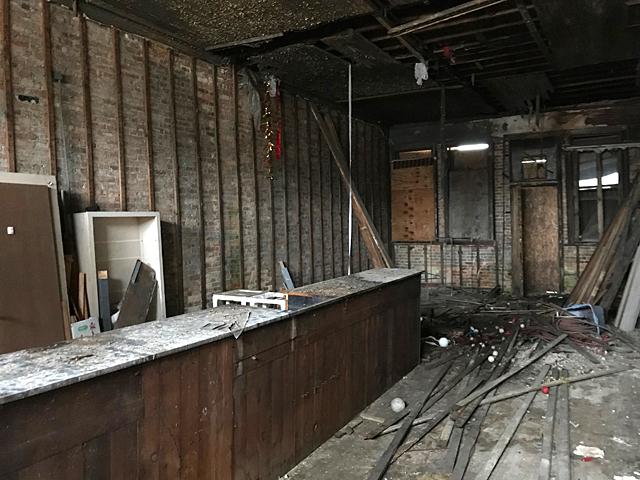 Inside the 1906 addition. Main floor above, second floor pictured below.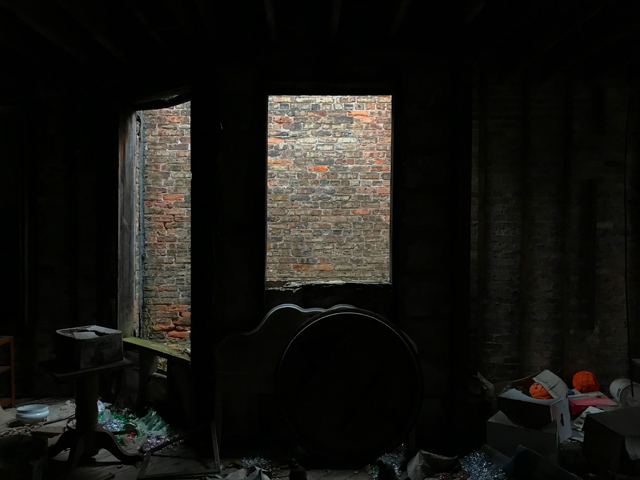 A pharmacy continued to operate in the main retail space until the mid-1930s, and, later, a dress shop, a produce stand and men's clothier. In the '60s, it was converted to a restaurant, which in the 1970s was the Ham 'n' Egger and, Fireside Barbecue in the next decade.
The addition housed Central Supply and Tire Repair Company in the '20s. Zalie Hackl's needlework shop in the '30s, and A.M. Mayer's tax prep office, George Ruechert's candy store and Branovan's Shoes in the 1940s and into the '50s.
Upstairs, photographer George Jaeneke left around the time Uihlein purchased the building, and the third floor was converted to two apartments. The second-floor spaces were occupied over the years by doctors and dentists like Dr. Bruno Schuster, dentist William M. Herte, The People's Dentists, into the 1960s.
At that point the building was still owned in the name of William Uihlein, and later in that of his son Ralph, who was not connected to Schlitz. But, the younger Uihlein sold it in 1972 and after that, it changed hands many times.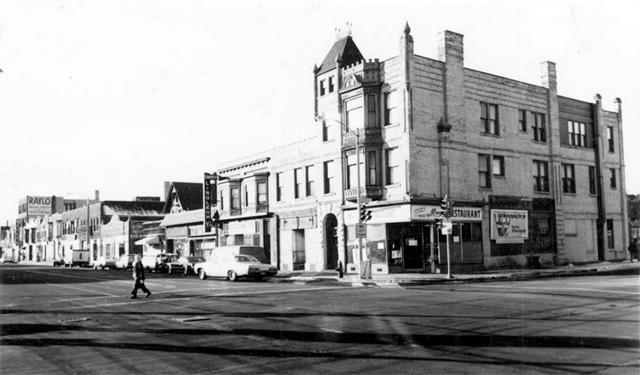 A 1976 view. (PHOTO: Courtesy of Milwaukee Public Library)
A plan about a decade ago to renovate the building did not yield the desired results and now it sits, in poor condition, in the portfolio of the City of Milwaukee, awaiting a new owner who has the passion and the pocketbook to bring it back to life.
"There have been past projects that have contemplated adaptive reuse of the Hummel-Uihlein building," says the city's Jeff Fleming.
At the moment, however, the building does not appear on the DCD website listing city real estate for sale, he says.
"The City is currently working on making the building accessible for inspection by interested parties. At this time, the property is not marketed because it is not safe to inspect portions of the building. We hope to resolve those issues to bring new life to this building."
I got a chance to look inside recently and, it's true, the building needs a lot of work, but there's also a lot of space, and the fact that it's a gut job means that a new owner can really work with a blank slate on the inside.
And, in the end, that person would own a gorgeous corner building that maybe was never a tied house, but remains tied, in a way, to the city's long brewing history.
Born in Brooklyn, N.Y., where he lived until he was 17, Bobby received his BA-Mass Communications from UWM in 1989 and has lived in Walker's Point, Bay View, Enderis Park, South Milwaukee and on the East Side.
He has published three non-fiction books in Italy – including one about an event in Milwaukee history, which was published in the U.S. in autumn 2010. Four more books, all about Milwaukee, have been published by The History Press.
With his most recent band, The Yell Leaders, Bobby released four LPs and had a songs featured in episodes of TV's "Party of Five" and "Dawson's Creek," and films in Japan, South America and the U.S. The Yell Leaders were named the best unsigned band in their region by VH-1 as part of its Rock Across America 1998 Tour. Most recently, the band contributed tracks to a UK vinyl/CD tribute to the Redskins and collaborated on a track with Italian novelist Enrico Remmert.
He's produced three installments of the "OMCD" series of local music compilations for OnMilwaukee.com and in 2007 produced a CD of Italian music and poetry.
In 2005, he was awarded the City of Asti's (Italy) Journalism Prize for his work focusing on that area. He has also won awards from the Milwaukee Press Club.
He can be heard weekly on 88Nine Radio Milwaukee talking about his "Urban Spelunking" series of stories.