The American Red Cross is working around the clock along the Gulf Coast to help the thousands of people whose lives have been devastated by Hurricane Harvey. On Monday, a little piece of Texas came north as HAWS welcomed 46 displaced dogs.
Acting as an Emergency Placement Partner for the Humane Society of the United States, HAWS welcomed the dogs to the Waukesha County Airport Monday afternoon, and I was fortunate enough to be on hand to witness the dogs arrive in this first transport to Waukesha County.
The animals were already in shelters looking for their forever homes when Harvey arrived and had to be evacuated to make space for pets that may have been separated from their owners in the storm. Those animals will take up temporary shelter in Texas and other Southern states while their owners search to be reunited.
It was a heartwarming but also heart-wrenching day as we watched dog upon dog being unloaded from the plane. Some of them were excited but some were also nervous and scared not knowing where they had been transported to.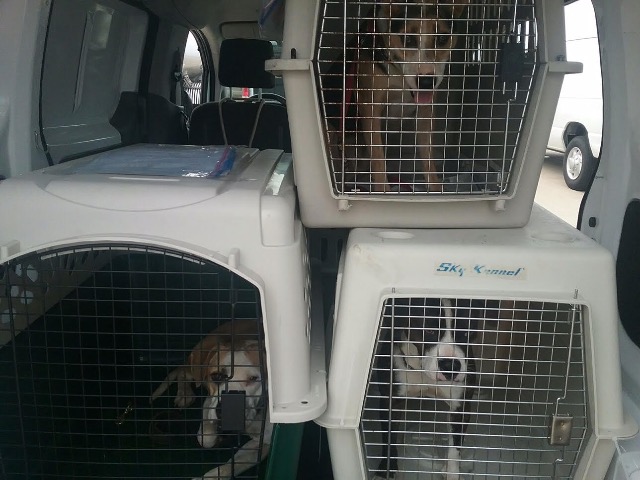 But, in true Wisconsin fashion, the public is asking how to help. The biggest need right now at HAWS is to find foster homes for these animals. HAWS is looking for foster homes that can give a 60-90-day commitment for these pets. Most of the pets needing foster care will be dogs, although HAWS will most likely receive cats and other small animals as part of the transport.
Veterinary care and behavior support, along with care supplies, will be supplied by HAWS. All you need to do is supply the love.
If you would like to be a part of helping the voiceless victims of Harvey, please call the shelter at (262) 542-8851 , extension 0. Once HAWS has a complete idea of the number and types of foster situations, they will hold a basic foster training session and place the animals.
So let's rally Southeastern Wisconsin. These animals need our help.
Carole Caine comes from Beloit, but is a 30-year media veteran in Milwaukee. Prior to joining OnMilwaukee as a features contributor, she served as half of the popular "Dave and Carole" morning show.
Now, Carole serves a number of roles in Milwaukee media. She's a host at WVTV-18 and fills in on "The Morning Blend." She is also doing voice work for several regional clients.
Carole, her husband and her dog live in Mequon.