After growing rumors over the past few days – and general speculation over the last decade – IKEA officially announced its first Wisconsin location, moving into Oak Creek with an estimated opening date of summer 2018.
The announcement was made this morning at a press conference in the Oak Creek Civil Center by IKEA representatives, along with Oak Creek Mayor Steve Scaffidi.
"Now with 41 stores in the U.S. – mostly in the east and in the west – we are focused on filling in the middle," said IKEA expansion public affairs manager Joseph Roth. "So to complement our stores in the neighboring states of Minnesota, Michigan and Illinois, we're expanding our Midwestern presence by bringing a little bit of Sweden to key metropolitan areas, such as Southeast Wisconsin."
"IKEA does not open stores just anywhere, nor very often," Roth added later, "but when we do, we make a commitment for the longterm."
Oak Creek Mayor Steve Scaffidi speaks at this morning's IKEA press conference. (PHOTO: Carolynn Buser)
The proposed new Oak Creek IKEA, located at the northwest corner of I-94 and Drexel Avenue, would be a single-level, 295,000-square foot store with about 1,200 parking spots. The blue-and-yellow location will feature a showroom with 50 fully decorated room-settings, three model home interiors, a self-serve furniture area, a 300-seat, cafeteria-style restaurant, a Swedish food market, a bistro, family features including a "Children's IKEA" area and baby care rooms, and nearly 10,000 exclusive home furnishing items.
The new IKEA is expected to bring approximately 250 jobs, as well as an estimated 500 jobs during construction of the new store.
"We are extremely proud to announce today that we're going to be the site of that future IKEA location," Scaffidi said. "I think it's going to be a tremendous addition to our city and to the county and to the state."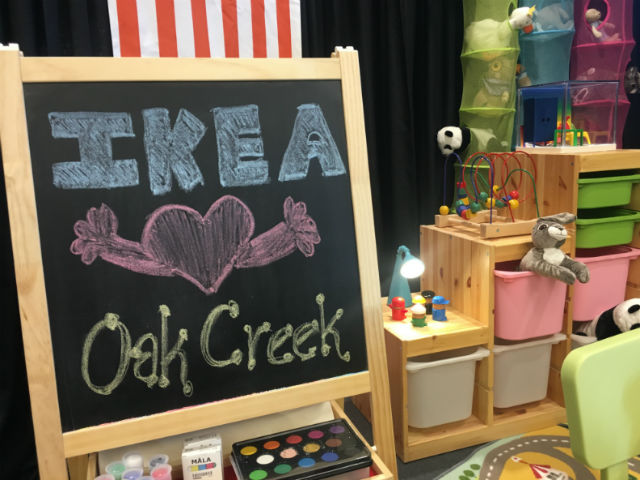 A display at the IKEA announcement in Oak Creek. (PHOTO: Carolynn Buser)
As rumors of the Oak Creek IKEA location began earlier this week, some wondered if the speculated spot was too close to the Schaumburg, Ill., location, as the two stores are just a little over 70 miles apart. According to Roth and IKEA real estate manager Liz Gabor, however, the Oak Creek land had what they look for in a viable store location.
"In general, we look for sites that are accessible and visible from a major interstate or highway, and that's exactly what we found here," Roth said. "The greater Milwaukee area is definitely a separate trade area from Chicago, so we view them separately, and we just thought this site is accessible for folks from throughout Southeast Wisconsin."
According to Gabor, IKEA is currently filling out applications with the city of Oak Creek this week, and the company aims to have government approval in the fall, start construction in spring 2017 and open in 2018.
As much as it is a gigantic cliché to say that one has always had a passion for film, Matt Mueller has always had a passion for film. Whether it was bringing in the latest movie reviews for his first grade show-and-tell or writing film reviews for the St. Norbert College Times as a high school student, Matt is way too obsessed with movies for his own good.
When he's not writing about the latest blockbuster or talking much too glowingly about "Piranha 3D," Matt can probably be found watching literally any sport (minus cricket) or working at - get this - a local movie theater. Or watching a movie. Yeah, he's probably watching a movie.