Season's eatings! The weather may be getting colder, but Dining Month on OnMilwaukee is just cooking up, dishing out your winning picks in this year's Best of Dining poll. Dining Month is brought to you by Fein Brothers, your premier food service equipment and supply dealer in Wisconsin since 1929. Congratulations to all of the winners, and happy eating for all those who voted! See all the winners for the month so far here.
One of the best aspects of Indian food is that it appeases meat eaters and vegetarians alike, and whether you order a lamb, beef or chicken dish – or one made with potatoes or lentils – the eating experience is equally as satisfying.

Indian dishes are usually presented in small serving vessels and self-scooped over basmati rice, which is usually served "family style" at the table. Sauces, called chutneys, are used as condiments.
Many to most Indian restaurants offer a buffet – usually during lunch and on weekends – which is the best way for newbies to familiarize with Indian cuisine.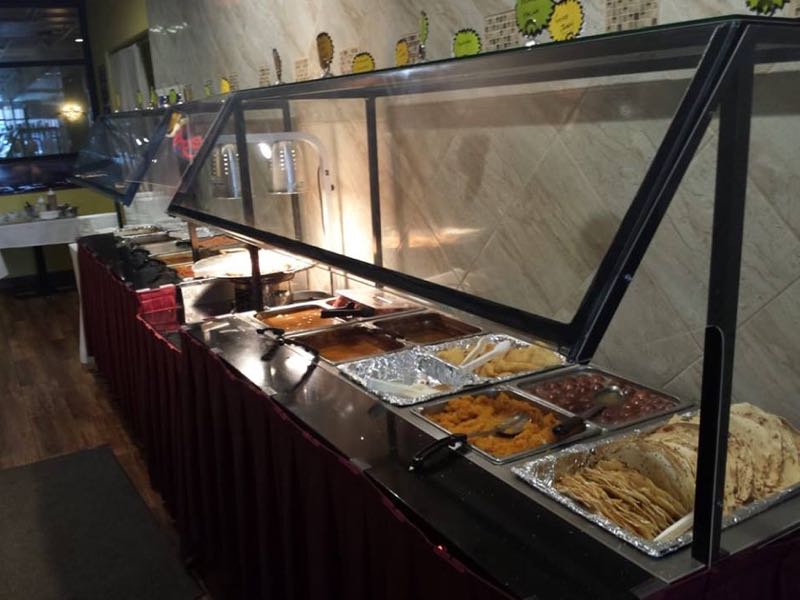 Indian bread, called naan, is available stuffed or plain, and is ideal as a "side," or as a way to transport food to mouth, similar to Ethiopian dining. Traditionally, Indian food was not eaten with utensils, but in modern India, and definitely in Western Indian restaurants, silverware is used.
Some say Indian food is an acquired taste due to the combination of spices used like curry, cardamom, cinnamon and nutmeg, but for others, the subtle and striking flavors are the very reason they crave Indian food.
In any case, Indian food is a highly evolved style of cooking that's been around for 3,000 years. Lucky for us, Milwaukee is home to many great Indian food restaurants, so whether it's already a favorite, or you want to experiment with new tastes, here's a guide to local Indian eateries.
Anmol Restaurant
711 W. Historic Mitchell St., (414) 672-7878
This moderately-priced restaurant will serve up generous portions of carefully-spiced dishes and also offers Pakistani fare. The biryani is a favorite, along with the garlic naan.
Bollywood Grill
1038 N. Jackson St, (414) 271-8200
Bollywood Grill (formerly Mayura) offers up Indian cuisine, favoring the flavors of northern India. Bollywood is home to a popular lunchtime buffet.
Bombay Sweets
3401 S. 13th St., (414) 383-3553
Bombay Sweets is one of Milwaukee's most affordable Indian restaurants. It's a no-frills environment with stellar vegetarian recipes.
Cafe India
605 s. 1st St., (414)224-5444
2201 S. Kinnickinnic Ave., (414) 837-6121
The 1st Street location is a small eatery in a strip mall whereas the second location is a much larger, sit-down restaurant with traditional ambiance and a large buffet as well as a regular menu.
India Garden
29130 N. 117th St., (414) 235-9220
The owners are the original owners of Maharaja and opened this full-service Indian restaurant in Wauwatosa. India Garden is known for its modern interpretation of classic Indian dishes.


India Palace
7107 S. 76th St., (414) 235-9809
A casual strip-mall eatery in Franklin featuring curry, chicken tikka and other Indian staples along with a lunch buffet.
Indian Delight
140 E. Drexel Ave., (414) 301-5091
A vegetarian, vegan and gluten-free Indian restaurant in Oak Creek.
Indian Village Restaurant
7640 W. Forest Home Ave., (414) 585-9777
A simple cafe in Greenfield offering a familiar menu of classic Indian fare, including a buffet and vegetarian dishes.
Maharaja Restaurant
1550 N. Farwell Ave., (414) 276-2250
Maharaja is an East Side classic with a full bar and Indian menu along with a popular lunch buffet.
Royal India
3400 S. 27th St., (414) 647-9600
Royal India is a sit-down restaurant with a lunch buffet and a full menu.
Shah Jee's Restaurant
770 N. Jefferson St., (414) 271-5354
3116 N. Downer Ave., (414) 800-6053
3933 S. 76th St.
Technically speaking, this is a Pakistani restaurant, but there's a lot of crossover in dishes and flavor.
Taj Mahal Indian Restaurant
5114 S. 108th St., (414) 427-5900
Easy-going Indian eatery in Hales Corner with classic like chicken tikka masala and goat curry that also delivers.

Tandoor House
1117 S. 108th St., (414) 777-1600
Tandoor offers a lunch buffet and a full dinner menu. It's best known for its beef curry.

Taste of India
17800 W. Bluemound Rd., (262) 796-8200
A casual environment featuring a menu of traditional Indian/Indo-Chinese fare and a large lunch buffet.


Molly Snyder started writing and publishing her work at the age 10, when her community newspaper printed her poem, "The Unicorn." Since then, she's expanded beyond the subject of mythical creatures and written in many different mediums but, nearest and dearest to her heart, thousands of articles for OnMilwaukee.

Molly is a regular contributor to FOX6 News and numerous radio stations as well as the co-host of "Dandelions: A Podcast For Women." She's received five Milwaukee Press Club Awards, served as the Pfister Narrator and is the Wisconsin State Fair's Celebrity Cream Puff Eating Champion of 2019.