The OnMilwaukee.com Summer Festivals Guide is presented by Pick 'n Save, Where Wisconsin Saves on Groceries. Pick 'n Save is Wisconsin proud, and excited to help promote and feed the great Milwaukee summer that includes festivals and fun nearly every day. Click to save here!
Long hours, exhaustive heat and high volume working conditions are all part of the job when you work at Summerfest. Just ask the local chefs and service professionals who've paid their dues working at the world's largest music festival.
In the kitchen
Take chefs like Paul Zerkel of Goodkind, who spent at least one summer slinging eggrolls at Wong's Wok with his friend Duffy O'Neil, now owner of North Star Bistro.
"When you're a kid, you think it's the best thing in the world to work at Summerfest," Zerkel says. "And it was a pretty easy gig. We would just sit there with our temperature gauges, pulling eggrolls out of the freezer and frying them up. At the time I didn't know much about kitchens, so I thought that was what it was all about."
A downside, Zerkel notes, was standing over a hot fryer on hot summer days. "I probably went through a couple of T-shirts a day," he says. "We'd get to the point where we'd put cold towels around our necks while we worked."
But, the benefits outweighed the inconveniences. After all, part of the fun, according to Zerkel, was flirting with teenage girls who sometimes hung around outside the picture window in front of the woks.
Working a stand for Gil's Cafe in 2001 or 2002 provokes similarly fond feelings for Dane Baldwin of Mr. B's Steakhouse.
"I forget what the stand was called," he says. "But there was a creole theme to it. I remember assembling crawfish étouffée, jambalaya and boiling the crawfish in a couple of large outdoor crawfish pots. I look back on it fondly, I was 20-21 years old and getting paid to work at a music festival. It was great at the time."
Kris Collett, baker at Rocket Baby Bakery, says that working at the Shakey's Pizza booth had its good and bad points.
"The worst part was smelling like fryer and/or pizza grease when I left," Collett notes. "I never really enjoyed hanging out at Summerfest until after I stopped working there. I was always in a hurry to get home and take a shower!"
But, it was the pace she remembers the most.
"My most vivid memories involve crazy busy shifts and closing shifts, when people got really goofy," she says. "I was cutting pizzas on one of those crazy nights, and that's all I did for what seemed like hours. One person was loading the oven constantly, the other was taking the pizzas out of the oven, and I was cutting them. The runners were grabbing them for customers as fast as I could cut them. Miraculously, I didn't cut myself!"
The heat was memorable for A.J. Dixon, chef and owner of Lazy Susan. She spent at least one summer working for Koepsell's Popcorn wagon.
"OMG, I give those kids props every time I see them," she says. "Those wagons are hotter than a kitchen. Hotter than hell. Some summers that wagon would be 125 degrees inside. I swear."
The upside, she says, is that she made great tips and got into the festival for free. Seeing bands while working was also a perk.
"If you were stationed in the Marcus, you got to here all the music," she says. "And if you were in a really good spot you had a great view of the stages. The downfall was getting out late and hitting all the traffic on the way out of the park."
Meanwhile, Mitch Ciohon, co-owner of Boone & Crockett and the man behind Gypsy Taco, learned about the trials and tribulations of operating two restaurants at once while he worked at Sabor Brazilian Steakhouse. For four years, he helped to run the restaurant's mobile churrasco, a satelite steakhouse on the Summerfest grounds that not only served up rotisserie meats and vegetables, but also handled the catering of parties in the Miller Oasis.
"The best part of the job was the free access to the grounds for the entirety of the fest, including access to backstage areas," says Ciohon. "The toughest? The trial by fire that taught us that we could operate basically another whole restaurant on top of the already very busy Sabor. Lots of fun and hard work!"
But, "fun" isn't a word that some would use to describe their Summerfest experiences. Take Kevin Sloan of The Pabst Theater Group, who spent one summer working on the festival grounds.

"My soccer coach at Pius managed the burger place then called 'Someplace Else,'" he recalls. "So, I worked in the kitchen there. I actually didn't take much away from the experience.
"I just remember the kitchen air was filled with steam from burgers on the flat top and grease steam from the fryers -- so much so that I was repeatedly getting bloody noses… like lots of them. So when I wasn't flipping burgers I was lying horizontally with a pack of ice on my nose. Good times …"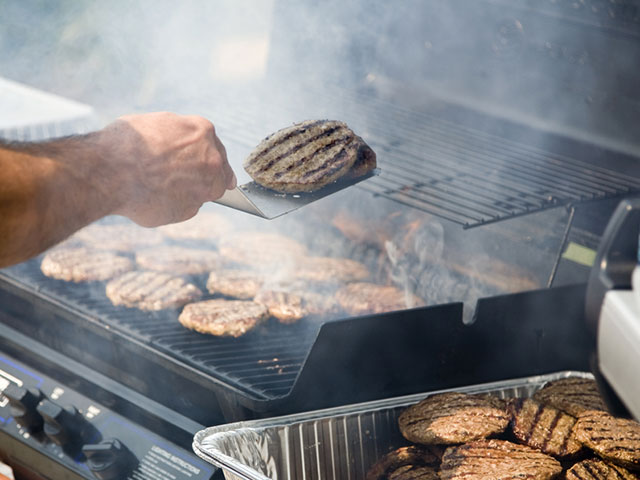 At the window
Of course, not everyone who worked Summerfest did so in the kitchen.
Amanda Schroder, server at MOVIDA, says one of her earliest experiences in the service industry took place at the Edwardo's tent at Summerfest.
"I was working several jobs in order to save for college," she says, "So I worked in the 'front of house' as a cashier who poured sodas. I loved being surrounded by the fun energy of Summerfest and interacting with so many people."
Although she says she didn't make much money, she notes that the perks – like being able to catch a show after her shift, and taking whole deep-dish pizzas home most nights – made the job worthwhile. And the experience turned out to be more useful than she would have guessed.
"Though I wasn't aware of it at the time, I learned a lot about management and customer service from that job," she notes. "I also learned that if I ate nothing but a slice of deep dish spinach pizza in an 8-hour shift that I could supplement my energy with gallons of Mountain Dew."
On the grounds
Others still bear the scars of their Summerfest adventures.
Karen Gill, chef and owner of Down to Earth Chef, worked at Summerfest during the summer of 1992. She was finishing up her undergraduate degree at Marquette, taking summer classes before leaving for an internship in Minneapolis. And despite the fact that she was already working two jobs, she decided that an 11-night gig at Summerfest seemed like the perfect way to supplement her income.
Of course, she didn't take on any of the more straight-forward roles – like pouring beer, collecting tickets or slinging brats. Instead, she chose to be part of the Summerfest grounds crew, sweeping up trash and shlepping around huge bags of "drippy, stinky, beer-filled trash."
"I worked the small blues stage," she recalls. "And I did my work while moving about middle-aged, drunk men, who loved hitting on me... Yes, even while wearing the institutional orange jumpsuit uniform and carrying garbage!"
One night, while carrying a particularly drippy stinky bag of trash, she managed to hit her shin on one of the tent posts as she was exiting the tent.
"I hit my leg and simultaneously ripped a hole in the especially drippy bag of garbage I was carrying," she says. "So, all the stale beer and stink went dripping down my leg, right into the gouge on my shin. I still have the scar."
On the stage
And, then there are the particularly gregarious service industry folks who made their Summerfest debuts onstage.

Marketing and public relations professional Jaime Jacobs of SURG Restaurant Group spent her summers between the age of 8 to 13 dancing her way across the Summerfest grounds.
"I was part of a dance group that performed at all of the festivals," she says. "It was really a pretty good gig for a kid. We always had great audiences and spent every day eating Italian Ice or riding the giant slide."
She blushes when she admits that one of her favorite Summerfest memory involves a particular dance performance set to Huey Lewis and the News' hit "Heart of Rock-n-Roll."
Umami Moto's Rachael Hutchinson cut her teeth at the Fest wearing a bratwurst costume as part of a promotion for the Klement's Racing Sausages. It was a volunteer position – and one she says she'd never perform again.
"It was so hot I nearly passed out," she says. "I could barely see out of the front of the costume, so I kept getting separated from the group and missing out on photo ops."
To top it all off, Hutchinson says, the crowds caught on to her troubles and gained further amusement by trying to knock her over. By the second time nearly hitting the ground, she vowed she'd never again set foot inside a sausage suit again. In fact, she took her complimentary t-shirt and mug, left the grounds and never looked back.
On the other hand, bartender Daniel Beres, currently consultant at MOVIDA in Walker's Point, admits he never worked the grounds at Summerfest. But, he was a member of a band who played at the festival.
"I was lead guitarist in a band called Truth in Fiction," he says. "And playing at Summerfest was always among the most exciting performances when we toured. We actually had a record deal overseas in Japan, so we didn't play in town that often.
"But at our last Summerfest performance in 2008, we were first opener for Jack's Mannequin on the Miller Lite stage. We played at 8 p.m. in front of, what we were told, was close to 10,000 people. There were people holding signs with the names of their favorite songs of ours, the first five or six rows were people who knew the lyrics to all of our songs, it was magical. Milwaukee always knows how to make their own feel loved."
Truth in Fiction (from left to right): Daniel Beres, Kristian Riley, Mike Wisth, Scott Seiver.
Lori is an avid cook whose accrual of condiments and spices is rivaled only by her cookbook collection. Her passion for the culinary industry was birthed while balancing A&W root beer mugs as a teenage carhop, fed by insatiable curiosity and fueled by the people whose stories entwine with each and every dish. She's had the privilege of chronicling these tales via numerous media, including OnMilwaukee and in her book "Milwaukee Food." Her work has garnered journalism awards from entities including the Milwaukee Press Club.
When she's not eating, photographing food, writing or recording the FoodCrush podcast, you'll find Lori seeking out adventures with her husband Paul, traveling, cooking, reading, learning, snuggling with her cats and looking for ways to make a difference.