Over the years, without even realizing it, I've been slowly following a path through buildings designed by Chicago architect Walter W. Ahlschlager.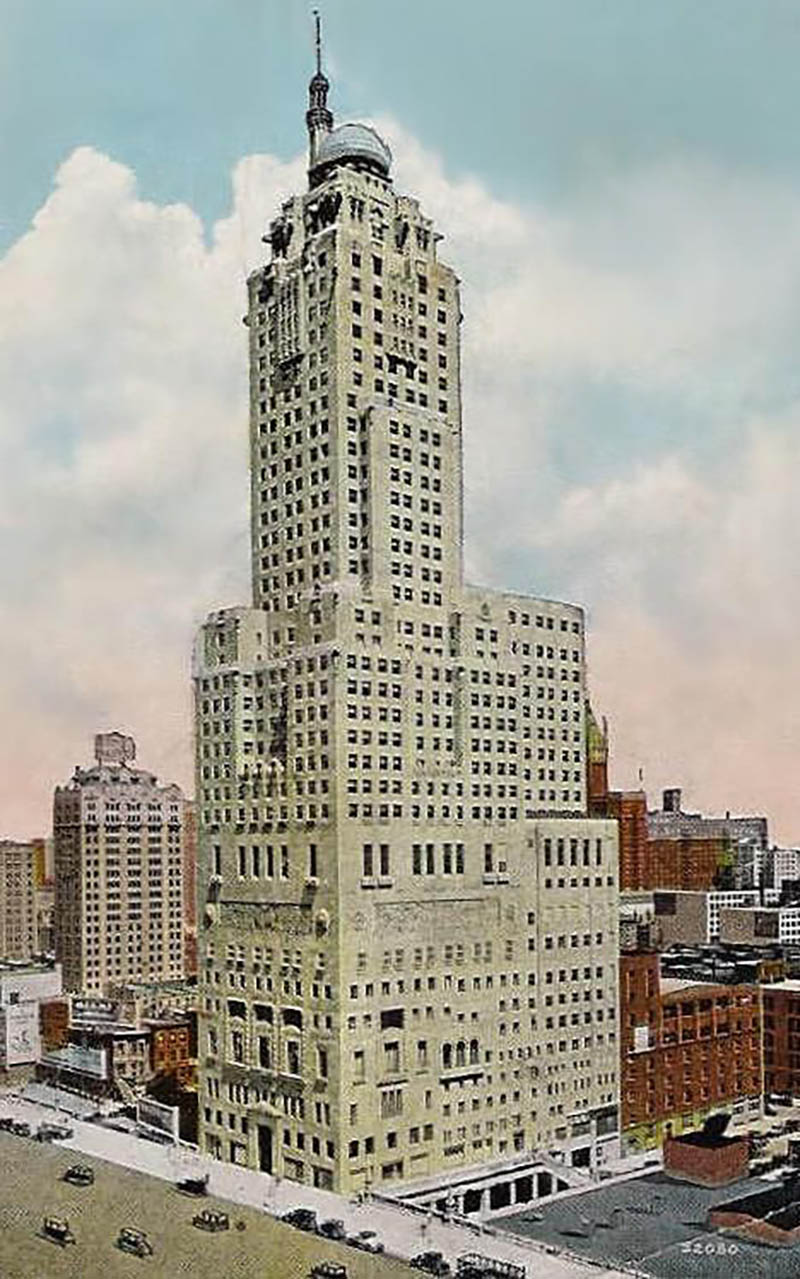 From the Beacon Theater and Hotel on New York City's Upper West Side, to the Peabody and its resident ducks in Memphis, to the glorious Carew Tower that I explored for the first time in September in Cincinnati, to the 1929 former Medinah Athletic Club on Chicago's Magnificent Mile, to which I recently returned.
It might be hard to determine exactly which of the architect's buildings was the most lavish, but surely the 471-foot-tall Medinah was up there.
And thanks to a two-year renovation of its event areas (as well as the rooms in the 315-room tower addition), unveiled in 2020, at a cost of $13 million, the IHG Hotels & Resorts-owned and operated InterContinental, 505 N. Michigan Ave., looks as beautiful as ever.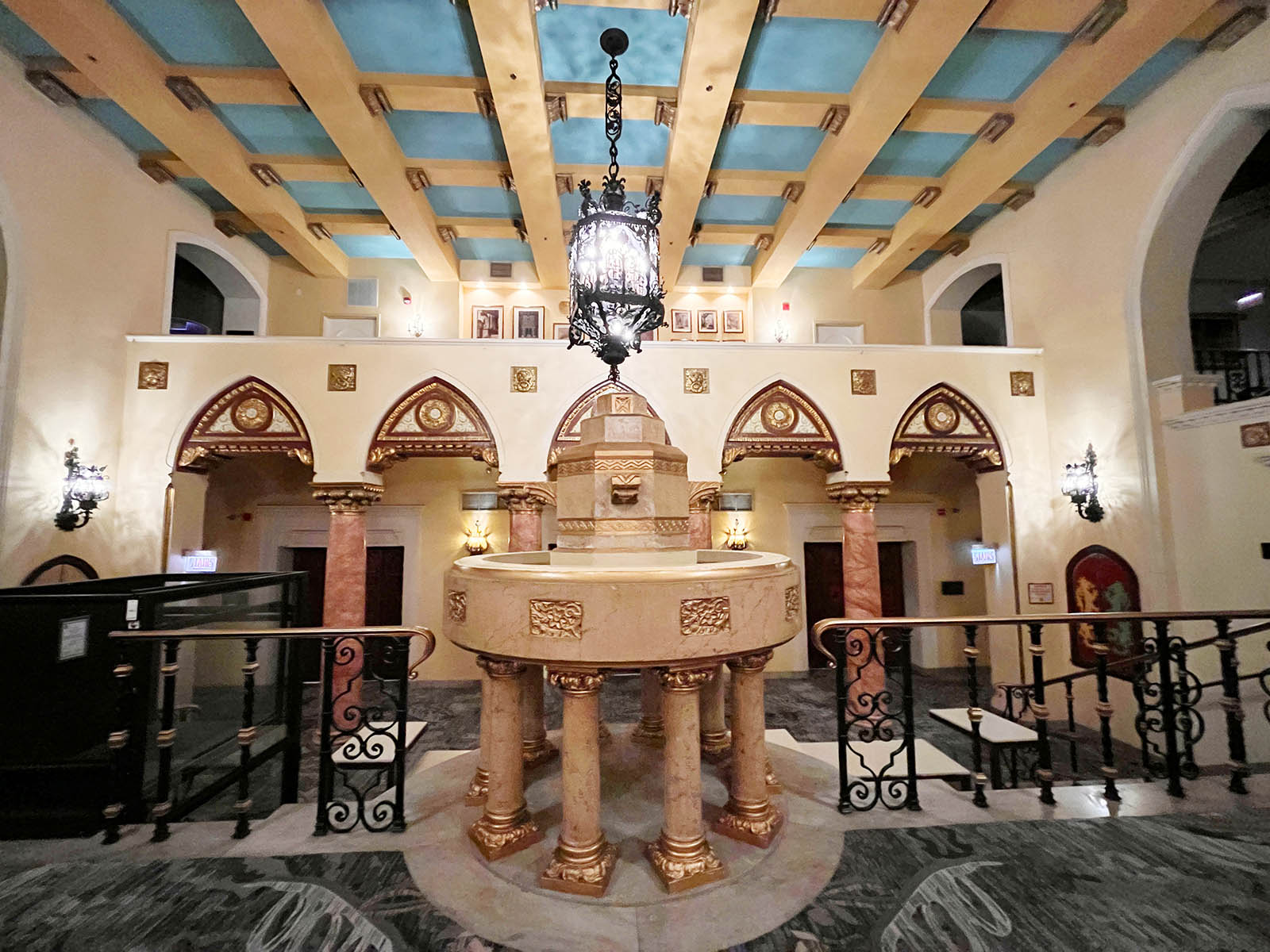 The hotel's Grand Tower, which has 477 guest rooms, occupies the old athletic club, with the Michael Jordan's Steak House located in the original lobby, where the welcoming Arabic phrase, "Es selamu alaikum" is etched in gold into the marble above the portal.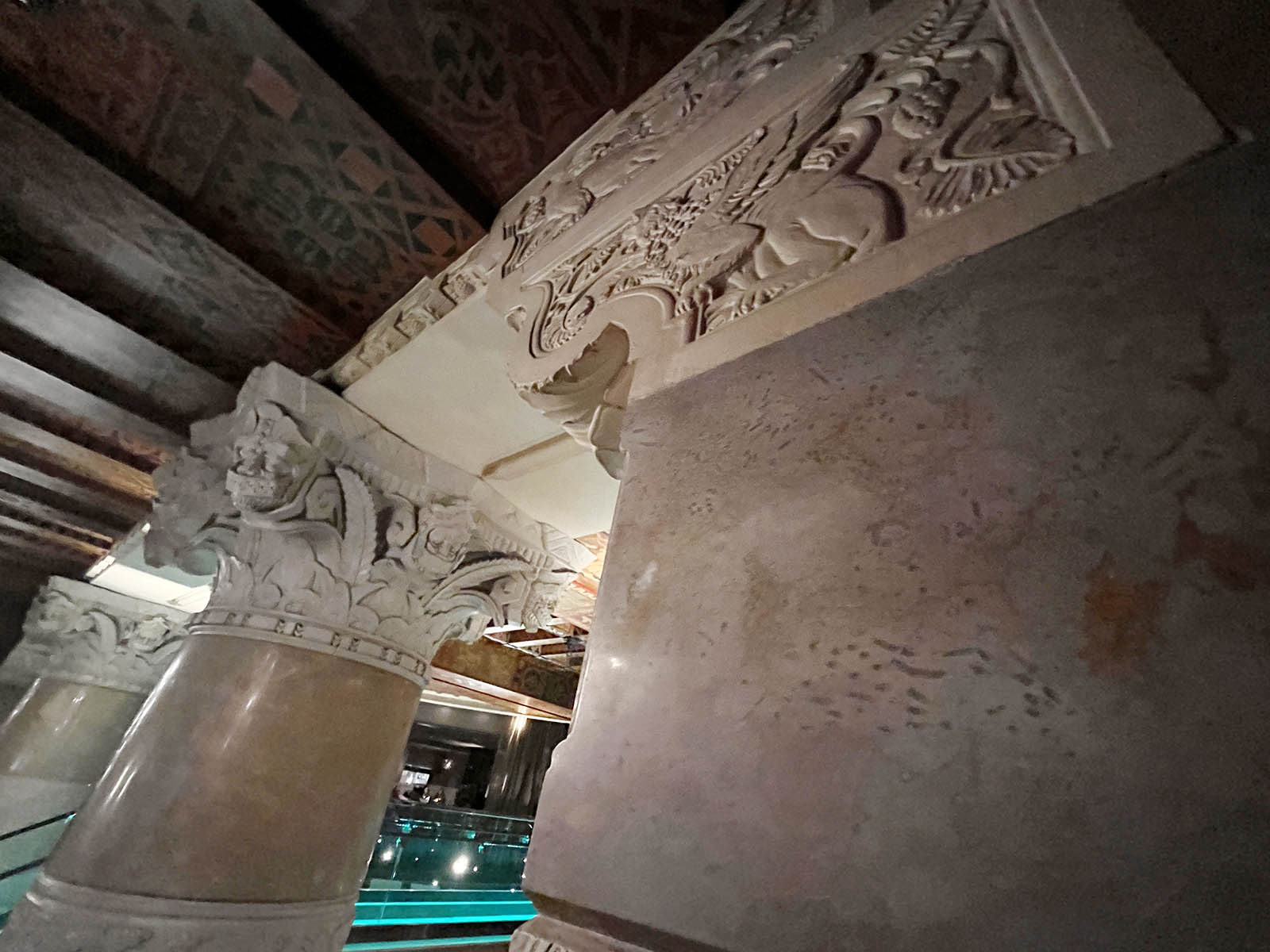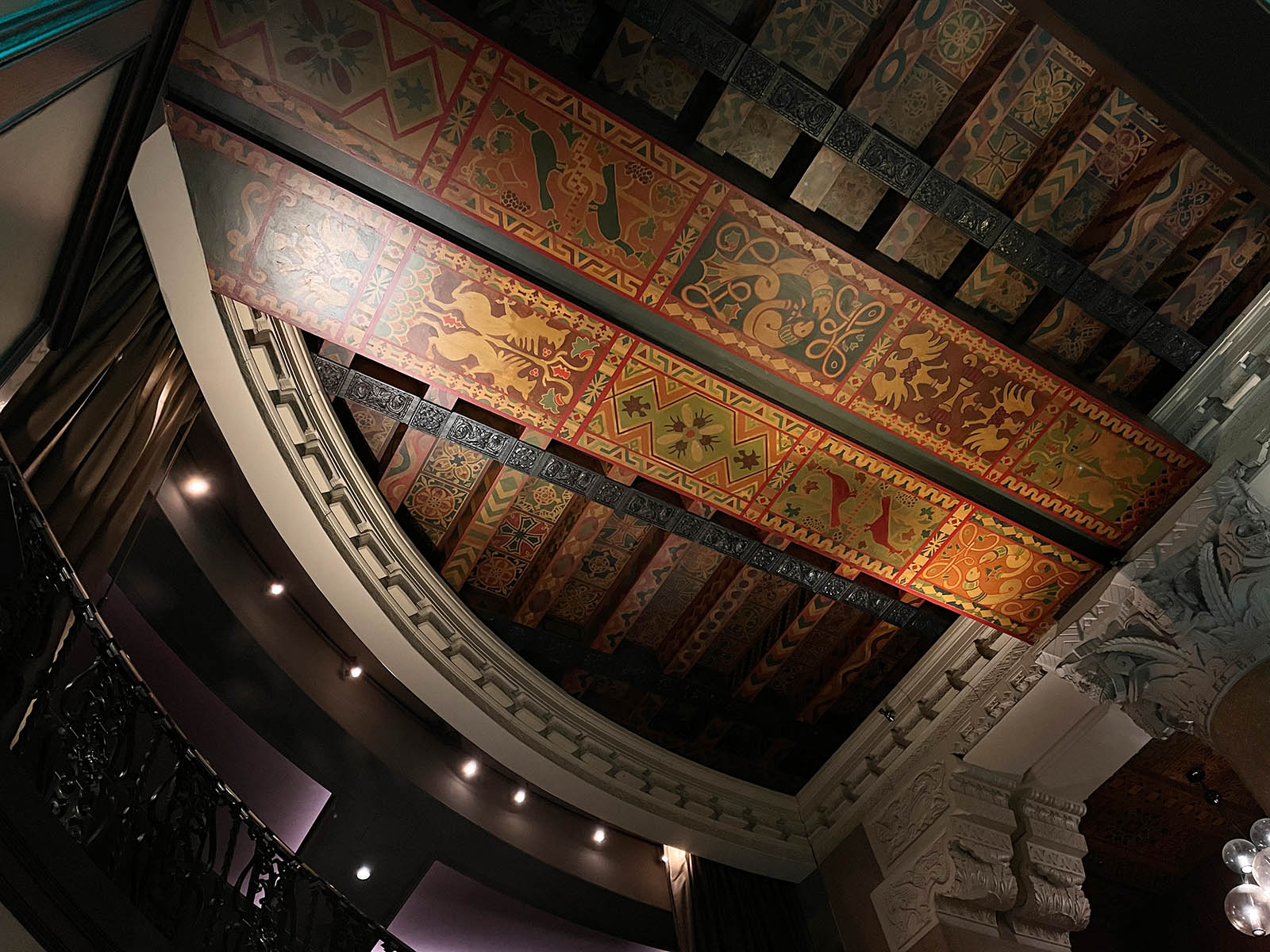 The building was designed as a clubhouse for the Shrine Organization and its completion would mark the stunning realization of three incredible buildings – along with the Beacon and Carew Tower – by the architect.
Walter William Ahlschlager was born in Chicago in 1887. His father, John, and uncle Frederick, were well-known architects. Walter studied at the Lewis Institute of Technology and then the Armour Institute and the Art Institute of Chicago.
In 1912, he began working alongside his father. But when the elder Ahlschlager died three years later, Walter joined forces with hotel and real estate developers Louis H. Stafford and W.C.D. Trinkle.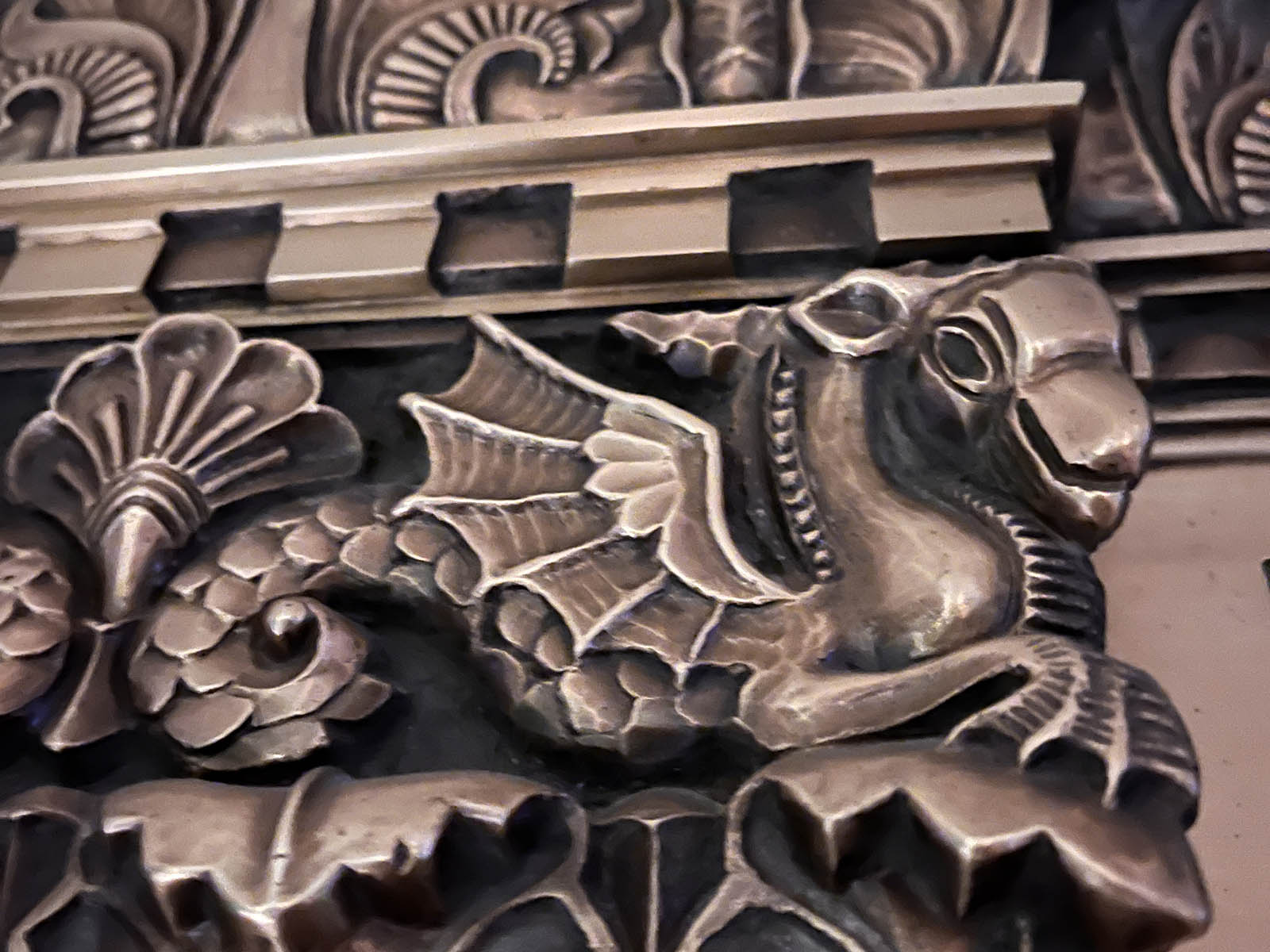 According to a National Register registration report for his Wedgwood Apartments in Dallas, Ahlschlager's, "work with the hotel developers instilled a strong belief in him that owning a stake in his own projects produced superior designs and he continued to develop his own properties throughout his career. to assemble land and financing for construction of hotels in Chicago. Ahlschlager was involved in both design and real estate development for the remainder of his long and distinguished career.27 Chicago hotel designs in which he held a financial interest included Parkway, Webster, Sovereign, Jackson Towers and Graemere."
The architect went to Dallas in 1938 to work on the Mercantile National Bank Building and in 1940, during its construction, he decided to stay, entering into partnerships with local architect James McCammon, as well as his with son, Walter Jr., among others.
Ahlschlager died in Dallas in 1965.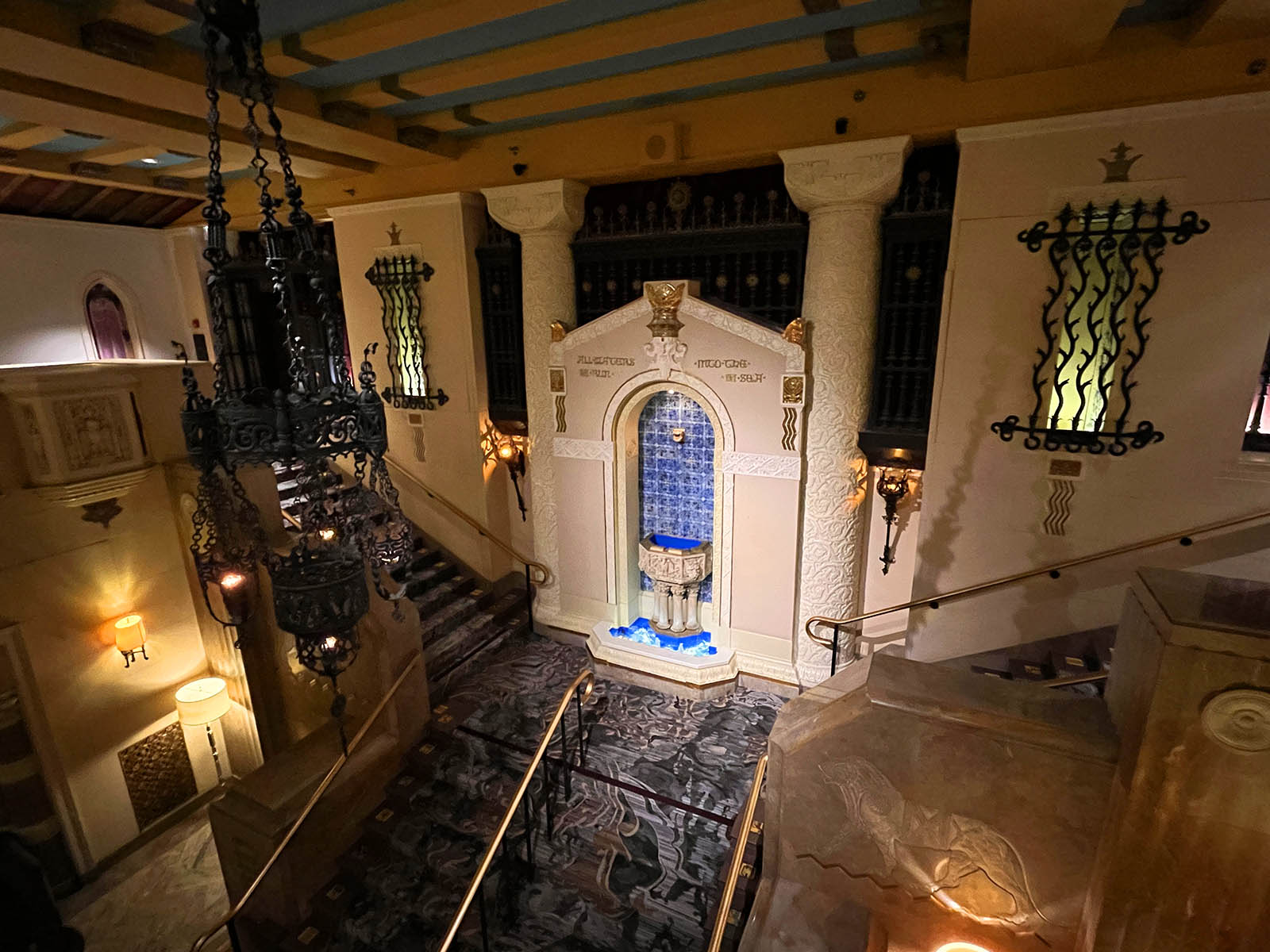 The Medinah was among his enduring achievements.
Designed using a mix of eastern styles – Assyrian, Moorish, Egyptian, Greek and others – the building was practically a city unto itself, with 14 floors of what we'd now call events space and amenities.
The 45-story building, with two basements, boasted a billiards room, a tea room, a bowling alley, lounges, ballrooms, a shooting range, a boxing arena, a gym and running track and on the 23rd floor, a miniature golf course complete with water hazards, including a meandering brook.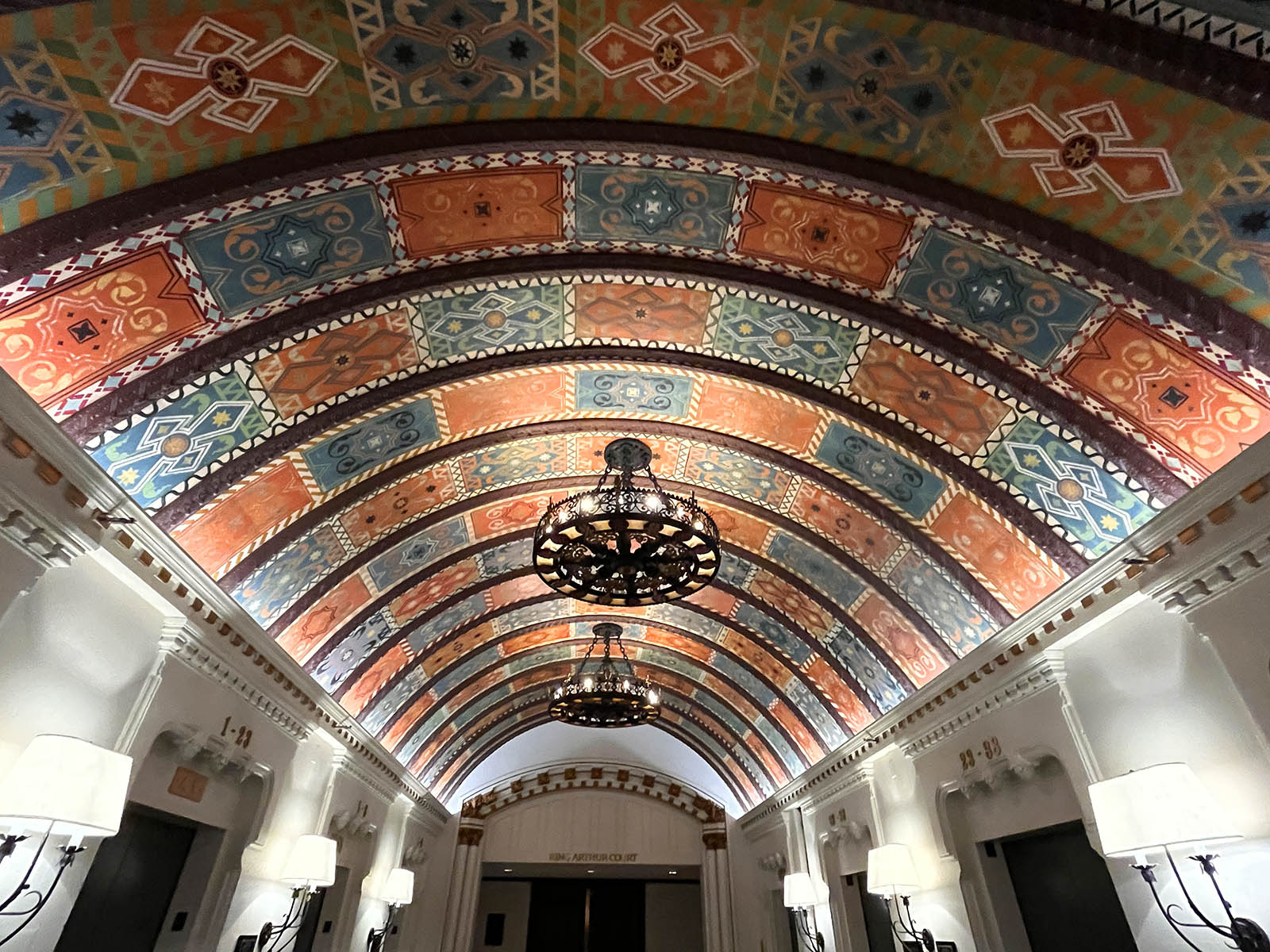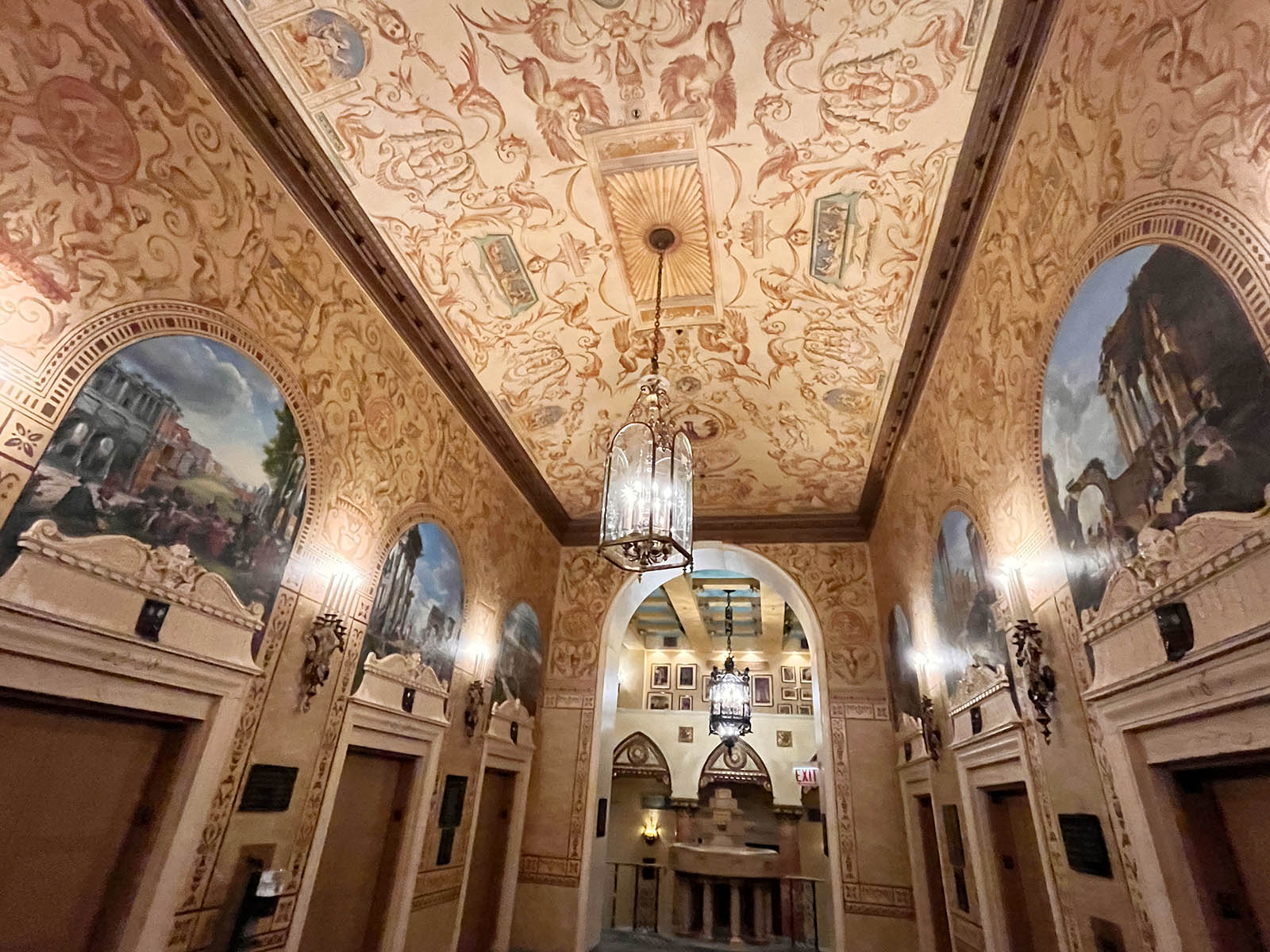 On the 14th floor was – and is – a beautiful junior Olympic size swimming pool – with a spectators' seating area – that is now named in honor of Olympian and "Tarzan" film star Johny Weissmuller, who trained there.
The building also had 440 guest rooms for use by the club's roughly 3,500 members, which included many local notables.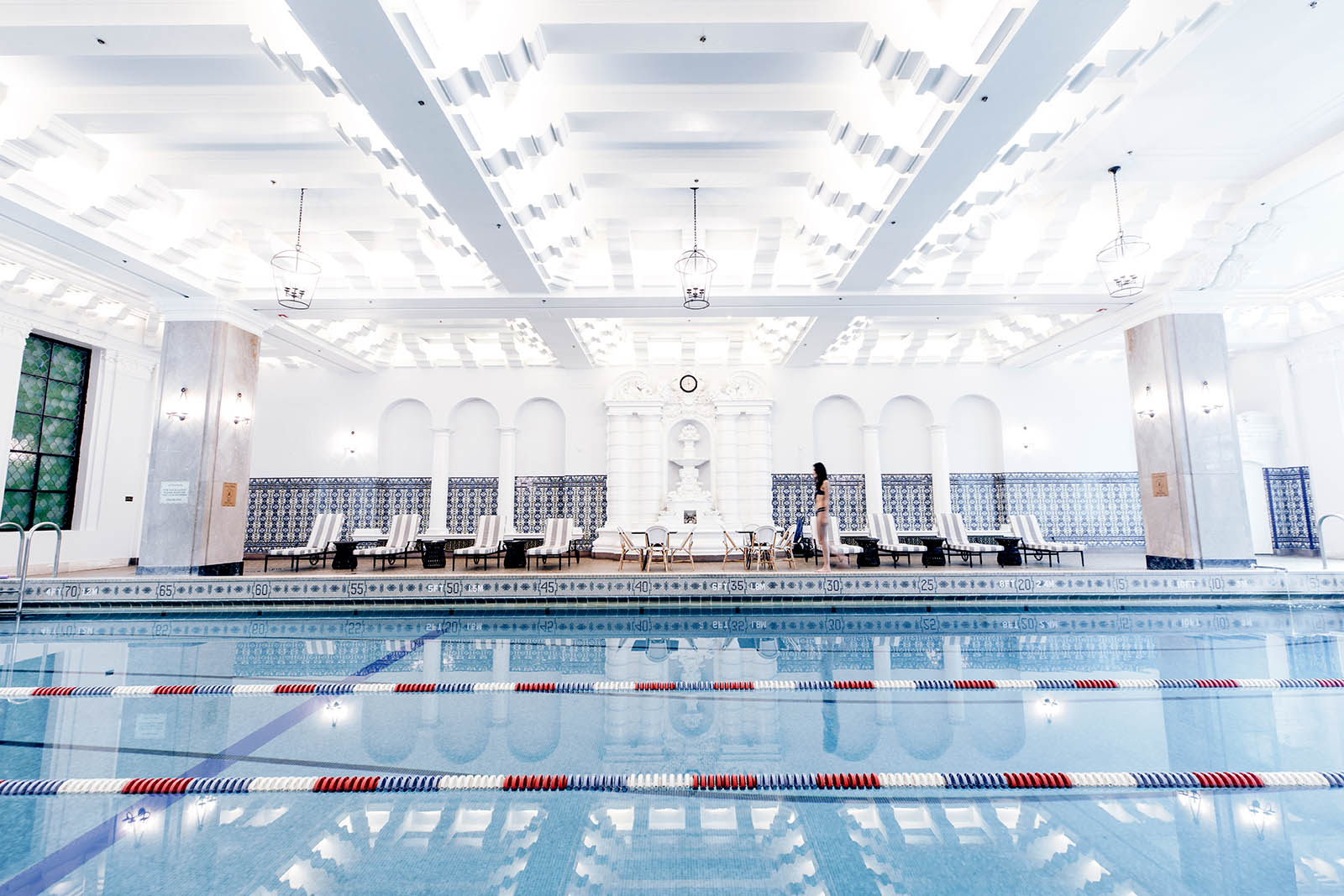 And, of course, every inch of it was lavish.
Murals adorned the walls of public areas, many ceilings – some barrel-vaulted – were decorated with oil paintings. Other ceilings were elaborately decorated like medieval great halls.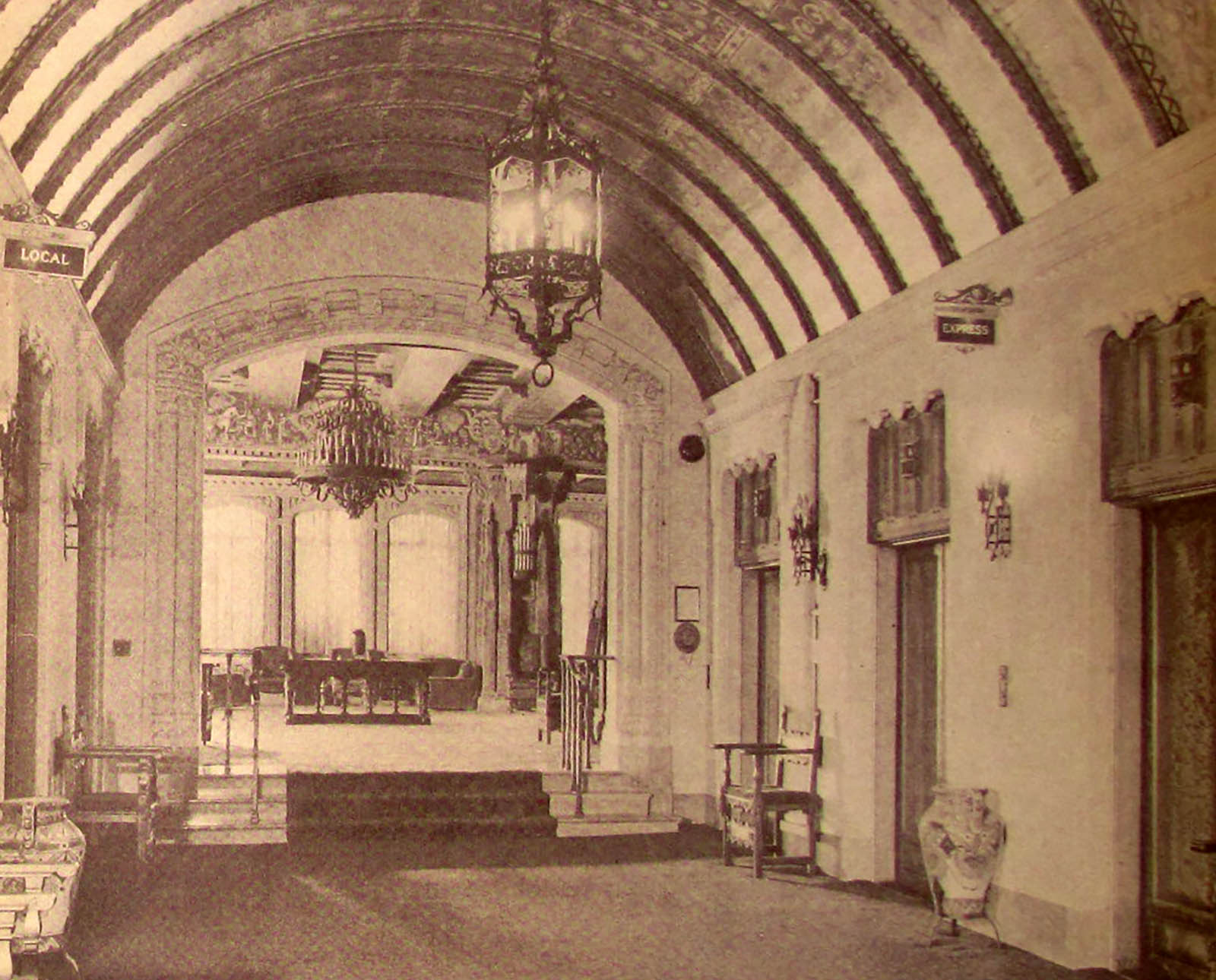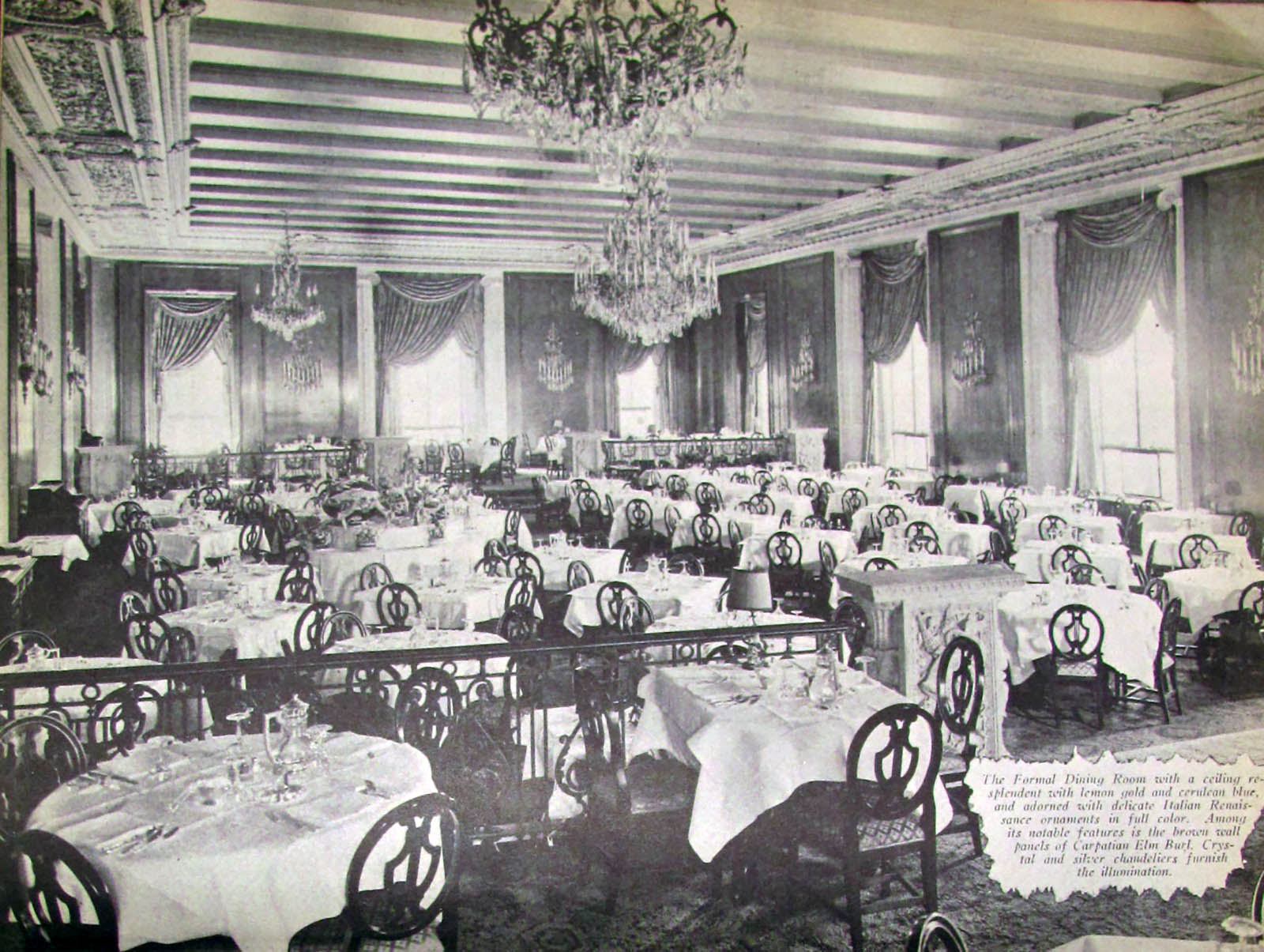 The were fountains – one of which was recently restored and returned to service after three dry decades – and imposing stone lobby pillars.
The balconied main ballroom was dotted with a 12,000-pound Baccarat crystal chandelier that was the largest of its kind on the continent.
Dining areas had soundproof leather doors. Steel beams were rendered to resemble old-growth timber.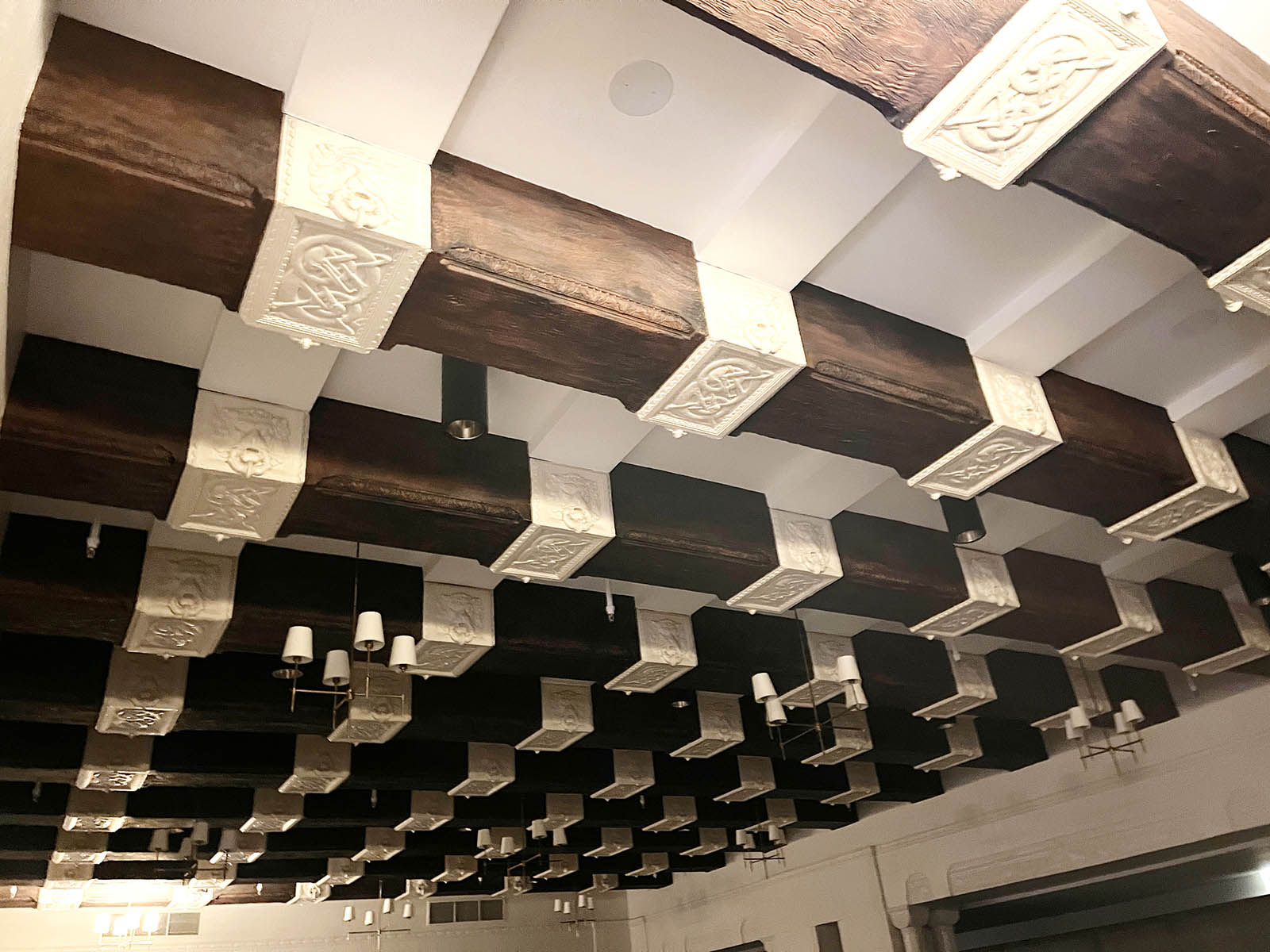 That plasterwork was so realistic that the Chicago Tribune reported that, "one member on a trip of inspection complained that the beams looked, 'too rotten to be safe'."
The pool – which was put in the charge of former national diving champ, E.A. Halverson – was decorated with Majolica tiles from Spain, which are still there. The King Arthur Court event room is fabulously decorated, including stained glass donated by Ahlschlager, and a secret compartment in the wall for hiding liquor during Prohibition.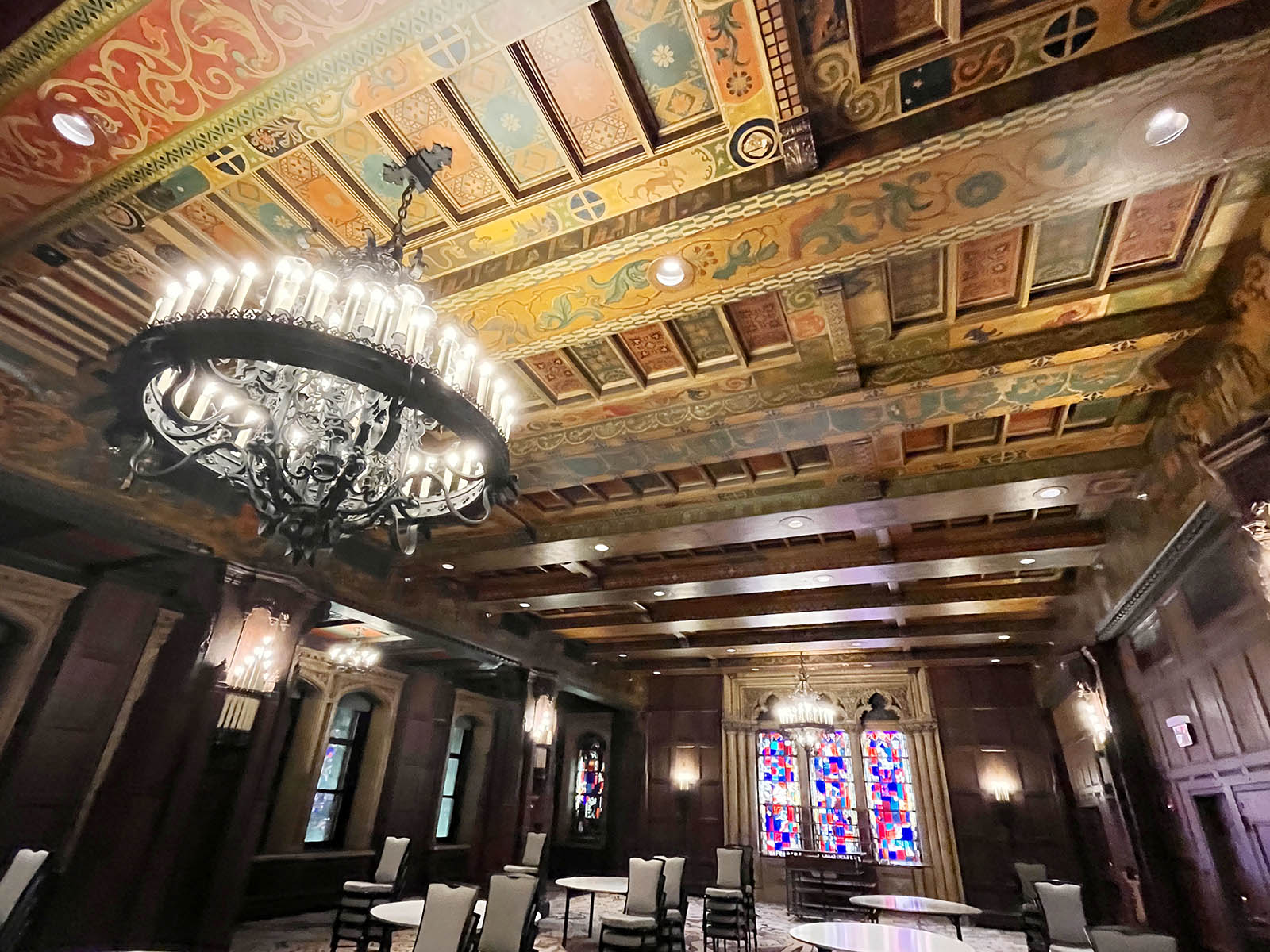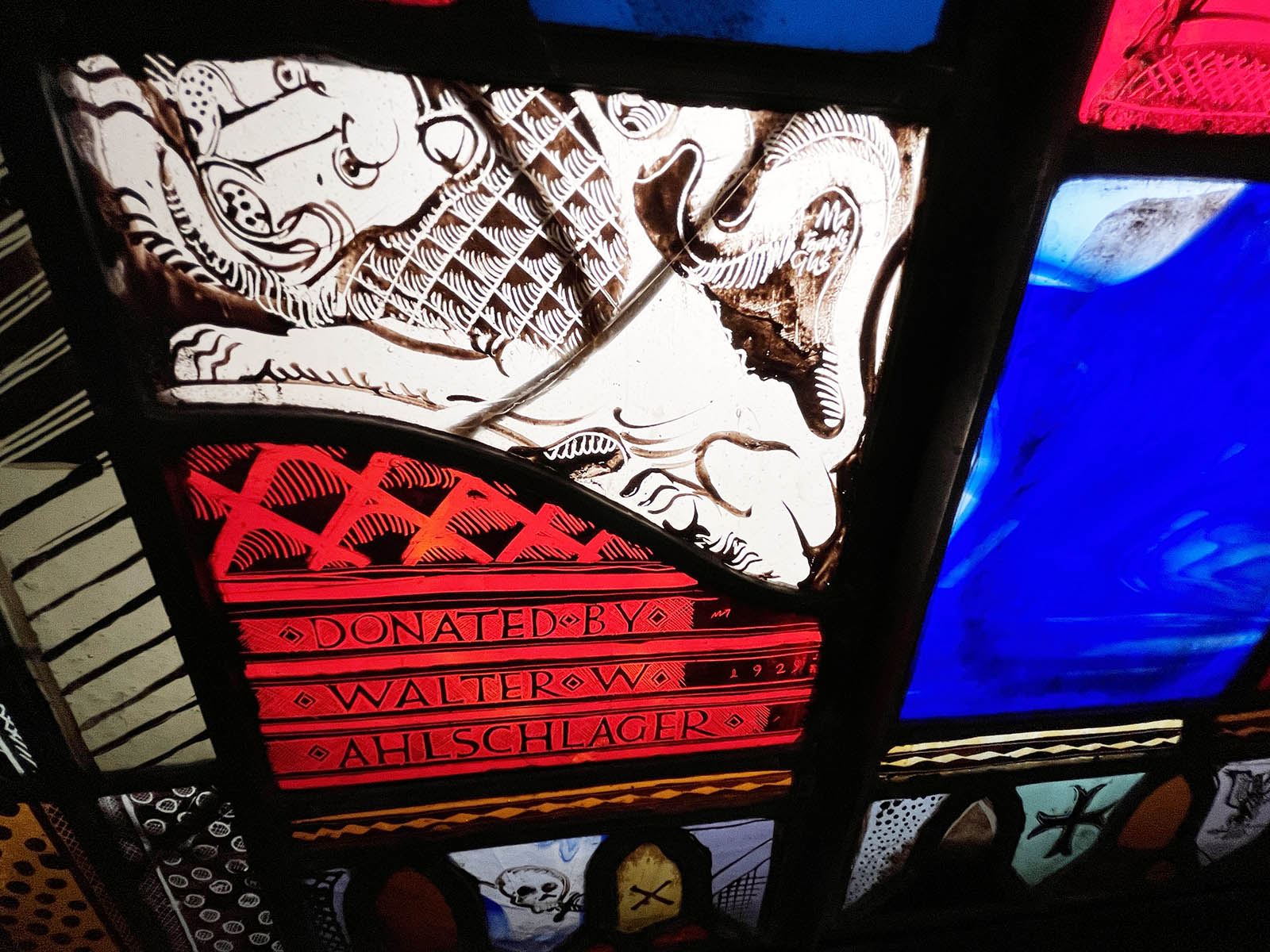 Of course, there's that Moorish dome atop the building, too, which makes the tower instantly recognizable on the Chicago skyline even today, when it's much more crowded than it was in 1930.
The dome, incidentally, was initially designed as part of a zeppelin docking port, though it never actually served that purpose.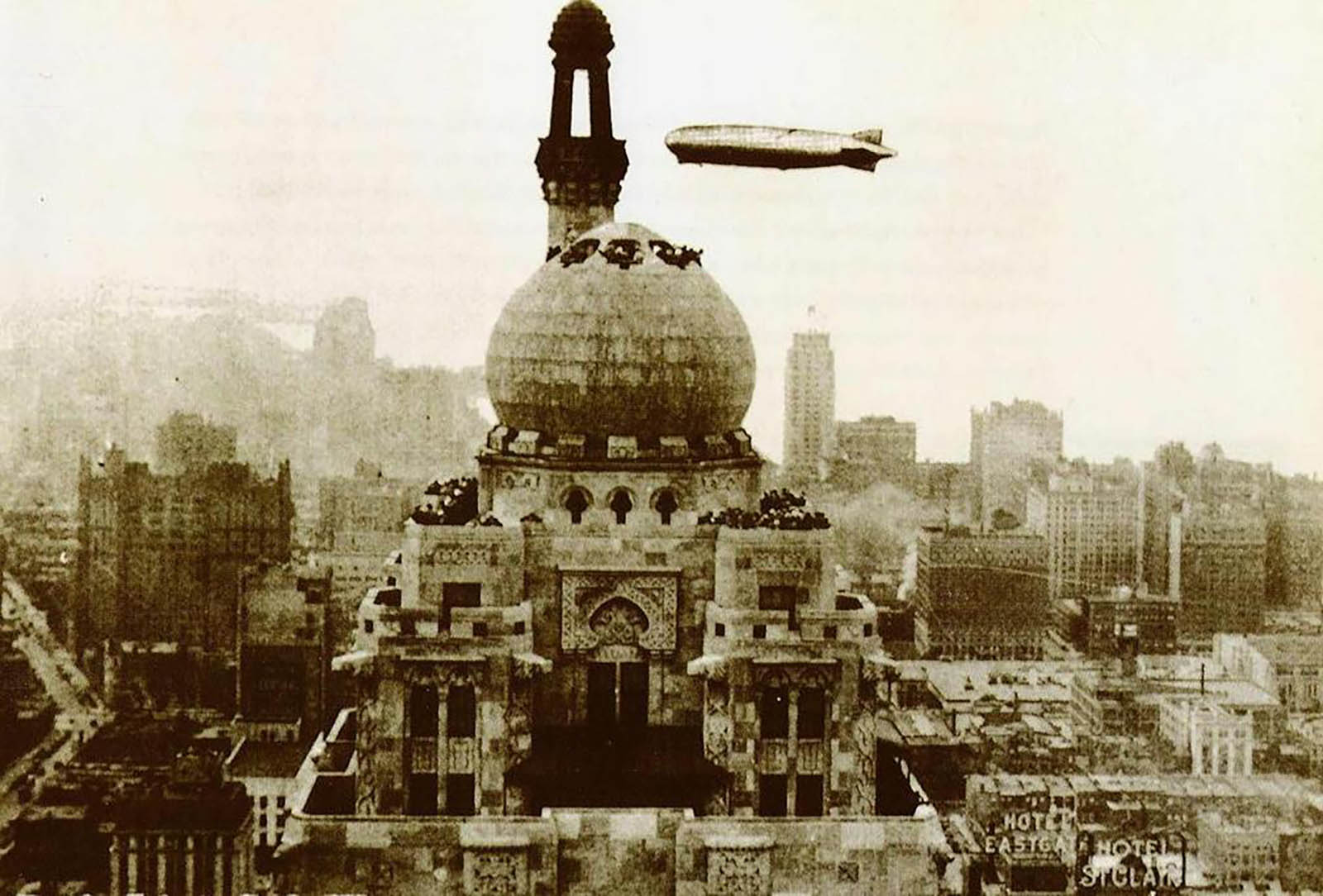 "With 14 floors of the magnificent structure to investigate," wrote the Chicago Tribune just days before the opening, "each with its own multitude of attractions, probably few if any of the 3,500 members will halt long enough for service of any kind. The remaining floors are given over to luxurious living quarters, many of which are already occupied.
"Art work throughout the clubhouse is so lavish, and of such richness as to surpass anything of a like nature in the city."
The building cost $8 million in 1930s money. In today's money that would be about $142 million.
The expense and luxury drew some huffs.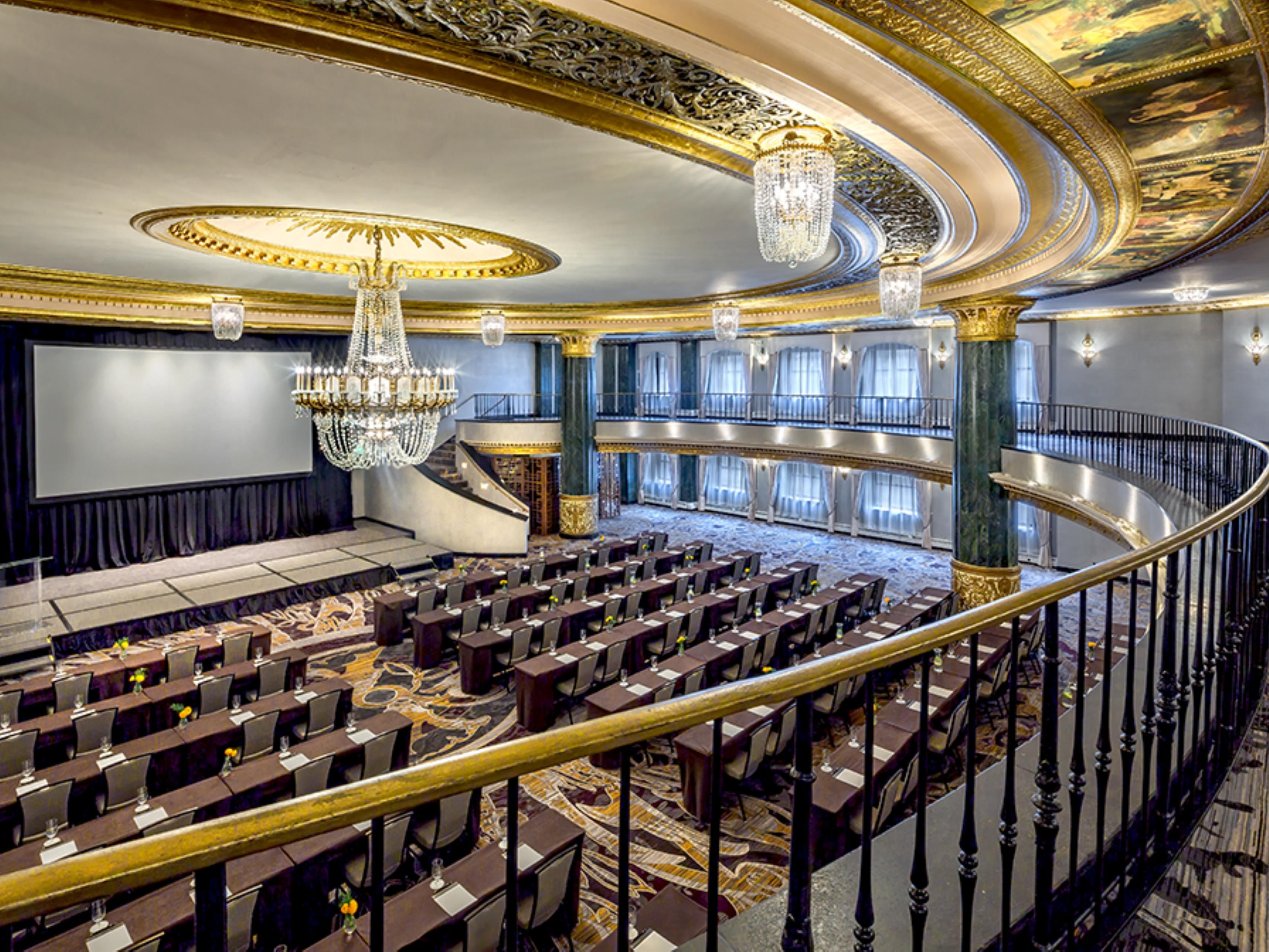 "When the club finally opened, it was criticized by many for its 'wasteful extravagance,' although in time it's eclectic mix of multicultural styles would become widely recognized as a genuine historical treasure," noted an InterCon history of the building
"With only 32 percent occupancy upon its opening, many saw this elaborate fortress of excess as overly decadent, but it never failed to keep the architectural community talking."
However, the Roaring '20s were in full swing when the building was announced in late 1925. And when ground was broken in a December 1927 ceremony that included club member and Mayor Big Bill Thompson, no one could have known the Stock Market Crash was looming.
Nor was there any lesser optimism when the cornerstone was laid nearly a year later on Nov. 5, 1928. In fact, the club opened on April 15, 1930, less than six months after that terrible day that would sink the country into a decade-long Great Depression.
It's perhaps little wonder that such an extravagant project, completed during such a brutal time, would prove unsustainable.
In 1934, after declaring bankruptcy, the Shriners could no longer call the building home. It was converted to apartments and in 1944 began life as a hotel, first as the 650-room Hotel Continental and the Town Athletic Club.
Aquatic film star Esther Williams could be found in the pool in those days.
In 1947, it became a Sheraton Hotel and it was during this era, in 1961, that a 26-story tower was added to the north. That structure – which had a lava rock exterior on the north face, a small portion of which reportedly survives – was home to a Polynesian-themed Kon Tiki Ports chain restaurant in the lobby.
In 1978, it became the Radisson Chicago and when that contract lapsed in 1983, the Continental name was brought back, but for a mere three years.
InterContinental Hotels and Resorts (now IHG) bought the building in 1989, and after the first phase of renovations was finished, it reopened the hotel in 1990. The group opened the north tower as a separate 547-room Forum Hotel.
In 1994, as part of a $10 million renovation, the two hotels were merged into one, with a new four-story lobby rotunda constructed.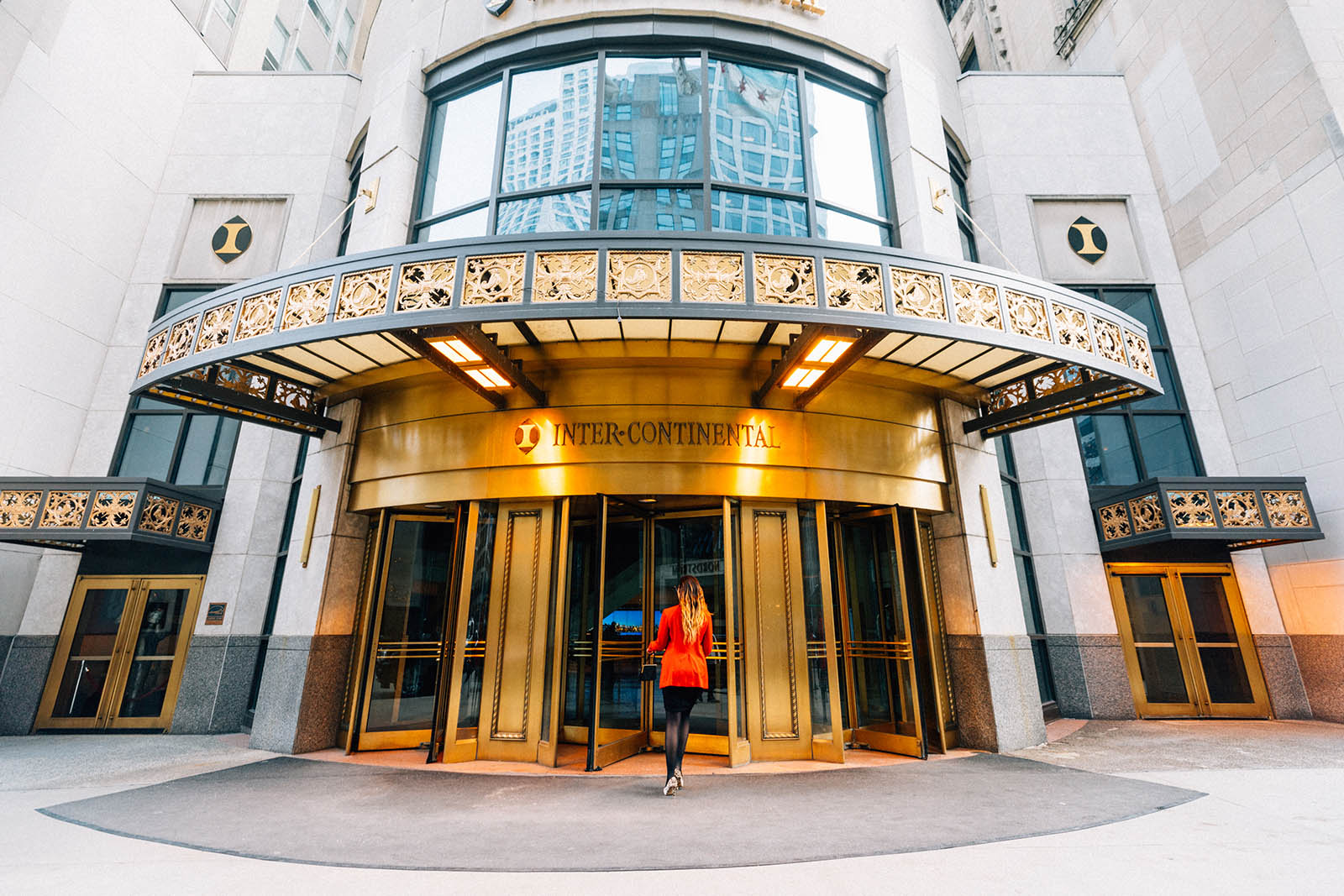 A 2005 plan to replace the 1961 tower with a new 55-story building, but once again the economy stepped in to affect the former Medinah Club House. This time it was the economic downturn on 2008.
Now, the hotel is a stunner.
Original details have been preserved and polished and where that wasn't possible – as in the case of the long-demolished horseshoe-shaped balcony in the main ballroom – features were recreated.
The pool area is one of the loveliest I've seen in a hotel anywhere and is appropriately popular with guests. It's connected to a modern, well-appointed fitness center.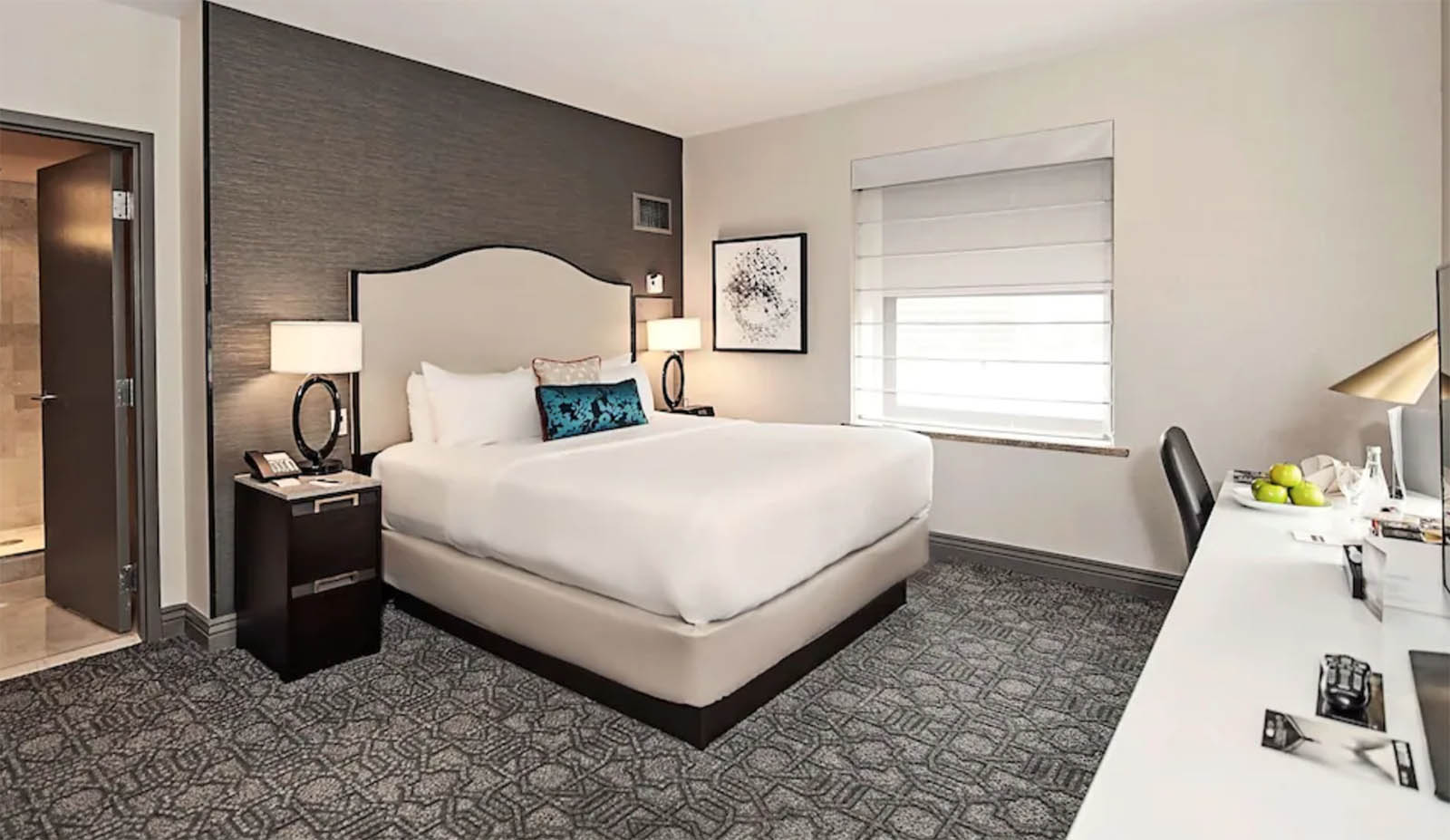 The guest rooms are comfortable and sophisticated. Pretty much every room boasts either a city skyline or lake view. If you're lucky, you might get both!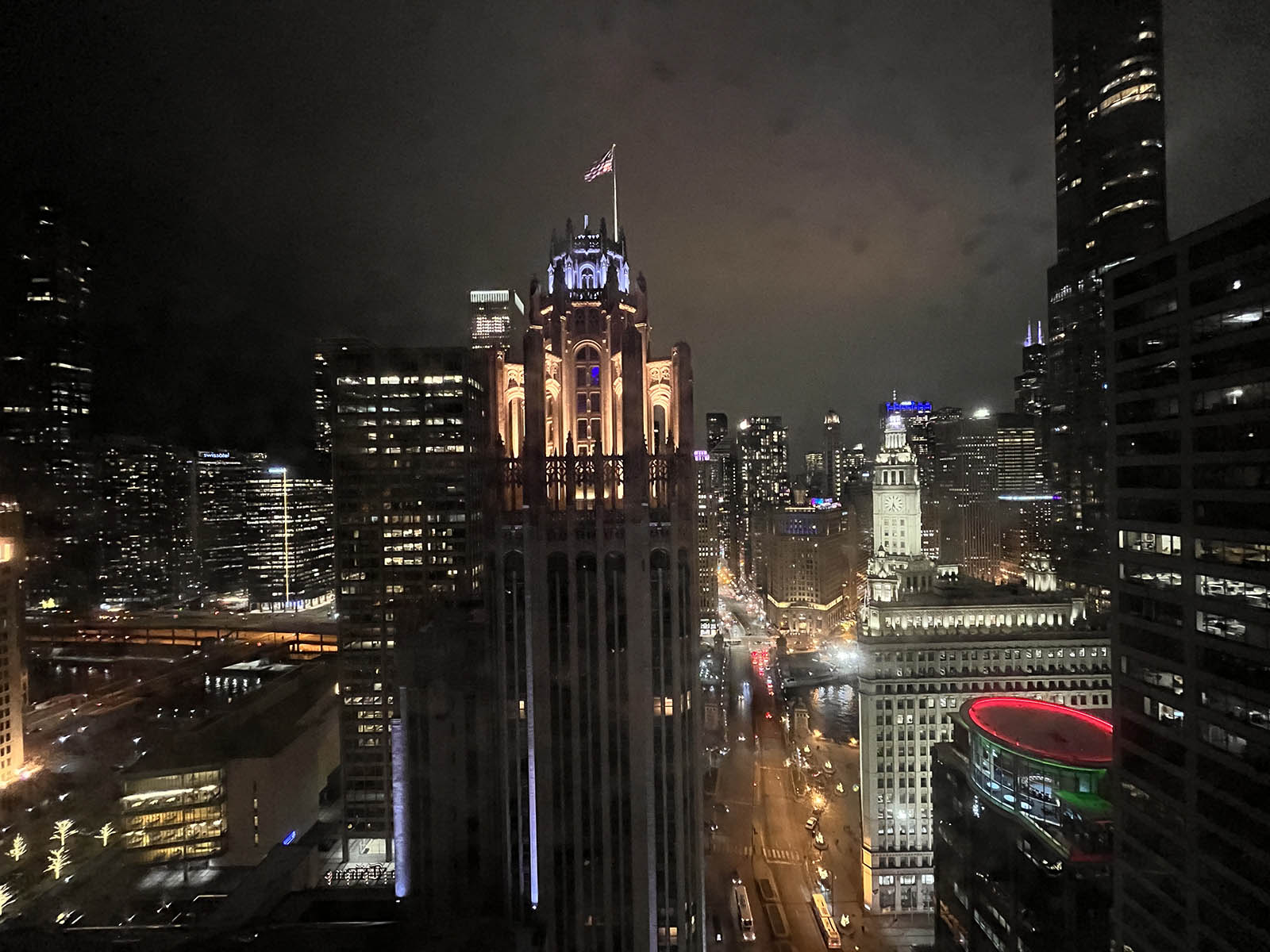 The many venues that make up the hotel's nearly 50,000 square feet of events space are unmatched in their glory. Exploring the staircases, fountains, elevator lobbies and spaces like the incredible King Arthur Court was a jaw-dropping experience (much like the experience I had at the Hilton Cincinnati Nederlander Plaza in Ahlschlager's Carew Tower last autumn).
Checking in at the host station at the Michael Jordan's Steak House is an experience in itself. Before you enjoy a lavish meal, you can enjoy the lavish detail of the original lobby – in marble, in brass, in plaster, in stone – all around you.
Born in Brooklyn, N.Y., where he lived until he was 17, Bobby received his BA-Mass Communications from UWM in 1989 and has lived in Walker's Point, Bay View, Enderis Park, South Milwaukee and on the East Side.
He has published three non-fiction books in Italy – including one about an event in Milwaukee history, which was published in the U.S. in autumn 2010. Four more books, all about Milwaukee, have been published by The History Press.
With his most recent band, The Yell Leaders, Bobby released four LPs and had a songs featured in episodes of TV's "Party of Five" and "Dawson's Creek," and films in Japan, South America and the U.S. The Yell Leaders were named the best unsigned band in their region by VH-1 as part of its Rock Across America 1998 Tour. Most recently, the band contributed tracks to a UK vinyl/CD tribute to the Redskins and collaborated on a track with Italian novelist Enrico Remmert.
He's produced three installments of the "OMCD" series of local music compilations for OnMilwaukee.com and in 2007 produced a CD of Italian music and poetry.
In 2005, he was awarded the City of Asti's (Italy) Journalism Prize for his work focusing on that area. He has also won awards from the Milwaukee Press Club.
He can be heard weekly on 88Nine Radio Milwaukee talking about his "Urban Spelunking" series of stories.