If you haven't seen it in person yet, you've likely already seen it pictured on social media. I'm talking about the striking way that the facade of the BMO Tower, 790 N. Water St., reflects City Hall, which stands just across the street.
The 25-story tower has been under construction for more than a year now at the corner of Water and Wells Streets, atop land that had hosted a parking structure for the 1968 BMO tower next door at 770 N. Water St.
Designed by Kahler Slater Architects, the 328-foot tower is on schedule to open in December, with about 381,000 square feet of space, including 361,000 of office space on floors 11-25 and more a bit more than 20,000 square feet of retail at the street and mezzanine levels.
A flagship BMO Harris Bank branch will occupy the high-profile corner space at street level. Another roughly 7,000-square foot retail space faces Broadway and Wells and there is an opportunity for a dining/food service operation in the lobby that connects 770 and 790.
Floors 3-10 are parking.
The lobby will boast soaring ceiling heights, marble floors and walls, sleek wood accents and a high-profile vertical video screen that will serve as an art piece. Building developer Irgens is working with Plum Media in the Menomonee Valley to create the programming.
Out front will be a plaza on space that was once Market Street, but that has now long been part of the building property. Most recently the space was the site of a drive-up BMO Harris Bank branch.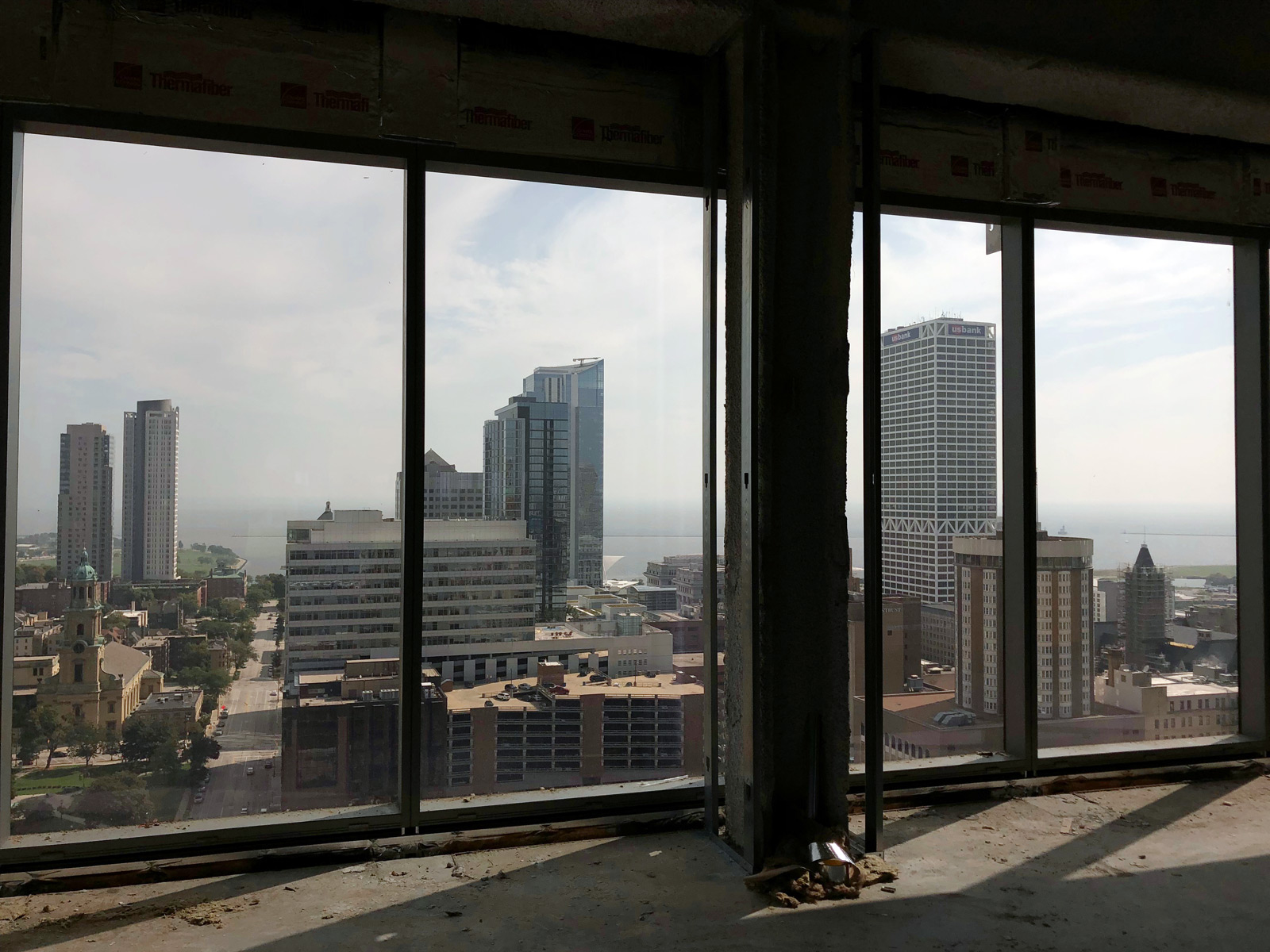 Recently, I had a chance to go up inside the new tower to check out progress on its construction.
The floor plates are almost entirely wide open, with only a couple support beams near the east end and, of course, a central core with elevators and staircases.
Law firm Michael Best & Friedrich LLP will occupy the top three floors and those will be connected by an interior staircase (pictured below) that cuts through the center of the space to the north of the elevators.
It will be a striking feature, for sure, but even that won't likely be able to touch the amazing 360-degree views, which offer unique perspectives from each floor.
The whole city is splayed out before you as you walk the perimeter, but the most eye-catching view at the top is the one looking down at the City Hall tower. It's the most unexpected and up-close look at this landmark you'll find anywhere.
(For the record, because I hear this sort of thing all the time, I asked Irgens VP of Development, Rob Oldenburg, if the height of City Hall figured into the final height of the new building and, as expected, he demurred, saying, "we size our projects based on the level of interest up front, combined with our feeling on what the market can bear at any given time. The city never told us that our height had to be at a certain elevation relative to our neighbor across the street.")
Among the other tenants that have already leased space are Heartland Advisors, Inc. and Andrus Intellectual Property Law LLP. The tower is about 55 percent leased, according to Oldenburg.
Building amenities include a lower-level fitness center and a large meeting space on the mezzanine, available gratis to tenants.
Heartland is expected to move in first, sometime in December, with the others following in January.
In addition to showing me around 790, Oldenburg took me inside 770 N. Water St., completed for Marshall & Illsley Bank in 1968.
"This was the pet project of the (M&I) president at the time, Jack Puelicher," he said.
In the lobby he pointed out the earth tones of the floor, the green columns, the wood details, the high ceilings.
"Puelicher really wanted this space to evoke the feeling of being in the Northwoods," he added.
When we went upstairs to the sixth floor – where all the bank execs had their offices, done up in Colonial style – there were Owen Gromme prints adorning the walls, tying into Puelicher's Northwoods fever.
This space has huge offices; a super-long waiting room and reception area with built-in filing cabinets; a board room with a fireplace and portraits of the bank's founders, presidents and chairmen; an executive dining room with an adjacent kitchenette and dumb waiter; and the air of old money.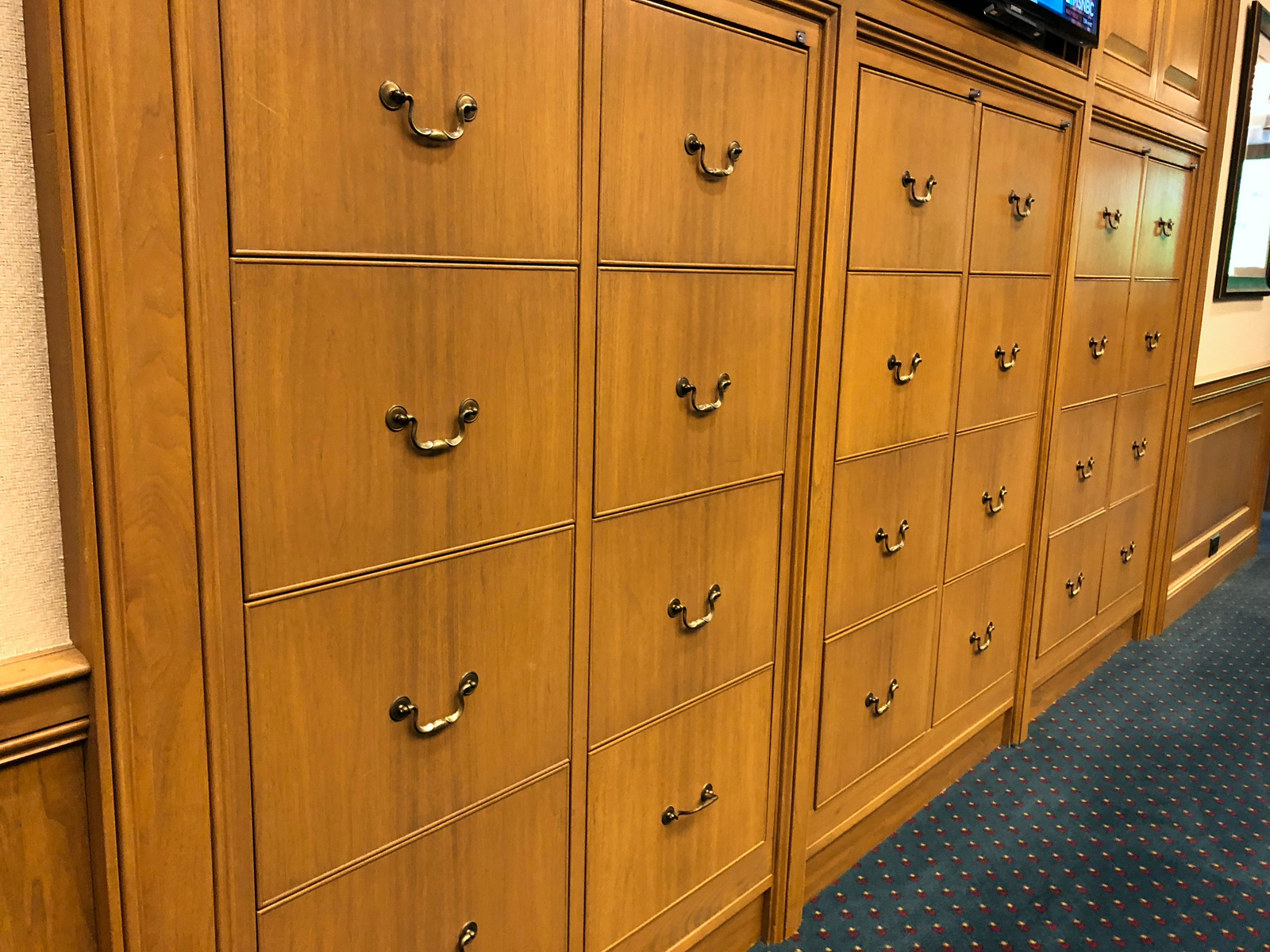 There are also a number of framed prints and photographs of old Milwaukee and, given the historic site the buildings occupy, they seem especially appropriate.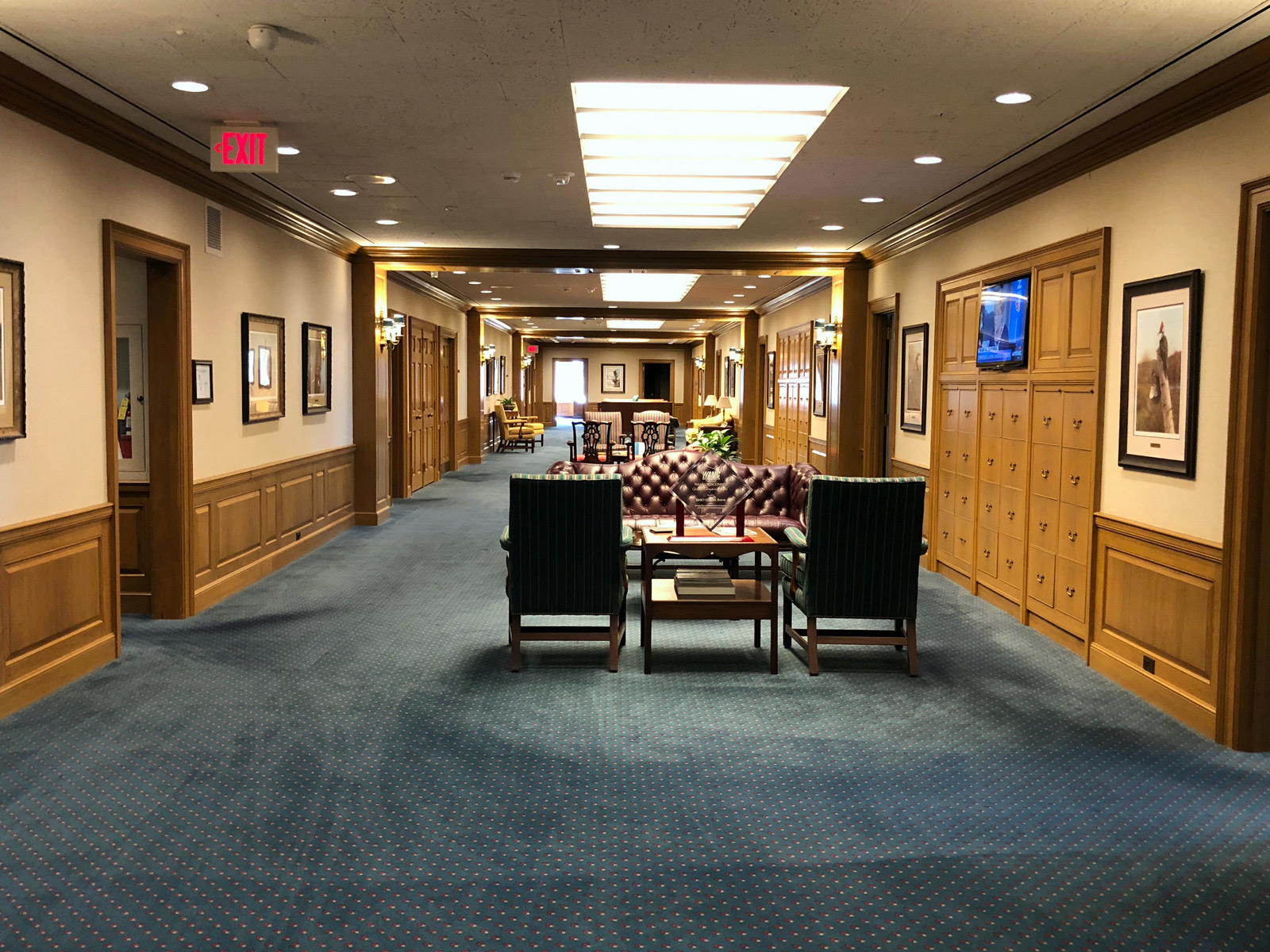 Although none of us is old enough to remember, 770 N. Water St. sits atop the site of what was long a Milwaukee landmark: the location of the first frame house built in the city.
When gunsmith Mathias Stein arrived here, the spot was, according to the 1877 "Milwaukee Illustrated: Its Trade, Commerce, Manufacturing Interests and Advantages as a Residence City," by Charles B. Harger, the site of, "quite a hill, indeed almost a mountain – and hither came the various tribes of Indians to pay homage to the Great Manitou. A dense forest covered the slopes and crown of the hill and the effect of this natural tower, as it arose in majestic grandeur, was extremely beautiful and impressive. At its foot, on the north and west slope, was the marsh adjacent to the river."
(PHOTO: Chudnow Museum of Yesteryear)
The dirt from the hill, claimed the "History of Milwaukee, City and County, Volume 3," by Josiah Seymour Currey, was used to fill in the swampy area that became known as Market Square, in front of City Hall.
Stein was born in Germany in 1808 and landed in Baltimore in 1831. Along his circuitous route to Milwaukee, where he arrived on June 5, 1837, he met President Andrew Jackson and former President John Quincy Adams. Though he initially had no intention of staying, Stein changed his mind and on the hill he erected a small, two-story home, into which he moved on Feb. 24, 1838.
Mathias Stein's house. (PHOTO: Courtesy of Milwaukee Public Library)
"As the hill was graded to the present level, the old house was lowered with it, and made a total descent of 50 feet," noted "Milwaukee Illustrated."
"Mr. Stein, who built it, and who therefore was the first occupant of Market Square, is still alive and a resident of the city."
During his brief stay in Milwaukee, noted Austrian artist Franz Hölzlhuber famously depicted the house – twice, rendering it differently in each.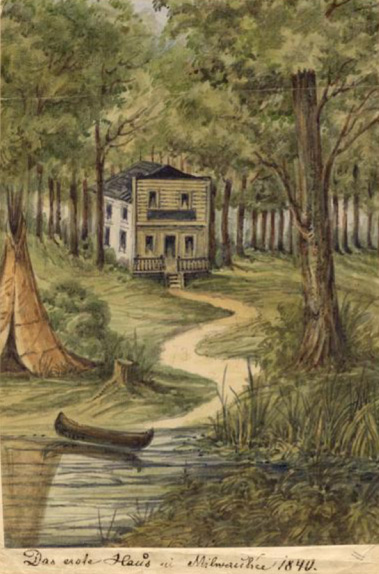 In one of the paintings, seen above, the Wisconsin Historical Society wrote, "Hölzlhuber means to show it at that earlier time, when Native Americans who came to trade with fur dealer Solomon Juneau camped nearby. A canoe is banked at the water's edge, near a tipi and large tree stump. Hölzlhuber lived opposite this house, with the Vintschger family, for four years. He remarked that the house, still occupied by Stein and his family, 'appeared rather funny' situated between four-story buildings that had since been built."
The other scene, pictured below, looks similar, though the front of the house varies in design.
Hölzlhuber himself is worthy of note, too.
He arrived in the United States when a German theater company in Milwaukee offered him a position, on a two-year contract, as its musical director, according to Peter Merrill's "German Immigrant Artists in America: A Biographical Dictionary."
When Hölzlhuber arrived at the Lake Shore Railroad depot on June 20, 1856 – headed toward the home and hat shop, at 251 Water St., of Edward Vintschger, whom he had known from his days in Vienna – he brought with him the now-famous Austrian linzer torte dessert, and, the story goes, it soon became popular in Milwaukee and that popularity then spread across the United States.
After his time here, Hölzlhuber left Milwaukee to roam the American South and Midwest before returning to Austria in 1860.
Other notable structures on the street included the four story block on the corner of Mason Street that housed C. Preusser & Bro., which "Milwaukee Illustrated" described as the oldest jeweler in the city at that time (1877).
From "Milwaukee Illustrated."
On the far north end of the block, at Wells Street, was the Pereles Building, erected in 1903 for law firm Nathan Pereles and Son.
Born in 1824, the Bohemian Pereles arrived in American in 1845 and worked by day as a farm laborer in New Jersey, teaching French and German to neighborhood kids to make extra money. Two years later, he arrived in Milwaukee and opened a retail grocery, provision and grain business.
According to Martin Hintz's "Jewish Milwaukee," early Yom Kippur services were held in rooms above Pereles' store.
However, Pereles was more interested in law and studied with Milwaukee's George W. Chapman. In 1857, after becoming the first Jew to be admitted to the bar, he went into a partnership with R.N. Austin and D.H. Johnson. In 1874, he launched a new firm with two of his sons, creating Nathan Pereles and Sons, where he worked until his death five years later.
Two views of the demolition of the Pereles Building.
(PHOTOS: Courtesy of Milwaukee Public Library)
That five-story building was razed in 1960, by which time everything to the south of it (and west of the alley) had already been demolished.
Just to the south of this building was the St. Charles Hotel, designed by pioneer Milwaukee architects George Mygatt and Leonard Schmidtner and built in 1858.
The hotel was purchased by Captain Frederick Pabst, who tapped architect Otto Strack to convert into The Pabst Hotel in 1892. In 1923, after Pabst sold it, the hotel was renamed the St. Charles again. It closed after a 1928 Prohibition-era raid and it was torn down four years later.
Meanwhile, Marshall & Illsley Bank was founded on Water Street by Samuel Marshall in 1847 and soon after he partnered with Charles Ilsley. In 1856, the bank was located on the southwest corner of Clybourn and Water Streets.
In 1906, M&I opened its first branch in Walker's Point, and in 1913, it opened a new headquarters building at 721 N. Water St., pictured at right in a photo from Milwaukee Public Library.
Over the years, M&I continued to grow, including far beyond the city limits, and by the 1980s it was the largest bank based in Wisconsin. It was purchased by Bank of Montreal and, in 2012, was combined with BMO's Chicago-based Harris Bank to form BMO Harris Bank.
In the early 1960s, Puelicher (pictured in an official portrait below left) hired Grassold, Johnson, Wagner & Ilsley, Inc. to design a modern new skyscraper to serve as the bank's headquarters.
The firm had, over the years, designed numerous familiar Milwaukee buildings, including the Central YMCA on 9th and Wisconsin; Marquette's Varsity Theater; MATC's T building on 6th and Highland; the Wisconsin Telephone addition on Broadway and Mason; the Finney Library on Sherman and North; and a number of MPS schools, including 81st Street School, Milwaukee School of Languages, Morse Middle School, Madison High School and Audubon Middle School.
In 1967, there was a topping off ceremony (the above photo, depicting it, is courtesy of Milwaukee Public Library), and the bank moved into the building in October 1968.
The building's distinctive vertical ribs – made of pre-cast concrete – are strictly decorative, not structural. They've gotten a bit grimy over the years and now that Irgens owns the building, it plans to clean them.
There's no plan to change much else on the exterior – though the windows are up for discussion, it seems – but inside a lot will change.
The distinctive Mid-century Modern lobby will likely retain its current feel and, said Oldenburg, it may house something like a food hall, while the lower level is suited to an amenities area for building tenants.
The office floors – which is pretty much all the others – will be completely stripped and remodeled. There had been talk of including a hotel or residential units in the project, but those ideas have not advanced, said Oldenburg.
"We specialize in office and medical, not multi-family and hotels," he said. "We want to focus on what we do best."
Irgens remains open to those other uses, but Oldenburg said that if it did pursue one of those, it would be with a partner that is experienced in that type of development.
At the moment, the goal is to complete the project by summer 2021, but the focus right now is on wrapping up and opening its shiny new neighbor.
Back up on the 25th floor of the new BMO Tower, it's almost impossible not to ruminate on how the block has changed over the years. The floor-to-ceiling windows offer a bird's eye view of the surrounding grid.
Gazing down from 25 stories above, I said to Oldenburg that it was almost as if the Water Street hill was back.
I wonder what Mathias Stein would think.
Born in Brooklyn, N.Y., where he lived until he was 17, Bobby received his BA-Mass Communications from UWM in 1989 and has lived in Walker's Point, Bay View, Enderis Park, South Milwaukee and on the East Side.
He has published three non-fiction books in Italy – including one about an event in Milwaukee history, which was published in the U.S. in autumn 2010. Four more books, all about Milwaukee, have been published by The History Press.
With his most recent band, The Yell Leaders, Bobby released four LPs and had a songs featured in episodes of TV's "Party of Five" and "Dawson's Creek," and films in Japan, South America and the U.S. The Yell Leaders were named the best unsigned band in their region by VH-1 as part of its Rock Across America 1998 Tour. Most recently, the band contributed tracks to a UK vinyl/CD tribute to the Redskins and collaborated on a track with Italian novelist Enrico Remmert.
He's produced three installments of the "OMCD" series of local music compilations for OnMilwaukee.com and in 2007 produced a CD of Italian music and poetry.
In 2005, he was awarded the City of Asti's (Italy) Journalism Prize for his work focusing on that area. He has also won awards from the Milwaukee Press Club.
He can be heard weekly on 88Nine Radio Milwaukee talking about his "Urban Spelunking" series of stories.