To look at the historic Iron Block Building on the corner of Water and Wisconsin now, you'd be hard-pressed to believe it almost didn't survive.
This year, Dental Associates completed its restoration of the Iron Block Building – actually a pair of connected buildings dating from 1860 and 1899 – and the work put a gorgeous new luster on one of Downtown's most aged landmarks. As Milwaukee's only iron-facade building, it's a real Milwaukee gem.
But look at photos of the building from the 1960s and '70s and you get a sense of why it almost didn't make it through the era of urban renewal. Where now its copious details are lovingly restored, bits and pieces were broken, removed or missing. Where now there is a fresh coat of bright paint, there was darkness and a heavily rusted facade marred by ugly signage. Where we now see the restored cream city brick veneer of the 1899 addition, the brick had been layered in paint.
A 1983-84 makeover helped, but wasn't done at a time when restoration techniques and attitudes were as advanced as they are today. And nearly 30 years had elapsed by the time Dental Associates purchased the building as its Wisconsin headquarters in January 2012.
But even that almost didn't happen.
"When the building first came up we had a couple of days to decide whether or not we wanted it," says Dental Associates on-staff architect Mark Demsky. "Our owner (Thomas Manos, D.D.S, M.S.) was out of town. He sent me up there. We came and looked at it with our real estate attorney. I called our (Manos) and said, 'No way. It's in too bad a shape. It's going to be too hard.
"He said, 'Look. It's going to be beautiful. I think it's going to be great.'"
Demsky demurred and remained skeptical, but he came around. And though he says the project turned out to be even more work than he expected, it's clear he much loves the place and has relished in the work.
After spending nearly an hour walking me through a slideshow he put together about the history of the building, he enthuses like a 10-year-old boy in a LEGO Store as he shows me bits and bobs of the building that he keeps in his third floor office.
I worked in the Iron Block for a few years when Schwartz Bookshop had its flagship store and main office there. But I'd never been anywhere in the building other than the bookshop and its office. So, I was eager to get a tour.
Of course, I'd heard about the legendary parties held upstairs in the 1970s, when the place was a haven for artists, photographers and all-around quirky folks, but I'd never been up there. Demsky gave me an extensive tour, from the roof to the basement.
While most of the building has now been converted for Dental Associates' offices and as rooms where dentists can offer the company's wide range of services, there are still historic touches. There are 14-foot ceilings, for example, and 11-foot windows offering some of the best views of Downtown Milwaukee that I've seen.
But by the time Dental Associates bought the building much of the interior detail was long gone. Only the original window casings have really survived. And with almost no interior photographs, other than a few from 1969, available, there were few clues about how the inside looked in the building's earliest days.
On the roof, there's a new deck where employees can lunch and lounge, in season. And where the 1899 addition to the south meets the original 1860 building, there's an atrium capped with a skylight. The glass floor in the lobby, however, which allowed natural light into the basement level, has since been removed.
The Excelsior Block, as the building was initially called because it was home to a Masonic hall on the top floor, was designed by George H. Johnson for Milwaukee's James B. Martin, and the pieces fabricated at New York's Architectural Iron Works, where Johnson was employed.
The iron works had an extensive catalog of building ornaments and facades that could be ordered in a wide variety of combinations. Unsurprisingly, there are other buildings in the country that share some of the Iron Block's outward traits.
The Milwaukee building's heavily Venetian Renaissance-inspired facade is extremely similar to one in New York City, the Cary Building, located right near the Badger factory. A smaller similar version also exists in the Big Apple.
Though some cities had numerous examples – notably St. Louis, which had an extensive collection of iron facade buildings that were razed to make way for the Gateway Arch – the Excelsior, later called the Martin Block. was Milwaukee's sole example.
"I think his family, Martins, owned the building up until the '60s," says Demsky as we walk.
In addition to working on restoring the building, Demsky has been sniffing out bits of the building – and related historical items – that had gone astray, and he has a small collection of items on display on the first floor and some more in storage in his office and in the basement.

Some of the most interesting spaces are the remainder of the attic, a sort of 2/3 height space in the addition that was a storage room for a photographer named Klein, who had his studio on the eastern side of the building. That studio is also a gem, which maintains the skylight that offered Klein the kind of natural light so important to a 19th century photographer.
Local photographer Mark Gubin also once used the space as his studio. Now, it's a lunchroom for Dental Associates employees and the walls are lined with Klein portraits likely shot in this very space.

The basement is pretty amazing, too. First, there is a maze of rooms, many of which hold molds used to recreate parts of the facade, or items Demsky's collected (like a poster for one of those legendary '70s soirees), or vintage lumber saved from the renovation work, the remaining part of a sheet metal cornice added to the building at some point, and the like.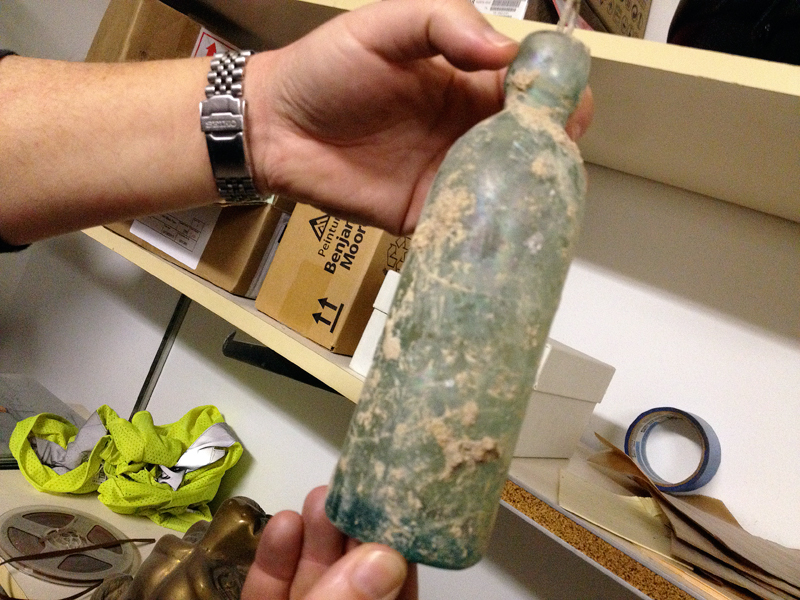 But in the northwest corner, right at Water and Wisconsin, is a door that leads into the steam tunnel – the building was until recently on city steam – and under the sidewalk. In that subterranean space you can see where street lamps are bolted above your head and there are some pretty stellar brick arches.

Just inside the building's foundation walls, though, you can see where there was a staircase that led down here when the building opened and there was retail space in the lower level. And the foundation walls themselves are built using an unusual upside-down arch system the likes of which Demsky, the architect, has never seen.

But for all its charm on the inside, the best views of the Iron Block Building are to be had from outside, where there is an explosion of detail, including capitals and lions heads and snaking grape vines and more.

Much of the detail had to be recreated or replaced, and it was a massive undertaking. If you've ever got a spare 90 minutes (at least!), Demsky can give you the Cliffs Notes version of that work. It's mind-boggling, frankly – and encouraging – that a private, for-profit business would expend time, money and energy to do it.

The two-and-a-half-year restoration justly earned Dental Associates the 2014 Cream of the Cream City Award from the City of Milwaukee.

I asked Demsky if there was ever a moment he and his employers thought about cutting corners.

"Oh sure," he said. "But our owner, he's not really built that way. If he agrees to do something, he wants to do it right. He's certainly not foolish with money. Obviously, as you're peeling away the layers of the onion, you're discovering more stuff that you didn't know about. You couldn't know about until you got it.

"Once you're in it that far. Okay, now you got to do that. Okay, now you did that, now you got to do this. The creep obviously was pretty drastic on it. There was a couple of points where I did propose that maybe we should cut back on things. Again, our owner said, 'As long as we've gone this far, you might as well go the distance.'

"I'm the pencil for our owner's vision, and he really said, 'This is going to be beautiful. Let's do this.'"
Born in Brooklyn, N.Y., where he lived until he was 17, Bobby received his BA-Mass Communications from UWM in 1989 and has lived in Walker's Point, Bay View, Enderis Park, South Milwaukee and on the East Side.
He has published three non-fiction books in Italy – including one about an event in Milwaukee history, which was published in the U.S. in autumn 2010. Four more books, all about Milwaukee, have been published by The History Press.
With his most recent band, The Yell Leaders, Bobby released four LPs and had a songs featured in episodes of TV's "Party of Five" and "Dawson's Creek," and films in Japan, South America and the U.S. The Yell Leaders were named the best unsigned band in their region by VH-1 as part of its Rock Across America 1998 Tour. Most recently, the band contributed tracks to a UK vinyl/CD tribute to the Redskins and collaborated on a track with Italian novelist Enrico Remmert.
He's produced three installments of the "OMCD" series of local music compilations for OnMilwaukee.com and in 2007 produced a CD of Italian music and poetry.
In 2005, he was awarded the City of Asti's (Italy) Journalism Prize for his work focusing on that area. He has also won awards from the Milwaukee Press Club.
He can be heard weekly on 88Nine Radio Milwaukee talking about his "Urban Spelunking" series of stories.