In not-so-happy news, it looks as though plans for the refreshingly unconventional Vine Society wine shop in Bay View have been dissolved. While there is still intention to establish a brick and mortar for the business moving forward, co-owners Jordan Burich and Calvin Andersen noted that, ultimately, the arrangements for the space just didn't feel right.
"We're still continuing to do work and consult," notes Burich. "And we'll be putting together a number of events in the coming months that will add to the work that we've been doing."
It's a tough break.
It's a double shame since both Burich and Andersen have spent the last few months voraciously tasting hundreds of delicious wines in preparation for curating their retail selection.
Rather than let all that fresh wine-related knowledge go to waste, we tapped their brains for some fun tips on how to make the holidays even better using wine.
[Read more about what's in store at a future Vine Society shop here.
Before you buy
"Drinking wine is about celebrating," notes Burich. "It's about community and enjoying something with the people that you love and that you're with. So, whatever the occasion – whether it's getting toasted on New Years, staying home and eating pizza or tacos or sitting down for a big family dinner – there's a place for wine."
Best of all, choosing the right wine for the occasion doesn't have to be a stuffy affair. Here are some basic tips to get you started.
You can drink bubbles anytime, anywhere. Champagne, Prosecco, Cava? They pair well with a wide variety of food. Pro-Tip: If you bring some to a dinner party, bring enough for everyone. Grab a magnum (1.5L).
Don't fear the Riesling. It is now relatively easy to find dry, or off-dry Riesling at any decent wine shop in the area. Round body and good acidity make these Rieslings a great pairing option for holiday feasts. Pro-Tip: If you don't know how sweet or dry a Riesling is, check out the alcohol content. A lower ABV equals a sweeter wine, as less sugar has been converted to alcohol.
Ditch the tumblers. We know it's totally Bohemian (and in a pinch, necessary) to drink wine from tumblers, but do yourself a favor and get a few stemmed wine glasses. Boelter has solid pricing and a wide variety of glassware options. I've also found incredible deals on the clearance shelf at Sur La Table in Bayshore. Pro-Tip: Most wines will open up just fine in a 16-17-ounce white wine glass.
Skip the big box stores. Instead, find your inner cork dork and chat with Ben at Waterford Wine Co., Nate Norfolk at Ray's in Tosa, or one of the brothers at Corvina. If you're in Madison, go visit Andrea at Square Wine Co., or peruse the wood box bins at Cork n Bottle. Pro-Tip: Learn who your favorite importers are. This info is on the back label of every bottle. A few of our favorites are Kermit Lynch, Louis/Dressner, and Marc de Grazia.
Burich also recommends that wine nerds check out the newly released book, "The New Wine Rules: A Genuinely Helpful Guide to Everything You Need to Know" by Jon Bonne.
"It embodies a lot of the philosophies we use in our pairings," he says. "It's a great read, and it's a fantastic stocking stuffer."
Pizza
We've all been there. You're exhausted from last minute holiday shopping. Or maybe you just want to enjoy a quiet night at home with carry-out in between holiday parties. Wine is the perfect sipper for your favorite pie.
"Okay, this is all about the sauce, right? Red sauce pizza could be paired with some Chianti Classico or a Nebbiolo if you're housing a 'Meat Lovers.' Other pizzas such as white pizzas or pesto pies could pair nicely with a Soave or a Caricante from Etna."
Can't lose options:
G.D. Vajra Langhe Rosso (Nebbiolo) 2015, $19.99 (Glorioso's)
Suavia Soave Classico (Garganega) 2015, $13.99 (Glorioso's)
Terre Nere Etna Bianco (Caricante) 2015, approx. $20 (inquire at your favorite wine shop)
Chestnuts roasting on an open fire
Maybe you're the traditional sort. And maybe you're lucky enough to have a fireplace and some serious time on your hands. This pairing is for you.
"Sure seems like a lot of work for a nut, but a fun pairing exercise regardless! When we think about wood smoke and roasted nuttiness, we want to really contrast that with some dark fruit, botanical complexity and something like wet leather. Like, just bask in that seasonal sensory overload for a second ... Oregon Pinot Noir from the Willamette Valley. For an even headier moment, sip on some Amaro Sibilla by Vernelli. It's situated in the Sybilline Mountains near a supposed haunt of the Mother Goddess. The distillery is run by three generations of Varnelli females. This amaro has bitter notes of bark, granite, mountain herbs. We also like a sherry for this moment. More on that later."
Can't lose options:
Christom (Pinot Noir) Eola-Amity Hills, Oregon, $29.99 or be a baller and get one of the single vineyard expressions for $59.99 (Waterford Wine Co.)
Christmas ham
Ham is a staple on holiday tables. But just because it's traditional doesn't mean your wine has to be.
"Does anyone like Christmas ham? I don't know. Good or bad, the smokiness and saltiness of ham goes great with Riesling or Kerner, especially from Kofererhof. We really like the Gewurztraminer from Elena Walch, or her Schiava as a light-bodied red wine pairing. Walch is a total badass from the Alto Adige – the northernmost Italian province, where German is the local language. We also really like Albariño or a high-acid, crisp, green apple-ly, slightly effervescent Txakolina from the Basque region in northern Spain."
Can't lose options:
Kofererhof (Kerner) 2015, $27.99 (Ray's Wine & Spirits)
Elena Walch (Schiava) 2016, $14.99 (Glorioso's)
Ameztoi "Primus" Txakolina (Hondaribbi Zuri), 21.99 (Waterford Wine Co.)
Post roast beast
What you pair with your holiday feast is one thing, but the party doesn't need to end when the plates are cleared.
"Be awesome and bring some sherry to sip on after a long hearty holiday meal. Sherry is that rare combination of very affordable and classy. We absolutely love El Maestro Sierra sherries from Spain. Again, this is another female produced stunner. Pilar Pechovierto and her family have fended off being bought out by large sherry houses for over 75 years by having the highest quality products. Try her 12-Year Amontillado (salty, smokey and nutty) or the Oloroso."
Can't lose option:
El Maestro Sierra Oloroso Sherry $21.99 (Waterford Wine Co.)
Christmas cookies
Sure, maybe you want a glass of milk with your cookie. But if you'd like to be a bit more adventurous, there are wines.
"When we spoke with Nate Norfolk at Ray's his major piece of advice for dessert pairings was 'Make sure that the wine is sweeter than the food, or else it'll get lost.' Now, there are a lot different kinds of cookies to contend with, so we'll just put things on a little spectrum here."
"Super sweet frosted butter cookies deserve late harvest Rieslings and eiswein ('ice wine' from grapes picked after first frost). Shortbread-style cookies go great with Vin Santo. In Tuscany, a common dessert course is biscotti dipped in Vin Santo. That's a game-changer move right there. You might even find yourself a Sauternes. Cookies more on the spiced side (gingerbread) can hang with some ruby or LBV port, or anything raisinated like Madeira. "
Can't lose options:
Belcaro Vin Santo del Chianti Classico 2008, $29.99 (Ray's Wine & Spirits)
Chateau Guiraud Sauternes, $49.99 (Waterford Wine Co.)
Chinese takeout
If you're one of the many who don't celebrate Christmas, or among those who eschew a more traditional feast, there's always Chinese food.
"For Chinese fare, it's aromatic whites and light bodied reds, all the way. We like an Assyrtiko from Santorini as a white, and maybe an Etna Rosso from Sicily for a red. Want some bubbles with your rice? Try a sparkling Lambrusco or a Gamay Pet-Nat. Whatever, pick somethng from Dandan's wine list and raise a glass. We'll see you there over the holidays."
Can't lose options:
Sigalas 2015 Assyrtiko, $19.99 (Waterford Wine Co.)
Moussamoussettes Rosé Pet-Nat, $24.99 (Waterford Wine Co.)
Graci Etna Rosso (Nerello Mascalese) 2015, $29.99 (Ray's Wine & Spirits)
Luccheti "Lo Special" Brut Rosé (Lacrima) 2015, $39.99 1.5L magnum (Glorioso's)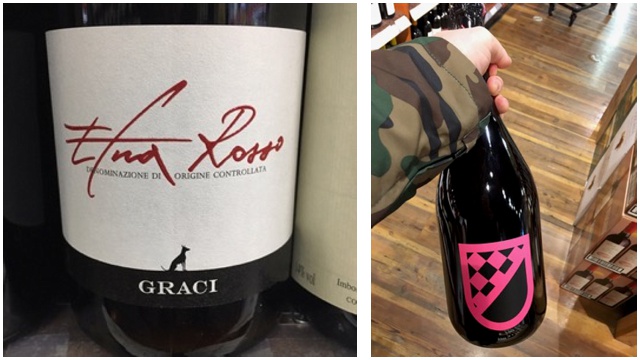 Tacos
Some people eat Chinese food. Other people eat tacos. We're not judging.
"Let's presume you're eating schmom tacos. These are the ones in the soft shell with ground beef, a taco seasoning flavor packet and cheddar cheese … don't pretend like your mom didn't ever make these. The best pairing is easy: rosé. We really love the Graci (GRA-chee) Etna Rosato. It's beautiful, slatey, floral, and complex. Elevate the humble schmom taco! After enough of that Graci you may even be able to pretend you're eating at Gypsy Taco. A twist of the moustache indeed, sir!"
Can't lose options:
Graci Etna Rosato (Nerello Mascalese blend) 2016, $24 (Waterford Wine Co.)
Elio Perrone "Bigaro" Rosato (Brachetto/Moscato), $19.99 (Ray's Wine & Spirits)
New Year's Eve toast
"Champagne is the obvious choice here, and while we'll never snub the good stuff, there are other options ... especially for the poor, yet celebratory people like us. Drink Cava. It's good, and usually quite affordable, and it's Catalonian. Those people are having an interesting year and I say let's support them with drink."
"You can find a beautiful sparkling rosé Cava by Juve y Camps at Ray's. And of course, we want to talk about Prosecco. Both the Daman and the Doro Nature from Le Vigne di Alice are excellent choices for clinking glasses, and they pair amazingly with oysters, mussels, clams ... sh*t, even fried chicken. Again, it's another absolutely stellar female-produced wine. Nota bene: get your nose in there and drink those bubbles from a white wine glass. Store your old flutes with your 'Sex and the City' triangle martini glasses and be present."
Can't lose options:
Juve y Camps Brut Rosé Cava (Pinot Noir) NV, $17.99 (Ray's Wine & Spirits)
Le Vigne di Alice "Doro Nature" Prosecco Superiore, $19.99 750mL / $42.99 1.5L magnum (Waterford Wine Co.)
Hangover brunch
It's not a certainty, but depending on how you spent your holiday, you might just wake up wishing you hadn't polished off that entire magnum on your own (oops!).
"You poor unfortunate soul. Have a Bellini or Mimosa and some kind of pork-filled doughnut (we love you Paul [Zerkel] and Lisa [Kirkpatrick] of Goodkind) and put off those pesky resolutions until 2019. Or try a Moscato that's actually really good."
Can't lose options:
Elio Perrone "Sourgal" Moscato d'Asti 2015, $18.99 (Ray's Wine & Spirits)
Lori is an avid cook whose accrual of condiments and spices is rivaled only by her cookbook collection. Her passion for the culinary industry was birthed while balancing A&W root beer mugs as a teenage carhop, fed by insatiable curiosity and fueled by the people whose stories entwine with each and every dish. She's had the privilege of chronicling these tales via numerous media, including OnMilwaukee and in her book "Milwaukee Food." Her work has garnered journalism awards from entities including the Milwaukee Press Club.
When she's not eating, photographing food, writing or recording the FoodCrush podcast, you'll find Lori seeking out adventures with her husband Paul, traveling, cooking, reading, learning, snuggling with her cats and looking for ways to make a difference.