On Tuesday night at the American Family Insurance Amphitheater, J. Cole gave Milwaukee a set that was short, sweet and sincere, providing his fans a multi-album tour de force that was electrifying, too brief and, true to form, both fiercely independent and with a dose of fan service befitting the Summerfest headliner spot.
In a set that lasted only about an hour, following Trippie Redd's bouncing opener performance, Cole pleased his audience with authentic, high-energy songs – mostly off his earlier albums – that was just fine for his dancing, diehard supporters who wanted to attend the church of Cole for a night, even if it was less social activist and more crowd-pleasing entertainer, which was wholeheartedly appreciated by a city the scholarly rapper hasn't visited since The Rave at 2013.
J. Cole seemed confident in asserting the fact that he is now mainstream popular, one of the best lyricists in the game, and his most beloved songs – "Neighbors," "No Role Modelz" – generated an unexpectedly ardent response. Surprisingly, he barely touched his critically acclaimed and radio-played new album, the socially conscious "K.O.D.," but nobody seemed to mind.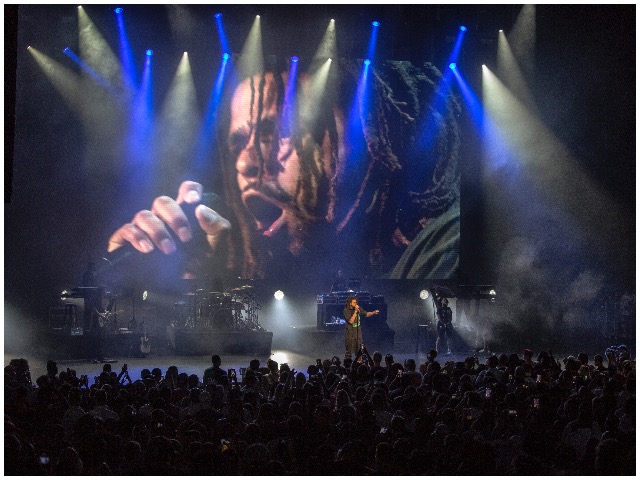 Compared to last year's "Migos, Big Sean, Future" headlining act, J. Cole's audience was fiercely, almost desperately engaged, dancing and singing to hits that aren't as much danceable or singable as they are relatable. On the way out, multiple people happily said they loved the show, despite how quickly it was over.
When J. Cole played "Photograph" off the new album, people went nuts. When he asked the amphitheater for permission to do a song he hasn't done on tour in a while, 2014's "Wet Dreamz," the crowd rose to rapture.
On "1985 (Intro to the Falloff)", with smoke pouring out and green and purple and blue lights shooting from the stage, J. Cole made his impassioned plea to modern rappers about there being more to hip hop than face tattoos, Xanax, partying (and mumbling).
After "G.O.M.D." and "Power Trip," J. Cole was fully in control and feeling his crowd. "Milwaukee, I f*cking love you, this sh*t is phenomenal," he yelled exuberantly at the American Family Insurance Amphitheater. "Milwaukee, one last thing: make some motherf*cking noise!"
He satisfied his adoring fans with a rousing rendition of "No Role Modelz" that had everyone hype, but a technical difficulty with the video board appeared to cut off a potential encore. Despite the audience's appeals for more, J. Cole was done after about an hour, having done a fulfilling if too-fleeting Summerfest set.
Born in Milwaukee but a product of Shorewood High School (go 'Hounds!) and Northwestern University (go 'Cats!), Jimmy never knew the schoolboy bliss of cheering for a winning football, basketball or baseball team. So he ditched being a fan in order to cover sports professionally - occasionally objectively, always passionately. He's lived in Chicago, New York and Dallas, but now resides again in his beloved Brew City and is an ardent attacker of the notorious Milwaukee Inferiority Complex.
After interning at print publications like Birds and Blooms (official motto: "America's #1 backyard birding and gardening magazine!"), Sports Illustrated (unofficial motto: "Subscribe and save up to 90% off the cover price!") and The Dallas Morning News (a newspaper!), Jimmy worked for web outlets like CBSSports.com, where he was a Packers beat reporter, and FOX Sports Wisconsin, where he managed digital content. He's a proponent and frequent user of em dashes, parenthetical asides, descriptive appositives and, really, anything that makes his sentences longer and more needlessly complex.
Jimmy appreciates references to late '90s Brewers and Bucks players and is the curator of the unofficial John Jaha Hall of Fame. He also enjoys running, biking and soccer, but isn't too annoying about them. He writes about sports - both mainstream and unconventional - and non-sports, including history, music, food, art and even golf (just kidding!), and welcomes reader suggestions for off-the-beaten-path story ideas.