Some of the best bourbon in Wisconsin comes from Dane, a farm community 20 miles north of Madison, where J. Henry & Sons has been producing whiskey since Joe and Liz Henry went down to Kentucky in 2003 and got the itch to make their own bourbon.
While the whiskey – which first came off the still in 2009 – is distilled at 45th Parallel in New Richmond, northwest of Eau Claire, fro, 60 percent red heirloom corn, 14 percent heirloom winter wheat, 14 percent heirloom Spooner rye and 12 percent malted barley, J. Henry grows its own grain, except for the malted barley, which it sources from northern Wisconsin.
Seed corn at the J. Henry & Sons farm in Dane, Wisconsin.
J. Henry ages its whiskey on its farm in Dane in oak seasoned at least two years and then toasted and charred to a number three level.
No whiskey is released until it has aged at least five years – the first batch was bottled in 2009 – and sometimes even longer in rickhouses that can boast even more extreme temperature swings than any in Kentucky.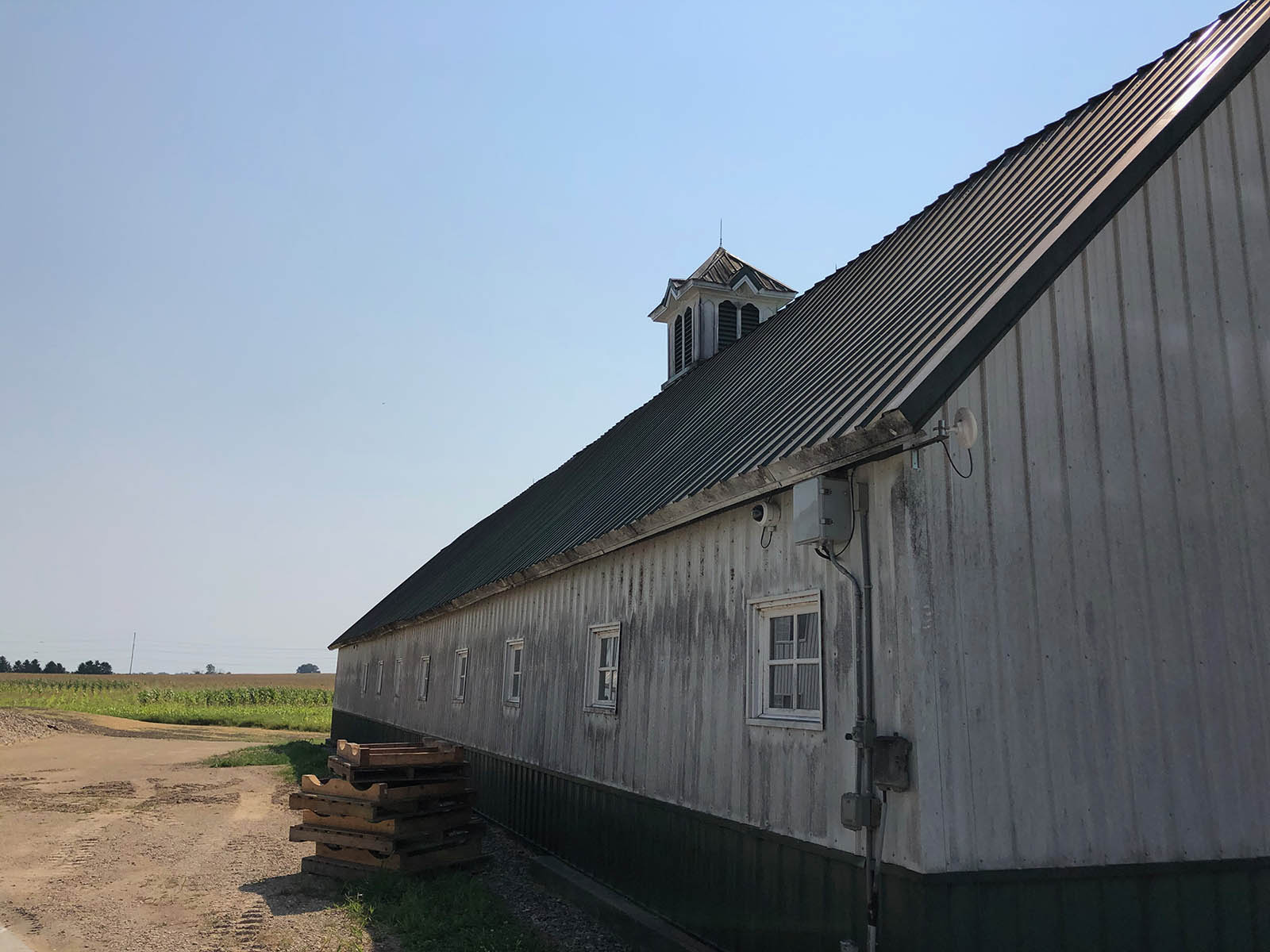 (One of those rickhouses dates back to the middle of the 19th century and is constructed from axe-hewn beams. Another is much larger and much more recent. The blending house just got a new addition that will allow for larger blending vessels and product storage.)
The current blending tank.
The bourbon is sweet and complex, tempering the piquant rye spice with the sweetness of the wheat and a nice corn base. There are hints of cocoa and toffee, of caramel and vanilla, but also of toasted coconut.
There's something beautiful about tasting bourbon in the old farmhouse right on the farm where the bulk of the grain is grown. To be able to look out the window and see the corn stalks gently swaying in the breeze. It feels idyllic.
Though, for the Henry family, which has been farming this land since 1946, it also feels like work.
"We actually just finished the wheat and rye harvest a couple of weeks ago," says Joe Henry Jr., who handles sales as well as sensory analysis with his mom, Liz.
Joe Jr. lives in Milwaukee these days to facilitate sales calls in Madison, Milwaukee and Chicago but also returns home to help with blending and with the farm work.
When I visited in late August, he'd just returned home to help with the corn harvest, which was expected to last a few weeks.
"We grow about 80 to 100 acres of the red corn," he says, "which is a hybrid developed in 1939 by UW-Madison's ag research department, and then raised by my grandfather from 1946, when we bought the property, until the mid '70s, when GMO grains started to become really popular."
The switch to the GMO corn was a financial no-brainer, considering that it yielded about 250 bushels per acre of seed corn, as compared to 70-80 bushels of the red corn.
"We actually revitalized this corn out of 1,200 kernels that UW-Madison gave us, turned that into 80 acres and now it's all we make bourbon with," says Henry.
"We're the only people that we know of that are growing it for any purpose. The university doesn't need it, and we asked them to tell us if anybody asked for it. It took almost three years to re-propagate that seed."
At that point, the Henrys returned the 1,200 kernels to UW for its seed vault.
What makes the red corn special?
"If you look at these, it's got really thick, dense kernels," says Henry. "And what we've found is that it's got a higher protein and a higher starch content. You get more sugar through the process of fermentation.
"What we've found is that stuff that people grow industrially today, and what most people use for bourbon, is called number two yellow dent corn, and that stuff is made to produce the highest volume possible of individual kernels on that cob. So you're going to get a lot of these kernels.
"Whereas this, because it's an older product, the plant focuses more on creating a smaller number of higher-quality grains. So that's why we get less yield, but the plant is putting more of its energy into those higher nutrient contents."
Room to grow. A new Amish-raised barn will house blending tanks and inventory.
Now, the Henry family farms about 2,000 acres of seed corn every year, in addition to the wheat, rye and red corn for its whiskey.
There are 600 acres in Dane, another 300-400 near Spring Green and a little more than 1,000 more up in Adams County.
The business of farming means that contracting the distillation process out makes the most sense financially and in terms of time.
"We've got so much of our assets tied up in the farm and Paul (Werni) does a great job for us up there. He does a fantastic job. We've been working with him for over a decade now. And we can just focus on what we're doing well, which is raising corn.
"This year I haven't been because COVID, but every year we maybe go up there three or four times just to check on everything. But at this point we've got a pretty simple recipe. And he's putting away over 1,000 barrels for us this year, which is, I think, about 50 to 75 percent of his total production on the still that we're using. So he makes more of our stuff that even does for himself I think."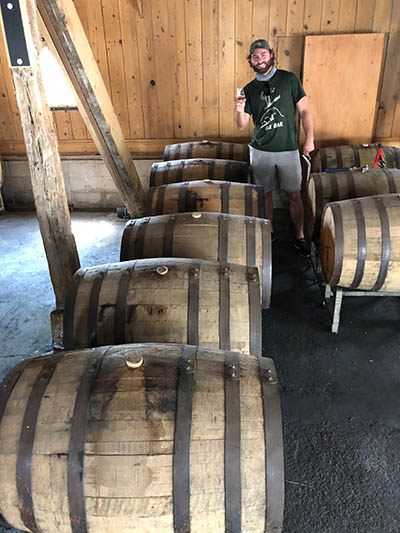 Werni makes the juice, barrels it and sends it back to Dane, where it ages on-site and where the Henrys taste it as it nears the five-year mark and then blend barrels to get their flavor profile right. Certain honey barrels get set aside for special bottlings, too, like the annual anniversary release (this year's is in those barrels pictured at right, and below) with Joe Henry Jr.).
The Henrys dry the corn in Dane and Werni mills the grains in New Richmond just before distilling.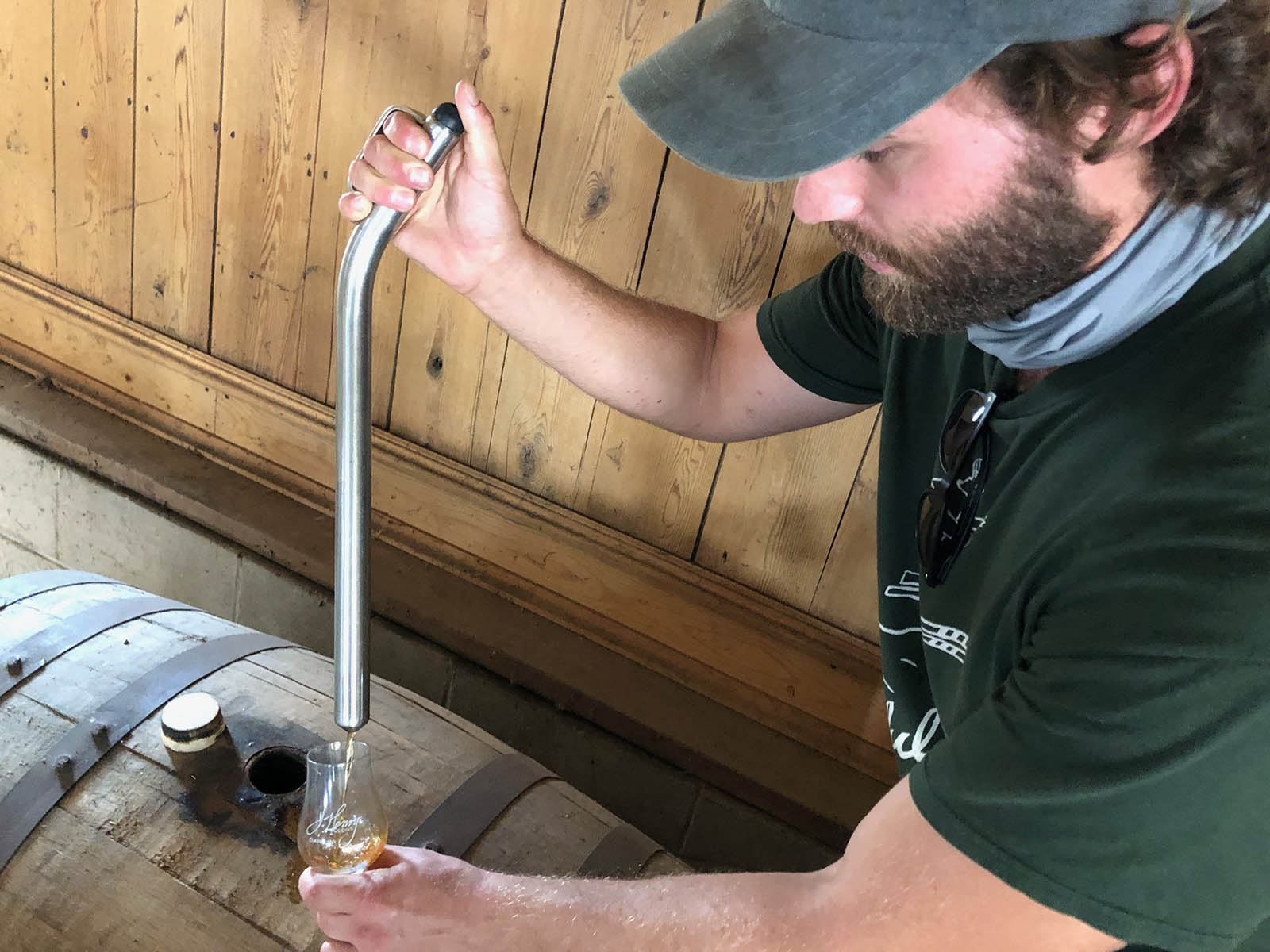 Later, 45th Parallel also bottles the whiskey and careful planning helps limit the number of trips between Dane and New Richmond.
"Now that we've got this process down, we'll send him a load of grain and a load of barrels ready to be bottled, and then we'll get new make barrels and finished product back, in the same trip."
J. Henry's flagship bourbon weighs in at 92 proof, but they also do the small batch Patton Road Reserve, at 118 proof.
"For the small batch we blend about 16 different barrels," says Henry. "A lot of different distilleries, especially the bigger ones, will come out with different mash bills and that sort of thing for their different product lines, whereas we just find that we want the barrels to speak to us.
"I'll taste through all the barrels that are coming up on five years, maybe twice. Every six months we are tasting our barrels. For some of the older stuff, it's usually more frequently, every two to three months, but we try and get all the core products tasted every about six months."
"So we'll pick out a blend of 16 to 20 barrels that we think will layer flavors well on top of each other to create consistency and complexity in that blend. Everything will taste about the same. That's sort of why we proof this down as well, to get to that consistent flavor profiles."
Fortunately, 45th Parallel is located on a limestone aquifer, which provides the perfect water for proofing.
"But through our sensory analysis, eventually we'll find single casks that are leaps and bounds just above quality blends," Henry says. "I would say we're probably releasing 100 to 200 barrels this year. I'll find maybe five to 10 that will go into that program. So it's really small, but the quality is going to be there, because I'm not going to put anything into that program that's not the highest echelon."
J. Henry released about 24,000 bottles of its straight bourbon this year, about 1,200 bottles of Patton Road Reserve and 4,500 of Bellefontaine.
It also released and quickly sold out of a 7-year version of Patton Road and is considering doing a batch of 8-year soon, too.
But one of the most interesting releases is the Bellfontaine Reserve finished in cognac barrels. It's a rich and full; a delightful dram. And it's one that reflects the Henry family's roots.
"Tthis is named after our original family farm in southwestern Wisconsin, near Basco in the Belleville area," says Henry. "So when my great-grandparents actually moved here from France, they bought a little farm in an area called French Town out there. And that was in the late 1800s.
"So that's why we named it Bellefontaine, because they named their farm Bellefontaine Farms, and we wanted to use this product to tie our French roots to our Wisconsin bourbon."
There's an interesting sweet note to this expression and a beautiful light rust color. It's a distinctive bourbon and one that's made in an interesting way, too.
The bourbon finishes in the cognac casks for about eight months, says Henry.
"So a little longer, but not too long where it will overpower the bourbon. We still want you to know you're drinking bourbon. But what we do is we also use some French blending techniques."
Using what's called a slow reduction process, the cognac barrels are filled about two-thirds and over time it is proofed down in the barrel using what's called "petite eau," or "little water," which is water that has, itself, been resting in bourbon barrels (pictured below).
"What we're doing is we've got this low-proof barrel-aged bourbon by-product that has flavor and complexity, but it doesn't lose any of that character. So when we're introducing that to the cognac barrel, when we're proofing this down, we're actually layering in complexity.
"It's really labor intensive. When we're dumping barrels for bourbon, we'll refill some of those halfway with water, and then fortify that water with our five-year cask strength bourbon to about 30 to 40 percent alcohol. We then age that water in those ex-bourbon casks for about three to four years, and then we use that sub blending product to create this."
In the blending house, Henry taps a cask of Petite Eau and we taste it and it's a revelation. It's extremely low proof but has the characteristics of bourbon. I tell him that if he could boost production, he'd have a great product for a perfect light summer drink.
He agrees and explains how the slow reduction proofing works.
"With slow reduction we add maybe two gallons of this Petit Eau directly to the barrel, and then wait a week, measure the proof out again. We bring that down from 120; 103 is what we're going for."
It's hard to pick a favorite among the three expressions currently available from J. Henry because each has its own character, despite the fact that they all derive from the same new make.
The straight bourbon debuted in 2015 and scored a 93 at the Ultimate Spirits Challenge in 2019.
Patton Road Reserve followed in 2016 and immediately nabbed double gold at that year's San Francisco World Spirits Competition.
In 2017, Bellefontaine debuted and won double gold, too.
"Just some little guys from Wisconsin," says Henry.
Production at J. Henry is growing rapidly. The 1,000th barrel was filled on Feb. 14, 2018 – nine years after distilling began – but in slightly more than two years, another 1,700 barrels have already been produced.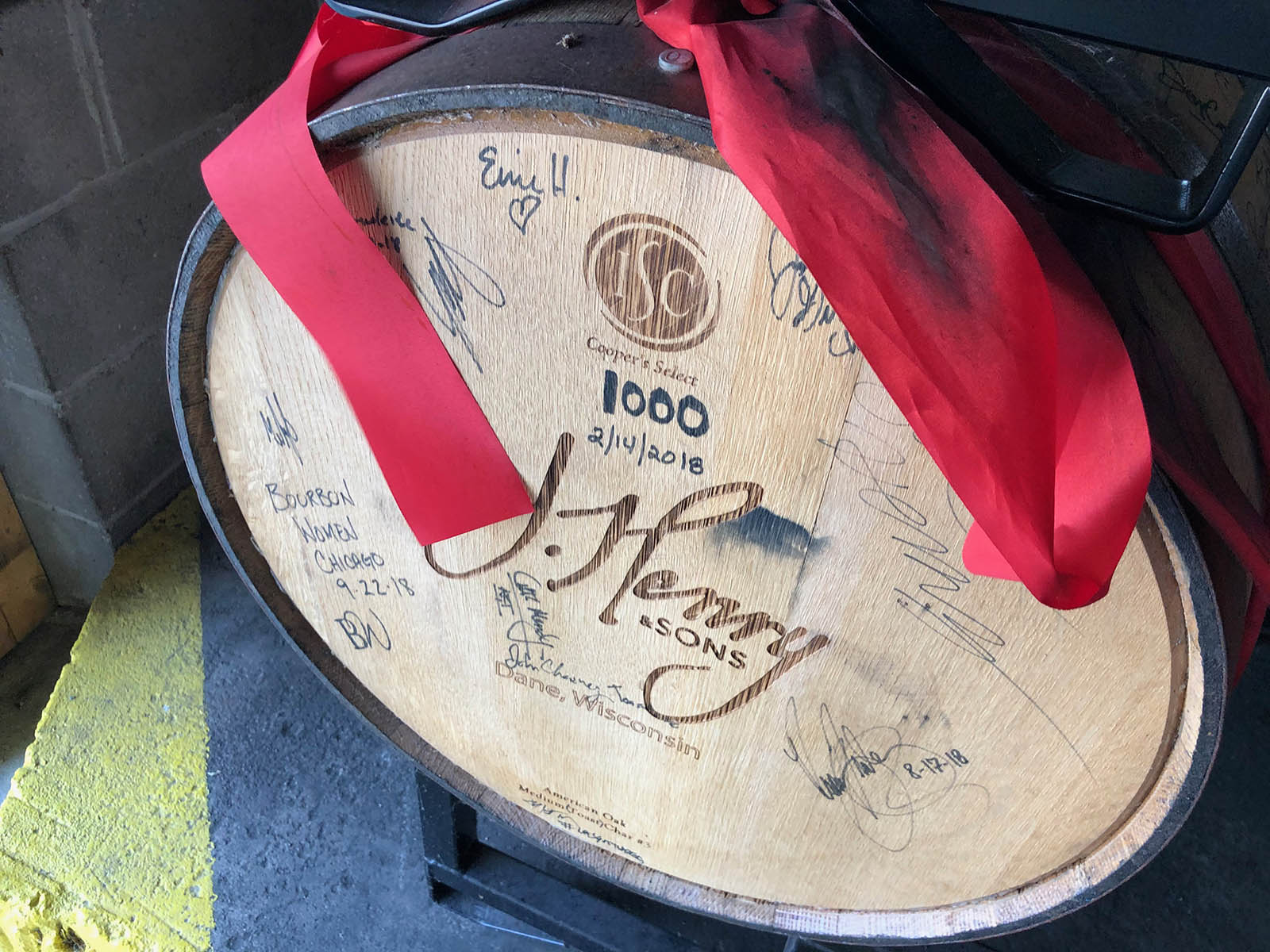 So what's next?
Joe Jr. says they've gotten some Armagnac casks and have begun to finish some bourbon in those. They're not using the slow reduction method on that one.
And after having closed for a while, the tasting room and tours have reopened, albeit at much lower capacity. And because the tasting room has a large outdoor space, it makes social distancing possible.

"We're booked solid for most of our tours," says Henry. "We did cut it down significantly. Normally we'd have 30 to 40 people, and I think now we've got less than 10.
"We closed for a few weeks right when this all started, and we were still getting tons of requests. We actually did a couple tours out on the porch and out in the rickhouse, just so everybody felt a little bit safer. But we opened because most of the time you're outside and because people asked us to."
Born in Brooklyn, N.Y., where he lived until he was 17, Bobby received his BA-Mass Communications from UWM in 1989 and has lived in Walker's Point, Bay View, Enderis Park, South Milwaukee and on the East Side.
He has published three non-fiction books in Italy – including one about an event in Milwaukee history, which was published in the U.S. in autumn 2010. Four more books, all about Milwaukee, have been published by The History Press.
With his most recent band, The Yell Leaders, Bobby released four LPs and had a songs featured in episodes of TV's "Party of Five" and "Dawson's Creek," and films in Japan, South America and the U.S. The Yell Leaders were named the best unsigned band in their region by VH-1 as part of its Rock Across America 1998 Tour. Most recently, the band contributed tracks to a UK vinyl/CD tribute to the Redskins and collaborated on a track with Italian novelist Enrico Remmert.
He's produced three installments of the "OMCD" series of local music compilations for OnMilwaukee.com and in 2007 produced a CD of Italian music and poetry.
In 2005, he was awarded the City of Asti's (Italy) Journalism Prize for his work focusing on that area. He has also won awards from the Milwaukee Press Club.
He can be heard weekly on 88Nine Radio Milwaukee talking about his "Urban Spelunking" series of stories.