A reporter with a hot tip bursts into the home team's locker room at the BMO Harris Bradley Center 90 minutes before an early-December game against the New York Knicks, heading right for Jabari Parker to ask the crucial question Bucks Nation didn't even know it needed answered regarding the potential All-Star.
Jabari, do you have a sea turtle friend?
"Sea turtle friend?" repeats the second-year forward slowly. "No. I wish I did."
Deflated, the reporter apologizes and stammeringly tries to explain that he'd heard from someone at the Milwaukee County Zoo that –
"Amazon turtle," Parker gently corrects, without looking up from his loaded baked potato. "It's a giant Amazon River turtle."
Ohh, OK, well there we go. It's a nominal difference but, to Parker, an important one he had to amend. He's asked frequently by media in this locker room about various statistical and speculative things and, most of the time, the soft-spoken Parker does his best not to delve too deeply into any of them.
But on this subject, he opens up, reciting assorted facts about Onassis, the oldest animal at the Milwaukee Zoo, where she's been for more than 45 years.
"It weighs, like, 120 pounds," he says. "I help feed it bananas. And the funny thing is it's estimated to be over 100 years old – that's what they told me."
(PHOTO: Milwaukee County Zoo)
Indeed, Onassis, who arrived in Milwaukee already an adult in 1969, is thought to be at least a century old, which would make her among the oldest South American river turtles in captivity. Zookeepers don't know for certain her exact age, as records were unclear when she was born.
The 20-year-old Parker, who's from the South Side of Chicago, has found a kinship with the old girl and says he likes going to the zoo because "it's a new experience."
"I love animals, and growing up in the city, you always read books about them but you never had the chance to live in those environments," he says.
Though Parker was proudly wearing his cherished White Sox hat when he first met Onassis over the summer, he heaped praise onto Milwaukee's menagerie in comparison to its famous, free counterpart to the south.
"I was amazed because they have a lot more animals than the Chicago Public Zoo, which I went to a lot, in Lincoln Park," he says. After his initial visit, Parker coordinated through Bucks player relations with the Milwaukee Zoo to schedule a behind-the-scenes tour, something it offers so that guests can gain a different perspective and appreciation of zoological work.
During the tour, he took a special interest in the Aquatic and Reptile Center and particularly with Onassis, which delighted Billie Harrison, the supervisor of that department.
"Quite often, we get people who show a strong interest in the megafauna, some of the bigger mammals and animals that people are a lot more familiar with," Harrison says. "So when somebody takes such a strong interest in one of our guys, I'm always eager to support that."
Parker says he did get to see the giraffes and felines and elephants and others, but there was something enchanting – especially to him – about Onassis.
The No. 2 pick in the 2014 NBA draft, Parker suffered a devastating knee injury 368 days ago that ended his rookie season. This year, he's averaging 10.8 points and 4.3 rebounds for the 10-17 Bucks and says he goes to the zoo often, occasionally before games to relax.
"It's therapeutic," says Parker, whose family has a dog in Chicago. "Animals are something I enjoy; it's one of my passions. I'm just amazed at how long (Onassis) lives. I love it."
That's part of the old turtle's allure, Harrison says. A veteran and favorite of the tours, the generally chill Onassis is savvy to the reward for being charming with the public.
"She's been here a long time, and I'd say she definitely knows the drill," Harrison says. "She is a very calm animal and she also has a sort of calming presence. But she is very accustomed to tours, so she knows that she's going to get fed and she'll always come up and greet people right away."
(PHOTO: Milwaukee County Zoo)
Besides bananas, which must help prevent cramping in the tank, Onassis has a varied diet that includes herring and other types of fruit. Harrison says the feeders recently discovered that she loves cantaloupe, so they've developed training initiatives that get her to come out of the water.
"She's quite smart and picked up on it really quickly," Harrison says. "She's a really fantastic animal to work with, that's for sure."
For his part, Parker, who hasn't publicized any of his trips to the Zoo, says he wants to keep coming back. "Hopefully I'll spend a night there, if they'll let me," he says of the periodic camp-out events, when visitors can observe the nocturnal animals' activities. "I want to see the overnight stuff."
Justin Dunlap, a Zoo marketing assistant, hopes he stays involved, too. An avid Bucks fan, Dunlap took a picture with Parker on one of his visits and spent some time talking to him about basketball and the team's playoff loss to the Bulls last year. "It's pretty cool," Dunlap says. "He just seemed like such a nice guy, how approachable and down-to-earth he was."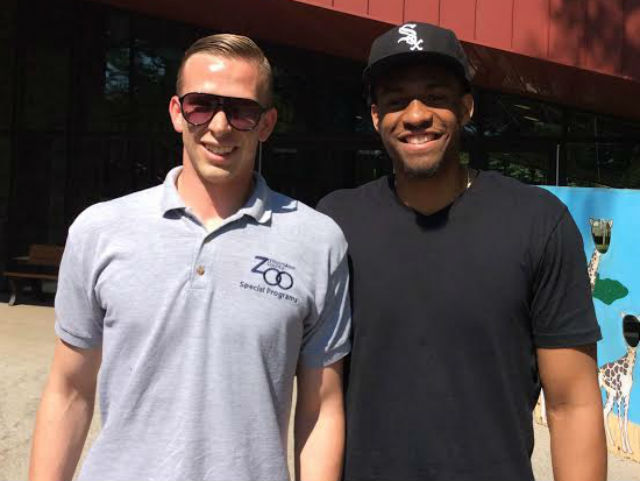 (PHOTO: Milwaukee County Zoo)
In her 100 or so years, Onassis has presumably seen her share of celebrities pass through the building. Former Bucks center Larry Sanders came by, Dunlap says, and Harrison remembers Summerfest performers taking the tour, among others. But this is Jabari Parker, among the league's top up-and-coming players, one of the young faces of the Bucks' #OwnTheFuture franchise.
Is Onassis even a little bit star-struck?
"I think she's primarily interested in the banana," Harrison says. "But I'm sure she appreciates him being there, too."
Born in Milwaukee but a product of Shorewood High School (go 'Hounds!) and Northwestern University (go 'Cats!), Jimmy never knew the schoolboy bliss of cheering for a winning football, basketball or baseball team. So he ditched being a fan in order to cover sports professionally - occasionally objectively, always passionately. He's lived in Chicago, New York and Dallas, but now resides again in his beloved Brew City and is an ardent attacker of the notorious Milwaukee Inferiority Complex.
After interning at print publications like Birds and Blooms (official motto: "America's #1 backyard birding and gardening magazine!"), Sports Illustrated (unofficial motto: "Subscribe and save up to 90% off the cover price!") and The Dallas Morning News (a newspaper!), Jimmy worked for web outlets like CBSSports.com, where he was a Packers beat reporter, and FOX Sports Wisconsin, where he managed digital content. He's a proponent and frequent user of em dashes, parenthetical asides, descriptive appositives and, really, anything that makes his sentences longer and more needlessly complex.
Jimmy appreciates references to late '90s Brewers and Bucks players and is the curator of the unofficial John Jaha Hall of Fame. He also enjoys running, biking and soccer, but isn't too annoying about them. He writes about sports - both mainstream and unconventional - and non-sports, including history, music, food, art and even golf (just kidding!), and welcomes reader suggestions for off-the-beaten-path story ideas.