Long after the beat reporters moved on to other players and, eventually, out of the locker room, Derrick Rose leaned against the steel partitions of the BMO Harris Bradley Center visiting lockers.
Rose had been asked quite a bit about Jabari Parker in the early going of his postgame press conference with Chicago and Milwaukee media following the Bulls' 95-86 victory back on Nov. 5, as the former NBA Most Valuable Player and Milwaukee Bucks rookie had known each other since Rose was a high school star at Simeon Career Academy on Chicago's south side.
Parker would eventually prep there, too, and the two – while not the best of friends – have stayed in touch, and Rose isn't shy to say he hopes Parker has a great career.
As the two of us chatted a bit further, Rose acknowledged it was a little premature to really talk about Parker's development at that point. It was just the fifth regular season game of Parker's NBA career, and the Milwaukee Bucks rookie had scored eight points on 4 of 12 shooting while pulling down six rebounds.
"I give him 15 to 20 games – I think he'll know exactly where to get his spots at to score the ball," Rose said. "But, it's a learning process. He's got the skills. He's got the mentality. It'll just still take time.
So now, here we are, just past that point – Parker has played in all 23 of the Bucks games to start this season – and he is averaging 12.5 points and 5.7 rebounds in just under 30 minutes per game.
They're solid numbers, enough to earn Parker NBA Rookie of the Month honors in the Eastern Conference for October-November (18 games).
Parker's scoring has come largely through ball movement – plays aren't necessarily being run for him in the half court – and he's not forcing the issue.
But at this point in the season, is it as Rose predicted?
Does Parker know where he wants to get the ball to create points, or do his teammates?
To start, Parker hasn't put up a 3-pointer since Nov. 22 (he's shooting 25 percent from behind the arc) after putting up all 16 of his attempts in his first 16 games.
Parker also has begun to limit his attempts from the free throw line extended over the last few weeks. In fact, before putting up three shots from that angle against Oklahoma City on Tuesday, Parker had last extended himself away from the basket in that direction on Dec. 2, and before that, Nov. 29.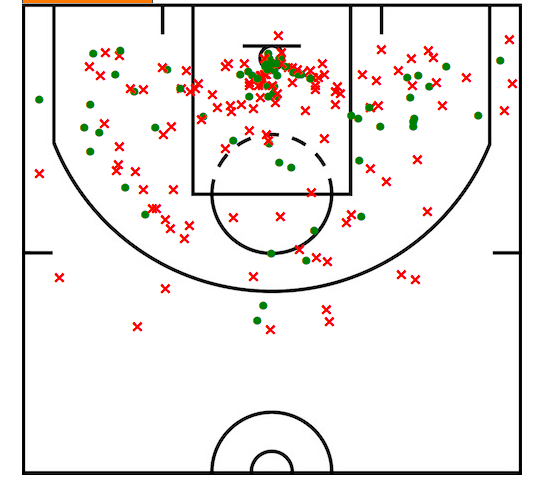 Parker is comfortable working on the wings this offense, putting up an equal number of shots from both sides of the floor between the paint and the 3-point line – though he had preferred the left side prior to Tuesday's game in Oklahoma City where he attempted most of his shots from the right wing.
And, as you take a look at this heat map …


Parker is most effective at getting to the rim. In his first 11 games, Parker averaged just 1.7 free throws per game and shot 44.4 percent.
In his last 12, he is shooting 53.1 percent and averaging 3.8 free throw attempts per game, including two games in which he attempted 10 or more.
And, his teammates are finding him in positions to finish there – 67.5 percent of his dunks have been assisted.
Now, you could say this due in large part to Jason Kidd's offense, that Parker is savvy enough to cut into areas that allow for easy catch-and-dunks. But, some of it also knowing where you're comfortable and taking advantage of an opponent.
Parker has shown tremendous athletic ability and quickness in the open court, and he makes smart moves around the basket. Plus, he's finishing – he's shooting over 70 percent around the rim – so his teammates want to get him the ball there.
There is still room to grow of course.
Parker is second on the team in minutes, field goal attempts and field goals made behind only Brandon Knight – yet he's averaging over five full points less per game than his point guard.
Somewhat surprisingly, he struggles with shots from 3-9 feet out and his mid-range (10 to 16 feet) needs to improve a bit. And, he's just above the league average in terms of efficiency on the offensive end.
"He looks like's taking the game very serious; he's very professional to be so young," Rose said. "I looks like he sacrificing things to be where he wants to be. I think he's in a good place so far."
Jim Owczarski is an award-winning sports journalist and comes to Milwaukee by way of the Chicago Sun-Times Media Network.
A three-year Wisconsin resident who has considered Milwaukee a second home for the better part of seven years, he brings to the market experience covering nearly all major and college sports.
To this point in his career, he has been awarded six national Associated Press Sports Editors awards for investigative reporting, feature writing, breaking news and projects. He is also a four-time nominee for the prestigious Peter J. Lisagor Awards for Exemplary Journalism, presented by the Chicago Headline Club, and is a two-time winner for Best Sports Story. He has also won numerous other Illinois Press Association, Illinois Associated Press and Northern Illinois Newspaper Association awards.
Jim's career started in earnest as a North Central College (Naperville, Ill.) senior in 2002 when he received a Richter Fellowship to cover the Chicago White Sox in spring training. He was hired by the Naperville Sun in 2003 and moved on to the Aurora Beacon News in 2007 before joining OnMilwaukee.com.
In that time, he has covered the events, news and personalities that make up the PGA Tour, LPGA Tour, Major League Baseball, the National Football League, the National Hockey League, NCAA football, baseball and men's and women's basketball as well as boxing, mixed martial arts and various U.S. Olympic teams.
Golf aficionados who venture into Illinois have also read Jim in GOLF Chicago Magazine as well as the Chicago District Golfer and Illinois Golfer magazines.