For the first time in more than a century, Jack Daniel's is releasing an age-stated whiskey, but good luck getting your hands on it at first.
Jack Daniel's 10-Year-Old Tennessee Whiskey is the same whiskey the Lynchburg, Tennessee distillery produces for its insanely popular Old No. 7 Tennessee Whiskey, but kept in oak barrels roughly twice as long and moved throughout the barrehouses to help create a more complex whiskey.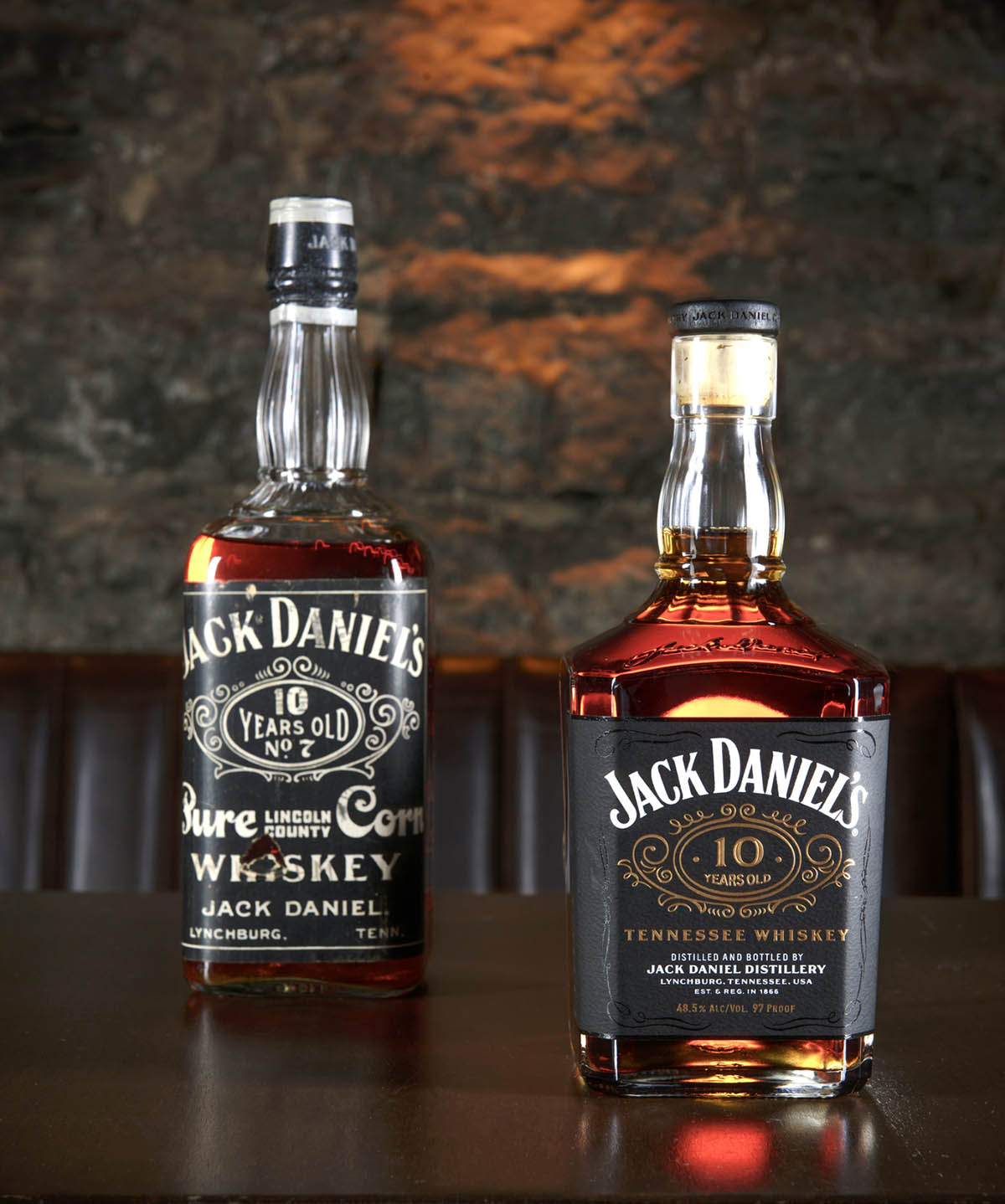 "We started holding back and looking at different batches that we had for single barrel whiskeys, 5-7-year-old, top floor only," says Master Distiller Chris Fletcher. "We started to think, 'how could we recreate this age-stated whiskey.'
"It was nothing more than experimental at that point. That was 5-6 years ago that we started looking at this, somewhat causally."
About two years ago, when the whiskey had reached nearly eight years old, Fletcher, who was then assistant to his predecessor Jeff Arnett, went back in for another taste.
"We made the decision to move three different batches to the bottom of one of our coolest barrelhouses, about two miles to the west of the distillery, where it sits down near the creek and stays humid and cool to let this cool down.
"Knowing that it had spent that long on the very top floor, you're starting to get to a point where you need to consider that here in Lynchburg."
Before Prohibition, Jack Daniel's sold age-stated whiskeys as old as 21 years, but with depleted stocks upon Repeal, Lem Motlow – who ran the distillery from the 1907 until 1939, when his son took over – was forced to remove age statements from the brand's labels.
Those 10-year whiskeys still said "Old No. 7" on the label, but this new batch does not. It was removed, says Fletcher, to avoid confusion.
"We wanted this to be all about the 10 year old expression," he says, "but the Old No. 7 brand is something that is so passionately well-known, to have something that says Old No. 7 on the label that's not Old No. 7 ... I can promise you creating confusion can be a big thing for us."
The limited edition whiskey is bottled at 97 proof (Old No. 7 is 80 proof) and is expected to arrive in early September.
Just over 200 barrels were dumped for this Batch No. 1, resulting in roughly 6,500 six-pack cases.
"The yield was not great," Fletcher says. "At 10 years you're going to lose a lot to evaporation."
Though the distillery plans to make 10-year-old an annual release, the buzz around the launch probably guarantees that the first round will barely make it to shelves before its snatched up at $70 a bottle.
The whiskey is pretty damn good, with dry fruit on the nose and a nice mix of oak, toasty butterscotch, leather and a hint of smoke (thanks Lincoln County process!) on the palate and a spicy finish rich in tobacco and pepper.
"There's cuch a classic Jack Daniel's aroma there but so many more layers that we've achieved with this," says Fletcher. "The DNA here is definitely Old No. 7.
"One of the things I love the most about this whiskey is that it is absolutely a sweet-forward whiskey," the distiller says. "I love the mouthfeel, the weight of it. It's rich, that molasses note, almost a burnt sugar. On the edges of the tongue you know that this has spent some time in the barrel.
"That 97 proof point is allowing more of that barrel character to pop on the back end."
Fletcher, whose grandfather Frank Bobo was a master distiller at Jack Daniel's for nearly 25 years, says he is committed to innovation and that he was especially passionate about this project.
"It is the most fun thing that I'm able to do," he says. "Innovation is at the top of my priority list. We have such a great team of whiskey makers with a depth of knowledge; we had somebody here who just retired after 52 years. That's the unique thing about Lynchburg. You have families that have worked here generationally."
Innovation was not something that Frank Bobo and other master distillers had the luxury of thinking about, Fletcher says, point to a time when demand for Jack Daniel's so outweighed production capacity that the whiskey was on allocation.
"What an exciting time to be making whiskey in the United States, that's the overarching way I think about this," he says. "The office I'm sitting in is my grandad's office. So I think about his tenure here. Every single day coming in and doing the same thing day in and day out. Old No. 7 was on allocation until 1980.
"He used to say it was like coming in every day and baking a cake. You never ventured from that recipe. Now we have put innovation more into our crosshairs. To be able to do a 10-year whiskey for the first time since Jack Daniel was alive, this is something that is so special to me and to (assistant distiller) Lexie (Phillips) and special to everyone here in Lynchburg."
As other examples of innovation at the Lynchburg distillery, Fletcher points to the regular single-barrel releases and the Tennessee Tasters series of blends, barrel finishes and other explorations.
As a tribute to the distillery's long history (which I'll recount soon in an Urban Spelunking post soon), the label of the new 10-year whiskey features a hand-drawn version of the same cartouche that graced bottles of age-stated Jack Daniel's bottles a century ago.
Happy hunting and good luck!
Some other whiskeys I've tasted recently include ...
Wollersheim Distillery
Round Top Rye Whiskey
Wisconsin's Wollersheim Distillery started distilling its rye whiskey (66 percent rye, 22 corn and 12 malted barley) in 2015 and has this Round Top, now aged at least four years (earlier batches were aged two), in its lineup of spirits.
Distilled from rye grown near the Prairie du Sac distillery and winery, this 90 proof rye is definitely round, with a nice mouthfeel and a balanced mix of barrel sweetness, especially up front, and rye tang – a mix of baking spices and almost nuttiness – especially on the finish.
Kings County Distillery
Straight Bourbon, Peated Bourbon and Single Malt Whiskey
Just as with brewing, my native Brooklyn was a distilling powerhouse before Prohibition, so I've been pleased to see the boom return to the borough this past decade or so. Kings County Distillery, located in a stunning historic building at the Brooklyn Navy Yard, has led the charge and these are three of the flagships of the distillery, owned by a duo that also writes books on distilling and distilling history.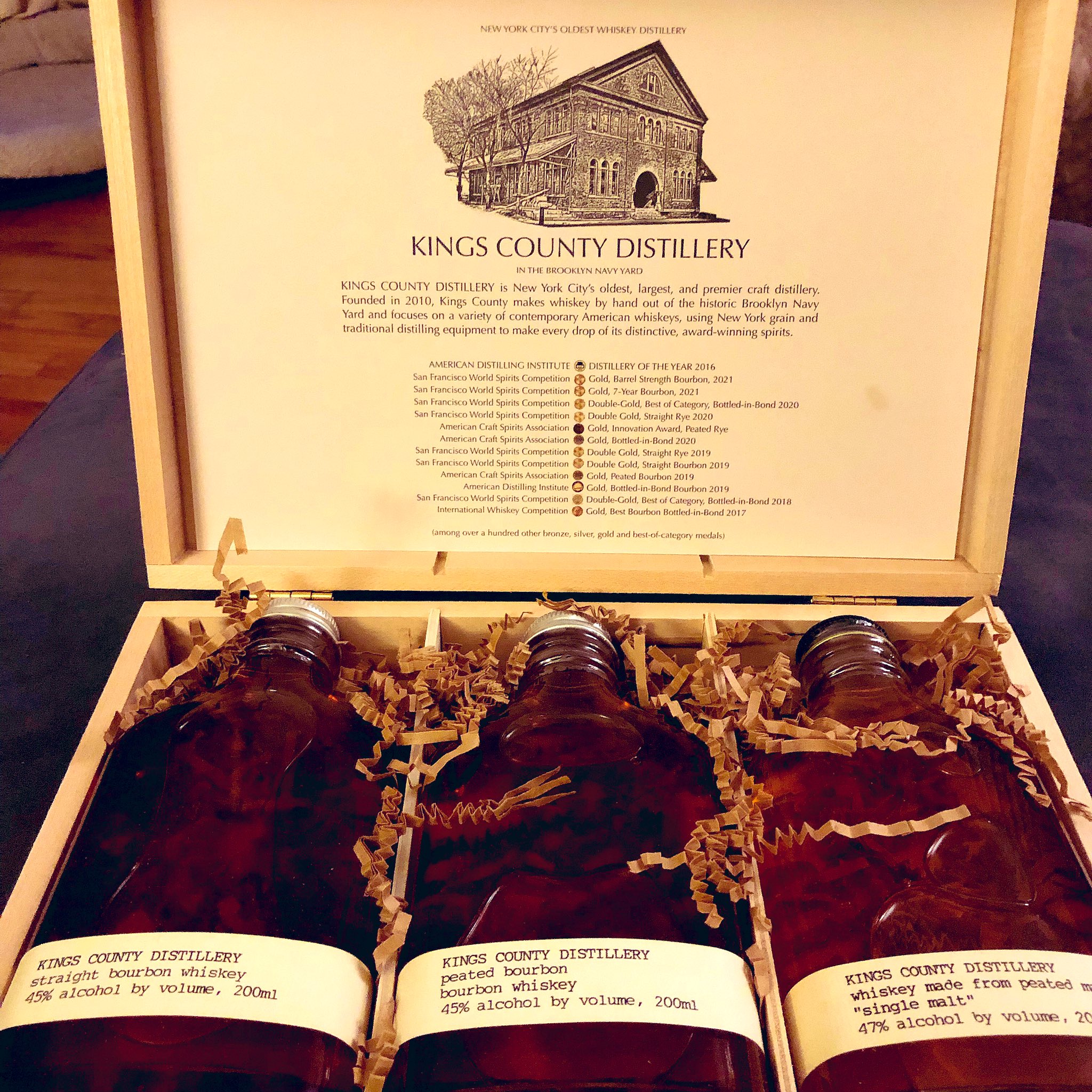 I love that Kings County straddles traditions, which is evidenced by this array. The bourbon drinks interestingly spicy (more nutmeg/cinnamon than black pepper) and complex for its relatively unusual 80/20 mash bill of only corn and malt.
Even rarer is the peated bourbon, which slams Scottish and American traditions together, to create a unique and delicious whiskey. Peated Scottish malt (25 percent) pairs with corn to create a caramel vanilla bourbon that finishes like a Scotch.
Finally, the single malt follows a Scotch approach with a mix of English (60 percent) and Scottish (40) malts – lightly peated – twice distilled to create a floral, fruit-forward whiskey. Close your eyes and sip and you'll think you're in Scotland, then open them to realize you're actually near the East River.
High Bank Distillery
Whiskey War Barrel Proof, batch 12
As I wrote after visiting the distillery in June, High Bank Distillery, in Columbus, Ohio, kills on both the distilling and the restaurant sides. Its whiskey program is respected and growing and a visit to the lab with co-owner and head distiller Adam Hines finds a rich array of samples from aging barrels that will someday land in the market. In the meantime, its Whiskey War Barrel Proof, aged at least four years, was voted best American blended whiskey at the World Spirits Competition in San Francisco for its perfect balance of sweetness and spice.
Batch 12 – 116.5 proof – was the winner of that award and you can tell why. It's got a nice complexity that hits the palate with barrel sweetness before giving way to darker notes like coffee, toffee and gingerbread before finishing off with all the spice you'd expect from its high rye content: rich baking spices and black pepper.
Northern Waters Distillery
Poachers Rye Whiskey
A recent trip to Minocqua led to a visit to Northern Waters in its new facility, which appeared to already be too small given the popularity of its tasting room. The fifth batch of rye was due to be released the following day, but I managed to get owner Pete Nomm to get an early start on labeling and sell me bottle No. 1 (lf 86). It's a little young at two years old, but it drinks older thanks to smaller casks that provide more surface contact. Nomm is working hard to keep laying down whiskey at a time when demand for it is high (he had none on the shelves to sell when we visited because he needed what he had for the tasting room's cocktail program), so expect it to keep getting a bit older as time goes on. Definitely one to watch and in the meantime it's a solid daily dram.
Bardstown Bourbon Company
The Prisoner
The kings of blends and barrel finishes and unique approaches, Bardstown Bourbon Company, released two versions of The Prisoner, that put Tennessee-made bourbon into French oak wine barrels from California's The Prisoner Wine Company. Version one (aged nine years) was released last year and version two (aged 10) followed earlier this year; both were finished 18 months in the wine casks.
Both have a pleasing hint of extra color thanks to the influence of those barrels that once held Cabernet. The earlier version was a striking balance of wine fruit and whiskey, with just a hint of grape on the palate finessing into a vanilla sweetness. Installment No. 2 had the same qualities but in perhaps a little less balance and if you really enjoy that wine burst you'll prefer this one. If you don't, you'll want No. 1.
Nelson's Green Brier
Tennessee Hand Made Sour Mash Whiskey
Rooted deep into Tennessee whiskey history (link) – though they didn't know it at first – the Nelson brothers relaunched their third great-grandparents' distillery and made their name with a line of Belle Meade-branded bourbons created with help from the late Dave Pickerell from a blend of two mash bills from MGP. In the meantime, they were busy laying down charcoal mellowed whiskey in their Nashville distillery.
In 2019, at five years old, they were ready to relaunch great-great-great-grandfather Charles Nelson's Green Brier label and to my taste buds the results are a success. A mash bill of corn, wheat and malt (from Briess in Chilton, Wisconsin), filtered using the Lincoln County Process, results in a soft 91 proof whiskey with notes of cinnamon, chocolate, brown sugar and hints of fruit.
Born in Brooklyn, N.Y., where he lived until he was 17, Bobby received his BA-Mass Communications from UWM in 1989 and has lived in Walker's Point, Bay View, Enderis Park, South Milwaukee and on the East Side.
He has published three non-fiction books in Italy – including one about an event in Milwaukee history, which was published in the U.S. in autumn 2010. Four more books, all about Milwaukee, have been published by The History Press.
With his most recent band, The Yell Leaders, Bobby released four LPs and had a songs featured in episodes of TV's "Party of Five" and "Dawson's Creek," and films in Japan, South America and the U.S. The Yell Leaders were named the best unsigned band in their region by VH-1 as part of its Rock Across America 1998 Tour. Most recently, the band contributed tracks to a UK vinyl/CD tribute to the Redskins and collaborated on a track with Italian novelist Enrico Remmert.
He's produced three installments of the "OMCD" series of local music compilations for OnMilwaukee.com and in 2007 produced a CD of Italian music and poetry.
In 2005, he was awarded the City of Asti's (Italy) Journalism Prize for his work focusing on that area. He has also won awards from the Milwaukee Press Club.
He can be heard weekly on 88Nine Radio Milwaukee talking about his "Urban Spelunking" series of stories.