For nearly 50 years, the U.S. Bank building has towered 42 stories over Wisconsin Avenue, as the tallest building in the city and the state. In recent years, the crown of the building has been illuminated in colored lighting to celebrate sports victories, ethnic festivals, holidays and the annual pride celebration.
But the site of the U.S. Bank building holds a long-kept secret. And for a Wisconsin family, it's a reminder of a tragic loss – and an unsolved 1967 murder that continues to haunt them today.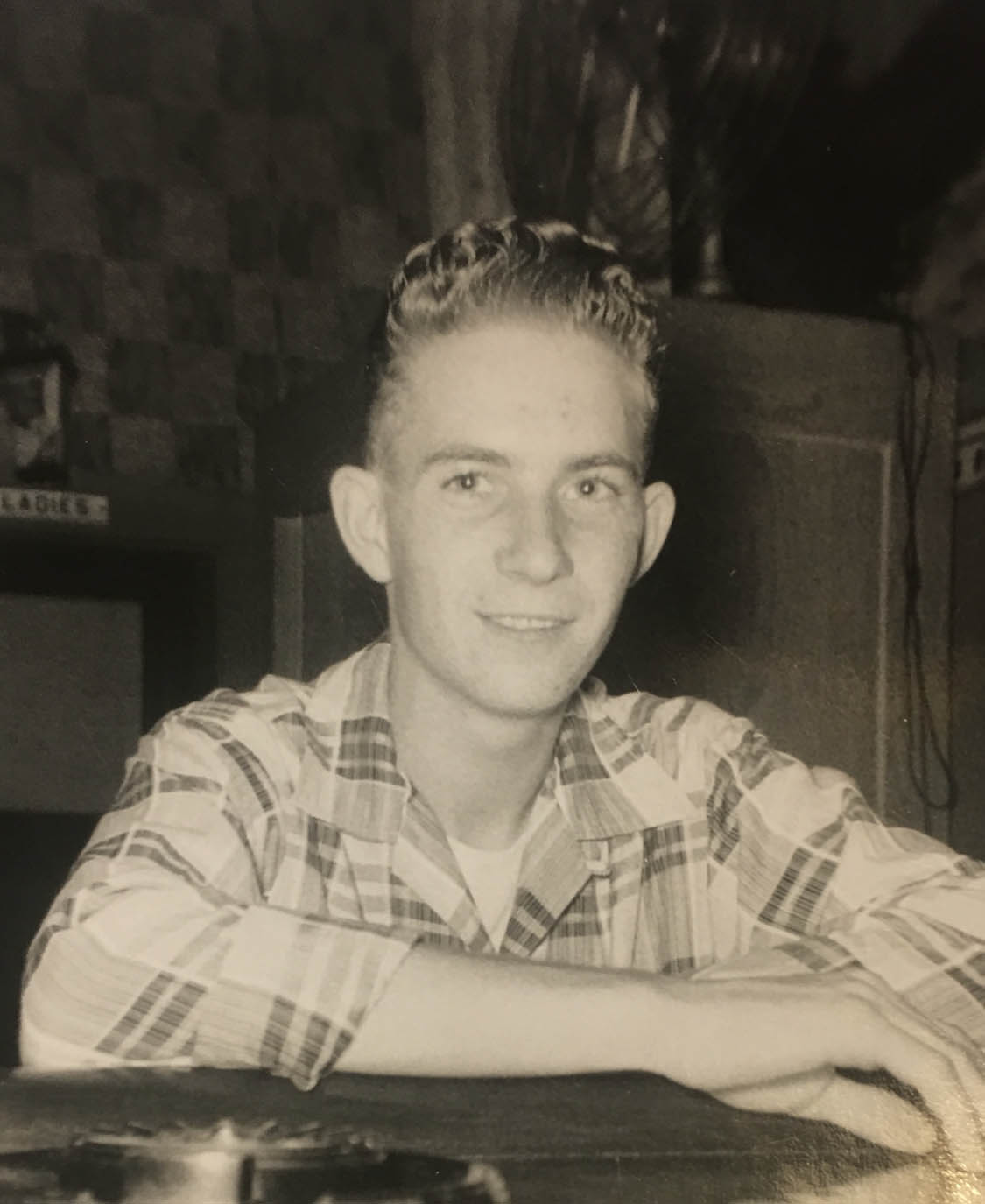 On Sept. 13, 1967, James Spencer aka "Roger Dallas Whetham," age 30, was found dead in the Eastway Motel, 636 N. Van Buren St. He had been stabbed 21 times.
Spencer was cremated shortly afterward, against his mother's wishes, and while the crime was still being actively investigated. He was well-known and popular in Milwaukee's gay community, but vicious rumors about his demise spread like wildfire. Family and friends prayed for justice that never came.
Fifty-five years later, James Spencer's murder remains one of thousands of Milwaukee Police Department cold cases. And, it seems, almost deliberately so.
Remembering James Spencer
"I was only 6 years old when he died, but I remember him being a really awesome uncle."
Carla Mitchell remembers her uncle, James "Jimmy" Spencer, as a kind, handsome, happy man. Her mother, Ruth Spencer Jacobson, considered him to be her best friend. He would visit their Milwaukee home near 39th and Silver Spring, taking her and her siblings to McGovern Park for picnics and playtime.
"He was like a second dad to us, but at the same time, just an overgrown kid. We so loved his visits. We were always so happy to see him.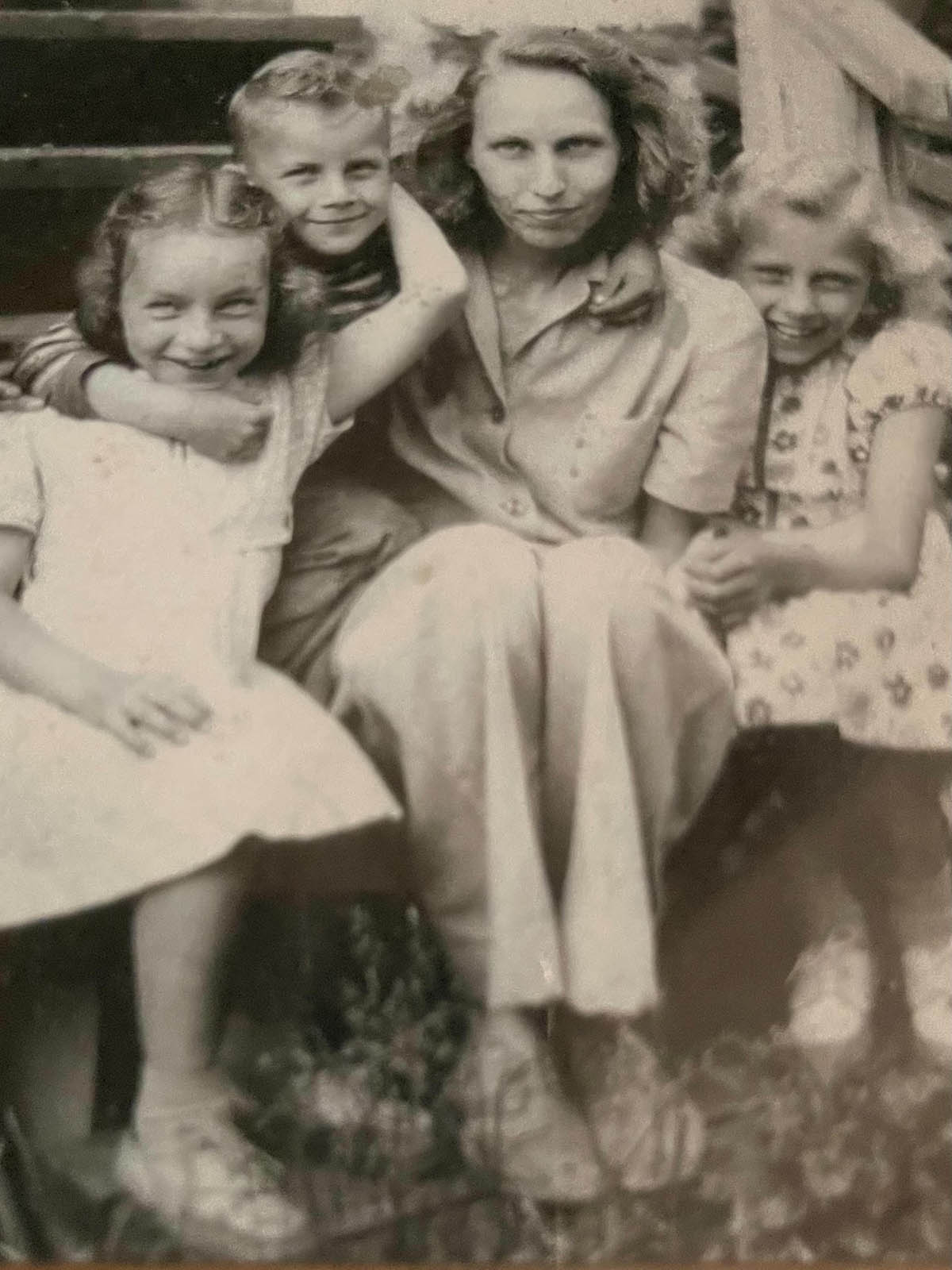 "And then, all of a sudden, he disappeared."
James Spencer was born in Iron Mountain, Michigan, on Oct. 6, 1936. He was the only son of Winston and Gladys Spencer, and a beloved brother to his two sisters. After her 1942 divorce, Gladys chose to put the children in boarding school.
"She was tough, and I understand she had to be," said Mitchell. "She was a single mother at a very difficult time to be one."
Carla learned that her uncle left home at a young age. She's not sure if he even finished high school. She doesn't know how or when her grandmother found out he was gay, but she wasn't happy about it. James was ashamed enough to leave Iron Mountain forever. Like many gay men of his generation, he joined the U.S. Army and experienced the world outside his small-town upbringing.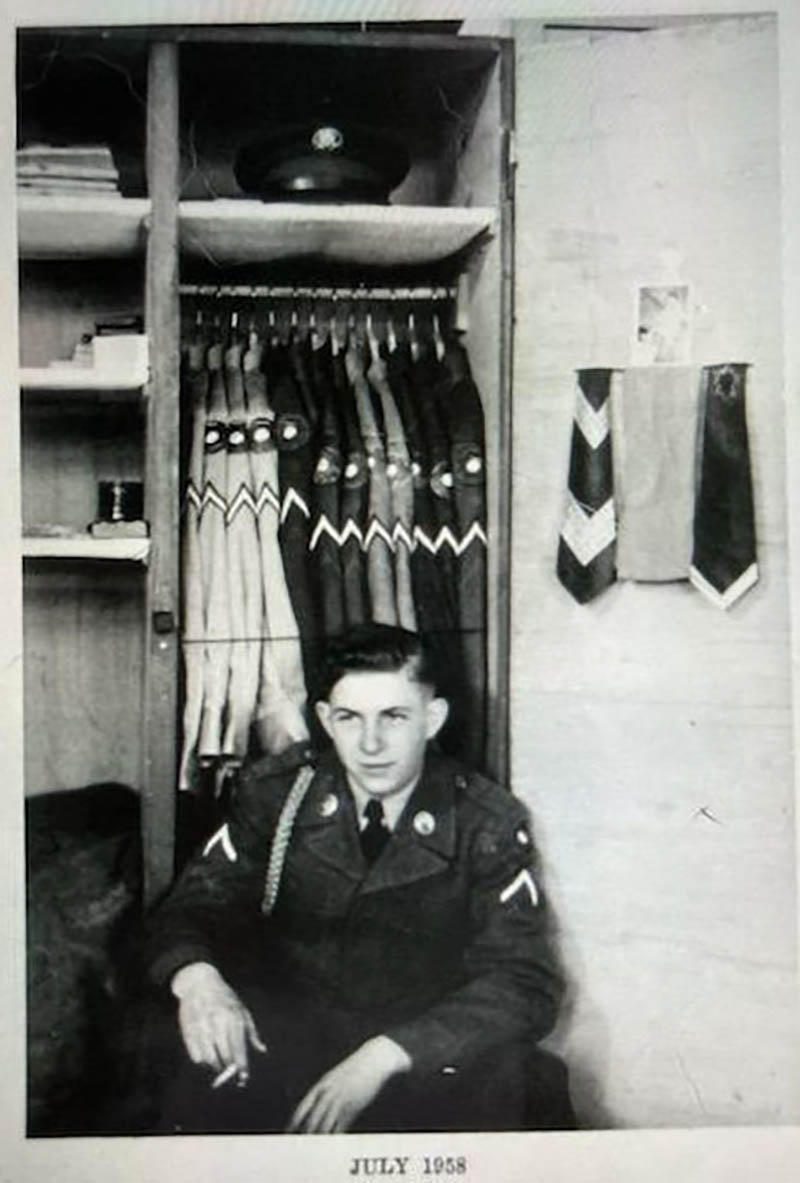 After his discharge, he took a job as a cook for the Chesapeake & Ohio Railway Car Ferries. At the time, C&O had seven ships crossing Lake Michigan daily, including the brand new "Twin Queens of the Lakes," the S.S. Spartan and the S.S. Badger.
The ferry system was proud to deliver the most superior accommodations available on the Great Lakes, including full-service, four-course meals, with local seafood and homemade bakery. Passenger volumes peaked in the late 1950s with 7,000 annual crossings. It was a good life, and about the best life a "confirmed bachelor" could hope for.
Somehow, somewhere, sometime in 1964, James met Wally Dallas Whetham.
That chance encounter changed his life forever.
Enter Wally Whetham
Wally Whetham, born in Flint, Michigan, and raised in upstate New York, came to Milwaukee with a somewhat tarnished reputation.
He married at age 18 and joined the U.S. Navy, but was never deployed to war, and it's not entirely clear if he ever served or even completed training. His first wife Thelma Hammond died in childbirth at age 20, along with his unborn son. She left behind a daughter who was raised not by Whetham, but by her grandparents, as their own child. Perhaps there's an untold tale of heartbreak and betrayal here, as Whetham remarried exactly one month to the day after his first wife's death, as was then required by New York law.
Whetham and second wife Ida Jane Fries relocated to Wisconsin after World War II.
If there was any marital bliss, it didn't last long. Ida Jane filed for divorce in Waukesha County Courts in 1949. Whetham countered that she was openly associating with other men, and continued to do so, despite his pleas. Ida Jane countered that if her husband fulfilled his marital duties, she wouldn't need to associate with other men. The divorce was granted on Sept. 8, 1949.
Whetham moved in with an Edgar Winkelman, according to the Milwaukee Journal. Ida Jane remarried and relocated to Syracuse, New York.
Whetham attempted a third marriage (to Alvira Brown of Winthrop Harbor, Illinois) in August 1949. Alvira was unhappy in the marriage, but quickly found a way out. Wally was still legally married to Ida Jane Fries in August 1949, rendering their marriage invalid. She filed for an annulment that was granted in June 1952.
Wally's ever-darkening reputation now included bigamy.
Almost exactly a year later, Whetham married Nora Paulson, a widow 10 years his senior with adult children. The August 1953 marriage ended in a brutal divorce trial. The court records aren't kind to Whetham, who is described as a "chronic alcoholic," "inebriated to the state of a permanent hangover" and "absent for days at a time." There are other subtle references about Whetham's character, including Nora's assertation that he was "involved" with other men.
With four failed marriages by age 37, one has to wonder: If he wasn't a womanizer, why the near-compulsive need to constantly be married? One has to understand Whetham's line of work to answer that question.
In 1959, Whetham was working as a butcher at Kohl's Food Stores when he was approached with a "get rich quick scheme." Harry Kaminsky, a notorious local loan shark, had been lobbying for his piece of the profitable Plankinton Strip since 1958.
He'd been watching the gay-first business model emerge at Tony's Riviera, the Fox Bar, the White Horse and the Mint Bar, and learned what not to do from the short-lived Pink Glove. In 1959, he purchased the ancient Old Mill Inn, 400 N. Plankinton Ave., a long-time "sailor bar" and gay gathering place. He set up mistress Mary Wathen with her own tavern, Mary's, which she agreed to operate as long as Kaminsky paid her son's tuition at St. John's Military Academy. After exactly one year in business, Wathen – a self-proclaimed Christian – had more than enough of being "terrorized by homosexuals" and abandoned the bar for Oklahoma.
So, Kaminsky moved on to another useful idiot. Homosexuals couldn't get a liquor license, but Whetham – four times married and former Navy – filled the role of the respectable businessman, at least on the surface. Kaminsky offered one of his trademark loans, which allowed Whetham to open his own bar, but crippled him with staggering interest rates. Like other clients, Whetham was now an indentured servant to Kaminsky. Whetham knew that the gay bar business was lucrative, but still technically illegal, and took the risk anyway. He, like others of his era, paid police bribes to prevent raids, harassment, or the attention of organized crime.
Whetham's first venture, the Black Nite, 400 N. Plankinton Ave., was wildly profitable. The name was taken from the "black knight" on the Whetham family crest, which customers remember hanging prominently in the bar. To his customers, especially gender non-conforming people, Whetham was a hero, creating a safe, welcoming and affirming place that simply didn't exist for them elsewhere in Milwaukee. The Black Nite was truly "come as you are," and most patrons did. Unfortunately, he was forced to close after a violent August 1961 uprising triggered the birth of gay pride, but also the Common Council citation of "a disorderly house."
By January 1964, Wally Whetham was the operator of two gay bars: Captain's Cabin, 400 S. 2nd St., and Bourbon Beat, 400 N. Plankinton Ave. He was also married to Giselle Corbeille, a 35-year-old Fond du Lac widow, and living on Milwaukee's East Side. He was on top of the world, financially, romantically and legally – but that fortune was fleeting.
Keeping up appearances
Sometime in late 1964, James Spencer and Wally Whetham met in Milwaukee. Shortly thereafter, Spencer moved in with the Whethams, first at 3307 N. Summit Ave., and then at 2220 E. Bradford Ave. and finally at 4227 N. Green Bay Ave.
It's not clear if this was simply an extension of goodwill, or if this indicates a deeper relationship was already under way. Unlike most bar owner's wives of this era, Giselle was fully aware that her husband operated a gay bar. She even staffed the bar during business hours. Was she a "beard" necessary to maintain the image of the respectable business owner? Was there some type of marital agreement in place? Was Giselle, a former Parisian, more accepting of her husband's flexible sexual identity than his past wives?
The relationship escalated further in early 1965, when Wally Whetham "adopted" James Spencer, who christened himself Roger Dallas Whetham. He insisted, according to witnesses, that he adopted Spencer because his family "threw him out."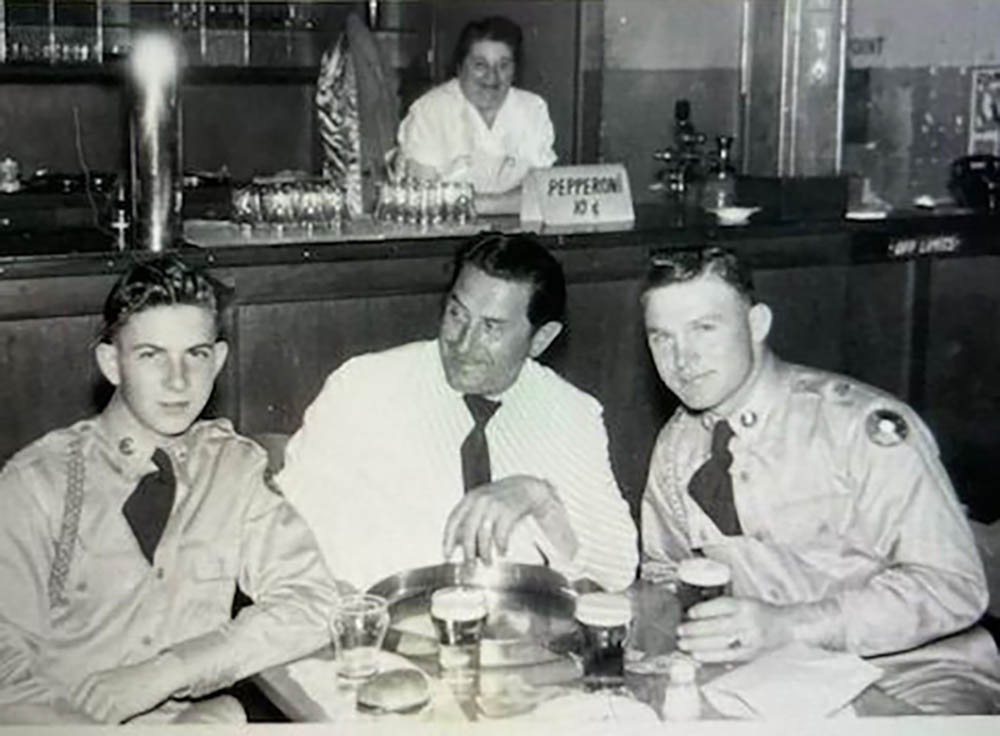 This arrangement seems highly unusual today, as adoption nowadays implies guardianship of a minor who cannot support themselves. James Spencer was 28 years old, gainfully employed, receiving military benefits and had been living on his own for over a decade. He was only 13 years younger than his new "father" and only seven years younger than his new "mother."
Why would they pursue an adoption?
"Since gay people couldn't marry, the one way a couple could protect each other was through adoption," said Eric Marcus, author of "Making Gay History." "It was rare and could only be done where such a thing wouldn't raise eyebrows. For example, Bayard Rustin adopted his partner Walter Naegle."
"Yes, there were periodically 'adoptions' involving an older and younger man who were lovers, and it was done for at least a couple of reasons," said Phillip Crawford, author of "The Mafia and the Gays."
"First, it provided an easier answer, which curious neighbors might be willing to swallow, as to why a younger man was living in the house. Second, it provided the necessary legal status by which the younger guy could have rights typically afforded by marriage such as inheritance."
"It doesn't make any sense that he was adopted for financial reasons," said Carla Mitchell. "If he needed to be taken care of, for any reason, my mother would have adopted him in a heartbeat."
Even if this adoption did signal a romantic commitment, it doesn't explain what financial protections Whetham sought for Spencer. The Whethams were far from wealthy; opening a second bar had overextended Wally even further financially, Kaminsky was under investigation and pressuring for early repayment, and their year-after-year moves were just one symptom of their fiscal insecurity. If there was anything to inherit from the Whethams, it would be debt.
One implication of adoption: the Whethams were now the legal beneficiaries of Spencer's survivor benefits, whether though the U.S. military or private life insurance.
But even stranger, why the name change? Spencer wasn't on the run from the law, by any means, and he had no real cause to reject his family name. In retrospect, the name change was a form of control and ownership: Spencer was a hot property, and now he belonged to Whetham.
In July 1966, Whetham was one of 14 witnesses (including Mary Wathen) called before a grand jury to testify in Harry Kaminsky's embezzlement trial. Although the trial would continue for years, Kaminsky was removed from his company and forced into bankruptcy in December 1966. Without his financier's backing, Whetham was financially devastated. Bourbon Beat was long committed to demolition for the St. Paul Avenue bridge; now, he had also lost his replacement property, Captain's Cabin. Whetham had no choice but to accept a bartending job at Pirate's Den, another gay bar at 12th & Vine.
Having totally lost control of his professional life, Whetham was also starting to lose control of his personal life. He was unhappy that James Spencer was gone for long periods of time at sea, often suspecting him of having secret affairs. According to witnesses, he became increasingly, irrationally jealous of his "adopted son" talking to other men, sometimes throwing things at him or slamming objects to interrupt his conversations. At times, he would order James to leave the bar he was working in, or he would up and leave the bar himself. He seriously suspected James was "hustling for money" on the side, although there's no evidence to support this.
Whetham's jealousy became overwhelming. He insisted Spencer find a job in Milwaukee so he could keep a closer eye on him. To calm the storm, James Spencer took a day laborer job at the Chicago & Northwestern Railway in Milwaukee. His job application lists Wally Whetham as his father and next-of-kin. Little did he know he had only a month left to live.
Sept. 12, 1967
Wally continued bartending at the Pirate's Den, earning a fraction of what he'd made a year earlier, and obsessing over rumors of Spencer's continued infidelities.
Whether or not Spencer was actually unfaithful remains unknown. Later, police records would note "the deceased has been booked many times since 1959 for drunk (and) disorderly conduct, as recently as April 14, 1967." But disorderly conduct was a blanket term used against suspected homosexuals in any variety of social settings, whether any crime was committed or not. In addition, police entrapment often meant that suspected homosexuals found themselves arrested simply for being in the wrong place at the wrong time. This makes it very difficult to determine what Spencer actually might have done.
What is known is that on Friday, Sept. 8, 1967, James Spencer packed a suitcase and left the Whetham home after some type of confrontation. He booked a room at the Eastway Motel, where he was last seen alive by the check-in clerk around 3 p.m. on Tuesday, Sept. 12, when he left the property with an unknown man.
The East-Way Hotel, built in 1939, had been downgraded to motel status in 1959. The Milwaukee Journal considered it part of "Our Shabby Downtown." Rooms were renting by the week in 1967, as its owner awaited a buyout for the new skyscraper Northwestern Mutual had promised a decade earlier. It seems James Spencer booked a weekly room while sorting out whatever his next step might be.
Later that night, someone entered Room 332 and stabbed Spencer six times in the chest, once in the right arm, 13 times in the back and once in the neck. It's believed Spencer tried to run but succumbed to his wounds and fell to the floor. And that's where his life ended, at 10:30 p.m.
Viola Scalish, a 60-year-old hotel maid, noted the room door was ajar at 8:15 a.m. and closed it, assuming the occupant was still asleep. At 2:40 p.m., she found the body face-down on the floor, with one leg crossed over the other, arms crossed across his chest. No murder weapon was ever found.
The coroner reported no evidence of sexual assault or mutilation. But this was no open and closed case. In fact, there were several strange twists:
The morning papers reported that a suspect was being questioned, but there is no evidence that any suspect was ever questioned. In fact, there was almost no follow-up activity on the case at all. Who was the unknown man – and was he ever questioned?
It doesn't seem the police ever questioned anyone in the gay community, even though they knew Whetham owned a gay bar. Did the detectives take a hands-off approach because the victim was a homosexual? Or did Whetham's "adoption" story successfully and completely misdirect them?
Police records suggested an attempted robbery, but nothing of value was taken. Spencer's suitcase had been pried open, but nothing had been removed. His wallet was left behind. He was still wearing a solid gold ring inset with a white stone and a black stone, which remains in police custody to this day. Why leave something of such significant value during a robbery?
Wally Whetham was called upon to identify the body. He played the role of fine, upstanding citizen and grieving parent perfectly. He stated he'd last seen the deceased on Monday, Sept. 11, between 3:30 and 11:30 a.m., but did not indicate where or how. This raised questions that police did not ask. How did he know where Spencer was staying? Had he attempted to reconcile with Spencer only to be rejected again? Oddly, the police report notes that he signed his own name wrong on the report. "The deceased stepfather spells his name with an N, but various identification cards found in the hotel room identify the name with an M," notes the record.
Milwaukee County Coroner Helen Young's medical report notes that "fingernail scrappings, pelvic organs and anal material were removed at autopsy for further study by the FBI. Requested by police officials. The material will be picked up by detectives on 9/14/67." Why was the FBI involved – and what did their studies reveal? Were these incriminating details ever actually received by the FBI? Nobody seems to know.
Two days later, a brief obituary appeared in the Milwaukee Journal for the "beloved son of Mr. and Mrs. Wallace Whetham." Funeral services were to be held Saturday, Sept. 16 at O'Bee Funeral Home, 2024 N. 12th St., followed by cremation. Gladys Spencer, living in Kentucky, became aware of her son's death. She obtained a court order from Circuit Judge Max Raskin to prevent the cremation on religious and moral reasons. On Friday, Sept. 22, Circuit Judge Robert Curley declared that Gladys Spencer could only prevent the cremation, and claim her son's body, if she reimbursed the Whethams $600 for the funeral and $60 for the cremation fee. Ultimately, she could not afford these fees. But she did get people thinking: Why were the Whethams in such a rush to cremate the body, and why were the police allowing it?
Although both Judges Raskin and Curley referenced the Whethams' "adoption" of James Spencer, neither judge ever requested proof of legal adoption. News articles about the case noted how unusual such an adoption was. Why didn't the judges question it? Today, there are no findable records for either the adoption or Spencer's name change. It's not clear if either transaction ever actually happened.
On Sept. 22, 1967, the Milwaukee Journal reported that armed gunmen raided the Pirate's Den, forcing Whetham, Giselle and two others into the men's room and taking $206 in cash. The gunmen told Whetham they'd be back to "collect the rest of what you owe later." Was this robbery somehow related?
While the death certificate lists Forest Hill Cemetery as the crematorium and final resting place, the cemetery has no records of James Spencer ever being buried there. Someone removed the cremains before they could be buried.
The murder sent shockwaves through the gay community. Only a few days ago, they'd heard that Spencer had finally left Whetham after months of abuse. Now, he was dead. Rumors spread like wildfire: Was Spencer really a hustler all along? Was Spencer the victim of a trick gone wrong? Was the "unknown man" his new sugar daddy? Did Spencer decide to go back to Whetham, only to be killed by the "unknown man?" Did Whetham have him murdered? Was organized crime somehow involved? Had Whetham tracked him down, confronted him and killed him in a psychosexual rage? The stories were endless, but the police never pursued them.
"Wally always said, 'If he doesn't quit (with the other guys,) I'm going to cut off his (penis) and feed it to him,'" said Casper Garcia, longtime Wisconsin LGBTQ History Project contributor. "So when (James) wound up dead, everyone assumed that was exactly what happened. As strange as it sounds now, it was just widely accepted that Wally did it."
"Wally lost everything because he just couldn't keep it in his pants," said George "Bunny" Opper, another project contributor, in 2016. "He had a thing for the young and pretty ones, but he really had eyes for that one they found dead on Wisconsin Avenue … the one that got away, who didn't get away after all. That one was the one that ruined him. That one drove him crazy."
Whetham's obsession with Spencer had been a well-known open secret. Now, many accepted that he was Spencer's killer, and assumed it was only a matter of time before the police arrived at the same inevitable conclusion.
And no arrest ever came. On Sept. 1, 1969, the Milwaukee Journal showcased the Spencer murder among dozens of other unsolved murders. And then it was never mentioned anywhere, by anybody, ever again.
Until now.
Making sense of the madness
The Pirate's Den lost its liquor license in August 1968. Whetham moved over to the French Quarter, 1634 N. Water St., a neighborhood gay bar owned by Milton Rickun, famous boxer and founder of Rickey's on State. Whetham's drinking accelerated to the point where he was often unapproachable and incoherent. Witnesses remember him crying into his Scotch, mumbling, "I warned Jimmy, but Jimmy didn't listen."
When The French Quarter closed in 1970, Whetham supposedly moved to New Orleans where he drank himself to death. But, per Social Security records, he died in New York State in July 1974 at age 51. There are no state or military records of his death. Whatever fifth wife Giselle knew, she took with her to the grave in 2012, when she died age 84 in Northern California.
The whereabouts of Whetham's estranged daughter Sherrill are unknown.
"My aunt and her husband managed a bar in Milwaukee," said Mitchell, "so she must have been the first to hear about the murder. I remember her calling my mother to tell her. My mother put all six of us girls in a bedroom and wouldn't let us come out for hours. She was in the kitchen, with my aunt and grandmother, just bawling uncontrollably. It breaks my heart to think about this. My mother had such a hard life to begin with. And now, someone took her brother from her."
Enough was enough. After the civil unrest of July 1967, and now her brother's murder, Carla's mother had enough of Milwaukee. The family moved to New York, but they could never get far enough away from the tragedy.
"My mother, aunt and grandmother were deeply, negatively affected by Jimmy's death," she said. "They never really talked about him after his death, but they certainly fought about him a lot. We were always told he had been buried as a John Doe. We always thought my grandmother refused to claim the body just because he was gay.
"Now, we know the truth. She tried and tried, but she simply couldn't stop the cremation. She just didn't have the money; no one in the family did. She knew something wasn't right here, and wanted it fully investigated. And she failed. I don't think she ever came to terms with that."
Like her grandmother, Mitchell always found the entire story to be suspicious.
However, nobody in her family was willing to talk about it. Her aunt hired a private eye many years ago, but whatever she learned, she didn't share with her nieces. She suspects her mother knew more than she ever told.
For years, she was haunted by a childhood memory. She was driving with her mother and sister in the family car. When her mother saw a custom license plate that said WHETHAM, she got very upset and began following the car around town. Mitchell wasn't sure what her mother was going to do.
"I bet that's the bastard who killed Jimmy,' she said to us," said Mitchell. "My mother knew it was him the whole time."
After her mother passed away, Mitchell decided enough was enough.
"I found a clipping, and just for the hell of it, I posted in a Milwaukee Facebook group to see if anyone remembered the case," she said. "The responses were unbelievable. I gained a lot of insight, advice and materials from that group. I've been working and working and working. And then, my work led me to the Milwaukee County Historical Society, who led me to the Wisconsin LGBTQ History Project."
Mitchell isn't convinced the murder was investigated to the full extent of police capabilities. She's since learned two unsettling facts:
The Milwaukee Police Department purged an abundance of cold cases in 1992.
Only two overwhelmed detectives are currently assigned to this unit. After hitting this dead end, she reached out to the FBI to see if further studies were ever conducted.
(Note: Milwaukee Police Department media relations did not respond to requests for comment.)
"Jimmy was a beloved family member that was taken away tragically," said Carla's husband, Patrick Mitchell. "There are way too many questions that need to be answered.
"We could care less about Jimmy's lifestyle," he reiterated. "We may never know why he made some of these choices, but we would never judge him for those choices, either. All we want is for him to rest at peace."
Undaunted, Mitchell continues to chase the truth. While she seeks to understand what really happened on that long-ago September night, she realizes she may never know all the answers.
"I dream of reuniting my uncle with his mother by burying him in her family plot," she said. "I just want a simple stone so he can be with his family again. I want people to remember his name.
"If we can only find him."
The Eastway Motel closed Nov. 30, 1968 and was demolished in early 1969. In 1973, the long-awaited First Wisconsin skyscraper opened on the scene of this unsolved crime. When you see the U.S. Bank Tower illuminated by night, remember the name James Spencer.
Do you have information that might help the Milwaukee Police Department close the James Spencer case and bring peace to his family? Contact Cold Case Unit Detectives Timothy Keller and Jeremiah Jacks at (414) 935-7360.
Family rejection is the greatest destabilizer of LGBTQ youth, causing a downward spiral of mental health issues, suicidal ideation, homelessness and self-destructive behaviors. If you need help now, contact the Milwaukee LGBT Community Center at (262) 409-8434.
Growing up in a time of great Downtown reinvention, Michail Takach became fascinated with Milwaukee's urban culture, landmarks and neighborhoods at a young age. He's been chasing ghosts ever since. Michail, a lifelong Milwaukeean, dreaGrowing up in a time of great Downtown reinvention, Michail Takach became fascinated with Milwaukee's urban culture, landmarks and neighborhoods at a young age. He's been chasing ghosts ever since. Michail, a lifelong Milwaukeean, dreams of the day when time travel will be possible as he's always felt born too late. Fearlessly exploring forbidden spaces and obsessively recording shameless stories, Michail brings local color to the often colorless topic of local history. As an author, archivist and communications professional, Michail works with community organizations (including Milwaukee Pride and Historic Milwaukee) to broaden the scope of historical appreciation beyond the "same old, same old."