Before diving into "Kokomo, IN" around the first third of the set, Japanese Breakfast frontwoman Michelle Zauner recalled one of their earliest Milwaukee shows, one she described to the Brew City audience with a smile as "ill-attended." Safe to say it was a very different scene greeting Zauner and company at the Generac Power Stage at Summerfest on Friday night, the bleachers filled all the way back with appreciative fans regularly left in a blissed-out daze – quite literally, it seemed – by the indie pop rock outfit and their hypnotic music.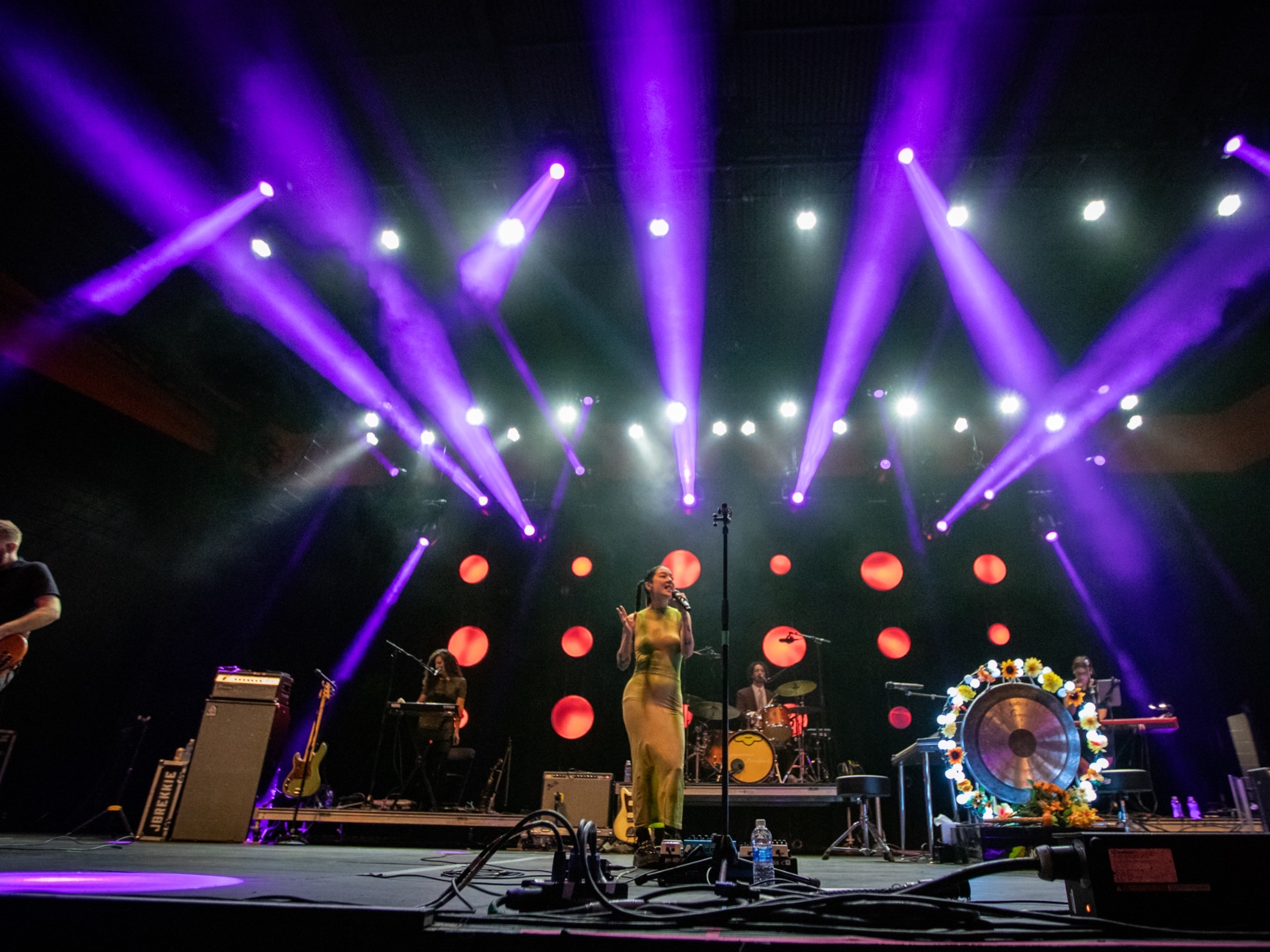 Emerging on stage with a backdrop of dangling giant polka dots that would shift glowing colors throughout the evening, Zauner's buzzy group – complete with a sax player and violinist on stage – burst into their Big Gig set with "Paprika." From this full-throated opening number – a smoothly soaring bit of twinkly synth pop rock, punctuated by Zauner's cooing calls in the chorus and bangs on her light-framed gong – Japanese Breakfast had the giddy Generac crowd under a spell. Their hold over the audience would confidently continue into "Be Sweet," the band's hit poppy mystical groove.
Even with Zauner's voice seemingly have to reach for some of the chorus's highest range-challenging notes, the Summerfest crowd was mesmerized. But actually: mesmerized, greeting the end of each song with a raucous bout of enthusiastic applause and cheer before settling into a remarkable, reverential hush. The pin-dropping silence between songs was almost alarming; "quiet" is not a word often used in the same sentence as Summerfest, and even less so as a positive. But the still interludes were not at all a sign of disinterest or apathy but of a crowd seemingly savoring each tune and the dreamily rich soundscapes lifting the audience into a happy hover above the ground for over an hour.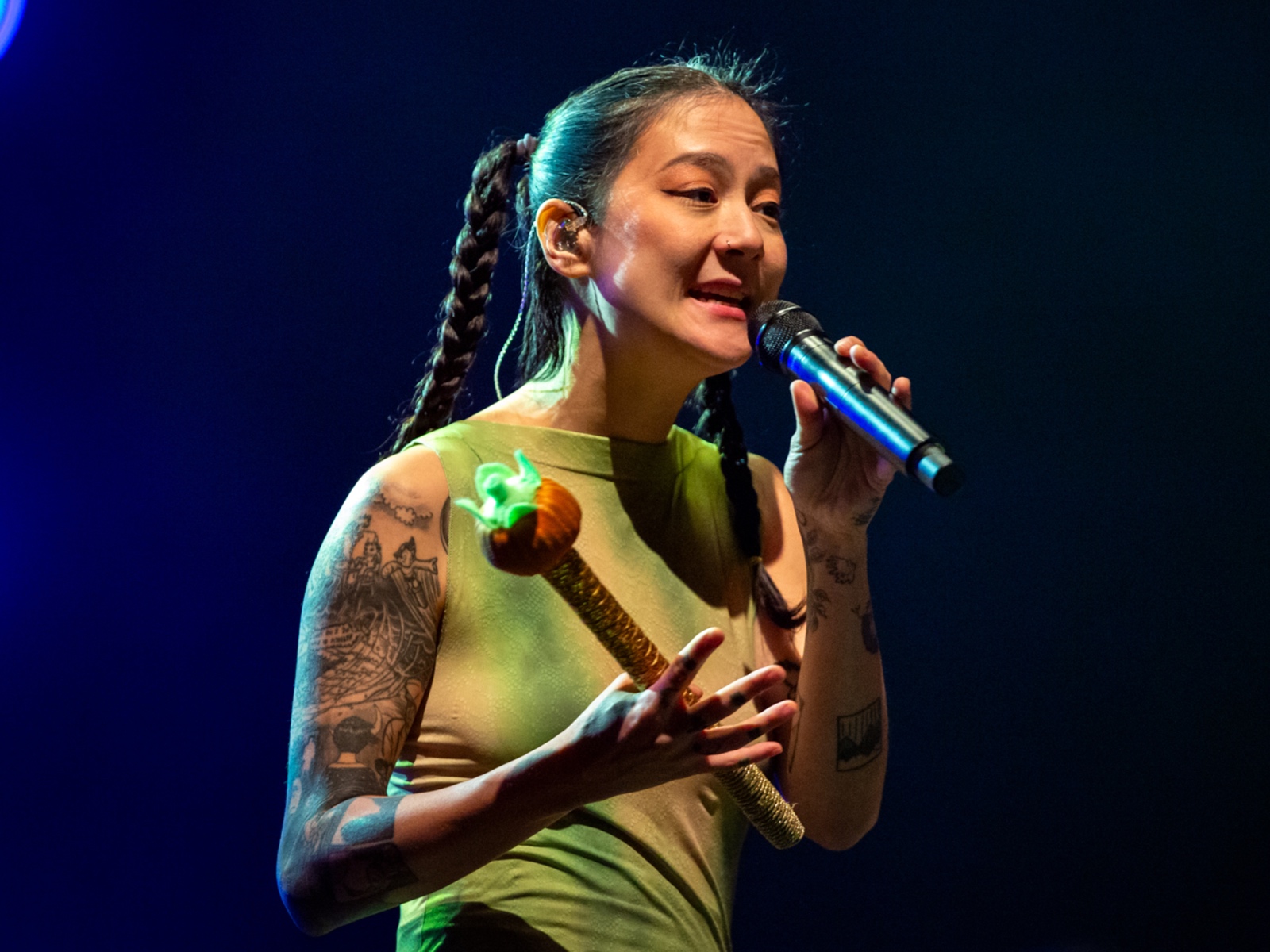 That lifted sensation wouldn't let the crowd back down to earth until the end of Japanese Breakfast's 70-minute set, as Zauner and company kept hitting the audience with different full-sounding musical atmospherics. The setlist would shift and sway from heavenly haunting slow dance swoons, over to carefully calibrated dreamy jams building into erupting guitar solos – or, in a few very special cases, saxophone solos. (I confess I am a complete sucker for a sax solo; if you want a guaranteed thumbs up, it's basically a sonic bribe for my eardrums.) Coming midway through the set, the live rendition of "Savage Good Boy" brought a slightly gruffer sound to the band's glowy dance party in the clouds, while "Glider" combined twinkly synth with dramatic grandiosity and an epic scope – unsurprisingly, Zauner wrote the track for the world-exploring video game "Sable."
There was always something new to hear from Japanese Breakfast at the Generac Power Stage but always with the same absorbing, hypnotizing effect. I typically take constant notes for my concert reviews, but at some point on Friday night, I gave up on jotting thoughts and just let myself join the crowd in marinating in the music.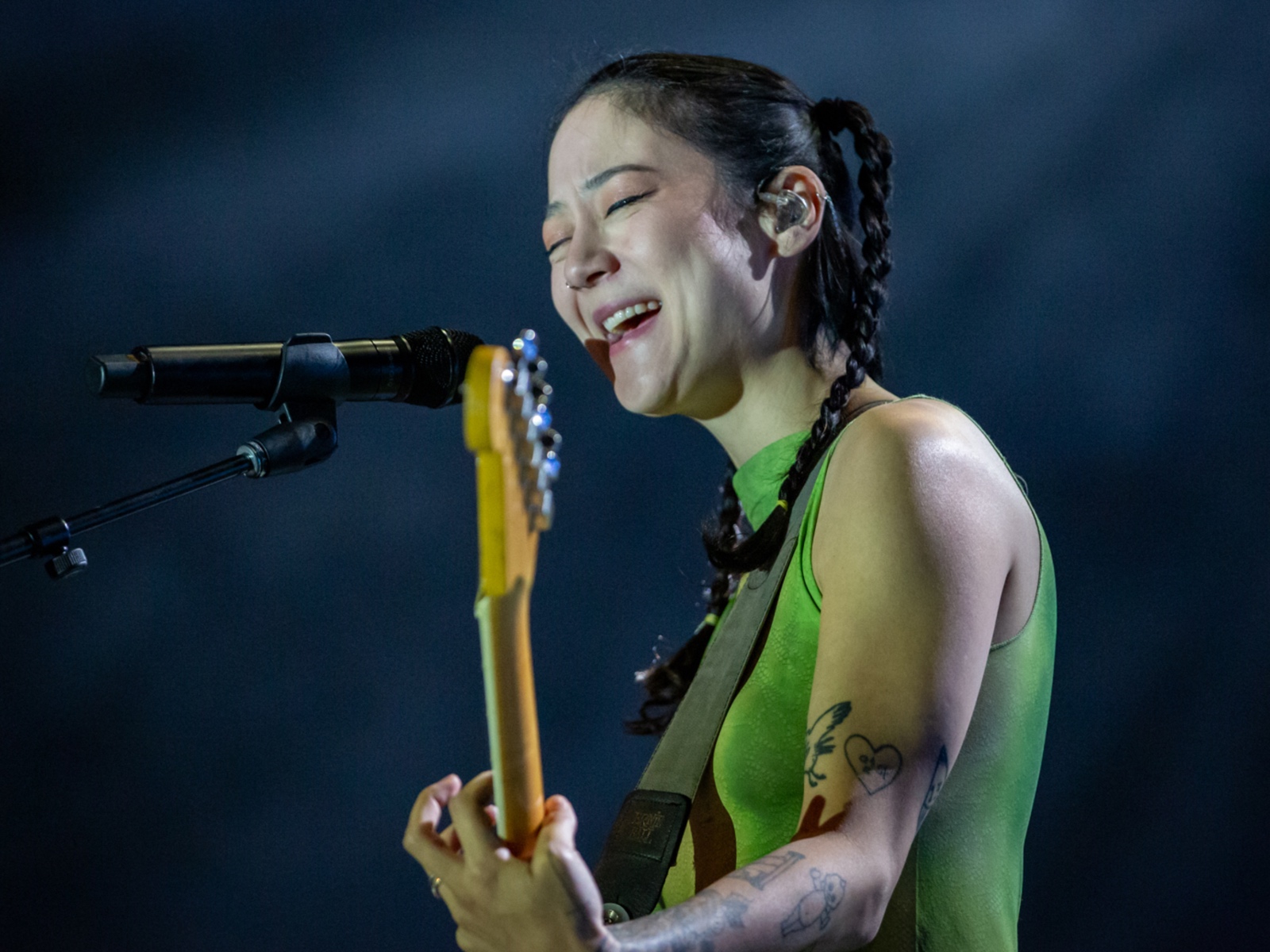 For most of the night, Zauner too seemed happy to let the Summerfest audience simply soak in the music, her engaging personality coming through her soaring vocals and her brightly expressive gestures roaming around the stage and approaching the crowd. As the show went along, though, she splashed in some warmly earnest chats with the audience beyond the typical thank yous and song titles – whether it was the aforementioned reference to their earlier scantly attended Milwaukee gig or glowing about playing on tour with indie rock group Built to Spill, whose shoegaze-y jams helped fight away the sprinkling rain just before Japanese Breakfast at the Generac stage.
For "Posing for Cars," the penultimate track of the night, Zauner explained the song was the product of an Airbnb rental and some shrooms, resulting in she and her partner indeed posing for cars passing by their window. "Maybe this is a bad time for this song," she pondered before beginning the number. Unfortunately she was probably right, as just around that time, Little J and The Pretty Reckless started really rocking out next door at the Miller Lite Oasis. Combined with some particularly loud attendees nearby reading the room like Sanskrit and choosing the absolute wrong time to full-volume introduce themselves to everyone in the vicinity, the bewitched bubble around the show – and this particularly intimate and delicately crescendo-ing number – felt tragically popped, though the song eventually fought back wrapping up with a rollicking and vigorous guitar solo jam session of its own.
It says something, though, about the special and beautiful spell Japanese Breakfast cast over the crowd that such fairly standard festival distractions felt like such violating intrusions on Friday night. For 70 minutes, Zauner and company took their Milwaukee fans somewhere else – somewhere those fans are already eagerly looking forward to their next trip and somewhere the days of "ill-attended" Brew City shows are well past.
As much as it is a gigantic cliché to say that one has always had a passion for film, Matt Mueller has always had a passion for film. Whether it was bringing in the latest movie reviews for his first grade show-and-tell or writing film reviews for the St. Norbert College Times as a high school student, Matt is way too obsessed with movies for his own good.
When he's not writing about the latest blockbuster or talking much too glowingly about "Piranha 3D," Matt can probably be found watching literally any sport (minus cricket) or working at - get this - a local movie theater. Or watching a movie. Yeah, he's probably watching a movie.