Quick and easy access to nature has always been one of my favorite aspects of Wisconsin camping in general. Ninety minutes after the workday ended and I'm drinking a beer with the trees at Jellystone Park. Get there this summer! Make your own reservation here.
This article is written in partnership with Yogi Bear's Jellystone Park - Caledonia.
We hadn't even left for our weekend at Yogi Bear's Jellystone Park in Caledonia and my family and I were already talking in the "Yogi Bear voice." Lots of "Hey BooBoos!" And "Don't forget to pack the pic-a-nic baskets!" came out of our mouths. Luckily, it was (mostly) out of our systems by the time we got to the campground and resort because I really think our dogs were annoyed with us. (Yes, Jellystone Park is dog friendly!)
Yogi Bear's JellyStone Park is literally just south of the Milwaukee county line and took about 15-minutes to drive there from our Walker's Point home. Quick and easy access to nature has always been one of my favorite aspects of Wisconsin camping in general. Ninety minutes after the workday ended and I'm drinking a beer with the trees.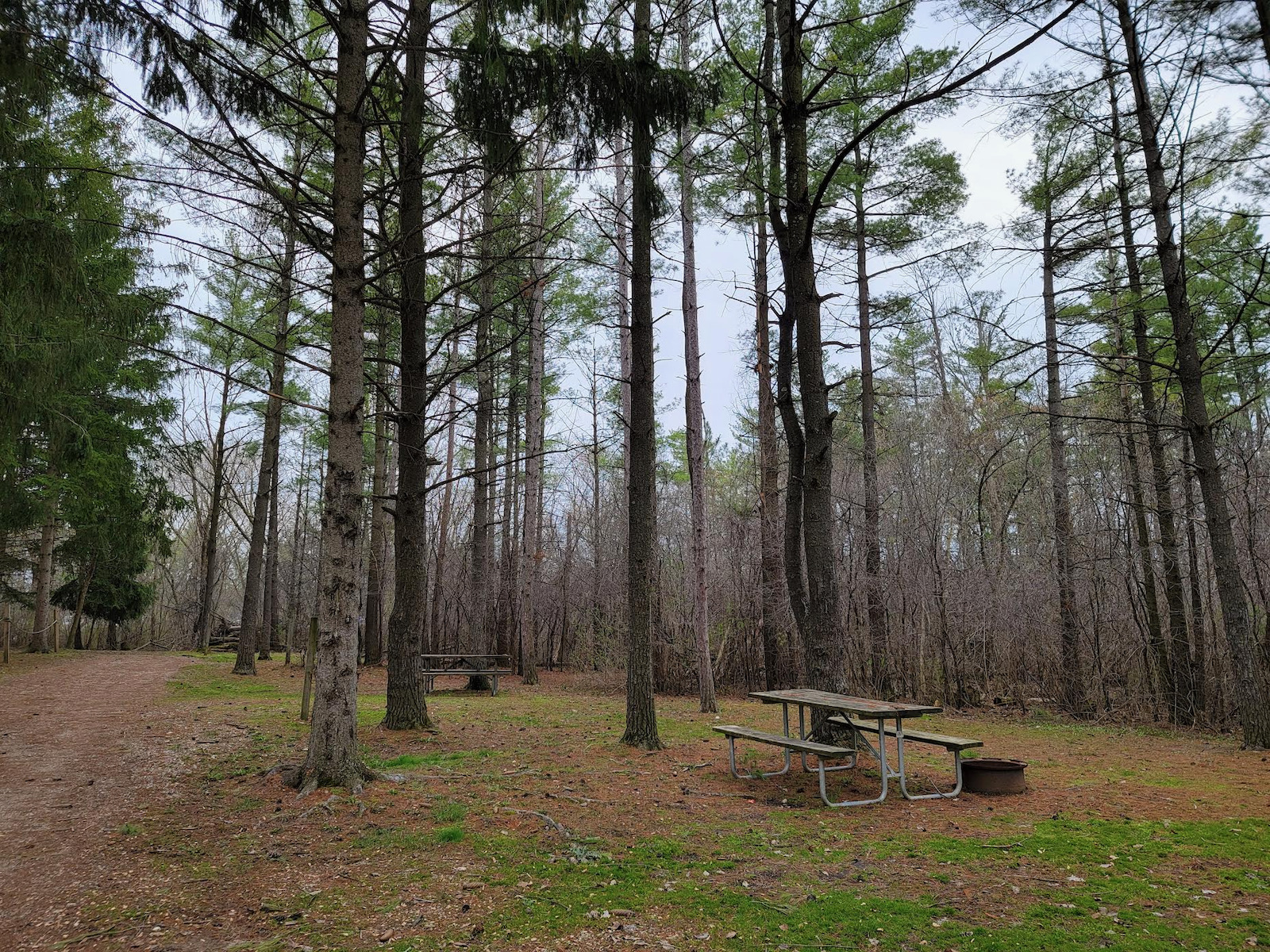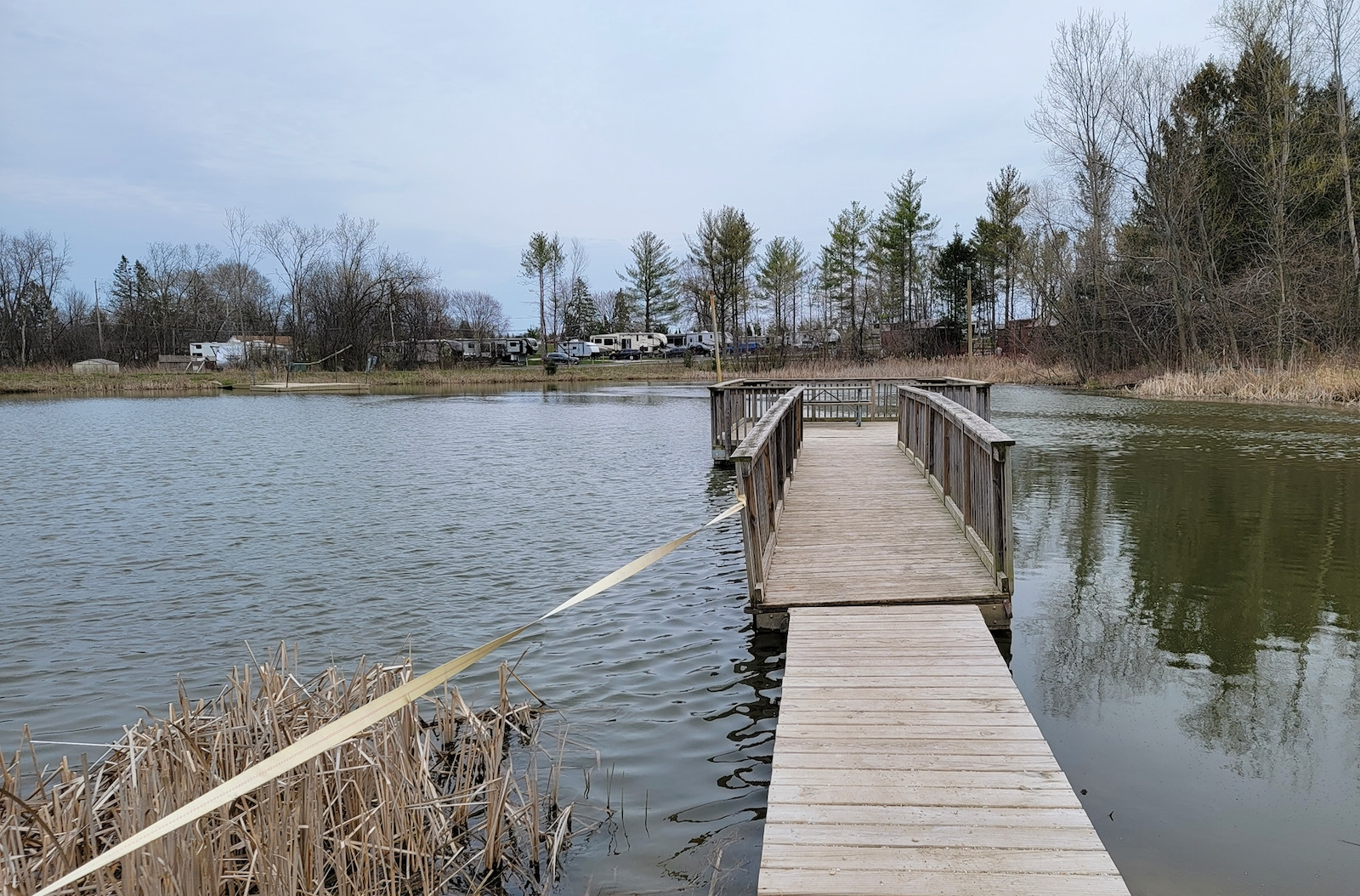 This was our first visit to a Jellystone Park, although we've driven by different locations many times – there are 75 in the United States and Canada – and always wondered what they were like. We usually sleep in a tent or our VW Bus during camping trips, but this weekend was all about "glamping" in a cabin with amenities like WiFi, a full kitchen, a comfy Queen-sized bed, a screen-in porch and more.
The weather was chilly and rainy, thus we particularly appreciated the fanciness of the cabin. We were prepared for cribbage and homemade pizza-making rather than hikes and s'mores. And after a long week, this was perfect for us.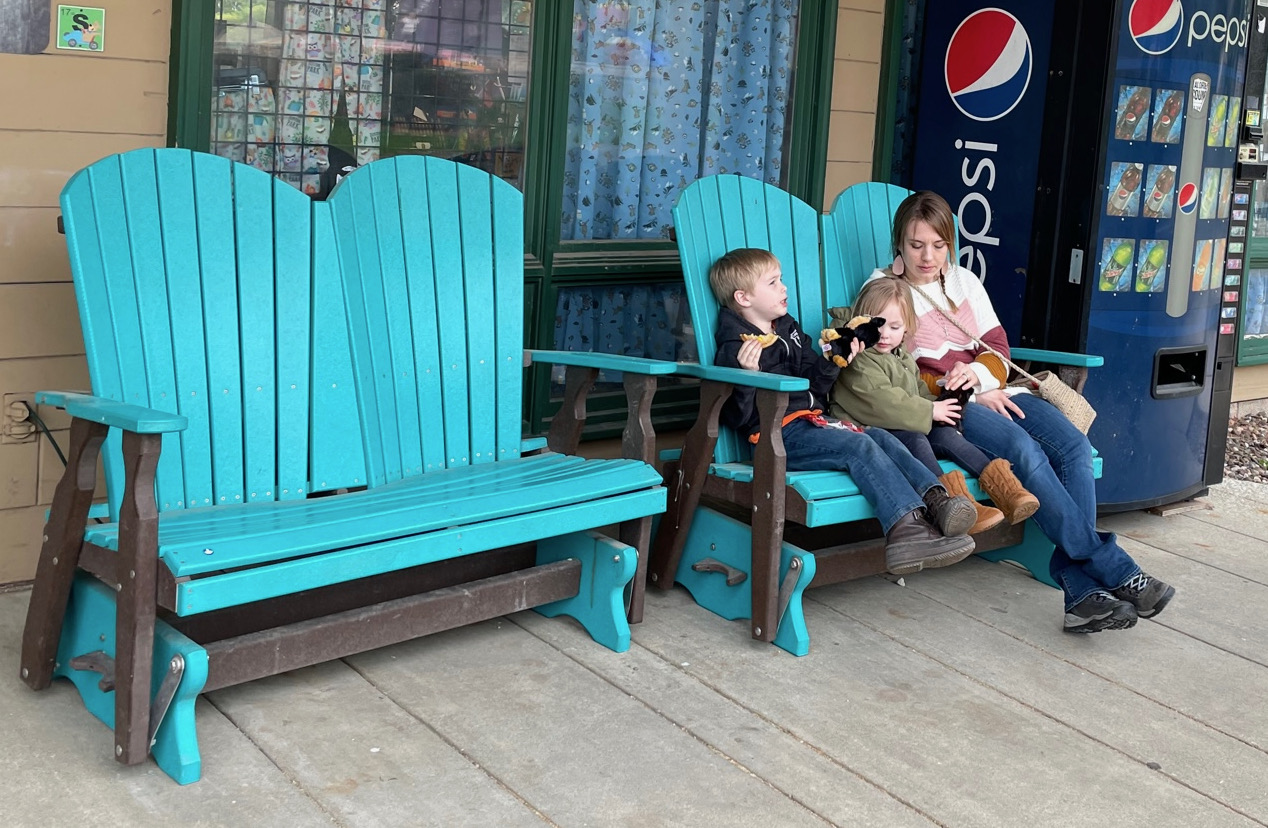 Upon our arrival, we were greeted by a massive Yogi Bear statue and some friendly attendants who gave us the lay of the land. The park is easy to navigate – most people do it via golf carts – and divided into RV, tent and cabin areas. All of the roads were repaved this winter so apparently it's much less dusty now.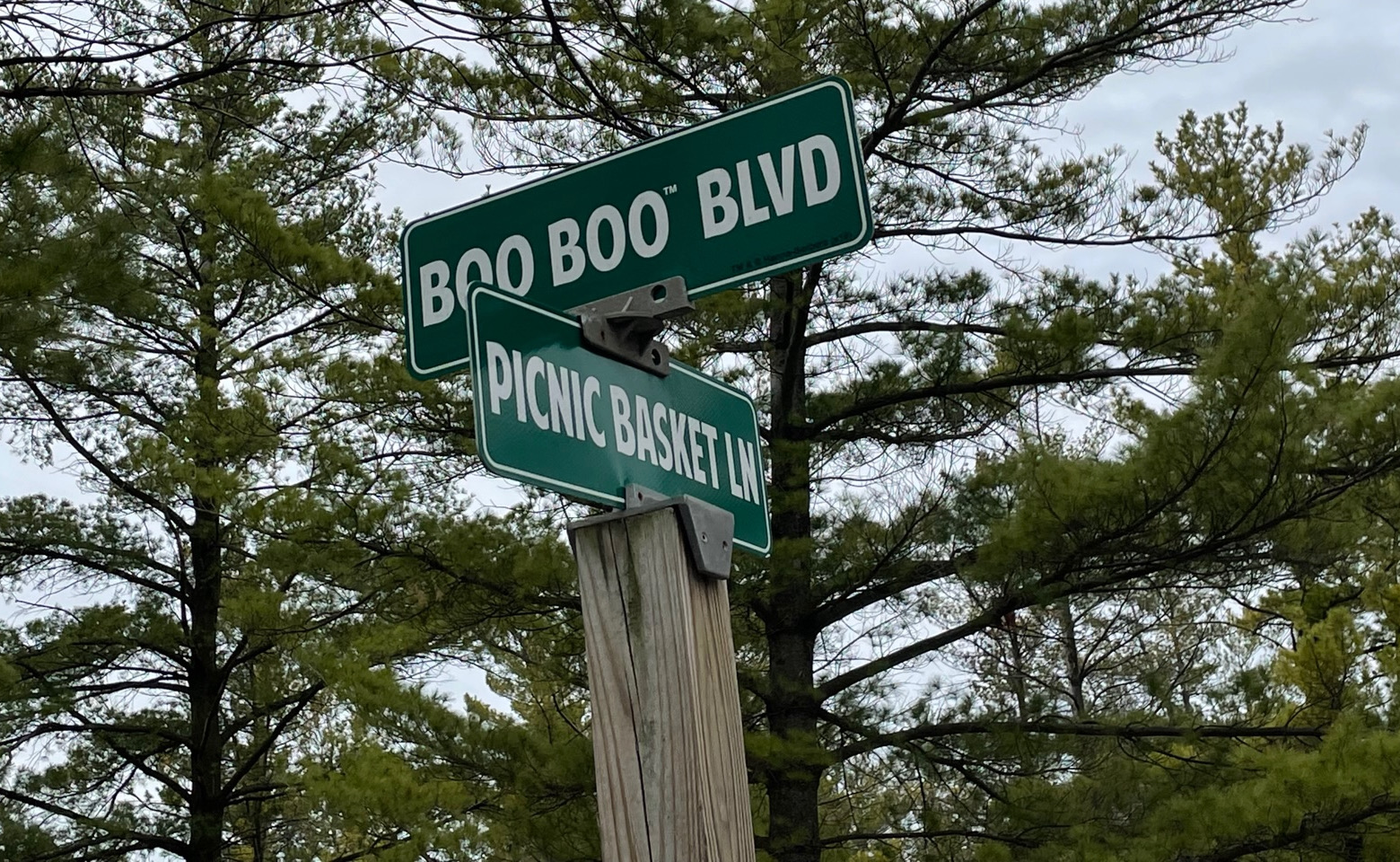 There's also an on-site convenience store, cafe, gift shop, outdoor theater, beach, pool, mini golf course, playground with a "jumping pillow," laser tag, gem mining, fishing pond, hay rides and more – depending on the time of year.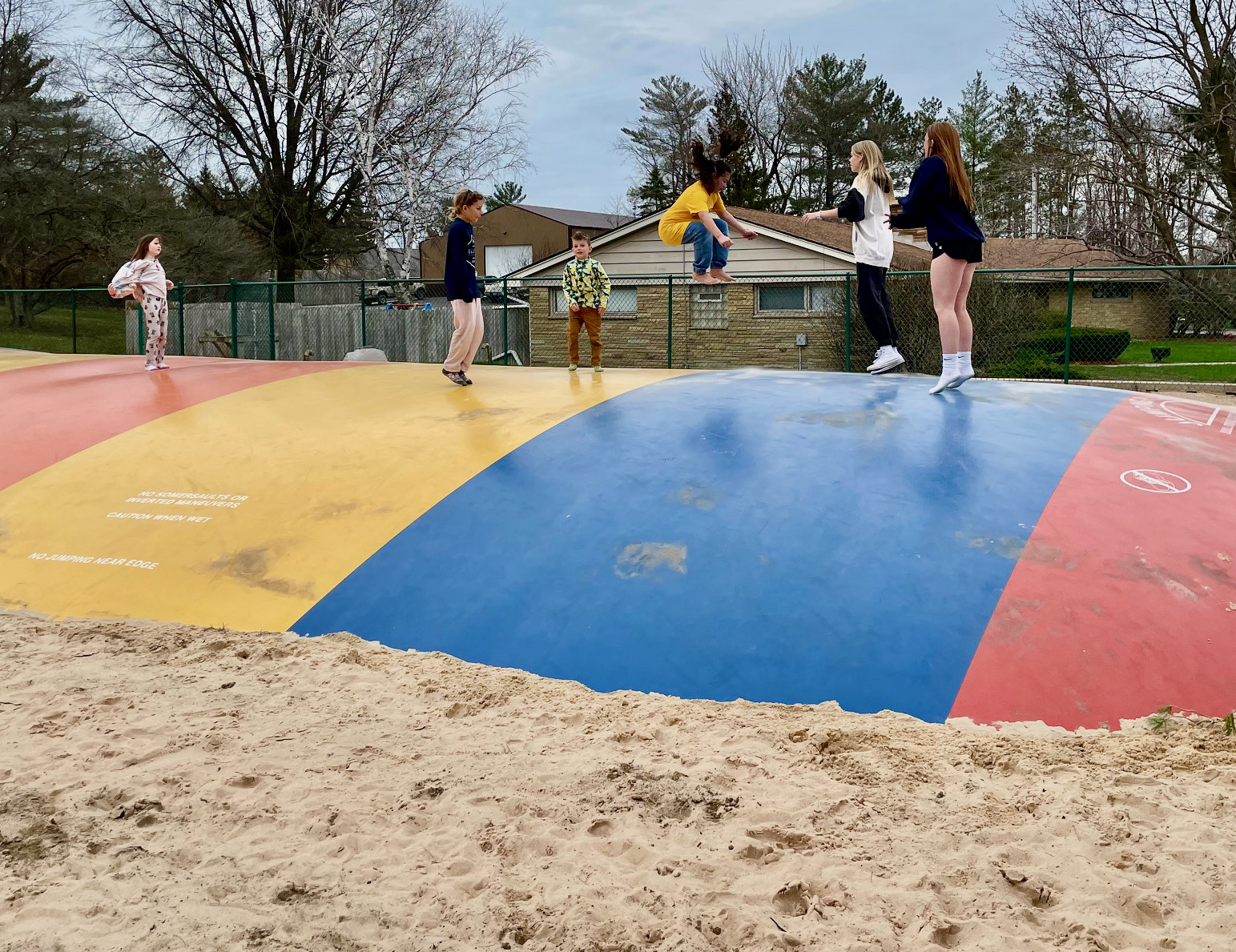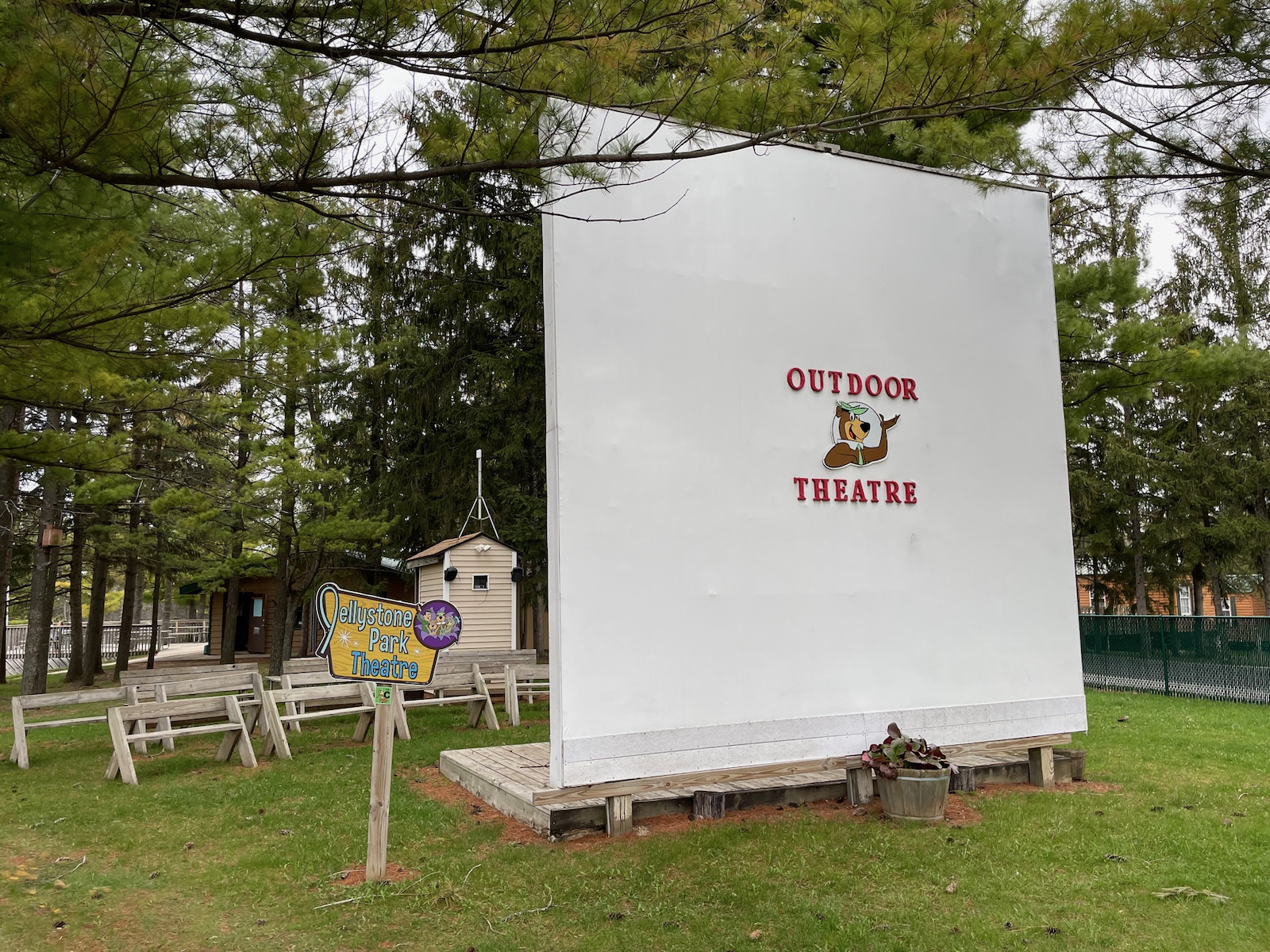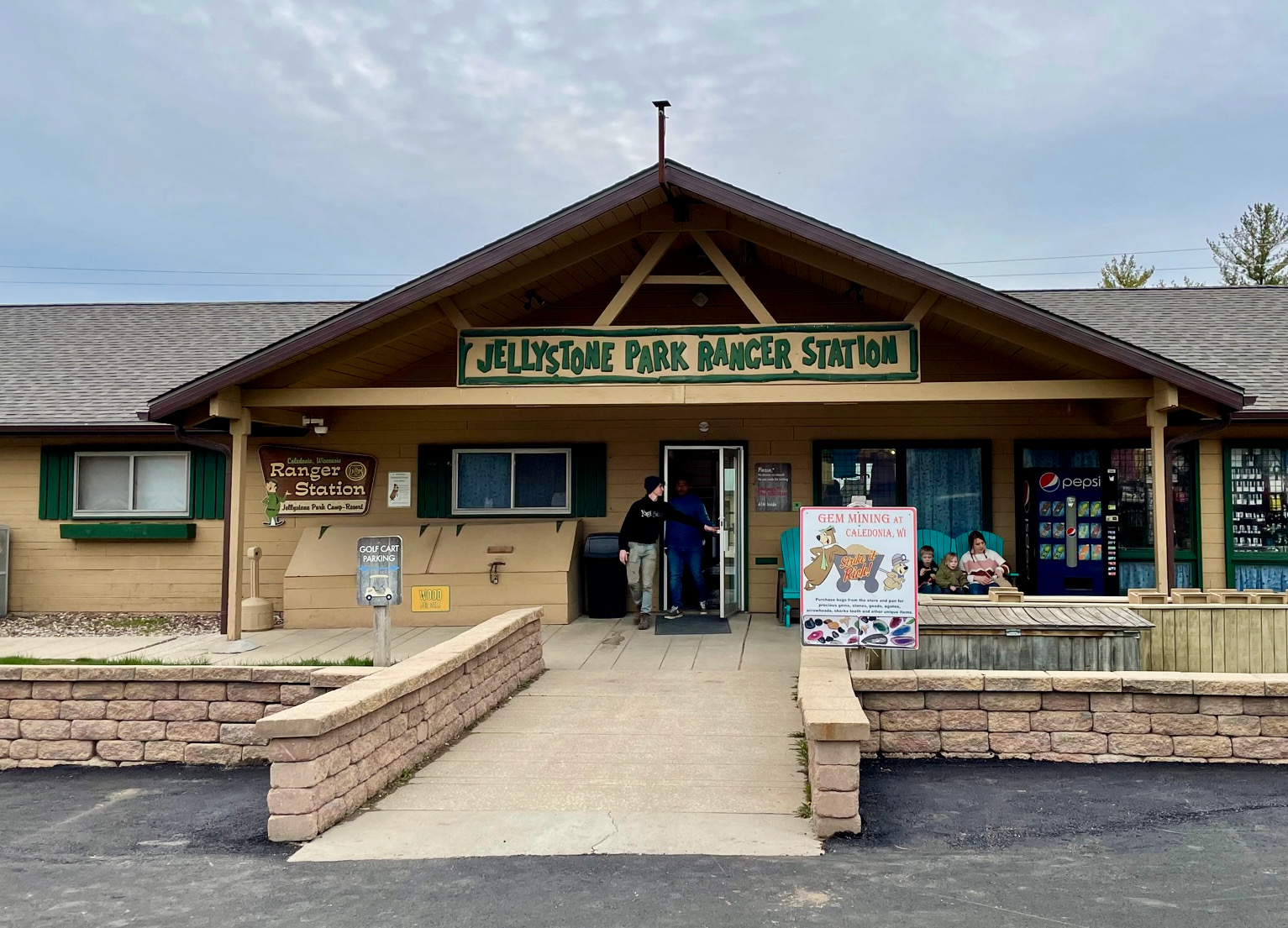 Luckily, we had a few hours of dry weather when we first got to the park so we decided to cruise around in our golf cart and settle into our cabin later. This was one of my favorite parts of the adventure. I'm totally nosy curious and I love checking out other people's camping set-ups.
We were delighted by all of it: strings of tiki lights, blazing fires, pink flamingos staked into the ground, carved wooden signs announcing the family's name, RVs with special "bar compartments" built right into the side of the vehicle, piles of bikes, glow sticks and the aromatic smells of campfires, pine sap and hotdogs cooking at the end of sticks.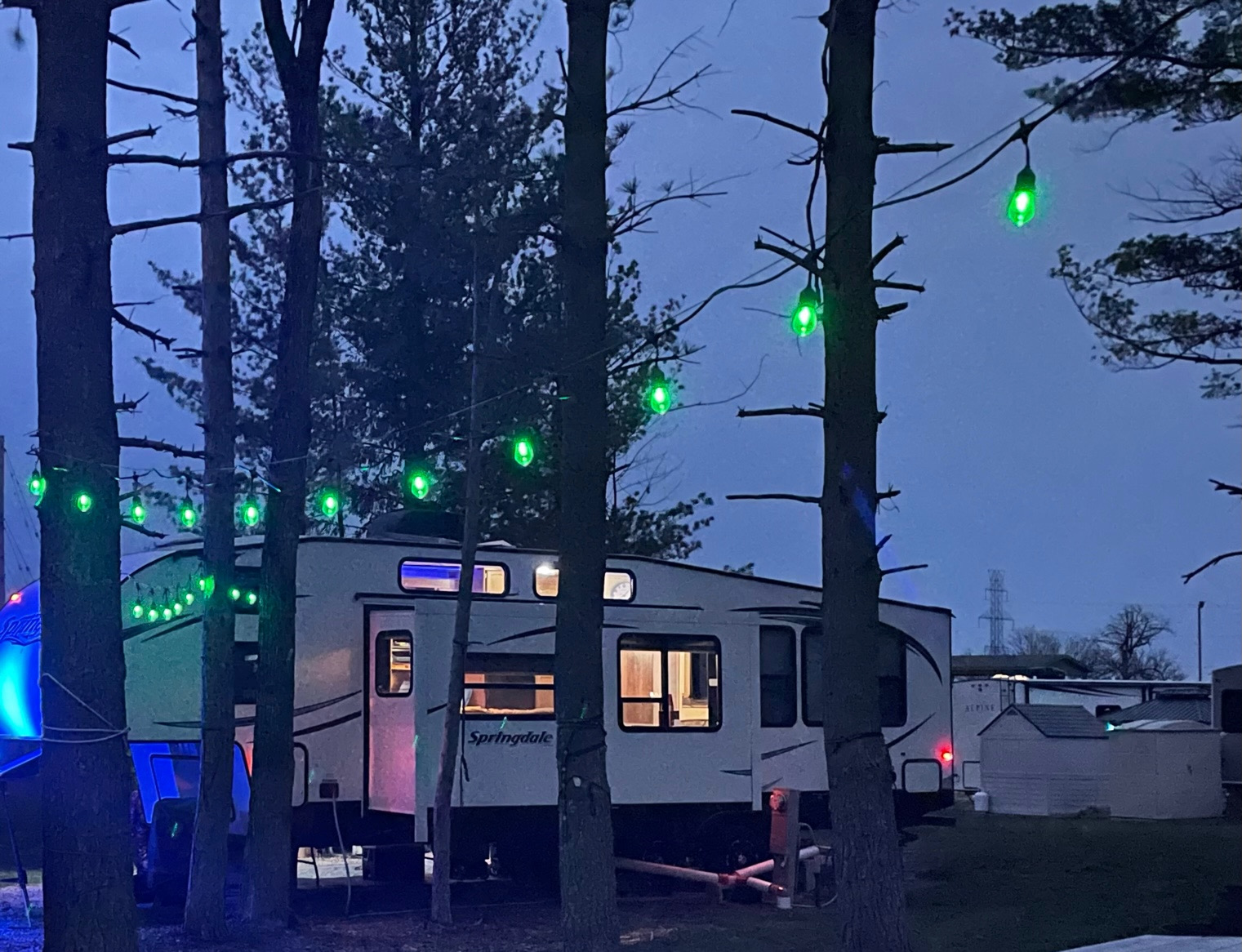 We waved at people who acknowledged us when rolling by and let be those who were digging the solitude. Jellystone is definitely a friendly place where people go to socialize, meet new people and enjoy their friends and family, but it's also a spot to commune with nature, catch your breath and enjoy the outdoors.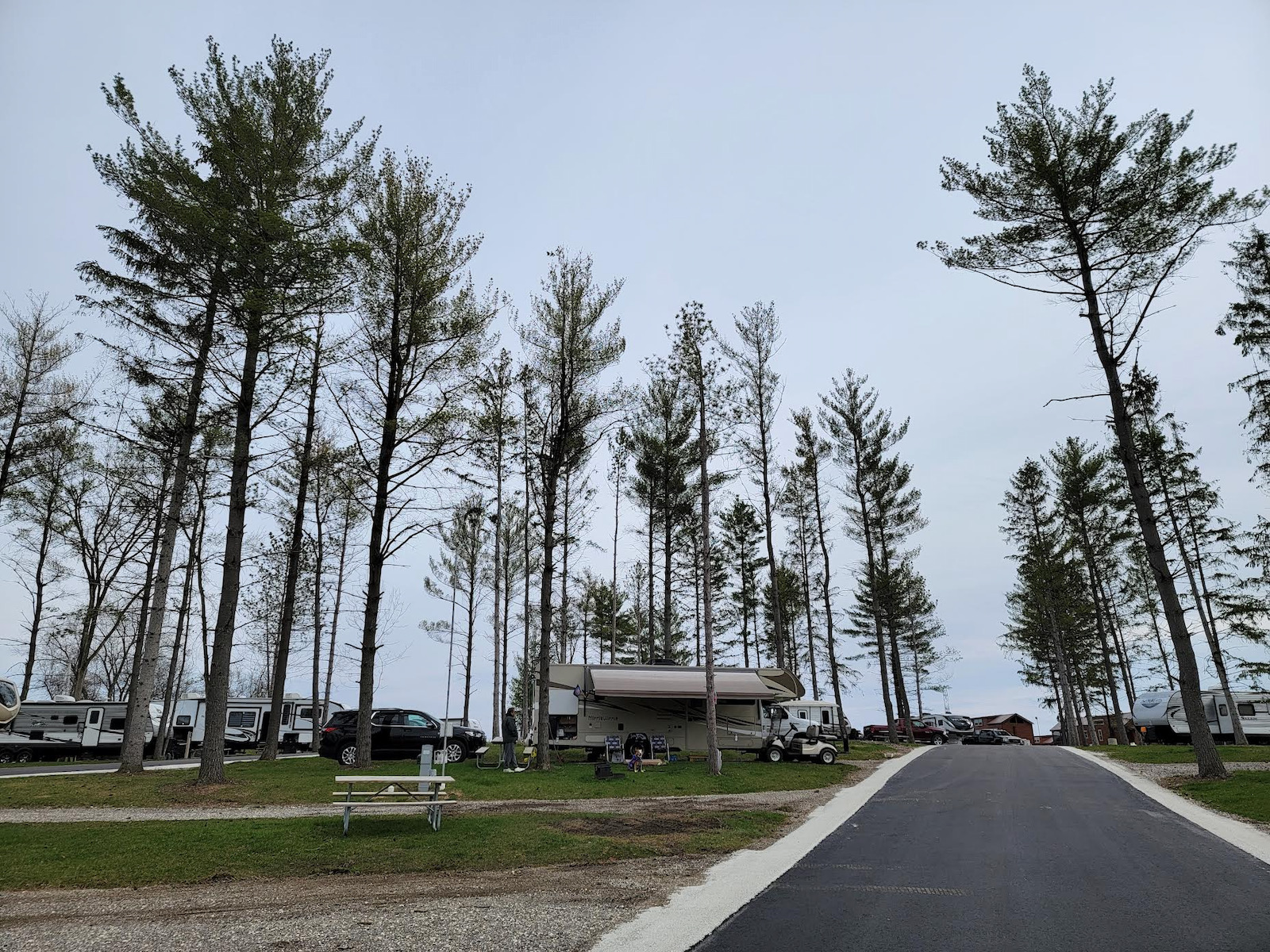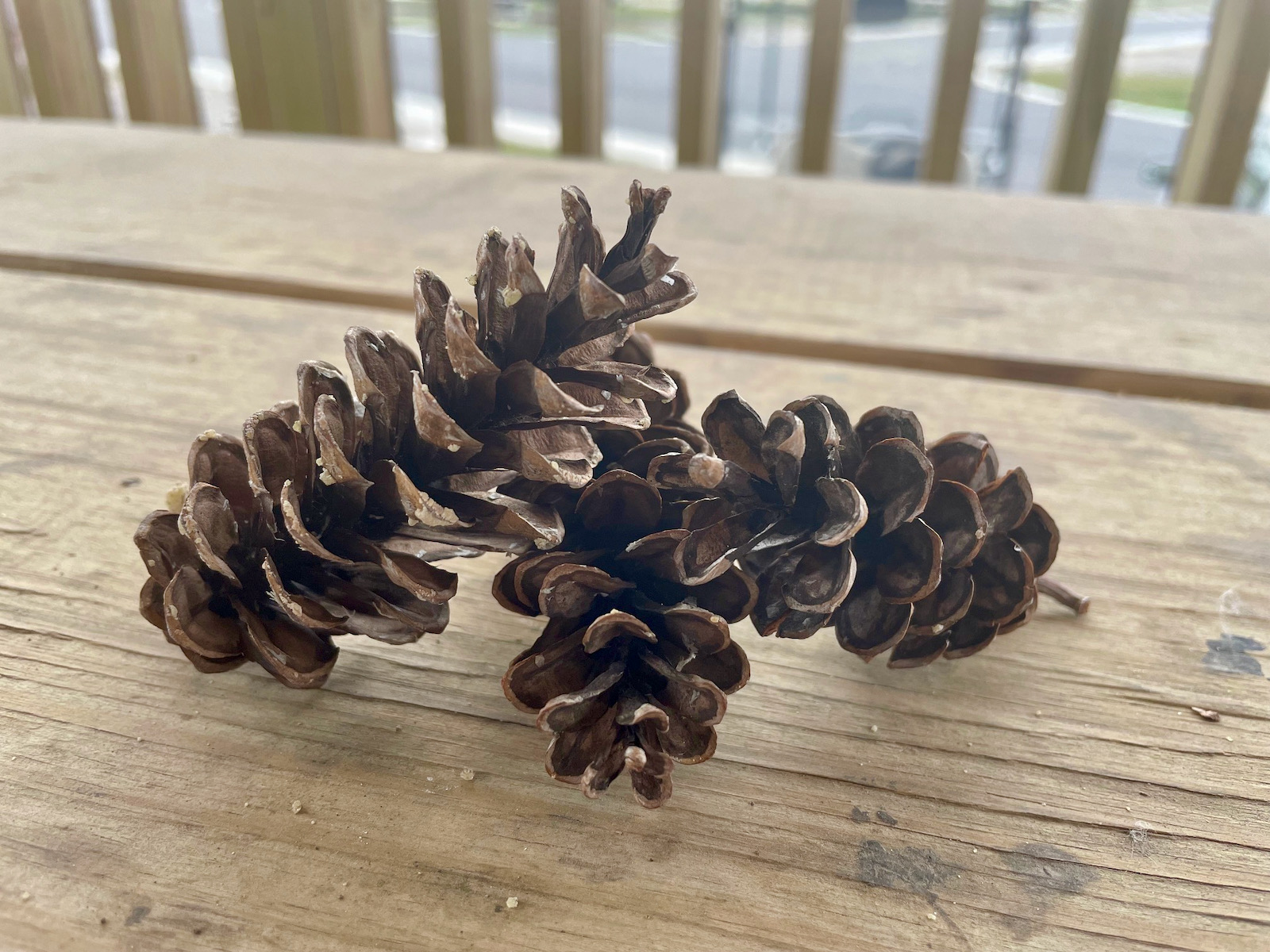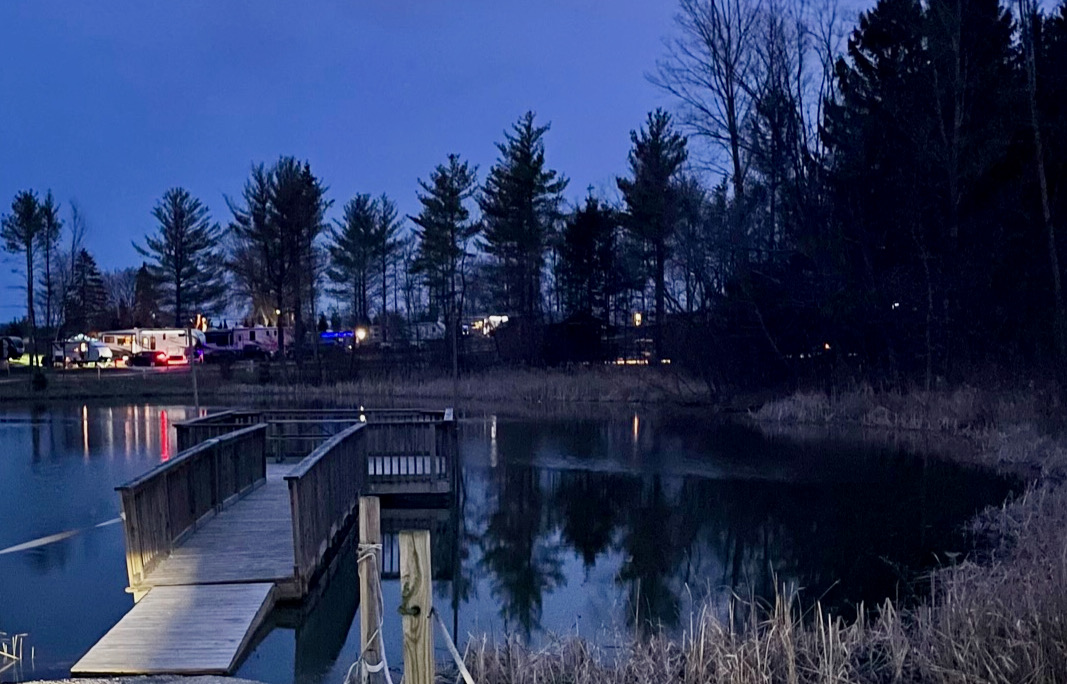 Our cabin was adorable, spotlessly clean and rustic-meets-modern. The open-concept kitchen featured full-sized appliances, including a dishwasher, which made cooking our own meals easy and fun. We brought the fixings for homemade pizza and the three of us enjoyed chopping up a zillion veggies together before masterfully creating our pizza masterpieces.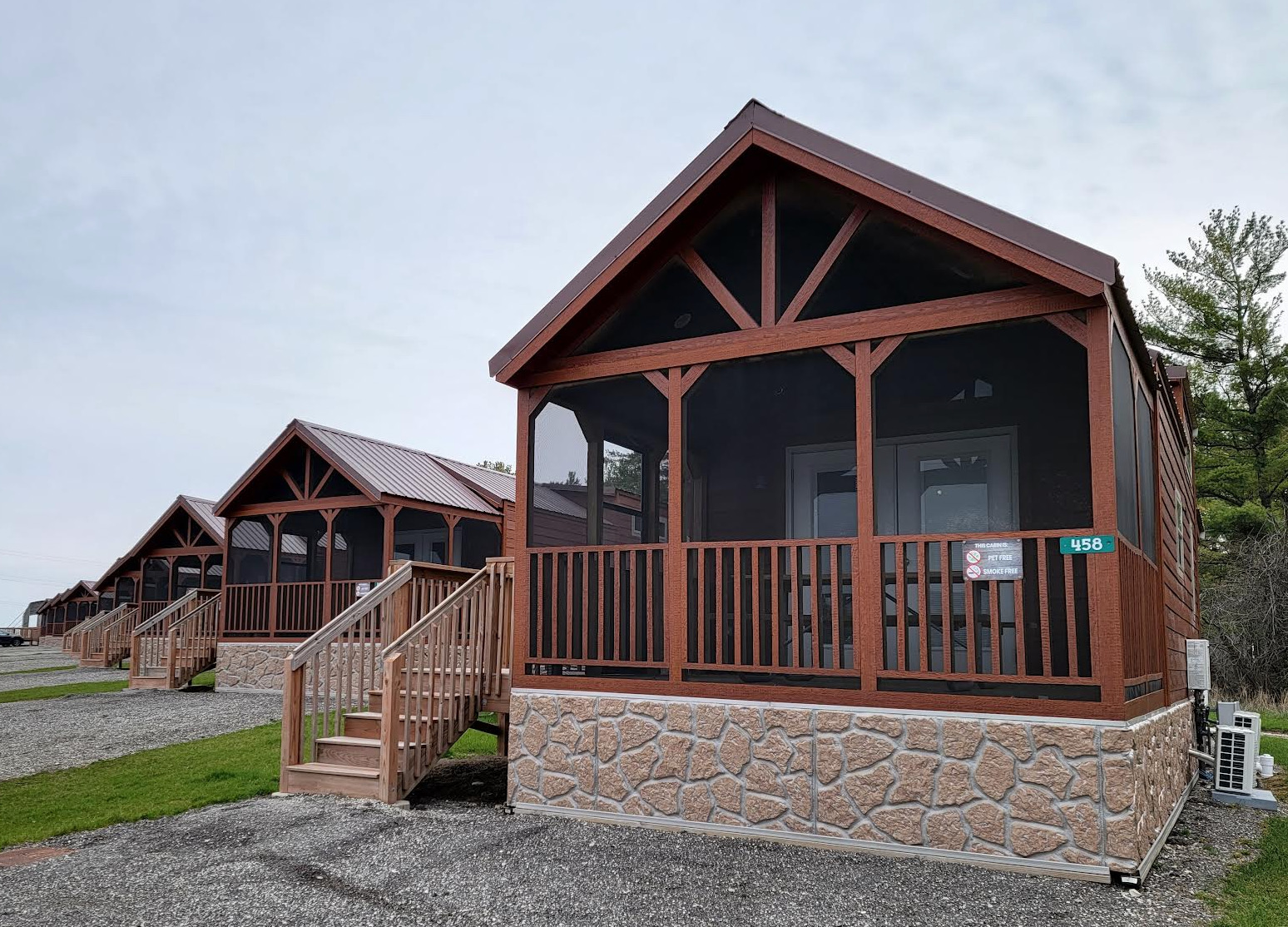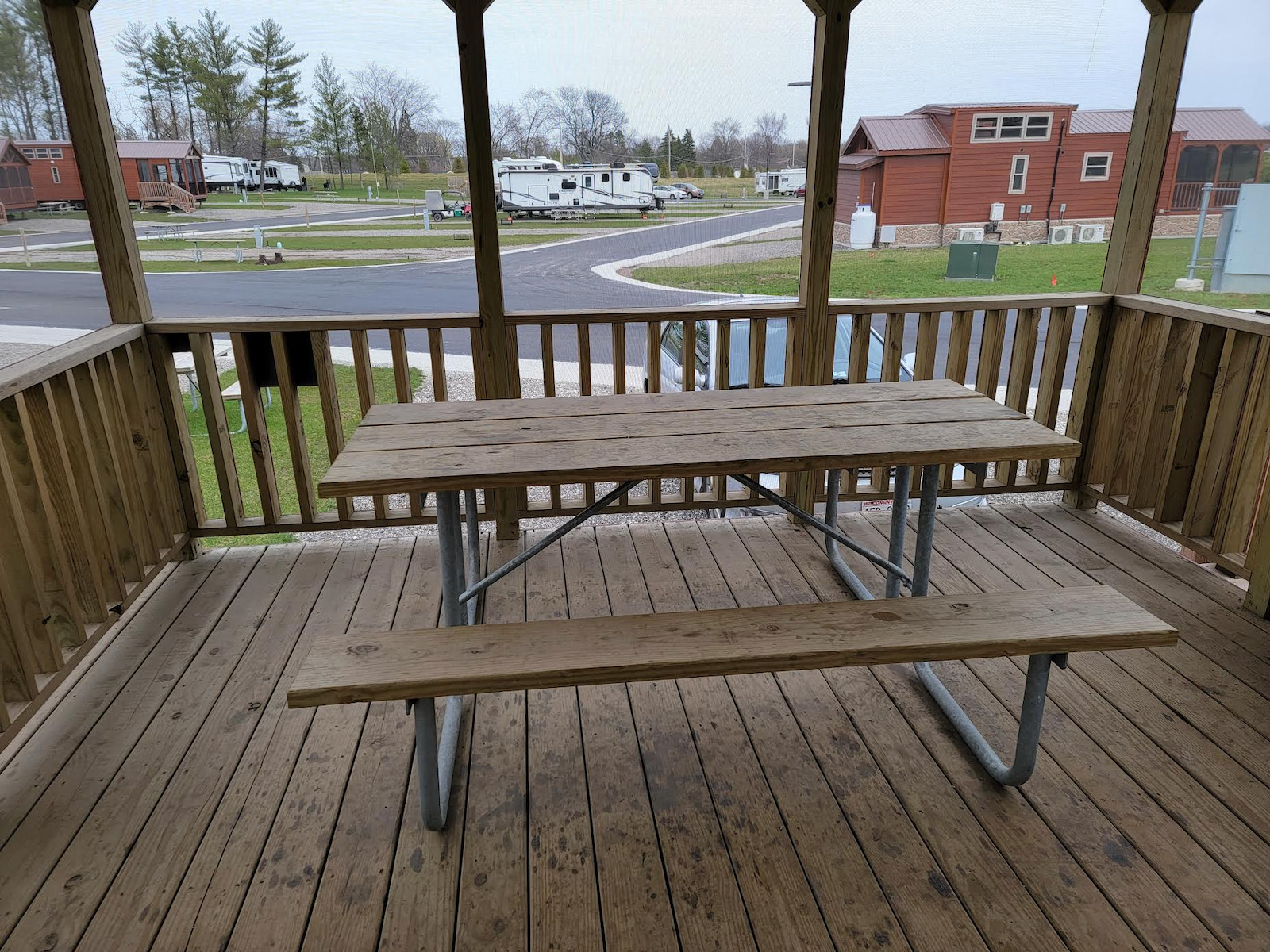 The kitchen has almost everything we needed in terms of utensils, plates and cups – we didn't mind drinking wine out of mugs – but we wished we had remembered coffee filters and hand soap. (Luckily we had hand sanitizer.)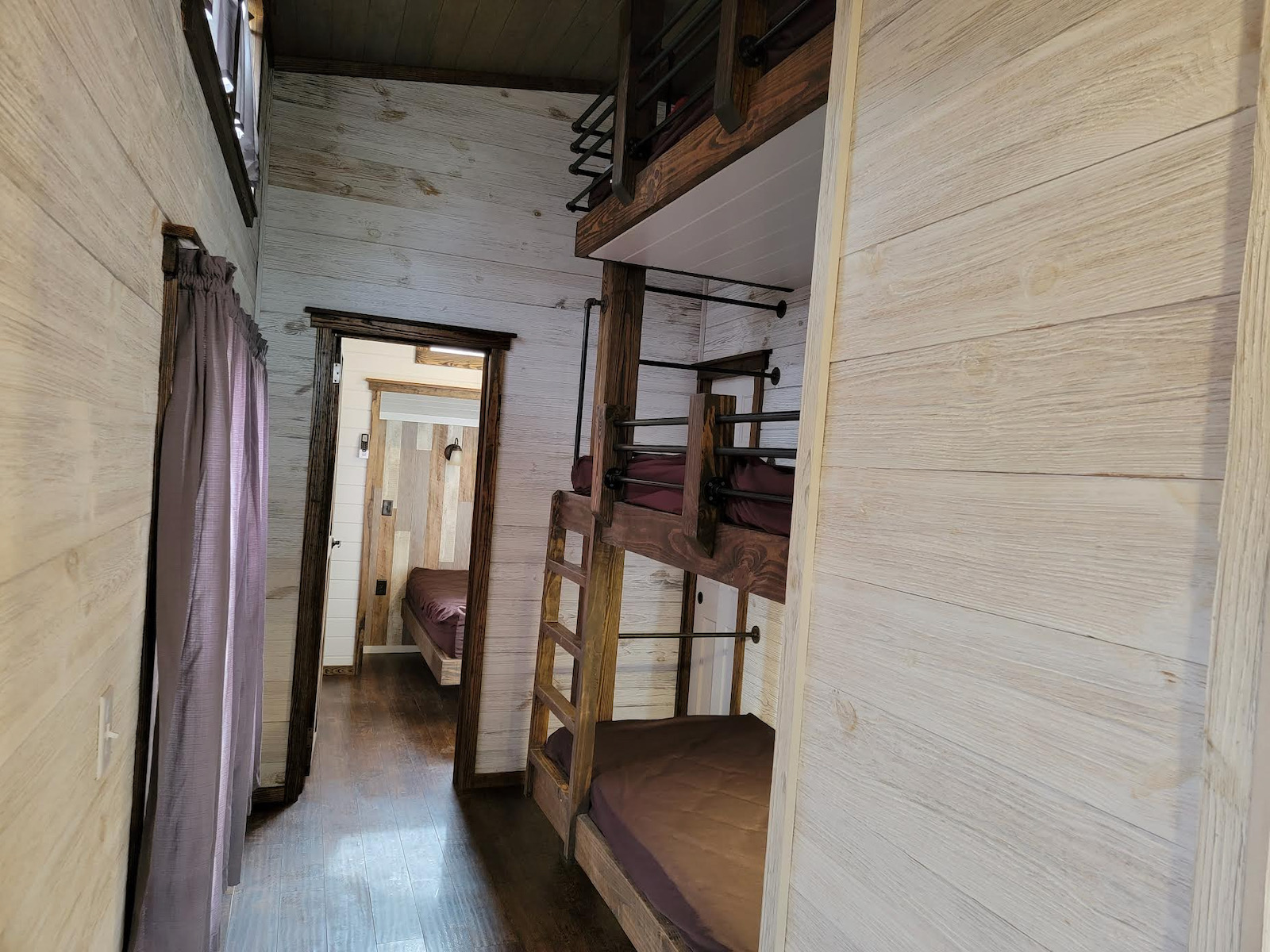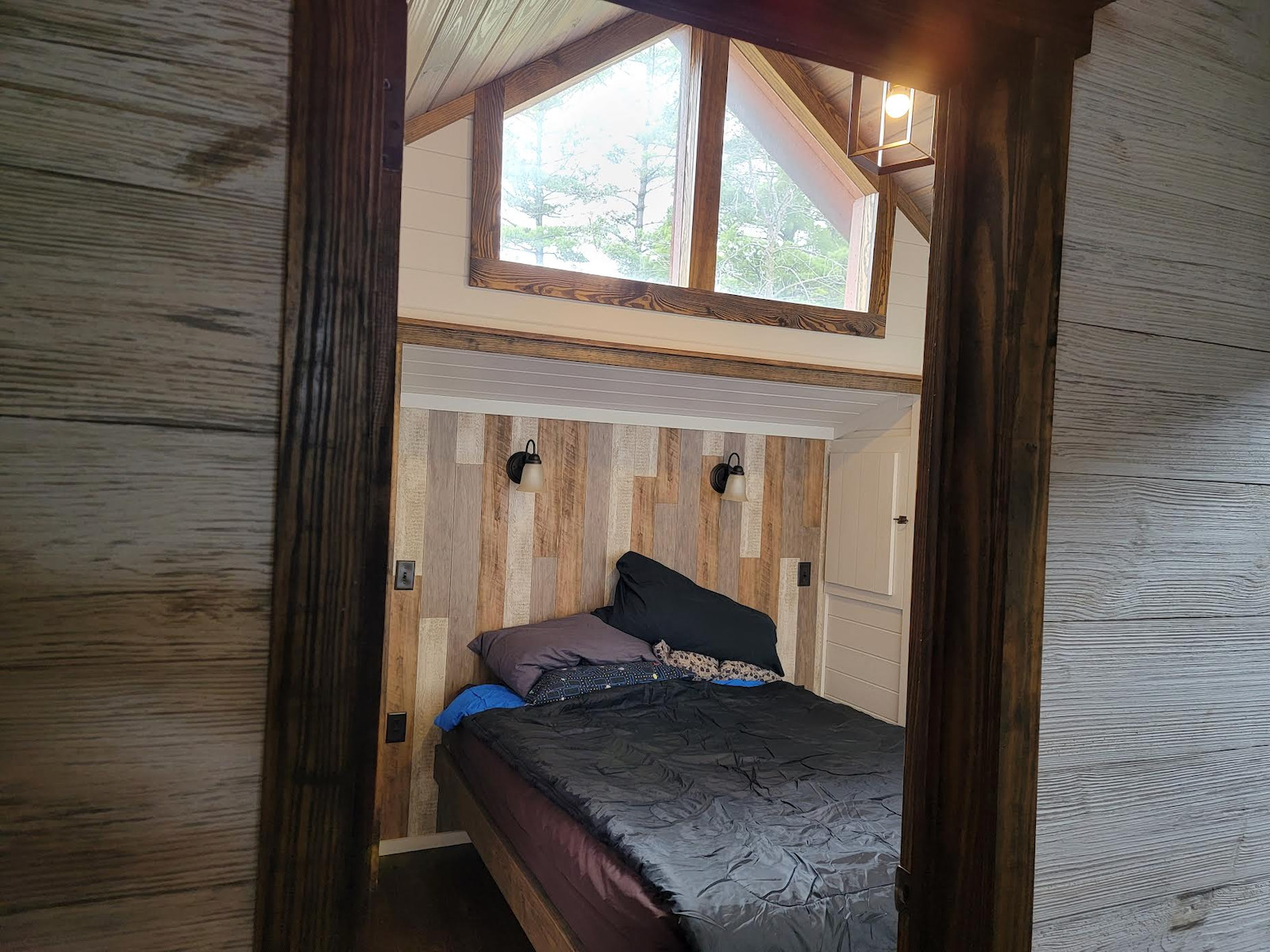 The sleep accommodations were wonderful. My 18-year-old son was enamored by the triple bunk bed and happy he didn't have to fight his away-at-college brother for the top bunk like would have happened a few years ago.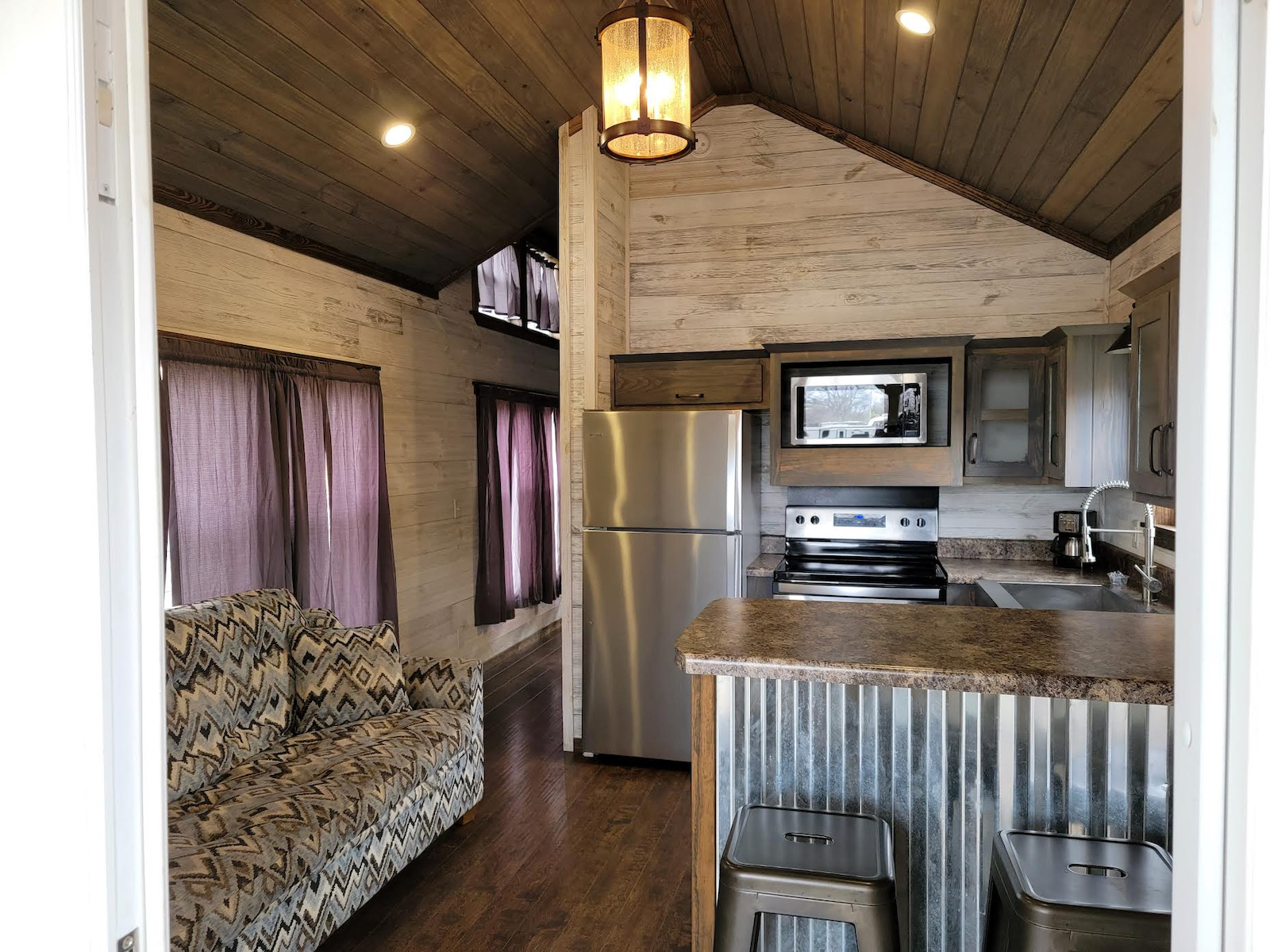 Our room featured a new Queen-sized mattress – we brought our own bedding as recommended – and we appreciated having control over the heating and cooling options right in our room. We slept well and woke up to showers, tea and cribbage.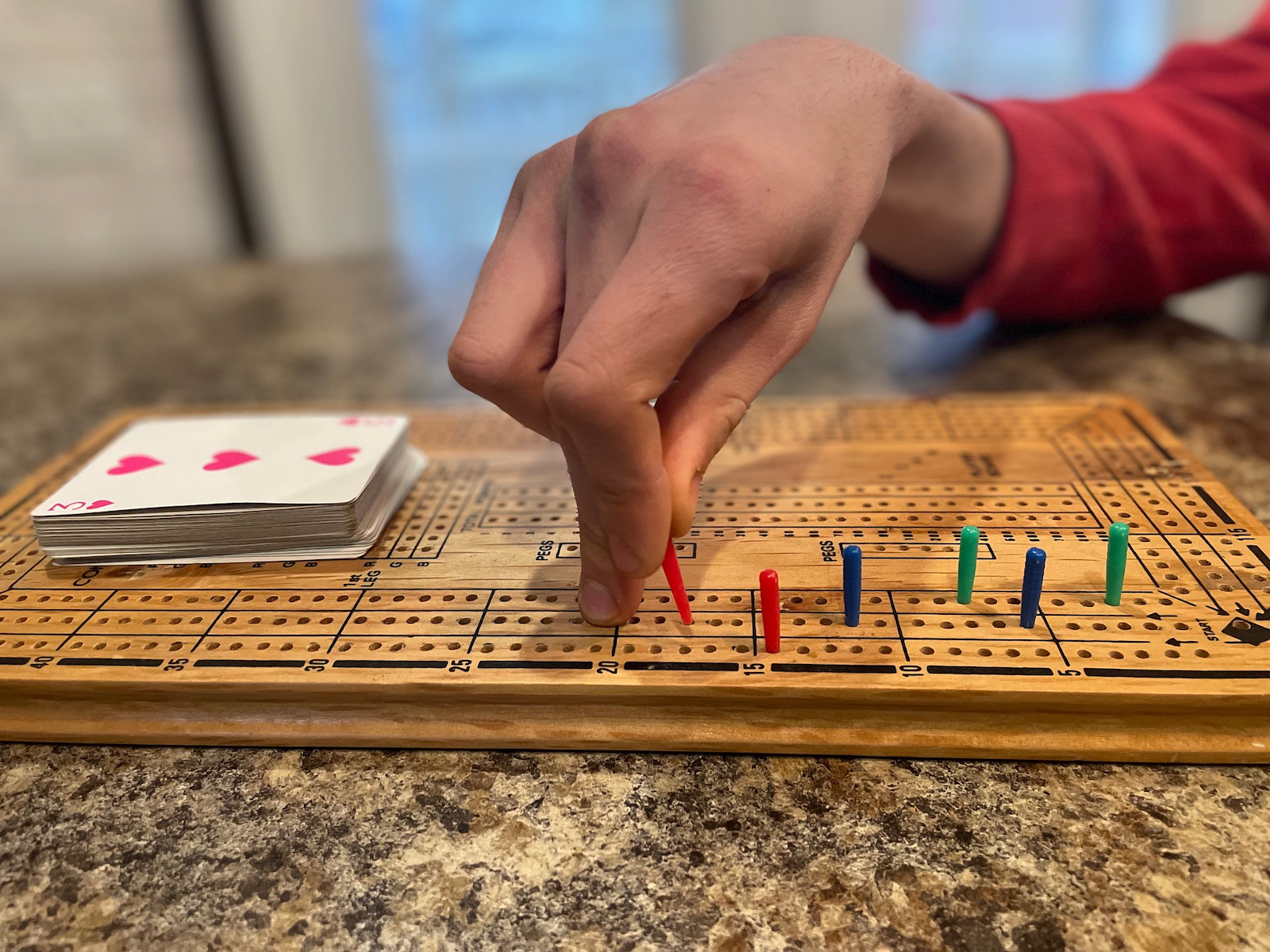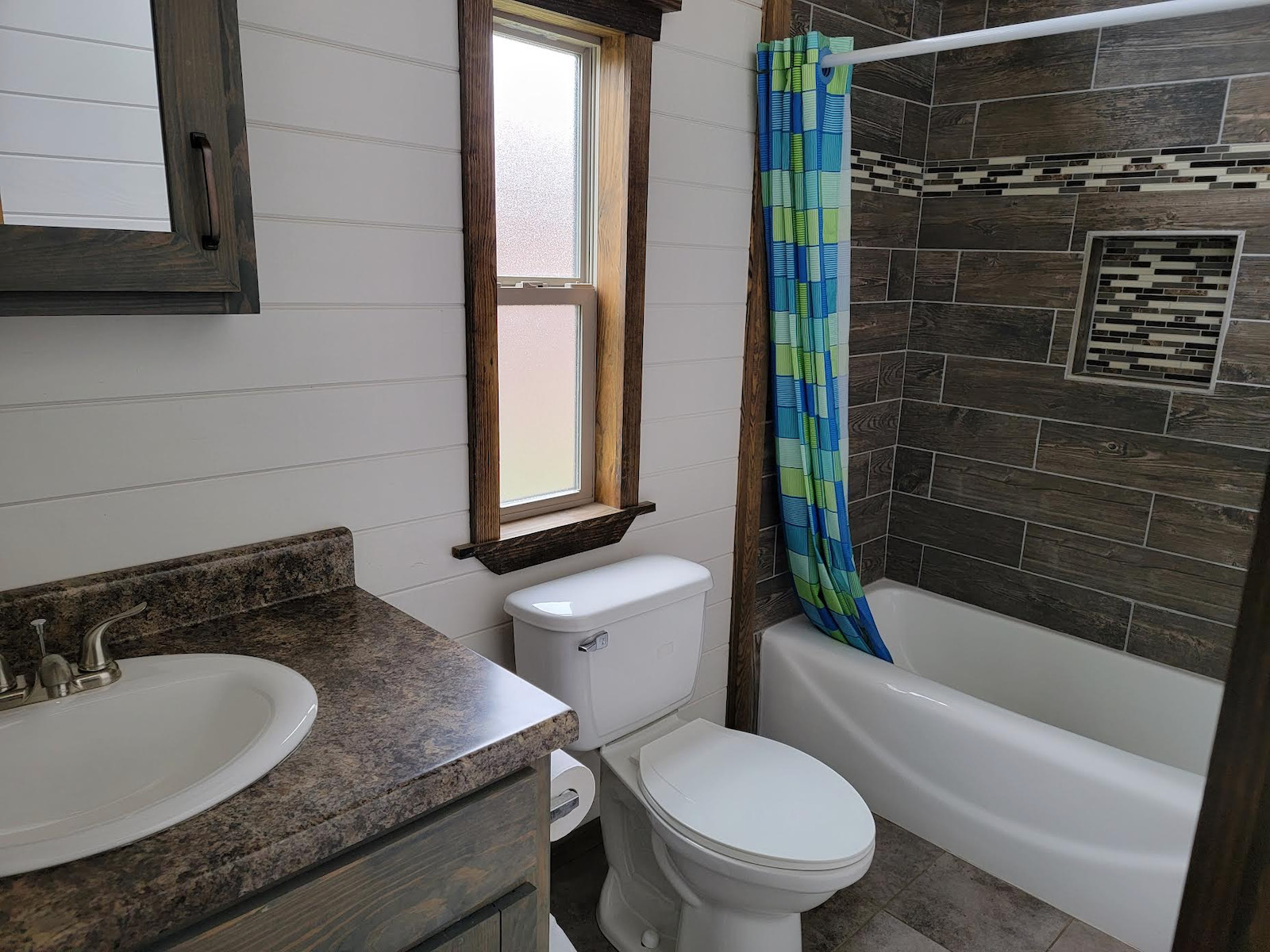 The bathroom was immaculate, with a nice tiled shower and strong water pressure.
But the stand-out feature of our weekend was the screened-in porch. Although the weather wasn't great, it was just warm enough to enjoy dinner and hang time at the picnic table on the large porch. Our pups spent lots of time lounging on it, too.
Mornings at Jellystone are bustling with kids and families "waking up the bears" at the Bear Cave, eating donuts in the cafe with Cindy and planning for the day's adventures.
Beginning Memorial Day weekend, much more will open at Jellystone Park, including Bear Paw Beach with its inflatable course, and a Northern Lights drone show. A new pool and recreational center is planned to open by the end of the summer.
Jellystone offers loads of programs and activities, including theme weekends like Heroes & Superheros, Hawaiian Luau and Christmas in July.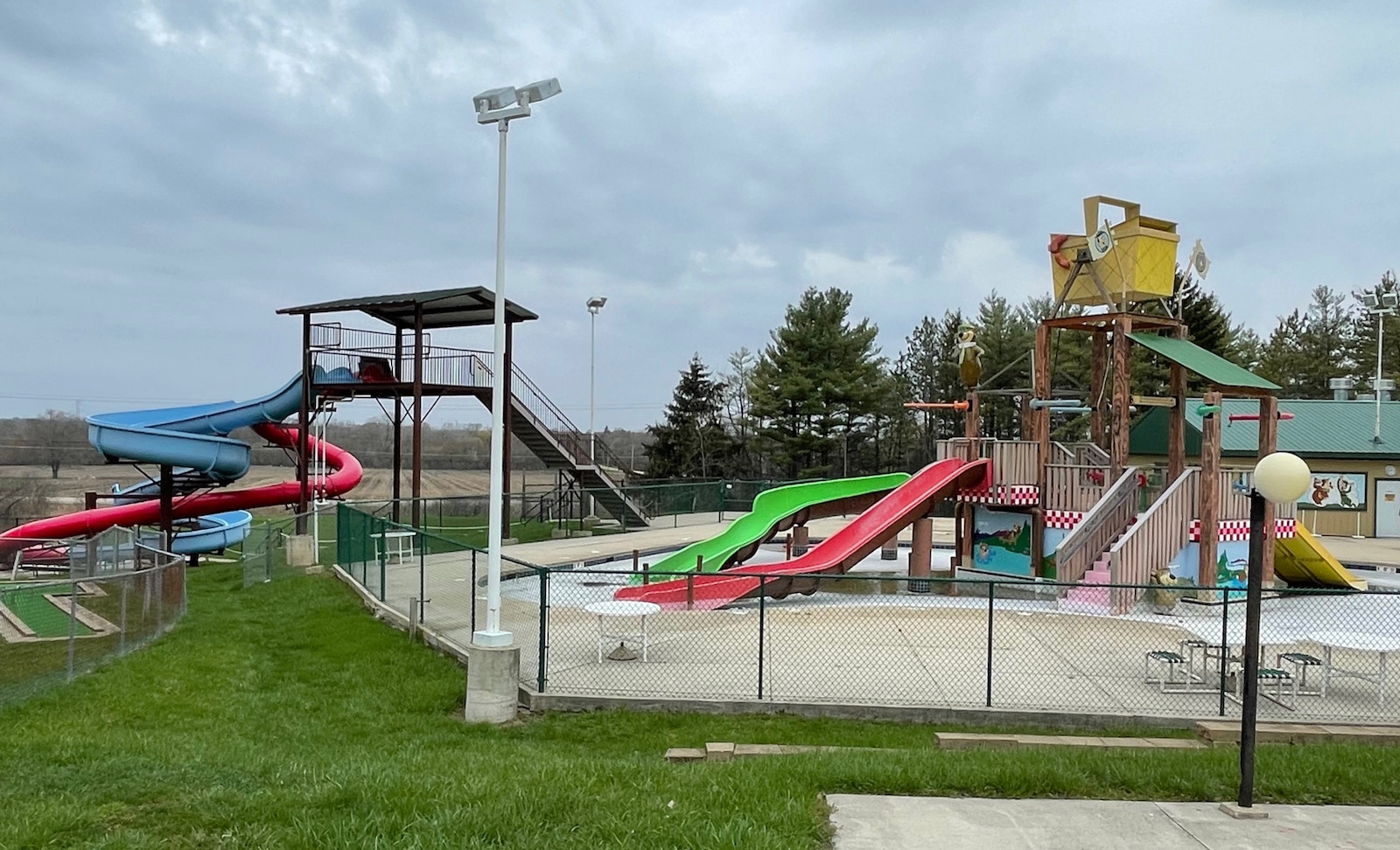 There is a lot more to see and do at Jellystone Park than we were able to access during our visit, but the peacefulness of the campgrounds, the friendliness of the other humans and the lovely accommodations made all of us a gaggle of happy glampers.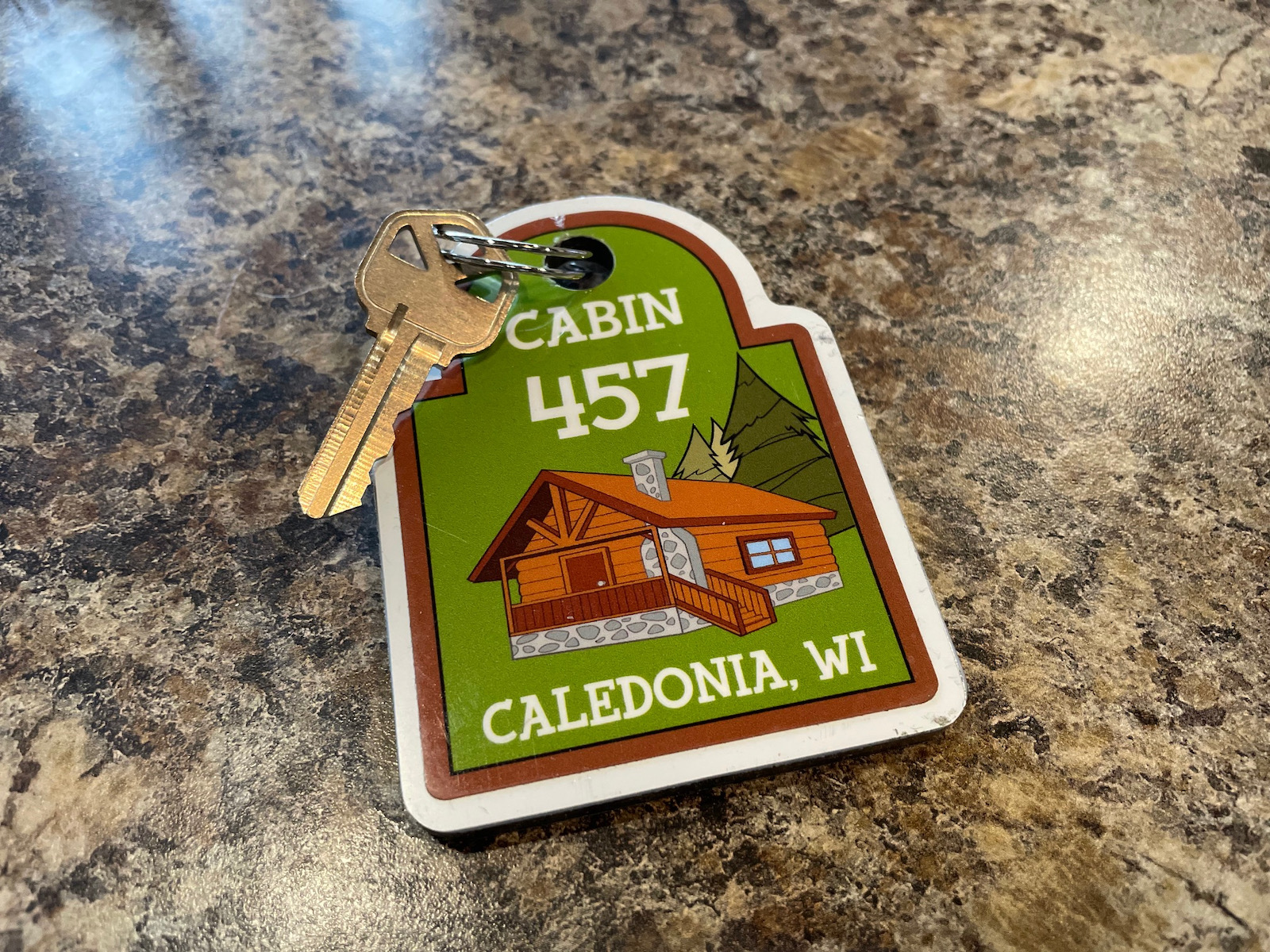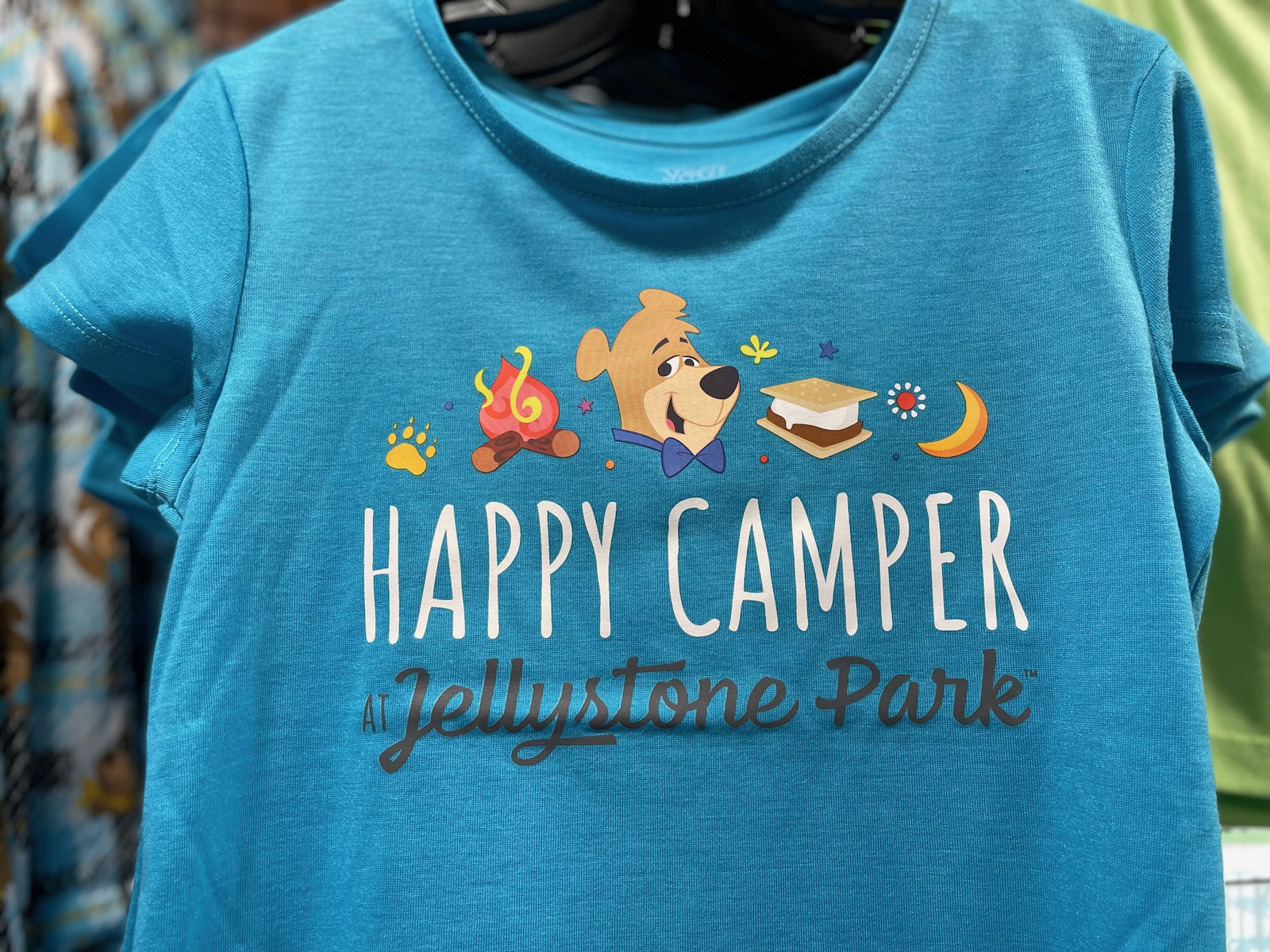 For more information about Yogi Bear's Jellystone Park in Caledonia, go here.

Molly Snyder started writing and publishing her work at the age 10, when her community newspaper printed her poem, "The Unicorn." Since then, she's expanded beyond the subject of mythical creatures and written in many different mediums but, nearest and dearest to her heart, thousands of articles for OnMilwaukee.

Molly is a regular contributor to FOX6 News and numerous radio stations as well as the co-host of "Dandelions: A Podcast For Women." She's received five Milwaukee Press Club Awards, served as the Pfister Narrator and is the Wisconsin State Fair's Celebrity Cream Puff Eating Champion of 2019.