These are challenging times for businesses, including restaurants and entertainment venues, many of which have been forced to furlough countless employees.
But the pandemic has also created fertile ground for cultivating chefs' creativity. Such is the case for Jerry's Kitchen, a nascent food business which is offering pick-up of a variety of inventive Latin-inspired and fusion dishes at Zócalo Food Park, 636 S. 6th St.
Behind the concept is Gerardo "Jerry" Guerrero, who launched the business with the support of friends and his father Erasmo Guerrero, a 20-year service industry veteran and banquet sous chef for Potawatomi Hotel & Casino. Both are members of the growing Chef Latinos Wisconsin group, which supports and elevates the stories and work of Latin American chefs and service industry personnel.
Gerardo, who landed his first job as a dishwasher at the Hilton Garden Inn, moved up quickly, taking on line cooking at the hotel as well as venues like the Milwaukee Art Museum, Dream Dance at Potawatomi Hotel & Casino, the Wisconsin Club and The Ambassador Hotel, where he worked under Chef Jason Gorman. He is currently the (furloughed) supervisor for the BMO Club at Fiserv Forum.
"When the pandemic hit, a friend of mine and I were furloughed," says Gerardo Guerrero. "And we decided that, even while we were out of work, we really wanted to keep doing what we were doing. So few people actually know about the food I cook, since I work mostly behind the scenes. So, I really welcomed the opportunity to get creative and cook more food for people."
Ultimately, they set out to launch the business on a very small scale, testing out new dishes and selling meals to friends, family and colleagues. But word traveled quickly.
"Before we knew it, people started sharing photos of their food on social media," he says. "As word got around, it wasn't long before more and more people were asking us about what we were doing."
Good food means loyal customers
As the weeks went by, Guerrero found that Jerry's Kitchen was attracting not only new customers, but loyal diners who ordered new dishes week after week.
So, they adjusted operations, moving from Erasmo's kitchen at Potawatomi to the commercial kitchen space at Zócalo. They also hired a friend to handle food delivery requests.
Menus have included a variety of scratch-made dishes including Korean BBQ wings, mango serrano wings, ramen, macaroni and cheese and brisket sliders with ancho chili aioli and pineapple cabbage slaw.
More recently, they've also offered chorizo-filled ravioli with poblano cream sauce and corn salsa, along with an exceedingly popular pernil sandwich featuring a Mexican telera roll filled with traditional Puerto Rican pork roast, heirloom tomatoes, havarti and avocado crema. The sandwich was served with a side of housemade plantain chips.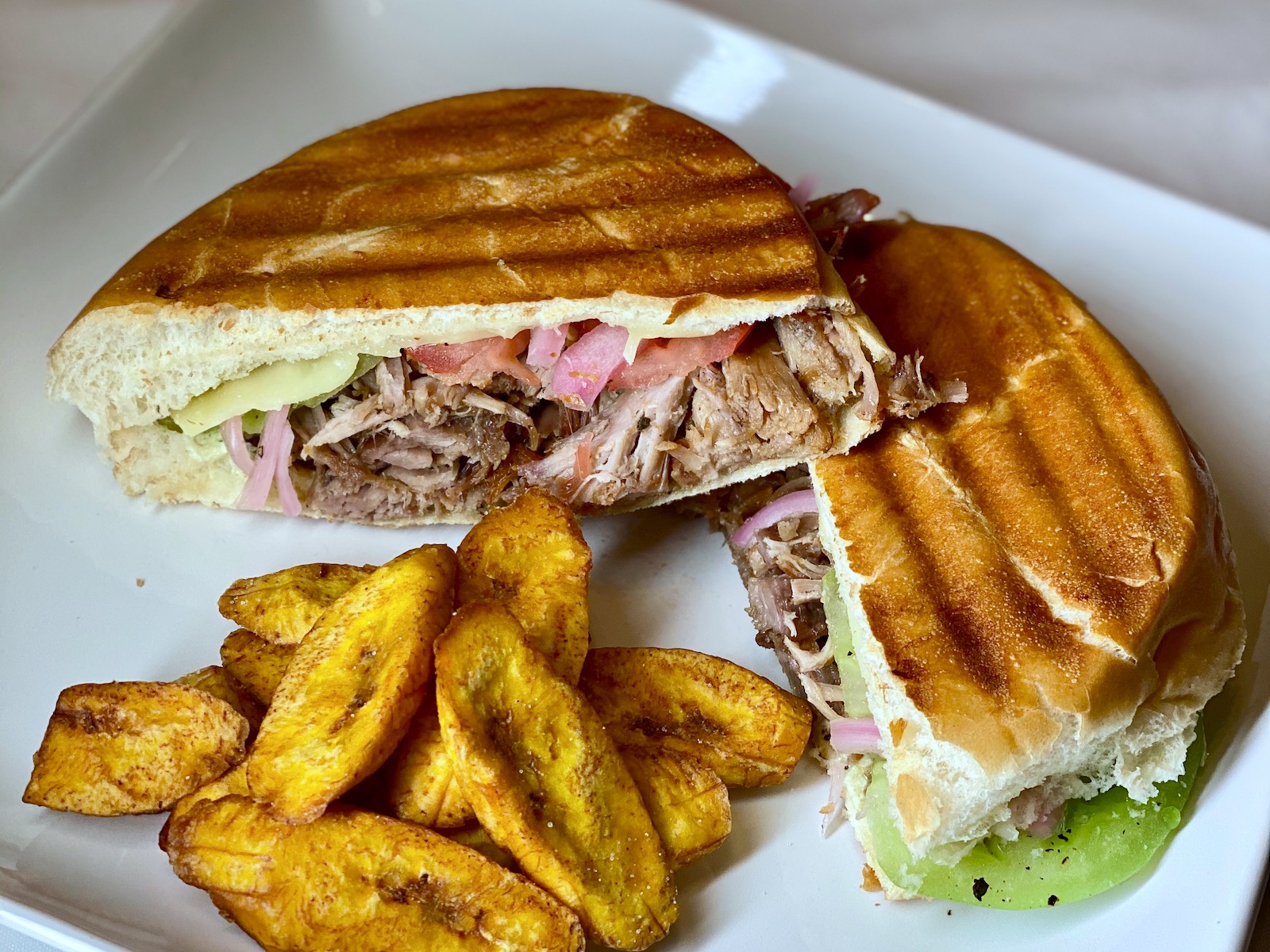 Currently, Guerrero is posting a new menu to his social channels about once every week or two. Customers can pre-order dishes via direct message and pay for them via Venmo. From there, customers will receive instructions on how to pick up their orders on a specified date and time in the parking lot of Zócalo Food Park in Walker's Point.
"This is just a project for now," says Guerrero. "But it's been working well. I've always wanted to start a food truck or a catering operation; but I always figured it would happen much further down the road. But, if this keeps going the way that it is, the next step for me would be to establish a food truck."
Guerrero says he hopes to release a new menu soon. Curious diners can keep an eye out by following Jerry's Kitchen on Instagram.
Lori Fredrich (Lo) is an eater, writer, wonderer, bon vivante, traveler, cook, gardener and girlwonder. Born and raised in the Milwaukee area, she has tried to leave many times, but seems to be drawn to this quirky city that smells of beer and alewives.
Some might say that she is a little obsessed with food. Lo would say she is A LOT obsessed with food. After all, she has been cooking, eating and enjoying food for decades and has no plans to retire anytime soon.
Lo's recipes and writing have been featured in a variety of publications including GO: Airtran Inflight Magazine, Cheese Connoisseur, Cooking Light, Edible Milwaukee, Milwaukee Magazine and the Milwaukee Journal Sentinel, as well as on the blog Go Bold with Butter, the web site Wisconsin Cheese Talk, and in the quarterly online magazine Grate. Pair. Share.