Jessica Jallings Gomez calls Delafield home, but as a national news correspondent, her television work rarely takes place in Wisconsin. While she also runs a media production company with local clients, her career has taken – and continues to take her all over the country. And it started back in college at UW-Madison.
Jallings Gomez was born in Madison, but grew up on the east coast before returning to Wisconsin her junior year of high school. After stints at television stations around the state and country, she joined WISN-12 in Milwaukee as a weekend anchor. But what she did next was much more exciting.
Now, she is a correspondent for the syndicated news magazine "Matter of Fact," with Soledad O'Brien. The Heart Television produced show averages about 1.5 million viewers and is broadcast on 195 television stations around the country.
In between reporting trips to the Mexico border and a shoot for her business, Story Place Productions, we caught up with the Lake Country single mom of two for this latest Milwaukee Talks.
OnMilwaukee: When you came up in TV, you worked in a couple different markets before landing at WISN. Where did you start?
Jallings Gomez: I started at WISC-TV in Madison during college. I took the semester off of my senior for a fantastic internship there and when I graduated, was offered a part-time producing and reporting job. From there, I did a year in Green Bay and then thawed out in Florida for nearly four years. That was so much fun.
What made it so fun?
Let's be honest. All the crazy news happens in Florida, doesn't it? Seriously though, I was young, single and focused on my career. I got to cover some great stories. There were three Navy bases there at the time and I was assigned the military beat. I got to trap and get catapulted off an aircraft carrier. I was on a U.S. nuclear Trident submarine. I did a ton of other cool stories, too. A piece I did about a 12-year-old boy genius ended up on the Today Show and NBC Nightly News – so that was a highlight. And I was there during the 2000 president election, so I covered my share of hanging chad stories.
How did you wind up back home?
I had extended family here, including my grandparents, who were pretty instrumental in raising me. They were getting older at the time and I wanted to be closer to them. I was offered a few jobs elsewhere but when WISN-TV offered me the job, I knew I had to take it. I feel like throughout my life, something keeps drawing me back to Wisconsin.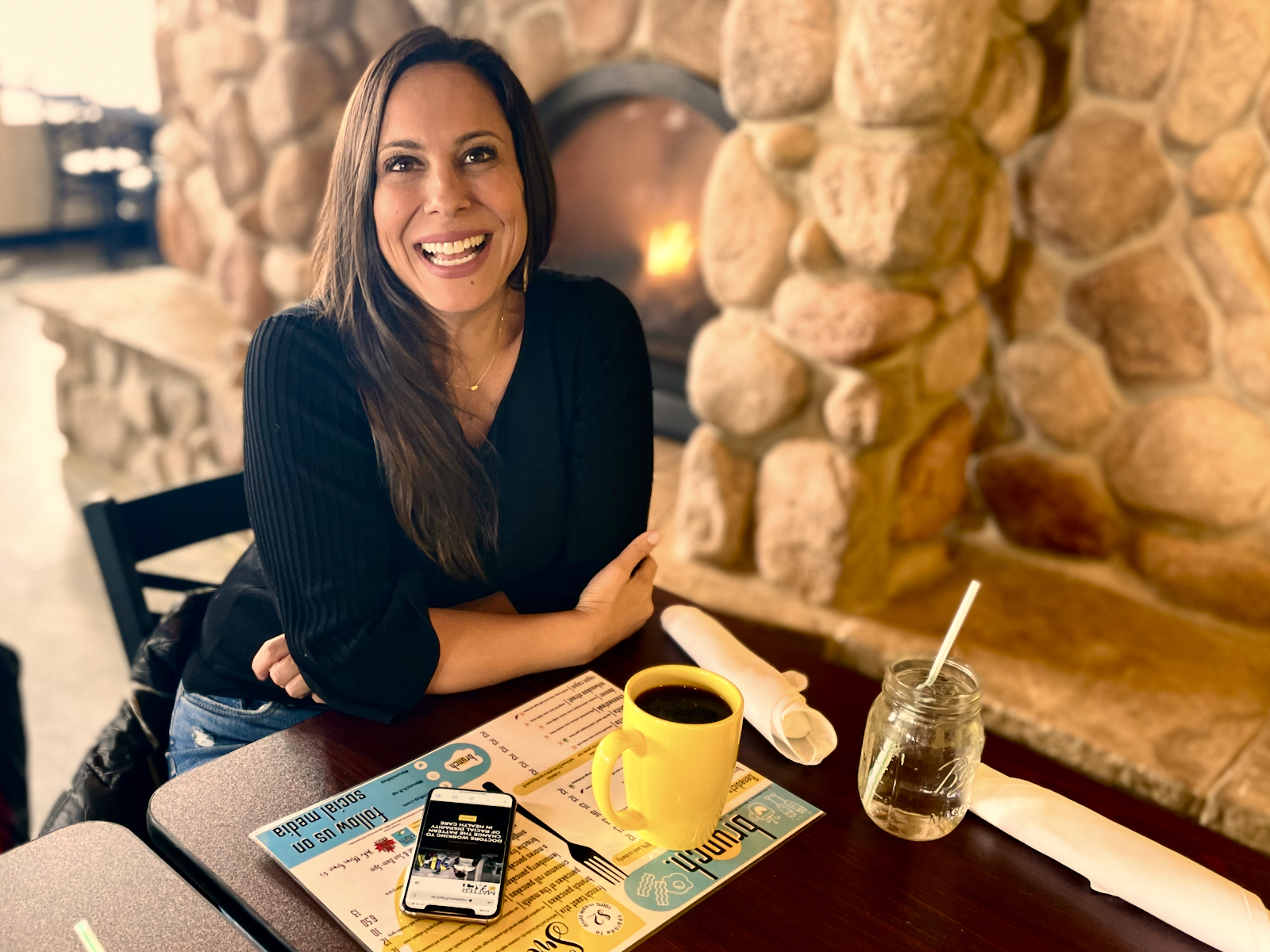 Why did you leave WISN?
I was just about to get married when my contract was up. I was 32 at the time and knew I wanted to start a family. They offered me another three-year deal doing what I was doing: weekend anchoring and reporting. But I knew I couldn't live up to that at the time. So, I didn't renew. It was a tough decision. It's a hard business for women who want to start families. I think they are getting better about it now, being much more flexible. I wrestled with decision to leave news back then for a while but it turns out that it was the best thing I ever did.
Why?
Well, it forced me to re-invent myself and that eventually took me to where I am today. I am now doing what I always wanted to do, traveling the country and telling great stories – really on my own terms, through my own business. I am not sure that if I stayed, I would be doing this.
But after you left news, you also started your own video production business, right?
Yeah, I started a small media production business while my girls were young. At the time, few companies had video on their websites. The videos they were doing had to fit into 30- or 60-second commercial time slots and cost a fortune. I took the storytelling and interviewing skills I learned in news and applied it to the work I still do for businesses or nonprofits but at a fraction of the cost. For example, ProHealth Care took a chance on me back then and now, 11 years later, we are still producing their physician profile videos. I feel like they are the best in the market because we try really hard to make them compelling through good storytelling. Everyone has a story to tell. Finding that inspirational moment, sense of humor-or something relatable that prospective patient can connect with is key.
So how did you wind up back in news? "Matter of Fact" is owned by Hearst Television, which also owns WISN.
Yes, a colleague of mine at Channel 12 was the EP at "Matter of Fact" and asked if I would help out. That was five years ago and I guess I am still helping out. It's been a great opportunity because I have been able to tap into incredible local crews – camera guys and editors – that I also use for my production business. They travel with me around the country for news and couldn't do it without them, they are so talented.
Tell me more about "Matter of Fact."
It's a small show but really growing ratings-wise. It's a political, issues news magazine show that dives a little deeper into conversations about things like politics, race, gender, equity and you know, issues of the day. But what's different is that we get more time to tell our stories and there's not a standard format, like local news. Each story can be told in its own way. Also, I feel like we often give a voice to those who don't always have a national platform to tell their stories. And quite frankly, they are stories that need to be told.
Do you generate your own story ideas or are they assigned to you?
It's a little bit of both. I think this past year during COVID I enterprised a ton of stories. There was so much news to tell between the pandemic and the election.
You recently walked across the border into Juarez, Mexico for a few stories. That sounds dangerous.
Yes, that was my own idea which "Matter of Fact" certainly didn't sanction. It's a dangerous place for journalists. But as a freelancer, I knew I would find a home for the stories I found there. I have been very interested in border stories. I think sometimes it's easy to get desensitized and we forget about the toll taken on human beings, a result of our national policies. We met a mom who has been separated from her children for three years now by the U.S. government while trying to ask for asylum. Another piece we did was about a family stuck at a shelter, waiting for their asylum case there for more than a year. It really hit me seeing their 14-year-old son, away from his friends, depressed. He dropped out of school at the shelter because he couldn't keep up. But his mom didn't want to take him back to his home country because her family had been targeted by gangs. I couldn't imagine my 14-year-old daughter having to go through that.
You also recently did a road trip across America for the show. What was that like?
This was one of my favorite pieces this past year. Hearst asked us to drive across a portion of America for their Listening Tour special, which streamed live on all Hearst platforms. We asked people where they see their place in America. When do they feel most or least American and why? It was fascinating and a little bit sad really, to see so many people, you know, feel disenfranchised. Each for their own reason, and it transcended race, politics, gender. The one underlying theme was that we, as a country, need to do less talking and more listening. So many people, on all sides, don't feel heard.
I've noticed that you're almost never in these pieces. That struck me as an unusual for someone who has been in front of the camera for so many years.
Andy, it's high definition and I am 48. Less is more, as far as I am concerned. I kid … there is a time and place for that, but most of these stories are features and I am focusing on the people they are about.
Is it hard to tell a balanced story when Soledad is very open about her political views?
Really, I focus on my job, which is trying my best to tell objective stories from all perspectives. I also think there is certainly a difference between being open about your political beliefs and being an advocate for truth, or justice. There has been so much blatant misinformation spread over the past four to five years, that it is up to journalists to call a spade a spade.
Do you think that tribalism in news consumption is a bigger issue than it was when you were coming up in the business?
Yes, and I think it's been so damaging. We saw it during the pandemic, the election, the insurrection at the Capitol. Super intelligent, kind people somehow get sucked down a rabbit hole of misinformation and unchecked facts. They see a video with so called "experts" or an article that has no basis in reality, then find a whole bunch of other people who agree with it, and all of a sudden it's, in their mind, fact or news. I am not sure people understand the checks and balances journalists have to go through to confirm a story. Not saying the mainstream media is perfect, it's not by any means. We can all do better. But for example, if you are complaining about biased news and then spreading misinformation or have Fox News on 24/7, you're part of the problem.
I've heard you described as a Delafield socialite. Are you comfortable with that?
I don't know, you're the only one who has called me that. I don't make enough money and don't get to lunch with my friends enough anymore to be called that. I am a single mom with teenage daughters, just trying to keep my head above water on most days. That said, I have been very fortunate in my life and career to be where I am at the moment.
Andy is the president, publisher and founder of OnMilwaukee. He returned to Milwaukee in 1996 after living on the East Coast for nine years, where he wrote for The Dallas Morning News Washington Bureau and worked in the White House Office of Communications. He was also Associate Editor of The GW Hatchet, his college newspaper at The George Washington University.
Before launching OnMilwaukee.com in 1998 at age 23, he worked in public relations for two Milwaukee firms, most of the time daydreaming about starting his own publication.
Hobbies include running when he finds the time, fixing the rust on his '75 MGB, mowing the lawn at his cottage in the Northwoods, and making an annual pilgrimage to Phoenix for Brewers Spring Training.