Atlanta Braves play-by-play announcer Jim Powell knows a lot about the upcoming Brewers-Braves playoff series. That's because before he joined the team in 2009, he spent 13 years in Milwaukee, alongside Bob Uecker. He knows this franchise, and he knows Craig Counsell, having watched the skipper as a player.
And he thinks fans are in for a good series.
But Powell is also not shy about admitting how much he enjoyed his time in Wisconsin. Full disclosure: Jim is a long-time friend of mine, and I've been lobbying him to return to the Brewers since the day he left. Let's just say that while Powell enjoys his career trajectory, in this business, he never rules anything out. He's a humble man, but his star is rising: In 2020, he was inducted into the Georgia Association of Broadcasters Hall of Fame as the youngest member ever. And he has expanded his resume by calling college football and basketball games, too.
We caught up with Powell from Atlanta before the Brewers were set to take on the Braves at American Family Field on Friday afternoon. As usual, he had plenty of insight on the game within the game, but also what it was like working alongside Ueck.
And, I even got him to speculate just a little about the chances of ever seeing him back in the Brewers broadcast booth. But just a little.
OnMilwaukee: We've been friends now for 20 years, which makes me feel old. Looking back at our last interview before you left Milwaukee after the 2008 season, I realize that you spent the most time calling Brewers games on the radio than anyone other than Bob Uecker. Is that right?
Jim Powell: I worked with Bob longer than anybody else by a year over Pat Hughes. I don't really like to talk about achievements or whatever, but that one is the achievement of a lifetime, to be able to tell people that I had the opportunity to work with Ueck longer than anybody else, and he's had so many great partners. It just worked out this way. But that's, to me, something I'm very, very proud of.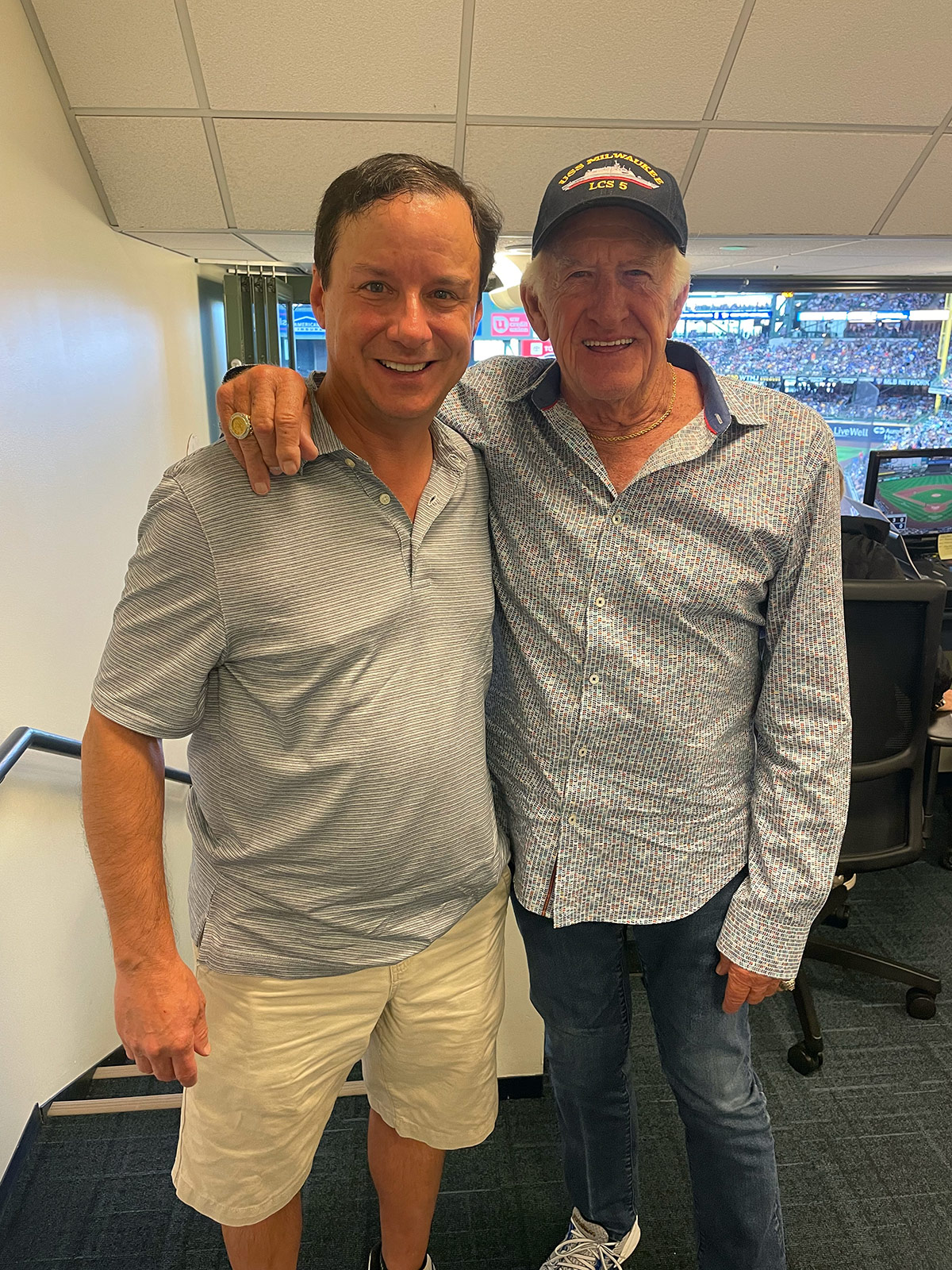 But what I didn't realize was that you've now spent as much time with the Braves as you did with the Brewers.
Yes, 13 years in Milwaukee and now 13 in Atlanta.
So you witnessed a whole bunch of bad Brewers baseball, and then you saw a little bit of good Brewers baseball.
It's true, but I really think that last year, in my mind, made up for all the bad baseball. And we also had what I felt were some great years, where we could see the Brewers' Minor League system, they finally put the emphasis on developing their own talent, and you could see the players coming.
I'll never forget that exhibition game at Miller Park, where the kids got to come and Corey Hart hit a home run. And people were just going crazy because these Minor Leaguers were getting close to the Major Leagues. And of course, once they made it to the Major Leagues, there was no more bad baseball after that.
Yeah, I remember that game. People got really excited about it because it just had been so long since Brewers fans had any hope.
Absolutely. It's one thing if you cobble together a team of mercenary players, for lack of a better term, from across the Major League, sign a bunch of free agents, and it happens to come together for you a year or two later. But those aren't homegrown guys. So to see it happen with the Brewers, and I've seen it over the years with the Braves as well. The Braves have a great tradition of developing players at the Minor League level. For the fans, I think that's the most gratifying way to watch baseball: "Those are my guys. That's my team. I've been following these kids since they were in A-ball." And so it's a different kind of pleasure in following that team at the Major League level.
And then you went to Atlanta, where the Braves have had a lot of success, including playing the in NLCS last year. Is it different to call games with such a good team?
Well, there's not as much airtime during the games to talk about the pending Minor Leaguers with the Braves. Pretty much every year that I've been in Atlanta, the team has been at least represented if not flat-out good. And I got to Atlanta when guys like Chipper Jones were still playing. I mean, I can't say enough nice things about Chipper, one of the best people as an all-time great player that I've ever been around. They were toward the end of their long run of success, where they literally were in the playoffs, won the division every year for 14 consecutive years. And I walked in the clubhouse. Nobody there knew me. I was from Atlanta, but they didn't know that. But Chipper Jones, from day one, treated me like I'd been there throughout the entirety of their run, the entirety of his career. And others did as well, the really class guys that were veterans on those Braves teams in my early years in Atlanta.
But no, It doesn't change really the game, itself. No matter what the situation is, I always call each individual game on its own rights. That's what the fans are tuned in for. They want to hear that day's game. So I do the best I can. But obviously, when the crowds are larger and the fans are into it and you get to the eighth and ninth inning and the game's on the line, and in this case, Craig Kimbrel comes out of the bullpen gate and the place goes berserk, that allows me to go to another gear as a broadcaster.
Were you a Braves fan growing up as a kid?
Absolutely. I fell in love with the game of baseball because of the Braves and because of their announcing crew, guys like Ernie Johnson, Skip Caray and Pete Van Wieren. They were my inspiration to want to be a baseball broadcaster. It really is a dream that I've been able to broadcast Major League games for almost three decades now and fulfill that dream. So I really honestly believe I was born to be a baseball broadcaster. It suits my personality. It suits my style. And I'm just grateful that I've been able to drive a car that I picked out.
We used to do our spring training interviews every year for many, many years back in Maryvale. You once told me, and I believed you, that you became a Brewers fan the day you came to Milwaukee. Do you still have a special place in your heart for the Crew?
Oh, I'm excited about this playoff series because it's my two favorite teams in baseball, and I can say that unequivocally. Emmy and I raised our family in Milwaukee largely and loved that aspect of it. I feel like all three of our girls are on two sturdy feet because of the type of community that they have there in Milwaukee. I love the teams. The people treated me great, both at County Stadium and at Miller Park. When J.J. Hardy was coming up with Rickie Weeks and Prince Fielder and Corey Hart, when those guys started to play in the Major Leagues – what a different experience it is for the fans to root for a team like that of homegrown players.
Well, I was the same way. I was right there with the fans. I loved that these guys had been developed by the Brewers themselves, and here they were in the Major Leagues, and here they were playing well in the Major Leagues, and ultimately, with the help of CC Sabathia, finally breaking the drought of non-playoff years. And I loved it as much as the fans did. So yeah, I can say unequivocally, this is a playoff series of my two favorite teams in baseball, and I can't wait to watch it.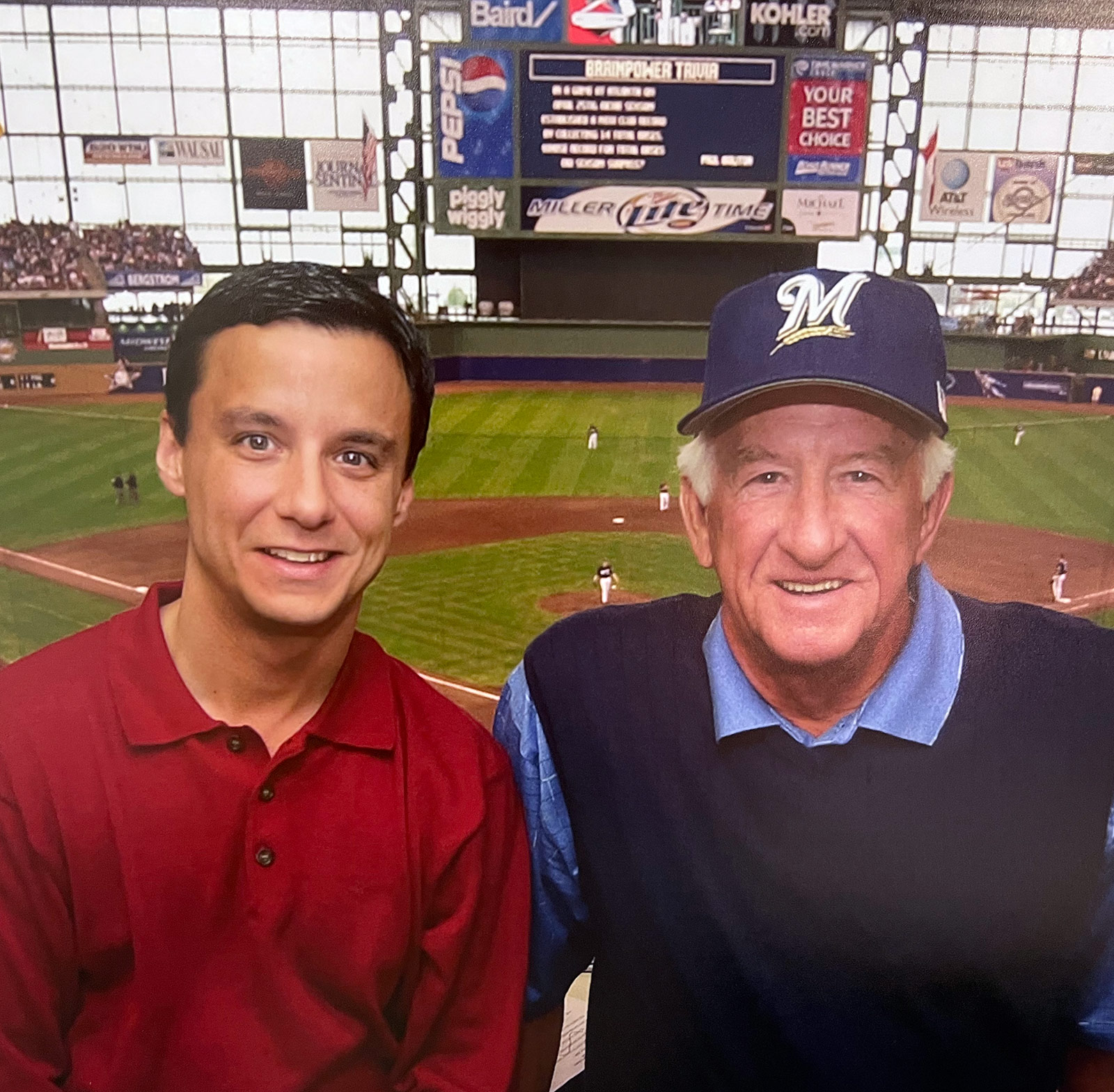 I like that you still say "we" when referring to the Brewers. Do you expect this to be a good and interesting series?
I do. I think it's a very interesting matchup. The Braves have some really good offense. They've got a stellar lineup, even without Ronald Acuna. They made some great acquisitions, I mean, some trades before the trading deadline in July that took a team that could not literally get over the .500 mark. They got to .500 repeatedly, but could not get over .500. And there you were in late July, and the Braves were literally discussing, "Do we sell at the deadline, or do we buy, or do we stand pat, or what do we do?"
The Braves had a good week right before the deadline, and Alex Anthopoulos made a few different moves to prop the team up, and it took off. I mean, really since Aug. 3, which is about when the final players traded for got into the clubhouse, the Braves posted a 36-and-19 record in their last 55 games. At the time that they started that run, they were in third place of the National League East. They were 3 1/2 games back. They finished the season with a 6 1/2 game lead over second place and a 11 1/2 game lead over third place in the National League East. I mean, they just played great baseball in the second half, won 12 of their last 14 games.
So the Braves have a dynamic offense, but they also pitch well. I mean, they're second in home runs, fourth in OPS, third in runs scored in the National League. But their ERA, TERA is fourth. Their fielding percentage is second. So they're a well rounded team.
But the Brewers have the pitching staff that everyone in the National League envies: third in the National League in ERA here in 2021. They don't hit quite as much. They don't rack up actual hits. They're eighth in home runs, about sixth in runs scored, which is actually not too bad, obviously. But I'll be interested to see ... The Braves are very home-run reliant, being second in the National League in that category. I'll be very interested to see if the Braves can still hit home runs against that vaunted pitching staff of the Brewers. Sometimes you get in the post-season, and offense kind of dries up. And when you're home-run dependent, that could be a problem.
So I think there are great cases to be made for both teams in this series, so I think it's going to be a very compelling one.
Any predictions for this series?
I'm not sure that this one is predictable. We'll know a lot more after those first two games in Milwaukee. Great pitching matchups. The Braves have a couple of really, really hot pitchers to go one and two in their rotation. So you hate to go on the road if you're the Braves and have to play the first two games on the road, but they've got a couple of pitchers that can neutralize lineups to give them a real good chance in both of those games. I think a lot is going to depend on the Brewers' ability to hit, pick out some Braves pitchers that they can hit and score some runs. Runs seem to come more plentifully for the Braves.
But they don't play against the Brewers all the time. The last time we saw the Brewers, they came into Atlanta and won two out of three. So I'm not going to make a prediction. I hope it's a great series. I hope it goes all five, and I hope we all have a great time watching it.
You once told me that while fans believe in streaks, players don't. They just come to work and do their business. Some are saying the Brewers are hobbling into this series. Do you see the Brewers as at a disadvantage because of the way they played in the last week of the season?
No. Once they have things wrapped up, there's no momentum to be gained positive or negatively going into the post-season. I think you're going to see the Brewers with their A-game. They probably will benefit from resting some guys and trying to get healthy and ready to go at 100 percent for this series. The Braves had to play until the last three games of the regular season. They got to rest a little bit over that final weekend. But we may look back and say, "Hey, the Braves were a hot team coming in, but the Brewers got to rest up, and that turned out to be the deciding advantage in the direction of the Brewers."
Just to step outside the lines a little, it's interesting to me that there are no more Brewers left on this team from when you covered Milwaukee.
Well, that's not true.
Oh, I know where you're going with this.
Craig Counsell.
Exactly. So you covered Craig as a player, and now you get to see him as a manager. Do you have any thoughts about his baseball mind? Everyone told me that when he was a player, they knew he was going to be a manager, and I think you told me that, too.
Well, let's just say, if you added up his tools, you would not have come up with the sum that we got as a player. He was a guy that was always in the right place at the right time. He was just a winning player. And the analytics folks in the world hate terms like that or discussions like that. They want to quantify everything, but some things can't be quantified. And Craig Counsell got more out of his talent than just about anybody in his era playing Major League Baseball. And that's what makes him a great manager, because then he's just sitting in that dugout, grinding away, trying to find a way to will his team that he has now into a win, whether they deserve it or not, because it really doesn't matter who deserves it. It matters who wins.
I love Craig Counsell as a manager. I think he's one of the best managers in all of Major League Baseball, and the Brewers are really lucky to have him.
When you call games in American Family Field, does it still feel familiar to you? I mean, you're walking in a different booth, but does it still feel like coming home?
It does feel like home. It really does. My family loved living in Milwaukee. It was painful in many ways for us to move to Atlanta. It was just such an opportunity that we couldn't turn it down. I mean, Emmy's parents were both still alive, and they were getting up there in age, and they were going to have trouble traveling to Milwaukee. There was just a lot of different personal family reasons why it made sense. Emmy and I are both from Atlanta. It made sense for us to do it, but it was hard. It was a painful decision that we grappled with.
So when I walk into Miller Park, and everybody seems to know me by name still, even after all these years. They still treat me like I'm a full-time employee at the stadium, which they probably shouldn't. And of course, we have friends all across the city that we go and visit. We often take trips to Milwaukee in the off-season and come back and see friends and catch up with everybody, because we had really a great network of people around us that unfortunately we had to leave when we took the Atlanta opportunity, which it had to be done. But yes, when I walk into Miller Park, it does feel like home, absolutely.
You spent every day with Bob Uecker. Now that there's so much time and distance, do you still talk to him?
Absolutely. Yes. We've become only better and better friends over the years. Working with Bob, he never "big leagued" me at all. He never tried to tell me what to do or how to broadcast or anything else. He was just about let's have fun, and let's do tonight's game. And I learned a tremendous amount from Ueck.
There's no doubt that there's some of Bob Uecker in every broadcast that I do, no matter what the platform is. And talking with him on the phone, and we've gotten to do videos for each other for various honors or whatever that have popped up over the years. And of course, I love to try and catch up with Bob, find him and get to see him in person as well. So yeah, our relationship has only gotten better over the years, and it was always good.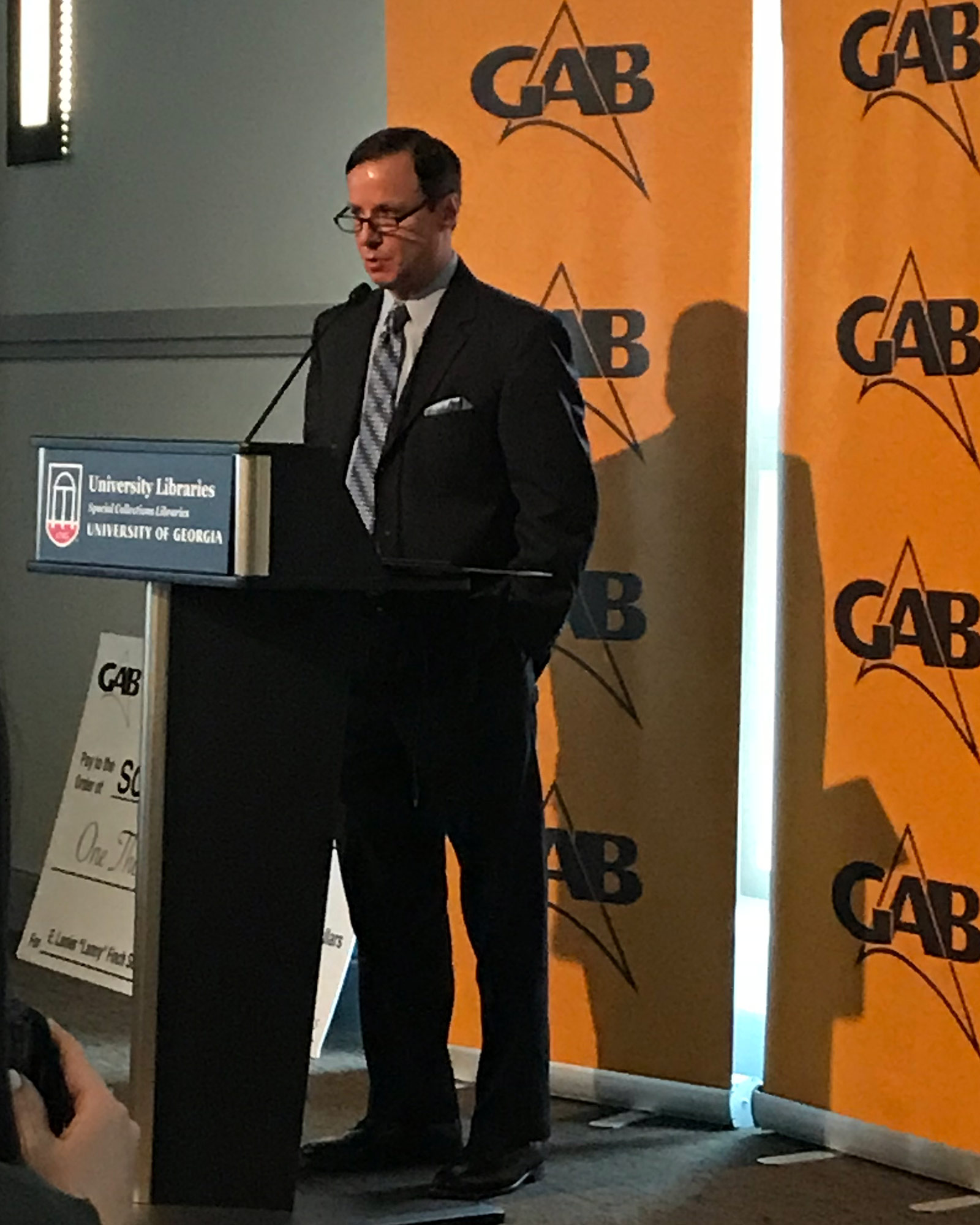 Now, I don't want to put you on the spot, but I'm going to, so I apologize for that. Bob is 87 years old, and I hope he continues to do what he does for another 10 years. But if he doesn't, and some people are speculating that he's getting close to scaling even further back or retiring, would you ever entertain a return to Milwaukee in some way, shape or form? The Brewers' radio announcers we have are very good, but they're also on the new side. You're hitting that spot in your career where I'm sure many teams would like to have a veteran broadcaster on their roster.
I can't say that, no, I wouldn't entertain something. I love the broadcasters that the Brewers have. I'm very good friends with all of them, actually. The radio guys, we're all in the fraternity of Uecker partners, the Uecker mafia. And we talk and catch up. And when they come to Atlanta, I take them out. And when I come to Milwaukee, I see these guys. I know other folks and staff with the Brewers as well. So again, I've got a lot of friends around there, but they've got great broadcasters, and I hope Uecky is still broadcasting when I retire, to be honest with you.
I feel like he actually might.
I would put nothing past the man. I'm telling you.
Let me push a little harder. You're 56, and if you follow the Uecker career trajectory, you may have another 30 years in this game. Even the best broadcasters move from market to market. It's rare that they stay in one city for their entire career, like Bob has. You came from Minnesota to Milwaukee to Atlanta. Speaking from a fan's perspective, it would be a really cool continuity thing if someday you returned. Am I putting words in your mouth by saying you wouldn't rule it out if the opportunity was right someday?
In this business, as you allude to it, I mean, we serve at the pleasure of the teams. And sometimes they like having us around, and sometimes they don't. You never know what's going to happen. So yeah, I mean, you would never say never to anything if you're a broadcaster in this era, for sure.
Andy is the president, publisher and founder of OnMilwaukee. He returned to Milwaukee in 1996 after living on the East Coast for nine years, where he wrote for The Dallas Morning News Washington Bureau and worked in the White House Office of Communications. He was also Associate Editor of The GW Hatchet, his college newspaper at The George Washington University.
Before launching OnMilwaukee.com in 1998 at age 23, he worked in public relations for two Milwaukee firms, most of the time daydreaming about starting his own publication.
Hobbies include running when he finds the time, fixing the rust on his '75 MGB, mowing the lawn at his cottage in the Northwoods, and making an annual pilgrimage to Phoenix for Brewers Spring Training.