For musicians both local and national, booking a big summer festival gig like Summerfest is a blessing. This year, that's especially the case for John Kocher, the Big Gig providing a burst of good during tough times.
In just a month's time, the Milwaukee singer-songwriter lost both a grandmother and a mother-in-law. During that time, he also had to put his dog down. It's an immense amount of grief – but across his career, music has served almost as a therapy for Kocher. Throughout his years in the Milwaukee music scene, he's translated his raw emotions and experiences into earwormy, profoundly heart-on-their-sleeve jams across several EPs and albums – including "Halfway Home," "Change," the 2020 pandemic-born concept album "Holding Pattern" and his latest work, "Rise," released just this past January and available now on most digital music platforms.
Music's always been there for the Milwaukee musician – and once again, it'll be there, this time in live form as he'll take the Uline Warehouse on Friday, July 8 for a noon set at Summerfest, his fourth time at the summer music showcase but his first in ten years. Before he takes the stage, Kocher chatted with OnMilwaukee about his Summerfest memories, his musical inspirations and what it all means to him.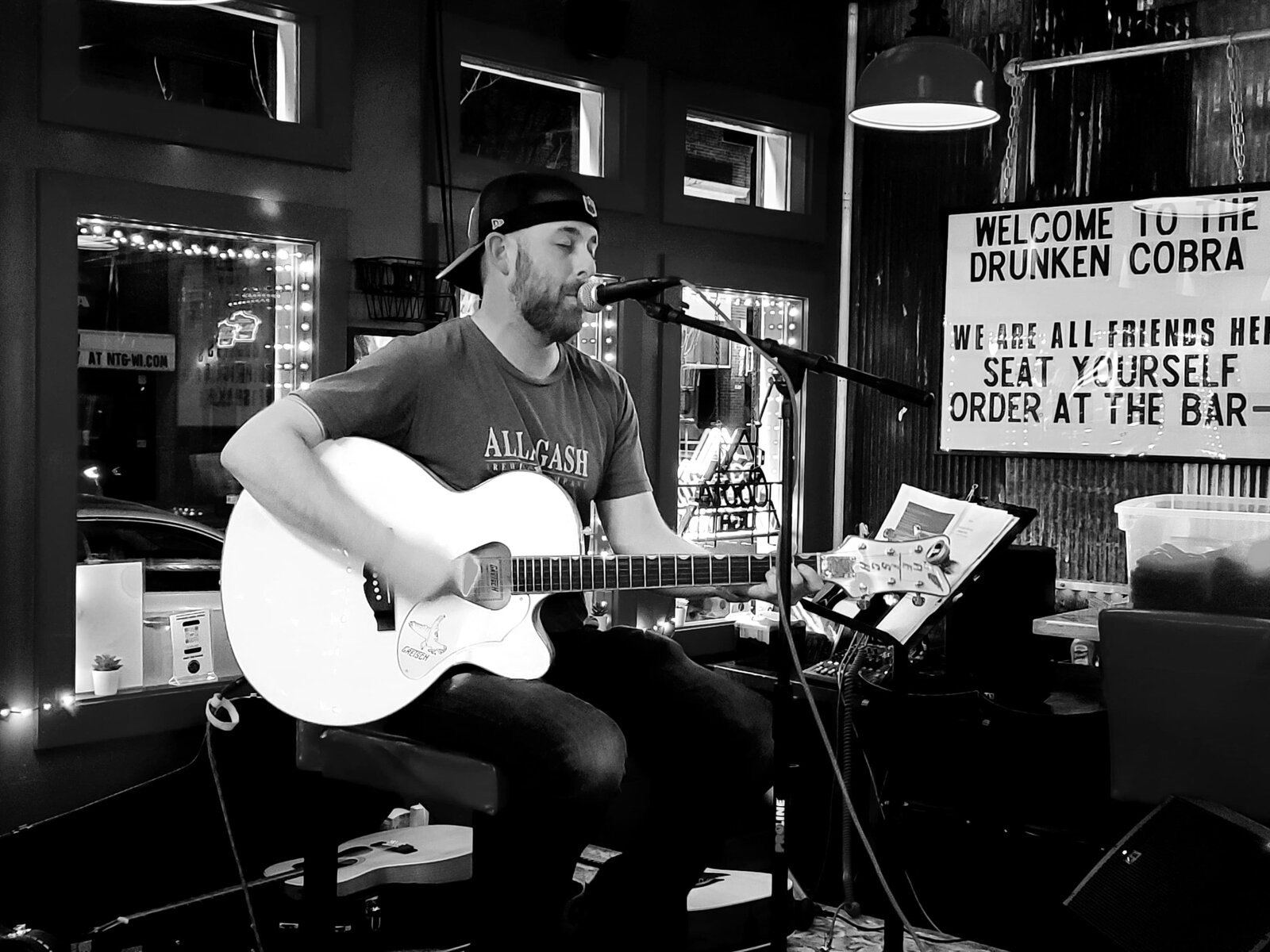 OnMilwaukee: Do you remember what your first time performing at Summerfest was like?
John Kocher: It was so awesome. It was the Uline Stage, and it was 2010. I remember I wore a shirt; it had outlines of guns on the front of the shirt and a guitar with "Music is a weapon" on the back. And I made my hair into a mohawk and just went out there and ripped it up. I just remember having just such a great time.
It was with some company that was trying to compete with MTV and VH1 at the time – I think they were called TheCoolTV – and they had a guy operating one of those cameras that could move 360-degrees around you. That was interesting because I didn't really prepare for that, so as you're playing, you've got this thing going around you while you're trying to concentrate.
So this is kind of a stage-coming for you this year.
Yeah, it's really cool. And I've always been on that stage. I don't think that year it was called the Uline Stage; I think it was TheCoolTV Stage. And then they went out of business. (laughs) But everyone who performed that year got a DVD of their performance and an audio recording of their performance, which I thought was really killer.
Would you say Summerfest is your favorite local event to perform at, or is there another Milwaukee music event that speaks to you?
For me, it's always going to be Summerfest because all of my idols growing up performed there. Before I even picked up a guitar, I was going to five or six shows a year at Summerfest and spending hundreds of dollars on T-shirts and god knows what else. To bring myself to a point where I was good enough to be selected to play at this festival, it almost seems surreal.
So what would you say your biggest influences are on what you're performing now?
So always, always I have to pay homage to the Milwaukee band, The Gufs. I used to hang out with this group of girls at Brookfield Central where I went to high school. They were really big into this band, The Gufs. I didn't really have any friends, so I kinda joined this clique and we started going to see The Gufs at Summerfest, junior and senior year of high school. And I just kind of carried it on from there. I drifted away from that group, but I still went every single year.
When I went to St. Norbert, I heard the Gufs were going to be playing as an acoustic duo over at UW-Green Bay. I was brand new to St. Norbert in '99-2000 – and this was pretty early on in that year – so I just went by myself. I drove myself over there, and I sat at a table by myself because they kind of had a ballroom thing going on. I was singing along to, like, every song and trying to match (Gufs frontman Goran Kralj's) pitch, and he just all of a sudden said, "Does anybody want to come up here and sing a song with us?" And I was singing with my eyes closed, but I open my eyes, and this table next to me is pointing at me and everyone turns in the room to look at me. I just stood up and walked up there, wearing this dopey fisherman's hat and a Gufs T-shirt – I just looked like the corniest dude ever – and I sing this song "Give Back Yourself" with them. And once we sang a couple bars together, he looked at me in between verses and says, "Right on, man." I was matching his pitch, and I don't think he thought that was going to happen.
One thing turns into another, we start emailing one another and next thing I know, he's taking me backstage at things and I have his cell phone number. And I'm like, "This is unbelievable!" Then he's got me recording in his studio with his actual audio engineer, and I put out my first album, called "Halfway Home," back in 2006. From there, our relationship has grown; we've now written songs together, and he's a huge part of my musical life.
Did he help on any of your latest album?
He did; we co-wrote many of those songs together. It was just unbelievably fulfilling, in the sense that this album I grew from a hobby-type songwriter to a real songwriter. Like he pushed me very hard.
What would you say is the difference between the two?
There's just so much depth in this new one. I'm not just Kurt Cobain-ing it where I'm going "verse-chorus-verse-chorus-chorus." There's so much depth there. There's string parts; there's slide guitar parts. There's just so much instrumentation going on. And the topics I'm breaching upon are real-life things that people are going through and have gone through. It was always love songs before and what girl I was pissed off at, and now I'm really delving into real-life subject matter.
What do you think inspired that change?
I've always wanted to give a voice to the voiceless, and with topics such as the George Floyd scenario or COVID or the struggles I've gone through.
One of the songs on there is called "For the Best," and that song talks about how, when I was younger, I was just kind of a f*ck-up. I didn't take life serious until l was almost ten years behind where I should've been. Like, in college, I should've student-taught – because I was an education major – but I was scared to student-teach, so I bypassed it. So then what happened? All of the different requirements for education changed over the years, and I had to go back to school. And it took me ten years to get my license. Although I got two master's degrees along the way, I could've just nipped that in the bud right away. But once I reached the top of that mountain and was on the downslope, I thought, "It's funny; here I am, finally where I need to be, and I'm still not satisfied." And that's kind of what that song is about: never being satisfied and always wanting more.
Is that your favorite song on the album?
No, the one that actually has really gotten a hold of me is "Colorblind," and it actually features a West Coast hip-hop guy named Ras Kass who has rapped with Tupac, Snoop Dogg, Wu-Tang Clan – he's a very famous lyricist. I happened to meet him at Company Brewing, and he was rapping as a part of a show with Twan Mack, who was the MC of that show. I went there to see Ras Kass in the hopes of meeting him – and here I meet the guy, we hit it off, and he gives me his cell phone number. What?! This cannot be happening. So then, some months later, if he wanted to do a song, and he said sure. And that song, "Colorblind," is just a masterpiece in my mind. It really encapsulates how I was feeling that day when I saw the George Floyd situation unfolding on television.
Then there's this other song called "Can You Remember." I actually was trying to write the words for this other song called "Strong" – which I think is people's favorite song, that's what I'm getting – but "Can You Remember" is all about how before COVID, the world was just a totally different place. Yes, there was bad going on in the world, but everything kind of pivoted in a not-so-good direction. We had to band together as a people to overcome COVID – or at least to get to where we are right now with it. And not everyone was on board. Not everyone was trying to be a team player during that. There was so much hatred and angst and vitriol going on in the world, and it was just kind of a sad thing when you really thought about it.
I found solace in thinking about growing up as a kid in my neighborhood, where you could knock on anyone's door and ask if so-and-so could come out and play. Those are the times that I miss – and I feel like the world is missing that now. I feel like we're in a totally different stratosphere.
You talked about how it's been a really hard month with family members passing, a dog passing. What does it mean to have this Summerfest gig amidst all this sad news?
If I didn't have music, I wouldn't be here right now. I wouldn't be alive; my heart wouldn't be beating. Music is what keeps me going, and I feel like if I can take my pain and turn it into some beautiful and powerful that can help somebody else out there that may be going through the same struggles I am, that kind of fuels me. You know when you play "Mortal Kombat" or "Street Fighter," your power bar? It kind of refills my power bar. I can't explain it.
And sometimes when you go through these things, you have to let them marinate for a little while – and next thing you know, it's just rolling out of your fingertips into that guitar, and you're coming up with these wonderful lyrics. There's just something about being out there on that stage and the power it generates when you're down.
What can people expect from your noon show on Friday?
I think I'm going to dedicate the show to all those that I've lost this year. And I'm going to be sharing the stage for the first time with another musician: Andrew David Weber, who is a part of a number of groups – the Andrew David Weber Group, a punk band called American Progress, Whiskey of the Damned. He's going to be playing lead, and we're gonna be doing some really killer cover songs – three or four – and then he's gonna play lead for me on all my original music. And we're gonna bring it – one hundred and ten percent.
As much as it is a gigantic cliché to say that one has always had a passion for film, Matt Mueller has always had a passion for film. Whether it was bringing in the latest movie reviews for his first grade show-and-tell or writing film reviews for the St. Norbert College Times as a high school student, Matt is way too obsessed with movies for his own good.
When he's not writing about the latest blockbuster or talking much too glowingly about "Piranha 3D," Matt can probably be found watching literally any sport (minus cricket) or working at - get this - a local movie theater. Or watching a movie. Yeah, he's probably watching a movie.