By the end of this year, we will all need a laugh or 20, and Milwaukee's beloved John McGivern is just the guy to make it happen.
In a special engagement of live shows with a socially-distanced audience, McGivern – of PBS' "Around the Corner with John McGivern" fame – will perform "Up Close (But Not Too Up Close)," a fresh mix of old and new holiday tales in the Pabst Theater. The audience will be limited to 250 people.
The show, which runs Nov. 20-Dec. 20, will be the first engagement at the Pabst Theater since March, due to COVID-19.
Tickets go on sale Friday, Oct. 16 at 10 a.m. Click here for more info.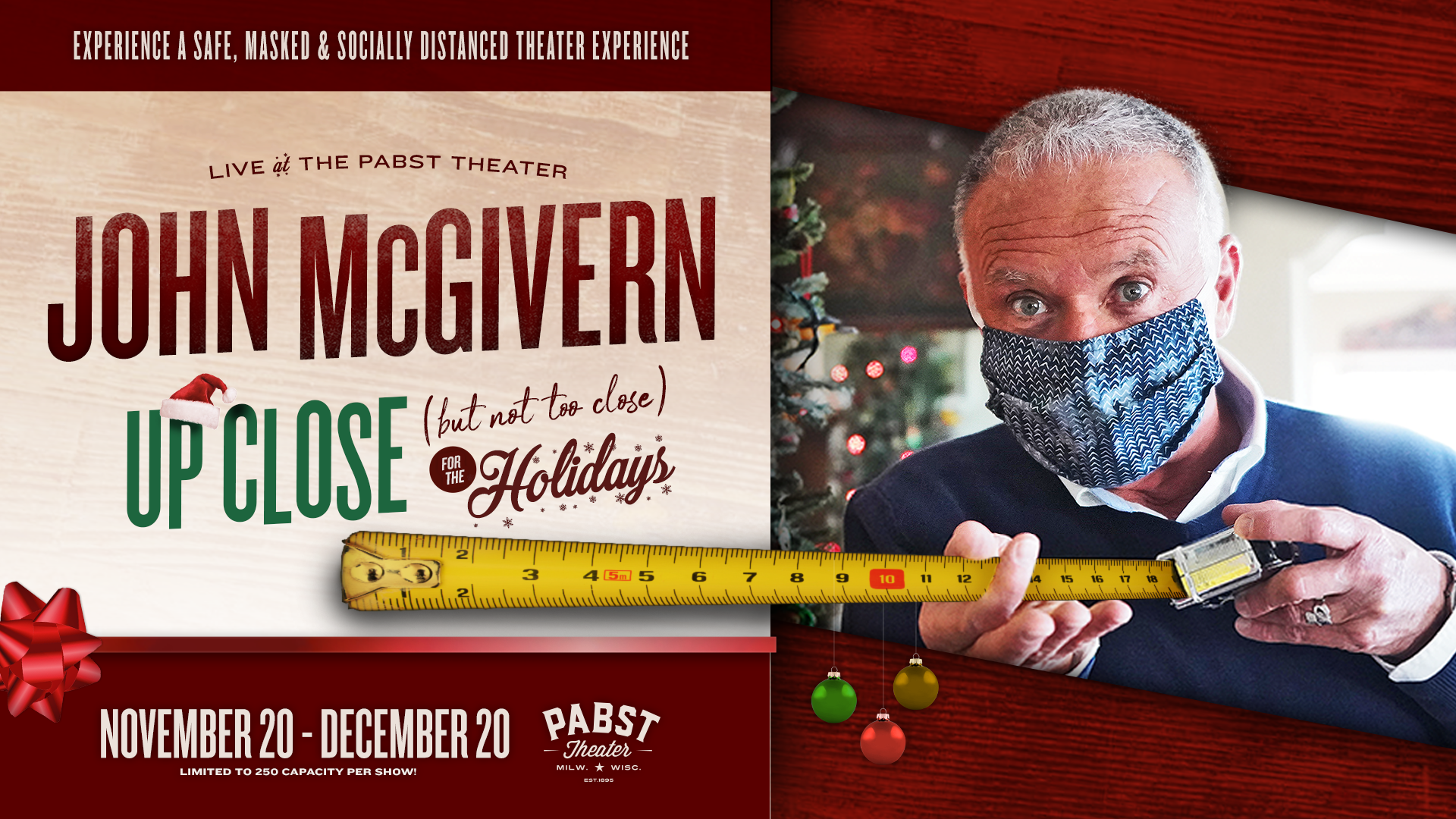 During the show, McGivern recounts hilarious and heartwarming stories from his childhood days on Milwaukee's East Side as well as recent happenings in the midst of the pandemic.
Here is the full list of dates and times:
Friday, 11/20: 7 p.m.
Saturday, 11/21: 2 p.m. & 7pm.
Sunday, 11/22: 2 p.m.
Friday, 11/27: 7 p.m.
Saturday, 11/28: 2 p.m. & 7 p.m.
Sunday, 11/29: 2 p.m.
Friday, 12/4: 7 p.m.
Saturday, 12/5: 2 p.m. & 7 p.m.
Sunday, 12/6: 2 p.m.
Friday, 12/18: 7 p.m.
Saturday, 12/19: 2 p.m. & 7 p.m.
Sunday, 12/20: 2 p.m.
The health and safety of guests is the Pabst Theater Group's and McGivern's priority. Following guidelines from health officials, comprehensive safety protocols have been put in place for staff and guests. A full list of protocols and guest expectations can be found on the Pabst Theater Group's website.
Molly Snyder grew up on Milwaukee's East Side and today, she lives in the Walker's Point neighborhood with her partner and two sons.
As a full time senior writer, editorial manager and self-described experience junkie, Molly has written thousands of articles about Milwaukee (and a few about New Orleans, Detroit, Indianapolis, Boston and various vacation spots in Wisconsin) that range in subject from where to get the best cup of coffee to an in-depth profile on the survivors of the iconic Norman apartment building that burned down in the '90s.
She also once got a colonic just to report on it, but that's enough on that.
Always told she had a "radio voice," Molly found herself as a regular contributor on FM102, 97WMYX and 1130WISN with her childhood radio favorite, Gene Mueller.
Molly's poetry, essays and articles appeared in many publications including USA Today, The Writer, The Sun Magazine and more. She has a collection of poetry, "Topless," and is slowly writing a memoir.
In 2009, Molly won a Milwaukee Press Club Award. She served as the Narrator / writer-in-residence at the Pfister Hotel from 2013-2014. She is also a story slam-winning storyteller who has performed with The Moth, Ex Fabula and Risk!
When she's not writing, interviewing or mom-ing, Molly teaches tarot card classes, gardens, sits in bars drinking Miller products and dreams of being in a punk band again.