Sheboygan Falls is officially home to a Wisconsin sausage mecca. That's thanks to the opening of the Johnsonville Marketplace, a new retail center which sells every type of Johnsonville sausage made for U.S. customers (over 70 varieties), all displayed on "The Sausage Wall," an expansive collection of refrigerator and freezer cases in the store.
But that's not all.
Located at N6877 Rio Rd., just across the street from the Johnsonville headquarters, the 3,200 square-foot store features a variety of limited release Johnsonville food and beverage products (think: mustard, brat buns and specialty beer), Johnsonville curated themed gift boxes and select Wisconsin-made food products including Uncle Mike's Bake Shoppe Kringle; cheeses from brands like Sartori and Vern's; root beer and craft beers from Potosi; Palermo's frozen pizzas; and Baron's Gelato.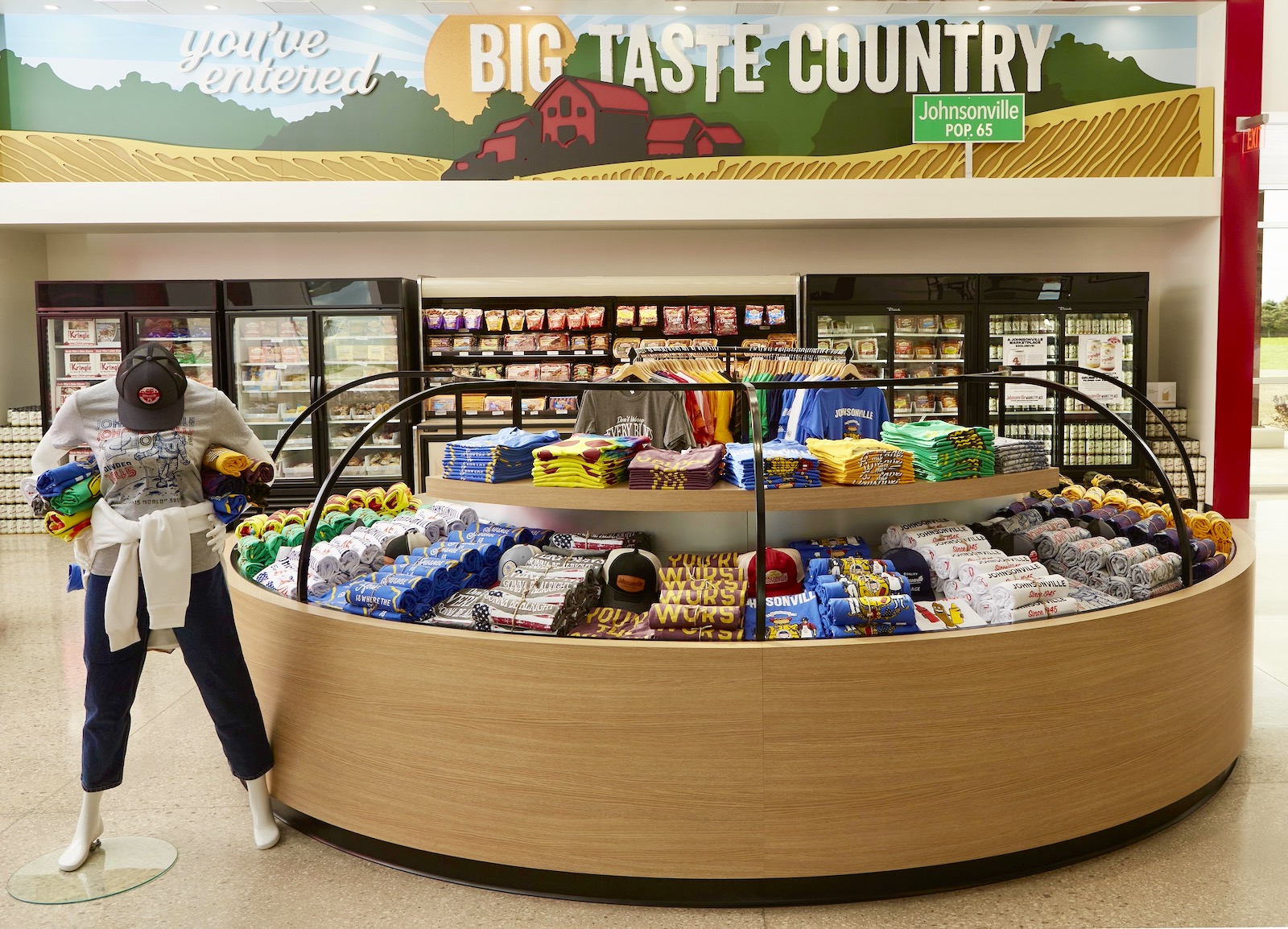 Shoppers will also find unique Johnsonville-made and company-branded products from drink koozies to kitchen tools. The Johnsonville T-shirt Deli, for instance, features a deli-case-style display of branded tees with clever sayings and slogans collected from Johnsonville members (employees) over the years.
And yes, there are clever onesies for the little ones for sale as well.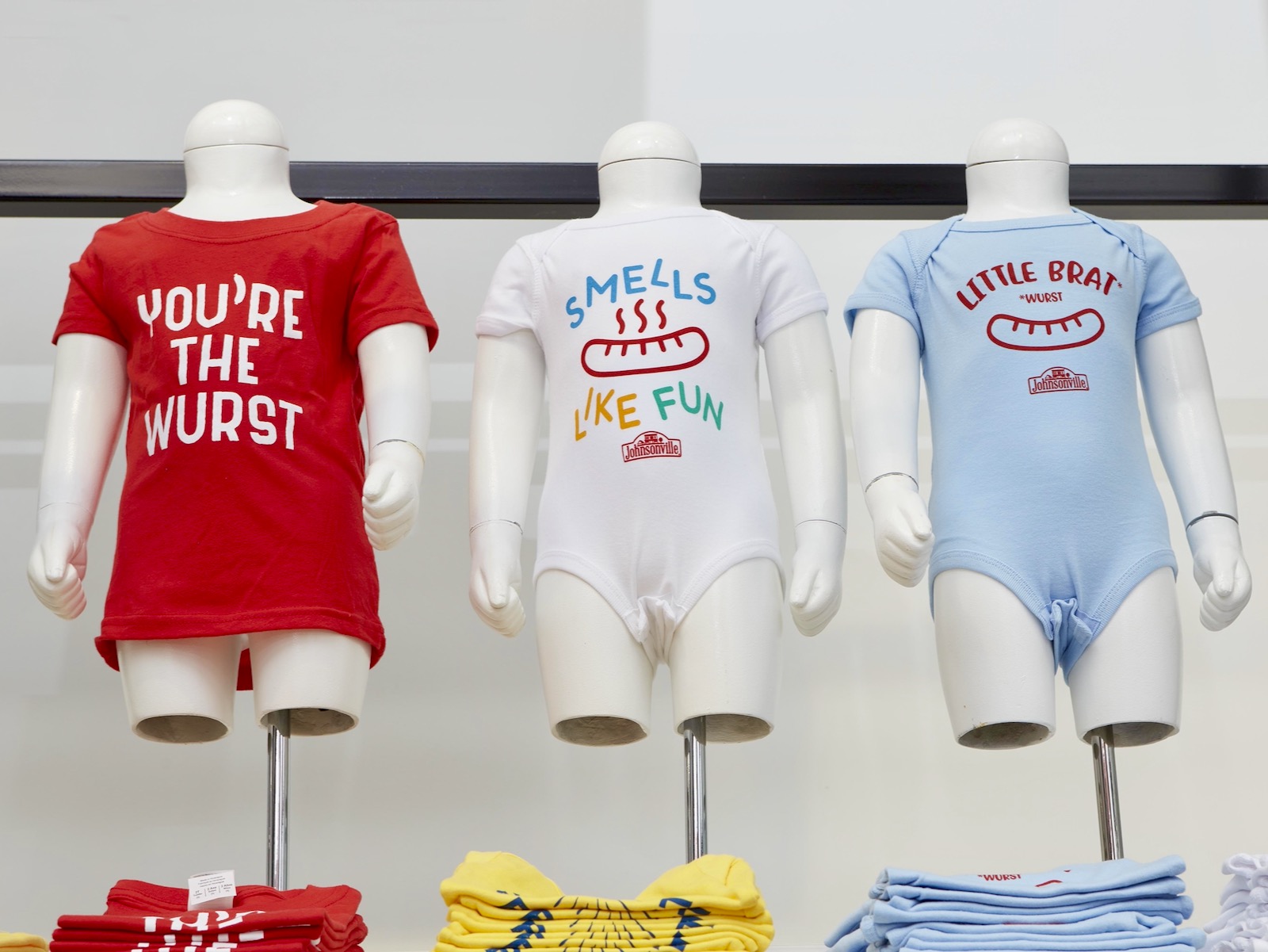 In spring of 2021, the Marketplace will also open its Outdoor Grilling Station, a paved patio outfitted with grills which will host charity brat frys, cooking demonstrations and special events.
75th Anniversary exclusives
The Marketplace – which had originally set its sights on a spring opening – opened instead during the company's 75th anniversary month.
To celebrate, Johnsonville partnered with Potosi Brewing Company of Potosi, Wis., on two collaborative craft beers: Johnsonville Beer Mert 44 Amber Lager and Grumpy Grandpa Czech Pilsner. Both are brewed and canned specifically for the company and available exclusively at the Marketplace.
Mert 44 was created in memory of Jamie Mertens (a Stayer family member) with all proceeds supporting Club 44 Foundation, Inc., a SE Wisconsin nonprofit created to give back to youth sports. Grumpy Grandpa honors Johnsonville Founder Ralph F. Stayer's strict standards for both food and drink.
Guests can also purchase a brand new book, the "History of Johnsonville and the Stayer Family Behind It" ($89), a 462-page hardcover book which recounts the company's history, products, advertising, family and community involvement dating back to 1945.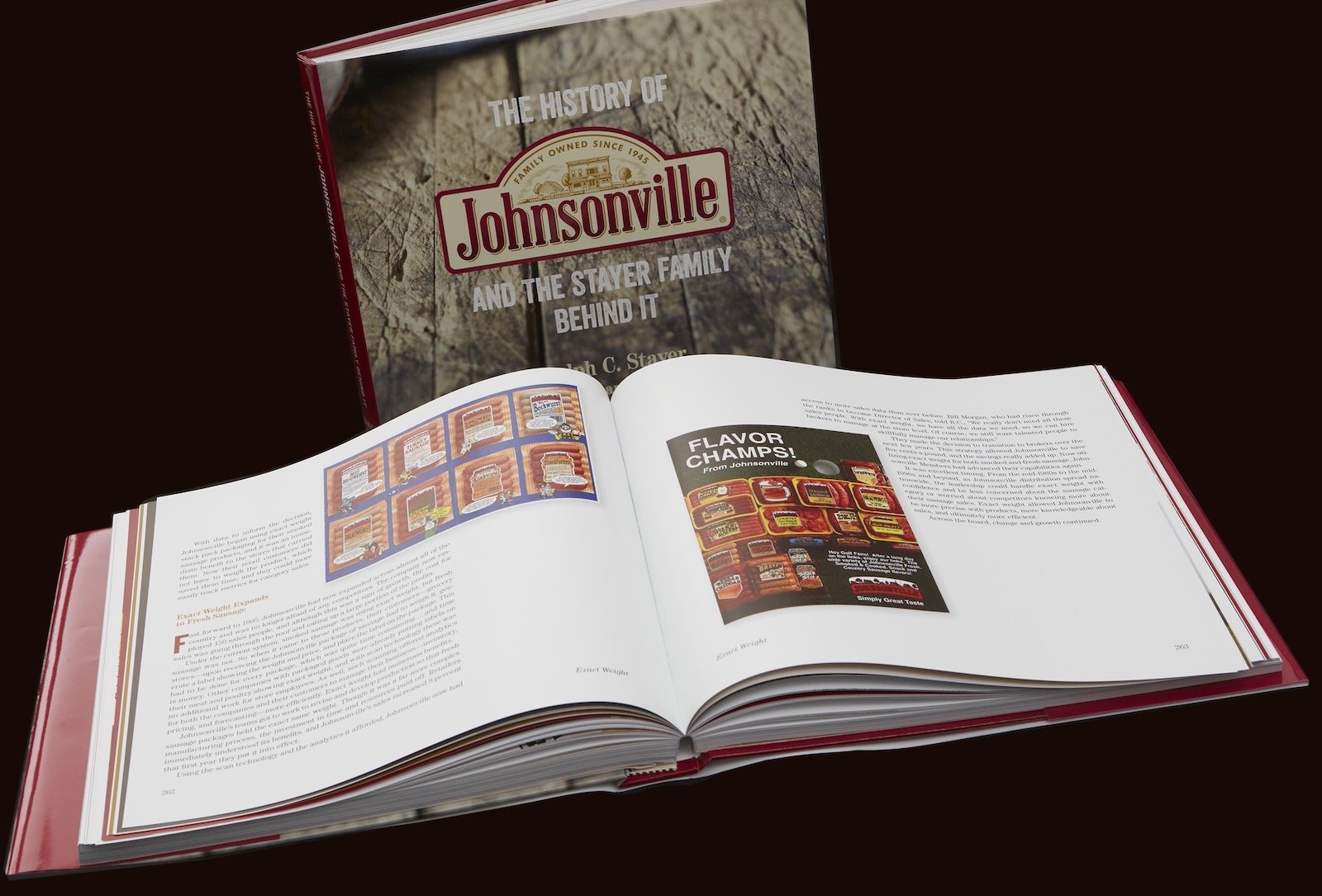 In all aspects, the Marketplace was created for the purpose of celebrating Johnsonville employees and the history and family legacy for which the brand stands. This homage is paid through unique store elements, historical photos, video, and retail products, all of which pay tribute to the long-spanning history as a family-owned and operated business that grew from a butcher shop to the international sausage brand it is today.
"Most of all, we want our members and visitors to see that the Marketplace reflects the joy and pride we all take in everything we do at Johnsonville in our never-ending journey to become the best company in the world that just happens to make sausage," says second generation owner Ralph C. Stayer.
The Marketplace is open Monday through Wednesday from 10 a.m. to 5 p.m., Thursday from 6 a.m. to 4 p.m., Fridays from 10 a.m. to 5 p.m., and Saturday and Sunday from 10 a.m. to 4 p.m. In the interest of Member and public safety, shoppers are required to wear facemasks and follow social distancing at all times. Hand sanitizer and cleaning wipes are available.
For more information, visit JohnsonvilleMarketplace.com.
Lori Fredrich (Lo) is an eater, writer, wonderer, bon vivante, traveler, cook, gardener and girlwonder. Born and raised in the Milwaukee area, she has tried to leave many times, but seems to be drawn to this quirky city that smells of beer and alewives.
Some might say that she is a little obsessed with food. Lo would say she is A LOT obsessed with food. After all, she has been cooking, eating and enjoying food for decades and has no plans to retire anytime soon.
Lo's recipes and writing have been featured in a variety of publications including GO: Airtran Inflight Magazine, Cheese Connoisseur, Cooking Light, Edible Milwaukee, Milwaukee Magazine and the Milwaukee Journal Sentinel, as well as on the blog Go Bold with Butter, the web site Wisconsin Cheese Talk, and in the quarterly online magazine Grate. Pair. Share.