In 1982, 12-year-old Karen McCulloch Chilstrom wrote a letter to author and activist Judy Blume. Her girlish scrawl covered two sheets of bunny stationery and she included a stamp in the envelope, hoping it would entice Blume to write back.
Blume, who at one time received thousands of letters every month from kids and teens, did write back, thus beginning a 40-year correspondence with Chilstrom.
At the time, Chilstrom was living in Green Bay with her family. She later moved to Milwaukee and graduated from Rufus King High School in 1988.
"I did not expect to receive a long, detailed letter from Judy, but to my mind, it seemed perfectly appropriate that she at least acknowledge that I had reached out," says Chilstrom. "At 12, it seemed only fair that as a stranger writing to Judy, the least I could do is offer to cover the cost of a stamp for her to write me back."
Because of this penpalship, Chilstrom, now 52, was asked to participate in the documentary, "Judy Blume Forever," that premiered at Sundance in January and dropped on Amazon Prime on Friday. (A film based on Blume's flagship book, "Are You There God, It's Me Margaret?" arrives in theaters this week.)
The 97-minute documentary details Blume's personal life, impact on pop culture, the controversies over her honest writing about puberty and sex, her fight against censorship, and the generations of readers – from Molly Ringwald to Lena Dunham to Chilstrom – who were deeply moved by her work.
"What affected me the most about Judy's books was the fact that I saw myself reflected in her characters. Like me, her characters struggled with friendships and school and how to get along with their parents. Like me, they wished they were smarter, prettier and more popular. For this reason, Judy's books helped me see that I was just a normal seventh-grade girl," says Chilstrom. "Knowing there was an adult out there – Judy Blume – who understood my inner world, helped me navigate the many challenges of growing up."
Blume, who is now 85 and owns and operates a book store in the Florida Keys, published 12 books for children and 12 books for young adults, many of which addressed sensitive issues like masturbation, menstruation and sexual exploration that were not openly spoken about at the time.
When Chilstrom first wrote to Blume, she was a child facing serious complications in her life. Her parents were divorced, her older brother had committed suicide a year earlier and she was dealing – on her own – with the aftermath of seven years of sexual abuse.
"That was a profoundly painful time in my life. I felt very much alone in my suffering; no one around me was talking about sexual abuse. Information about other people's sexual trauma was not available to me, so I believed that I was the only one who had experienced it," says Chilstrom.
"I decided to reach out to Judy to thank her for writing books that helped me feel less alone in the world. When she responded to my first letter, I realized that Judy might be a person I could confide in. My correspondence with Judy soon took on a personal nature, and her letters became a lifeline for me."
Blume was the first person with whom Chilstrom shared her trauma and the beloved author responded with many letters filled with love, tenderness and encouragement.
"Judy gave me strength to overcome great obstacles, skills to build healthy relationships and courage to seek the healing I needed to create the life I had always dreamed of," says Chilstrom.
Chilstrom first met Blume in person when she was 16 years old. She was visiting family in Groton, Conn. and Blume, who also lived in Connecticut at the time, invited her to spend the day with her and her husband, George.
"I spent the day at their home. We talked for hours. I still have the Polaroid that George took of Judy and me on the couch in their home," says Chilstrom.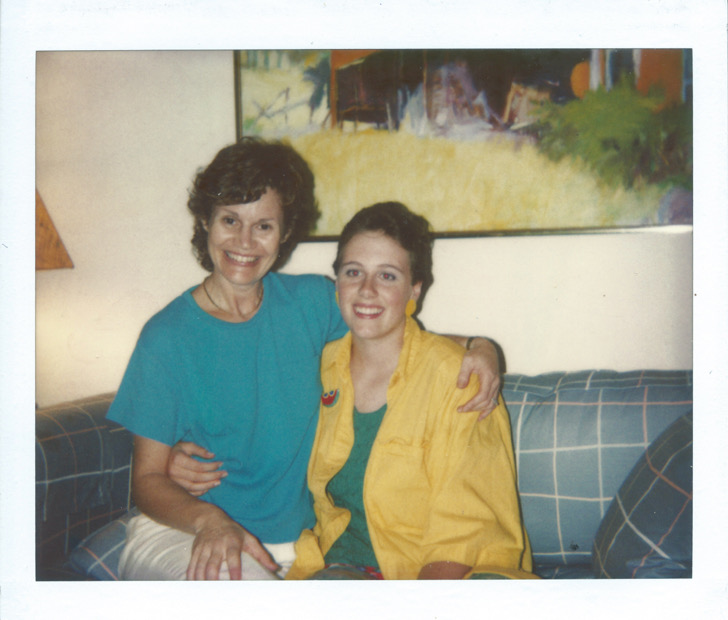 Chilstrom planned to take the train back to Groton after her visit, but Blume suprised her with a plane ticket instead.
In 2015, Chilstrom spent time with Blume again, this time at a book signing in Austin. Blume arranged for VIP passes to the book signing for Chilstrom and her family. Blume and Chilstrom will be reunited on Tuesday, April 25 for a screening of the documentary in New York City.
Today, Chilstrom lives in Austin, Tex. with her family. She earned a Ph.D. in Slavic Languages and Literatures from the University of Texas at Austin and works as a post-Soviet area studies specialist, researcher, writer and language instructor. In the summer, she takes students abroad to study Russian and, next week, heads to Ukraine to take part in a humanitarian mission for the second time to support orphans who have been displaced by the war.
"Since many of the displaced orphans from eastern Ukraine are Russian-speaking, I am able to interact with these children in their native language and listen to their stories of trauma and loss," says Chilstrom. "It is a privilege to serve children whose lives are so greatly impacted by the ongoing war in their country."
Chilstrom still gets back to Wisconsin to visit family and friends – most recently last month for a private screening of "Judy Blume Forever" at the Oriental Theatre.
In the documentary, the original copies of Chilstrom's letters appear in the film and reveal some of the details of her trauma. This challenged Chilstrom to take more steps on her path of healing and to accept that her "secret" would be known by masses of people, including family members who were previously unaware, colleagues, friends and strangers.
"Over the years, as I have begun to share my life experiences more openly and honestly with others, I have learned that vulnerability heals the world. Sexual violence is an astonishingly widespread phenomenon, but instead of addressing the root causes of such violence, our society continues to stigmatize and shame victims of sexual trauma," says Chilstrom.
Although making and seeing the finished documentary has been difficult at times, she is pleased with its outcome.
"I appreciate that the film gives the audience an opportunity to learn more about the many facets of Judy. Judy is so much more than just a timeless author. She is a staunch advocate for women's rights – and human rights overall – and works tirelessly to help ensure that all readers have access to books that reflect their experiences," says Chilstrom. "I feel deeply honored to have taken part in this project and to have had an opportunity to share a few words about the profound and lasting effect that Judy has had on my life."
Chilstrom hopes by sharing her story she will help other women heal from early trauma.
"The simple act of naming, owning and sharing our experience creates the feelings of connection and support we need to live healthy, vibrant lives," says Chilstrom. "To this day, Judy's unfailing honesty and authenticity inspire me to bring my whole self to the table, not just those parts of me that are considered socially acceptable. Judy loves me for who I am, which, in turn, allows me to love and accept those around me for who they are. And isn't that the greatest gift we can give others?"
"Judy Blume Forever" is currently available on Amazon Prime and included in membership.

Molly Snyder started writing and publishing her work at the age 10, when her community newspaper printed her poem, "The Unicorn." Since then, she's expanded beyond the subject of mythical creatures and written in many different mediums but, nearest and dearest to her heart, thousands of articles for OnMilwaukee.

Molly is a regular contributor to FOX6 News and numerous radio stations as well as the co-host of "Dandelions: A Podcast For Women." She's received five Milwaukee Press Club Awards, served as the Pfister Narrator and is the Wisconsin State Fair's Celebrity Cream Puff Eating Champion of 2019.