Perhaps no Milwaukee historical landmark has suffered more indignity than the replica of the early home of founder Solomon Juneau.
Tucked away in a corner of park that bears his name (as does the nearest street, Juneau Avenue) and rarely used, the Juneau cabin has been boarded up for as long as I can remember.
Mention the place to most folks and you'll hear rumblings about homeless people sleeping on the bench out front or illicit, public sex trysts occurring in its shadow.
You might think Byron Kilbourn had a hand in all this. Certainly, you'd have to presume he's chortling about it in his cast-iron casket.
The park was built as the city acquired the land in three stages, from south moving northward. Earlier, a neighborhood stood here and a street, called Juneau Place, ran south from what is now the cul-de-sac on Juneau Avenue, east of Prospect Avenue. State Street (then Martin) met it near the Leif Erikson statue and the street connected on its south end at Kilbourn (then Biddle), next to where the Juneau statue stands.
County Parks workers say they still bump into foundations of old homes that stood where the park is now located when they dig in Juneau Park.
The cabin dates to 1947 when Anna Hottelet, whose father Dr. Francis Huebschmann was Juneau's personal physician, donated the money to erect the cabin from logs donated by Lena Usinger. Usinger's Donges Bay (now Bayside) cabin was thought to be only surviving pioneer log cabin in the county back then.
The design of the cabin was based on a woodcut image of Juneau's 1822 pioneer homestead that had once stood on the northwest corner of Water Street and Wisconsin Avenue, and its construction was overseen by Milwaukee County landscape architect Alfred Boerner and the architectural office of Eschweiler & Eschweiler.
Hottelet officially presented the cabin to the Milwaukee County Parks board and the Milwaukee County Historical Society in July 1947 in a ceremony attended by dignitaries like Ald. Carl Dietz, who was president of the Museum Board of Trustees, Supervisor Frederic Heath, who was also MCHS president, and Park Commission chair C. R. Dineen.
Francis Wilson, the great-grandson and namesake of Huebschmann, was involved and so was Bay View High School principal B. C. Korn, who according to a newspaper account, was to "speak on 'Solomon Juneau'" -- a decidedly appropriate topic.
But it didn't take long for the veneer to fade. By 1963, newspaper reports already noted that the windows of the cabin were boarded up.
"Park visitors stop at the cabin," a Journal article said. "A reporter found cigaret butts and peanut shells on the ground near the plank bench under the cabin 'porch' roof covering."
The original commemorative plaque on the cabin had been stolen by 1980.
In 1988, a new plaque – which lists the donor's name as Huttelet – was placed on a boulder near the cabin by the East Town Association, on the occasion of Bastille Days.
A smaller plaque screwed into a log near the still locked up cabin's entrance notes that another restoration took place in 2007, during which the roof was replaced.
While the Milwaukee Public Museum's diorama depicting Juneau at his trading post suggests a vibrant scene, with Native Americans arriving to trade with the settlers, the Juneau park cabin looks like the last remaining structure in a long-deserted ghost town.
So, of course, I want to see inside. I have images of a Geraldo-style opening of the bunker, flash bulbs illuminating the discovery of the long-lost...
Hey, you gotta ask, right? So, I asked Brendan Conway in County Executive Chris Abele's office if I could see inside and one day, I was allowed in to provide you a sneak preview in advance of the opening of the cabin to the public (for Doors Open; a result of our request) for the first time in Jacques-Vieau-knows-how-long (actually, it was about a few years short of a decade ago).
I'm sorry to report that when the cabin was opened, there was no hidden treasure, no historic gems inside.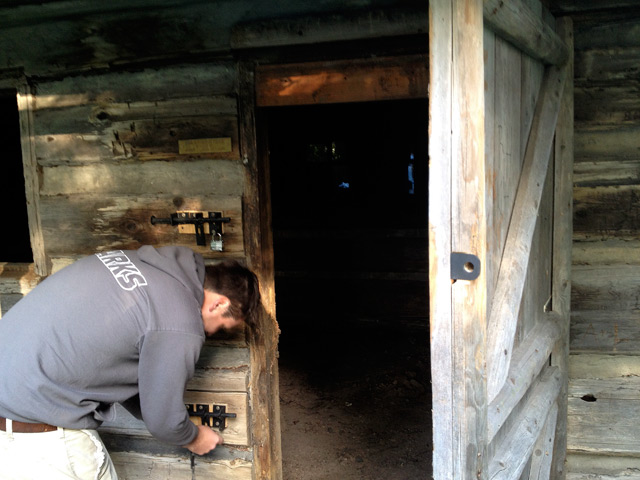 Inside the cabin, there is a gorgeous stone working fireplace on the north wall with some vintage hearth hardware. The six-pane windows, shuttered outside, are extant in two of three cases inside.
From underneath we can easily spot the plywood decking under the exterior shingles from the 2007 restoration.
A dirt floor is pocked with bits of broken glass and at least a few old-time aluminum can pop-tops.
What's especially noticeable is how much daylight seeps in – from the flue-less chimney, from a gap where the ground doesn't meet the lowest log, along where the logs are pulling away from the stone hearth and chimney. It's surprising there aren't more signs of wildlife inside.
There's not much else.
Still, it feels a bit exciting to be in a place that's been off-limits for so long, especially one so prominently visible on the landscape and so rooted in Milwaukee history.
Born in Brooklyn, N.Y., where he lived until he was 17, Bobby received his BA-Mass Communications from UWM in 1989 and has lived in Walker's Point, Bay View, Enderis Park, South Milwaukee and on the East Side.
He has published three non-fiction books in Italy – including one about an event in Milwaukee history, which was published in the U.S. in autumn 2010. Four more books, all about Milwaukee, have been published by The History Press.
With his most recent band, The Yell Leaders, Bobby released four LPs and had a songs featured in episodes of TV's "Party of Five" and "Dawson's Creek," and films in Japan, South America and the U.S. The Yell Leaders were named the best unsigned band in their region by VH-1 as part of its Rock Across America 1998 Tour. Most recently, the band contributed tracks to a UK vinyl/CD tribute to the Redskins and collaborated on a track with Italian novelist Enrico Remmert.
He's produced three installments of the "OMCD" series of local music compilations for OnMilwaukee.com and in 2007 produced a CD of Italian music and poetry.
In 2005, he was awarded the City of Asti's (Italy) Journalism Prize for his work focusing on that area. He has also won awards from the Milwaukee Press Club.
He can be heard weekly on 88Nine Radio Milwaukee talking about his "Urban Spelunking" series of stories.