The new Downtown arena is still many months away from opening to the public, but today it received an early visit from one of its most famous friends.
This afternoon, Bucks legend and Basketball Hall of Famer Kareem Abdul-Jabbar dropped by for a brief tour of the progress inside the new arena, alongside Bucks president Peter Feigin and several Milwaukee media members. Abdul-Jabbar played for the Bucks for the first six seasons of his incredible career, winning league MVP twice during his tenure and bringing Milwaukee its first and only NBA championship before being traded to the Los Angeles Lakers.
"When we first started here, we were just newcomers. I think the Bucks are really now part and parcel of Wisconsin's DNA – and it's great to see them in a structure like this," Abdul-Jabbar told reporters inside the arena.
"50 years ago, this would've been like 'Star Wars.' This is amazing."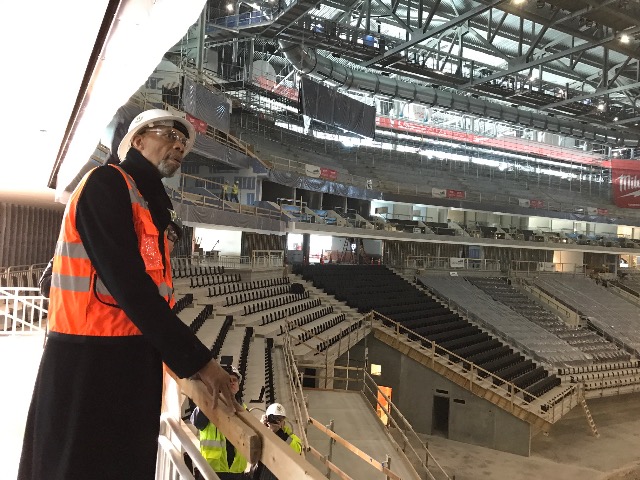 Abdul-Jabbar's brief media tour took him to a balcony overlooking the main bowl – now complete with many of the chairs installed and the Jumbotron screen in place above the floor – before coming down to the court level to take in the entire structure.
"The most impressive thing about the new arena is the way they've thought out everything in terms of making it comfortable and enjoyable for the fans," Abdul-Jabbar said. "They're gonna have a great time here."
Of course, as the new face of the franchise and a likely soon-to-be All-Star Game starter (and potentially leading vote-getter), Bucks star Giannis Antetokounmpo was another hot topic on the arena tour. Antetokounmpo, after all, is putting up numbers and highlights recalling Abdul-Jabbar's prime years.
"Giannis has really learned the game and stepped forward as a leader in the NBA," Abdul-Jabbar told reporters. "I think he's having a great career, and I hope he continues to lead the way he has."
But it was a different player – a former teammate and fellow NBA icon, in fact – that Abdul-Jabbar found himself comparing to Giannis.
"I had the good fortune of playing against Magic (Johnson), and he was 6-9 – I think Giannis might have Magic by an inch or two, but they had the same basic kind of skills and court vision," the living basketball legend said.
The star on Wednesday, however, was the new arena, which will be more than just another shiny new building for Milwaukee. For the players, Abdul-Jabbar noted that "the whole idea of being in the pros and being in a first-rate venue, that should have some appeal to any basketball player."
And as for the people watching the games – and soon to be filling the seats?
"A building like this will allow the city to focus again on Downtown and what they have in common. That's an important thing – especially here in America. We have people of different ethnicities and backgrounds. They can come down to a place like this and enjoy a basketball game, something they all share. I think that's a wonderful thing for the city and for the state of Wisconsin."
The new Bucks arena is scheduled to open this fall. Several concerts and events have already been added to the new building's schedule, including Maroon 5, comedian Jim Gaffigan and The Harlem Globetrotters.
As much as it is a gigantic cliché to say that one has always had a passion for film, Matt Mueller has always had a passion for film. Whether it was bringing in the latest movie reviews for his first grade show-and-tell or writing film reviews for the St. Norbert College Times as a high school student, Matt is way too obsessed with movies for his own good.
When he's not writing about the latest blockbuster or talking much too glowingly about "Piranha 3D," Matt can probably be found watching literally any sport (minus cricket) or working at - get this - a local movie theater. Or watching a movie. Yeah, he's probably watching a movie.