Belly up to these bar stories, brought to you by Miller Brewing Co., that explore well-loved but lesser-known taps and taverns from all corners of the city and beyond.
Maybe you've sat in Kegel's Inn, 5901 W. National Ave., one of the most "Milwaukee" of local institutions (yes, I know it's actually in West Allis), and thought, "It'd be great to be a part of a longstanding tradition like this." I know I have.
Oddly, even Julian Kegel kind of thought that on the rare occasions he'd visit Kegel's, not ever putting together the fact that the name on the sign outside was his Kegel family.
"I didn't even know this place was in the family to be perfectly honest," he says, as we sit in the bar area, which thanks to his efforts, looks better than it's probably looked since the 1930s.
"There was no relationship. Zero."
Kegel, who now owns the place that bears his name (imagine that!), remembered going to the inn for holiday parties, but had no idea his great-grandparents started the place or that his grandfather ran it for a relatively brief spell, too.
For the complete story, we've got to go back.
A little history
John T. Kegel was born in Sveti Jurij ob Ščavnici (St. Georgen an der Stainz) in Slovenia in 1892 and arrived in Milwaukee in 1911, taking jobs in factories, including the Nash Body Corp., and working as a milkman.
Once here, he met Anna Bevc, born in an area where Croatia borders Slovenia, and they married in 1915. In 1924, the couple opened a soft drink parlor in the corner space of what has been Kegel's ever since. An adjoining building to the west was rented out to a tailor, an ice cream shop and other tenants.

Sure, a "soft drinks" parlor.
The Kegel's lived in an apartment behind the restaurant. The living room is now part of the dining room and a bedroom (pictured below) still survives on the opposite side of the back wall. Other parts of the apartment were erased by a kitchen expansion.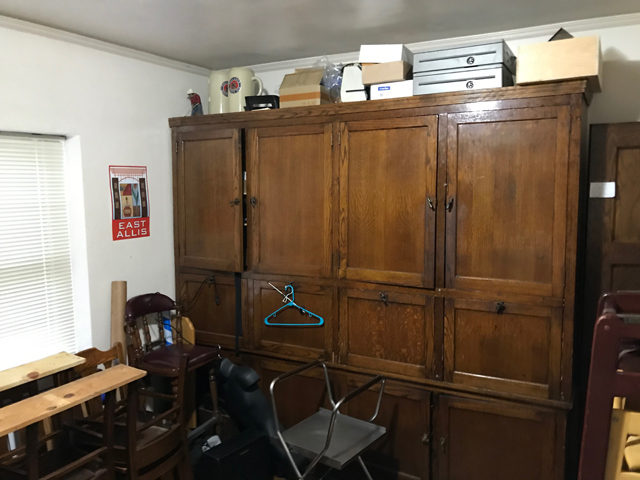 In 1927, an ad noted that Kegel's Inn also sold candy and cigars and offered "light lunch."
A remnant from this era – a framed print of a dog urinating on a man's leg that once hung in the original bar – is now hanging in the men's room.
It was apparently an open secret that Kegel's drinks were often a little more hard than soft and even now Julian Kegel can show you the basement room where some of the hootch was made. That room was accessed by a trap door that could be closed remotely via a button behind the bar.
Most of West Allis – including regular customers like the West Allis' mayor and police chief – seemed to know you could pop into Kegel's for a beer, a shot and a sandwich for a quarter, though it behooved the owners to tread carefully, and Anna was known for hiding booze in secret pockets she sewed into the roomy dresses she made for herself.
One day in late May 1927, however, a tax agent posing as a customer lured John Kegel outside to show him his new car and, with no one near the trap door button, agents flooded in and busted Anna for being in possession of liquor.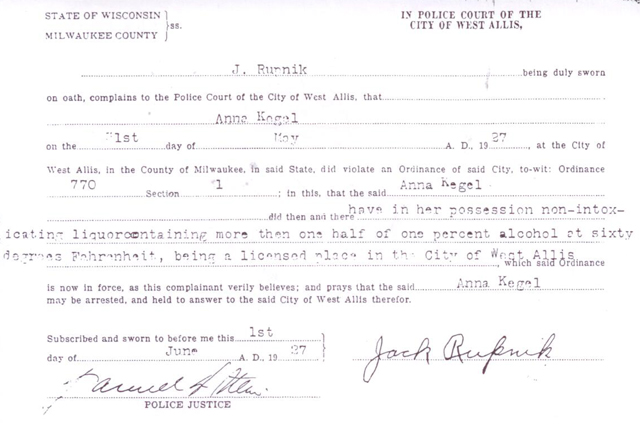 But Kegel's was not closed down and it appeared to do just fine until Wisconsin stopped enforcing Prohibition two years later and, in 1933, the ban was repealed nationally.
At that time, the Kegel's went big.
The New Kegel's Inn
They hired architect Mark A. Pfaller to join to two retail spaces, add to the building and bring it all into a single unified style, which is what customers still see today. Interestingly, while we think of the place as having a classic German design, a 1933 newspaper ad for "The New Kegel's Inn," boasts of the place's "reproduction of English design," and, indeed, the half-timbered look is pure Tudor Revival.
The menus carried a similar note right on the front cover, along with notification that there was dancing nightly and an orchestra every Saturday night.
Inside, the menu boasted a grilled steak with butter, french fries, tomato salad, fresh asparagus tips and bread and butter for 45 cents. For 10 cents less, you could get a half a fried chicken with fries, "cold slaw" and bread and butter. Still too rich for ya? A ham on rye was just 10 cents.
Immediately, the Kegels hired Darmstadt-born painter Peter Gries – who arrived in Milwaukee from Germany around 1926 – to begin muraling the interior and the artist worked on the images from 1933 until 1945, painting a wide variety of scenes.
According to a Historic Milwaukee investigation of the building, the murals in the bar were executed first and were ready for the Aug. 26, 1933 grand opening. The front dining room paintings were done in 1934 and, over time, the rest were added.
My favorites are the assorted monkeys, including the naughty one knocking over a stein of beer. I'm also a big fan of the stained glass windows in the bar area, created by Wagner Brothers, that depict brewers and those who appear to have over-enjoyed the brewers' work.
The year Gries died, 1947, is the same year that John Kegel decided to retire. He'd been living hard, running the bar at the same time as he worked his factory job at Seaman Body Company.
At this point, eldest son John A. Kegel and his wife Ruth took over, though his sister Rose, who worked there for three decades, continued to help out, as did other family members.
In 1955, Julian's grandfather George Kegel – the youngest son of the founders – and his wife Audrey took over the business, running it until 1966. But that wasn't working out so well, it seems.
"George was the charismatic socialite," says Julian Kegel. "That's my grandpa. But he couldn't run the business to save his life. He actually only got it for about 11 years before his older brother sued it back from the family. Major drama. My dad didn't even know the cousins that we took over from until his was almost in his 40s."
So, John A. was back in charge and he stayed at the helm until 1981.
"John Jr. got sick, and he had six kids, and the oldest, Rob, was the chosen one. Although Rob grew up in the business, all the kids basically wanted nothing to do with it, cause John was so strict and such a hard liner for his family and his business here."
Rob Kegel focused on the kitchen while his brother Jim Kegel became the face of the bar. Even now you can find them both still working the place some nights.
When the place went up for sale, Julian followed a long path back to his family business.
The Julian and Stephanie era
Julian's dad, Chris, however, took a different road, following his love of bicycles to a small shop called Wheel & Sprocket, where he quickly became a partner, and then owner. Chris Kegel, who passed away a couple years ago, grew the shop into a local bike shop, er, chain, that was itself a local institution.
Julian grew up in the bike business, and after traveling and trying his hand at a few things, he decided to return to Milwaukee with his wife Stephanie, and Rob, who had been wooing all sorts of family members in attempts to get them to buy the place, set his sights on Julian.
"What I told him is I'm not interested," remembers the latter. "But my wife, she would be the sort of linchpin in this whole thing. So why doesn't Stephanie work here a couple days a week, just to see if she likes the place? And this was December 2013, I think. And she'd come in on Mondays, bartends, and there were like three people in here.
"And she cleaned the sh*t out of this place and started uncovering all of the woodwork, you know? Wiped down the whole mural system. Found that, 330 buckets later, this place is pretty awesome."
And suddenly, Kegel's had sucked in another generation. Thank God, too, because in addition to being one of only a few remaining German restaurants in the area, Kegel's boasts just about the best traditional fish fry, too.
And this young team is enamored of the place.
Out front, they've cleaned everything, including the bar and the back bar – built by Wagner & Boek on 34th and Hopkins – which underwent months of stripping, cleaning and repair and look amazing.
" We took the bar all the way down to its original condition," he says with pride. "We scraped off all the old, tarnished lacquer and kept all the character of the divots and filled all the old cigarette holes in with all the old sawdust from the refinish. We hand-buffed everything, so it's got this really nice original character."
In back, some basic things, changed, too, for the better ... and not just equipment.
"(We're) never having canned corn as a side again," says Julian. "We're going to the farmer's market for local vegetables whenever possible. We started doing scratch-made gravies from all the drippings of all of our meats. It used to be bouillon back in the day.
"People can taste it, and business is up big time. That's afforded us some refurbishments that I don't think would've happened had the current business stayed where it was. Cause there just wasn't enough (income) for (both) living and for keeping this place up."
Downstairs, Kegel shows me the laundry room – yes, Kegel's still launders all its linens on-site, just like Anna always did – and the shop where a handyman fixes whatever needs doing.
"That's where you can find more profit," says Julian. "It's not by charging more or skimping; it's savings by doing the things you can do yourself."
There are classic old signs in the basement, including one made at the same time as the old neon sign that still hangs outside facing 59th Street, though, sadly, renovations upstairs over the years mean the trap door is long-gone.
Back upstairs, we check out the apartments on the second floor, some of which are rented out via AirBnB, while others have tenants on leases.
In the restaurant, Julian shows me the 1930s date tags on the bottoms of the heavy duty chairs in the dining room and we chuckle at the crazy monkeys on the walls and at that classic Milwaukee tavern men's room that has facilities for two but in a space with barely enough room for a single occupant.
We talk about about how few German menus are still on offer in Milwaukee.
"It's just us and Mader's," Kegel says. "I got to see, unfortunately, Karl Razsch's make that transition. We took over on very similar timelines, and he went to one extreme and we didn't do a thing. We sat back and watched pretty carefully. If Karl Razsch's could change, then that would give us license, too.
"I was down there every Saturday I possibly could. And I just saw the writing on the wall ... they painted over these murals. We don't have the traffic like Downtown. We are a destination. If patrons don't want what's Downtown, they're not going to come here (for it)."
Kegel shows me a menu so I can see that almost nothing has changed on it.
Looking up I see the two portraits in the dining room that was once John and Anna's living room.
The one on the left is John senior. On the right is his son John Jr.
As Julian talks about the work he and Stephanie have done in here and his passion for the history of Kegel's Inn, you get the sense that if they could see it now, these guys would think the place is in very good hands, indeed.
Born in Brooklyn, N.Y., where he lived until he was 17, Bobby received his BA-Mass Communications from UWM in 1989 and has lived in Walker's Point, Bay View, Enderis Park, South Milwaukee and on the East Side.
He has published three non-fiction books in Italy – including one about an event in Milwaukee history, which was published in the U.S. in autumn 2010. Four more books, all about Milwaukee, have been published by The History Press.
With his most recent band, The Yell Leaders, Bobby released four LPs and had a songs featured in episodes of TV's "Party of Five" and "Dawson's Creek," and films in Japan, South America and the U.S. The Yell Leaders were named the best unsigned band in their region by VH-1 as part of its Rock Across America 1998 Tour. Most recently, the band contributed tracks to a UK vinyl/CD tribute to the Redskins and collaborated on a track with Italian novelist Enrico Remmert.
He's produced three installments of the "OMCD" series of local music compilations for OnMilwaukee.com and in 2007 produced a CD of Italian music and poetry.
In 2005, he was awarded the City of Asti's (Italy) Journalism Prize for his work focusing on that area. He has also won awards from the Milwaukee Press Club.
He can be heard weekly on 88Nine Radio Milwaukee talking about his "Urban Spelunking" series of stories.