"Bar Month" at OnMilwaukee is back for another round, brought to you by Great Northern Distilling: grain to glass spirits, handmade in Wisconsin. The whole month of March, we're serving up intoxicatingly fun articles on bars and clubs – including guides, the latest trends, bar reviews, the results of our Best of Bars readers poll and more. Grab a designated driver and dive in!
Kelly's Bleachers is the first profile in a series of Milwaukee's West Side bars. Kelly's is a classic sports and Irish bar with a colorful history that includes a basement speakeasy.
In 2002, Anthony Luchini started working at Kelly's Bleachers, 5218 W. Bluemound Rd., as a bouncer. Luchini was later promoted to manager and, four years ago, became the co-owner along with Pat Guenther.
"This was the first and hopefully the only bar I've ever worked in," says Luchini, who grew up in Wauwatosa. Today, Luchini still takes a shift or two behind the bar when he can.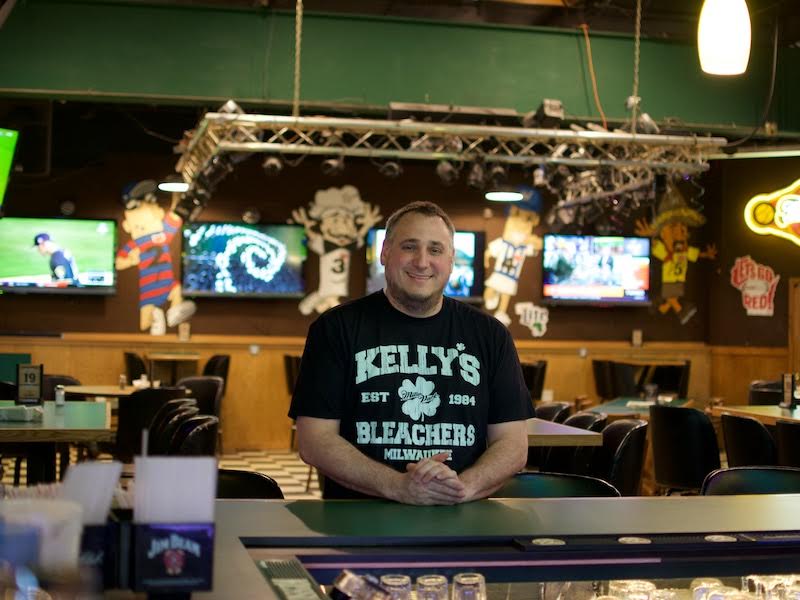 However, Luchini's history with the building spans before his employment at Kelly's. His grandparents were married in the space in the 1940s. He has also heard many stories about the speakeasy that was in the basement of the building, complete with tunnels and a "fake door," that was popular during Prohibition.
Kelly's Bleachers opened in 1984 and was about half the size it is today. Numerous expansions created an extra dining and pool room and an only-occasionally-opened second floor with a rooftop deck.
"There have been a lot of remodels over the years," says Luchini.
Because of its close proximity to Miller Park, Kelly's is primarily a "Brewers bar," with three shuttles that transport 50 to 350 people to every home game, and old Braves' and Brewers' paraphernalia – from baseball cards to pennants – on the walls and in cases.
However, Kelly's is not just a baseball bar – it's an all-around sports bar that has become a hot spot for Packers game watching.
"Our heart is with the Brewers, but we love the Packers and all local sports, too," says Luchini. "Before the last Packers playoff game we ran out of seats before the game even started."
Kelly's, also an Irish bar, is a prominent St. Patrick's Day destination that opens at 6 a.m. and offers a free breakfast every year.
"It's one of our favorite days of the year," says Luchini.
Kelly's features 16 taps and a plethora of bottles and cans, along with a classic bar fare menu comprised of burgers, appetizers, pizzas, wraps, soups, a Wednesday night Taco Night and more.
"It's standard bar food, but we definitely put our own twist on it," says Luchini.
The name of the bar is a tribute to the original owner's nephew, Kelly, who planned large outings for groups of people to County Stadium to watch Brewers games from the bleachers. Kelly helped his uncle open the bar and they decided to call it "Kelly's Bleachers" in honor of the fun times they'd had at games with friends.
"I love the name. I think every shirt I wear has 'Kelly's Bleachers' on it," says Luchini.
Luchini says the location of the bar is one of its best assets, not only because it's so close to the ballpark, but also because the other bars on the block and in the neighborhood are very supportive of one another. Also, it's across the street from a cemetery.
"We've never seen any ghosts and no one over there has ever complained about the noise," says Luchini.

Molly Snyder started writing and publishing her work at the age 10, when her community newspaper printed her poem, "The Unicorn." Since then, she's expanded beyond the subject of mythical creatures and written in many different mediums but, nearest and dearest to her heart, thousands of articles for OnMilwaukee.

Molly is a regular contributor to FOX6 News and numerous radio stations as well as the co-host of "Dandelions: A Podcast For Women." She's received five Milwaukee Press Club Awards, served as the Pfister Narrator and is the Wisconsin State Fair's Celebrity Cream Puff Eating Champion of 2019.