As a 50-something psychologist, Ken Cole is not the "surfer dude" stereotype, but in his words he is "obsessed" with both the sport of surfing and the art of board making.
"The Lake Michigan surf scene is not a bunch of 'Spicolis'," says Cole, who lives in Shorewood with his wife and daughter. "Surfing resonates with many different types of people, including guys like me, because we all want a connection to our lake."
Cole started surfing in 1994 while working as an intern at a hospital in Oahu, Hawaii. He bought a cheap longboard and transported it to and from the ocean strapped to his bicycle almost every day for nine months. He later moved to Chicago and was determined to continue surfing. "I had to keep it going," he says. "It was my therapy, my yoga."
(PHOTO: Andrew Feller)
When a relationship inspired Cole to move to Milwaukee he was delighted to discover a small but vibrant group of Lake Michigan surfers primarily at North Point Beach and Shorewood's Atwater Beach. "Surfing on the lake is not the same as surfing the ocean, but it is a close approximation," he says.
Always a curious and creative person, Cole began to dream of designing his own boards. As a hopeful environmentalist, he wanted to make a surfboard that wasn't constructed from fiberglass, a person-made material that can lead to harmful health effects in humans and animals.
"Boards made with fiberglass are stunning and the craftsmanship is incredible, but what I wanted to do is different," says Cole. "So I learned as much as I could about the science and craft of shaping boards and borrowed classic patterns from multiple shapers and created the board I was looking for."
Cole began making boards in his Shorewood garage and started a small business called Greenhouse Surfboards. Eventually, he moved into a work space at the Horny Goat Marina – located in Milwaukee's Harbor District neighborhood – which he shares with fellow surfer and shaper, Garrett Burton.
To build his eco-friendly boards, Cole recycles coffee bags from Colectivo and instead of fiberglass, Cole uses jute, a fiber derived from plants. He was pleased to discover jute made the colors appear brighter and richer. This was significant to Cole because he believes the aesthetic of a surfboard is every bit as important as the functionality.
"I think a surf board should be as beautiful as it feels to surf," says Cole, pointing to a board stretched across his studio. "That one symbolizes a sunrise. That tranquil feeling you get when you put a board in the water in the morning."
(PHOTOS: Royal Brevväxling)
Much of Cole's surfing takes place in the sacred wee hours before work. Surfing is an integral part of Cole's day and his mental and spiritual health.
"The camaraderie of other surfers is really nice. We don't even always talk, we just hoot and holler between waves and feel like we're 16 again," says Cole. "But the best part is being able to turn your board around and look at the horizon and just be with yourself. It's refreshing on so many levels."
(PHOTO: Andrew Feller)
Cole also teaches other people to surf, both formally and informally. He is particularly interested in teaching young people of color to surf and has worked with numerous groups such as Outdoor Afro and Urban Underground.
"This has been a mission of mine for a long time: to diversify the lineup and get more people on the water," says Cole. "I think people in general are nicer in the water and that's what I want to see: more people in Wisconsin in the water and being nice to each other."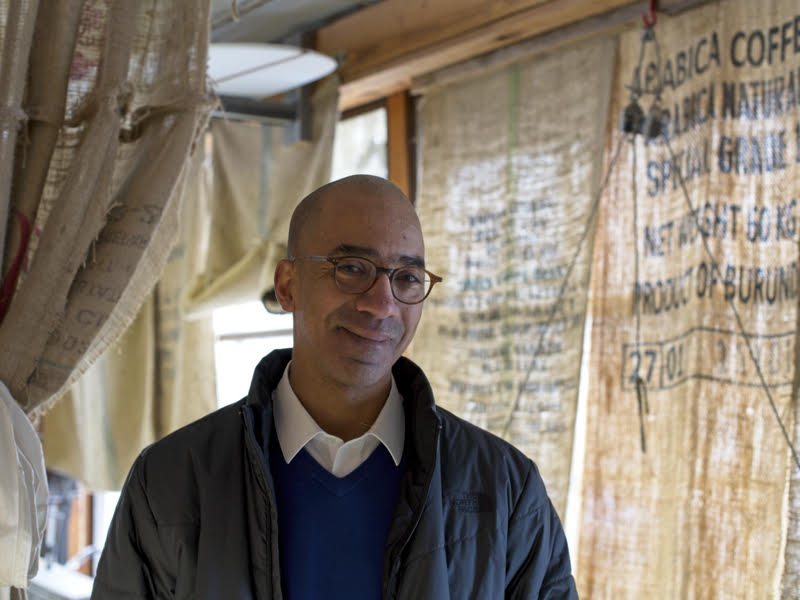 (PHOTO: Royal Brevväxling)
Follow Greenhouse Surfboards on Instagram.
Molly Snyder grew up on Milwaukee's East Side and today, she lives in the Walker's Point neighborhood with her partner and two sons.
As a full time senior writer, editorial manager and self-described experience junkie, Molly has written thousands of articles about Milwaukee (and a few about New Orleans, Detroit, Indianapolis, Boston and various vacation spots in Wisconsin) that range in subject from where to get the best cup of coffee to an in-depth profile on the survivors of the iconic Norman apartment building that burned down in the '90s.
She also once got a colonic just to report on it, but that's enough on that.
Always told she had a "radio voice," Molly found herself as a regular contributor on FM102, 97WMYX and 1130WISN with her childhood radio favorite, Gene Mueller.
Molly's poetry, essays and articles appeared in many publications including USA Today, The Writer, The Sun Magazine and more. She has a collection of poetry, "Topless," and is slowly writing a memoir.
In 2009, Molly won a Milwaukee Press Club Award. She served as the Narrator / writer-in-residence at the Pfister Hotel from 2013-2014. She is also a story slam-winning storyteller who has performed with The Moth, Ex Fabula and Risk!
When she's not writing, interviewing or mom-ing, Molly teaches tarot card classes, gardens, sits in bars drinking Miller products and dreams of being in a punk band again.