To say Kendrick Lamar put on a concert tonight would be an understatement. Indeed, he performed 30 songs, but the spectacle he created at Fiserv Forum was also a theatrical masterpiece – performance art at its best – and a deeply personal journey through his upbringing and the social perspective it formed.
Every minute of the two-hour show was crafted and intentional. Puppetry, choreography, artistic shadows, brilliant camera work and intricately-timed props matched each song's emotion on a visual level and helped tell Lamar's powerful story in an immersive, innovative and theatrical manner.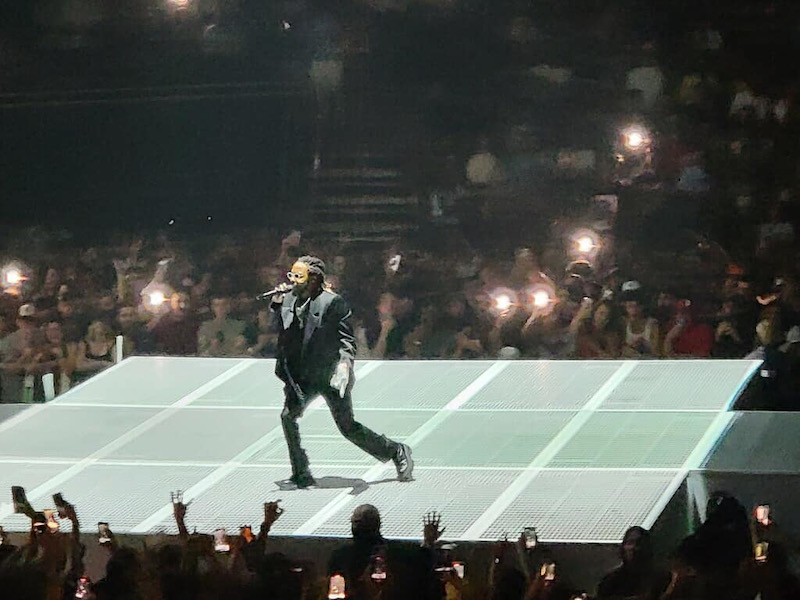 But it was the songs he chose, and the order he played them, that masterfully created the narrative that led us through not only his declared "1,855 days" of being trapped in his own head, but also a nod to the pandemic which deeply triggered his introspection. The concert's story also shared aspects of Lamar's childhood and young adulthood in Compton, Calif. which he is now able to reflect on much more deeply and honestly as a 35-year-old man.
About half of the songs were drawn from his most recent studio album (and as he's threatened his last with Top Dawg Entertainment), "Mr. Morale and the Big Steppers." He opened the show with "United in Grief," which is also the first track of the album, followed by the hit of the album and its second song "N95."
These opening songs are debatably the most popular tracks on the album, and it made sense to start with them on the concert setlist. They already fit as opening songs, just like on the album, and also provided much-needed morale (ba dum tss) to a crowd waiting over an hour for him.
Early in the show, Lamar sat at his piano with his back to the audience, but a hand-held camera eventually captured his image and was projected onto screens. This set the tone for the evening. We saw a more mature Lamar, with sunglasses and facial hair. He was accompanied by a ventriloquist-style puppet of himself, suggesting, perhaps, that he has felt like a puppet throughout his career. If Kendrick weren't so cool it would have been a tad creepy.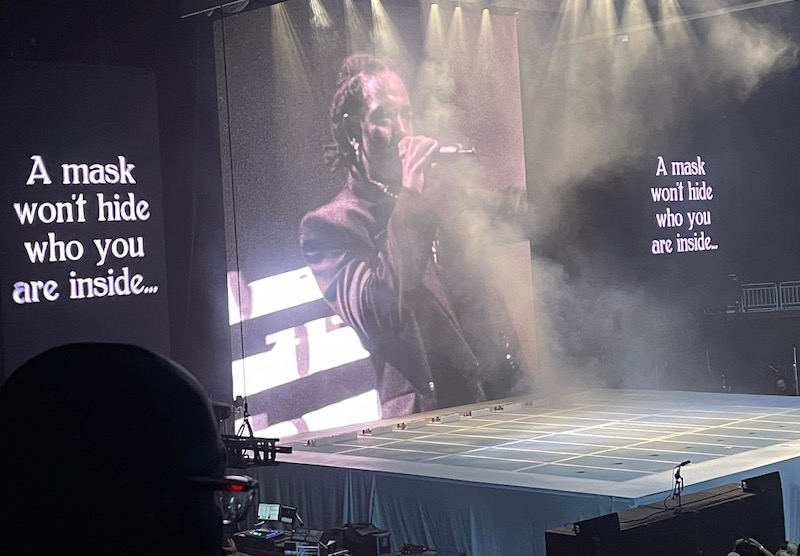 The voice of his "therapist" furthered this point, serving as a narrator throughout the show, adding insightful and melancholy commentary.
Mental and physical health were big themes in the concert, as they are in the latest album. At one point, Lamar was enclosed in a large cube with four dancers in hazmat suits, one of whom "administered" a COVID test.
Lamar followed-up the second song of the new album by busting into "ELEMENT," an older song that he found new energy for tonight, incorporating the classic into a fresher version.
The dancers added an incredible amount of style, energy and context to the evening. Like the show itself, the dancers' moves were extremely precise and orderly, and yet often emotional at the same time. The highpoint of their performance took place during the song "LUST" when they melded together both on stage and in projected shadow versions of themselves on the screens.
Lamar – and his opener and cousin Baby KEEM, who joined him for a few songs at the end of the show – incorporated Milwaukee into a few songs, most notably "Family Ties," where the transitional bar to Lamar was changed to "We put Milwaukee on the map."
Lamar seemed alone on the stage despite the dancers often nearby, and his posture was not as confident as usual. His emotions were definitely on his sleeve, almost as obvious as the diamond-crested glove he wore in tribute to the late Michael Jackson.
On the mic, Lamar was impeccable and precise and he effortlessly at times flowed between rapping and singing. For a few of the final numbers, he easily bounced back and forth between his own joy and the morale of Baby KEEM to redefine live hip-hop performance.
Setlist:
United in Grief
N95
ELEMENT.
World Wide Steppers
Backseat Freestyle
Rich Spirit
HUMBLE.
Rick (interlude)
Father Time
m. A.A.d City
We Cry Together
King Kunta
LOYALTY.
Swimming Pools (Drank)
Bitch, Don't Kill My Vibe
Die Hard
LUST.
DNA.
Count Me Out
Money Trees
LOVE.
Alright
Mirror
Silent Hill
Vent (Baby Keem cover)
Family Ties
Crown
Mr. Morale
Savior