Last month, Kesha told Billboard she intended to bring "skanky Disneyland" vibes to the stage during her tour and although I wasn't exactly clear on what that meant, I knew at that very second I was in. Mouse ears on and completely in.
And although Kesha's packed show tonight at Summerfest didn't exactly exude Disney-ness, it very well may have been the happiest place on earth. Or at least the happiest place I'd been in quite some time.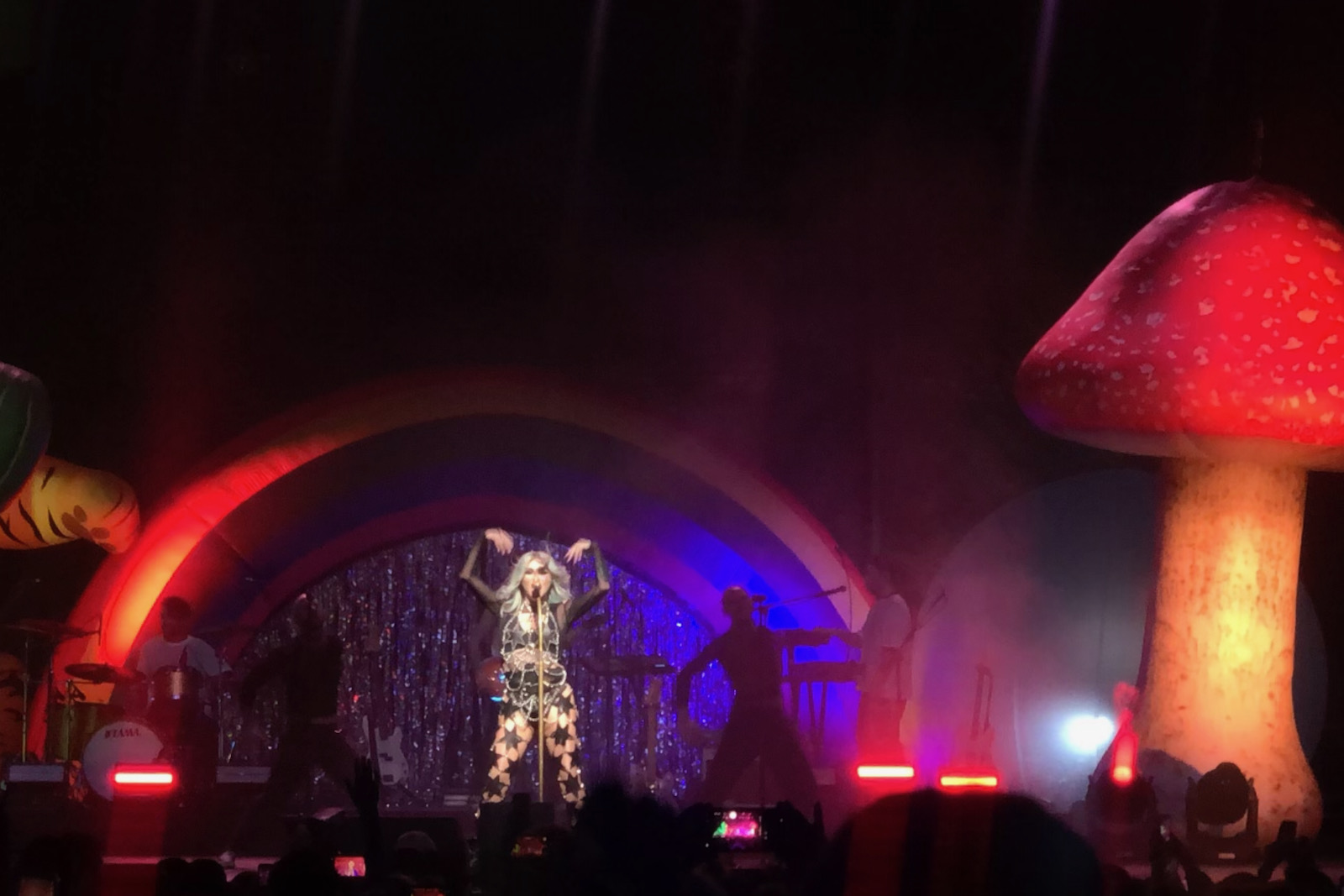 From the moment Kesha burst on stage – which was decked out with giant mushroom, rainbow and cactus inflatables – she made it clear she was ecstatic to be there. "I have f*cking missed y'all so much," she told the already-mesmerized crowd. "And just for tonight, let's pretend the world is not a giant dumpster fire … let's be f*cking free."
Originally, Kesha was set to tour behind her fourth studio album, High Road, in early 2020. However, the pandemic forced her off the road entirely and although she admits to, at times, going "more than a little crazy," she also used the break to explore new passions like podcasting, crocheting and stillness.
But still she was not tonight. Instead she powered through 13 songs, made five costume changes, detonated dozens of glitter bombs and ribbon cannons, danced her ass off and genuinely expressed her love for Milwaukee.
"I have so many weird, fun, crazy times here. Some of the craziest adventures of my life took place here. Milwaukee is one of my favorite cities in the world," she said.
She went on to share a story about her first visit to Milwaukee when she was 14 and took a bus from Nashville to The Rave. At some point she kicked off her boots and a lady mistook one for a toilet and peed in it.
"This was also the trip when I became aware of Dahmer, and later wrote about him in (one of her songs) 'Cannibal,'" she said.
"Cannibal" was the first song of tonight's set list and during which she was dressed in black leather and mesh and led her two male dancers, both masked, around the stage on chain leashes. She then ripped into the validating anthem "We R Who We Are" followed by a butt-centered version of a newer song, "Raising Hell."
"Did y'all get a good picture of my ass?" She asked after bending over in front of the crowd for at least 15, maybe 30, seconds while her male dancers formed a heart shape with their arms to frame her fishnet-covered posterior.
She then grabbed a towel, wiped under her breasts, between her legs and threw it into the crowd. "If you do something weird with that towel you have to send me a picture," she said.
. @KeshaRose threw a hell of a party at @Summerfest last night …

And one of the largest and loudest crowds we've ever seen LOVED every second of it.

Read @mollysnyderMKE 's thoughts here: https://t.co/W8oAfBY5h3#keshalive pic.twitter.com/wetPuKBuDJ— OnMilwaukee (@onmilwaukee) September 12, 2021
Kesha then seamlessly switched personas from dominatrix to feminist and broke into "Woman" which inspired the audience to chime in on the lyrics "Don't buy me a drink/I make my money/Don't touch my weave/don't call me honey…I'm a motherf*cking woman."
Reported to have an IQ over 140, Kesha's clearly an emotional genius who's able to relate to her audience in articulate and genuine ways. After delivering the slower, deeply moving "Rainbow" – a reminder to herself that she is strong AF and can make it through anything – she recognized the support of her fans, and after the first encore song "Praying" she thanked the audience for making her feel less alone.
Following the song "Shadow," which has a similar theme about refusing to let the negativity of others take you down, she spontaneously and profoundly said, "It is an act of defiance to f*cking live. You have to look for your happiness and then you have to guard that sh*t with your life."
And then in true Kesha fashion, she shifted again, this time into a sexpot party girl daring the audience to get naked with "Take It Off." Her demands resulted in shirts and bras flying from the crowd onto the stage.
One moron threw a water bottle – which triggered resounding boos from the audience – and some fans in the front rows slid their phones towards her feet. Surprisingly, she picked up three or four of the phones, made videos of the audience and, of course, her butt, and then returned them to the owners.
At 34, Kesha is no longer the teen pop star who claimed to brush her teeth with Jack Daniels or roll in beer to serve as a glitter adhesive. Nor is she the young woman damaged by trauma and eating disorders after repeated abuse and assault from her former producer, Dr. Luke.
Instead, Kesha is the sum total of all of these experiences and consequently her voice, energy and stage presence is stronger and more authentic than ever. And still completely covered in glitter.
Setlist
"Cannibal"
"We R Who We R"
"Raising Hell"
"Woman"
"Timber" (Pitbull cover)
"Your Love Is My Drug"
"Rainbow"
"Shadow"
"Take It Off"
"Blah Blah Blah"
"Tik Tok"
"Praying" (encore)
"Blow" (encore)

Molly Snyder started writing and publishing her work at the age 10, when her community newspaper printed her poem, "The Unicorn." Since then, she's expanded beyond the subject of mythical creatures and written in many different mediums but, nearest and dearest to her heart, thousands of articles for OnMilwaukee.

Molly is a regular contributor to FOX6 News and numerous radio stations as well as the co-host of "Dandelions: A Podcast For Women." She's received five Milwaukee Press Club Awards, served as the Pfister Narrator and is the Wisconsin State Fair's Celebrity Cream Puff Eating Champion of 2019.