The former Saz's Catering, at 5501 W. State St., may look uninhabited at the moment, but as early as late January, the space will be transformed into the Kettle Range Meat Co. butcher shop, a retail space specializing in ethically raised and humanely slaughtered beef, pork and chicken.
By late spring, the hope is that the building will also house a USDA inspected meat processing facility. There, Kettle Range will custom cut meat products and manufacture bacon, sausages and a variety of other meat products made from grass-fed beef and other free range raised meats, including pork and chicken – all of which are free of hormones and antibiotics.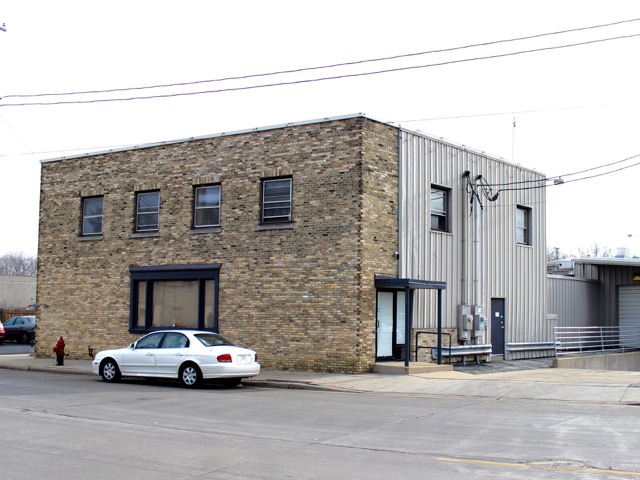 "You see tons of grass-fed marketing online, but you don't really know what that means," notes Mark Bearce, CEO and business manager for Kettle Range Meat Co. "There are very few companies who are actually procuring, transporting and processing their own animals and then selling them directly to customers – which is what we do. And that's about as close as you can come to having true visibility of where your food is coming from."
Bearce, a former digital marketing strategist and technology consultant, founded the company in fall of 2014 with master butcher Joe Parajecki, former chef and most recently the operations manager for Black Earth Meats.
"The goal for the company was to provide a high quality source for locally produced meats products that are produced according to strict protocols," says Parajecki, a long-time butcher and current student in the Master Meat Crafter certification program (the first and only of its kind) provided by the University of Wisconsin Meat Science Laboratory in Madison.
"Those protocols ensure that cattle are fed species-appropriate, all-vegetarian diets and are allowed to roam and forage. And from there, the animals we use are hand-selected and slaughtered under our careful supervision," notes Bearce, whose exposure to cattle raised on vast estancias in Chile prompted him to enroll in the Wisconsin School for Beginning Dairy and Livestock Farmers and subsequently seek out work with Bartlett Durand of Black Earth Meats and the Conscious Carnevor.
When Black Earth was forced to close its doors, Bearce says, there was a huge void left in the marketplace.
"Two shareholders at Black Earth and two animal suppliers contacted me," he says. "And they expressed an interest in continuing the work Black Earth began."
By February of 2015, thanks to collaborations between a variety of small meat processing and packaging facilities – including Hometown Sausage Kitchen in East Troy – along with the cattle procurement and expertise of longtime farmer Brian Bradley of Denmark, the company began selling its humanely raised meats at farmer's markets (including locations in Cottage Grove, Racine, Kenosha, Lake Geneva, East Troy and South Milwaukee).
By June, they had established a buying club, offering monthly shares of sustainably raised meats delivered by mail order and to pick up locations throughout southern Wisconsin.
The vision
Once open, the butcher shop will carry a range of both fresh and frozen meat cuts, along with a small selection of complementary products primarily from local vendors. A window in the butcher shop will provide a view into both the meat processing space and a dry aging room. A limited variety of heat and eat entrees – one beef, one pork and one chicken – will also be available in a variety of sizes to accommodate consumers and their families.
Meanwhile, the partners will be working toward USDA certification to turn the remainder of the first floor into a meat processing facility where they can butcher their own meats as well as create sausages and smoked meat products.
"In addition to consumers, we want to be able to serve Milwaukee restaurants," says Parajecki, "To be able to offer them special cuts, to be able to process particular animals from particular farms."
And demand for their work is already growing.
"We get calls almost daily from people who have become aware that we're trying to bring this back," says Bearce. "And most of the demand we can't meet until we have the appropriate infrastructure in place. But, it's coming along. And we're excited to see its culmination."
Get yours
Holiday assortments, including curated selections of dry aged grass-fed beef, pastured pork and meat products such as sausages and bacon, are available online through Dec. 19 at kettlerangemeats.com, where consumers can also find information about monthly meat delivery through the Kettle Range Buyer's Club.
Lori Fredrich (Lo) is an eater, writer, wonderer, bon vivante, traveler, cook, gardener and girlwonder. Born and raised in the Milwaukee area, she has tried to leave many times, but seems to be drawn to this quirky city that smells of beer and alewives.
Some might say that she is a little obsessed with food. Lo would say she is A LOT obsessed with food. After all, she has been cooking, eating and enjoying food for decades and has no plans to retire anytime soon.
Lo's recipes and writing have been featured in a variety of publications including GO: Airtran Inflight Magazine, Cheese Connoisseur, Cooking Light, Edible Milwaukee, Milwaukee Magazine and the Milwaukee Journal Sentinel, as well as on the blog Go Bold with Butter, the web site Wisconsin Cheese Talk, and in the quarterly online magazine Grate. Pair. Share.