Keep your eyes out for the phenomenon of floating rocks today – or, in particular, just a floating Kid Rock.
Yes, after being spotted yesterday floating around the shores of Mackinac Island on a significantly not-kid-sized 198-foot yacht – reportedly appraised at $100 million – Robert "Kid Rock" James Ritchie apparently docked in Milwaukee later Tuesday.
OnMilwaukee's own Carolynn Buser noticed the gigantic Rock flotation device on the Lakefront yesterday and posted a emoji-tear-filled Snapchat about it: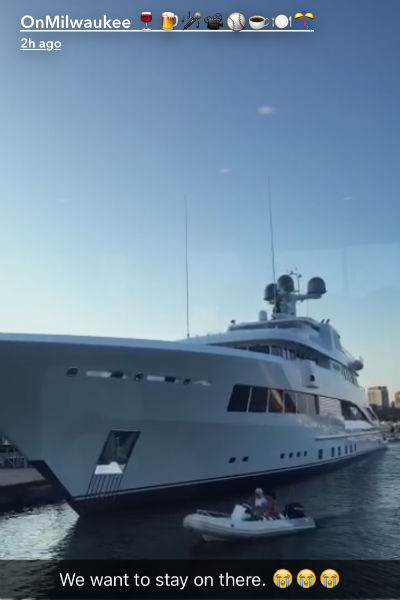 Discovery World's Twitter account later made Kid Rock's arrival official, tweeting out a photo of the yacht – ingeniously named The Rock.It (I suppose there are few rock-related pun options for boat names that don't imply sinking) – and, eventually, the rock star himself with an invite to tonight's Live @ the Lakefront concert event.
The Rock.It is in MKE and too big to fit in a photo. pic.twitter.com/fFZuO59iCV — Discovery World (@discoveryworld) August 2, 2016
Welcome to MKE @KidRock! Can we convince you to join us for @LakefrontLive tomorrow night on the dock? pic.twitter.com/qm0J5D1fbM — Discovery World (@discoveryworld) August 2, 2016
Unfortunately, Discovery World, Mr. Rock and his big boat – well, technically speaking, according to the Detroit Metro Times, it's Jimmy John's boat; yes, that Jimmy John – are not here simply for sightseeing or summer festival-ing or helping deliver sub sandwiches along the Lakefront freaky fast. No, Kid Rock has a gig tomorrow night at Country on the River in Prairie du Chien to which he's likely en route.
In the meantime, however, as of Wednesday morning, Kid Rock's still docked.
So if you hear someone out by the lake today sipping whiskey out the bottle, not thinking about tomorrow and singing "Sweet Home Alabama" all summer long, yes, it's probably actually Kid Rock.
As much as it is a gigantic cliché to say that one has always had a passion for film, Matt Mueller has always had a passion for film. Whether it was bringing in the latest movie reviews for his first grade show-and-tell or writing film reviews for the St. Norbert College Times as a high school student, Matt is way too obsessed with movies for his own good.
When he's not writing about the latest blockbuster or talking much too glowingly about "Piranha 3D," Matt can probably be found watching literally any sport (minus cricket) or working at - get this - a local movie theater. Or watching a movie. Yeah, he's probably watching a movie.