The following takes place between 9 p.m. and 10 p.m.
Russell Crowe. Bruce Willis. Eddie Murphy.
Those were the names that first came to mind when it was announced that Kiefer Sutherland was dipping his toe into the world of music – and starting that plunge right here in Milwaukee with a casual Thursday night gig at Shank Hall. And no, not for good reasons.
When an established actor hops into the world of music – like Crowe with the appropriately titled 30 Odd Foot of Grunts or Willis' and Muphy's respective unrespectable attempts at Top 40 fame in the '80s – it's hard not to imagine it simply as some kind of vanity project or ego-driven brand expansion. For every success, like Hugh Laurie or Zooey Deschanel, there's a few Lindsay Lohans, Paris Hiltons and Corey Feldmans, resulting in unconvincing rock tunes, put-on country twangs and ear-grating pop.
In Sutherland's particular case – a career coming off of the brief, impactless return of "24" and an extended cameo as a pregnant orgy companion in "Zoolander 2" (it probably sounded like a good idea at the time) – it was exceptionally hard not to lift a cynical eyebrow at the actor's sudden trip into country rock. Plus, with Johnny Depp's Hollywood Vampires already set to come to Summerfest, Milwaukee's quota for famous stars' midlife crises disguised as rock bands was plenty filled.
But then the show – performed in front of a crowd mixed equally between genuine fans of the actor (one in the front row wearing a Jack Bauer "24" shirt) and just plain curious young music hipsters – actually began, and over the course of a 70-minute set, Sutherland won over any cynics and skeptics in the crowd with a good show. Yes, a legitimately good show, one that was personable and intimate and filled with unexpectedly authentic tunes.
In case you weren't confident Sutherland would take country music seriously, the actor arrived on stage fully in character, rocking a 10-gallon hat and toasting a drink to the crowd before strumming out several solidly twangy and yearning country-rock tracks off of his upcoming debut "Down In A Hole." His deep, gravelly voice isn't much for range or smooth country crooning, but it's got a lived-in grit and growl that works for his setlist of woe-filled sad songs about knocking around life and hard living.
He was savvy enough, too, to surround himself with a strong supporting cast and generously hand over the musical spotlight. Lead guitarist Michael Gurley, in particular, rocked out several nice solos throughout the evening, while the rest of Kiefer's four-man crew notably filled in some pleasant vocal harmonies, adding some polish to Sutherland's raw voice and tunes – all surprisingly solid.
His first single, "Not Enough Whiskey," is a pleasant, folksy, barn-slow-dance tune, while "Calling Out Your Name" is a satisfying, personal-sounding country yearn. "Light In Your Eyes," an oddly upbeat but not unwelcome tune about friends who passed away, provided some of those strong back-up harmonies, as well. None of Sutherland's new songs bring much that's new or unique to the country-rock landscape, but they are satisfying enough songs, surprisingly felt and effectively toe-tapping.
The biggest surprise in a night full of them, however, was how personable Sutherland was on stage. Performing is obviously nothing new for the former Jack Bauer, but for a small-sized gig in a tucked-away venue in a smaller market, the actor was thoroughly engaged, open and seemingly eager to be there.
He thanked the crowd early and often and told short personal stories between each song, describing their origins with a self-deprecating joke or two mixed in. Before cracking open "Calling Out Your Name," for instance, he chatted about its inspiration: a breakup that turned him into "a pessimistic son of a b*tch." He also brought up his father and spoke honestly about their relationship. Later, intro-ing "Not Enough Whiskey," he joked that, considering his life and career, there would obviously be a few songs about drinking (cue someone in the crowd delivering him a drink).
On that note, Sutherland even handed Milwaukee's notoriously audience-interaction-happy crowd in smooth stride, batting aside one fan's extremely original insistence on "Freebird" with ease and some self-depreciating fun.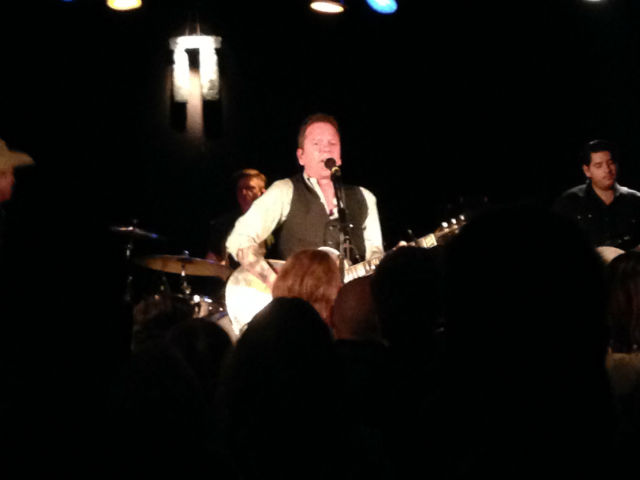 Indeed, instead of the usual generic tracks and bland interactions expected from a star's sudden musical side-gig, Sutherland seems to be attempting to truly tap into some deep, personal veins and share them with listeners – and considering his occasionally turbulent career, he has the authentic wear and tear to pull them off. Even if this is just a quick diverting role for the actor, it fits him nicely, and he performs it well. Those expecting a high-profile joke when they bought their tickets almost certainly walked out disappointed.
Occasionally his stories and songs jumped tones so quickly and unexpectedly they could've caused whiplash-induced neck injuries in the crowd. An anecdote would start with a self-deprecating remark about his hard-drinking past that once put him in jail for 48 days, then instantly into a sad tribute to a friend who died of substance abuse, before heading into a unexpectedly upbeat folky rock number.
Tonal whiplash aside, however, it was an overall inviting evening with stories and songs delivered in rapid-fire fashion, wrapped up with a few covers – Bob Dylan's "Knockin' On Heaven's Door" and Tom Petty's "Honey Bee" – and some late tunes that leaned more rock than country. The raging "Goodbye" – somehow not the final song, despite the title – hinted at a little Jon Bon Jovi, oddly, while "All She Wrote" had some of Led Zeppelin's dramatic, theatrical thunder (though with a mild anti-climax). He ended the main set with an entertainingly drunken rocker, telling the crowd, "You f*cking rock" with a middle finger (in context, it was delightful, I swear).
When Sutherland came back out for a two-song encore – complete with a surprise harmonious Gordon Lightfoot cover – it was because he earned it. And when he gets more shows and gigs across the country during this tour, and future ones, it won't be because of his famous name. It'll be because he's actually pretty good.
As much as it is a gigantic cliché to say that one has always had a passion for film, Matt Mueller has always had a passion for film. Whether it was bringing in the latest movie reviews for his first grade show-and-tell or writing film reviews for the St. Norbert College Times as a high school student, Matt is way too obsessed with movies for his own good.
When he's not writing about the latest blockbuster or talking much too glowingly about "Piranha 3D," Matt can probably be found watching literally any sport (minus cricket) or working at - get this - a local movie theater. Or watching a movie. Yeah, he's probably watching a movie.