The second annual Milwaukee Krampusnacht returns on Wednesday, Dec. 5 from 5 to 11 p.m. The event takes place at a new location – the Bavarian Bierhaus – and promises to be bigger, better and more accessible than last year's event, which sold out nearly instantly. The night will feature an evening of local music, craft vendors, food and drink, other holiday activities and, at the center, a Krampus parade.
Find more details on the event below.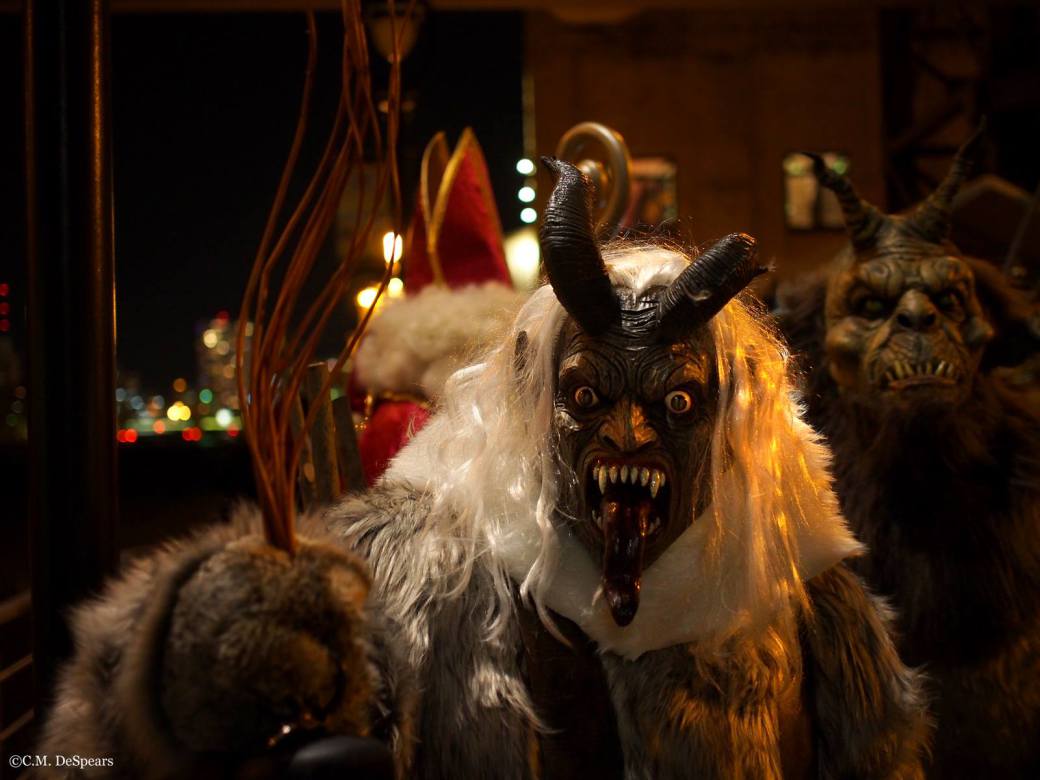 What is a Krampus?
Over the past century the American holiday season has been distilled into a nationwide, saccharine combination of religious celebrations, baby boomer nostalgia, and capitalist advertising. The reason for the season now is meant to be a child-friendly time of wonderment, good cheer and memories, but it hasn't always been so sweetly sanitized. Over a relatively recent period, the thousands-of-years old traditions have shed their creepier, old-world European elements (to say nothing of the stalker-y, burglar-y tendencies of Mr. Claus).
One of Iceland's demonic Christmas characters, for instance, was a cat called Jólakötturinn (pronounced "Yola-kutter-in," and meaning Yule Cat) who stalked the countryside eating people in old clothes. Frau Perchta (pronounced "Frow Payrk-ta") was a witch-like character who punished bad children by ripping out their internal organs and replaced them with garbage. Wales has Mari Lwyd (pronounced "Mary Loyd"), a tradition in which revelers travel door to door with a horse skull draped in a cape and mounted on a pole. The revelers badger the residents through song with the morbid hobby horse until their victims relent, allowing the travelers into their home to give them food and drink.
And of course, rising to the top of the Christmas demon pile is Krampus – a hairy, half-human, half-goat humanoid sporting horns, a long tongue and a tail – who traveled around with St. Nick, beating bad children with a twig broom. After, he would kidnap them in a basket and bring them down to hell.
The European people actually had a pile of anti-Santa demons. Many of them followed a similar mythology, but with a variety of cultural (and perhaps racist) riffs (such as Schmutzli, Grýla, Knecht Ruprecht, Ru Klaas, Zwarte Piet, etc.).
These odd characters may sound bizarre and questionable considering the season's tidings, but a good foil adds contrast to the season, which may actually help to highlight and spread its positive messages.
And America is not without its own holiday villain in green: the Grinch.
Nowadays Santa doesn't outsource the task of deciding who is naughty, preferring to do it himself in a less physically abusive and terrifying way.
Nevertheless, in the last decade Krampus popularity has been rising as it has found a new niche of fans who desire an offbeat, less sanitized, less copyrightable, and less corporate-friendly mascot.
The return of Milwaukee Krampusnacht
Thus Krampusnacht returns to Milwaukee after its sold-out first year.
The Krampus Parade, sponsored by American Science & Surplus, kicks off at 7 p.m., where, according to the Milwaukee Krampus press release, "you will encounter a wild pack of Krampus and other frightening characters (but don't worry, Angels will be handing out candy and treats, too)."
The Krampus Market will feature 20 talented local vendors with gift ideas "for the unique people in your life," such as ornaments, Krampus cards, jewelry, candles, dolls, artwork, and other strange and rare items.
There will also be a Krampus Kids Hour from 5 to 6 p.m. with a Kinder-Krampus Parade, storytelling, craft projects, a beer release, a Toys for Tots toy drop and live music.
Tickets can be had for between $1 and $5. You can find out more information and RSVP to the event on Facebook.
Jason McDowell grew up in central Iowa and moved to Milwaukee in 2000 to attend the Milwaukee Institute of Art and Design.
In 2006 he began working with OnMilwaukee as an advertising designer, but has since taken on a variety of rolls as the Creative Director, tackling all kinds of design problems, from digital to print, advertising to branding, icons to programming.
In 2016 he picked up the 414 Digital Star of the Year award.
Most other times he can be found racing bicycles, playing board games, or petting dogs.