Season's eatings! The weather may be getting colder, but Dining Month on OnMilwaukee is just cooking up, dishing out your winning picks in this year's Best of Dining poll. Dining Month is brought to you by Fein Brothers, your premier food service equipment and supply dealer in Wisconsin since 1929. Congratulations to all of the winners, and happy eating for all those who voted! See all the winners for the month so far here.
Social media, particularly Facebook, is really a drag sometimes – particularly when folks' posts are hateful or too-perfect – and yet, there are moments on social media that inspire small-to-extraordinary opportunities that otherwise wouldn't exist. Sometimes our Facebook "friends" – even if we don't know them in everyday life – act as true friends.
Such was the case in August when I was preparing for my son's 16th birthday party. He prefers donuts to cake – particularly Krispy Kreme donuts – and so I decided to serve the popular pastries as his birthday dessert.
We had trekked out to the Krispy Kreme in West Allis before, but I was hoping to find a dozen closer to home, so I posted this to Facebook:
Per usual, people had all sorts of suggestions, from useful to sarcastic. And then, about 12 hours after I posted, the husband of an acquaintance-friend – someone I only vaguely know – contacted me through messenger.
He said he was a delivery driver and Krispy Kreme was one of his clients. He offered to drop off some donuts on my porch the morning of my son's birthday – for free. He said he was happy to do it, especially since I wrote an article about his wife a few years ago that created opportunities for her.
He asked me how many kids would be at the party, I told him six, and he said he would drop off an "assortment" at my house early Saturday morning. I thanked him and went on with planning the rest of the party.
When I woke up that Saturday, remembering the donut drop-off plan, I opened my front door and stepped onto my porch. No donuts.
"Oh well, it was a nice thought," I said to myself. I went in the house, started the coffee and checked my phone for new messages. There was exactly one, from the donut driver, saying he left the donuts on my back porch and that he hoped my son had a happy birthday.
I opened the back door and found a large – very large – box on the deck. I brought the box into my kitchen, placed it on the kitchen table and opened it. Inside I found 16 dozen donuts! A dozen, I presume, for every year my son was born.
I did what I usually do in surprising situations: I swore. Then I called my son down from his room. When he saw the donuts and I told him the story, his eyes as wide as Bavarian cremes, I knew he would never, ever forget the vision of a tower of donut boxes stacked on his kitchen table on the morning of his 16th birthday.
And knowing this was a gift to me.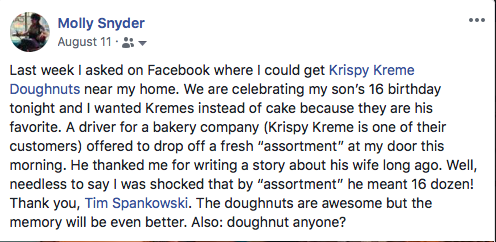 Molly Snyder started writing and publishing her work at the age 10, when her community newspaper printed her poem, "The Unicorn." Since then, she's expanded beyond the subject of mythical creatures and written in many different mediums but, nearest and dearest to her heart, thousands of articles for OnMilwaukee.

Molly is a regular contributor to FOX6 News and numerous radio stations as well as the co-host of "Dandelions: A Podcast For Women." She's received five Milwaukee Press Club Awards, served as the Pfister Narrator and is the Wisconsin State Fair's Celebrity Cream Puff Eating Champion of 2019.