Season's eatings! The weather may be getting colder, but Dining Month on OnMilwaukee is just cooking up, dishing out your winning picks in this year's Best of Dining poll. Dining Month is brought to you by Fein Brothers, your premier food service equipment and supply dealer in Wisconsin since 1929. Congratulations to all of the winners, and happy eating for all those who voted!
Rule No. One Hospitality Group (RNO) has announced a 15,000-plus sq. ft. multi-level new American restaurant, bar, garden rooftop and lounge called Lake Country Social at The Corners of Brookfield, the bustling $250 million mixed-use development, one of the largest happening in the country, and attracting lifestyle operators from Chicago, Milwaukee, Madison and across the nation.
"Unique dining experiences are a significant component to the success of our town center," said Robert Gould, Vice President of US Operations at IM Properties, which is part of the joint venture that developed The Corners. "Lake Country Social, with its multilevel design, craft cocktails and locally-sourced menu championing Wisconsin culture, will offer another fine dining experience for our visitors."
Lake Country Social will be inspired by Wisconsin's rich old-world heritage, which is steeped in native and European tradition, combined with its new-world modern sensibility guided by health, wholesomeness, empowerment and style.
This inspiration comes from a deep sense of time, place and purpose. RNO President, Joshua Berkson explains, "This area of Brookfield just off Interstate 94 along Bluemound Road is bustling with a great deal of commerce, shopping and hotels as it is a natural urban extension of Milwaukee. And yet, just a short drive 10 minutes west yields some of the most idyllic places in the state, beautifully referred to locals as 'Lake Country' for its large number of lakes and pristine landscape. As a hospitality team, we are drawn to a location like this that provides an incredible spectrum for expression across the Wisconsin experience: a soulful mix that is equal parts urban and country, global and local, modern and classic."
The menu will consist of refined yet comforting supper club classics – fried walleye and perch, burgers, prime steaks, chops and fresh seafood – along with thoughtfully composed and plated house specialties. "While the assortment is classic Wisconsin, each dish will be refined through technique and sourcing," says Head of Culinary Development for RNO, Chef Tim Dahl.
Chef Tim Williams, RNO Director of Culinary Operations furthers, "We will work with our suppliers, including our local farming and producer network in Waukesha County, Dane County and all around SE Wisconsin to source the best and freshest seasonal ingredients and do this at a great price point for the guest."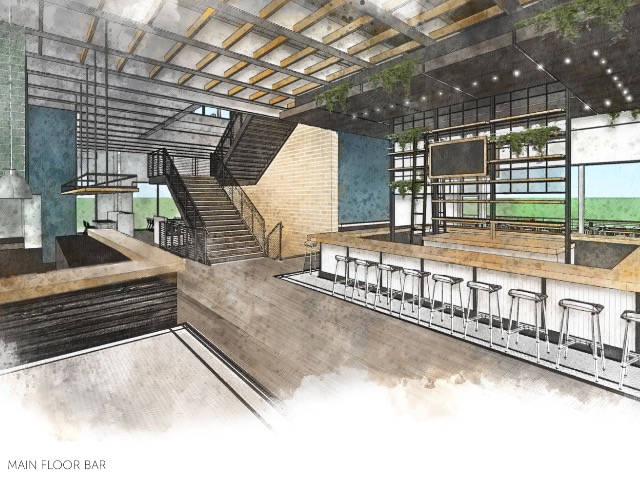 RNO Beverage Director Thor Messer will oversee Lake Country Social's vast beverage program, which will be classically rooted in Wisconsin, yet globally curated across the full spectrum of craft cocktails, beer and wine. "Lake Country Social will allow my team to categorically bring the craft cocktail to the region as well as roll out what will be an extensive quality wine and beer program. I am incredibly excited for our organization to continue to contribute Milwaukee's bartending community and showcase our approach behind the bar steeped in knowledge, seasonality and service to the guest."
The restaurant, located on Bluemound Road, next to Café Hollander, is designed by OPN Architects with additional branding and interior design by Distillery Marketing, based in Madison, Wisconsin. The cosmopolitan and contemporary design is clean, sleek and classic with extensive use of natural woods, white metal panels and glass with white mullions, inspired by a Richard Meier aesthetic.
The tri-level space features an open-air garden rooftop with a large bar, lounge area with fire pits and dining for 100-plus guests. "The rooftop will be in perpetual celebration mode," says Maddy Van Elzen, RNO's Director of Hospitality. "We plan on throwing Brookfield's largest fish fry each Friday on our rooftop in the summer. The space will be great for weekend brunches and available for rent as a private party space."
The main dining room at Lake Country Social features an open kitchen in a casual airy setting that evokes the feel of lakeside dining. Its bar is a special feature with 45 seats and large floor to ceiling windows that open fully to the patio.
The lower level of Lake Country changes from an open and airy environment to a more intimate, lounge-like, lux supper club atmosphere. Here, Lake Country Social offers more formal dining, a dedicated private party space with state-of-the-art audio and video capabilities, and a separate wine, charcuterie and cheese bar named Elsie that features a 22-ft. high copper, wood and glass back bar. This bar will also house one of the region's largest collection of American bourbons and gins.
All in all, Lake Country Social serves as a gathering place for connecting with the surrounding community in a warm and hospitable manner that only Wisconsin can provide. "Lake Country for me speaks to a state of mind. We will seek to capture and channel quintessential Wisconsin feelings of comfort, escape, discovery, relaxation and connection to our neighbors and each other," says RNO CEO Patrick Sweeney. "We will humbly pay homage to and celebrate the incredible beauty, heritage, bounty and opportunity that this area of the state brings."