After months of trying to gain access, I have finally stood upon the shore of Downtown Milwaukee's Lake Emily and gazed out upon her limpid waters. But, it turns out, I arrived over-prepared and could have left the swimsuit and sand toys at home.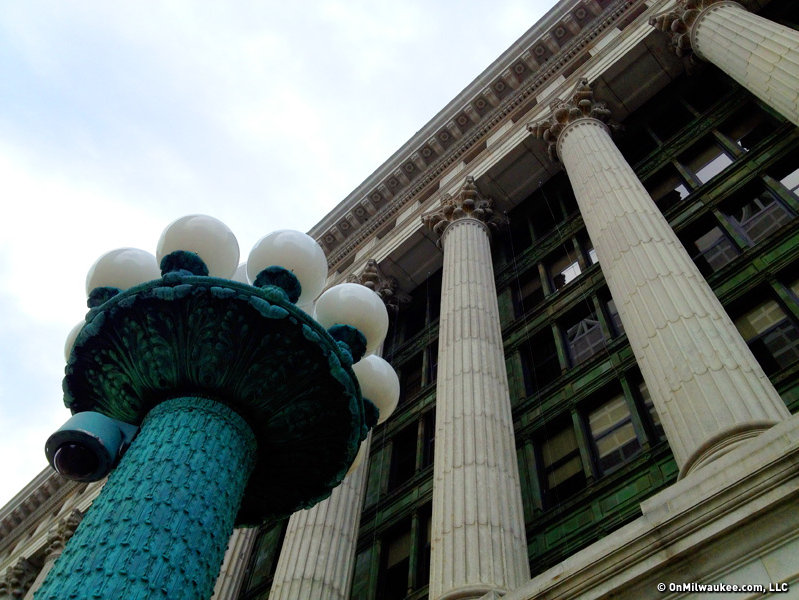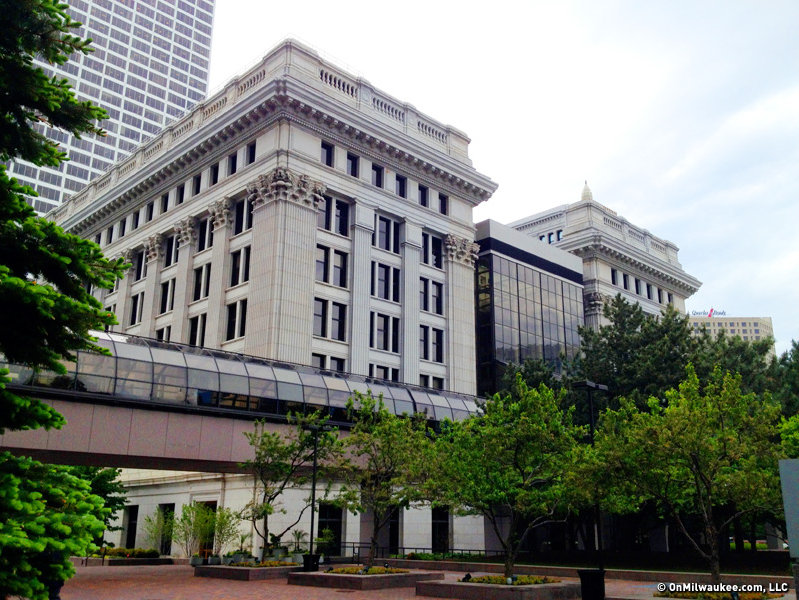 Let's go back in time for a moment, to when settlers arrived in what we call Milwaukee, more specifically, the area around Wisconsin Avenue, Mason Street, Van Buren Street and the lake. Much of the area now called East Town was a swamp, with anywhere from two to six feet of water depending on where you stood.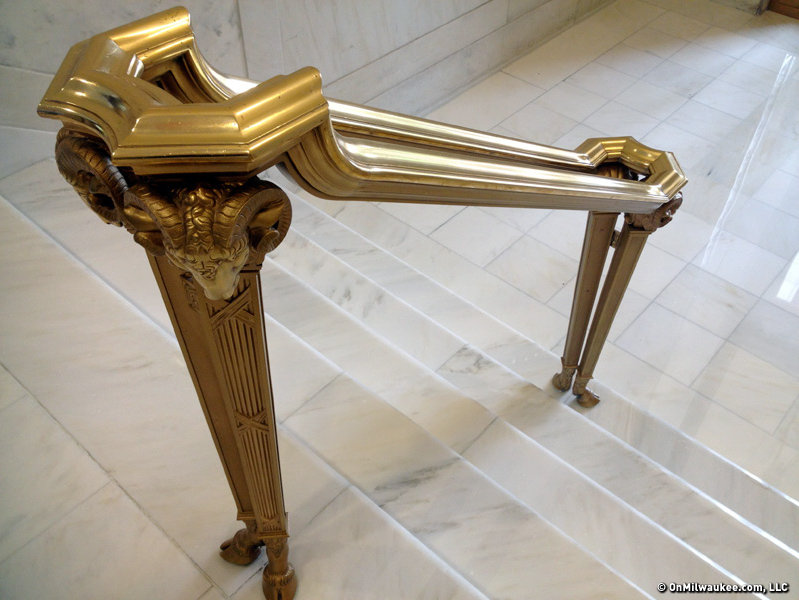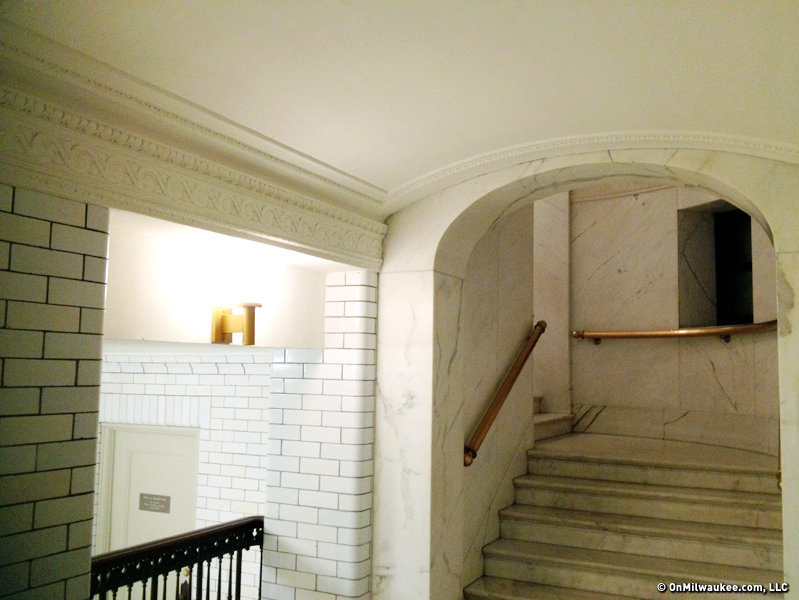 Wisconsin Avenue, before being filled in, was a narrow valley that drained into the lake. Where Northwestern Mutual's headquarters stand, there was a small body of water called Lake Emily (aka Drum's Hollow). Whether Emily was really a lake or more a retention pond created by filling in Wisconsin Avenue seems to be open to debate and opinion and the facts are, for now, lost to history.
Regardless, despite the comings and goings of Downtown development and the now more than a century old NM headquarters built right on top, Lake Emily has never gone away. She's still there, alive and well, Scott Wollenzien, NM's facility manager, who describes Lake Emily as, "a depression with water that probably wasn't very deep.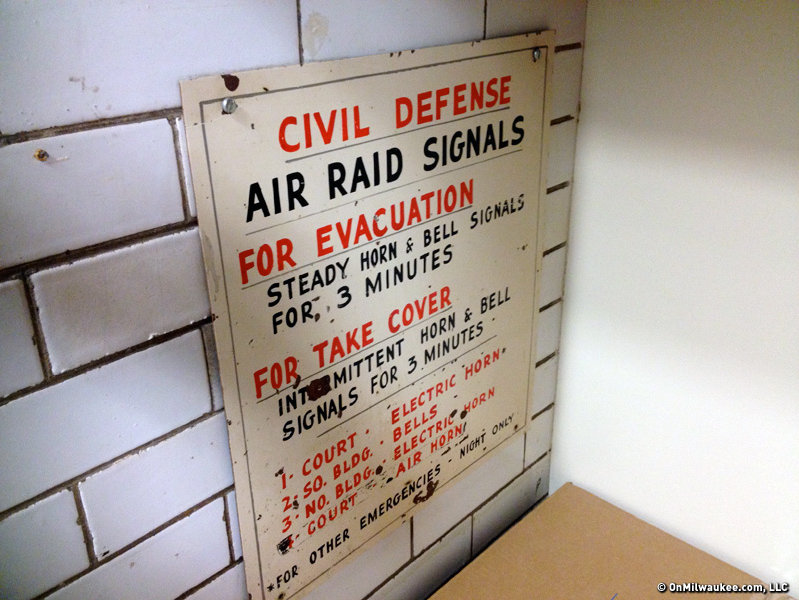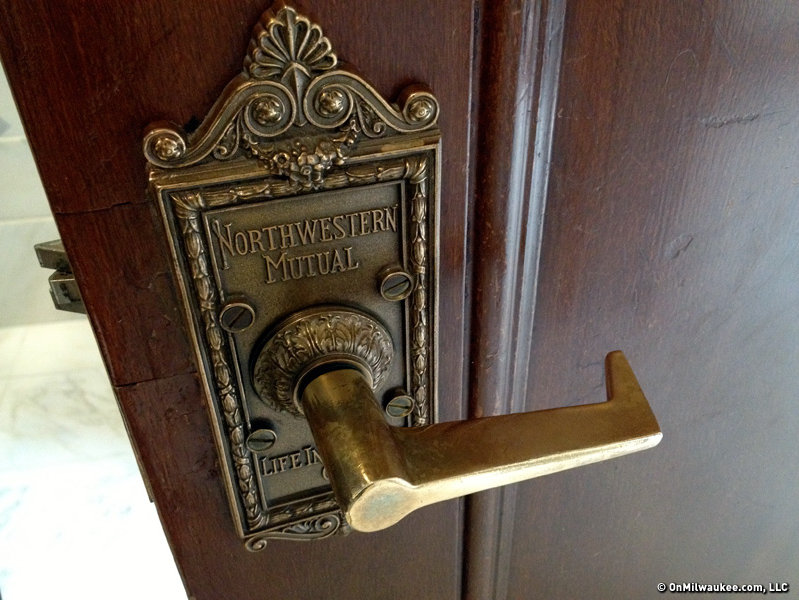 "I would imagine that this little lake froze out every year. Six feet is probably the maximum, at its deepest point. Lake Emily was a natural retention pond. People used to bring their horses down here to water them, and kids used to swim in it."
Hearing that, I arrived at NM's stately and imposing 1912-14 headquarters (designed by Chicago architectural firm Marshall & Fox) at 720 E. Wisconsin Ave. – with sunscreen, of course – to meet Wollenzien and get a peek at Lake Emily.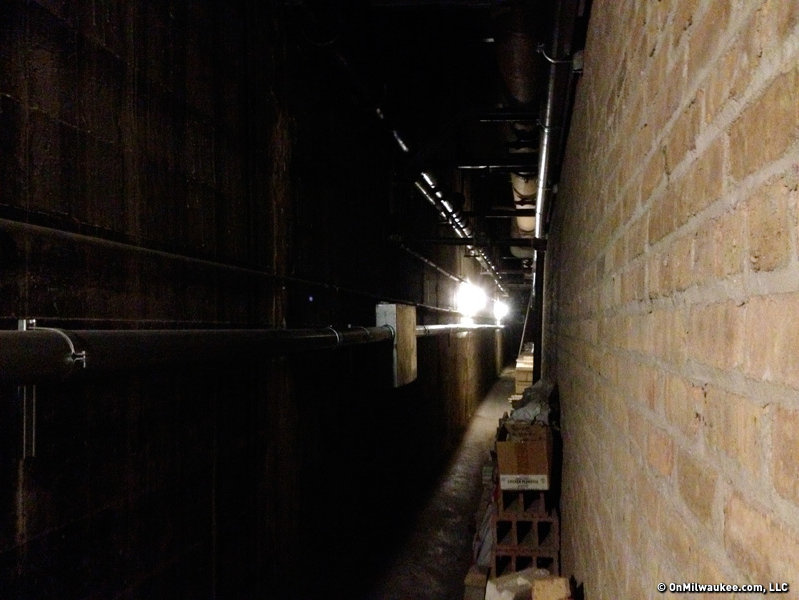 "They had to dewater this area in order to build the building," Wollenzien begins. "They dredged it out. ... This building went up in 1912. It took over seven years to build, so back about 1905 it was first started. They had to, first, drain the land, then they dug out the land using steam shovels.
"The building's built on wood pilings. Each one of those pilings is about 65 feet long, and they're virgin timbers from the northern part of the state. They brought them out via horse and buggy and floated them down Lake Michigan and then hauled them out of the lake, nearby.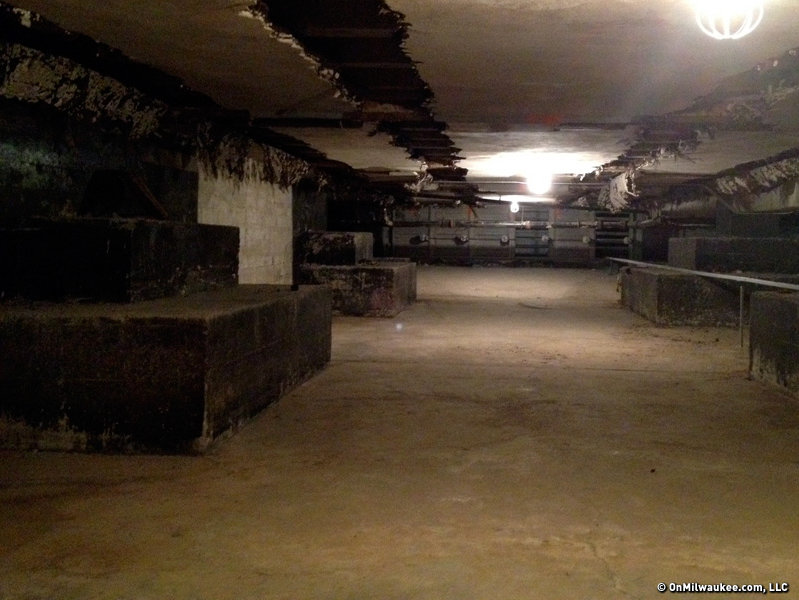 "They drove the pilings in and then started to build on top of them. Each piling was numbered and grouped before being capped and built on top of. A lot of concrete was used to cap pilings back in those days. The pilings were also tested to make sure they were down to bedrock and a special gauge was used."
Twenty years later, a major eight-story addition was put on the north end of the property. The 1932 building was razed in 1978, but its footprint covered the current atrium and ran straight up to the sidewalk along Van Buren, Cass and Mason Streets. The same process had to be repeated.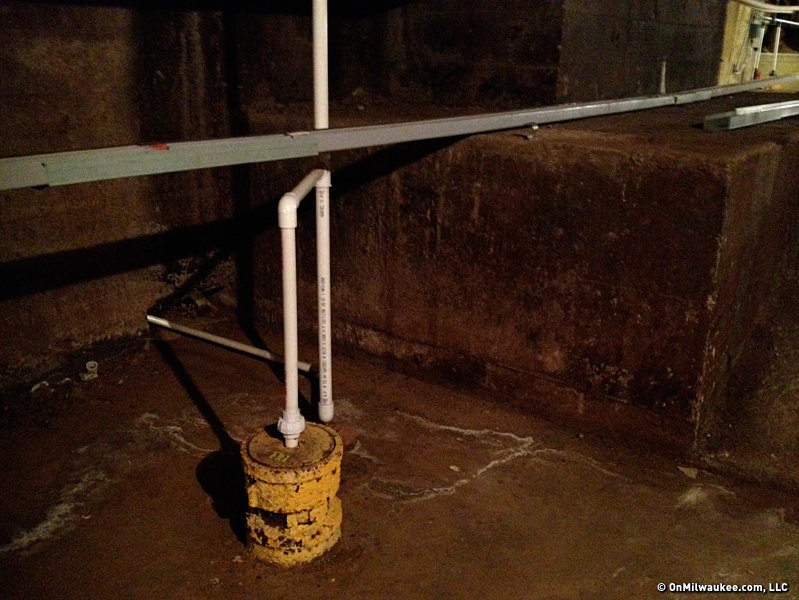 "They had to dig out the area about 20 feet first, and that's where they started driving their piles. They drove those pilings down to bedrock – there are 3,000 of those individual pilings underneath the original building.
"There are 4,000 pilings underneath the second part of the building. The reason that there's a difference is because this (extant) building was always meant to be eight stories, and it still is today, and the old north building was meant to be up to 16 stories – originally eight, with the opportunity to build eight more on top."
Though you can no longer see the north building above ground, its basement and a basement and sub-basement survive and are used for storage, workshops, a bakery and other purposes.
The walls here are insanely thick – 4 feet 9 inches thick! – and consequently the basement of a building that no longer exists could be one of the safest places to be in Downtown Milwaukee in the event of something like a tornado or air raid.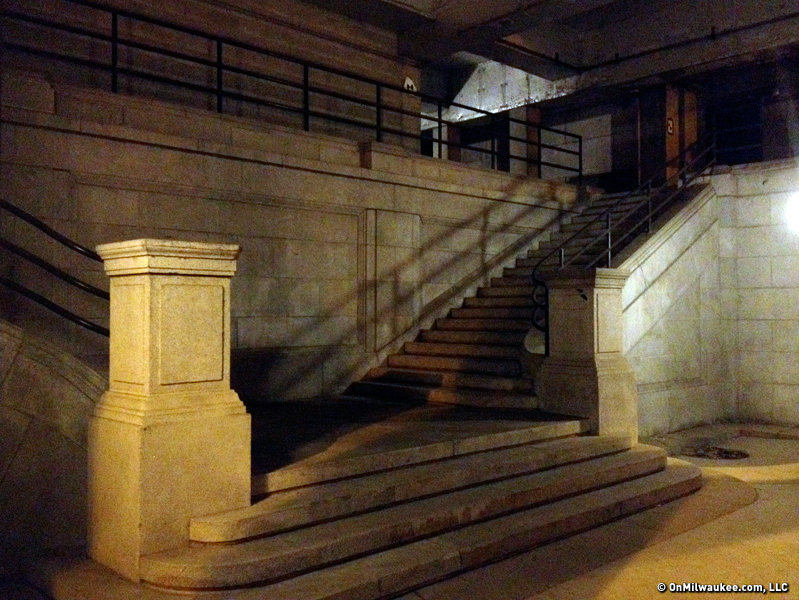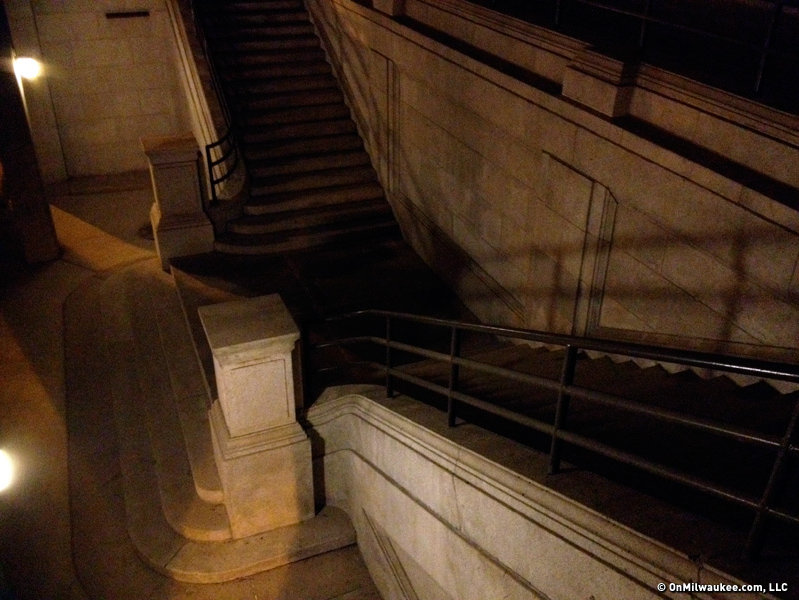 And there's "Little Egypt," a sweeping double staircase that used to offer entry to the north building from an open courtyard. These days it sits, rather eerily, in a remarkable state of preservation, beneath the northern edge of the atrium, where it abuts an air intake plenum that was built when the north building came down in '78.
"They call it 'Little Egypt' because of the architecture of the staircase," says Wollenzien. "It's a grand staircase and you used to be able to walk down to an outside garden and walk back into that level, as well. We're 20 feet or so below grade."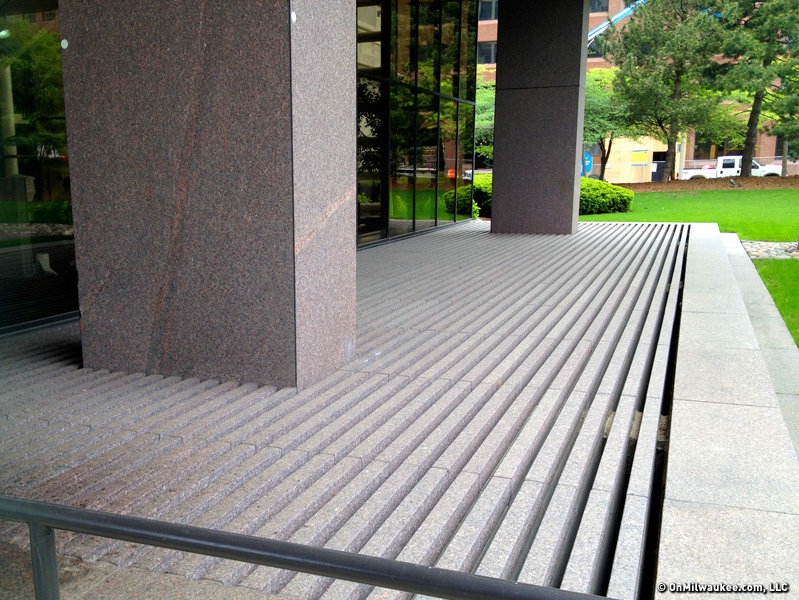 I've been assured that the construction of the Commons building to the east would not result in the demolition of Little Egypt.
But what about Lake Emily? That's what we came to see, right? We've brought a rubber duckie and we want to float it.
Wollenzien understands drama. As we walk through the brightly lit basement, workers wander past, engaged in all manner of maintenance tasks. Wollenzien tells me a bit about his crew and what they do.
"We have a team of 14 mechanical engineers that manage the downtown campus, we have 14 mechanical electricians – these are all full time associates, and we have three full-time technicians that help support the campus six days a week," he says.
"We have about a million and a half square feet of office space that we help maintain. We have lots of pipes and mechanicals. What we've done over time is to monitor the wood pilings and take care of them, always keeping them watered or wet to keep away the oxygen.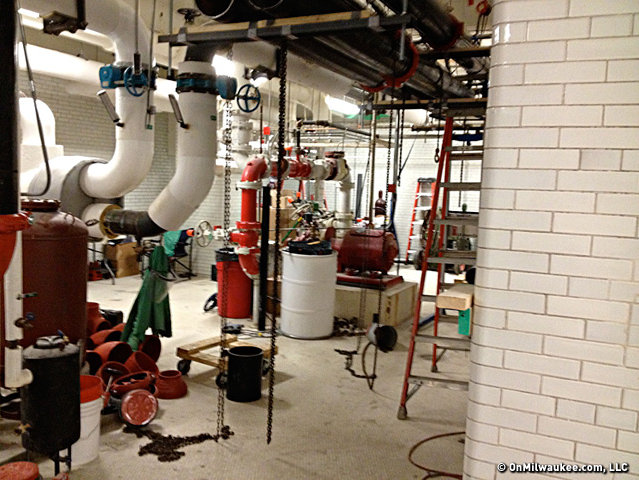 "We monitor the water through 74 holes underneath the building. Years ago, we used to do this with a large measuring stick to measure the height of the water, and we wrote it down on a piece of paper. We like to make sure that there's water at the bottom of at least every hole. If you don't see water, then it's a problem. As long as you can see the water, it's covering the pilings, because they're below the bottom of the pipe.
"We used to water each of these 74 holes with a garden hose. That was never really enough water to keep the system charged the way it should've been. What we do today – we just started doing this three years ago – we have to test our sprinkler system every week, so when we do test them, instead of just throwing the water away down the drain, we throw it underneath the building ... keeping that system charged. It's about 5,000 gallons a week."
Notching up the anticipation, Wollenzien stops at what I think is a random spot in the basement of the old north building. In the next room is the sprinkler system he described a moment ago. As we stand in this right of way, with people wandering past, he recalls when he first heard of Lake Emily.
"When I was new employee here 10 years ago, I went through orientation and they told me about Lake Emily, as well, and the first thing you picture in your mind is, 'do I really go downstairs, and open a door and there's a lake? Kind of strange.' When we actually came down here and took the tour, we found out that Lake Emily is really underneath the building – underneath nine feet of floor in this building."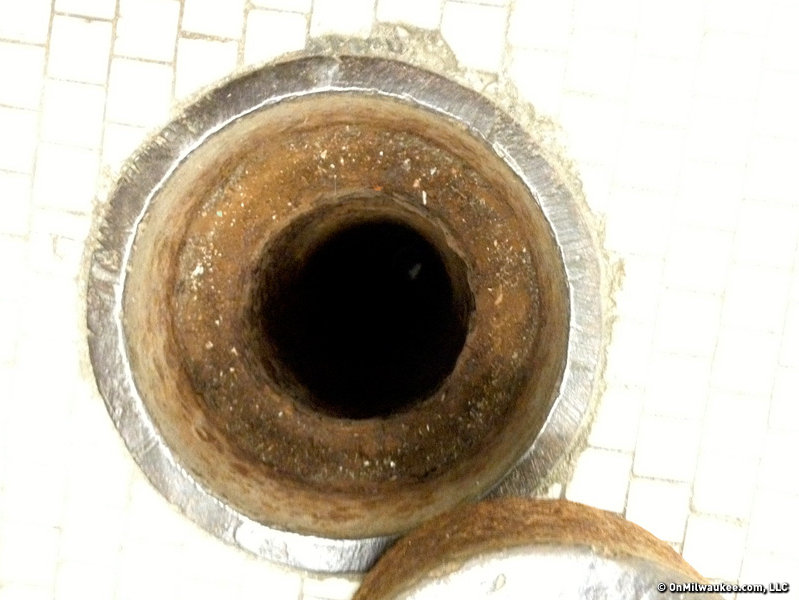 Wollenzien bends down and pulls the cap off what appears to be a floor drain (pictured above) and tells me to look. I catch the light just right and see a small glimmer of water at the bottom.
"That's Lake Emily," he says. "Lake Emily today can only be viewed through one of 74 observation holes. The water is above the pilings about two feet, and about nine feet below the floor."
He points out that there are similar caps running every few yards along the basement floor. Each offers a tiny glimpse at our hidden Emily. These days, he says, they don't monitor the holes with a stick anymore. It is now done electronically, with a probe that records the level.
"We can see over time where it raises and lowers," Wollenzien says. "We do several holes on a monthly to quarterly basis. We can add water to this corner, which is the southeast corner, and we can have water migrate all the way to the northwest corner just by gravity. So, when they built this building, the engineers had this in mind. They also directed all of the rainwater from the roof down into that system below. We're not trying to defeat Lake Emily, we're trying to preserve her."
Wollenzien must sense some disappointment, or anti-climax, in my expression because he says, "Let's go," and is off down the hall. We stop to see the pipe run – a passage a few feet wide that runs the perimeter of the foundation, allowing for pipes to follow a straight path without clogging up more trafficked spaces – and we stop again at what seems like a random spot, though I admit I ought to know better by now.
Lifting a metal door in the floor that's maybe two and a half feet long and 18 inches wide, Wollenzien says, "we won't go far, but this is the sub-basement. Not many people have heard of this." And he points the way down. So, down I go into a space that's maybe four feet high. It's lighted, but fairly dimly.
We're surrounded by concrete. The walls and floors are all cement. Every few yards is a tiered pile of progressively narrower concrete blocks, the biggest is probably four feet by four feet square, maybe two feet tall.
"What you're looking at are the pile caps," says Wollenzien. "It's like a two-tiered cake. It's huge. Each one of these pile caps is grouping the wood pilings together, and this is what helps support the building. This is one of the areas that we're actually looking at for testing of the wood piles to determine what their capacity is underneath the building for the new construction (of an office tower to the east).
"We have various engineers studying that as we work through our new construction planning project. It's something that we're closely monitoring and wanting to be aware of. I don't think it's been decided yet if we're going to use the pilings or not.
"This is a cool area – not many people get to come down here. The floor here is about four feet thick, and some of these – I like to call a layer of cake. There are three, sometimes four layers that you can see. It's just a massive structure that's holding this building up."
There are some observation holes and pipes like the ones we saw upstairs. But we are now four or five feet lower down.
"This," says Wollenzien, "is as close as you can get to Lake Emily."
Born in Brooklyn, N.Y., where he lived until he was 17, Bobby received his BA-Mass Communications from UWM in 1989 and has lived in Walker's Point, Bay View, Enderis Park, South Milwaukee and on the East Side.
He has published three non-fiction books in Italy – including one about an event in Milwaukee history, which was published in the U.S. in autumn 2010. Four more books, all about Milwaukee, have been published by The History Press.
With his most recent band, The Yell Leaders, Bobby released four LPs and had a songs featured in episodes of TV's "Party of Five" and "Dawson's Creek," and films in Japan, South America and the U.S. The Yell Leaders were named the best unsigned band in their region by VH-1 as part of its Rock Across America 1998 Tour. Most recently, the band contributed tracks to a UK vinyl/CD tribute to the Redskins and collaborated on a track with Italian novelist Enrico Remmert.
He's produced three installments of the "OMCD" series of local music compilations for OnMilwaukee.com and in 2007 produced a CD of Italian music and poetry.
In 2005, he was awarded the City of Asti's (Italy) Journalism Prize for his work focusing on that area. He has also won awards from the Milwaukee Press Club.
He can be heard weekly on 88Nine Radio Milwaukee talking about his "Urban Spelunking" series of stories.