Some books are elaborately bound, others lavishly illustrated. But, really, the best books are the ones that are researched and written with passion.
Like Jesse Brookstein's "A Perfect Pair: The History of Landjaeger in Green County, Wisconsin," which you can order here.
This self-published gem is handsome enough and illustrated enough, but it's compelling reading because Brookstein is so enamored of his sausage subject that "A Perfect Pair" is infectious.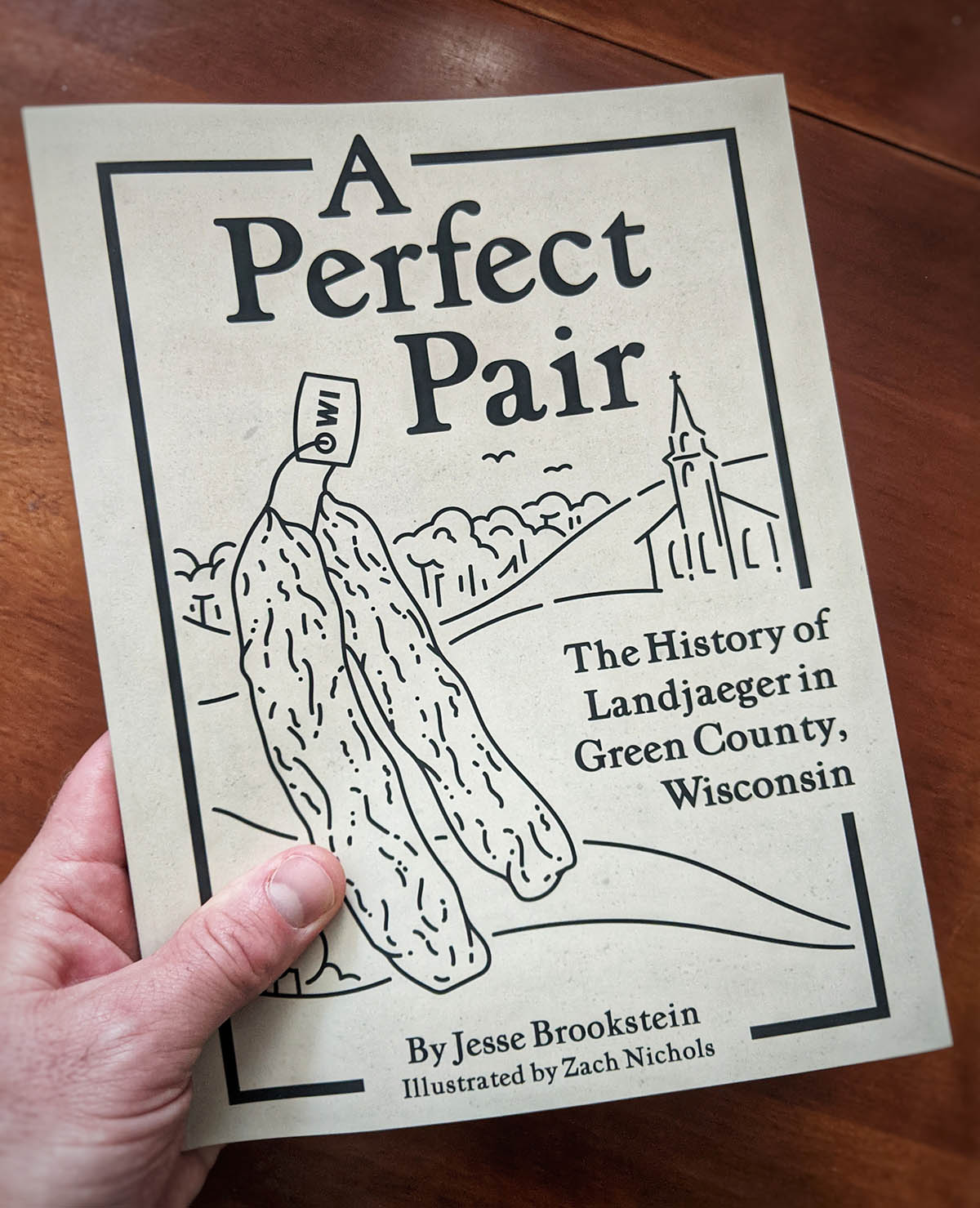 Reading about the history and purveyors of this classic, two-of-a-kind Wisconsin tavern nosh – often displayed for sale in its own wee chalet – will have you yearning for a pair of your own to munch while you read.
We asked Brookstein about his passion for landjaeger and what led him to marry it to his work in writing and self-publishing.
As you can tell from his replies, his passion has not faded since the book arrived earlier this year.
OnMilwaukee: Tell us a bit about who you are and how you became obsessed with landjaeger.
Jesse Brookstein: My first experiences with landjaeger started at my family's camp in the Adirondacks, when my uncle, Doug, who lived in Albany, New York, would bring them up for everyone to enjoy. Even as a kid, I remember loving them and thinking how unique they were - but I never once felt I needed to know more about the history of the product itself. As years moved along, Doug kept bringing landjaeger to family functions or sending care packages when I lived in Colorado.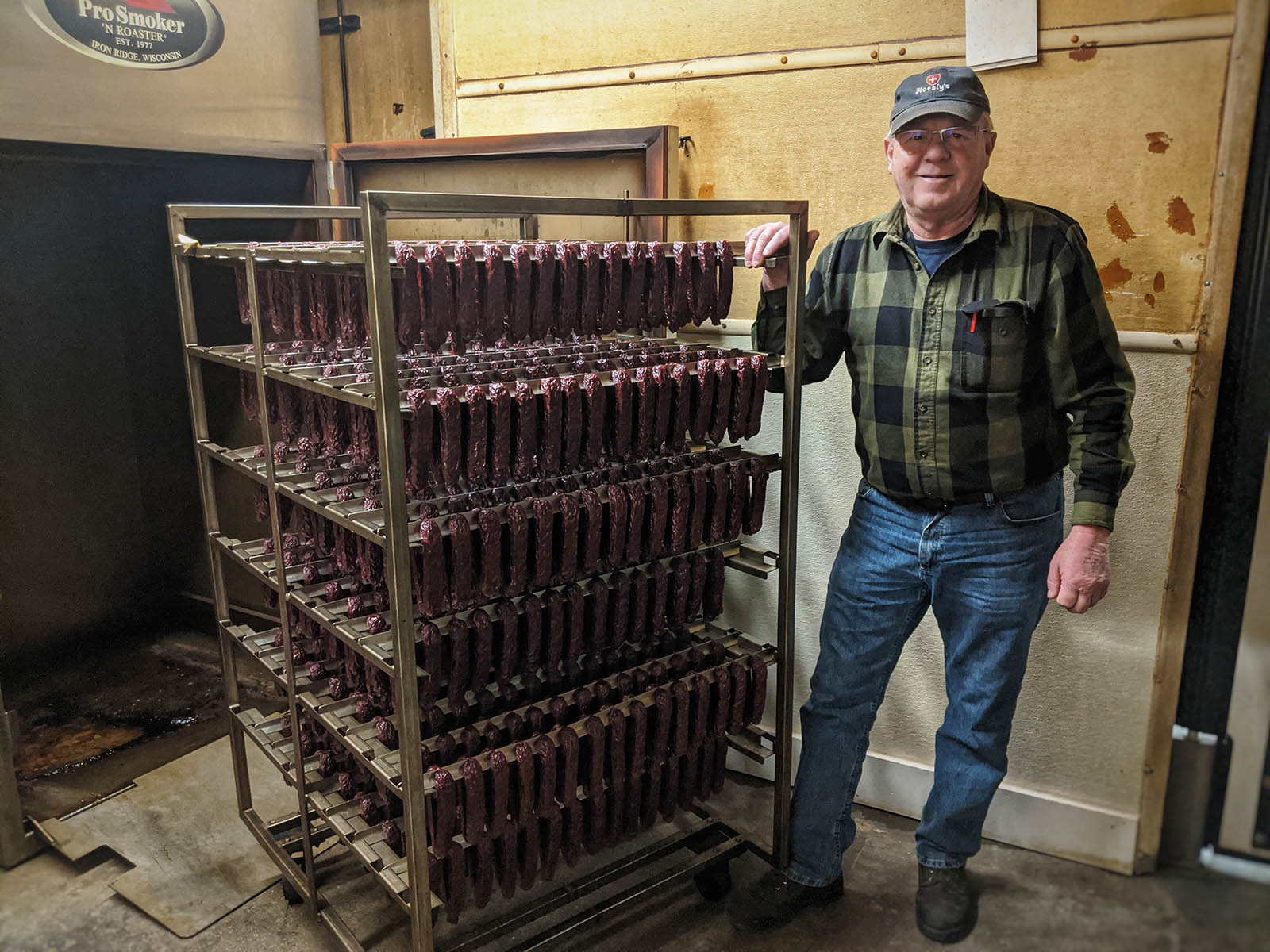 Upon landing in Wisconsin in January 2018, I started seeing them at local Madison bars and shops - and they became a part of any trip to Green County – be it at one of the local shops, or at New Glarus Brewing Co. Being a fan of history and having worked on the process side of the beer industry for many years, I began to wonder what exactly went into landjaeger production ... and what I found was a world wide web almost devoid of any real, detailed landjaeger information. And when I did find information, it often felt as though it was copied and pasted from another page.
I've also been self-publishing for years, so it was soon determined that I was going to write the definitive guide to landjaeger – with a large focus on Wisconsin producers. My first interviews began in Green County in January 2020, and things were going really well until Covid shut the U.S. down just three months later. Without the ability to do face-to-face interviews – and not wanting to do phone interviews, since a great aspect of the interview is visiting the shop itself – I used the following few months to travel the state and research other plants and shops making their own landjaeger.
What I found was a ton of great people making a lot of incredible products, but I also realized that Green County really is the epicenter of what I would consider truly traditional landjaeger production. With that in mind, I started dialing in my focus on Green County (and of course our friends at Bavaria Sausage in Dane County), and "A Perfect Pair" was finally released at the end of July 2021.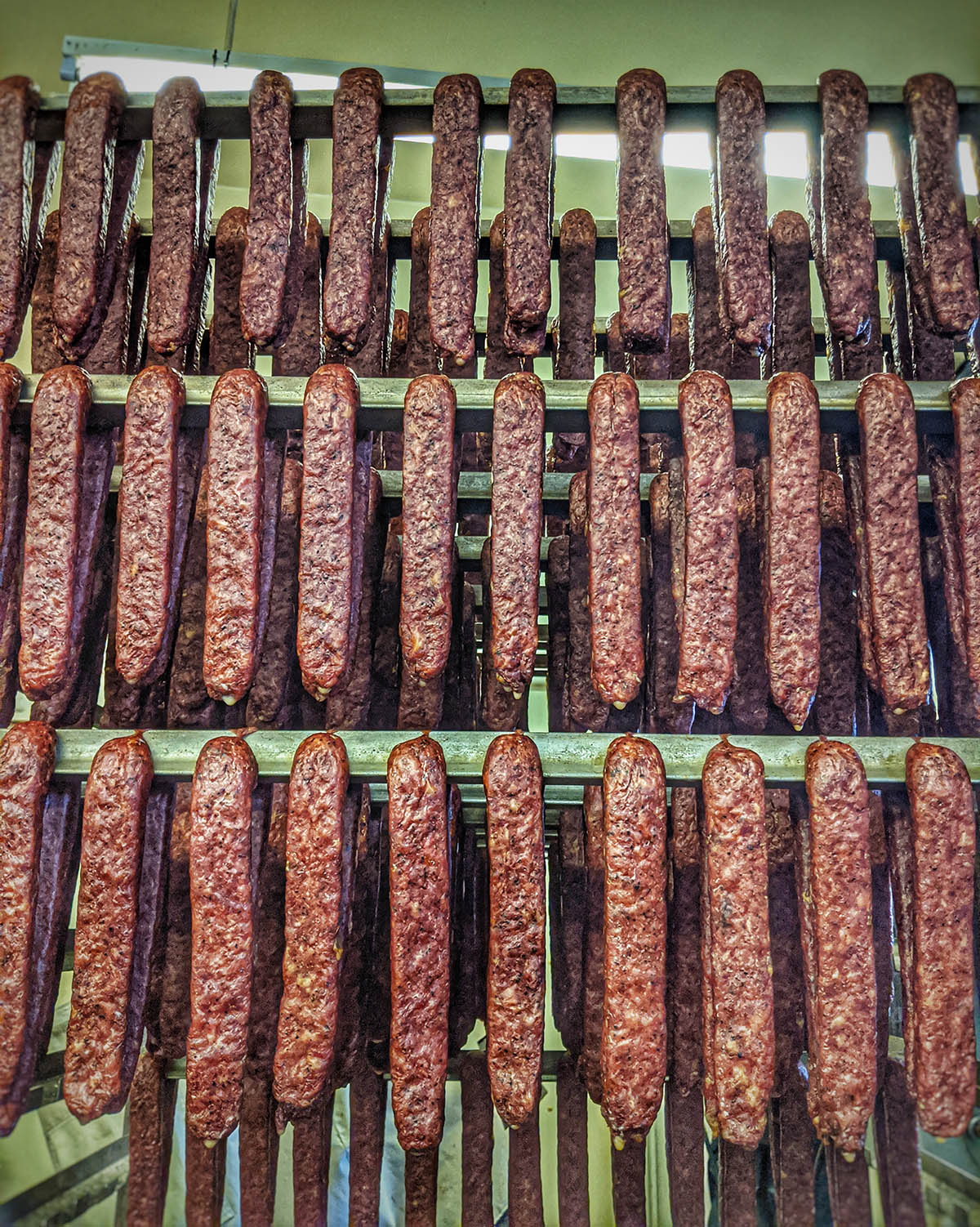 Can you give us a quick history of the landjaeger and what makes it special?
As is often the case, history is always a fun topic because it's a lot of things to a lot of people. We can barely agree on where hamburgers originated, let alone this somewhat obscure smoked sausage snack known as landjaeger.
We know that landjaeger is a fermented, shelf-stable product that was intended to be taken on travels and consumed without any fear of spoilage. And to this day, that's one of the greatest and most eye-opening characteristics of landjaeger. You can forget it in your hunting coat or tackle box for a year and eat it once it's re-discovered ... though it may be a little hard at that point!
What I have come to understand is that landjaeger likely originated in parts of Europe where Southern Germany, Austria, Switzerland, and France come together - particularly Baden-Württemberg in Germany, Tyrol and Vorarlberg in Austria, a large swath of northern Switzerland, and the Alsace region of France. And that being the case, we see Swiss producers calling it landjaeger, German producers calling it landjäger, and the same product referred to as gendarme in France – all of which are reference to police forces of one kind or another.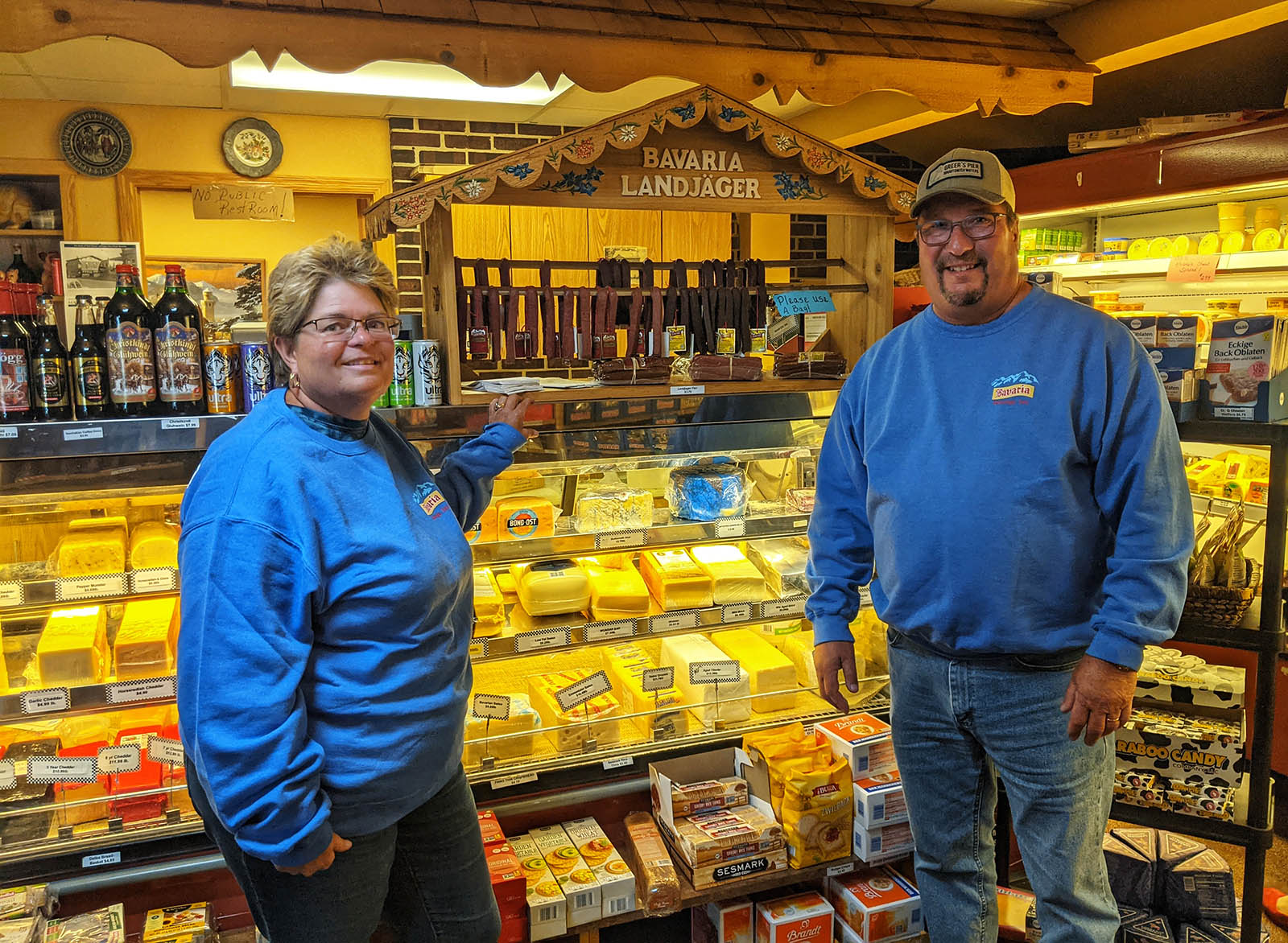 A quick translation of landjaeger gives you "land hunter," and the common – and I believe incorrect – history is that this refers to individuals who hunted on behalf of their families, or just hunted in general. The other common argument is that it's named after military troops who traveled the countryside and likely used it as a source of high-protein sustenance. This may be true as well, but it leaves to question the hunter aspect.
What I have concluded, and this could also be wrong, is that land hunter is a reference to game wardens who worked either on behalf of private land owners or the state to stop poachers and lead hunts when needed. This role meets all the criteria of someone tracking and controlling game, and individuals that would have been in a police-like role prior to police forces being a more-established profession. I'd love to travel through these countries sometime to see if I can somehow get a definitive answer to what otherwise seems like such an easy, translatable etymology.
Apart from the name, landjaeger itself is simply a marvel of meat snacks. The meat is spiced and cured at the start to delay the growth of any spoilage or pathogenic bacteria, and then it's subjected to a fermentation process that drops the pH level to such a spot that those harmful bacteria can no longer grow. Add in some drying to reduce any additional likelihood of bacterial issues, and you have a meat product that can be taken on the road without any refrigeration.
While that is more of a novelty now, this would have been revolutionary in times when caves were the best bet for keeping perishable items from spoiling.
Another very special part of landjaeger, and something you rarely find outside of Green County, is the beautiful, Chalet-like display cases that showcase hanging pairs of landjaeger. Some of these display cases are true works of art, and it sounds as though many of the cases were actually built by the butchers themselves.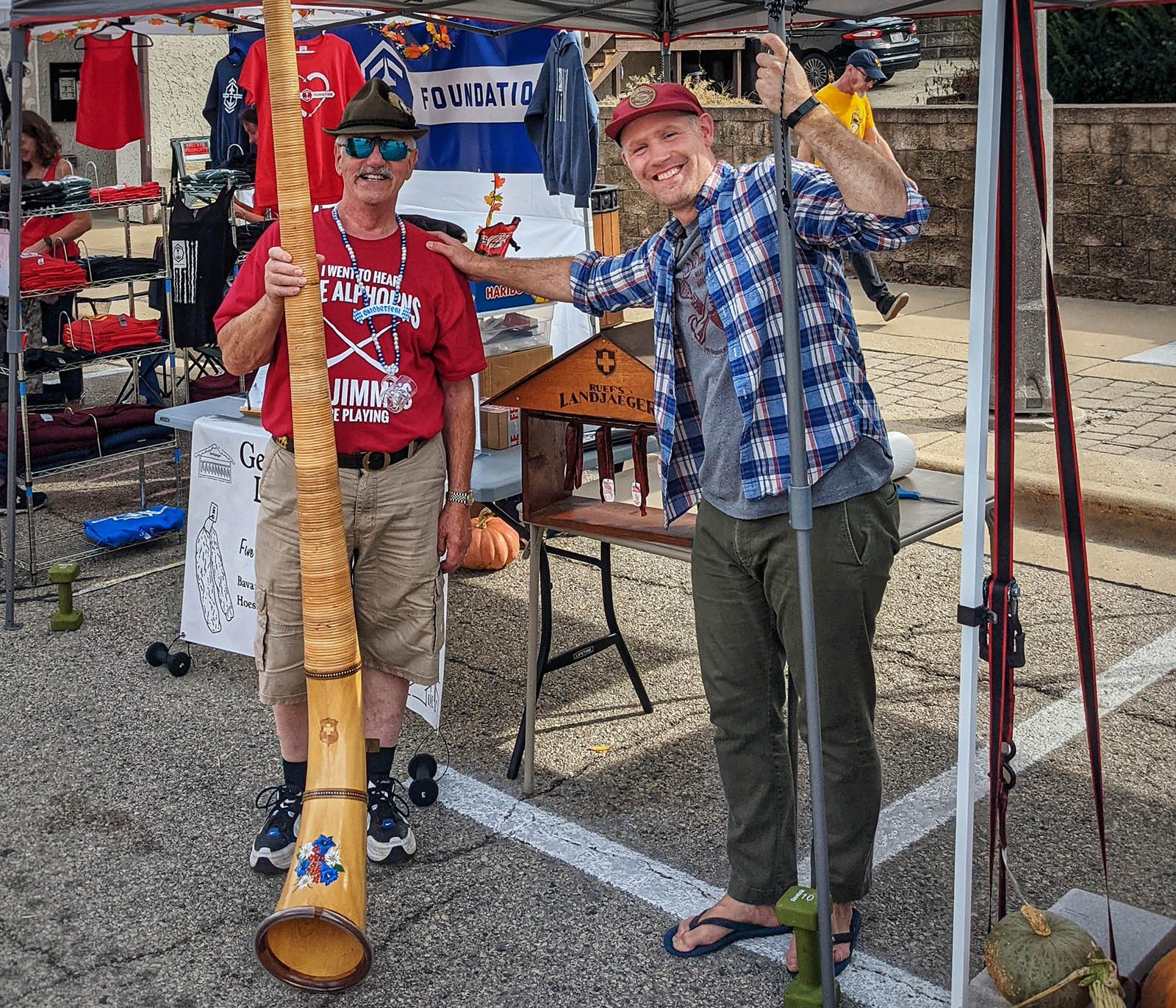 You hear these stories, taste these products, and see the woodworking skill these folks brought to the table, and it's hard to not be genuinely blown away by what they accomplished and how hard they worked to keep cultural traditions alive when landing in the new world.
Is this now mostly a Wisconsin thing or is landjaeger fairly widely appreciated?
While I believe Wisconsin to be right up there in terms of landjaeger production – with 30-plus producers I've come across thus far – we also tend to find pockets in parts of the country with rich German history. The shop where my uncle gets the now-storied landjaeger from in Albany is German; I also know landjaeger is popular in pockets of Pennsylvania with German ancestry. Frankenmuth in Michigan has a couple shops that sell it, and I believe Leavenworth, Washington has a producer or two as well – and if you're familiar with either of those places, you'll understand the German connection.
That's another thing that makes Green County so special: all the producers there are coming in with a Swiss interpretation of landjaeger – yet each of the four producers in that one county put their own unique spin on the same product. Then you find kissing cousins, like kabanos, kaminwurzen and even Texas dried sausage – so while we focus on landjaeger, other areas may have products that they specialize in on a larger scale.
Wisconsin is also lucky to have an extremely strong love for butchers and meat shops – look at the origins of the Packers name, or the sausages that greet fans at Brewers games, or the general, and totally true, stereotype about Wisconsinites and our love of brats – and that absolutely drives more stores to be open in the first place and therefore able to add landjaeger as one of their offerings.
What led you from being a landjaeger fan to a landjaeger chronicler?
It was mainly my love of writing, history and small-batch, local, handmade products that led me to starting the interview process in the first place. And like so many topics, once you open the door, you find yourself in a rabbit hole of new names, places, and things you never knew would be connected..each with their own backstory.
Needless to say, I'm already wrapping my mind around a short addendum to "A Perfect Pair," though I may give myself a little time before opening that can of worms once again.
Tell us a bit about the genesis of the book?
Once the book started coming to life, I really had no idea how long it would be. There were times I was questioning if it would even hit 25 pages. And then I started compiling the info; transcribing the interviews; going through the pictures and digging deeper in earlier parts of other conversations ... and next thing you know, the book sits as 140 pages. It could have easily been closer to 200 if I hadn't put an end to any additional research!
I also wanted the look of "A Perfect Pair" to share the same small-town Wisconsin feel that the content itself covers, so I began talking to a wonderful friend from Colorado – and native Wisconsinite – Zach Nichols, about finding inspiration in old church cookbooks. He completely nailed the look from the first time he sent me a rough of the front cover, and the response to the design scheme has been really encouraging as well.
Zach also happens to own Cellar West Artisan Ales in Lafayette, Colorado, and designs all their labels, so he knows a thing or two about bringing ideas to life. From there, I went with Lulu for my self-publishing and I couldn't be happier with the final product.
What has the response to the book been like?
To be 100 percent honest with you, the response has been incredible. When I started calling these producers to see if they'd be open to an interview about landjaeger, I got a lot of "Um ... sure ... I guess if that's what you want to talk about." This is just a day-to-day thing for them, and while they know and respect the history as much as anyone, I will admit I was coming in with a pretty random request.
I was very lucky to start my interview process with Chris Hessling, former owner of Ruef's Meat Market in New Glarus and current owner of the Green County Locker and soon-to-be-open Buol's Bristled Pig Meat Market – both in Monroe. Chris is someone I can call a great friend these days, and he helped me get my interviewing feet under me while also giving me so much information to work with.
Chris is great because he comes from a chef background and has incorporated that into his shops, but he also has a deep respect for the history of these shops and producers and does everything he can to maintain that tradition. After him I was able to chat with so many local producers and locals, and when I finally went to publish, I hoped with all my heart I captured the true essence of landjaeger production and Green County – which comes with some serious expectations.
Since I released the book at the New Glarus 175+1 Year Anniversary celebration, I've had so many people come up to me and say "I've been eating landjaeger since I was 8, and I'm 86 years old." Or some incredible ladies who work at Green County libraries and historical societies sending me newspaper clippings and stories about the shops that preceded even the ones I documented. I had one person tell me the book was a "true gift" for Green County, which is very powerful, given the rich history of that amazing chunk of Wisconsin.
And then you have the folks who have absolutely zero idea what the hell these hanging meat sticks are, and wonder how it's any different than jerky. We talk, I explain the history and process, and they often snag a pair just to make me feel better ... and then they or their friends come, literally, running back to my tent saying how good they were and asking if they can buy three more pairs. So that's been especially great: hearing from the established Green County citizens and families, while also turning people on to landjaeger and the shops that work so hard to create the product in the first place.
Do you plan to do more?
I definitely do. I'm 100 percent certain the addendum will happen, though I don't know when. I really would like to travel through Europe and get as much old world info as possible, but knowing how hard it was to compile info and communicate with folks just down the road from me, I'm a little intimidated by how much I can truly accomplish in what would likely be a two-week trip at the very most.
I'm also still working on spreading the "A Perfect Pair" love at this point, so the first edition will keep me busy for a while! I'm also selling landjaeger bundles and subscriptions through my Karate Fight website, and that's been equally fun and rewarding as I see orders come in and people getting more and more excited about landjaeger. It's a testament to how awesome this smoked sausage snack truly is.
I also write and self-publish children's books, and I have a few other book ideas in mind, so we'll see what comes next from KFP.
Without causing any controversy, if that's possible, who makes the best landjaeger?
Ha! I really can't say. And to be honest, after close to two decades in the beer biz, "best" is a very subjective term. What I can say is each of the five producers I cover in my book make very different landjaeger.
Bavaria in Dane County has two German interpretations that are all-beef and very lean – and their Pfefferjäger packs a lot of fun flavor without too much heat. Ruef's – soon to be Buol's Bristled Pig Meat Market – always had a fun cinnamon-like component that I enjoyed, and it speaks to the old Ruef's recipe and Chris' culinary background.
Hoesly's creates one style, and they are easily the most plump and robust pair you'll find. All-beef, and mildly spiced compared to some other Swiss or German version, they packed a ton of flavor nevertheless. Gempeler's has, in my opinion, one of the most unique flavor profiles in that they almost lend themselves to a yellow curry flavor – though again, that may just be how I perceive them.
And then you have Zuber's, which is likely the best known brand due to their landjaeger being sold at shops, c-stores, and grocery stores throughout the great state of Wisconsin. They also create four flavors, all of which are truly unique and delicious: Traditional, Door County Cherry, Cajun, and Italian.
I have never heard one common consensus on which brand is the best, but I encourage folks to try all of them and see what most speaks to them and their individual tastes ... or as we like to say: take a little trip down Landjaeger Lane.
Born in Brooklyn, N.Y., where he lived until he was 17, Bobby received his BA-Mass Communications from UWM in 1989 and has lived in Walker's Point, Bay View, Enderis Park, South Milwaukee and on the East Side.
He has published three non-fiction books in Italy – including one about an event in Milwaukee history, which was published in the U.S. in autumn 2010. Four more books, all about Milwaukee, have been published by The History Press.
With his most recent band, The Yell Leaders, Bobby released four LPs and had a songs featured in episodes of TV's "Party of Five" and "Dawson's Creek," and films in Japan, South America and the U.S. The Yell Leaders were named the best unsigned band in their region by VH-1 as part of its Rock Across America 1998 Tour. Most recently, the band contributed tracks to a UK vinyl/CD tribute to the Redskins and collaborated on a track with Italian novelist Enrico Remmert.
He's produced three installments of the "OMCD" series of local music compilations for OnMilwaukee.com and in 2007 produced a CD of Italian music and poetry.
In 2005, he was awarded the City of Asti's (Italy) Journalism Prize for his work focusing on that area. He has also won awards from the Milwaukee Press Club.
He can be heard weekly on 88Nine Radio Milwaukee talking about his "Urban Spelunking" series of stories.