This article first appeared on the occasion of Landmark Lanes' 90th anniversary and has been updated.
It's no secret to anyone that the East Side is facing something of an identity crisis as the neighborhood demographics change.
Amid all the changes, there are some places that have remained gloriously unchanged – for the most part – and those places are comforting to people who have long memories of the area around Farwell and North.
One of those places is Landmark Lanes, 2220 N. Farwell Ave., which celebrates its 95th birthday with a week-long party Sept. 26-Oct. 1. It officially opened on Sept. 24, 1927.
Among the celebratory events are a blowout game night run by Midwest Gaming Classic, a screening of "The Big Lebowski" and a Lebowski-themed bash co-hosted by Milwaukee Film, a special Milwaukee Comedy night, a special firkin tapping by Lakefront Brewery and more.
You can find a complete schedule and details here.
Landmark is completing some updates – including new arcade games, some updated carpeting and paneling, and new hand-painted signs – before the party and stay tuned for more details on those!
Housed in the same building as the Oriental Theater, Landmark is unarguably an East Side landmark, living up to its name.
Generations of Milwaukeeans have laced up shoes to bowl on its 16 lanes (there used to be more of them, but more on that later), have slid quarters into the slots of the pinball and other arcade games, have listened to live music in the side and back bars and have either cozied up into one of the three bars for the night or pub crawled between all of them.
These days, under owner Slava Tuzhilkov's watch, Landmark Lanes feels unchanged, but has quietly undergone upgrades that have improved the quality of life in the "Underground City."
Everything's painted, the bathroom sinks have been updated, all of the tap lines were just replaced, the felt on the pool tables has been replaced. Tuzhilkov is savvy enough not to mess with the mojo, but to gussy it up to improve the customer experience.
And the customers run the gamut. There is the younger bar crowd on weekends, but also a dedicated group of older regulars. The arcade and bowling alleys are a big draw for families on Sunday funday.
Live music draws a dedicated crowd to the side bar, renamed the Moon Room, thanks to the lunar landscape adorning the stage wall. Two nights a week – Tuesday and Thursday – vocal hopefuls grab the mic for karaoke with local legend Rockin' Roy.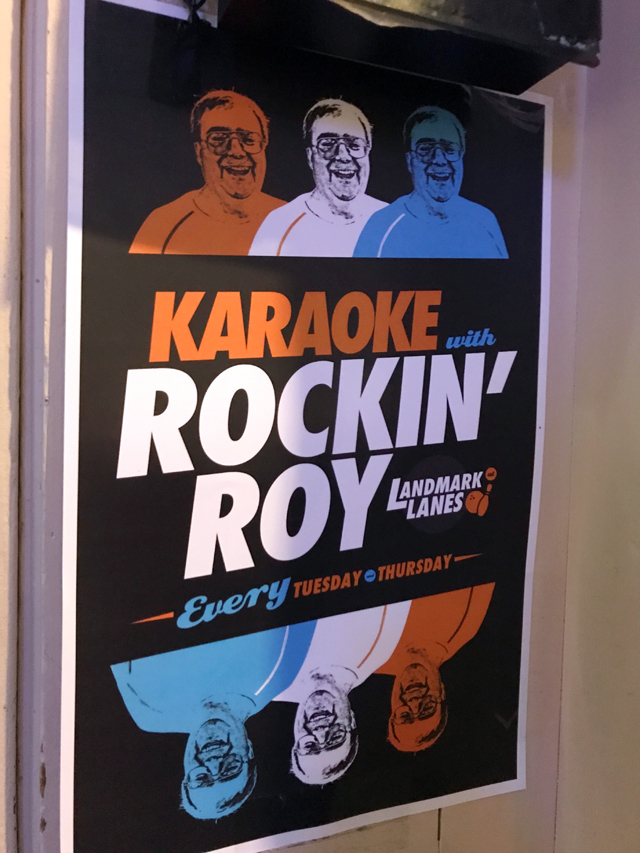 Like any Milwaukeean who's spent any time on the East Side since 1927, I've got a backlog of memories of import nights spent moving from bar to bar at Landmark, of work parties in the side bar, of time spent in the arcade, of displaying my less-than-stellar bowling skills.
Landmark Lanes was built by the local cinema and entertainment moguls the Saxe Brothers on the site of an old horse-drawn streetcar barn – called the Cream City Railway Car House and Mule and Horse Storage Plant – in 1927 as part of the Oriental Theater complex designed by architects Dick and Bauer. The building also includes some street-level retail spaces and offices above.
The lower level was home to Bensinger's Recreation, and in addition to the bowling alleys you see today, the back bar was also filled with lanes.

An undated photo showing Bensinger's vertical sign, courtesy of CinemaTreasures.org.
Newspaperman Moses Louis Annenberg, despite having left Milwaukee in 1920, appears to have been one of the owners of Bensinger's. Annenberg's daughter Enid (later publisher of "Seventeen" magazine) had married Chicago's Norman Bensinger, though that union later ended in divorce.
Bensinger was the son of Louis Bensinger, who owned a number of "Health Factories" in Chicago, offering billiards and bowling at least as early as the 1910s.
Bensinger's Chicago Health Factories. (PHOTO: Courtesy of OnePocket.org)
After surviving both the stock market crash of 1929 and the ensuing Depression, as well as six years of Prohibition, the Milwaukee Bensinger's added Club Silver to its space.
After doing time for tax evasion and bribery, Annenberg died of a brain tumor in 1942 and ownership of Bensinger's transferred to Triangle Publications, which his son Walter took over.
Among Walter's many accomplishments are the creation of "TV Guide" in 1953 and work as a philanthropist, supporting causes like the United Negro College Fund and the Corporation for Public Broadcasting.
According to a historical timeline on the Landmark Lanes website, Triangle sold the theater and Bensinger's to Orto Theater Group in 1946, but within a decade, Orto flipped the complex to United Artists, which leased Bensinger's to an operator who changed the name to Oriental Lanes.
In 1957, Oriental Lanes said goodbye to the kids who worked as pinsetters and installed automated pinsetter systems. At this point the back bar lanes were still in operation.
The next big change came in 1972 when three Pritchett brothers – Robert, Melvin and Emmett – bought the aging theater complex and, according to Larry Widen and Judi Anderson's "Silver Screens," "cleaned the building thoroughly from top to bottom, replaced nearly one thousand light bulbs and installed a new roof. The brothers also put a theater organ, this one a Kimball, back into the auditorium. Overnight, the dusty, tired theater came to life again."

The Pritchett era. (PHOTO: Courtesy of Milwaukee Public Library)
And the Pritchetts converted the small bowling alley room in back into a jazz club for their brother, George, a respected Milwaukee guitarist. In order to open the Jazz Oasis, carpet was laid atop the five wooden lanes (which reportedly survive beneath the rugs), and a stage was built along the north wall, directly across from a bar, which is still there.
The back part of the room, where dart leagues now compete, was left empty and dark, creating what one long-standing customer said was a "creepy" space.
"Pritchett's actually had a very special place in Milwaukee's cultural and nightlife, for a time," the guitarist's son Neal told me. "Everyone showed up: local politicians, celebrities, entertainers and money people all made this their spot. This was the premier place to go and hear music played by Milwaukee's own star, to meet friends, to hang out, or to be seen.
"If you wanted to impress someone from out of town, you took them to George's place. If you were visiting, and wanted to know where the hot spot was, you were told to go to George's. If anyone famous was in town, from baseball players, to actors, to musicians, they would inevitably show up at Pritchett's. While it lasted, it was a great time and place to be George. This little piece of paradise actually lasted for several years."
After apparently sitting idle for a few years, the jazz club was reborn as the back bar in 1980. Not long after, the former locker room just below the stairs was remodeled to create the side bar (pictured above). The remaining lockers for bowlers are now tucked into a corner at the back of the arcade.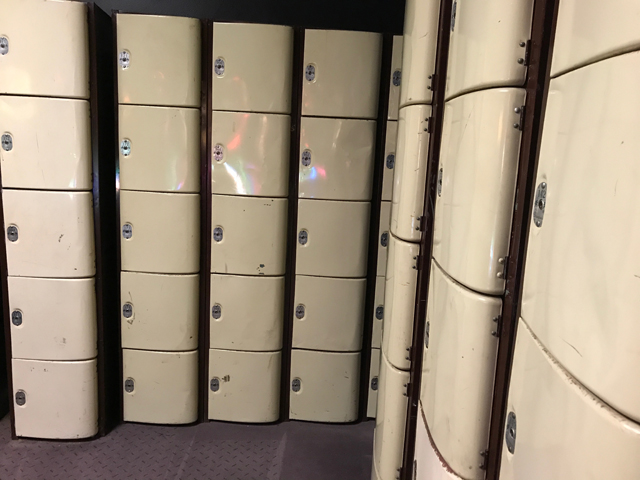 I best remember the Landmark from Tuesday nights in the '80s and early '90s, which Landmark calls "the golden era of bar business" for the underground city. Those nights were weekly must-attend events and the entire complex was typically packed.
In 2002, the Pritchett brothers sold the entire building to New Land Enterprises – Landmark Theaters had already long been running the theater by then – and Tuzhilkov took over running Landmark Lanes, which remains a vibrant part of the East Side.
"Because we have everything," explains Tuzhilkov, when I stop in for a little behind the scenes tour in advance of the birthday bash. "Bowling, games, darts, the bars, karaoke, the live music in the side bar.
"Young people don't just want to sit in a bar anymore. They want to do other things, too (while they're there)."
There are some fun spaces to explore in the rambling underground city. Off the side bar is a long hallway that runs under the Farwell Avenue sidewalk (at right).
Here is the hatch that opens to allow for deliveries and here there are cases and cases of beer stored.
Tuzhilkov takes me back behind the rows of pins to show me how the automatic – and now computerized – pinsetting machines work.
At the far end of the row is a doorway that leads to a small warren of rooms that are now used for storage and, in one case, a maintenance workshop. The latter has long been the domain of "Mechanic," one of three longtime employees who, Tuzhilkov says with a smile, "came with the building." Each has worked there for 40-50 years.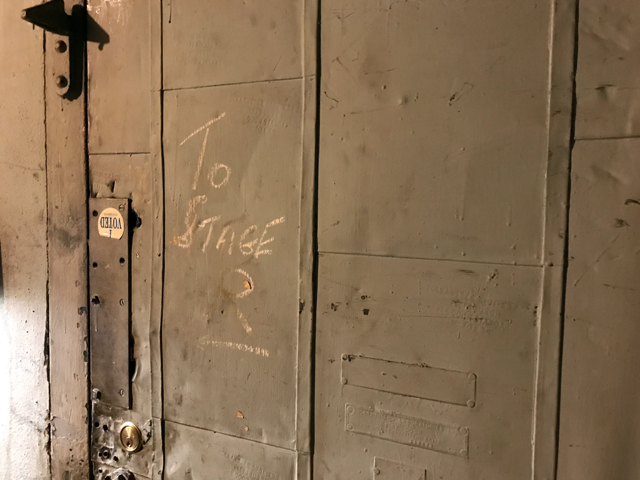 The rooms also include an old bathroom with a shower stall and a larger room with a door marked, "To stage." This was a backstage dressing room area. Through a nearby doorway there's a long staircase that runs up to Black Cat Alley.
We didn't get to see it, but below Landmark is at least one (some say two) subbasement that houses a boiler room and other infrastructure.
But the most beautiful spaces in Landmark Lanes, at least according to me, as the gorgeous tiled bathrooms. The tile in the men's room (above) matches the men's room tile up in the theater. The women's room also has beautiful tilework (below), but I can't speak from experience about whether or not it matches the ladies room in the Oriental. (I'm sure one of you, dear readers, can let me know.)
If you haven't seen them, or haven't seen them in a while, go down and look. And be prepared to spend some time, because as its owner says, this "Underground City" has something for everyone.
Happy birthday, Landmark!
Born in Brooklyn, N.Y., where he lived until he was 17, Bobby received his BA-Mass Communications from UWM in 1989 and has lived in Walker's Point, Bay View, Enderis Park, South Milwaukee and on the East Side.
He has published three non-fiction books in Italy – including one about an event in Milwaukee history, which was published in the U.S. in autumn 2010. Four more books, all about Milwaukee, have been published by The History Press.
With his most recent band, The Yell Leaders, Bobby released four LPs and had a songs featured in episodes of TV's "Party of Five" and "Dawson's Creek," and films in Japan, South America and the U.S. The Yell Leaders were named the best unsigned band in their region by VH-1 as part of its Rock Across America 1998 Tour. Most recently, the band contributed tracks to a UK vinyl/CD tribute to the Redskins and collaborated on a track with Italian novelist Enrico Remmert.
He's produced three installments of the "OMCD" series of local music compilations for OnMilwaukee.com and in 2007 produced a CD of Italian music and poetry.
In 2005, he was awarded the City of Asti's (Italy) Journalism Prize for his work focusing on that area. He has also won awards from the Milwaukee Press Club.
He can be heard weekly on 88Nine Radio Milwaukee talking about his "Urban Spelunking" series of stories.