Last Rites, 625 S. 6th St., has been referred to as the punk bar without a sign, but that's not entirely accurate. There is a sign that hangs from the front of the building, and although it's illuminated, it's completely blank. But it does occasionally flicker and sizzle. The fascade also has a neon "beware" sign and a Black Lives Matter poster in the windows and a computer print-out of the logo taped to the door.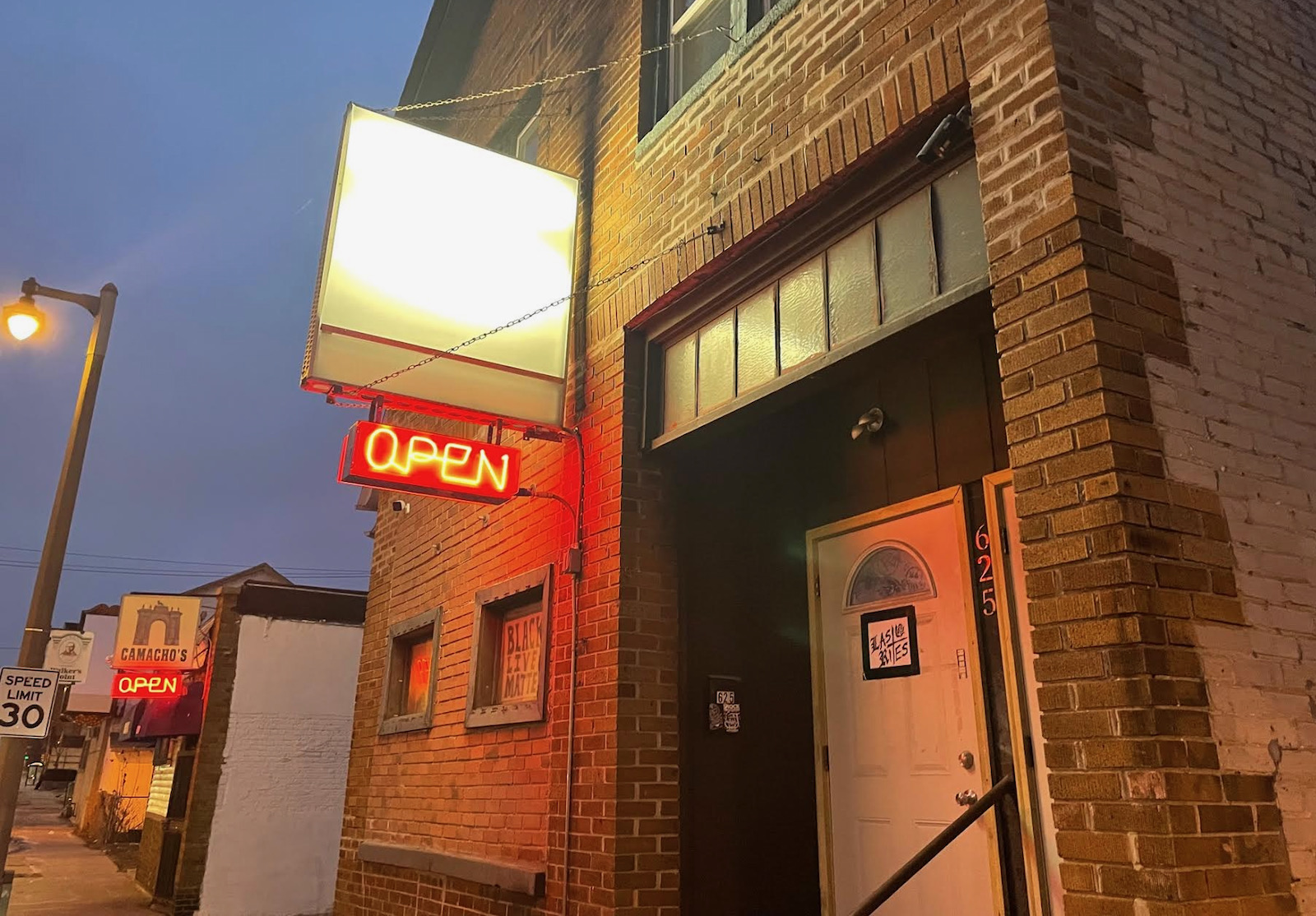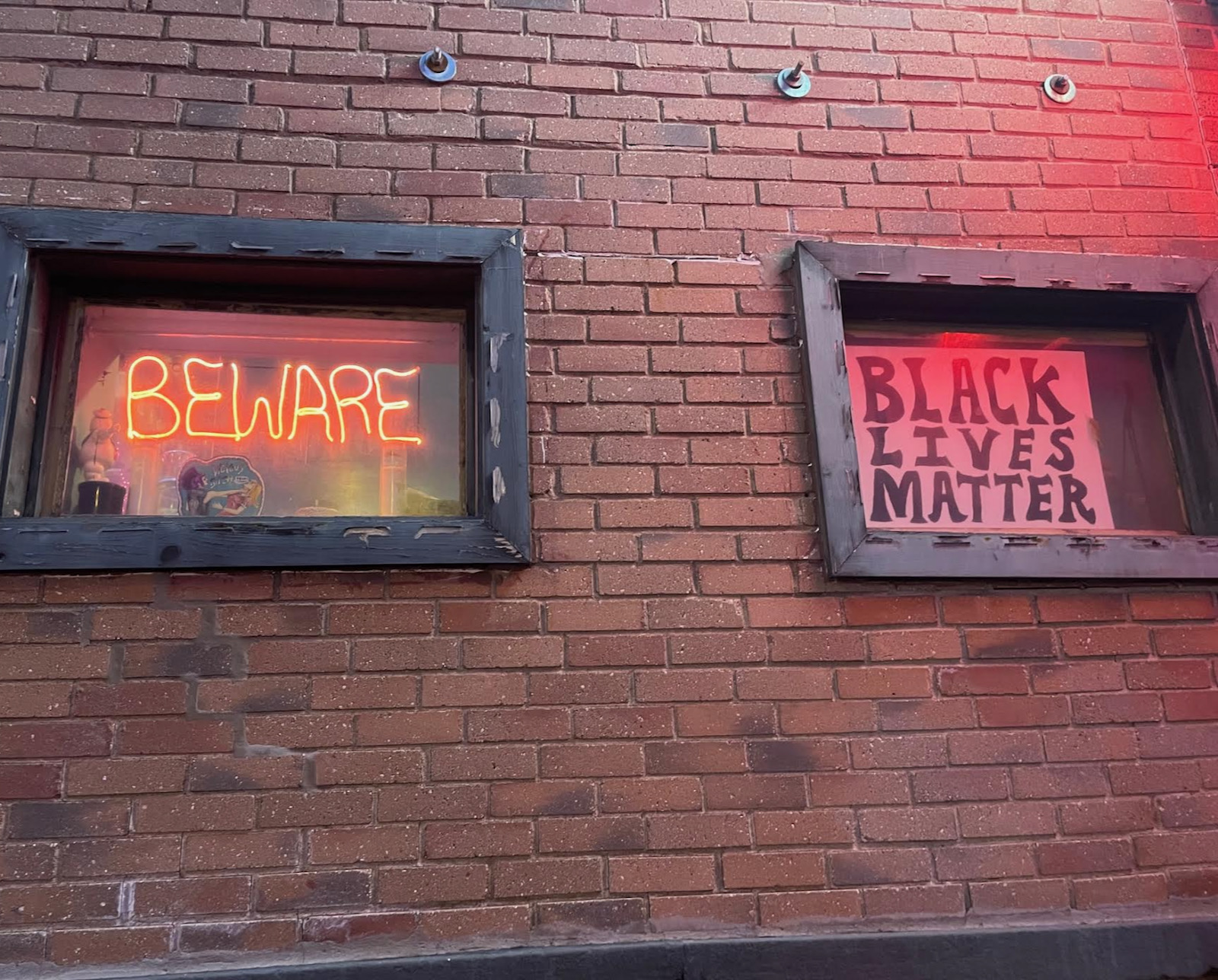 But once inside, the space morphs from eerie minimalist to Gothy cozy, with purple walls adorned with DIY-style punk show posters, skull tapestries and original art pieces.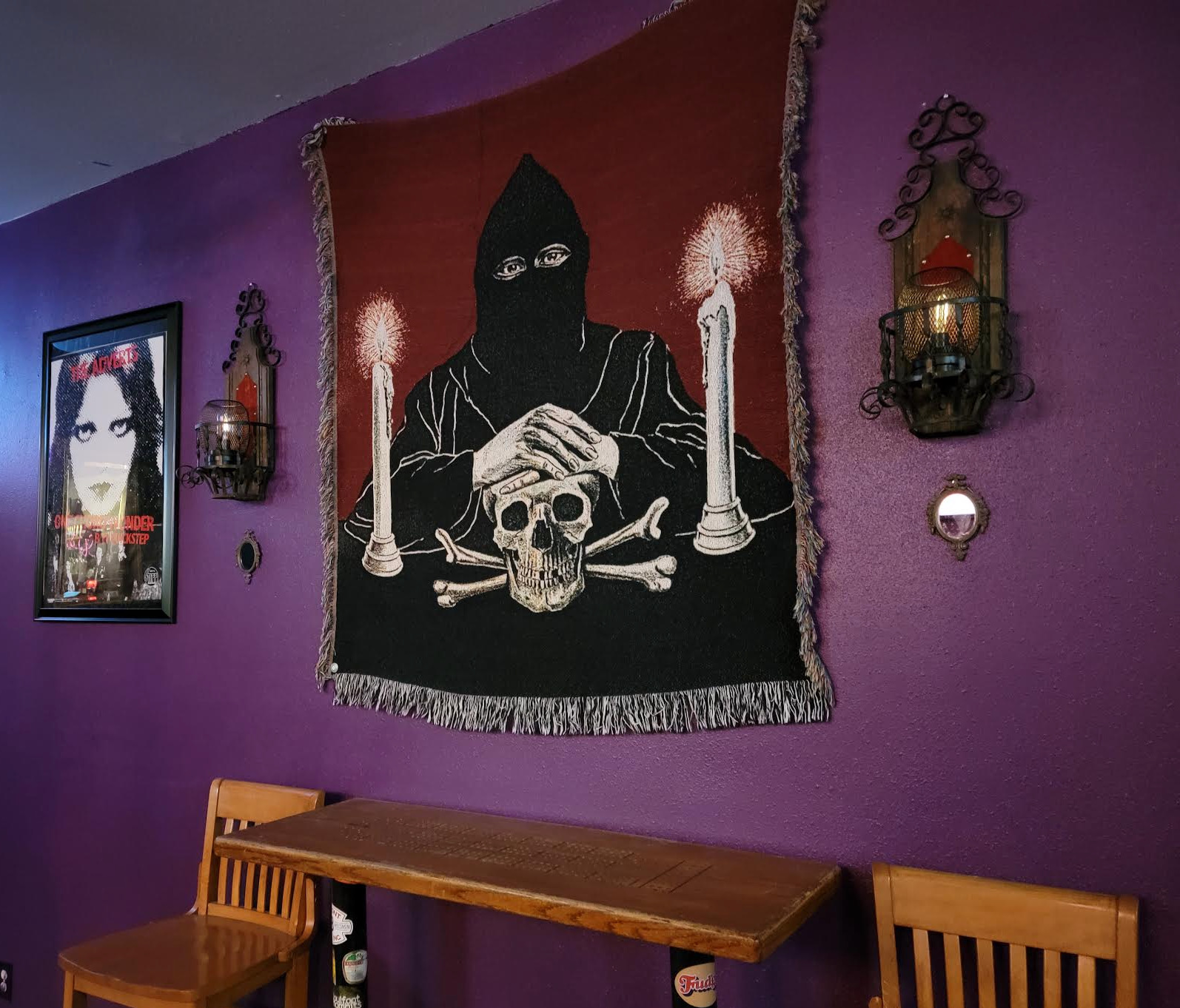 "Most of the (decor) came from our houses," says co-owner Jim Rice. "It's literally random things from our bedrooms. We want the feel of hanging out in your buddy's livingroom."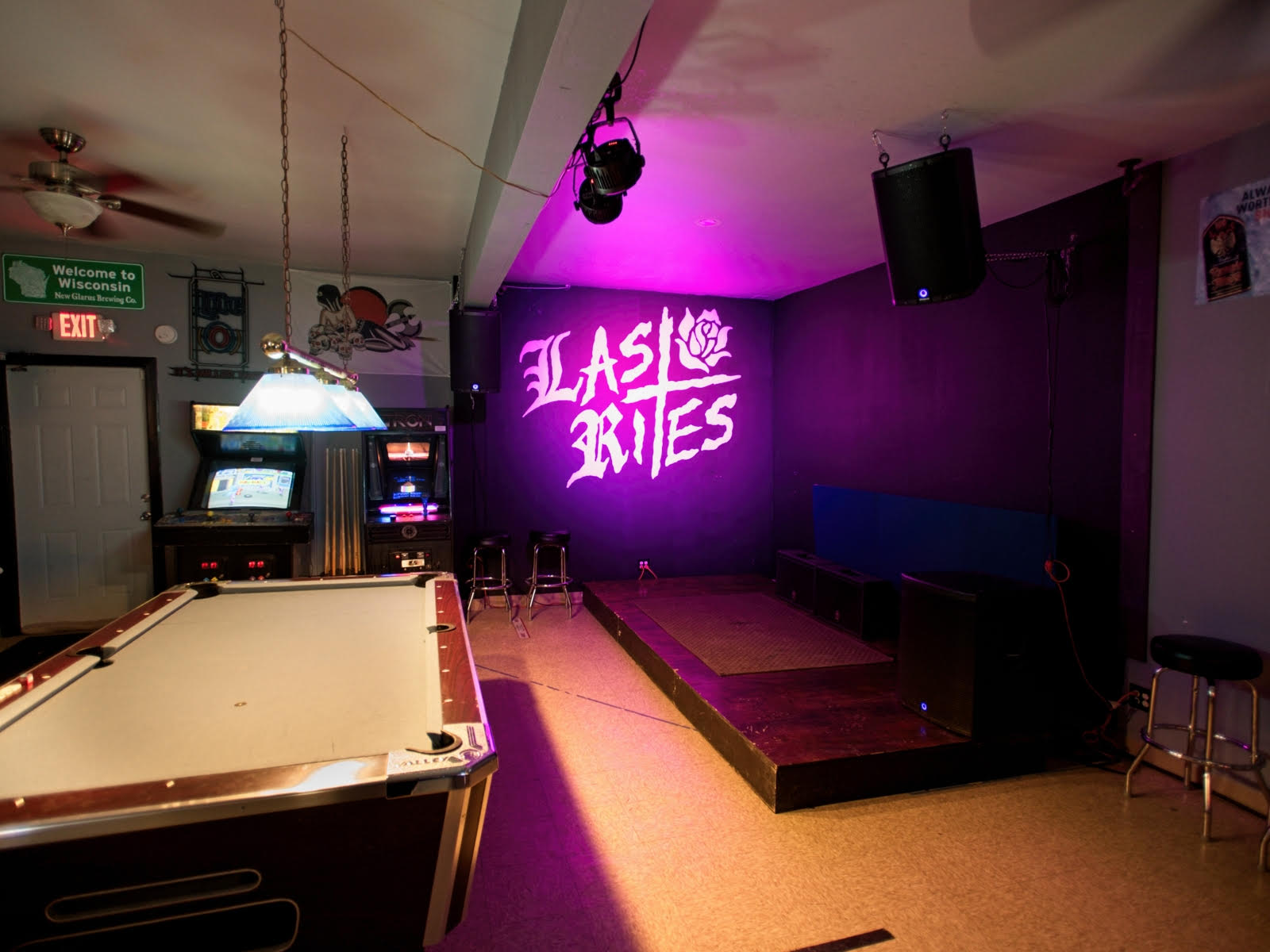 Last Rites has a 10-seat bar, a few tables, pinball machines, pool table and performance area. After a renovation this summer, Rice and co-owner Kay Jones plan to host outdoor events in the back and side yards with more entertainment and food trucks.
Last Rites, named after a 1980s punk band and a song by The Enemy, will host punk, metal and rock bands once or twice a week. Jones says they are currently booked through July.
Bands will never pay a fee to play or for sound, nor will there be a cover charge at Last Rites. Musicians will instead get a cut from whatever the bar earns for the evening.
"We will burn this place to the ground before anyone has to pay-to-play," says Jones.
On nights when there isn't a band, Last Rites will host DJs, burlesque shows, art openings, tattoo-related events and more. And many evenings, Last Rites will simply be a place to hang out and enjoy a neighborhood bar with a very diverse clientele.
"We are a punk bar, but that means we're an everyone bar," says Jones. "We support our community. And that's punk. Our values are simple: do no harm, take no shit and support the people around you. We support the people we love and even the people we don't love – but we'll give them a kick in the ass if we have to. "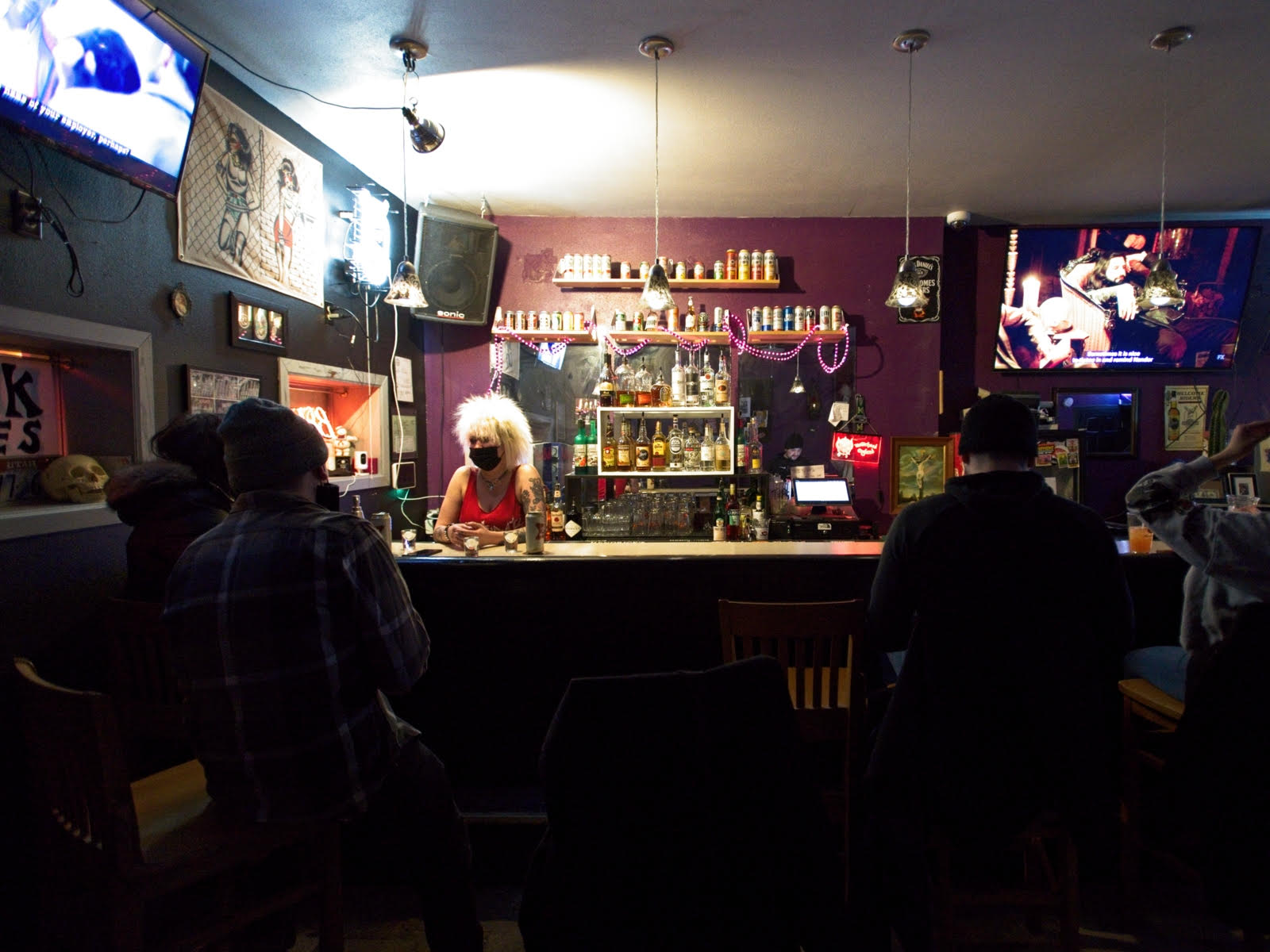 Rice was one of the founders of the Rebel Stage at Summerfest and the owner of Walker's Point Music Hall. The spacious bar and music venue didn't survive the Covid shutdowns and so Rice was left with a blank slate. He had been renting the Last Rites' space as a storage facility and decided to buy the building, located just two blocks from the former Music Hall, and create a new version of the venue. He knew he wanted Jones, his friend and colleague of six years, to be the face and the soul of the new spot. Jones worked in various capacities at Walker's Point Music Hall when she wasn't touring as a lead vocalist with her bands Revolt and Lecherous.
"Basically I said, 'you wanna keep working with me?' and she said 'f-ck yeah' and here we are," says Rice.
In reality, the two invested an incredible amount of time and work in the bar prior to its December 2021 opening. Despite punk bar stereotypes, they wanted their place to be extremely clean and highly functional.
"We don't want even one fruit fly!" says Jones.
Community and giving back was a big part of Rice's business plan at Walker's Point Music Hall and that continues at Last Rites. The business has already collected money and clothing and donated a percentage of sales on Christmas night to Street Angels.
The owners also strive to create strong relationships with their neighbors. Zocolo Food Truck Park is across the street and Camacho's, a neighborhood watering hole with primarily Latino customers, is next door.
"Punk means being inclusive of all walks of life," says Rice. "We're a punk bar, but we're a neighborhood bar."
Last Rites also values their sober friends and customers. They maintain a selction of NA beers and nonalcoholic spirits.
But for those who wanna throw back a few of the fully-fueled libations, they've got plenty of those, too.
"Some nights we'll drink all of our tequila dry. Some nights I can't keep PBR on the shelf. And if it's a Service Industry Night, we'll go through bottles of Fernet and Campari," says Jones.
Rice says they opened their bar at the worst time due to the spike of Covid cases at the end of last year, but they are still off to a very strong start.
"Other than my bands, this is the most serious I've been about anything," says Jones. "I'm having a blast."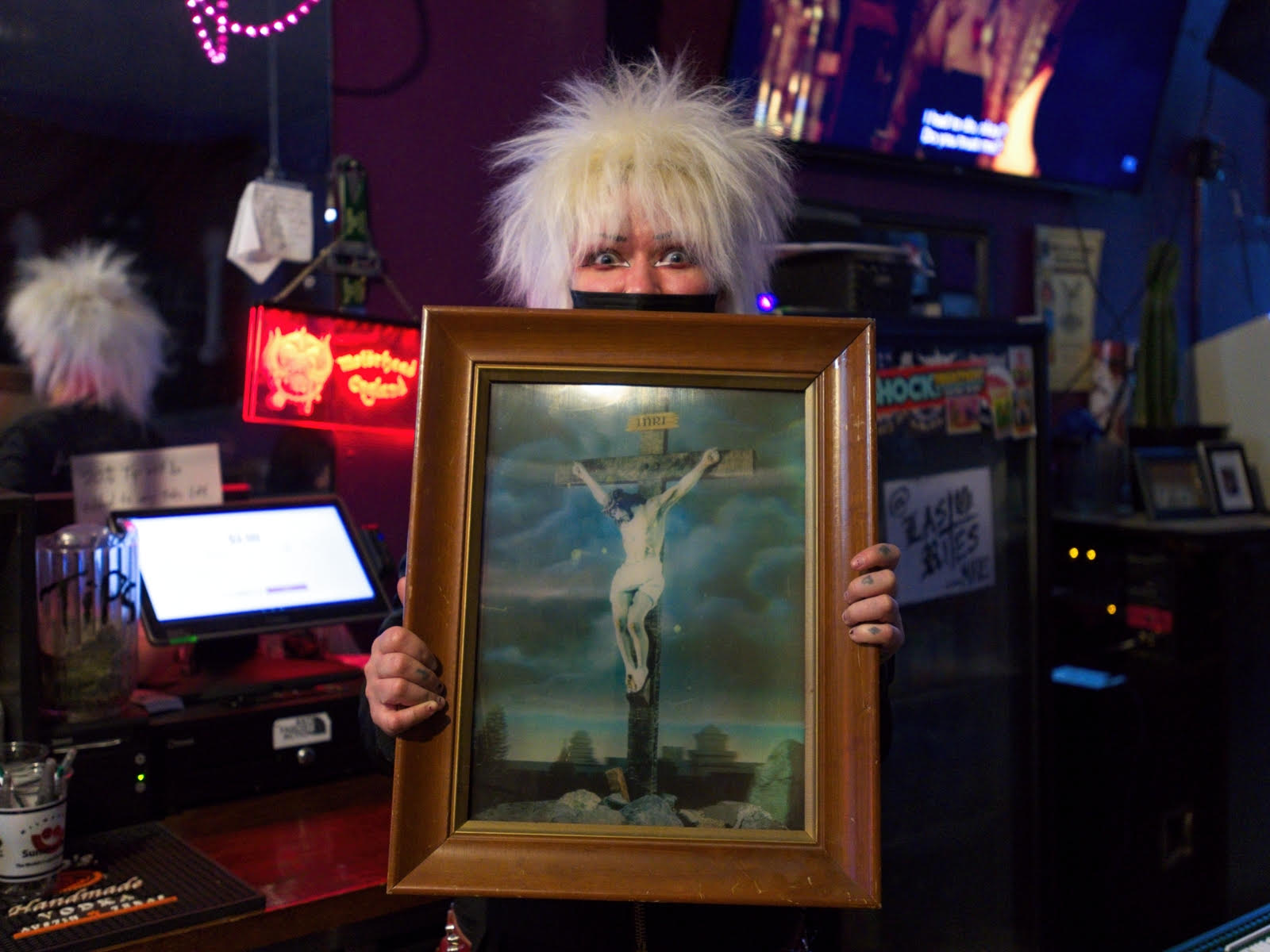 Molly Snyder started writing and publishing her work at the age 10, when her community newspaper printed her poem, "The Unicorn." Since then, she's expanded beyond the subject of mythical creatures and written in many different mediums but, nearest and dearest to her heart, thousands of articles for OnMilwaukee.

Molly is a regular contributor to FOX6 News and numerous radio stations as well as the co-host of "Dandelions: A Podcast For Women." She's received five Milwaukee Press Club Awards, served as the Pfister Narrator and is the Wisconsin State Fair's Celebrity Cream Puff Eating Champion of 2019.