"Who The F*%K Is Lex?"
The question serves as local soul-pop rising star Lex Allen's Twitter name. Some of the singer's official merchandise and T-shirts ask the same question. And now anybody who saw his Summerfest set at the Johnson Controls World Sound Stage, opening for BJ The Chicago Kid, definitively knows the answer. Silly or seductive, dancing his heart out or pouring his soul out, performing through polished parts or rough patches, Allen delivered about an hour-long set of being undeniably himself. And, as a result, it was a complete winner.
After a good bit of vamping and crowd-energizing from his New Age Narcissism compatriots Q the Sun (synth/DJ), Chris Gilbert (drums) and Bo Triplex (bass) – as well as some hit tracks from Missy Elliott, Snoop Dogg and ... the Spice Girls and Shania Twain? – Allen opened up the show with "Puppy Love," letting his silky smooth voice soar and lure in the crowd to the grounds stage. It worked too; while he opened his set with a mere mild scattering of people in the bleachers, by the middle of his performance, he'd gathered a strong and supportive crowd under the World Sound Stage roof.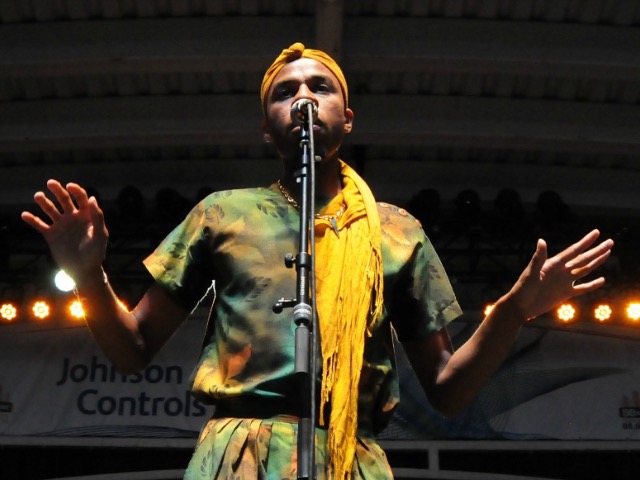 From there, Allen took on a fun, steamy cover of Justin Timberlake's "Senorita" before hopping – or, more accurately, popping and twerking – into his latest single, "Never Look Back," a strong, slinky and slick pop anthem. He then requested from the audio guy to make his voice "airy as f*ck" for his next song, "Settle Down."
The soulful song, however, wasn't long for Thursday night, as Allen – whether due to the sound bleeding in from the U.S. Cellular Connection Stage or just his own personal whims – cut the song off and instead launched into "Mama's Boy." The ode to his tragically departed mother isn't that much louder of a tune, but the ballad felt somehow bolstered above the surrounding noise by Allen's beautifully specific, heartfelt lyrics as well as his searing, soulful vocals.
It's a tough trick pulling off a slower, emotional song at a big, loud, outdoor party – and Allen made it work, before nicely bringing it back to a steamy soul jam with the sexy come-on number "Cream and Sugar" and yet another twerk break, this time to the song "Bossy."
Then again, the whole set was wildly ambitious for an opening local artist, featuring those kind of emotional shifts, an impressive mid-show costume change into a yellow dress, smokers jacket and heels – worn with attitude and aplomb – and an impressively large collection (about eight) of back-up dancers for "Struck Gold" who wouldn't seem completely out of place in a Robert Palmer video. There's no doubt Allen was definitely putting in the work and putting on a show for Summerfest.
(PHOTO: Matt Mueller)
He wasn't the only one doing so during his set either. In addition to the back-up dancers – who would pop back up later in the evening for a delightful on-stage dance party free-for-all in "Mirror Mirror" – the soul singer received on-stage support from fellow New Age Narcissism member and local rapper WebsterX on "Cream and Sugar," as well as an extended appearance by Lorde Fredd33, who not only popped in for "This Is Our Year" but also basically wrapped up the set with two songs of his own.
That's not even mentioning Bo Triplex and Chris Gilbert, who performed a nice bass solo turned bass-drum battle midway through, as well as one of the SistaStrings from the previous act, fellow Milwaukee hip-hop artist Vincent VanGREAT, just having the best, most infectiously free time dancing on stage during "Mirror Mirror." It was a good time, created by a group effort.
There's still plenty to work on for Allen, some more polish to put on the performance. Though Q the Sun, Gilbert and Triplex helped vamp and keep the mood up, technically the name on the matinee didn't hit the stage until a little over 20 minutes after his scheduled time. There were a few brief awkward dead spots – due to either costume changes or tweaks pulling Allen off stage for a minute at a time, or simply breaks in between songs – and the star oddly added an "-ing" to his "Never Look Back" chorus. A minor change, yes, but one that slightly dampens its staccato sharpness and pulse.
All of those are small, and easily amended, notes to what was otherwise a bold, bright show from one of the city's boldest and brightest performers – the highlight of which came as Allen introduced "Dear You" with a brief speech.
He talked about the city of Milwaukee, about not complaining and instead working to make it better, and praising its diversity, all while wearing his lace dress and heels – awesomely and unapologetically being himself, positively living his dreams and ambitions on stage to a crowd that was loving it.
Or maybe the highlight was the audio clip from "Austin Powers in Goldmember" to close out "Struck Gold." It's a toss-up, really.
Either way, the singer's on his way to becoming a star. And when he officially does, there's no doubt – with shows like these – you'll know exactly who the f*%k Lex Allen is.
As much as it is a gigantic cliché to say that one has always had a passion for film, Matt Mueller has always had a passion for film. Whether it was bringing in the latest movie reviews for his first grade show-and-tell or writing film reviews for the St. Norbert College Times as a high school student, Matt is way too obsessed with movies for his own good.
When he's not writing about the latest blockbuster or talking much too glowingly about "Piranha 3D," Matt can probably be found watching literally any sport (minus cricket) or working at - get this - a local movie theater. Or watching a movie. Yeah, he's probably watching a movie.