It's really true that a rising tide lifts all boats. And when the water level in the Milwaukee River rises, as it has done this year, it also lifts all Downtown bridges more often.
We stopped in at the Michigan Street Bridge house to talk to Bridge Operations Supervisor Timothy Thompson and Bridge Operator Chris Neldner, both 26-year veterans of Milwaukee's upward swinging bascule and vertical lift bridges (these moveable bridges are so associated with the city that they are informally called "Milwaukee bridges"), which have been opening at a record rate this year thanks to the high water levels.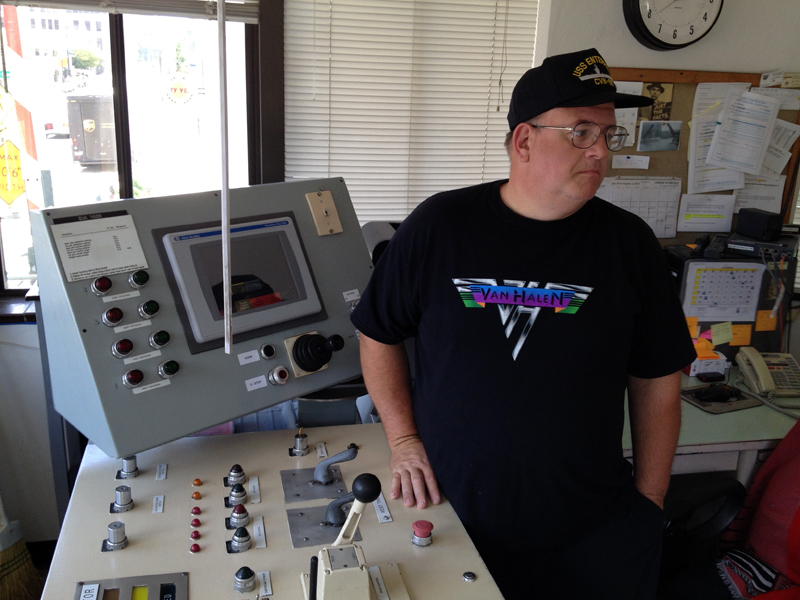 Chris Neldner at the Michigan Street controls.
Here, they tell us about the various facets of the bridges and their jobs...
Opening the bridges
Tim Thompson: The remote panels we have are equipped to operate six bridges at a time. But that gets a little bit hairy after a while. And this is the only bridge house that has the swing-around arm: the whole control panel moves (so the operator can look to the south or to the north).
The system is redundant, so what it means is that you can go to St. Paul Avenue and operate Michigan Street or be on Michigan and operate St. Paul.
Wisconsin Avenue operates Clybourn. Michigan operates St. Paul. Water Street operates North and South 6th and Kilbourn. Broadway operates Emmber, which is down by Potawatomi, and Plankinton, and then KK operates South 1st street.
Milwaukee actually leads the nation in remote control. One of our old bosses goes around, when he gets called, and advises different cities on how to set theirs up.
Usually what happens on third shift, if I have an opening or an emergency where we need to get a fireboat through, I will call one of the other guys, and they'll hop in the truck and hot foot it up here. Or sometimes I'll walk up there myself. It depends on how fast they need to get up here.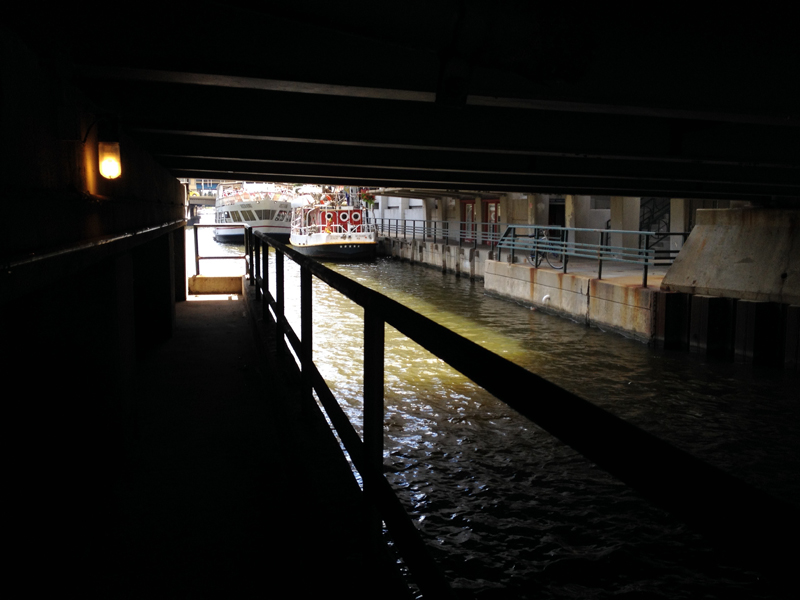 If it's a pleasure craft, most of the guys don't mind (waiting for him to walk up to the next bridge), but if it's something like a fireboat and they need to get up there, we'll call everybody up.
This (bridge house) is a little bit smaller. As you go down the river Clybourn is about the same size as this one. St. Paul is awful: it's about half this size. And the sad part about that is if the streetcar comes through, these guys will very possibly wind up there.
They're getting more into the electronic age with the fiber optics and everything. I've got an upgrade coming through here: we're finally getting a fax machine.
This is the equipment that actually raises and lowers the bridge.
I would say KK (is the Cadillac of bridge houses). Because that's the largest one we have. The problem is they build a bigger bridge house and then we have more things that they've got to bring in, because we're going so much more with electronics – touch screen, fiber optic equipment controls – stuff like that.
Increased activity
Tim Thompson: Right now it would be Wells, Wisconsin, Michigan (are the busiest bridges). And I want to say St. Paul because the water is 29 inches higher than what it is normally, so what we end up with is, we end up have to open up for the Edelweiss boats, and also the pontoon boats. (At Water Street) they are very busy. Last week we had about 1,100 openings with seven bridges. The week before that we did 1,336.
The numbers here are huge. They really are. I think over the past three years we've had a 48 percent turnover in personnel, so we basically have a whole new crew. So to have the kind of numbers we're having, and we're not getting many breakdowns, we've been very fortunate that we don't have any accidents whatsoever. Everything has been going pretty good.
Tuesday morning I was on vacation, I took a telephone call at 7:30 in the morning from the U.S. Coast Guard out in Cleveland, he told me, "I have a complaint." And I say, "what's the complaint?" And he goes, "Well, I've gotten a call from pedestrians, I've gotten a call from the Girl Scouts, I've gotten a call from traffic" and he says, 'the bridges are open now too much."
The rules of the bridges
Tim Thompson: KK (Kinnickinnic Avenue), South 1st, Broadway, Water, all the way up to Wisconsin Avenue are all on demand (there is no limit to how many times or how often they can open). North of Wisconsin Avenue, you got to have a two-hour notice. This one (Michigan Street) is the heartbeat. These guys get busy. They are answering marine radio, trying to operate two bridges, trying to answer calls from operators, trying to answer calls from boaters, answering the radios, trying to fill out paperwork. So do have a tendency to get a little overloaded.
Some are manned around the clock. Wisconsin Avenue, right about now, we're trying to keep that one manned 24 hours a day, because of the amount of traffic, but Michigan, Water, Broadway and KK are manned 24 hours a day.
This ladder takes you about 30 feet below the surface of the river, where some mechanicals are located.
It's been crazy busy. I would be surprised if we didn't hit 17,000 openings this year. We do maybe 14, 15 (normally). I think the last three years we did 13, and then we did a low 14 and a 14. And last year's is still being tabulated, we are probably looking at about 15 for last year – a high 15.
The water started to come up again last year, but this year it's really, really high. That's our measuring device below. When the river strokes back up, it shifts to that bottom bumper. Then the Edelweiss one and two need openings. The Brew City Queen one and two.
The crew
Tim Thompson: There are 28 guys. First shift is usually nine or 10. Second shift varies depending on who we have in for overtime. And right now, with the water level the way it is, we are practically manning Wells Street every single night. It all depends on the workload. With everything that's been going on, this weekend we have (someone at) State Street which is normally never manned.
Tim Thompson "below decks."
And then next Saturday, we have State manned on overtime. It's just the amount of traffic.
Everybody grabs overtime, because about eight of our people get laid off, usually the week before Thanksgiving, so they'll usually try to grab as much overtime as they can. Get bills paid ahead of time, if they can. We've been fortunate. We've been able to get them back. I think once or twice we've lost people, but for the most part, everybody has come back. I remember, when you and I started, we were only laid off for three months out of the year, now they are laid off five.
The electricians are the guys that are under the gun when we have bridges out. These guys literally get called out of bed. There is no limit to when we call them. When a bridge is stuck in the air. It's a good crew, and they make my job a whole lot easier.
The off-season
Tim Thompson: Once we go into what we call our winter schedule, we then… the river requires a 12-hour notice to come up through, if you have a pleasure boat. If we're not busy we'll accommodate you, but if it starts getting a little busy then we'll enforce the 12-hour rule. We've had to do that in the past, but not very often.
The facilities.
We have the bridges that we have to maintain and keep the sidewalks clear so that people don't slip and fall. It's a lot of work shoveling these slippery roads. You start getting some of these storms and you've got high-traffic areas like Wisconsin and Michigan and we try to keep them as clean as possible without using a lot of salt and that stuff.
This year, we're going to have a 48-inch brush on a small tractor (to clear snow). Along with that, rather than using a broadcast salt spreader, we have a drop spreader. And the little bit we used last year, I think we easily foresee us using 50 to 70 percent less salt. And that's good for the bridges.
We also have two maintenance personnel and we do a lot of maintenance during the winter time. I have painters come in and refresh the bridge houses now, and that's what I started doing last February. Two reasons: one, they do take a beating over summer; and the other part of it is when you get the new people and when people come back, a fresh coat of paint and dressing that up a little bit makes the attitudes a little bit better. You know, everyone has had that long winter lay-off and they're going "argh… I don't wanna go to work." Well, if you bring it back and its bright and cheery and clean, then they go, "Oh... okay it' not so bad."
The stairs up to the control room. Looks a bit like a lighthouse.
The operator's job
Tim Thompson: The hardest part of the job is getting up in the morning. For these guys, to be honest with you, the most challenging part is that they work six days on, two days off and they rotate in shift for three shifts every eight days. And he's been doing it for 26 years.
The view south from the control room. An array of video monitors helps the operator
remotely operate a bridge two blocks away.
Chris Neldner: It's catching up with me over the years. It takes a toll on you. You do find that you can't keep friends. I've found I've missed so many things with my kids. It's real hard to plan anything.
Tim Thompson: That's their work schedule. When you want to figure out vacation you literally have to have three calendars. It's crazy.
Born in Brooklyn, N.Y., where he lived until he was 17, Bobby received his BA-Mass Communications from UWM in 1989 and has lived in Walker's Point, Bay View, Enderis Park, South Milwaukee and on the East Side.
He has published three non-fiction books in Italy – including one about an event in Milwaukee history, which was published in the U.S. in autumn 2010. Four more books, all about Milwaukee, have been published by The History Press.
With his most recent band, The Yell Leaders, Bobby released four LPs and had a songs featured in episodes of TV's "Party of Five" and "Dawson's Creek," and films in Japan, South America and the U.S. The Yell Leaders were named the best unsigned band in their region by VH-1 as part of its Rock Across America 1998 Tour. Most recently, the band contributed tracks to a UK vinyl/CD tribute to the Redskins and collaborated on a track with Italian novelist Enrico Remmert.
He's produced three installments of the "OMCD" series of local music compilations for OnMilwaukee.com and in 2007 produced a CD of Italian music and poetry.
In 2005, he was awarded the City of Asti's (Italy) Journalism Prize for his work focusing on that area. He has also won awards from the Milwaukee Press Club.
He can be heard weekly on 88Nine Radio Milwaukee talking about his "Urban Spelunking" series of stories.