Pop star Lizzo called Thursday night's Summerfest show "the best show ever," but unfortunately due to an alleged post-concert incident, that likely won't be the story on Friday morning.
After the rising pop star's 10 p.m. headliner gig at the Harley-Davidson Roadhouse, Lizzo took to Twitter to accuse a Summerfest security guard of tackling and attacking her stylist and hair stylist, asking those who witnessed the incident to send footage.
Later tweets elaborate saying that the guard allegedly used "hurtful language" during the disturbance while also tackling and dragging her team members off the grounds. Another tweet features Lizzo accusing a Summerfest guard in a short video of being the man behind the supposed incident, claiming that "he needs to be in handcuffs."
DID ANYBODY GET FOOTAGE OF THE SECURITY GUARD THAT TACKLED AND ATTACKED MY TEAM @SUMMERFEST ?!

THEY SLAPPED AND MANHANDLED MY HAIR STYLIST AND STYLIST AND IM OUT FOR BLOOD — |L I Z Z O| (@lizzo) June 28, 2019
THIS RACIST BIGOT PUT HIS HANDS ON MY PEOPLE AND USED HURTFUL LANGUAGE WHILE TACKLING AND DRAGGING MY TEAM OFF THE FESTIVAL GROUNDS @Summerfest

IF YOU HAVE FOOTAGE PLEASE SEND ME pic.twitter.com/6zIZV9usTh — |L I Z Z O| (@lizzo) June 28, 2019
FUCK! That was the best show ever but I feel like I can't even celebrate cuz RACISM don't matter if you a headliner.... SMH @Summerfest please send footage — |L I Z Z O| (@lizzo) June 28, 2019
In a later tweet, Lizzo called the evening "beautiful," as well as thanked Summerfest – though she still notes that she'll file a complaint against the accused guard, telling Summerfest she hopes "you'll be cooperative in seeking justice."
Tonight was beautiful. You are beautiful. But the struggle ain't over. Racism and bigotry don't care if you're a headliner. Thank you @summerfest. We will be filing a complaint against that bigoted "security" guard and I hope you'll be cooperative in seeking justice. 🤘🏾xoxo pic.twitter.com/bt3J5Cy1AS — |L I Z Z O| (@lizzo) June 28, 2019
OnMilwaukee has reached out to Summerfest for a comment, but did not receive one at time of writing. However, Lizzo posted to Instagram and Twitter early Friday morning that Summerfest responded and will investigate the incident.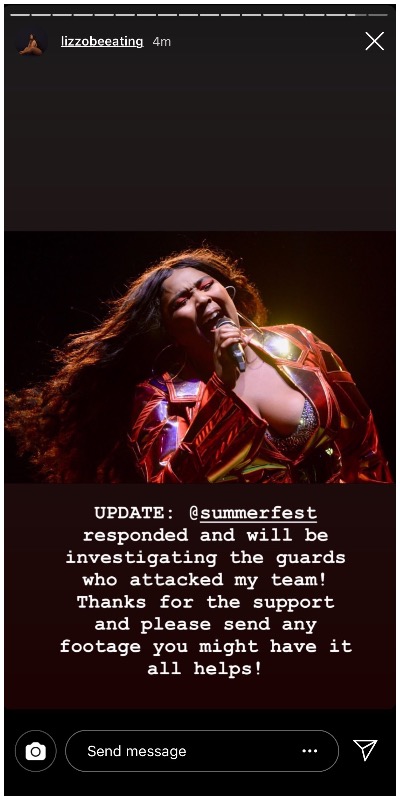 Summerfest also responded to the alleged incident on Twitter:
1/2 Lizzo gave an incredible performance which she now feels is tarnished by events which occurred during the performance. We do not tolerate racism in any form. We will conduct a thorough investigation. — Summerfest (@Summerfest) June 28, 2019
2/2 We have an experienced crowd management staff who strive to protect performers & fans. While there may be challenges during a performance, we expect those challenges to be handled professionally & respectfully. If those standards were not met, we will take appropriate action. — Summerfest (@Summerfest) June 28, 2019
As much as it is a gigantic cliché to say that one has always had a passion for film, Matt Mueller has always had a passion for film. Whether it was bringing in the latest movie reviews for his first grade show-and-tell or writing film reviews for the St. Norbert College Times as a high school student, Matt is way too obsessed with movies for his own good.
When he's not writing about the latest blockbuster or talking much too glowingly about "Piranha 3D," Matt can probably be found watching literally any sport (minus cricket) or working at - get this - a local movie theater. Or watching a movie. Yeah, he's probably watching a movie.